I know I have shared about the Strat Plus series on that page, but I want to show you a special collectors edition of the Tele Plus Deluxe (As this was called on the sales tag.) This is really a transitional Tele Plus, as it is from 1999, and does not have the Lace Sensor pickups. In 1999 Fender was doing this shift from the Plus Series to the new Deluxe Series, where they introduced the new Fender Noiseless Pickups, as this one has in the bridge.
While I have not dedicated anything on this website to the

Tele Plus Series,

mostly because I never have owned any, except this black Custom DX model. I do know the variations of the Tele Plus series, but have chosen to keep this site focused on guitars that I own or have owned). Many of the MIJ 96 Teles on another page of this site are built similar too some of the Tele Plus', so you might want to check them out. Maybe in future I might expand this site to cover the Tele Plus series. I do know they sell very well.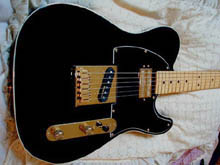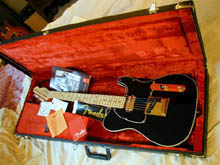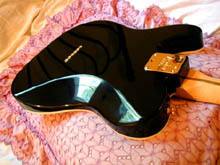 This is a 1999 Fender American Limited Edition Telecaster Custom Deluxe Plus.

The last year of the Plus Series
.

All the metal parts are gold plated.

The

body is made from Alder,

painted gloss black with

white ivory type binding on the top.

The back is contoured like a Strat to fit your body.

The bridge is an American Standard.

This has all the case candy. I bought it from a fellow in Florida who played it all of 3 times!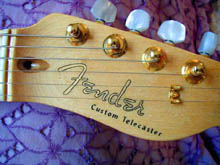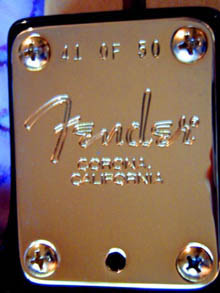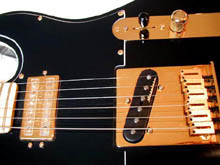 Serial Number, stamped on the gold plated neck plate states it is #41 of only 50 made.

The

neck 22 fret skunk striped solid maple.

It has a traditional 60's Tele soft C radius. It is equipped with

gold plated Fender Schaller tuners with pearloid tuning buttons.

This Plus model has very unique wiring and pick-ups. T

he neck pickup is a special gold plated DeArmond USA Humbucker which is powerful and noiseless. The bridge pickup is a custom Fender designed, hot, Noiseless Tele Pickup

(With gold lettering).



It comes with a Stratocaster style 5-way switch, which does the following: Position #1

has the DeArmond as a full, rich humbucker. This gives a hot Les Paul sound, great for Blues, Jazz, Rock, or many varieties of sound depending on your amp configuration. Lots of punch.

Position #2

has the DeArmond running in a series, instead of normal parallel Humbucker wiring. It is kind of like running two single coils side by side in a series which leans out the sound, giving a more of a single coil sound, with no hum, yet still plenty of punch.

Position #3

has the DeArmond as a full humbucker and the Fender Bridge pickup together, giving a great full, rich, clear Custom Tele rhythm sound.

Position #4

has the DeArmond split, as a single coil, combined with the bridge pickup, giving a traditional, more twangy, Tele rhythm sound.

Position #5

is the custom Fender designed hot, noiseless Tele Pickup, giving that clear, biting Tele sound we all love. I will be showing how to do this wiring later on on the "wiring tips" page.
---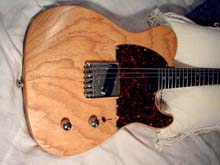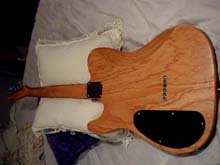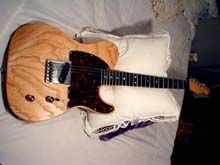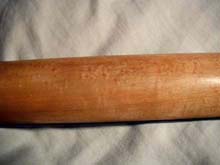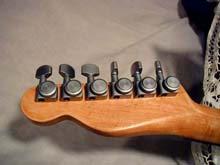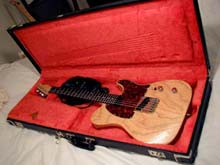 While this Site is featuring many Fender Teles, I want to point out that custom built Teles, when done right, can be as nice as a Fender Custom Shop guitar. Such is the case with this beautiful custom built open grain Warmoth Tele. This tele was built by my old friend, Jim Anderson, of Missoula, Montana. He cut no corners when putting this together using the very best part you can get.

Some of you may not be familiar with Warmoth, but they are licensed by Fender, and build custom bodies and necks that are in many cases better than Fender.

This Tele has a "beveled" body made from Swamp Ash . The people at Warmoth said it was cut from the bottom 8 foot section of the tree which causes it to have incredible grain and "worm holes" (not literal holes but worm trails) intermixed on parts of the body. It creates a very cool looks on the body. The beveled feature is nice as it is custom contoured to fit your body and pick'in arm.

The neck is a full 22 medium sized frets on a solid black Ebony fingerboard laminated to some premium "Bird's Eye" Maple. The neck is the traditional 1 5/8 inch Tele width at the nut, with a V bevel like just like on a 52 Tele. The nut was cut from a peice of bone. The action is low, the neck fast and the sound is superb.
The pick-ups are "active" EMG and produce a hot Tele sound. Crisp and bitey on bridge and full and harmonic on the neck. The tuners are locking Sperzel tuners.

---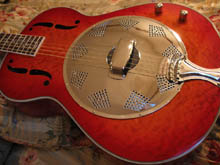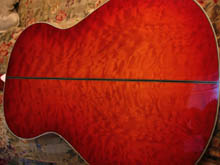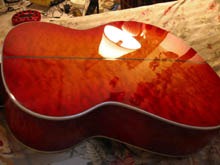 This is a
1999 Michael Kelly "Limited Edition" (only 50 ever made) Dragonfly RZ Custom Resonator guitar.
This instrument perfectly suited for delta- and Chicago-style acoustic blues, like such artists as Robert Johnson or Muddy Waters. Of course any bluegrass or country picker would love it too! It has a
quilted (laminated maple body with flame on top, sides, and back.
The back is a perfect quilted "matchbook"! This has to be one of the most attractive resonators guitars I've ever seen! The 9 1/2" Quarterman cone inside the chrome Spider Resonator with a biscuit bridge and hard maple inserts delivers a true 1930's sound. The Quarterman spun cone is made in the US.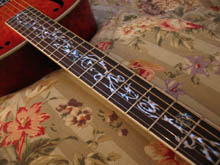 This has a really nice
MAHOGANY neck with a ROSEWOOD fret board
with
real mother of pearl/abalone rosette vine inlays
from top to bottom, which sets in nice contrast with the Quilted finish of the body. The neck has a nice thin tapered to it and is equipped with Grover tuners. It is also equipped with a special order Fishman active Pickup.