Back to top of page.
Limited Edition Aluminum Body Stratocaster Plus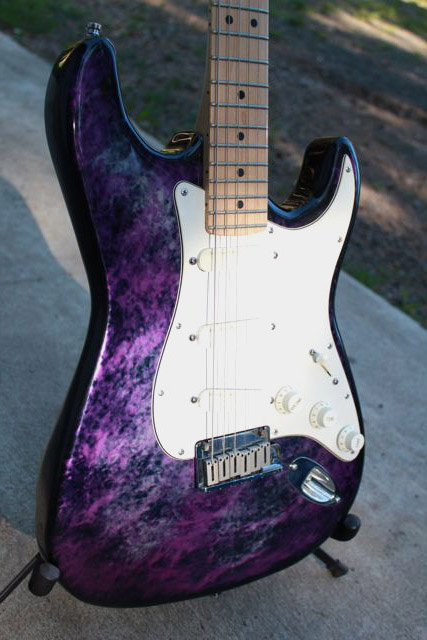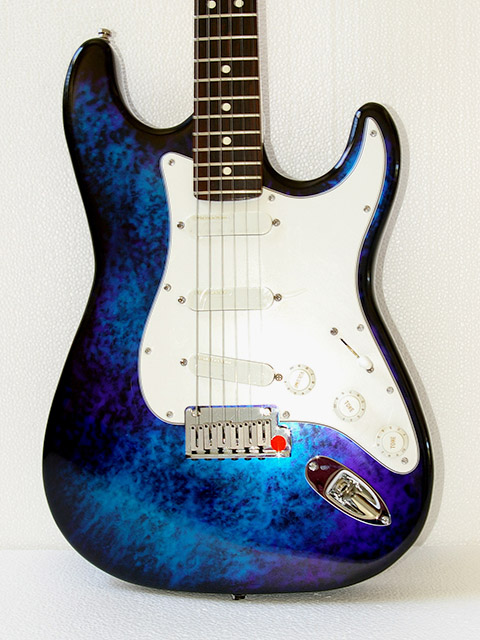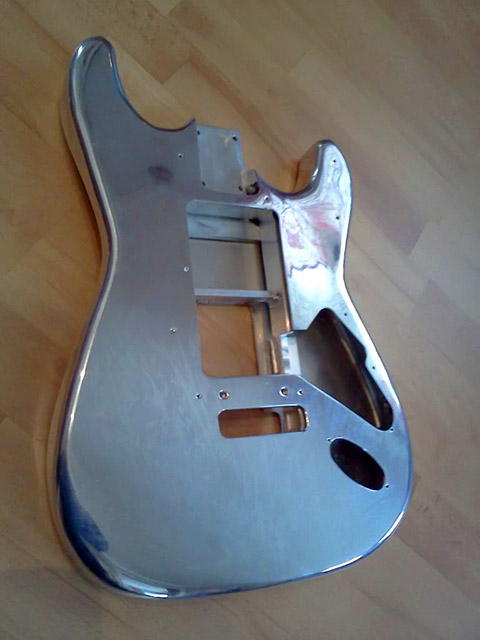 In 1995-96 Fender produced the Limited Edition Aluminum Body Stratocaster Plus' (U.S. Mfg. No. 010-7500/7502) which were a spin off of the Strat Plus, except they had a hollow aluminum body. They were available in Blue Metal Burst, Stars and Stripes, and Violet Metal Burst finishes, some with Rosewood fretboards and some with Maple. Fender says there was a total production of 120 instruments (40 in each color). Here is the statistics from Fender:
(751) Blue Metal Burst: Rosewood @ 20 made, Maple @ 20 made
(752) Violet Metal Burst: Rosewood @ 20 made, Maple @20 made
(753) Stars and Stripes: Rosewood @ 20 made, Maple @ 20 made
So this make about 120 total. Fender used these bodies on a couple other guitars as well, such as the Harley-Davidson Strat and a other few Custom Shop models. There have been a few bodies floating around too, so there are some home-brewed Strats out there as well. I am trying to limit my research to the Strat Plus series, but it is hard!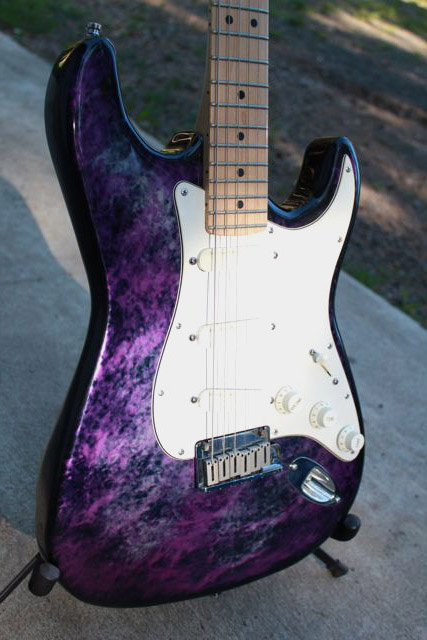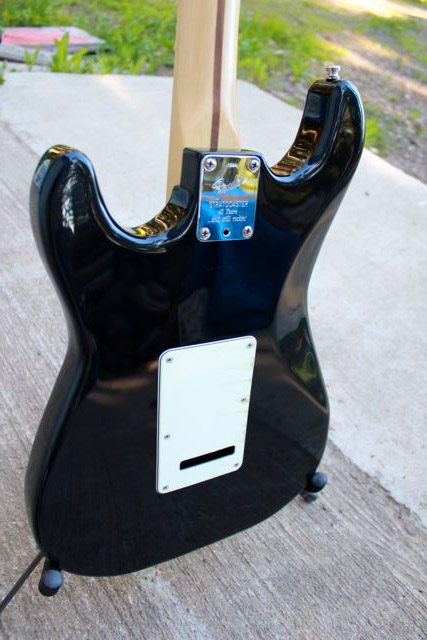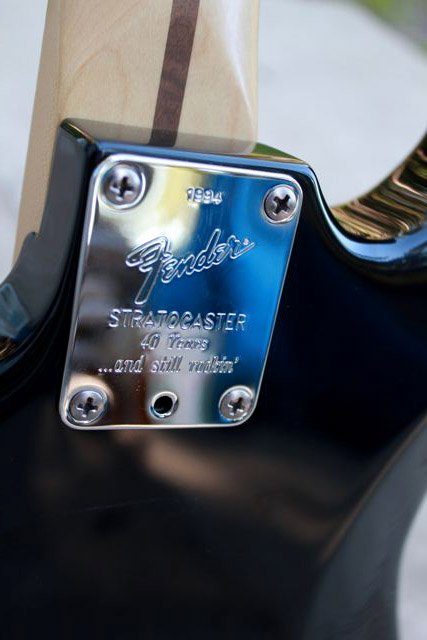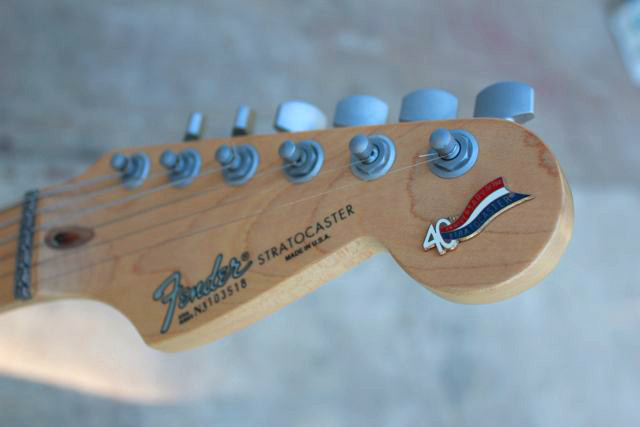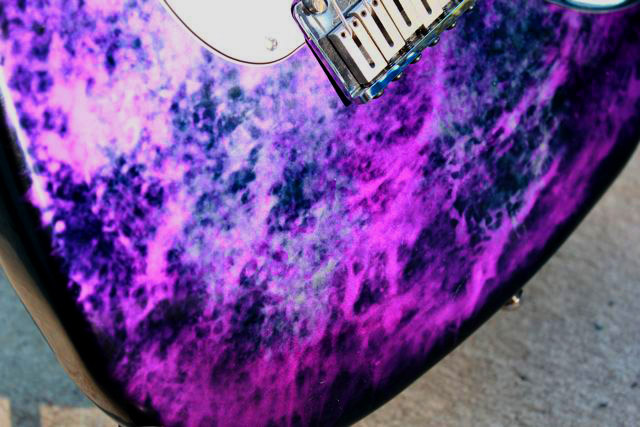 Here is a nice sample of an Aluminum Body Violet Metal Burst Strat Plus that is New Old Stock. I picked this up from a dealer who bought it new and then tucked it away. When I got it it was unplayed and still had the plastic on the pickguard and trem plate cover. There were about 20 of these made in this color and with a maple neck.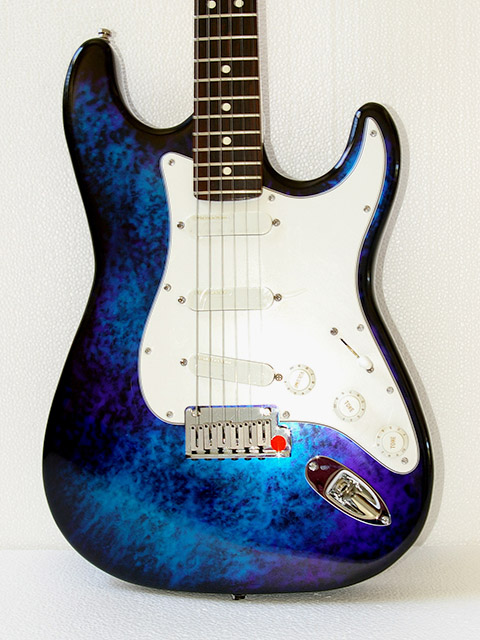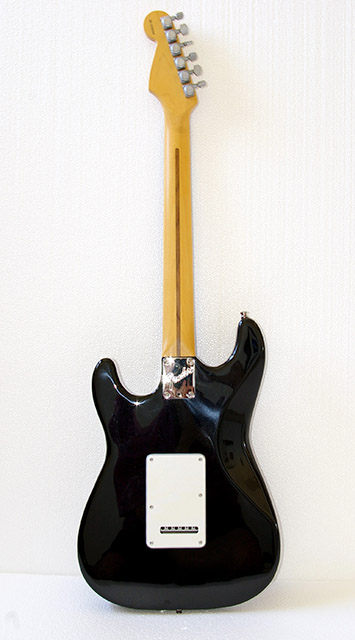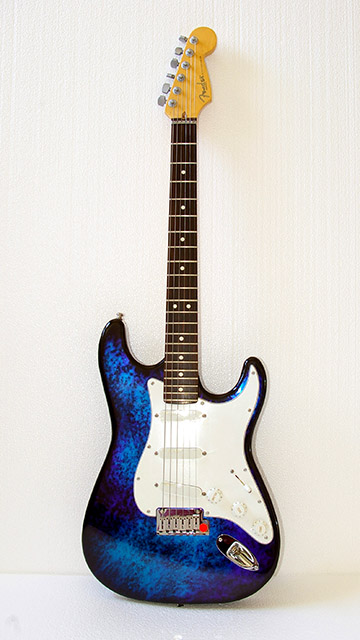 The Aluminum Body Blue Metal Burst Strat Plus with a rosewood neck (above) belongs to a friend of mine named Eric Liquori, who also provided information from his research to the Blue Book of Guitars. Again, only 20 were made in this color with a rosewood fretboard.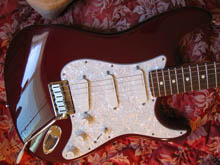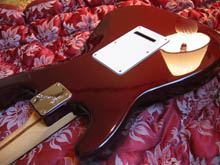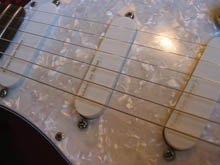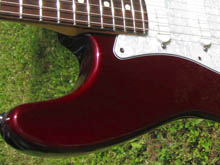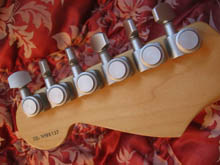 This is a fine example of a 1995 Midnight Wine Strat Plus. You can clearly see the Gold Lace Sensor pickups and the American 2-point floating bridge. I have owned many Midnight Wine Plus' and have noticed the color can be a little lighter on some models. These are darker and more purple than the Candy Apple Red, but has the color applied like the Candy Apple Red, which is a silver or gold base coat, followed by several coats of transparent color and then the clear coat. Candy Apple Red, Midnight Wine, 7-Up Green (Candy Apple Green) and Midnight Blue were all candy color finishes. This is why they can have such a deep look in direct light.
Again, notice that the serial numbers started to appear on the back of the headstocks in 1995.

---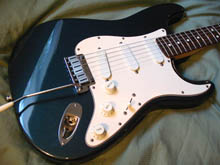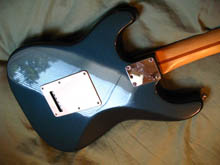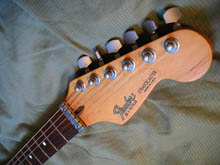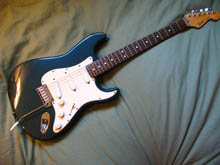 This is a excellent condition 1990 Gun Metal Blue metallic Stratocaster Plus. (I have one of these on my Deluxe page too). This guitar sat unplayed and was owned by one person most of its life. Gun Metal Blue was used on some of the very early Strat Plus guitars between 1987 to 1991, but was not listed on the colors available in the Plus Series. They, along with a few other colors are rarer to come across. This one has the E9xxxxx Serial number. The E9 serial number was a crazy time for Fender because E9, N9, and N0 serial numbers can all be 1990. E9 is also 1989, of course. The paperwork that came with this beautiful Strat says it was made in 1990.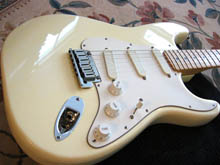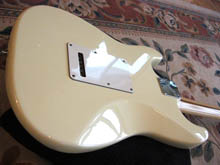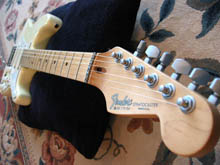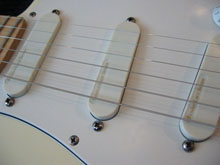 This is a fine example of a beautiful 1993 Vintage White STRATOCASTER PLUS that has faded to a really cool cream color. Now Fender does not list Vintage White as available till 1997, even though it was used on their Strats since 1987! This is not the Arctic White which is lighter and whiter. So, go figure! As stated earlier, in the middle of 1993 Fender changed the nuts from a

Wilkinson

Roller nut to the LSR Roller nut.
This Strat Plus has been completely rewired using TFN Technologies custom wiring system, which provides 10 different pickup tones. With TFN Technologies custom wiring, using a 3-way rotary knob and a 5-way Super Switch you can get humbucker, Strat and Tele tones, plus some.
---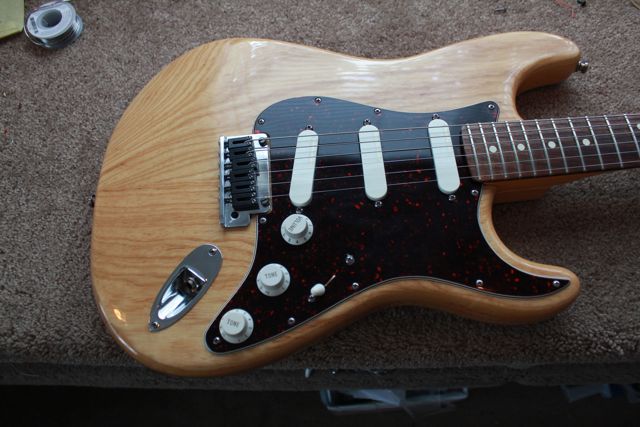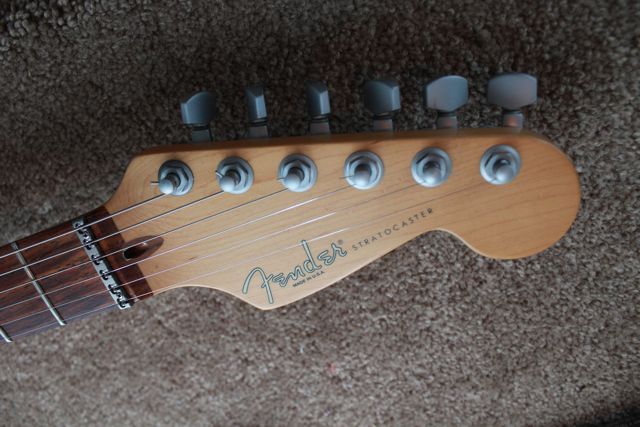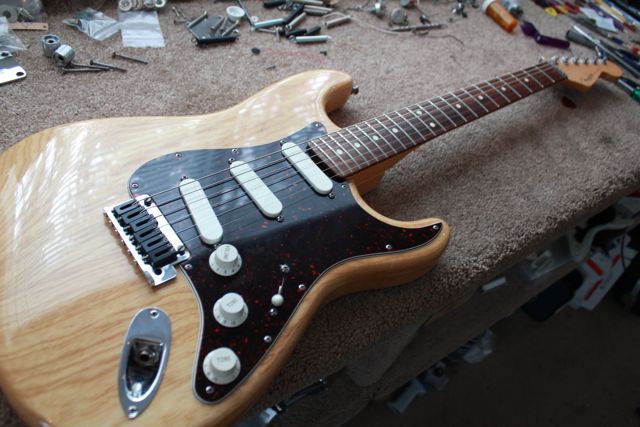 This 1997 Natural Plus in ASH. Most of the solid colored models were made from Alder and in the ealy 1990s some were made from Popular, when there was an Alder shortage. Most of the burst type transparent colors had Ash sandwiched-laminated on Alder thus the dark color around the edge to produce the "burst" effect. it was to hide the laminated edge. Sometimes, Fender used solid Ash for some of these burst finished Plus', perhaps if the body was slightly defected and not good enough to use for a clear finish like this one.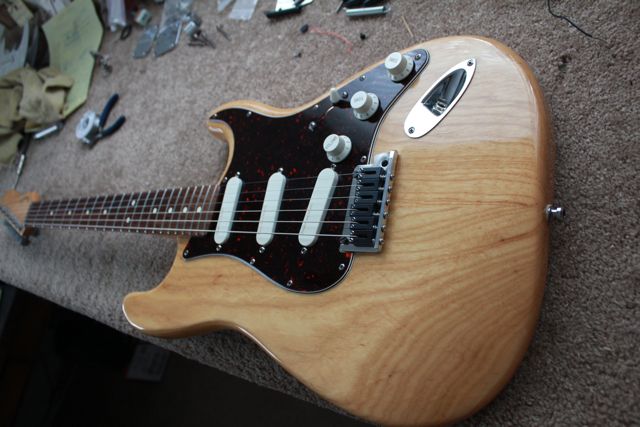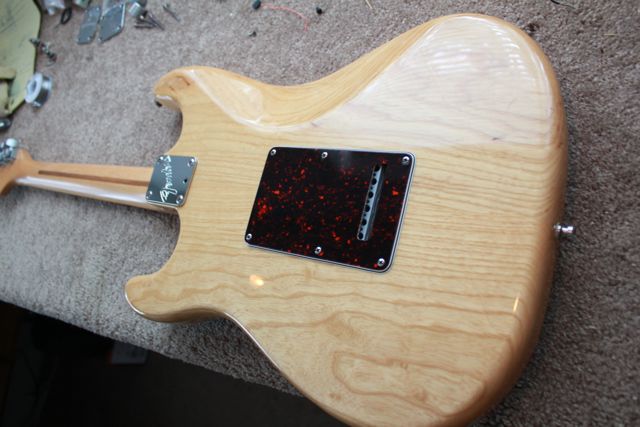 The Natural Ash Plus', both the Deluxe and Standard issues, came with either a white or tortious shell pickguard. As you can see this one has the tortious shell both front and back. This one has outstanding grain on it. I have customize quite a number of these over the years, with Chrome Domes and even Chrome and/or Nickel plated Humbuckers.
---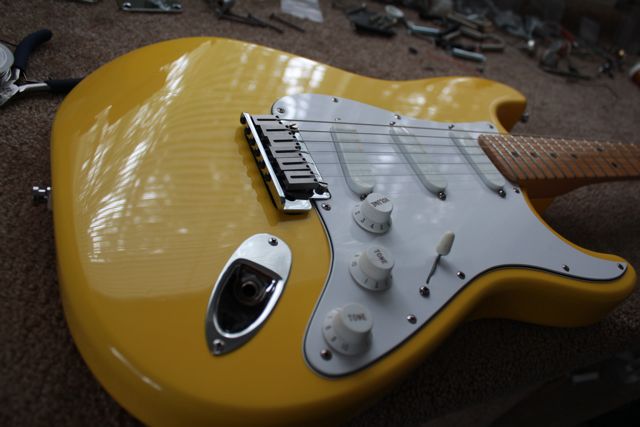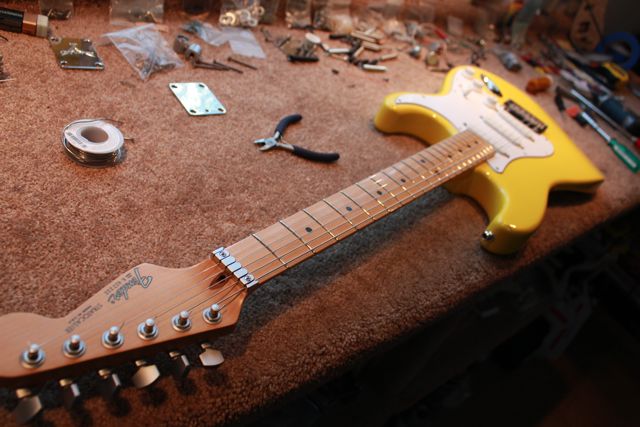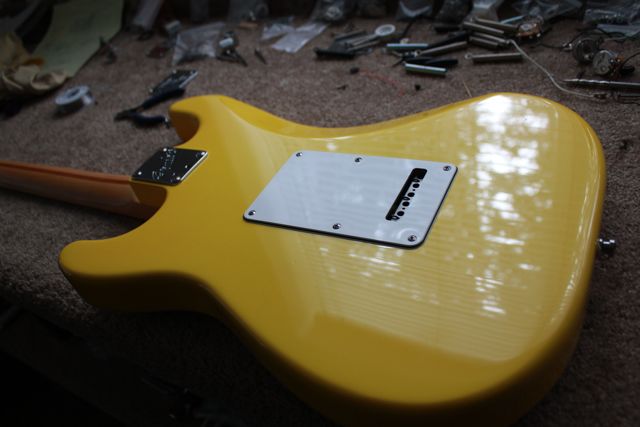 This is another Graffiti Yellow Strat Plus with a Maple neck from 1991. I have seen these both with Rosewood and Maples necks, BUT it does seem the Maple necks are more common. These along with Surf Green and some of the other vintage colors are becoming more and more in demand and prices have gone up like crazy the last few years. they ARE a good investment.

---
This 1988 Plus in a very rare
T
aos Turquoise
in mint condition which

had the pickguard changed to the pearoid type.

This color is very hard to find on a plus and was not listed in the colors available. It was a vintage color used in the 60s Strats and was only used on the Plus series from 87-90, along with colors such as Shell Pink, Gun Metal Blue, Burgundy Mist Metallic, Sea Foam Green and a few other colors. (Do a Google picture search for
T
aos Turquoise, and you will find out more about this color.)
---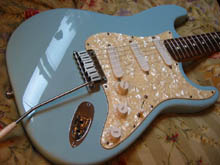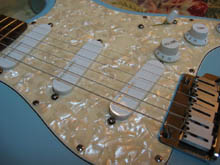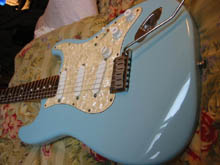 This is a

1997 Sonic Blue Strat Plus

that is a Closet Classic—the guitar has rarely been played. 1997 was suppose to be the the first year for this beautiful color, which is very similar to the Daphne Blue of the vintage Stratocasters, but there were some that came out mid-1996. The three Gold Lace really do put out that 50's vintage sound!


---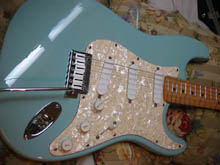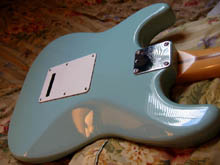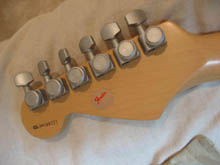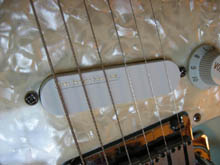 One of my favorite playing Strat Plus' is this

1996 Anniversary model in slightly aged (yellowed)
Sonic Blue
with

an aged Maple neck.

This color was used on a lot of the Jeff Beck Signature Strats. The color is not represented well in these pictures. It is actually a little greener, but not much.

On this Strat you can see the

1996 Anniversary sticker

on the back of the headstock and can tell

the pickups have been change over to the

Hot Gold Lace.

These really screams with the vintage sound of a 1950-60s Strat but with more power and a hotter bridge pickup.