For Sale- Guitars and Parts

I will be posting guitar and parts up for sale soon. I have a number of Strat Plus' and modified Plus' that I would sell. Also parts; such as pickups, pickguards, and such. You can always email and ask what I might have if you are seriously interested. I am often out of the USA with my work so there could be a delay in getting back with you.

•••••••••••••••••••••••
CUSTOM 2005 DELUXE STRAT
Price: $1850 (SOLD)
2005 Deluxe Strat neck on a highly flamed Warmoth body with the appointments of a Strat Ultra kinda hybrid Les Paul! The body is solid Mahogany with a 1/8 inch Curly Maple matchbook cap. It has Red Hot Chrome Domes in the bridge in conjunction with a 3-way mini-switch (wired like an Ultra). There is a Hot Gold Chrome Dome in the middle and a Seymour Duncan 59 PAF (Nickel plated SH-1N) in the neck.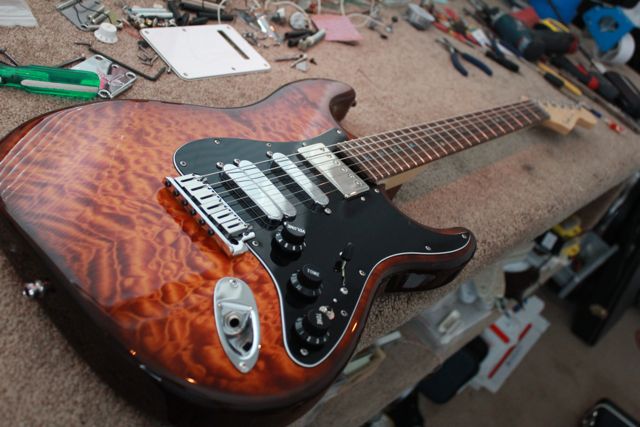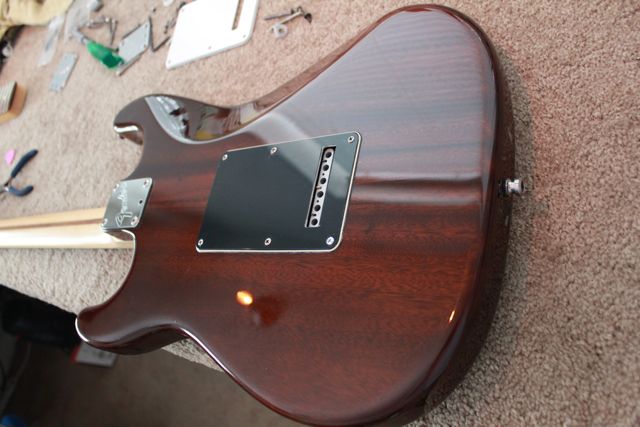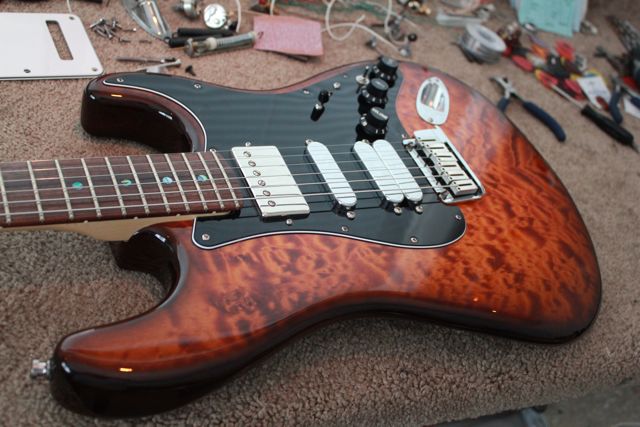 1993 Red Burst Strat Plus DX (MINT)
Price: $1750 (SOLD)
This is a mint 1993 Strat Plus Deluxe in a rare Red Burst (Lip Stick Red Burst) on Ash. Maple neck. Plus DX Case.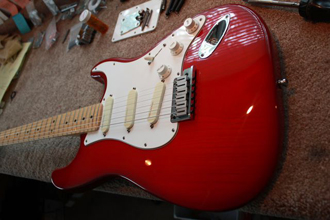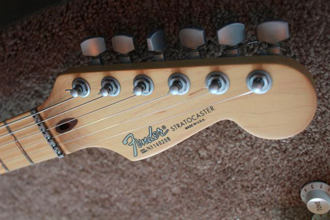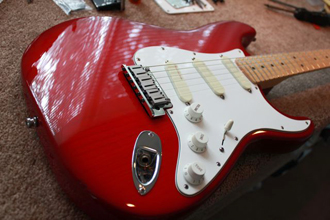 FENDER DELUXE 62 REISSUE TELECASTER FOTO-FLAME NECK:
Price: $325 (SOLD)

This is a much sought after Fender Telecaster Foto Flame neck came off one of my 1996 MIJ Deluxe 1962 Telecasters Reissues. This one has the serial number T034348 and is clearly visible. This neck is an exact reproduction of the 1962 Telecaster Custom Reissue but with a Tiger Striped Foto Flame finish. So this has the C shape neck profile with 21 small-medium frets on a nice Rosewood fret-board using 7.25" Radius.