Fender Strat Plus, Ultra, and
Other Guitars and Parts For Sale
This Page is Always Kept Current - Last Update 4-28-2017 !
MORE GUITARS COMING SOON!
LIKE MY FACEBOOK Page!
If you have an interest in one of my guitars, shoot me an email. Please only do this if your serious about making a purchase. I am often out of the USA with my work so there could be a delay in getting back with you. I also buy guitars. My Email is:

Below are a few guitars that I have for sale. You will see I also sell custom built guitars, often based on the Strat Plus motif. They are One-Off guitars with Custom Shop quality at a lot less $$. Some samples are seen in my SOLD SECTION and on my page dealing with my Custom Built Guitars. You will sometimes see an (ON HOLD) on a guitar. These means a person of interest has send a down payment and will be purchasing the guitar shortly. I can email you a complete description of condition on any guitar—every detail, what comes with it, and what type of case it has—just email me. OR you can click on the active links to my FaceBook account to see a lot of BIG pictures accompanied with a detailed description. You do not need a Facebook account to look at the pictures. CHECK BACK FROM TIME TO TIME AS I HAVE A LOT MORE THAT WILL BE LISTED SOON - maybe even some old Gibsons!
NOTE, I do this as a hobby so I am not going to be a "salesman" trying to clinch a deal with you! ;-) I really don't care if I sell anything, so no pressure - no nonsense. Almost all of my used guitars are taken apart, cleaned, inspected, re-assembled, and then carefully adjusted to play properly. Why take a chance at getting something not represented honestly off eBay or Reverb? And people are asking ridiculous prices for junky guitars with big chips and dings! That will not happen with me. If you are interested in any of these, just shoot me an email and we can discuss a possible sale. I am also open to offers.
How I rate the condition of my guitars (A MUST READ!): First off, don't you just love it when you see an older guitar advertised as: "In MINT Condition!" Then they go on to list all the fret board peeling, dings and dents the guitar has! Then they say something like, "Of course, none of this affects the playability of the guitar!" To me "mint" means untouched and circulated. But after stating that, The Blue Book of guitars is a bit less picky and says this about collectible guitars: "98% - Mint, 9.8 - Only very slightly used and/or played very little - may have minor "case" wear or very light dings on exterior finish only, without finish cracking, very close to new condition, also refers to a currently manufactured instrument that has previously sold at retail, even though it might be unplayed."
I perfer to say, New Old Stock would be mint but according to the Blue Book of Guitars, most of my guitars would be MINT! LOL!!! I have rarely seen a "use" guitar that was truly in mint/unplayed condition! The point is, I am too OCD to say that about a guitar, unless it is true. If I say a guitar is "near mint" that will mean it is as nice as most new guitars you would see hanging in a music store. Also, in my fanatical way of doing things I might add a + or a - to a condition. Like "Excellent -" better than "very good" condition but not quite "Excellent"!

MINT CONDITION: Like New Old Stock - basically unplayed condition.
NEAR MINT: Is rated around a 9.8 or higher out of a 10, meaning it is like brand new but has a some very very light play wear, like a few light pick scratches on the pickguard, maybe some very light impressions, or a small nick, etc.
EXCELLENT: Is rated around a 9.5 or higher out of a 10. It might have a one or two micro-blemishes, WHAT MOST PEOPLE CALL MINT.
VERY GOOD: Is rated around a 8.5 or higher out of a 10. It might have a few very light bumps or dings but will have a high gloss, every part cleaned, and everything functioning as it should.
GOOD: Is rated around 8.0 or higher out of a 10. Rarely will you see me sell a guitar in this condition. My OCD ways just can't do it... ;-).
Take time to look at Some of the Guitars I have SOLD!
Also read a few of my a BUYER REVIEWS!
•••••••••••••••••••••••••••••••••••••••••••••••••
Guitars For Sale
This Page is Always Kept Current - Last Update 4-28-2017
MORE COMING SOON!!! I do have some nice ones coming up! Keep Watching!!!!
≈≈≈≈≈≈≈≈≈≈≈≈≈≈≈≈≈≈≈≈≈≈≈≈≈≈≈≈≈≈≈≈≈≈≈≈≈≈≈≈≈≈≈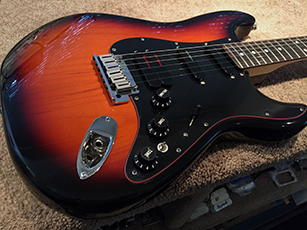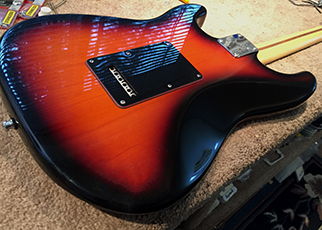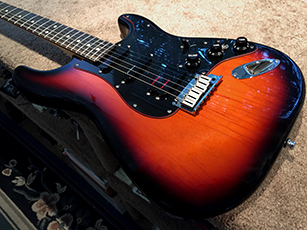 1995 FENDER ANTIQUE BURST STRATOCASTER ULTRA CUSTOM: Condition: NEAR MINT. Email me for details & go to my FACEBOOK Page to see a lot of pictures including under the hood! to see a lot of big pictures!) This is one of my latest builds. I have made a number of these in this color and wiring design, and they have been very popular. I started out with a near mint 1995 Strat Plus Deluxe in Antique Burst. It was gutted and the wiring was replaced with one of my Black/Red/Black Ultra pickgaurds loaded with a nice array of Lace Sensor pickups. The neck is a Purple Lace Sensor, which I have grown very fond of in the neck position. It is not as bright as a Gold Lace which mimics a 1950s tone and yet not as fat as a Blue Lace which is more like a Gibsonish P90 tone. A very articulate pickup with great highs and a robust low that is not at all muddy. The rest of the pickups follow the Ultra theme using a Silver in the middle and a Red Dually in the bridge. This is loaded with my custom wired Sonic-TBX tone control and the neck pickup is tone shaped using a Axial .033uF 160V 1% Polyester Film Capacitor, instead of a stock .022 cap, slapped on a 250k No-load pot. Turn it to 10 and you bypass the tone control completely. Also comes with DELUXE STRAT PLUS Case that is like new. PRICE: $1600
__________________________________________________________________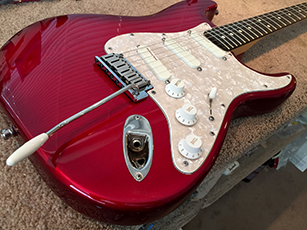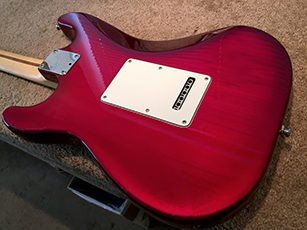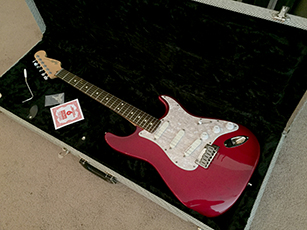 1993 FENDER VII CRIMSON BURST STRATOCASTOR PLUS DELUXE: Condition: EXCELLENT +. Email me for details & go to my FACEBOOK Page to see a lot of pictures including under the hood! to see a lot of big pictures!) Here is a nice example os a version II Plus DX. The VI's had no metallic in the burst around the edges, but instead used a deep blood red color. The VII's changed over to using a red metallic burst on the edges. The red in the center of the body is transparent so the wood grain shows through very subtly. The body appears to be Alder. The dark Rosewood fretboard stands out nice again the deep red color. Being a DX it has all the appointments, such as the Blue, Silver and Red Lace Sensor pickups and a pearled pickguard, which became more popular in the 1992-3 with Fender Strats. Frets are like new and the fretboard is really clean. The guitar is in excellent+ condition, contact me for the details. Comes with a near mint plush White-Tweed Fender G&L rectangular case. PRICE: $1300
__________________________________________________________________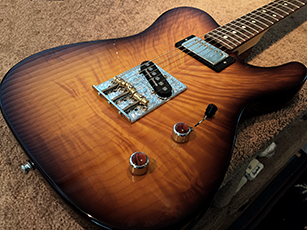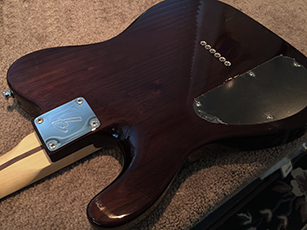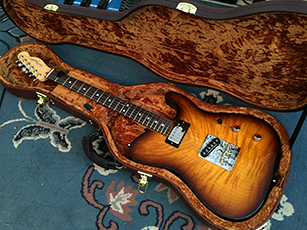 2016 FLAMED FENDER TELECASTER CUSTOM: Condition: BRAND NEW! Email me for details & go to my FACEBOOK Page to see a lot of pictures including the wiring and build process!) This is another of my custom builds—Custom Shop quality— at a much lower price. See if you can find any Telecasters as cool and functional as this at any music store. It is a wonderful, harmonic, resonate Telecaster! Highly flamed Warmoth AAA split maple top in a Tobacco Burst finish on a mahogany body with a transparent brown back. The mahogany has some really nice grain in it as well. Do take time to look at all the pictures on my FaceBook page. This comes with Custom Shop type 5-way super-switching, with all new components.
The humbucker in the neck is a Seymour Duncan HS-2N "Jazz." This is one of my favorite pickups, which is a very versatile humbucker that will work for almost any style of music. Great harmonics, and matches well with the bridge pickup, which is a Seymour Duncan Quarter Pounder. Lots of punch and bite form this overwound pickup with fat pole pieces. Used tradition vintage Tele tone wiring with upgraded parts. Tone knob is a 500k No-load with a .033 Cap. The bridge plate has adjustable Wilkinson barrels that angle for precision intonation mounted on a cool engraved Gotoh plate. This has a brand new 2016 Fender American Standard Telecaster C-Shaped rosewood neck with chrome Schaller/Fender locking tuners, complete with hang-tag!
These pickups compliment each other really well. The bridge has a honk/funk tone that I love, and the neck can go from sweet and full to rough and tough when pushed with gain—all with no jaggy edges. The switching is a cool Custom Shop trick using a Fender Super Switch. Here is how it works: Position #1: is the bridge PU alone, creating a more traditional Tele sound but with more power, with a bit more mid-range and bottom end. Position #2: is the bridge PU with the neck PU split into a single coil (tapped), creating a more tradition Tele neck/bridge sound. Position #3: is the bridge PU together with the neck PU operating as a full humbucker. This creates a unique sound, which is a richer and fuller. A Gibson/Telecaster hybrid! Position #4: is just the neck humbucker by itself, split (tapped) to create more of a sweet Telecaster neck tone. Position #5: is the full neck Humbucker—delivering a Les Paul type tone. Also comes with BRAND NEW PLUSH LEATHER THERMAL CASE! SALE PRICE: $1995
__________________________________________________________________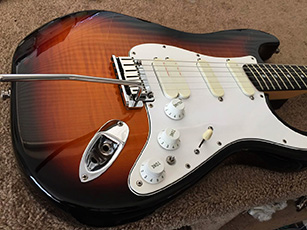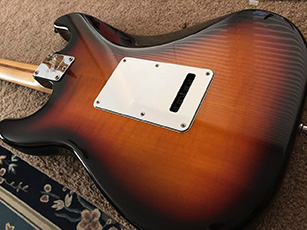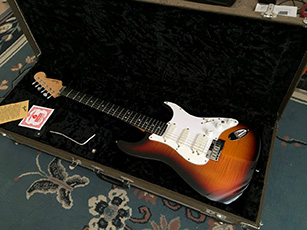 1991 FENDER ANTIQUE BURST STRATOCASTER ULTRA: Condition: NEAR MINT. Email me for details & go to my FACEBOOK Page to see a lot of big pictures!) This is a very early first issue Fender Ultra that is very clean. Body is near perfect. Only the lettering on the neck and middle pickups is rubbed slightly. Totally stock. These early issue Ultras are becoming more collectible and harder to find. This one has a split-piece maple top and back that has some really nice flame. It has the Schaller locking tuners. Comes with all the Ultra appointments, such as all chrome parts and a dark ebony fretboard with real Abalone inlays. These also have that cool Ultra switching using a 5-way super switch that mixed the neck + bridge on position #3 and the 3-way mini-switch that can give you a lot of variations on the bridge Dually. Read about this switching in details on my Ultra page! Also comes with plush Vintage Tweed G&G Deluxe Case. PRICE: $1850
__________________________________________________________________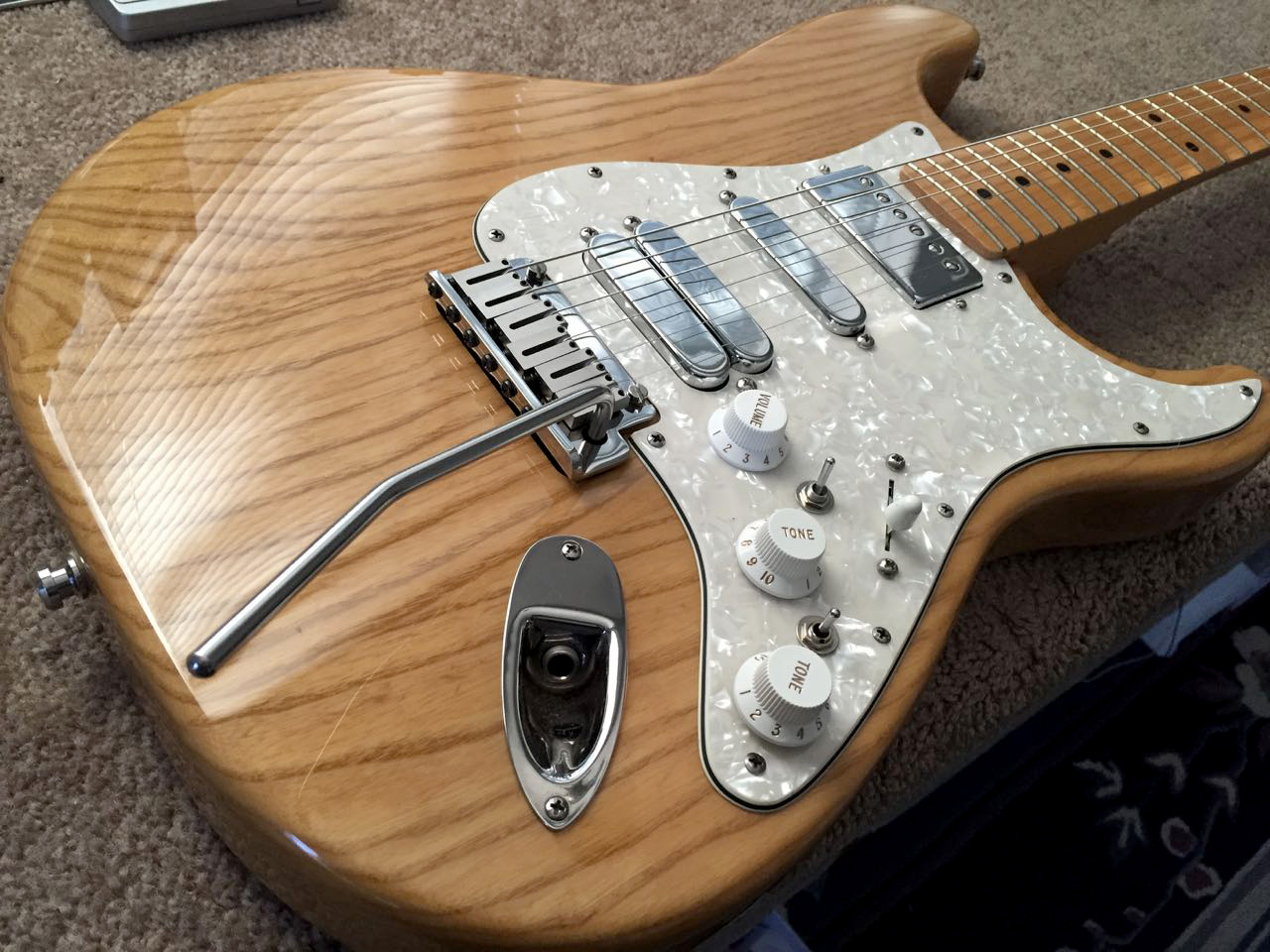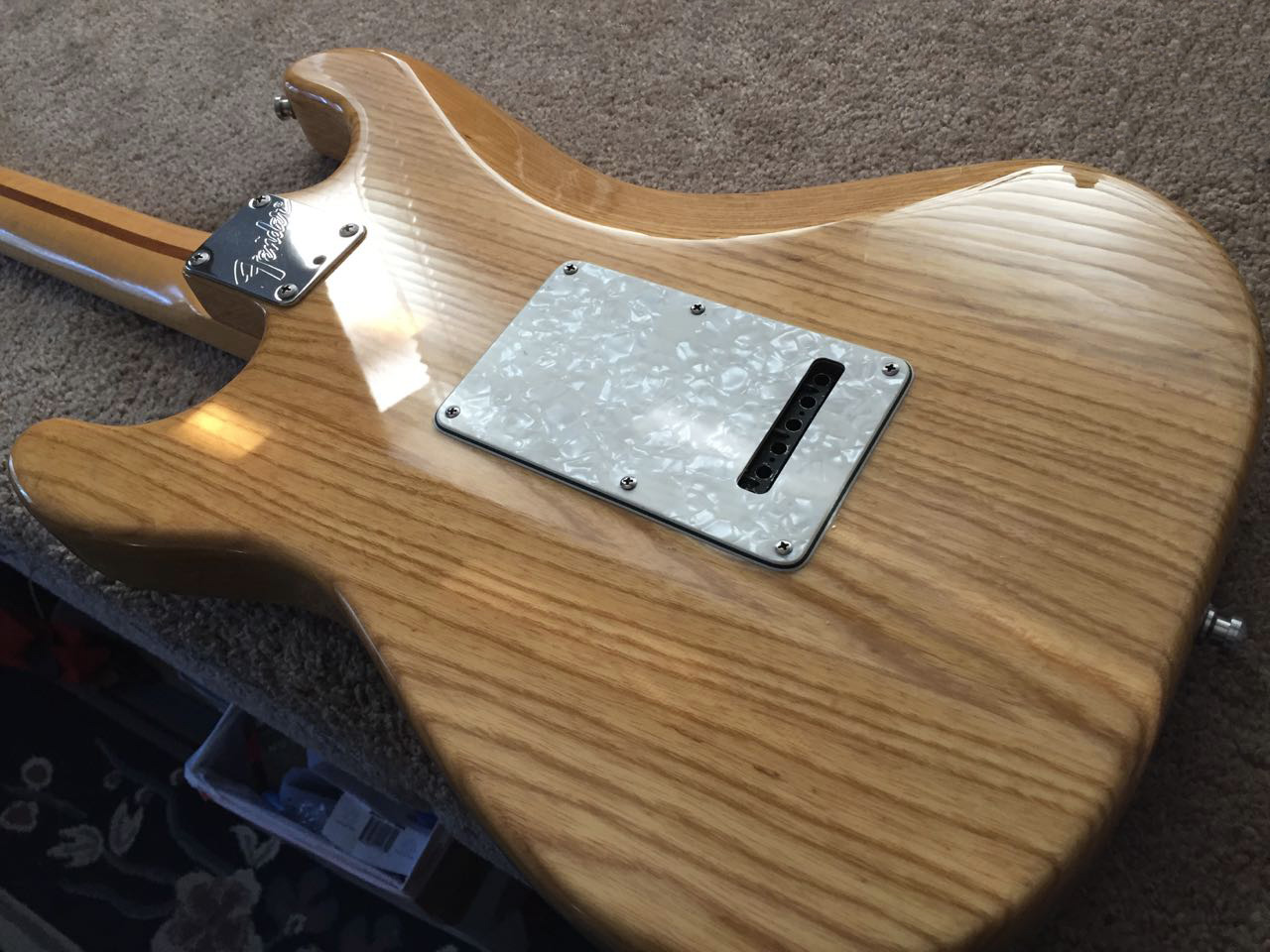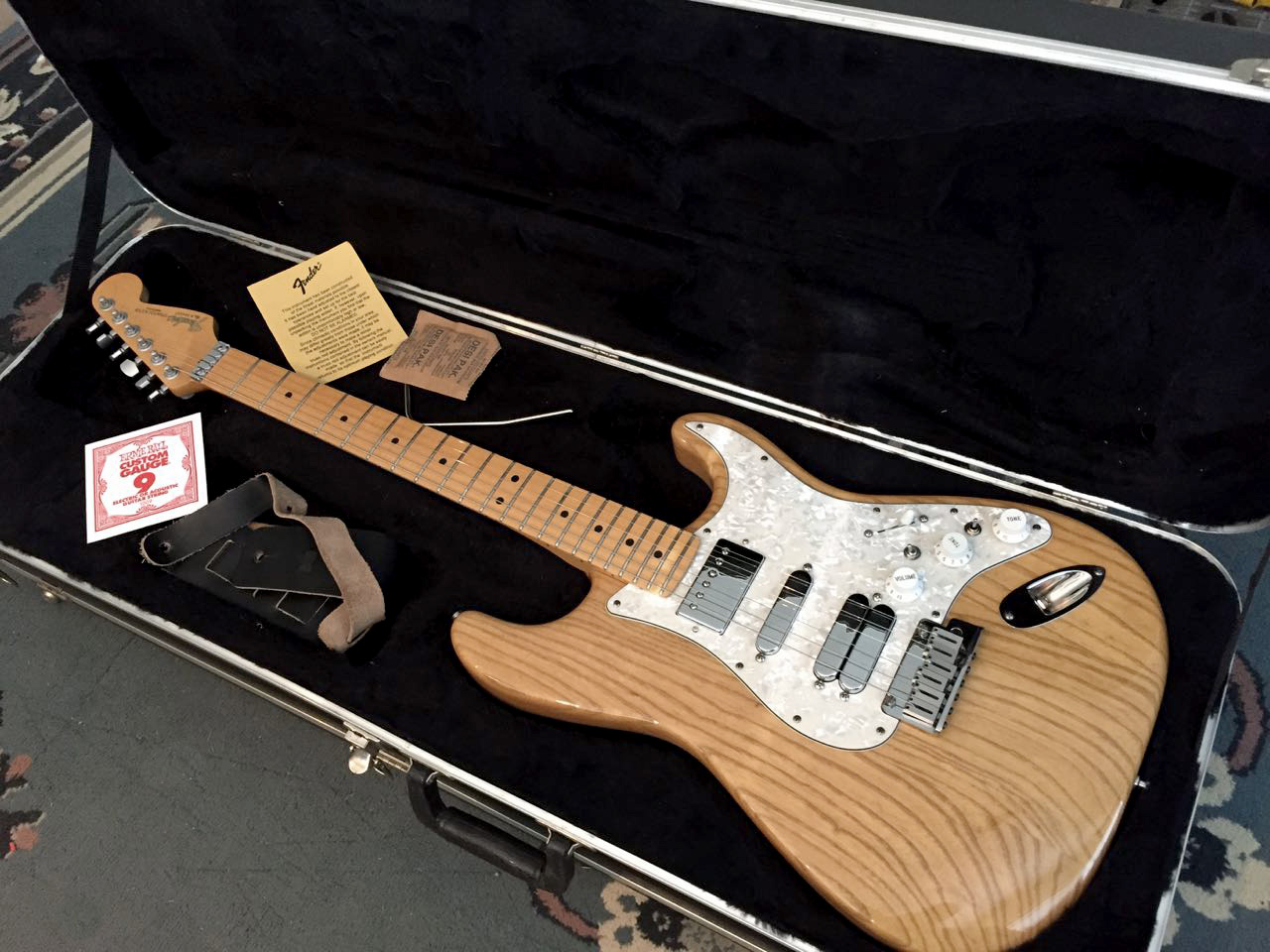 1991 NATURAL ASH FENDER STRAT PLUS DX ULTRA CUSTOM: Condition: MINT-. Go to my FACEBOOK Page (click here to see the guitar) to see a lot of big pictures and the wiring!) This guitar started out as a 1991 Stratocaster Plus Deluxe. When I received it, it was in nearly unplayed condition. It has the odd and rare serial number starting with N99XXXX indicating it is a 1999, but truth is, Fender used these on their 1990-1991 guitars. (I explain this on my website).This one has a stamp on the butt of the neck stating it was made April 02, 1991. This one has a tad chunkier neck which sports some nice flame on the back. Frets are like new. I played this for an hour through a Fender Blue Deluxe III, and what am amazing guitar! Can go from Metal to Country - Jazz to Fusion - Floyd to Santana. Super sustain and clairty. What a tone monster! Why pack a lot of guitars to a gig? This will be a Strat, Tele or a Les Paul. Lots of cool out-of-phase (chirping and quacking) tones on positions #2 & # 4.
This has all new electronics in an NEW aged pearl Ultra pickguard with matching tremolo cover. The neck pickup is a Seymour Duncan Jazz (SH-2N). This is one of my favorite pickups which has very cool harmonics. I have used these on a number of my custom builds. The "Jazz" has nice vintage PAF tone using an Alnico 5 bar magnet and special coil windings. It has a glassy treble response that match well with Strat single coils pickups, but also packs a full, tight bass. Like having a Les Paul Strat.... Do not let the word "Jazz" fool you. I matched it with 500k no-load tone pot using a .033 Oil Capacitor. (You can see the wiring on my FaceBook page.) This pickup does not get dark and muddy. I tossed in a coil splitting switch so one can cut the humbucker in half, given it more of a single coil sound.
The volume pot is a CTS 250K "295" series split shaft audio taper pot, which has 4 contacts on a carbon wafer and will last for 250,000 cycles. Very high quality and will give the guitar years of smooth audio adjustment. This has Fender's 5-way super switching, which means in position #3 it is the neck + Dually bridge pickup, instead of your standard middle pickup. Lot's of mixing and matching. The middle pickup is a standard Chrome Dome Lace Sensor that runs at 6.2k.
The Chrome Dome Dually is made up of two independent Chrome Dome Lace Sensors, each running at 13.2k. This means when they are in series (3- way mini-switch in middle position) they operate in tandem at 26.4k! Blazing hot humbucker tone. The Dually and the middle pickup is connected a TBX tone control using an "Orange Drop" .022 cap. Tele bridge to vintage Strat tones from the bridge. Also comes with the era correct rectangular case that is in good condition. PRICE: $1700 (SOLD)
__________________________________________________________________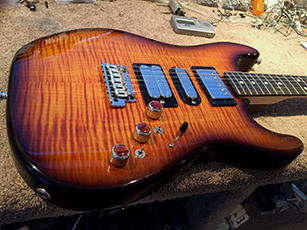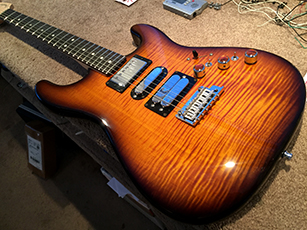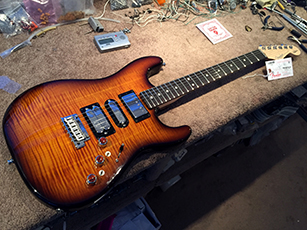 2016 Custom ULTRA Jeff Beck Stratocaster: Condition: BRAND NEW! Email me for details & go to my FACEBOOK Page (click here to see a lot of big pictures of the guitar and under the hood). This is another custom Stratocaster build using a highly flamed AAA+ Maple top Warmoth body on chambered mahogany. This guitar has been in the build process for quite a while and finally came together really well. It is a sweet player. Has a New Old Stock 2016 Jeff Beck DX neck. Lots of cool goodies going in this! Has a DiMarzio DP-193 Air Norton Humbucker in the neck with a coil splitting switch. Flip the switch and 1/2 the windings are turned off. Go from a vintage Les Paul tone to a more Strat neck single coil tone. I loves these humbuckers! The tone is deep and warm, but not muddy. It's hot, but not distorted. It's even got cool harmonics, which are really unusual for a neck humbucker. Has a 500k no-load pot with a .010 capacitor. I have been experimenting with this .010 caps as they do not get near as dark as a .022 or .033 cap. It is nice as one can use the tone control is a more, if I can say it this way, "controlled." I have a lot more info and pictures on my FaceBook page. Comes with a NEW flight case, hang tag for the neck and Trem bar! Custom Shop quality at way less then Custom Shop prices! PRICE: $2250
__________________________________________________________________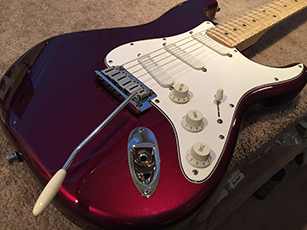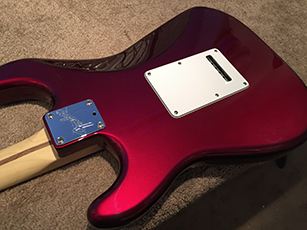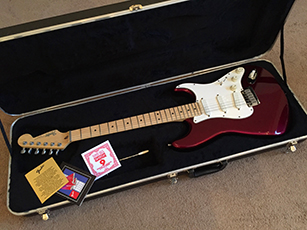 1993 FENDER MIDNIGHT WINE STRATOCASTER PLUS: Condition: MINT- . Email me for details & go to my FACEBOOK Page (click here to see a lot of big pictures of the guitar and under the hood). Here is a cool color that often gets mistaken for Candy Apple Red called Midnight Wine! A deep maroon red with a hint of light purple. Candy Apple Red is brighter and lighter. The serial number says it is a 1993, but the date on the butt of the neck is April of 1994. This Strat Plus has all the typical Plus features: Shaller Locking tuners, LSR Roller nut, and Gold Lace Sensor pickups. The lettering on the pickups is near perfect. The guitar has not seen much playing, being Mint-. I found only two very small scratches on the back, butt-end edge of the guitar. (How else could one describe where these are??? LOL!!!) The frets are in great shape, with no peeling on the light maple fretboard. The back of the neck is very clean and silky smooth. Not much to say, just a really nice guitar! Comes with a era-correct rectangular case. I have seen quite a number of these Plus Strats come with these cases. I do not know if they were offered by Fender, or were a dealer option. But it does not say Fender on the case. PRICE: $1500
__________________________________________________________________
1997 TUXEDO VII TELECASTER PLUS DELUXE: Condition: MINT. Go to my FACEBOOK Page (click here to see a lot of big pictures of the guitar). Here is another closet classic! A 1997 Version II Tuxedo Telecaster Plus Deluxe in mint condition. There are not a lot of the VIIs floating around. A guy bought this and then told me he was intimidated by it, so he played it like 3 or 4 times in his bedroom. Basically brand new. Has almost all the paperwork and even the unused original black matching Fender strap with strap locks. The ivory binding sets of the scratch-free, high-gloss black finish. Comes with a tummy cut on the back. Cool wiring with Gold Lace Sensor Telecaster pickups. 5-way switching just like a Stratocaster, but has the mini-switch which activates the neck pickup in all positions so you can have neck + bridge or all three pickups on at the same time. Comes with a mint Deluxe Fender Plus case with the big chrome latches. PRICE: $1900 (SOLD)
__________________________________________________________________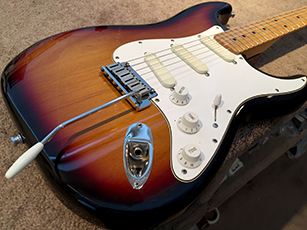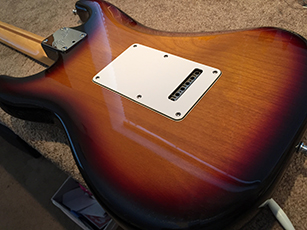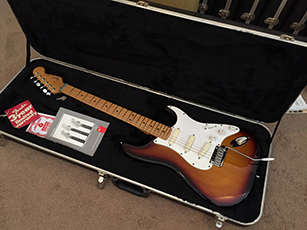 1987 BROWN SUNBURST STRATOCASTER PLUS WITH BOB BODY: Condition: MINT . Go to my FACEBOOK Page (click here to see a lot of big pictures of the guitar and under the hood). This is a MINT 1987 Strat Plus in Brown Sunburst. The neck date is 11/20/87. This is one of those very early Strat Plus' with the square bottomed Lace Sensors with hand scribed numbers on each pickup. I remember Jeff Lace telling me when he was a teenager, he used to scribe those numbers on the pickups for his dad, Don Lace Sr., the inventor of the Lace pickups. The neck was made by legendary Herbie Gastelum, the 2nd oldest Fender employee going way back with Leo Fender. He made necks for many famous players. The body was made by Cuevas, who later worked in Fender's Custom Shop. I thought the body was one piece Alder, but after careful examination, I saw it was matched together with a lot of care. Plays super sweet! And as mentioned, this is a Bob body with the smooth curves and fatter tummy cut. Very sexy bodies, IMHO! Read about these Bob Bodies HERE! The lettering on the pickups is near perfect. The body is mint. It has the split Wilkinson roller nut and the early black dot Sperzil locking tuners. Had the big fat resistor on the TXB tone control and the screw in bridge studs. Also note the steel bridge block, which is unpainted. Also comes with the original Fender rectangular case that is in excellent condition, some papwerwork, and trem bar. Rare find! PRICE: $2000 (SOLD)
__________________________________________________________________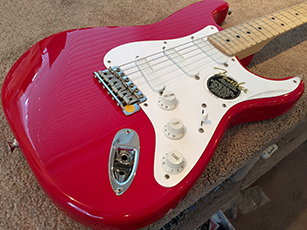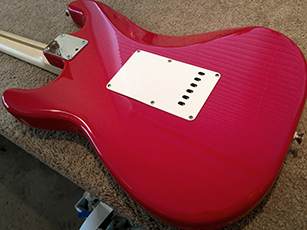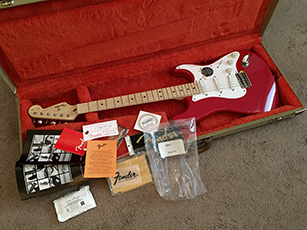 1998 TORINO RED ERIC CLAPTON SIGNATURE STRATOCASTER: Condition: MINT - NOS. Go to my FACEBOOK Page (click here to see a lot of big pictures of the guitar). This is about as nice as it gets! A New Old Stock quality Clapton Strat that is 19 years old. Try finding a mint Version II EC Strat with Gold Lace pickups in this condition—super hard! Here is the story. This guitar was bought brand new and never played as the owner never learned. The guitar was purchased then taken out of the case a few times, looked at, and then put away. The guy never even learned a G chord! The plastic is still on the pickguard and trem cover. Comes complete with the Clapton Kit, paperwork, hang-tag, manuals, stickers and polishing cloth. It has all the cool features of the VII EC (read about this on my signature guitar page), with Gold Lace Sensors, 25dB Boost, V shaped neck and Vintage tuners. This guitar plays super nice, as a signature guitar should. Has the original vintage tweed case. The case has a few light scuffs from the guitar being stored, otherwise like new. PRICE: $1700 (SOLD!!!!)
__________________________________________________________________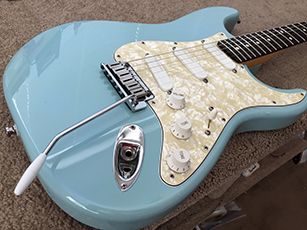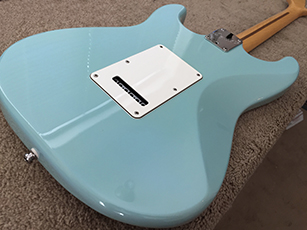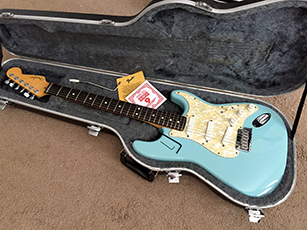 1996 SONIC BLUE FENDER STRATOCASTER PLUS: MINT- . Go to my FACEBOOK Page (click here to see a lot of big pictures of the guitar and under the hood). Here is a very hard to find and in my humble opinion, a very cool color—Sonic Blue! This color was available from early 1996 into the spring of 1997. This one has a neck date of July 2nd 1996 and the body date is a bit smudge but looks like Oct of 1996. These guitar is near mint and comes with all the Strat Plus appointments. The neck is spotless and the body is wonderful, with the exception of two small dimple ding on the top. One is visible and the other is so small it is very hard to locate. The neck on this was made the Fender legend, Herbie Gastelum, who is the 2nd oldest employee at Fender next to Abigail Ybarra, who who worked directly with Leo Fender. This was a surprise to me because I am sure he was in Fender's Custom Shop in the early 1990s. So why this neck was made by him? It is a mystery to me, but he shaped necks for a lot of famous players. Even the writing on the Gold Lace Sensor pickup looks like new and the pickguard shows no scratches. Close to unplayed condition. Comes with the deluxe Strat Plus Case with the big chrome bucket latches. PRICE: $1550 (SOLD!!!!)
__________________________________________________________________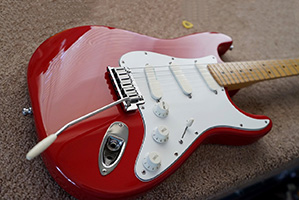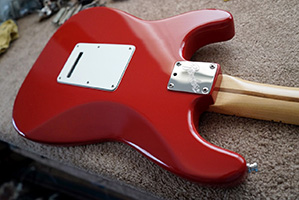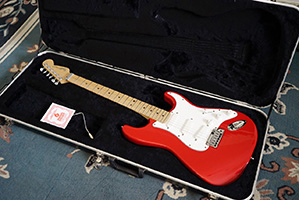 1990 FENDER TORINO RED VERSION I STRATOCASTER PLUS DELUXE: Condition: MINT- . Go to my FACEBOOK Page (click here to see a lot of big pictures of the guitar and under the hood). This is a Version I Strat Plus Deluxe, which were introduced in late 1989 and ended in early 1990. The N9 Seial number indicates 1990 and the body neck socket stamp is Dec 18th, 1989. The Version I came with Silver/Silver/Blue Lace Sensor pickups. In 1990 Fender then changed the Deluxe to the Blue/Silver/Red Lace Sensor pickups. VERY RARE GUITAR espepcially in this condition!!!!! These are quite collectable especially when you find them in a rare color like Torino Red, which was only offered in the Plus lineup from 1987 to early 1990. A very bright red! Was one of Eric Clapton's favorite colors as well! The Maple fretboard is excellent as are the frets. Plays super sweet! Also comes with the original Fender rectangular case that is in excellent condition and trem bar. PRICE: $1650 (SOLD!!!!)
__________________________________________________________________
Take time to look at Some of the Guitars I have SOLD!
One is GUITARS FOR SALE (See directly below) or Guitar Parts & Ultra Pickguards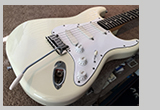 Hey Jeff! I wanted to let you know that I received the instrument and it is in incredible condition. I wanted to thank you so much for this guitar, I fell in love with it instantly and I am so grateful for all the care you put into packaging—never seen that much care even from amazon or eBay. I hope to do business with you again soon. - Stephan in Quebec, Canada.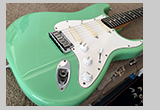 This transaction with Jeff couldn't have gone any smoother. Firstly, he agreed to sell a quite rare and pristine Strat Plus to me that he probably would rather have kept. But the guitar had sentimental value to me and Jeff appreciated that. I offered a healthy price for it, but he countered with a LOWER amount, insisting that the guitar, while very nice, was worth less than my offer - now that's some integrity! He packed it well and shipped it quickly, going out of his way to ensure that the package spent minimum time on the UPS truck amid fluctuating temperatures. When the guitar arrived, it was in even better condition than I expected and it was setup perfectly. Don't ever buy a used guitar, especially a Strat Plus, from anyone else. Jeff is not only the preeminent authority on those guitars; he's also a very fair dude. - Anthony in San Diego, California.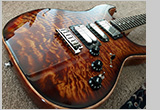 Jeff... I got the guitar... what a beautiful guitar... It plays really nice and sounds awesome... I cant seem to stop playing it... Or looking at it!!!! There is so much cool going on with it... The body, the neck, the pickups, you did a great job of picking the components and an awesome job putting it together... Great job on the wiring too (I took a sneak peek)... Its dark sounding but bright too... And articulate... Hard to explain... But clean with a little chorus and a tidge of delay it is beautiful sounding... And it sounds great with gain too... Its just a cool guitar... ;-) — Pete, a return buyer in Albuquerque, New Mexico.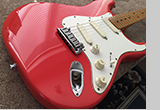 Wow!! That's all I can say Jeff. Arrived late last night, had a quick look at the guitar and this morning, tuned it, played it, and I'm chuffed as mint balls. You described it as it is, the best Fiesta red I've seen. Thanks again, keep in touch. Kind regards. — Tony, United Kingdom.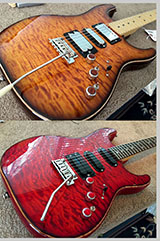 I have had a Les Paul since 1982 and have always wanted to have a Strat. I finally reached a point where I could spoil myself a little and after some research I discovered Xhefri's web site and kept an eye on it for several months. I finally saw 2 of the sexiest Strat Custom Ultras I have ever seen and ended up buying both. These guitars are not only eye candy but are high quality instruments like my Gibson, that played very well and virtually do not go out of tune. They each have their own personalities and I am happy I purchased both. Jeff is a great guy to deal with and my beauties arrived in premium cases and were extremely well packaged for shipping. If you are looking for a top shelf Strat at a very fair price I would highly recommend waiting for the right one to show up on Xhefriguitars.com.—David, South Dakota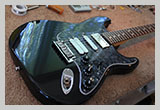 I got my deluxe custom Strat Plus with the humbucker and an extra switch for a lot of combination of tones, and its a dream! So many sounds, variation that are ez to switch. Far more versatile than the Les Paul. Dealing wit Jeff was great. So ez. Custom packing and case. It all worked out great with my travels in/out of the country. The guitar made it to Florida then to Dubai; then on to Saudi. Perfect! It will next take a journey to Thailand! What to get next !! — Ed who works in various places world-wide.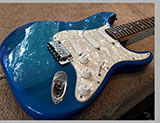 The rating system Jeff has is the real deal. I've seen guitars on display at stores that are new that have more wear than the '96 guitar I purchased from Jeff. The guitar was also extremely well packed for shipment and everything went perfect with the shipping. If you are like me, once you buy a guitar from Jeff you will be reluctant to buy a guitar on-line from anyone else. —Jim, Cary Illinois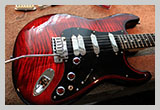 I bought "Jennifer" (is what I named her) from Jeff (xhefri). She looks gorgeous and plays beautifully. "Jennifer" is a solid piece of work and a great axe that suits me both as a touring and a recording musician. I visit Jeff´s website once a month to check what he´s working on, and also to see if there´s something for me. — Ketil Stokkan, Norway (www.ketilstokkan.no).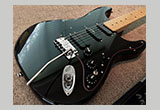 I just wanted to let you know that I received the Strat, no signs of abuse from the post office…It's beautiful, I love it! Feels good, sounds great, perfect. Thank you very much Jeff, it was a pleasure dealing with you and everything was as you said it would be; I don't want to be too negative but that's very unusual these days!! Oh, and thanks for t-shirt! … I look forward to doing this again! — Brian, Canada.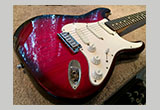 I have purchased a lot of guitars from Jeff over time and wouldn't consider dealing with anyone else. The descriptions are accurate and the guitars top notch. I am a fanatic with my guitars and always thought I was a bit OCD but Jeff matches me for his love of his guitars as well. I often wonder how he can sell the ones he does as they are so nice. Deal with confidence as the guitars are actually better than Jeff describes. — Bob, Australia.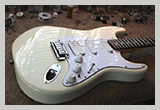 If you live in 2014, there's only two possibilities to buy a guitar from 1996 in new condition, perfectly setup and even modified for speed and sound: Go get yourself a time machine, dress the part and find a good shop / luthier after you made the trip 18 years to the past. Or just stay in your own time, go to xhefriguitars.com, pick the guitar you want and let Jeff do the time machine thing. Because he must have one - a guitar almost 20 years old can not look that good any other way. Super clean, hang tags included, plays like a dream! — Roland, Germany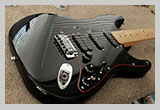 I purchased a 97 Black and Red Strat Plus with the upgraded pick guard and wiring to a Plus Ultra. I have owned other Plus guitars in the past and this is the nicest of all that I have owned. Jeff's attention to detail and honesty is a rare find today. His personal attention and quick shipping was the icing on the cake. I can highly recommend his craftsmanship, knowledge and ease of doing business with. Thank you Jeff for such a great buying and playing experience. — Bill, New York City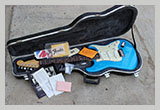 Jeff was very easy to deal with and made sure we talked on the phone before the sale was final which assured me that he was a stand up guy. The Guitar is awesome and in absolutely perfect condition, just as described. I would not hesitate to buy another guitar from Jeff in the Future. I play this guitar several times a week at Times Square Church in NYC. The service is broadcast live in over 150 countries and has a congregation of around 2,000 each service. The guitar has not let me down once. — Nick Kellie Guitarist and Composer, New York City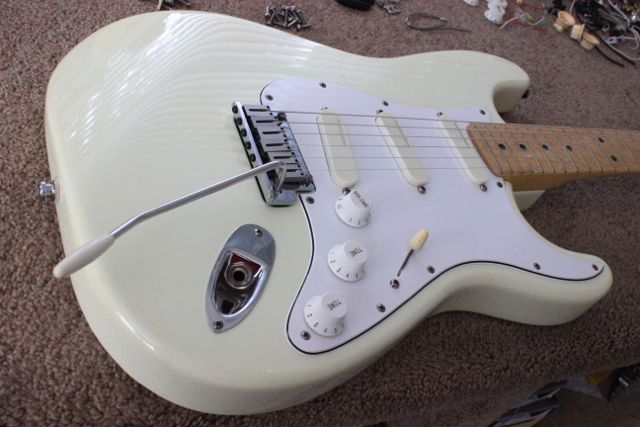 Jeff was great to work with. Very knowledgeable, friendly and honest. Guitar was exactly as he and the pictures described. I'll be buying another from him! — Pete from Albuquerque, New Mexico.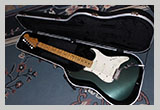 The guitar arrived just fine - nice packing. Also looks exactly as described, and I played it this morning and it sounds great. You are right about the color -- that blue you see in the photographs really looks different under light -- green happens to be my favorite color so it is a nice surprise. Thanks - maybe we can do some more business later. — Dale in North Carolina.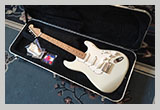 The '89 Strat Plus Dlx v1 (Silver/Silver/Blue) arrived in great shape, just as Jeff had described it. Jeff went to great length to describe two tiny dings on the guitar, which I never would have noticed in the first place. The guitar was set up nicely (he adjusted it for me from 9's to 10's) and plays true. That's not to mention anything of the sound - it's unreal. The silvers provide a classic strat tone with a touch more mids (to my liking) and the blue bridge position gives that Gilmour type sustain - a great combination. I took it into Gryphon Strings in Palo Alto, CA - a well respected local shop - to deck the trem, and the guitar tech simply couldn't get over how well the guitar played. I have a new favorite guitar! If you are looking for a Strat plus, look no further - Jeff is your guy. — Jeffrey, Palo Alto, California.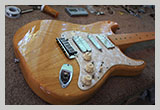 This guitar came on like a shock. It's not how Jeff described it on his website. It's even better!!! This is simply the most versatile guitar I ever had in my hands, it's like Jekyll and Hyde, a Gibson trapped in the body of a Strat. And it looks even better in real life than it looked on the pictures, no nicks, no wear - it must have been in a deep freeze for the last 17 years. Yes - this Blues Machine is seventeen, but nothing like in-between! With Jeff's modifications this is the Ultimate Strat, the guitar Fender never dared to built. 11 on a ten scale. I love it! — Roland, Germany

__________________________________________________________________
Back to top of page.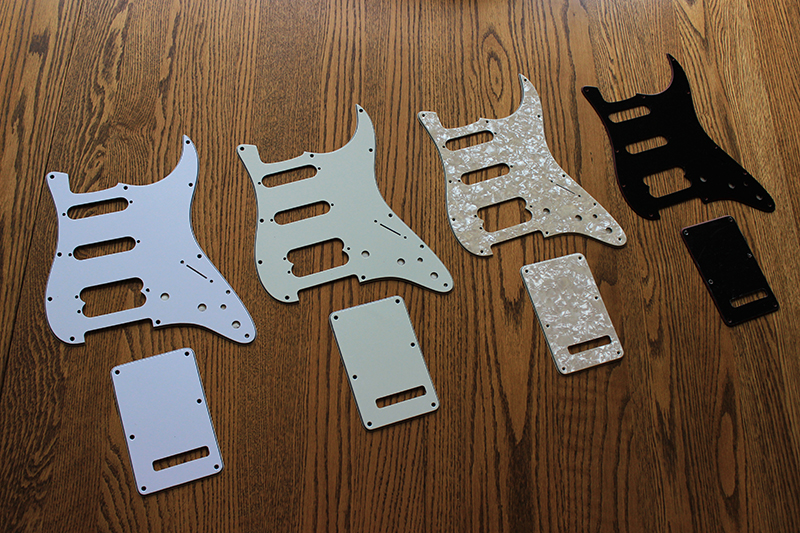 These Ultra pickguards are cut to the exact specifications of Fender's Ultra and Custom Shop pickguards. Fender use to offer these in White/Black/White and Vintage Pearl. I am offering, White/Black/White, Aged White Pearl, Parchment (off-white), and Black/Red/Black. See the above picture to get an idea of how the different color relate to each other. PLEASE NOTE, unlike other S/S/H pick guards, the Ultra pickguard is cut different and WILL NOT WORK on a Fender Strat with a standard S/S/H route. The reason is: 1) the middle pickup on an Ultra is centered perfectly between the bridge and the neck pickups, whereas a Standard S/S/H pick guard has the middle pickup closer toward the bridge pickup. All American Standard, Strat Plus, and Ultra guitars of the 1980s-1990s had swimming pool routes, 2) The bridge route is designed for the Lace Sensor Dually pickup using a 3-hole mount, & 3) there is a mini-switch hole drilled beside the two tone control knobs. Again these are cut to fender factory specifications.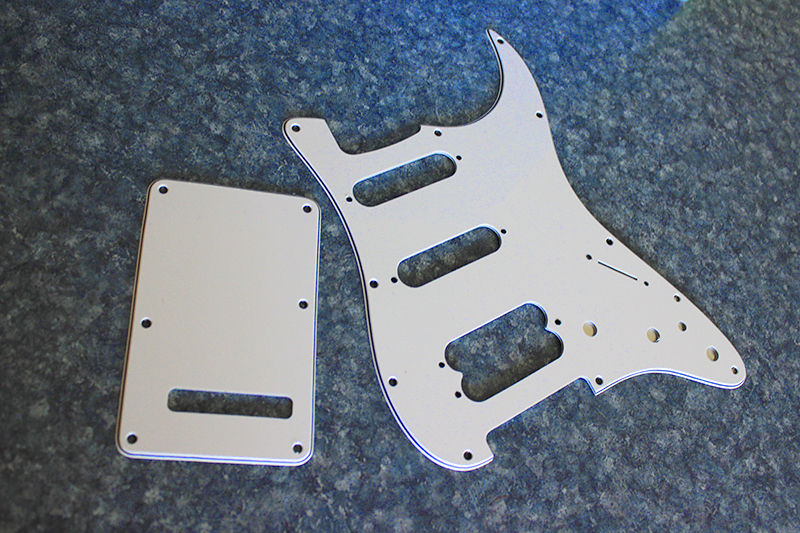 White/Black/White Ultra pick guard with Tremolo cover: $48.00 + shipping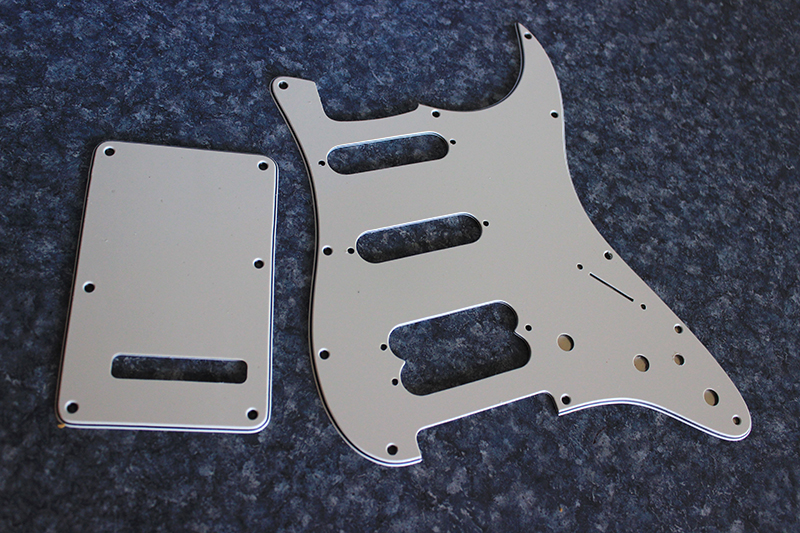 Parchment (aged looking off-White/Black/White) Ultra guard with Tremolo cover: $48.00 + shipping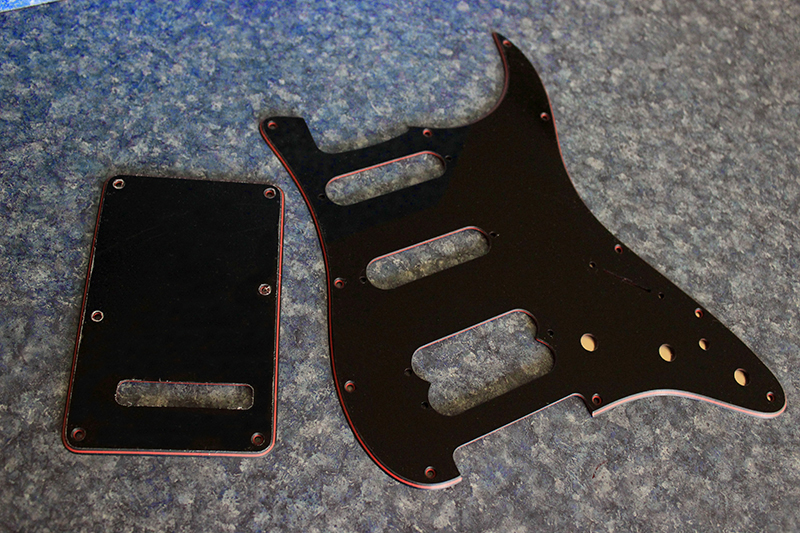 Red/Black Red Ultra guard with Tremolo cover: $48.00 + shipping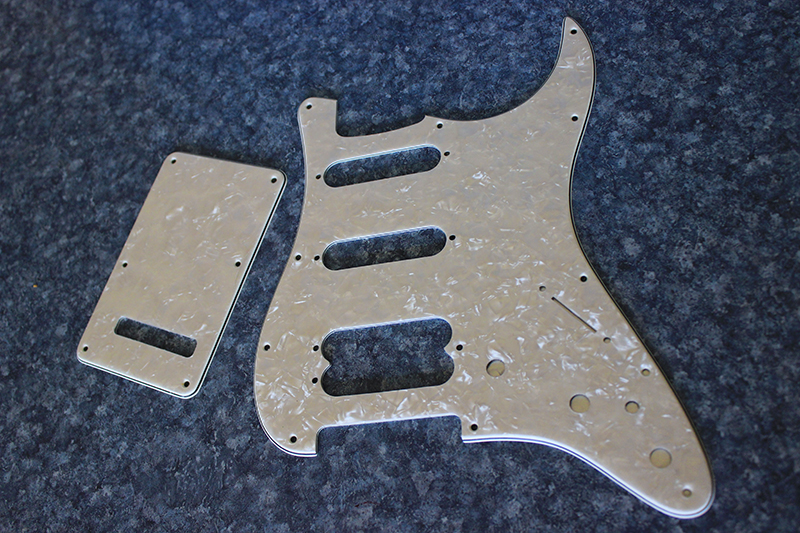 Aged White Pearl Ultra guard with Tremolo cover: $63.00 + shipping
My Email is: