_______________________________ GUITARS BELOW ARE SOLD!!! ________________________________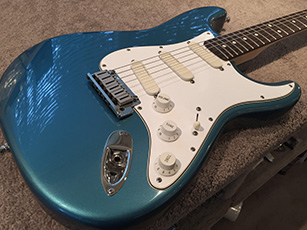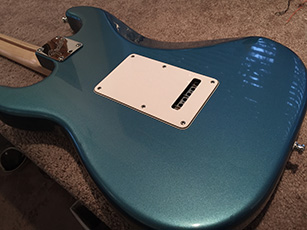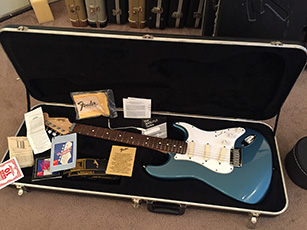 1989 LAKE PLACID BLUE STRATOCASTER PLUS: Condition: MINT. Email me for details & go to my FACEBOOK Page to see a lot of pictures including under the hood! Here is a fine example of the very hard to find Lake Placid Blue in a early 1989 Strat Plus. This guitar is mint. It was bought from the original owner who picked it up early in 1989 and only played it a few times. He was a professional musician and he told me this was "his baby." Even the lettering is perfect on the pickups and it has all the case candy, tremolo bar, original unused strap and unopened polish cloth! The frets are like new. No dings, scratches, or cracks. Hard color to photograph, especially on a cloudy dark day! This has the plain steel block on the tremolo and the square bottomed Lace sensor pickups. I did not pull the neck so not sure of the exact date but it has to be early 89 with these features. Comes with the original retangular Fender case. PRICE: $1700 (SOLD)
__________________________________________________________________
1997 TUXEDO VII TELECASTER PLUS DELUXE: Condition: MINT. Go to my FACEBOOK Page (click here to see a lot of big pictures of the guitar). Here is another closet classic! A 1997 Version II Tuxedo Telecaster Plus Deluxe in mint condition. There are not a lot of the VIIs floating around. A guy bought this and then told me he was intimidated by it, so he played it like 3 or 4 times in his bedroom. Basically brand new. Has almost all the paperwork and even the unused original black matching Fender strap with strap locks. The ivory binding sets of the scratch-free, high-gloss black finish. Comes with a tummy cut on the back. Cool wiring with Gold Lace Sensor Telecaster pickups. 5-way switching just like a Stratocaster, but has the mini-switch which activates the neck pickup in all positions so you can have neck + bridge or all three pickups on at the same time. Comes with a mint Deluxe Fender Plus case with the big chrome latches. PRICE: $1900 (SOLD)
__________________________________________________________________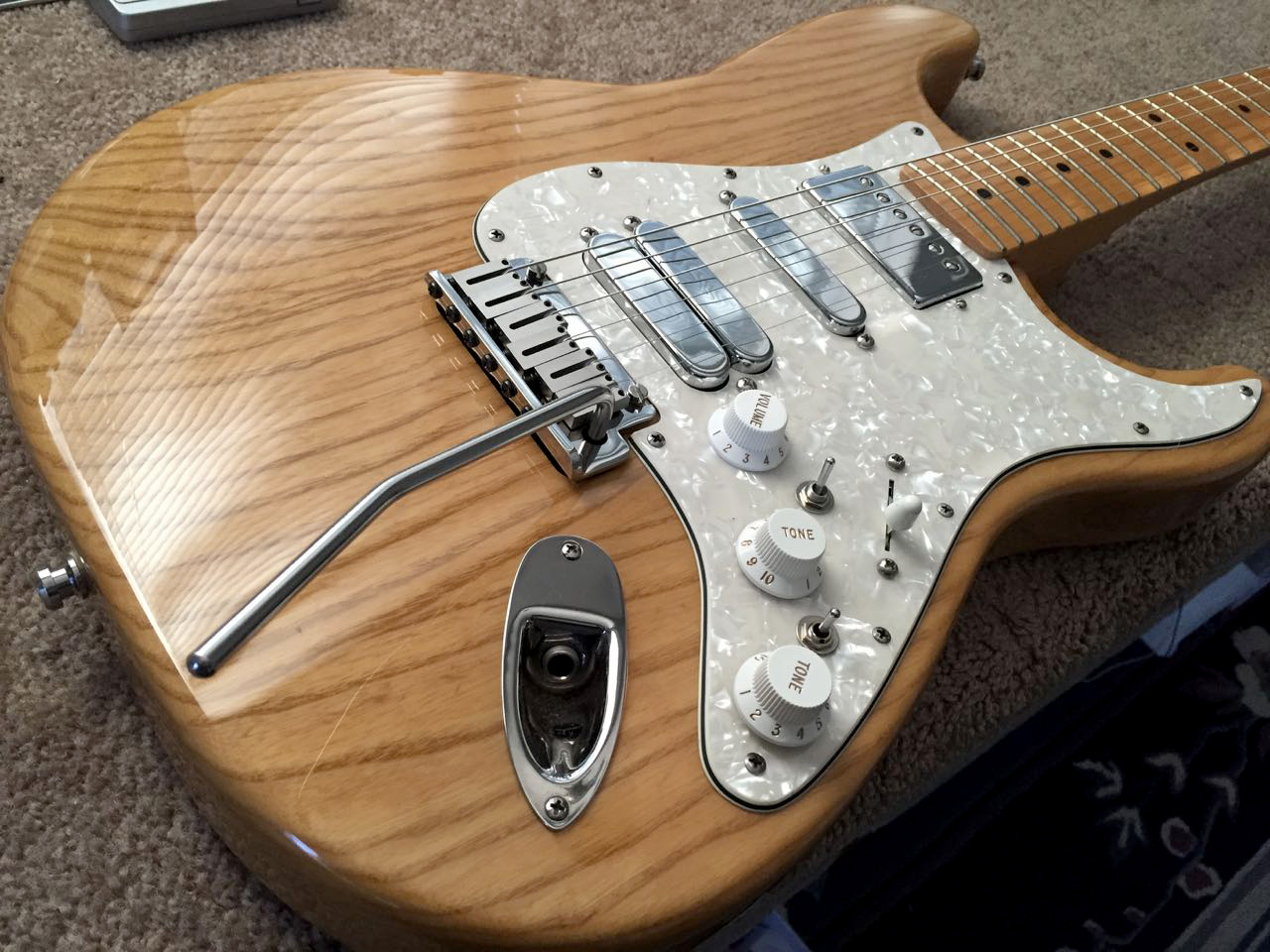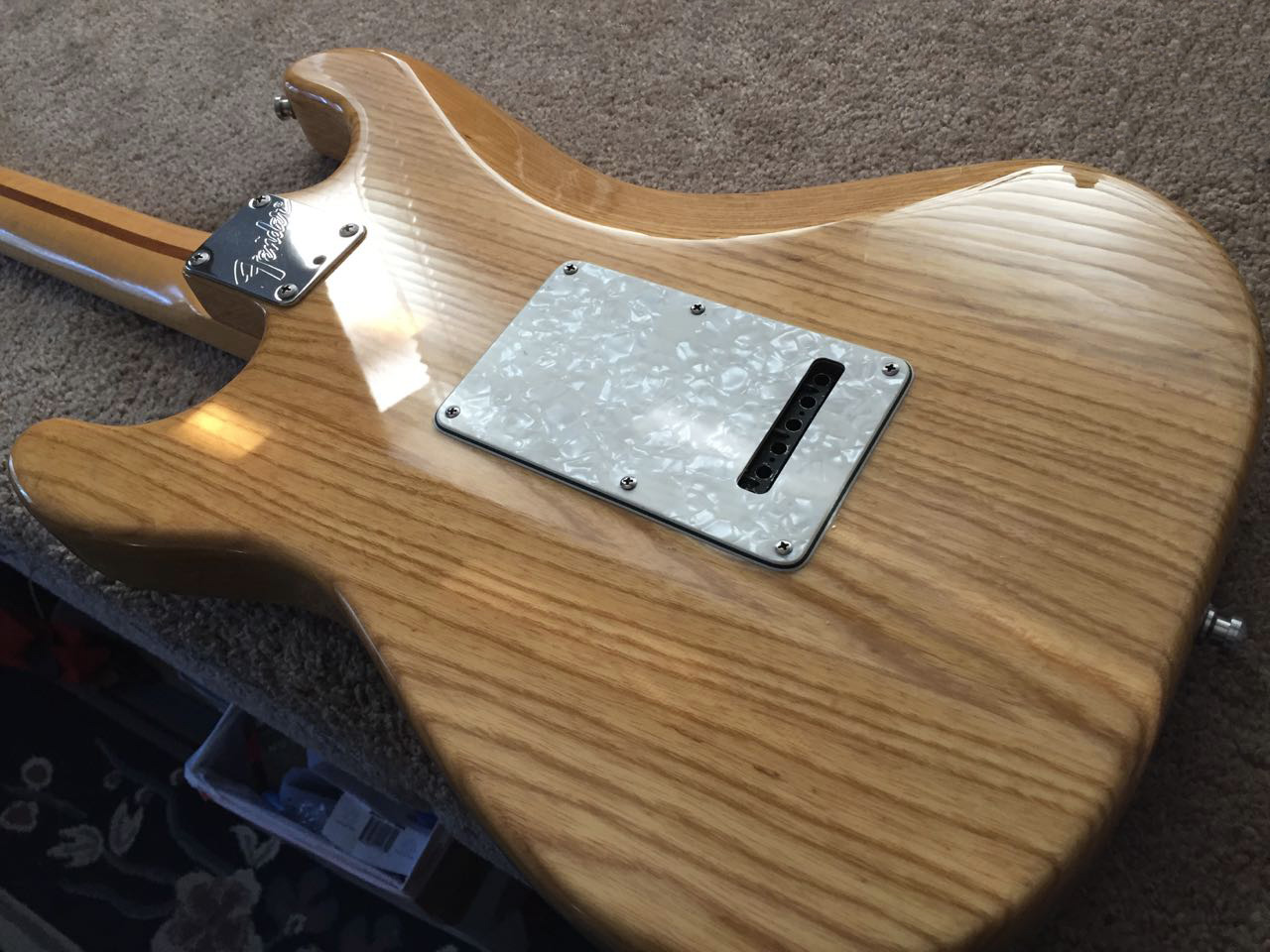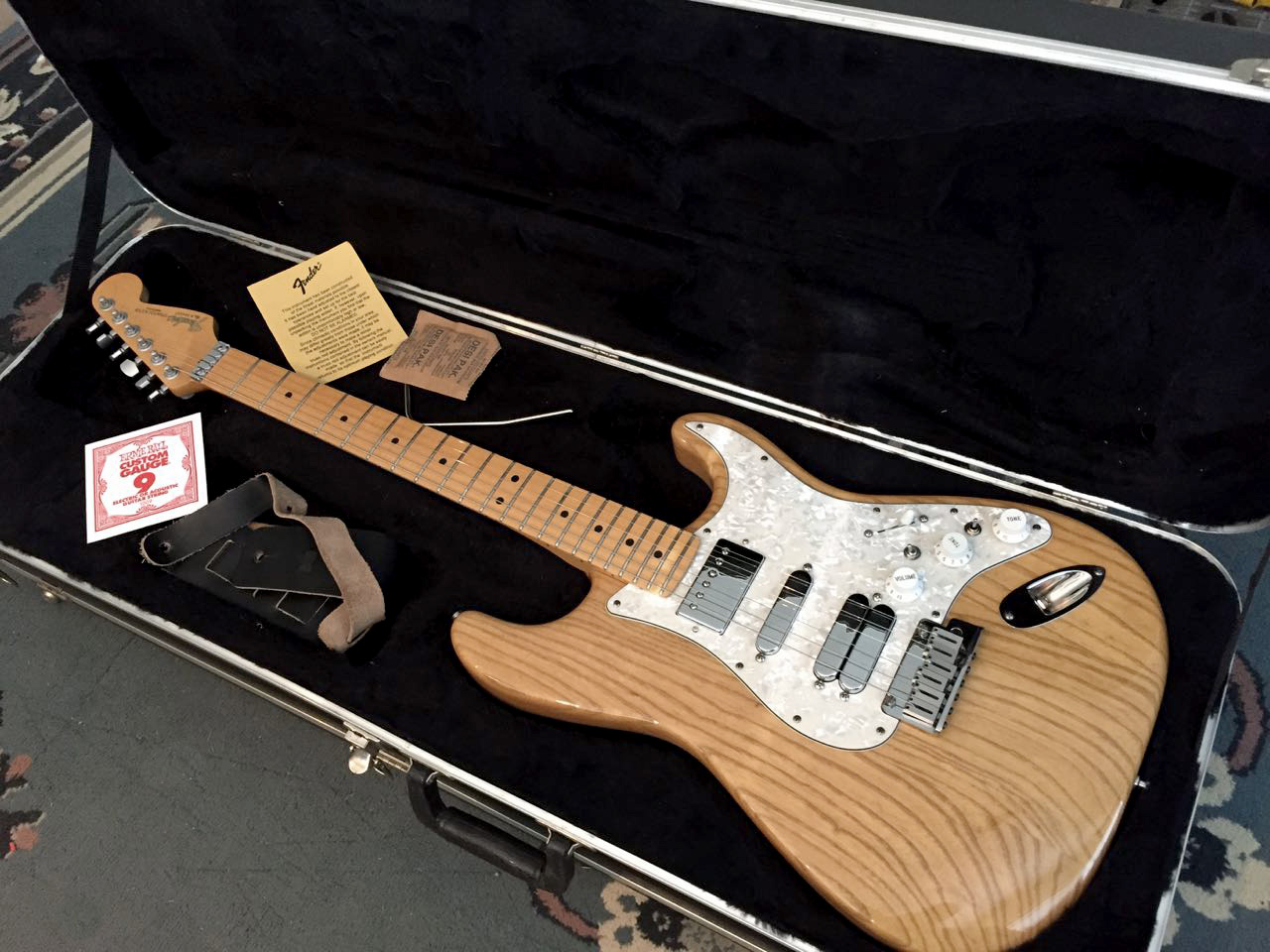 1991 NATURAL ASH FENDER STRAT PLUS DX ULTRA CUSTOM: Condition: MINT-. Go to my FACEBOOK Page (click here to see the guitar) to see a lot of big pictures and the wiring!) This guitar started out as a 1991 Stratocaster Plus Deluxe. When I received it, it was in nearly unplayed condition. It has the odd and rare serial number starting with N99XXXX indicating it is a 1999, but truth is, Fender used these on their 1990-1991 guitars. (I explain this on my website).This one has a stamp on the butt of the neck stating it was made April 02, 1991. This one has a tad chunkier neck which sports some nice flame on the back. Frets are like new. I played this for an hour through a Fender Blue Deluxe III, and what am amazing guitar! Can go from Metal to Country - Jazz to Fusion - Floyd to Santana. Super sustain and clairty. What a tone monster! Why pack a lot of guitars to a gig? This will be a Strat, Tele or a Les Paul. Lots of cool out-of-phase (chirping and quacking) tones on positions #2 & # 4.
This has all new electronics in an NEW aged pearl Ultra pickguard with matching tremolo cover. The neck pickup is a Seymour Duncan Jazz (SH-2N). This is one of my favorite pickups which has very cool harmonics. I have used these on a number of my custom builds. The "Jazz" has nice vintage PAF tone using an Alnico 5 bar magnet and special coil windings. It has a glassy treble response that match well with Strat single coils pickups, but also packs a full, tight bass. Like having a Les Paul Strat.... Do not let the word "Jazz" fool you. I matched it with 500k no-load tone pot using a .033 Oil Capacitor. (You can see the wiring on my FaceBook page.) This pickup does not get dark and muddy. I tossed in a coil splitting switch so one can cut the humbucker in half, given it more of a single coil sound.
The volume pot is a CTS 250K "295" series split shaft audio taper pot, which has 4 contacts on a carbon wafer and will last for 250,000 cycles. Very high quality and will give the guitar years of smooth audio adjustment. This has Fender's 5-way super switching, which means in position #3 it is the neck + Dually bridge pickup, instead of your standard middle pickup. Lot's of mixing and matching. The middle pickup is a standard Chrome Dome Lace Sensor that runs at 6.2k.
The Chrome Dome Dually is made up of two independent Chrome Dome Lace Sensors, each running at 13.2k. This means when they are in series (3- way mini-switch in middle position) they operate in tandem at 26.4k! Blazing hot humbucker tone. The Dually and the middle pickup is connected a TBX tone control using an "Orange Drop" .022 cap. Tele bridge to vintage Strat tones from the bridge. Also comes with the era correct rectangular case that is in good condition. PRICE: $1700 (SOLD)
__________________________________________________________________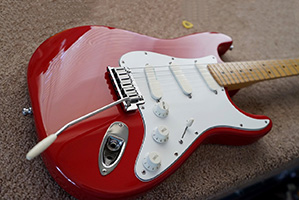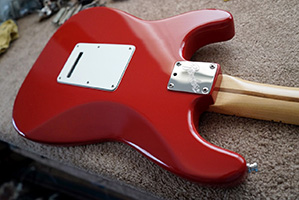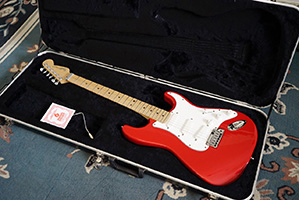 1990 FENDER TORINO RED VERSION I STRATOCASTER PLUS DELUXE: Condition: MINT- . Go to my FACEBOOK Page (click here to see a lot of big pictures of the guitar and under the hood). This is a Version I Strat Plus Deluxe, which were introduced in late 1989 and ended in early 1990. The N9 Seial number indicates 1990 and the body neck socket stamp is Dec 18th, 1989. The Version I came with Silver/Silver/Blue Lace Sensor pickups. In 1990 Fender then changed the Deluxe to the Blue/Silver/Red Lace Sensor pickups. VERY RARE GUITAR espepcially in this condition!!!!! These are quite collectable especially when you find them in a rare color like Torino Red, which was only offered in the Plus lineup from 1987 to early 1990. A very bright red! Was one of Eric Clapton's favorite colors as well! The Maple fretboard is excellent as are the frets. Plays super sweet! Also comes with the original Fender rectangular case that is in excellent condition and trem bar. PRICE: $1650 (SOLD!!!!)
__________________________________________________________________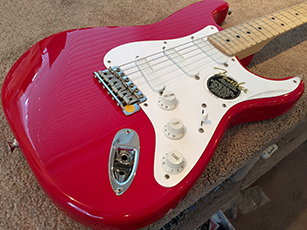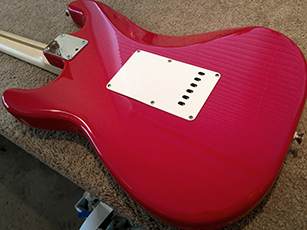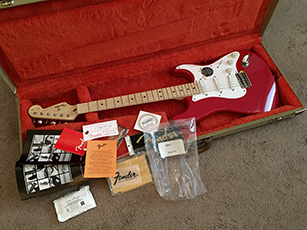 1998 TORINO RED ERIC CLAPTON SIGNATURE STRATOCASTER: Condition: MINT - NOS. Go to my FACEBOOK Page (click here to see a lot of big pictures of the guitar). This is about as nice as it gets! A New Old Stock quality Clapton Strat that is 19 years old. Try finding a mint Version II EC Strat with Gold Lace pickups in this condition—super hard! Here is the story. This guitar was bought brand new and never played as the owner never learned. The guitar was purchased then taken out of the case a few times, looked at, and then put away. The guy never even learned a G chord! The plastic is still on the pickguard and trem cover. Comes complete with the Clapton Kit, paperwork, hang-tag, manuals, stickers and polishing cloth. It has all the cool features of the VII EC (read about this on my signature guitar page), with Gold Lace Sensors, 25dB Boost, V shaped neck and Vintage tuners. This guitar plays super nice, as a signature guitar should. Has the original vintage tweed case. The case has a few light scuffs from the guitar being stored, otherwise like new. PRICE: $1700 (SOLD!!!!)
__________________________________________________________________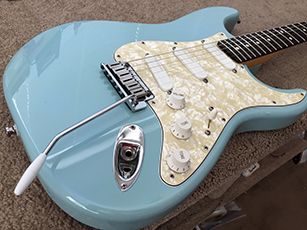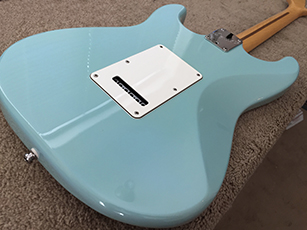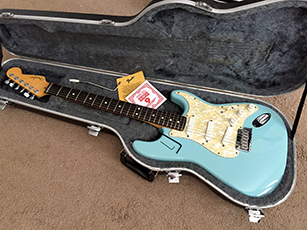 1996 SONIC BLUE FENDER STRATOCASTER PLUS: MINT- . Go to my FACEBOOK Page (click here to see a lot of big pictures of the guitar and under the hood). Here is a very hard to find and in my humble opinion, a very cool color—Sonic Blue! This color was available from early 1996 into the spring of 1997. This one has a neck date of July 2nd 1996 and the body date is a bit smudge but looks like Oct of 1996. These guitar is near mint and comes with all the Strat Plus appointments. The neck is spotless and the body is wonderful, with the exception of two small dimple ding on the top. One is visible and the other is so small it is very hard to locate. The neck on this was made the Fender legend, Herbie Gastelum, who is the 2nd oldest employee at Fender next to Abigail Ybarra, who who worked directly with Leo Fender. This was a surprise to me because I am sure he was in Fender's Custom Shop in the early 1990s. So why this neck was made by him? It is a mystery to me, but he shaped necks for a lot of famous players. Even the writing on the Gold Lace Sensor pickup looks like new and the pickguard shows no scratches. Close to unplayed condition. Comes with the deluxe Strat Plus Case with the big chrome bucket latches. PRICE: $1550 (SOLD!!!!)
__________________________________________________________________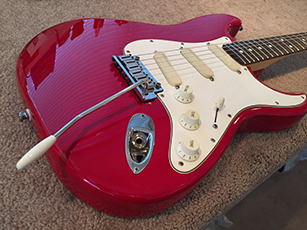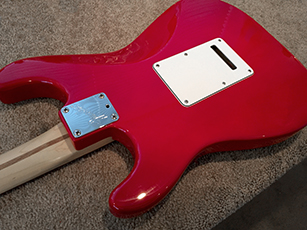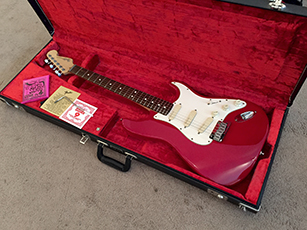 1993 LIPSTICK RED STRATOCASTER PLUS: Condition: EXCELLENT+ . This is a pretty hard to find color, made available from early 1993 into the middle of 1996. The color is created by the guitar being first shot in a white paint then several dark transparent coats of red follow by clear coats. (i.e. it is a "candy color" much like Candy Apple Red but with no metal flake in the base coat.) The body is near prefect. No cracks in the neck sockets and the lettering on the pickups is not rubbed off and the frets are excellent. The pickups and pickguard have slightly aged to a nice light creamy white color. Looks nice with the red! The Rosewood is dark with nice grain. I did find a few light fingernail marks. Again, this comes with all the Strat Plus appointment. It has the LSR roller nut, schaller locking tuners, etc. The only flaws are a couple very small dings around the head-stock, a slight anomaly with the skunk stripe and a few spots on the back of the neck and a rub mark on the neck near the head-stock from what appears to be from a guitar hanger. Super nice guitar that plays great. Comes with a era correct black Fender Tolex case (much like a 1970s style) that's a few small nicks. PRICE: $1250 (SOLD!!!!!)
__________________________________________________________________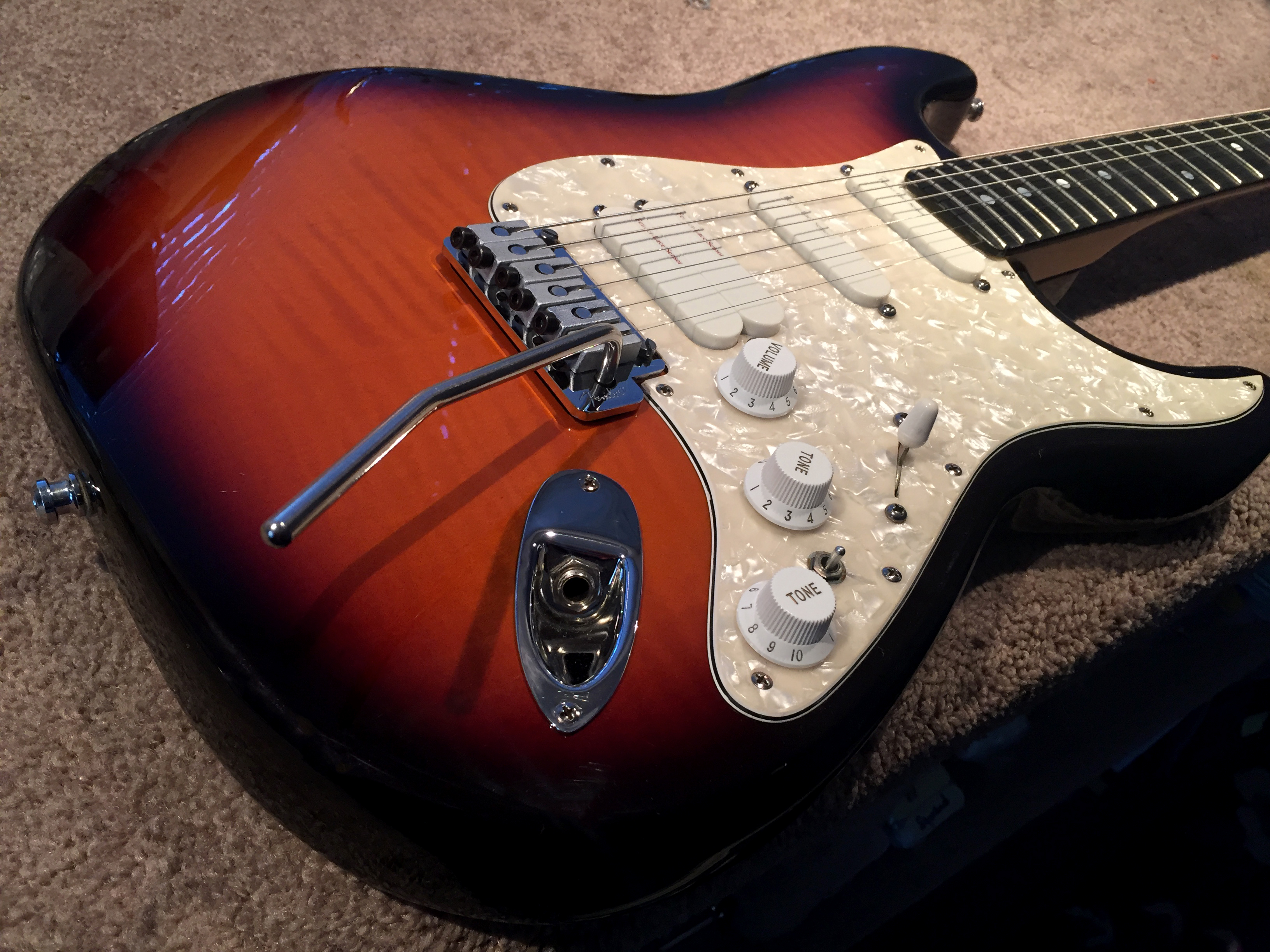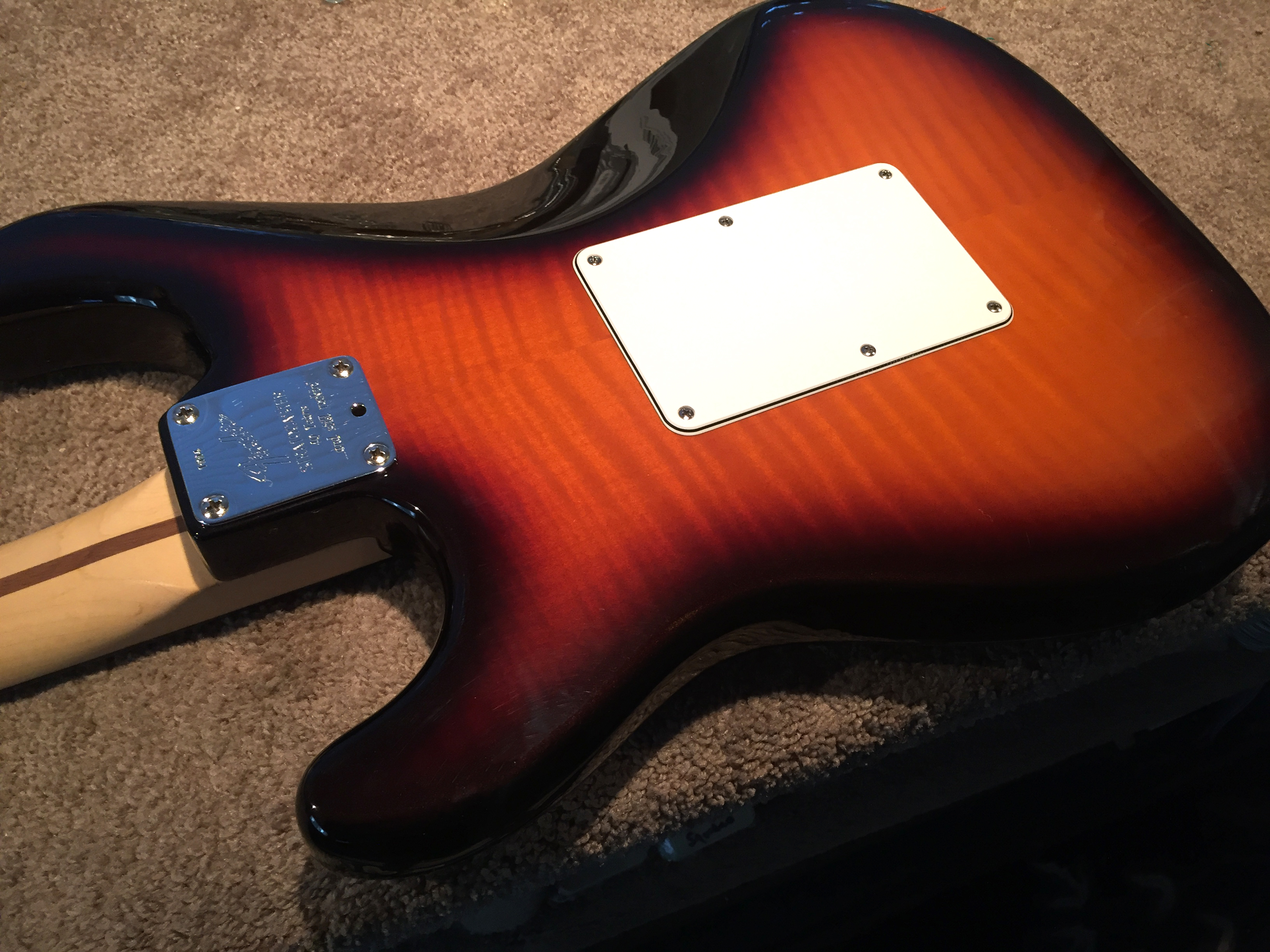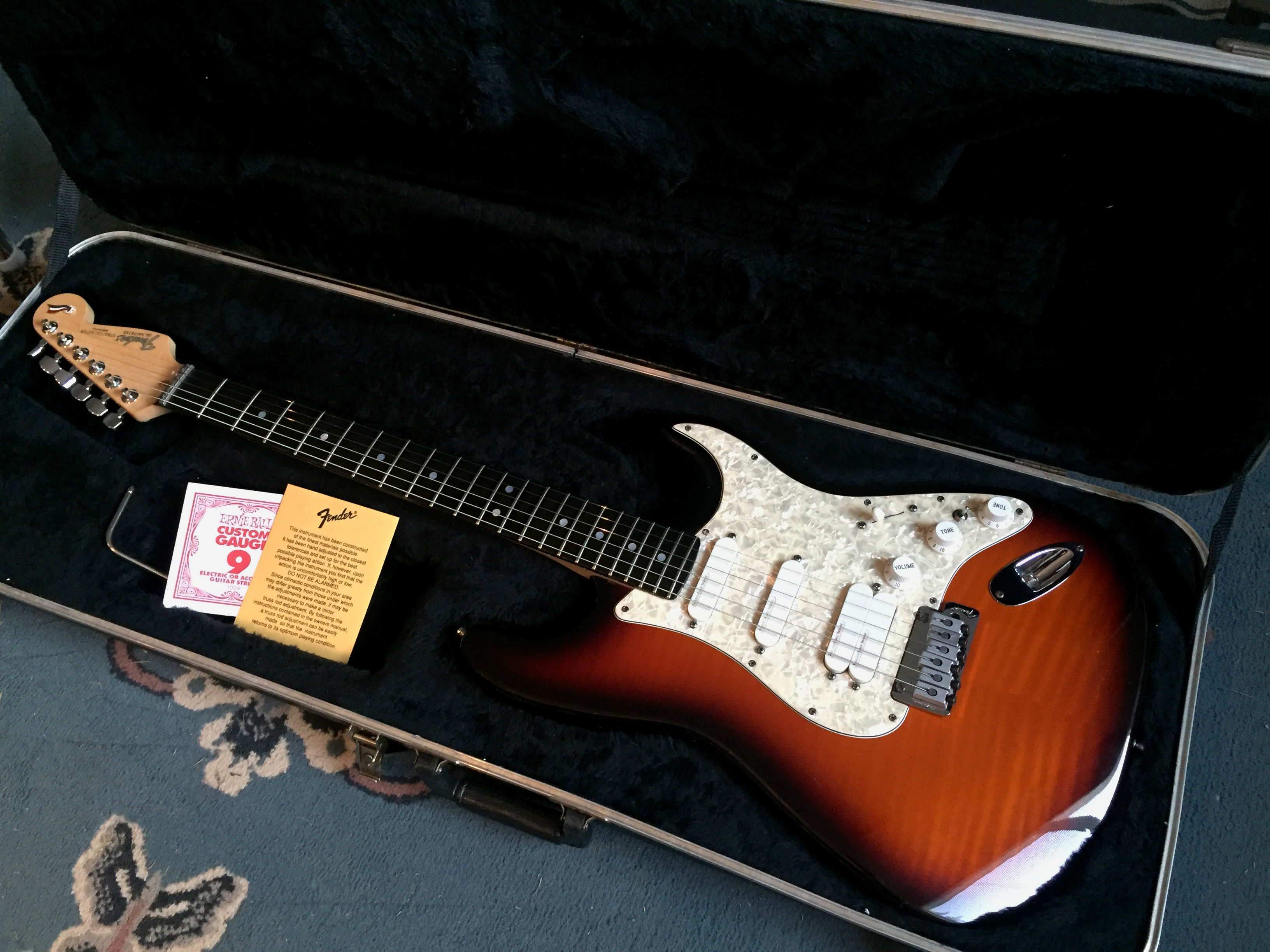 1994 40TH ANNIVERSARY FENDER ANTIQUE BURST STRATOCASTER ULTRA: Condition: EXCELLENT+. This is a hard to find 1994 Fender 40th Anniversary Model Ultra in Antique Burst. Has the neck plate that says 1994 - Fender Stratocaster 40 Years… and still rockin' and has the red, white and blue anniversary emblem on the headstock. Body sports some really nice split match-book flame. I rated this one Excellent+ due to some very small bumps and a few micro nicks. You know I am OCD! The guitar is gorgeous. Comes with all the Ultra appointments, such as all chrome parts, LSR Roller nut, rarer Floyd Rose locking bridge, and a dark ebony fretboard with real Abalone inlays. These also have that cool Ultra switching using a 5-way super switch that mixed the neck + bridge on position #3 and the 3-way mini-switch that can give you a lot of variations on the bridge Dually. Read about this switching in details on my Ultra page! Comes with the original Fender rectangular DX flight case that is in very good condition. PRICE: $1850 (SOLD!!!)
_________________________________________________________________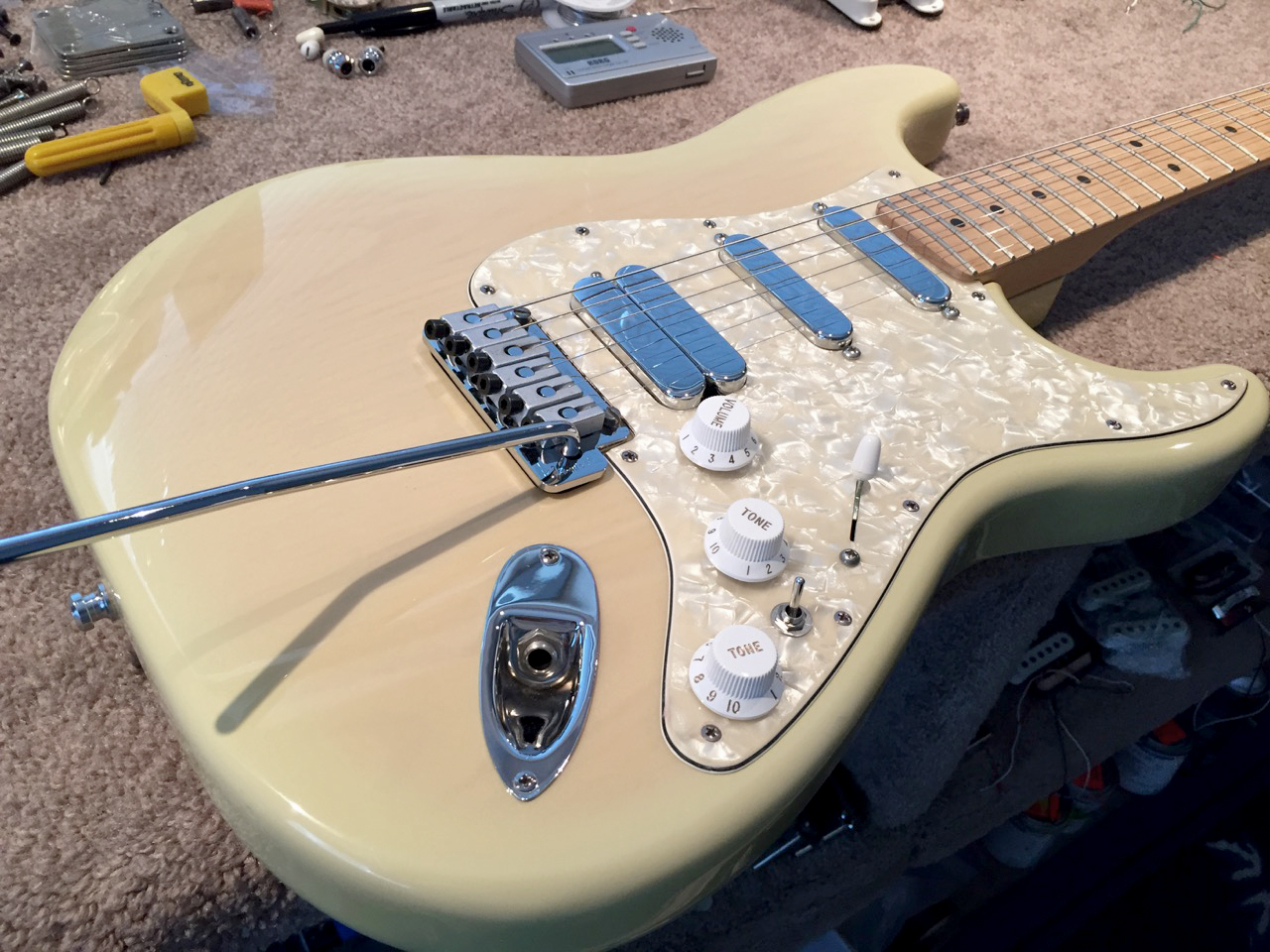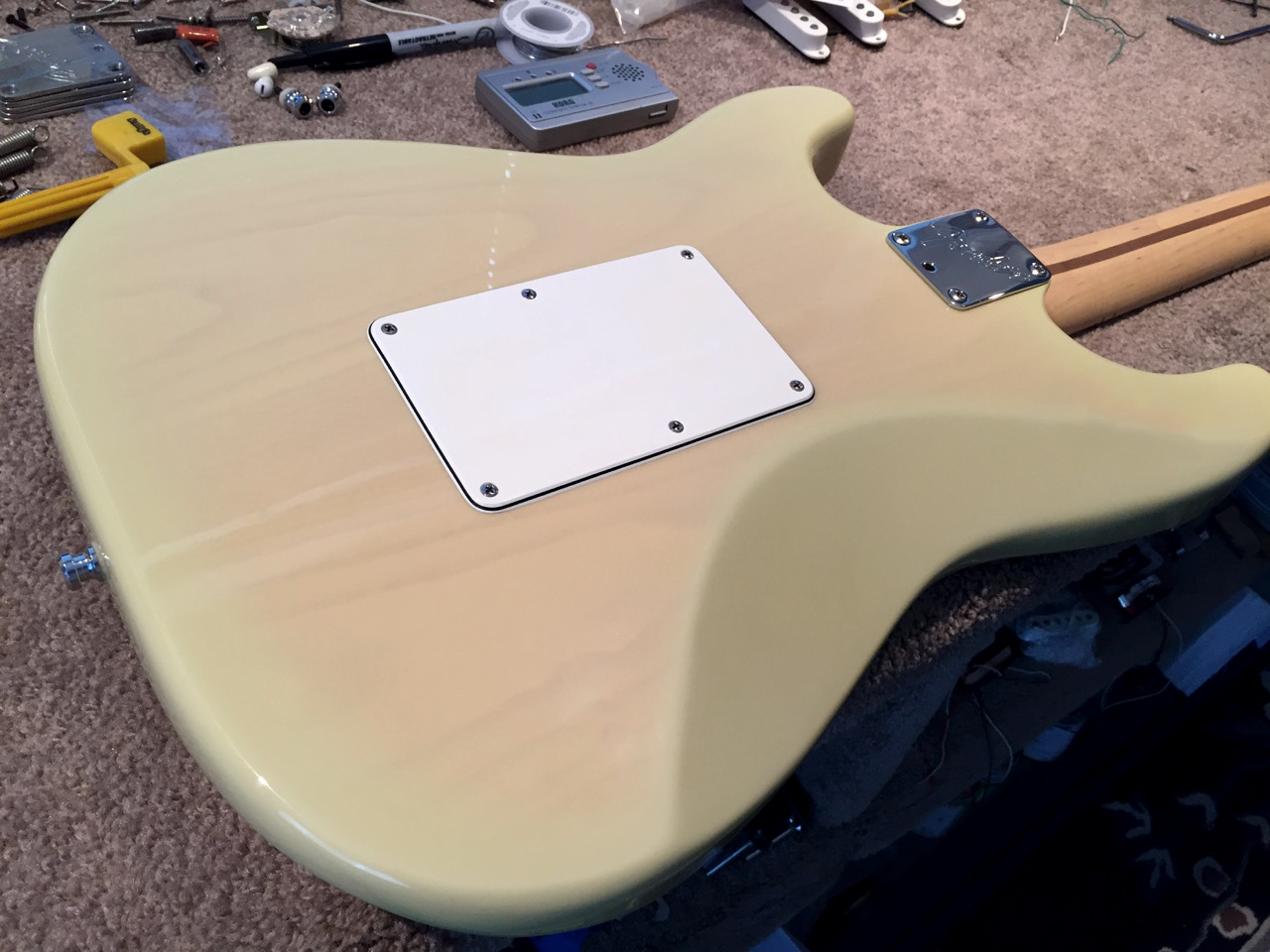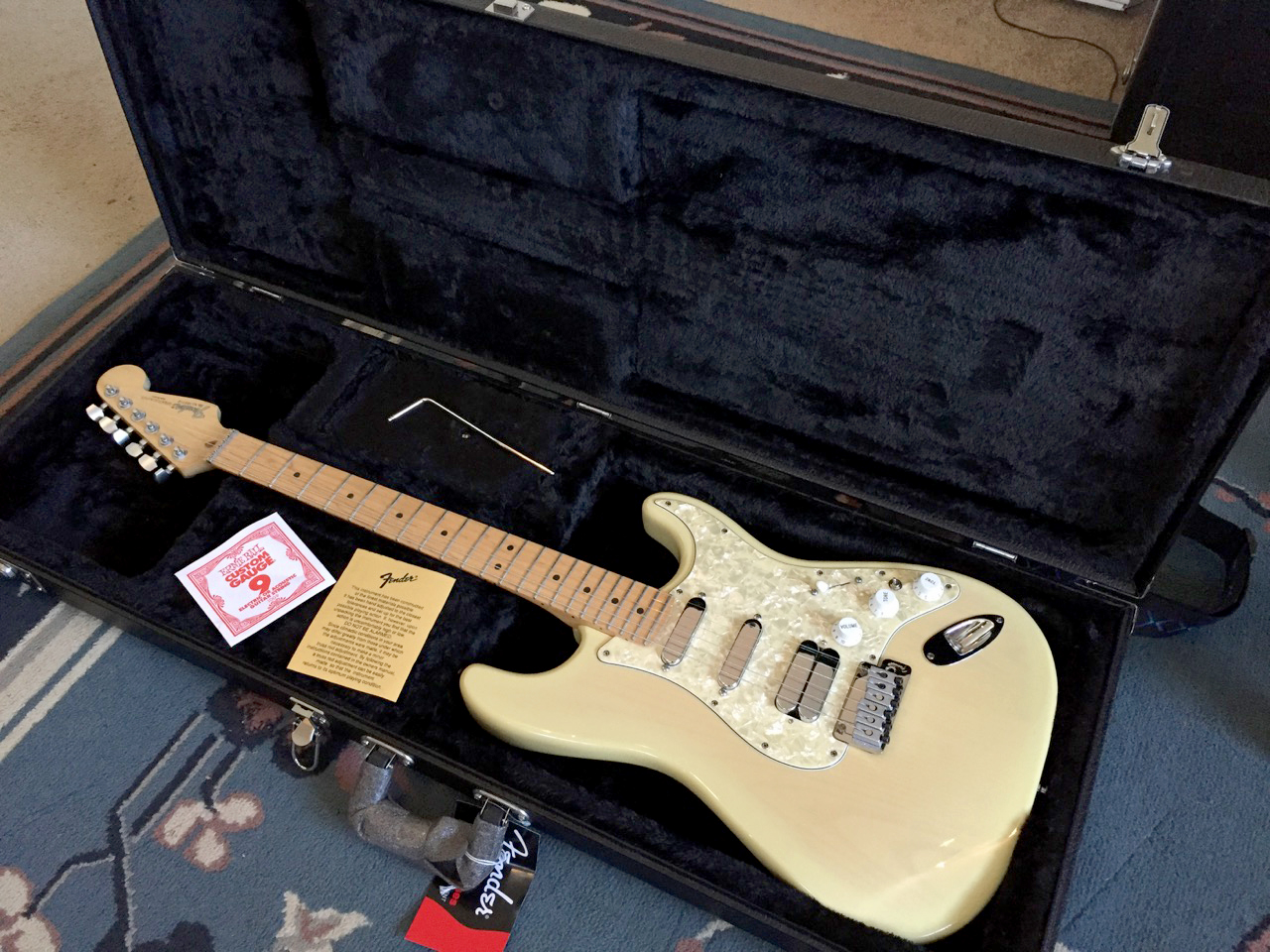 1993 FENDER VINTAGE BLONDE STRATOCASTER ULTRA CUSTOM: Condition: MINT- This is a near mint 1993 Vintage Blonde, or what the old timers used to call transparent Butterscotch. Gorgeous guitar that plays really SWEET! I really love the Ash grain that shows through the finish. This build has Chrome Domes Lace Sensors in the neck and middle, with a Chrome Dome Lace Dually in the bridge. This Dually when ran is series operates at 19k. When split the lower one is 6k and then upper one is 13k. So with the mini-switch you can get Tele, humbucker, and vintage Strat tones. Using the 5-way super switch in position 3 you have neck + bridge configuration, like a Tele or other 2 pickup guitars. The first tone control that is connected to the neck pickup is a no-load, 250k pot with a .22 Monotone Vitamin T Cap. Turn it to 10 and you by-pass the tone control completely. For the middle and bridge pickups I used a standard TBX tone control. Please note the rarer Floyd Rose bridge system. Cut off the end of the string, insert it and tighten the Allen screw. Also comes BRAND NEW Fender 1970s Reissue Tolex Hard Shell case. PRICE: $1650 (SOLD)
__________________________________________________________________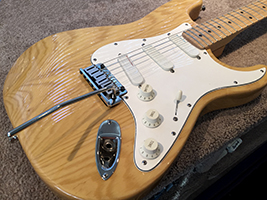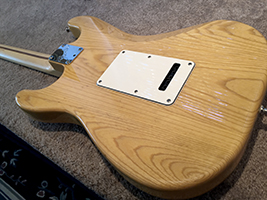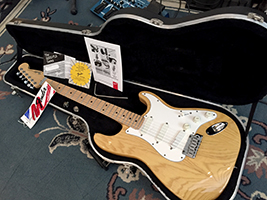 1991 FENDER NATURAL ASH STRATOCASTER PLUS DELUXE: Condition: NEAR MINT.This is a super minty 1991 Strat Plus DX (version II) which has the Blue, Silver, Red Lace Sensor pickups made from solid ASH with a maple neck. This guitar plays exceptionally well - mojo you might say. This has the DX tremolo system with the pop-in trem bar. Frets are like new. And, of course, all the other cool Strat Plus features: Schaller locking tuners, and a Wilkinson roller nut. In the Fender always charged extra for a Natural finished Strats. Comes with a Fender Red Label form fitting hard-shell case which is also excellent with some of the case candy! PRICE: $1375 (SOLD)
__________________________________________________________________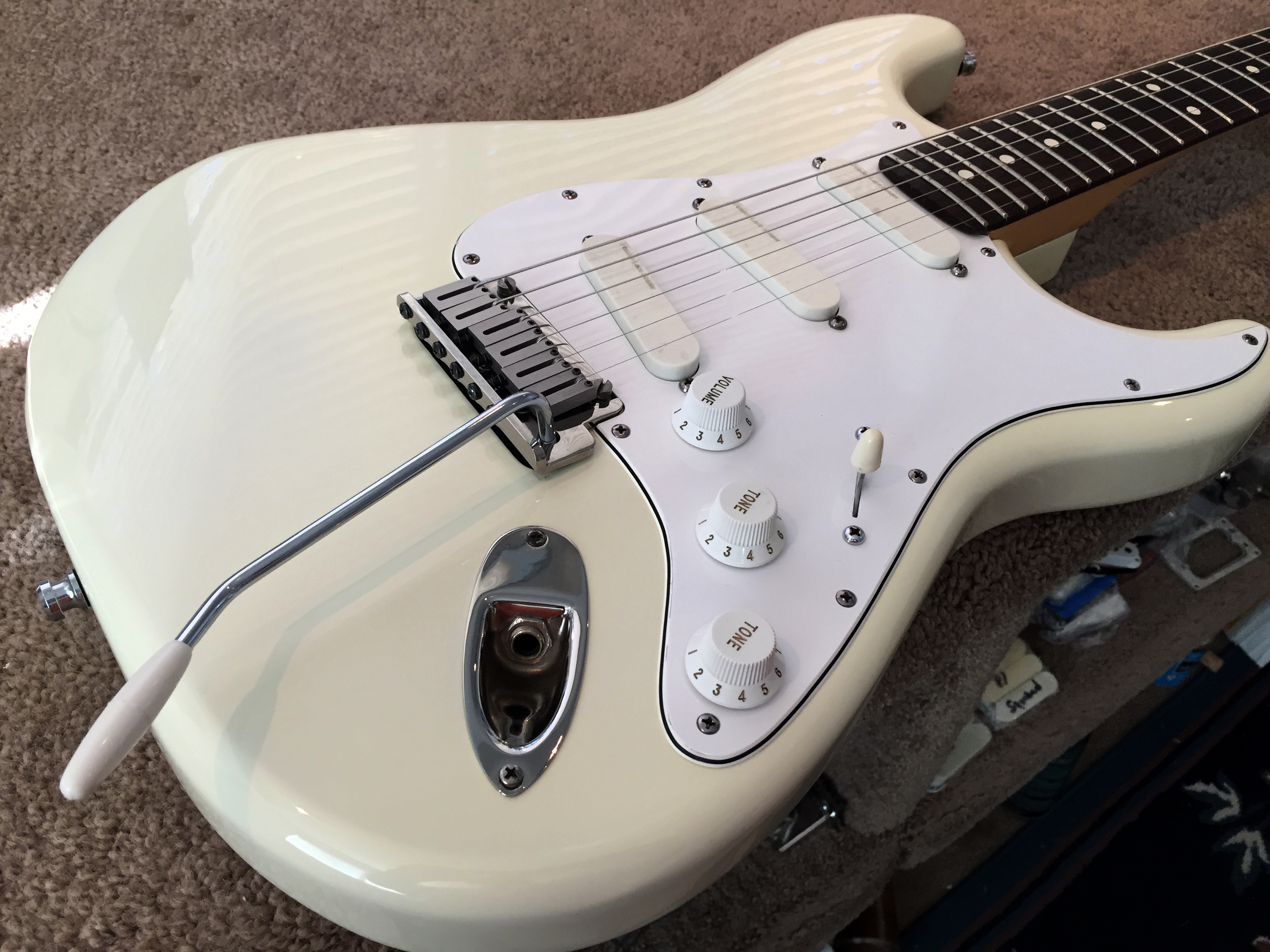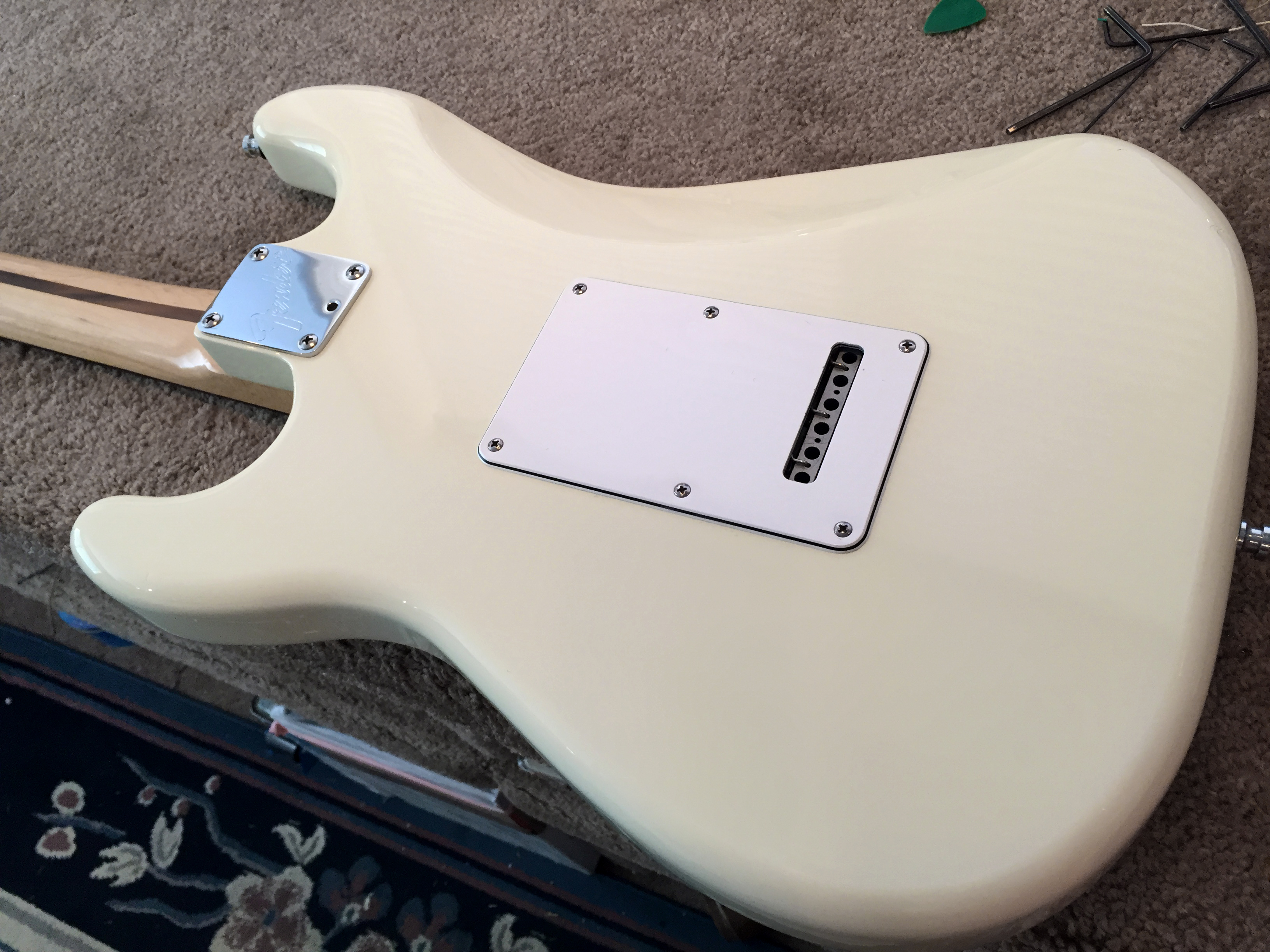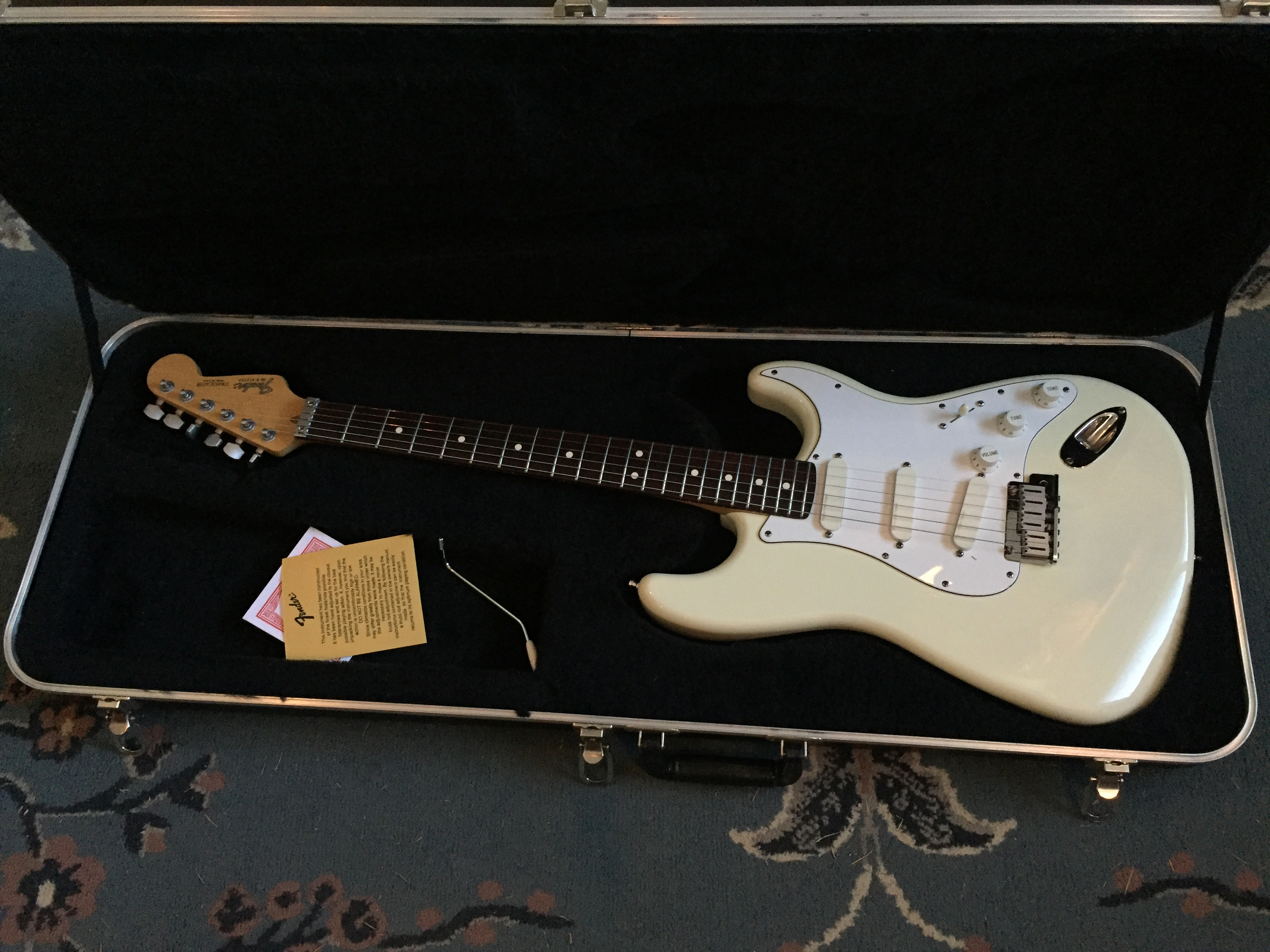 1989 ARCTIC WHITE FENDER STRAT PLUS: Condition: EXCELLENT+. This is a very nice example of 1989 Strat Plus in Arctic White. The finish has aged a slight bit. This color is a bit harder to find and is sometimes mistaken as Vintage White when the clear coat turns slightly yellow. Vintage White is considerably creamier colored than this. I have always loved this color as it reminds me a bit of Jimi and Woodstock! This has all the standard Plus appointments: Gold Lace pickups, Wilkinson roller nut, sand Schaller locking tuners. Also has the an original case that is in excellent condition. The Rosewood fretboard is dark and in great condition and stands out against the white body very nicely. Frets are in great shape. No dings on the back of the neck to speak of. The only thing I could find is two very small bumps on the back upper edge that would be under your arm when you play. Comes with an original hardshell case in very good condition. PRICE: $1300 (SOLD)
________________________________________________________________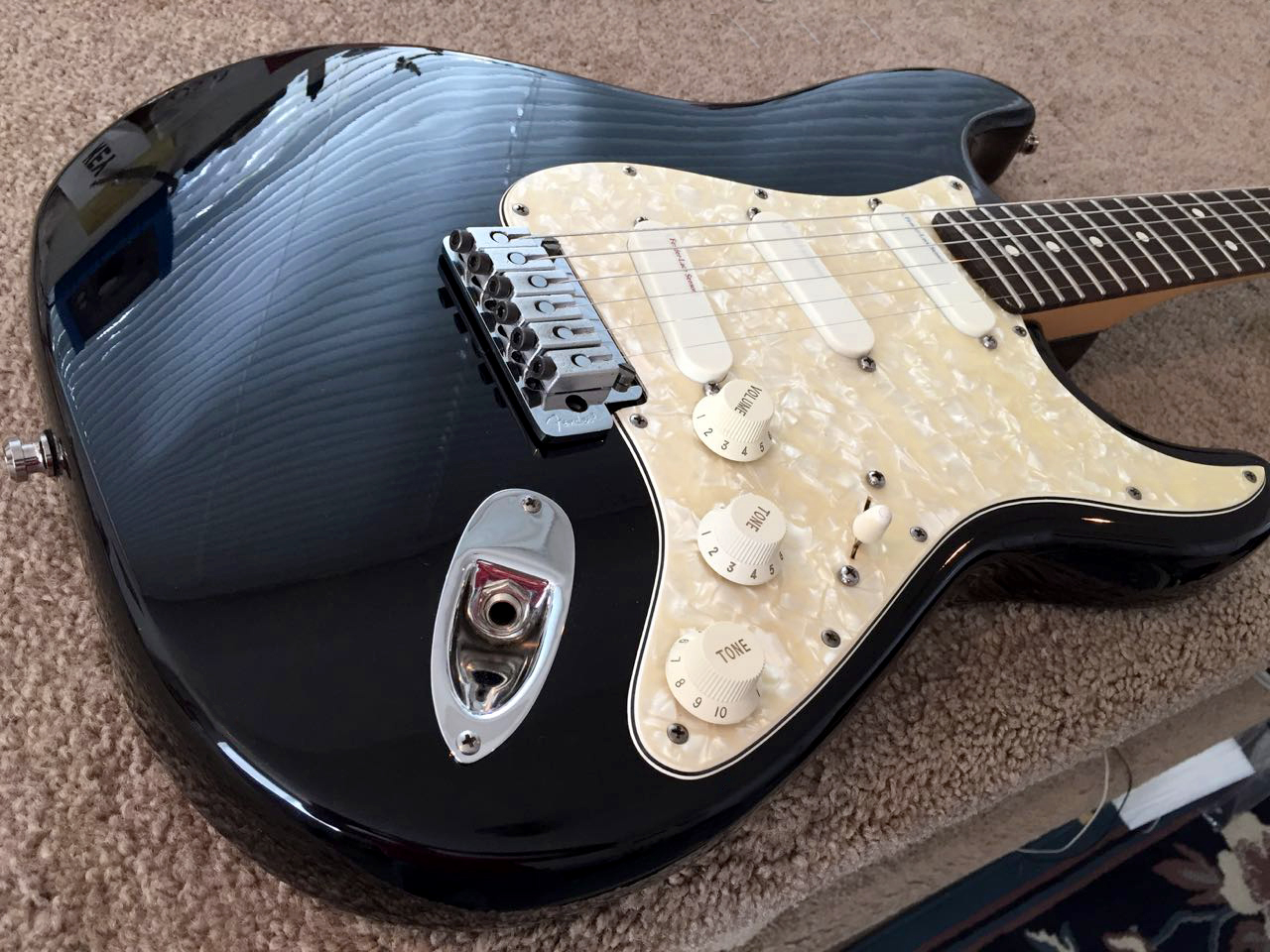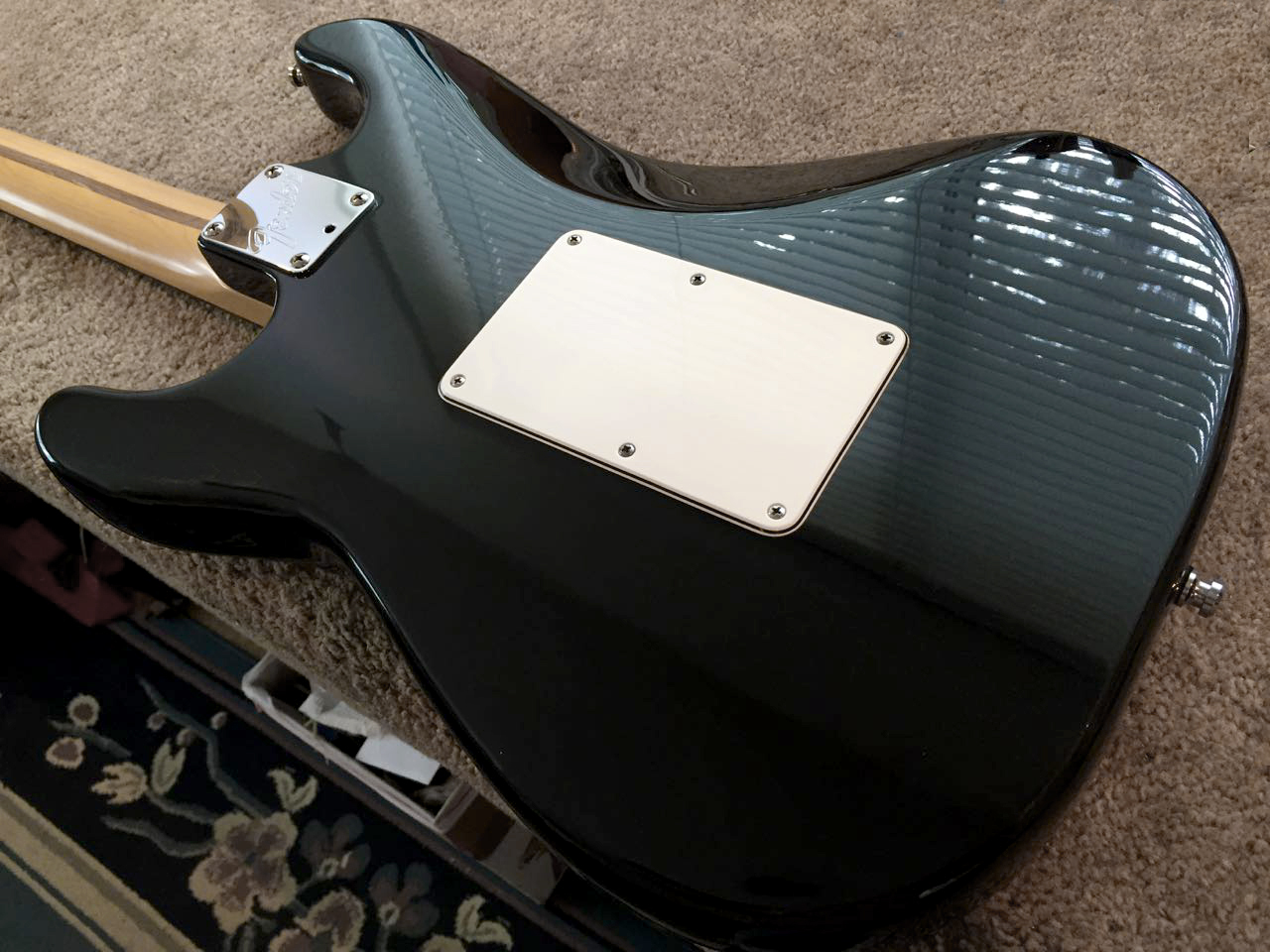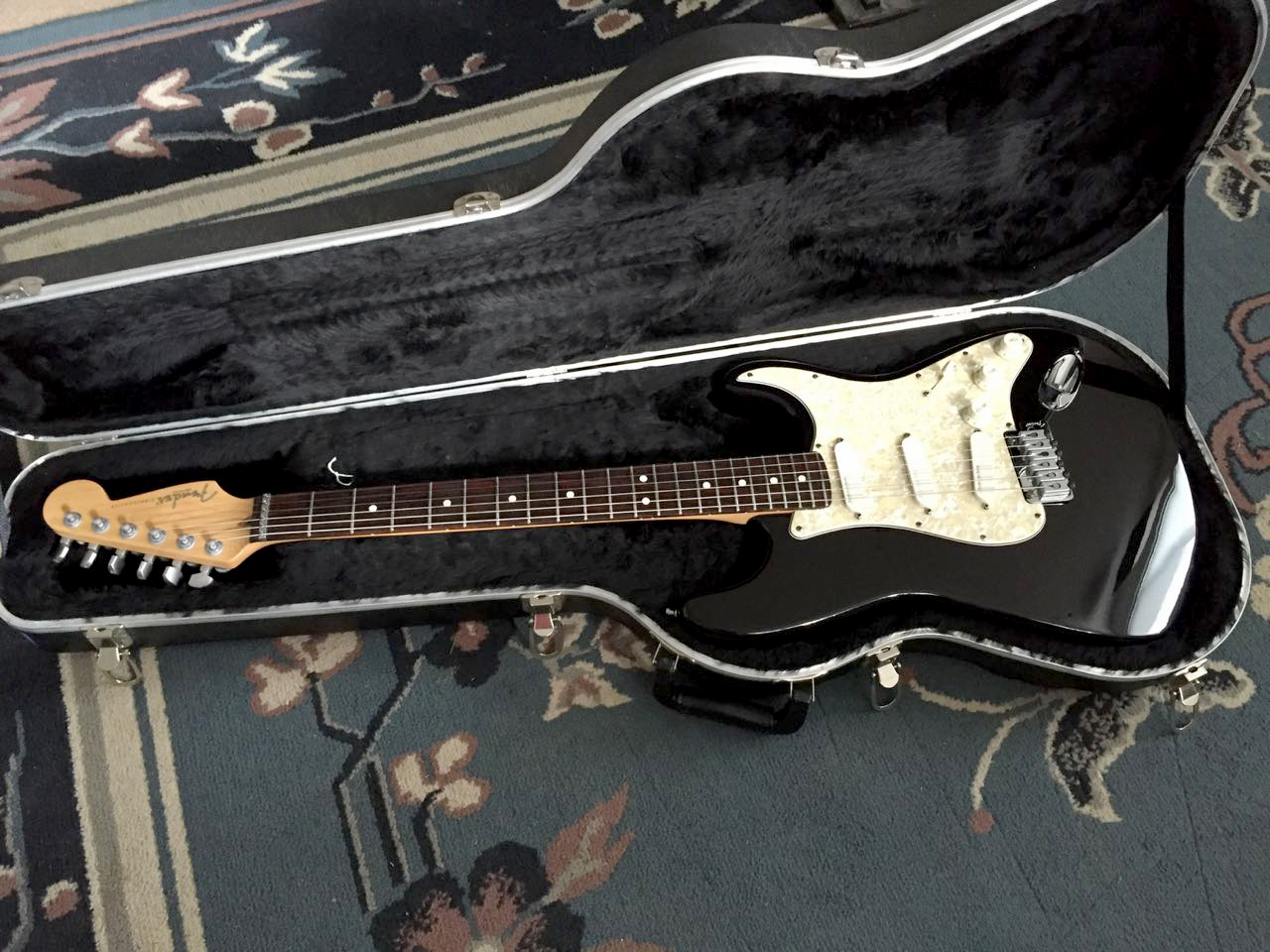 1995 MYSTIC BLACK FENDER STRAT PLUS DELUXE: Condition: NEAR MINT- . This Strat Plus DX is in the rare Mystic Black color. When you place it under bright light, you see a blue/green pearl flake in the clear coat—very mystic for sure! I have a close up of the flake below from one of my other Mystic Black Plus' I shot outside in the sunlight. This has the very hard to find Floyd Rose bridge system. Cut off the end of the string, insert it and tighten the Allen screw. Since it is a DX it comes with Blue, Silver and Red Lace sensor pickups. I love the tone of these. Fatter tones in the neck position and more bite in the bridge which great for Blues, Funk, and Jazz, but still retains all the great Strat tones in-between we love. Frets are like new. A very, very clean guitar. I have discounted the price some as the only real thing to mention is some discoloration on the very tip of the head-stock (picts on FaceBook). I always sell near mint Mystic Black for around $1600. Comes with the like new Fender Red Label case. PRICE: $1475 (SOLD!!)
__________________________________________________________________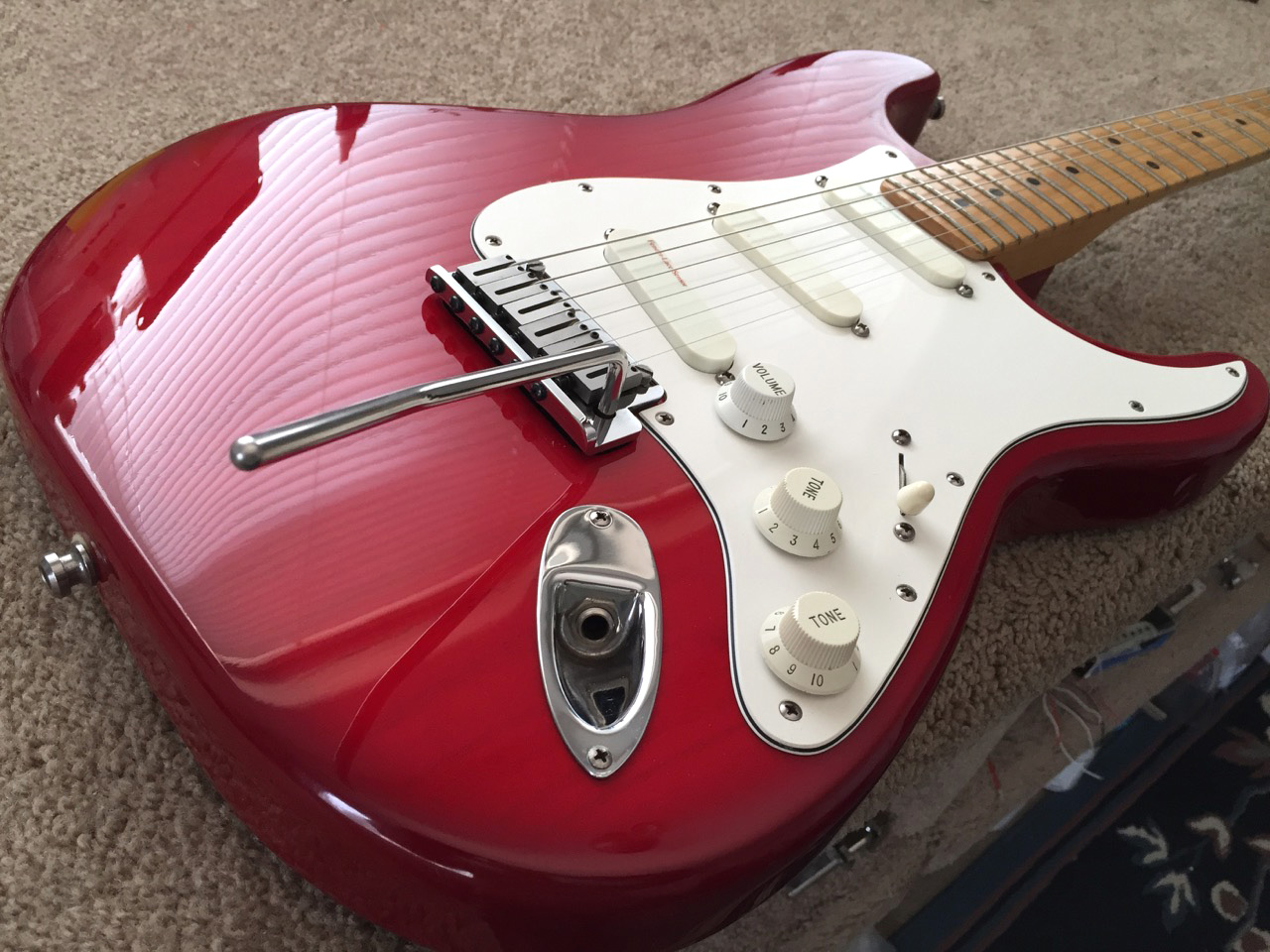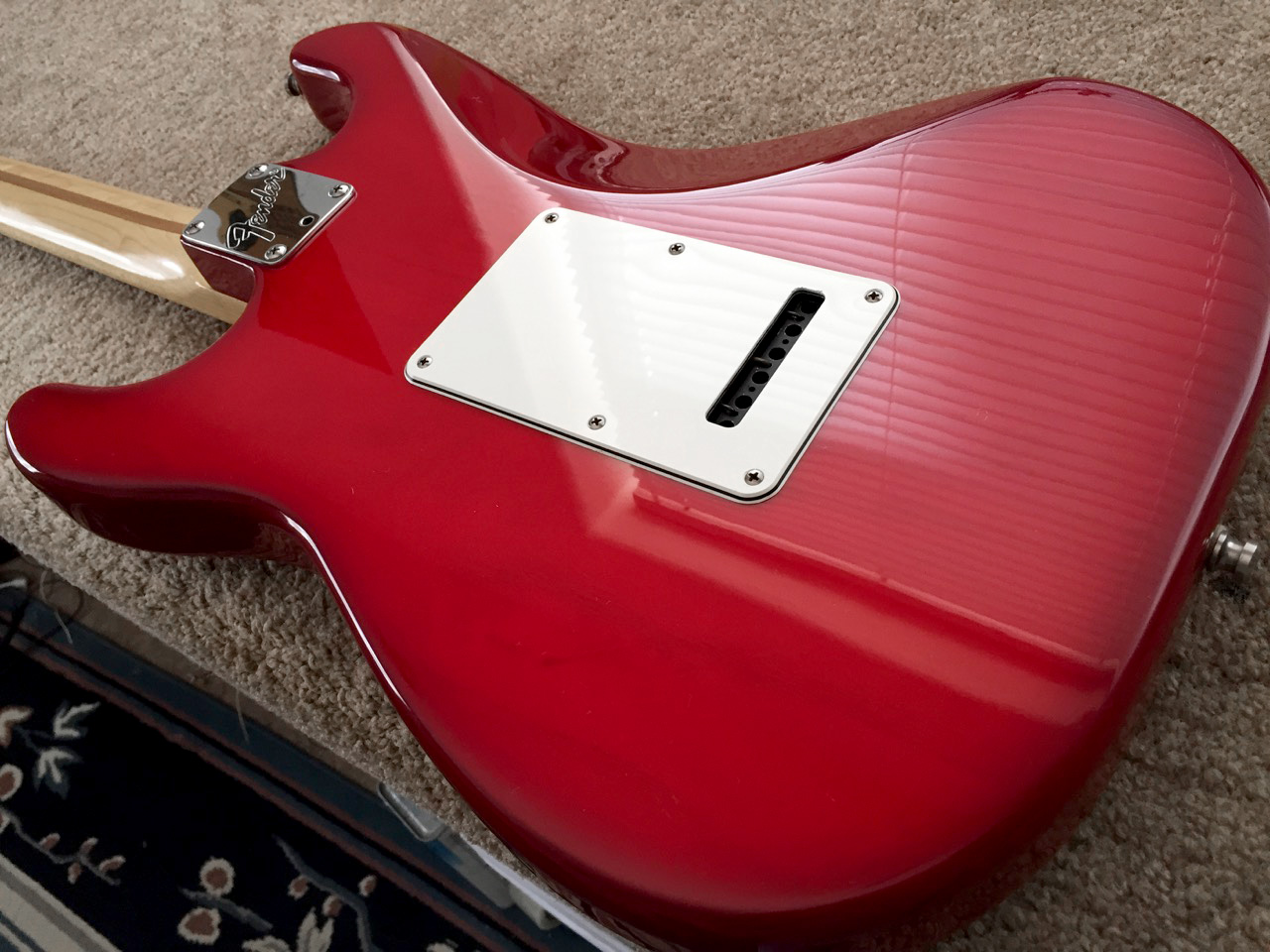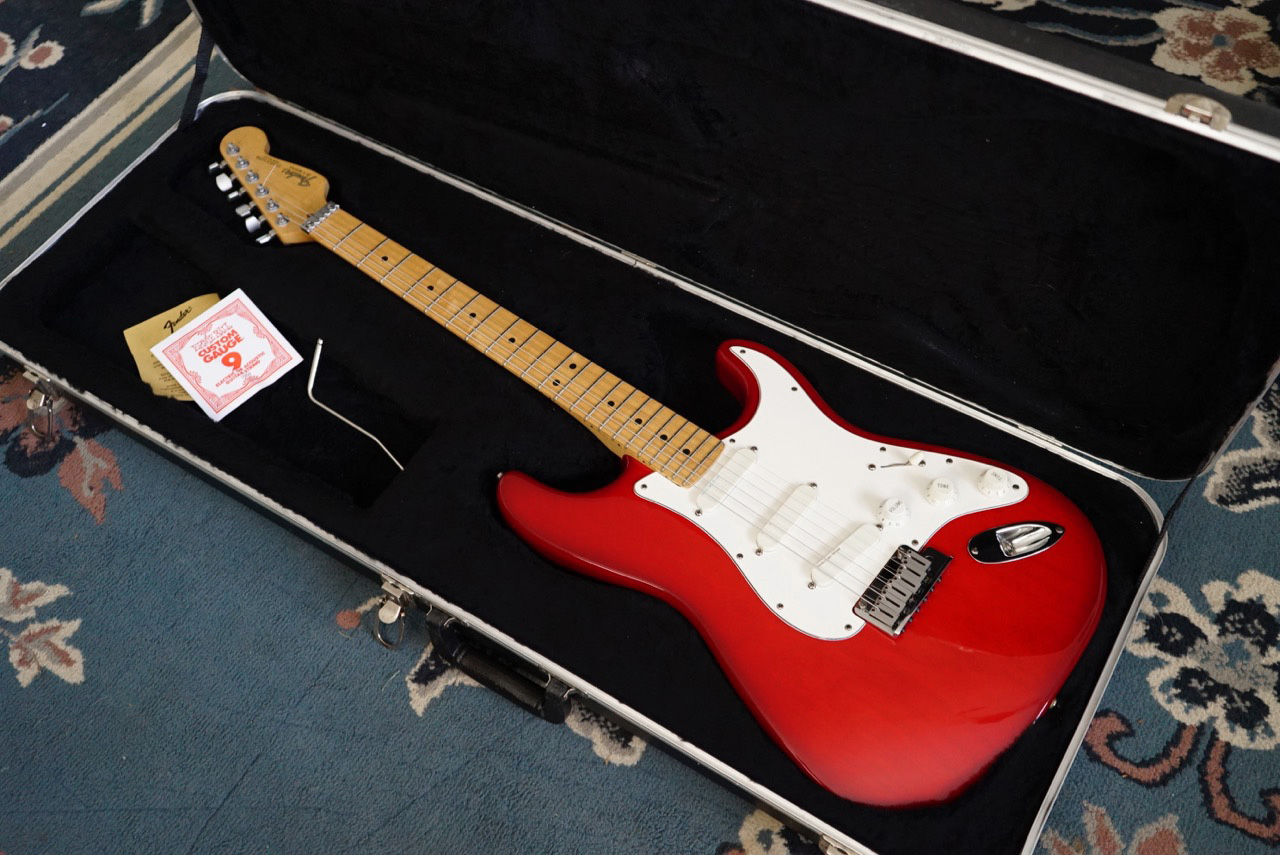 1989 FENDER (VERSION I) CRIMSON BURST STRATOCASTER PLUS DELUXE: Condition: NEAR MINT. Here is another hard to come by Strat Plus DX! This is the Version II DX with the Blue, Silver and Red Lace Sensor pickups. This color was introduced in 1989 on the new Deluxe Plus' and was discontinued in early 1993. Then Fender came out with a new type of Crimson Burst with a crimson metallic around the edges. This one, you will not is a solid color burst with no metallic .Please note that the top and back are Ash which shows the beautiful grain through the transparent crimson color. These are quite collectable especially and are hard to find. This also has some wild flame on the back and front of the neck. The fretboard actually changes color around the 4th through 6th frets from the flame. and same on the back of the neck. Very cool. Also comes with the original Fender rectangular case that is in excellent condition. PRICE: $1500 (SOLD)
_________________________________________________________________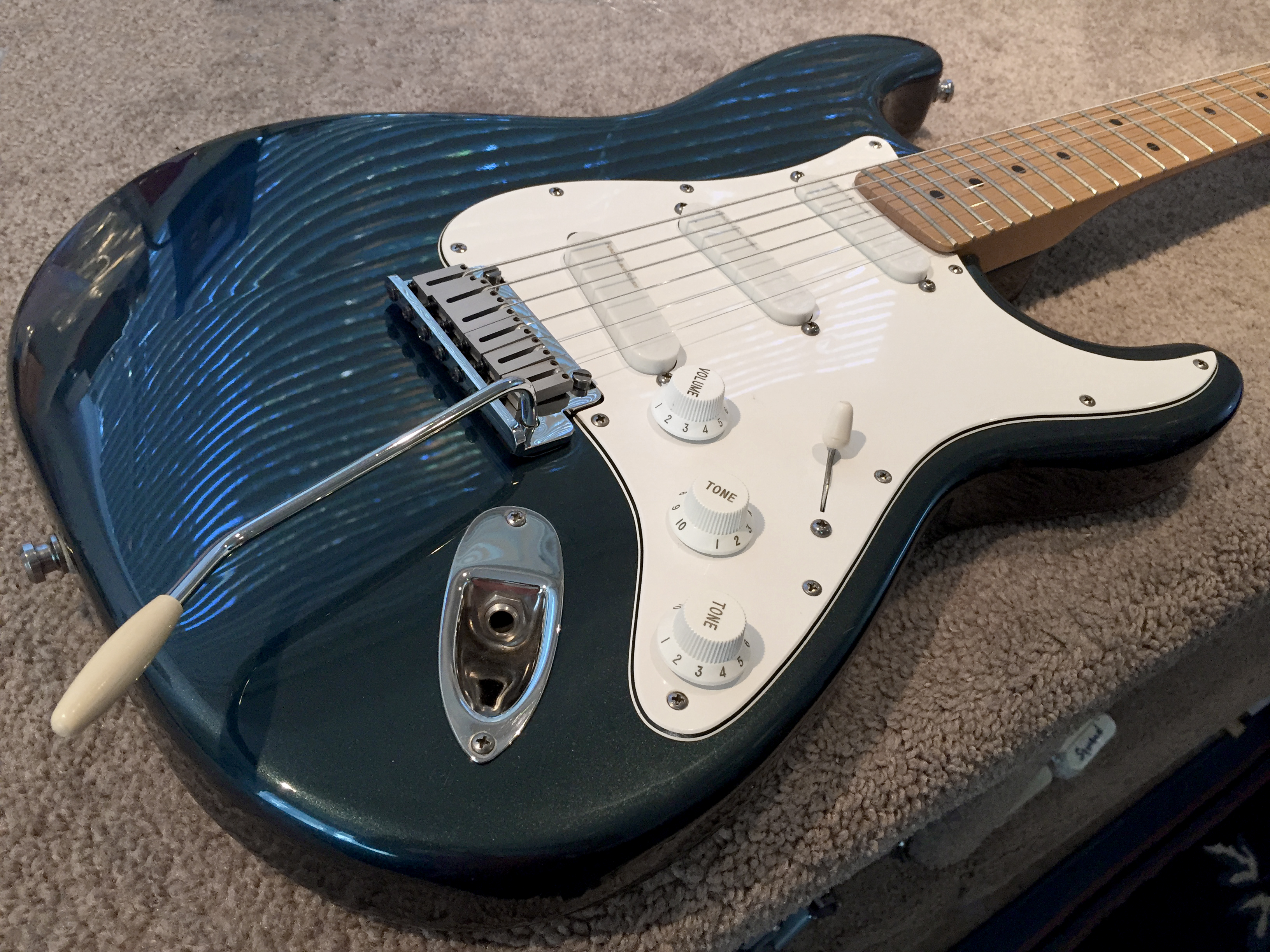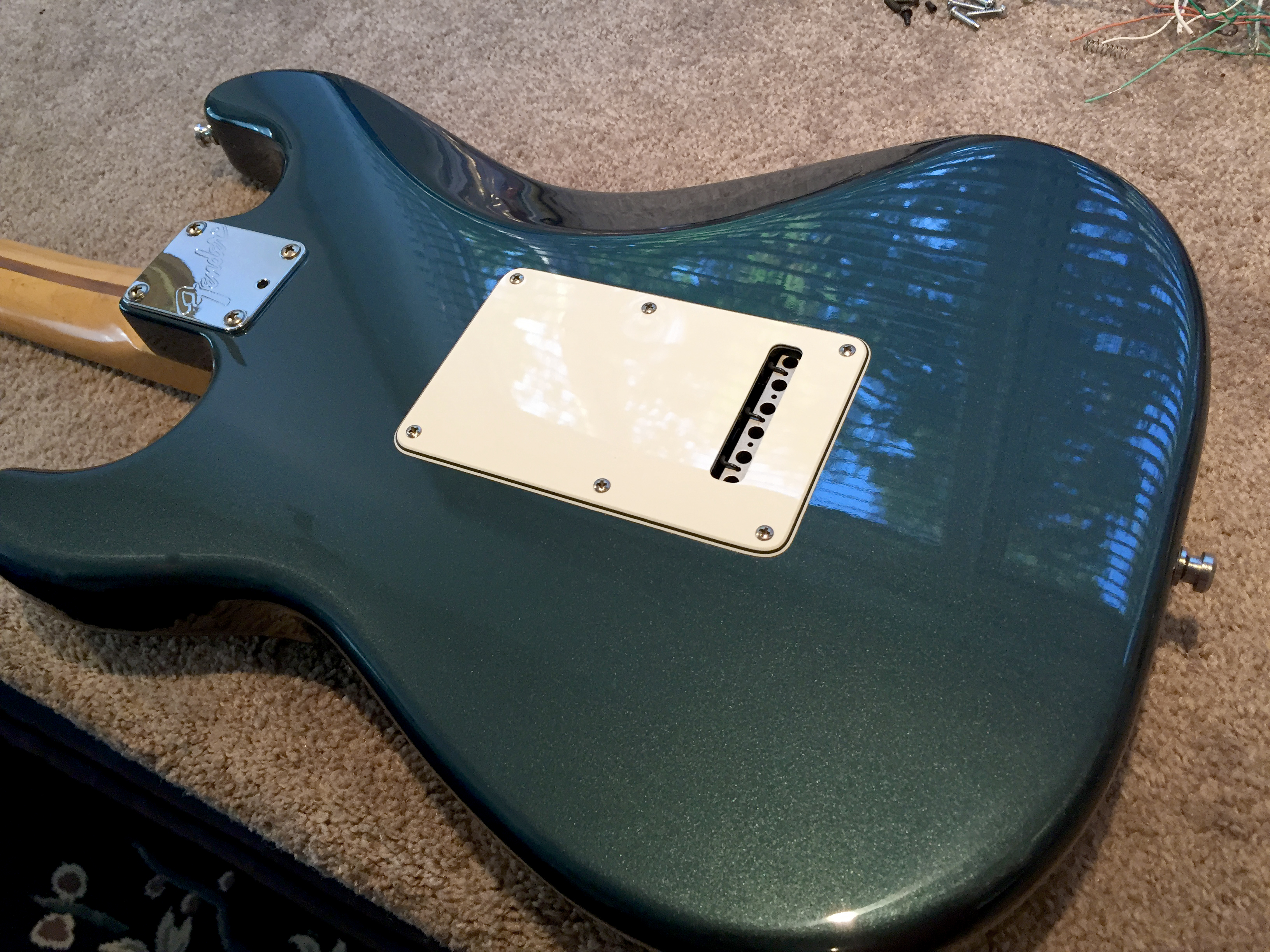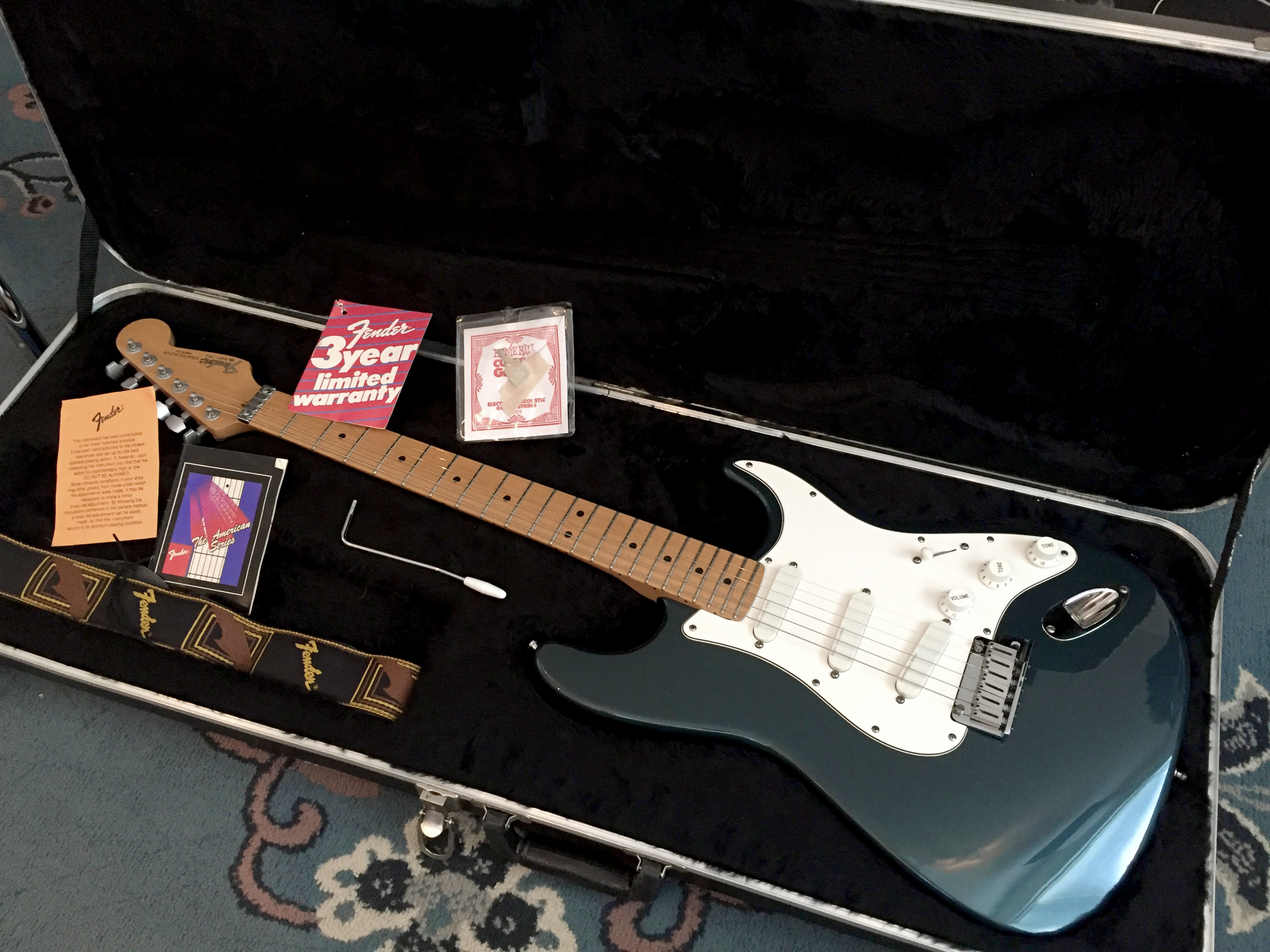 1991 GUNMETAL BLUE FENDER STRATOCASTER PLUS: Condition: NEAR MINT. This is a super clean 1991 Strat Plus in Gunmetal Blue—I love Gunmetal Blue! People often mistakenly call this Gunmetal Green or Sage, as it looks greenish. But in fact Fender did called it Gunmetal Blue! (Color code #68). Sometimes the clear coat can yellow making it looks even more greenish The body is spotless and the neck is very nice. Even the lettering on the Gold Lace Sensors is near prefect. Has the full Wilkinson Nut and all the other Strat Plus appointments. This is getting to be a hard to find color. Frets are excellent, and the guitar show very little use for its age. Even the pickguard is super clean. Comes with the original Fender hard shell rectangular case with original Fender Strap, strap locks, some case candy and them arm! PRICE: $1375 (SOLD
________________________________________________________________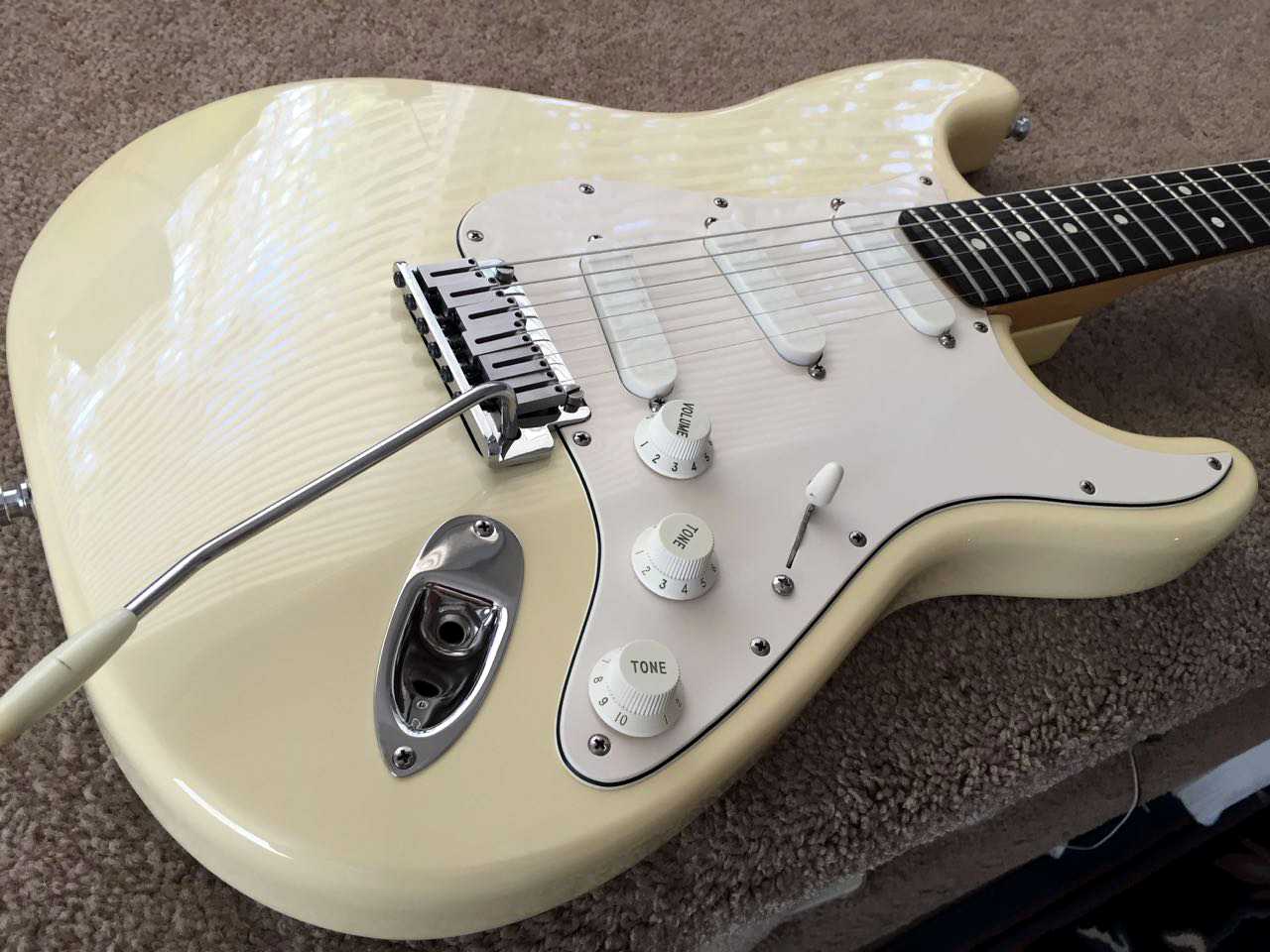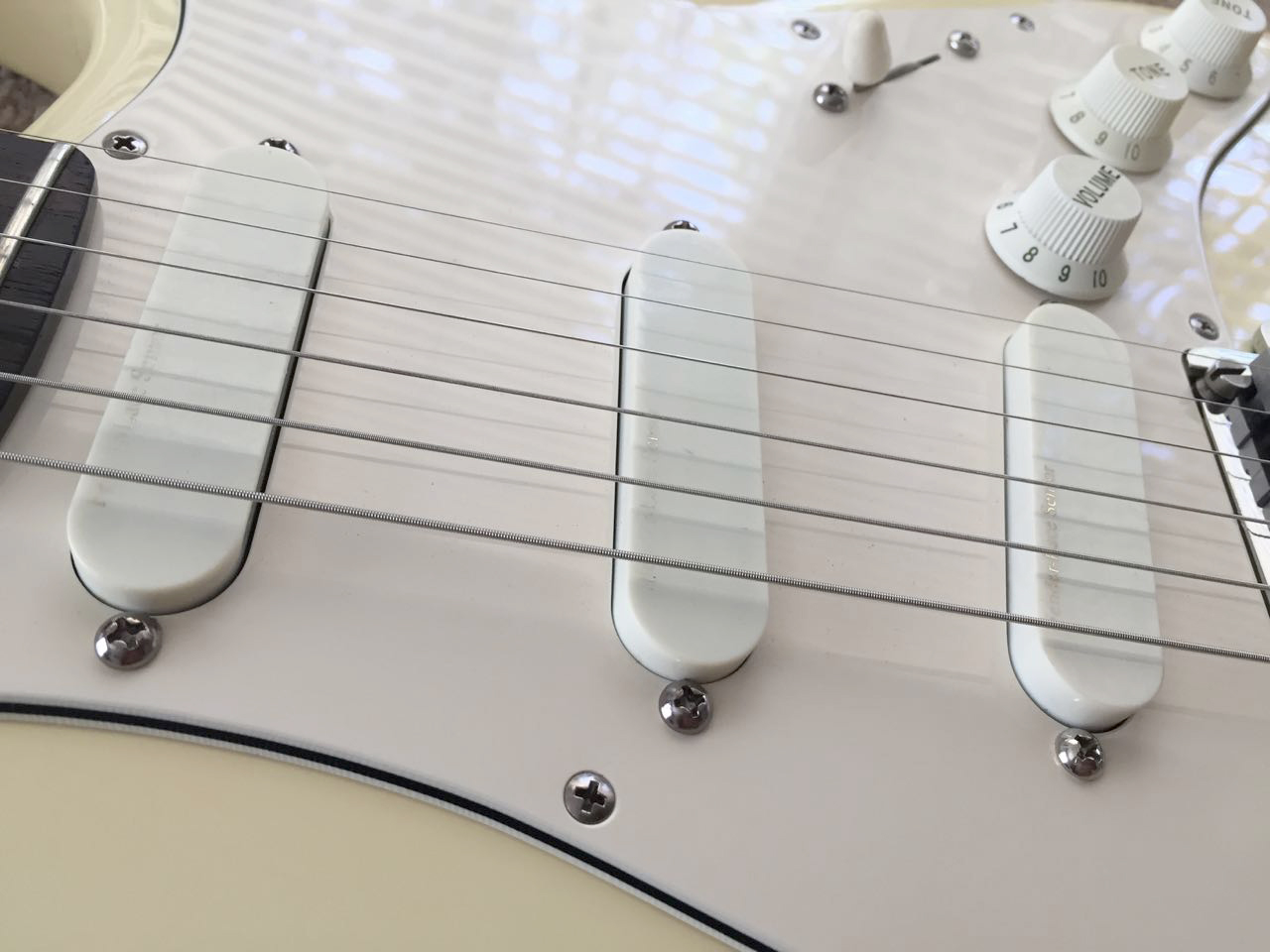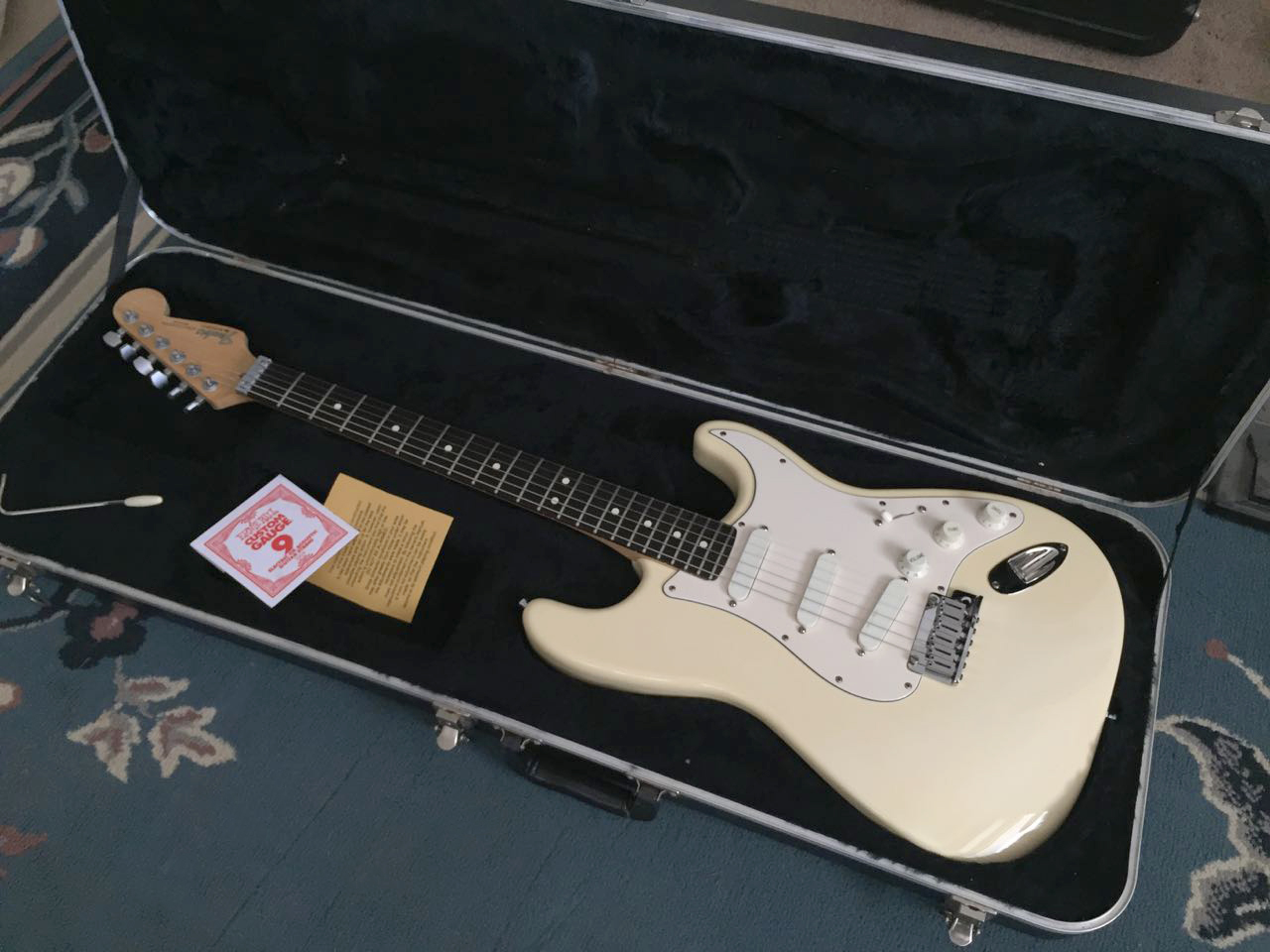 1991 VINTAGE WHITE FENDER STRATOCASTER PLUS: Condition: NEAR MINT. This is an early Strat Plus with Gold Lace Sensor pickups and all the other Strat Plus appointments. This is a nice example of one of my favorite colors - Vintage White, which has aged to a nice creamy color! This has a really dark Rosewood fretboard, which sets off nice against the body. The pickguard has also aged to a nice creamy white with a very light hue of pink. Very subtle and cool looking. Frets are like new. Lettering on the pickups only show a slight amount of rubbing. Super Clean. Comes with the original rectangular Deluxe Fender case that is in excellent condition. PRICE: $1375 (SOLD)
________________________________________________________________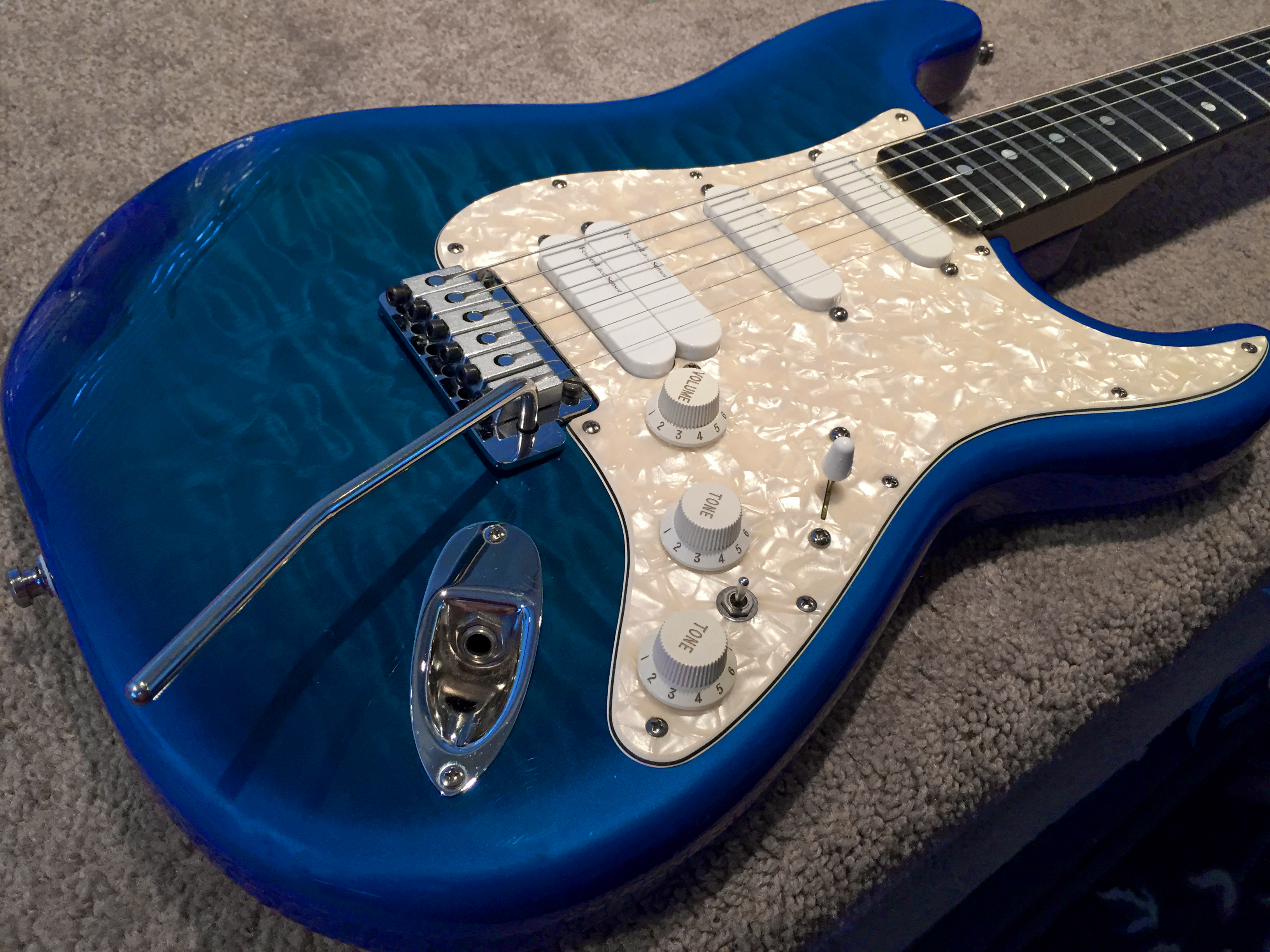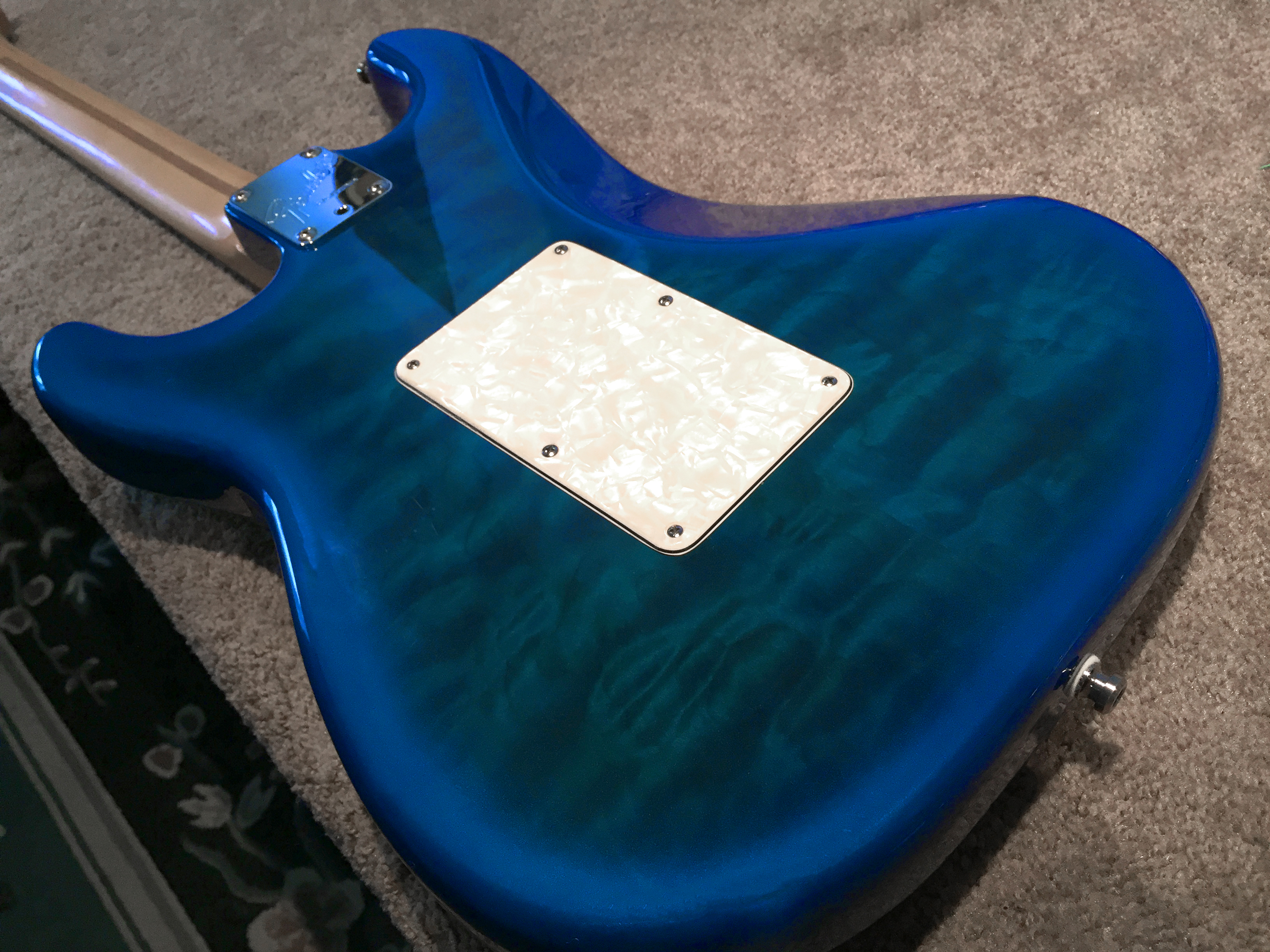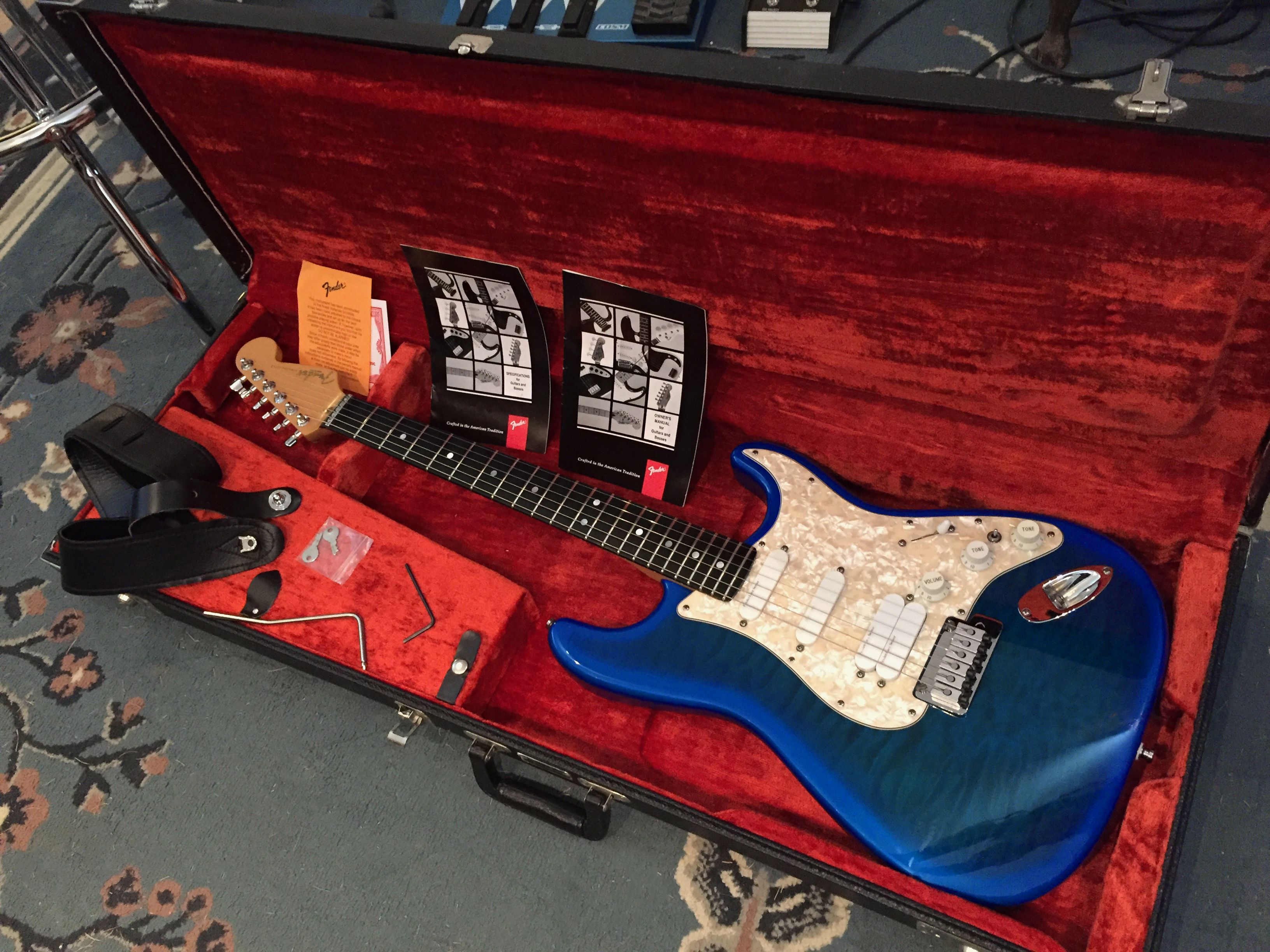 1997 FENDER BLUE BURST STRATOCASTER ULTRA: Condition: Near Mint+ . This is a gorgeous 1997 Fender Ultra in Blue Burst. The body shows burly flame top and back. Hard to capture the looks on camera! Comes with all the Ultra appointments, such as all chrome parts, LSR Roller nut, and a dark ebony fretboard with real Abalone inlays. These also have that cool Ultra switching using a 5-way super switch that mixed the neck + bridge on position #3 and the 3-way mini-switch that can give you a lot of variations on the bridge Dually. Read about this switching in details on my Ultra page! Comes with a the original Fender Black Tolex hardshell case complete with some case candy, strap with strap locks, key, and trem arm. PRICE: $1900 (SOLD)
__________________________________________________________________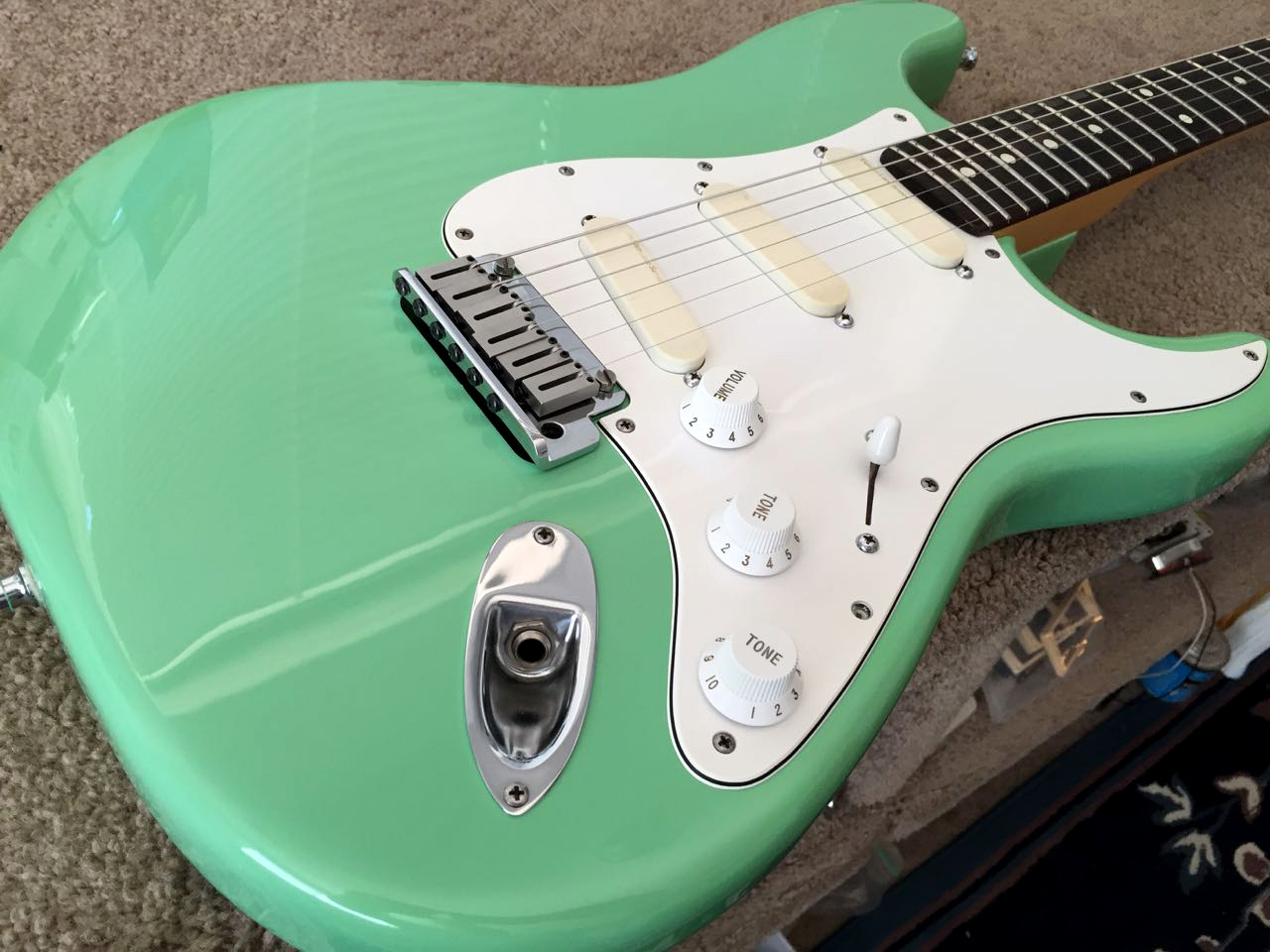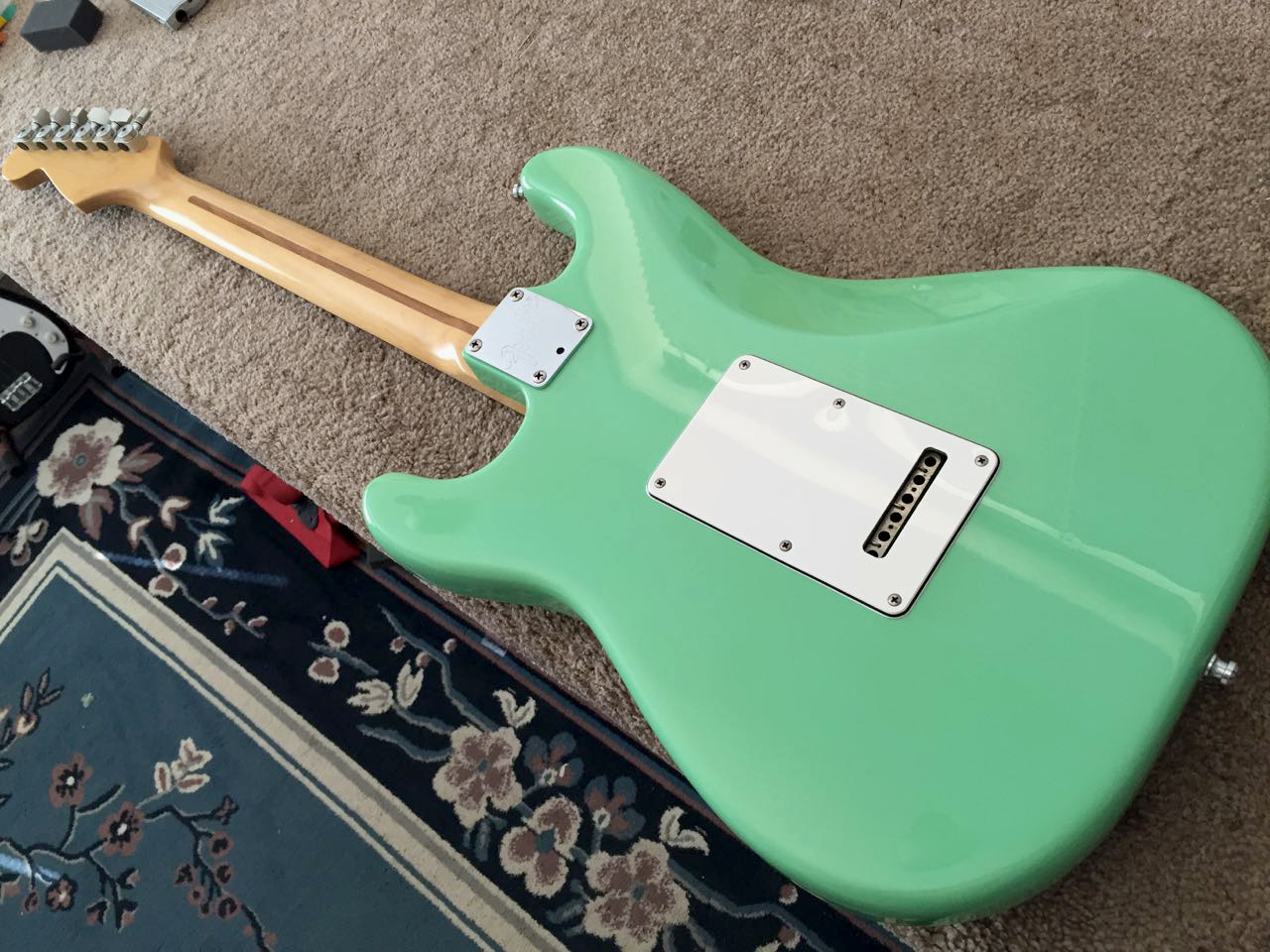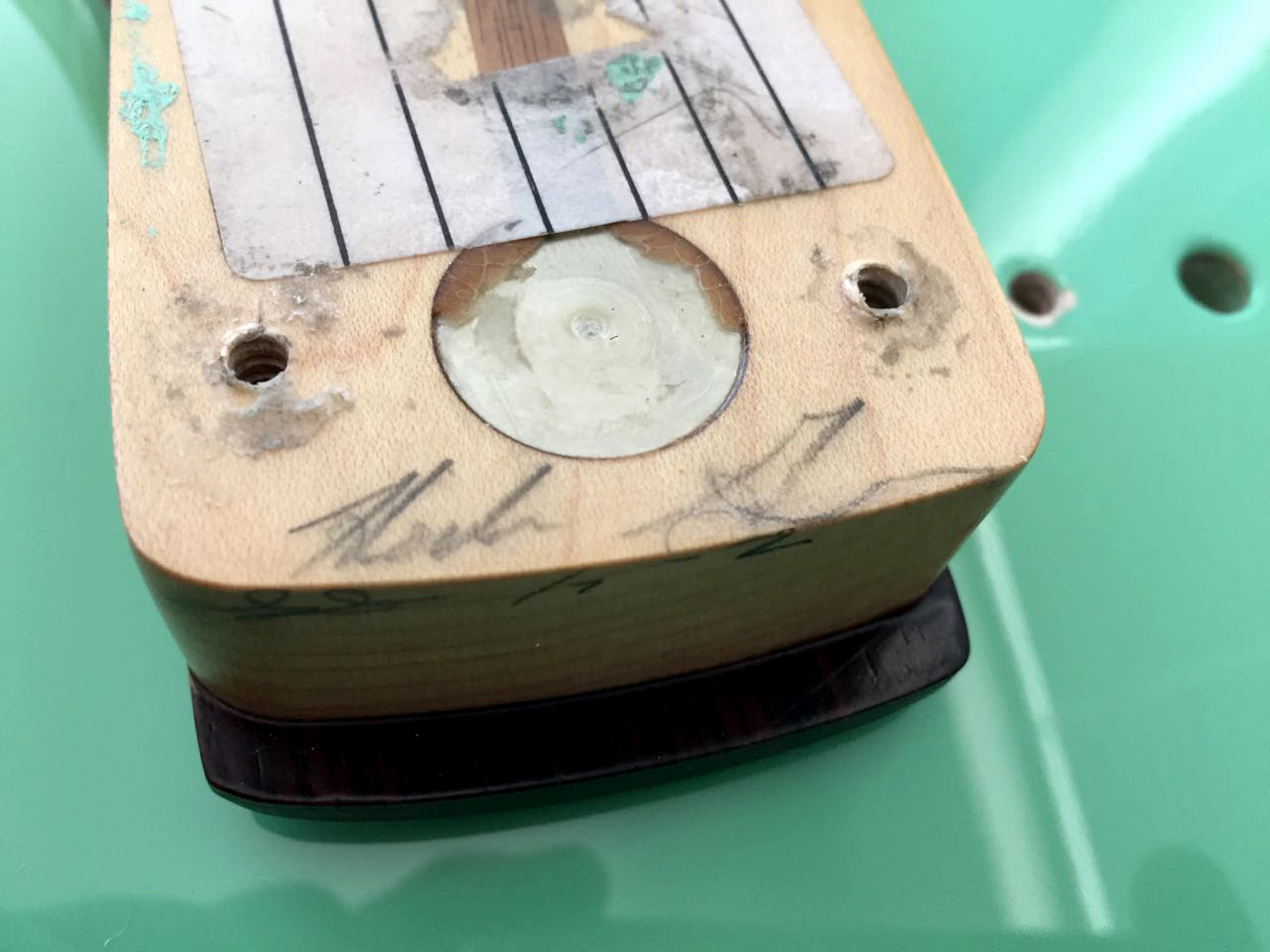 1987-88 FENDER SURF GREEN STRATOCASTER PLUS: Condition: MINT-. Thi is an excellent example of a very early Strat Plus with Gold Lace Sensor pickups and all the other Strat Plus appointments and the early "split Wilkinson nut." This guitar has neck date of Feb 4th, 1988 which is written in pencil by Herbie Gastelum, which was a common practice on some of the first Strat Plus guitars. What is cool is Herbie even signed his name in pencil. Herbie Gastelum was probably one of Fenderís most historical neck shapers. He joined Fender in 1961 and is considered one of the Fender ďveteransĒ next to Abigail Ybarra who entered the musical instrument industry in the summer of 1956. He later moved over to Fenderís Custom Shop and mostly likely was the guy who shaped necks for people like Jeff Beck, Eric Clapton, and others. Speaking of necks, this one is a bit of an anomaly. It is much fatter and thicker than any other Strat Plus I have owned. It is like 1/2 way to being like a Jeff beck Bass Ball Bat neck. Frets are like new. Lettering on the pickups is nice. Super Clean. The pickups are the older type with the old pat. pending stickers and square bottoms. The dark Rosewood fretboard stands out nice against the Surf Green finish. Has a great feel to it with the noticeably fatter neck. Also comes with the original Fender rectangular case that is in excellent condition. PRICE: $2500 (SOLD)
__________________________________________________________________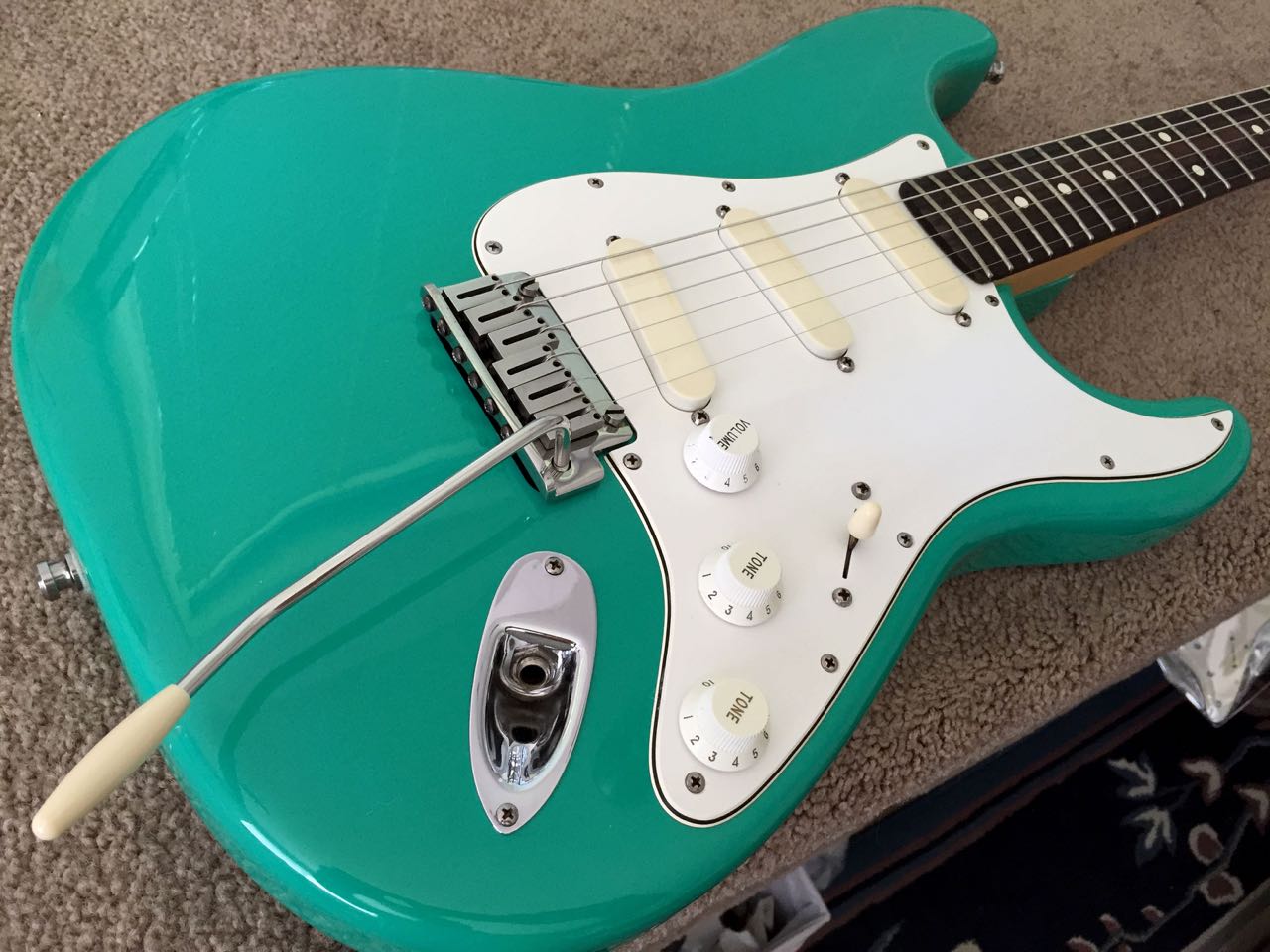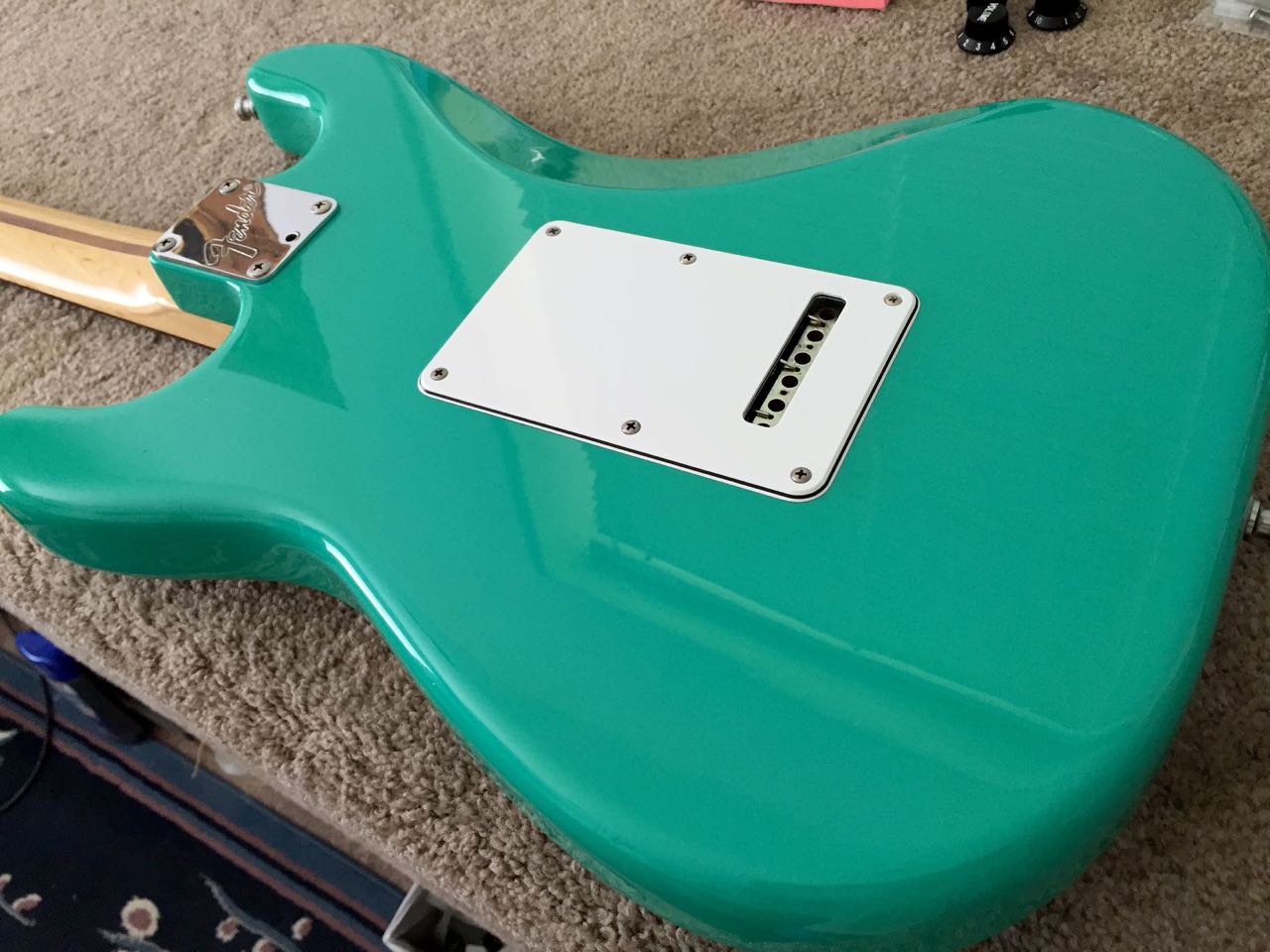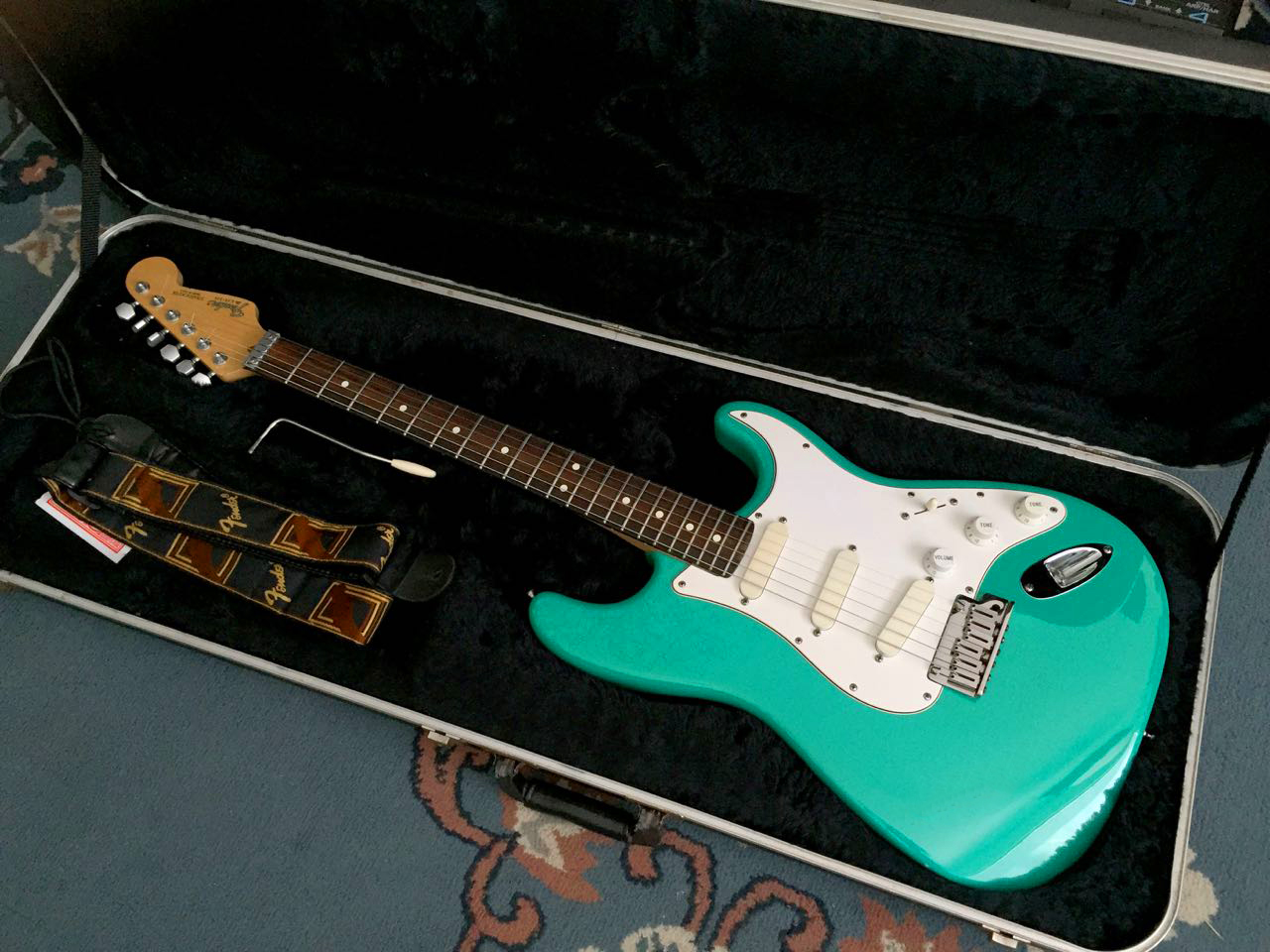 1988 BAHAMA GREEN STRATOCASTER PLUS: Condition: EXCELLENT +. Here is one of the rarer Strat Plus colors to come by. In fact, for years I thought these were just an urban myth and even started a thread on the Fender Forum entitled: Urban Legends or a fact about Bahama Green back in 2007. These are as rare as Dusty Rose, Razz Berry, Fiesta Red, Shell Pink and a few others. These colors were made available only on the very first Strat Plus' and ended early 1989. After a lot of searching, I now have have a couple of these in my collection, so I am passing this one on. This has an E4 serial number but neck date is 1988. It has the early Sperzel tuners with the black dots on the locking nuts. All the cool Strat Plus appointments. Super clean with only a few small bumps, thus the Excellent+ rating. No rash, scratches, etc. as the picts show. Comes with the original hard shell case and tremolo bar. PRICE: $1700 (SOLD)
___________________________________________________________________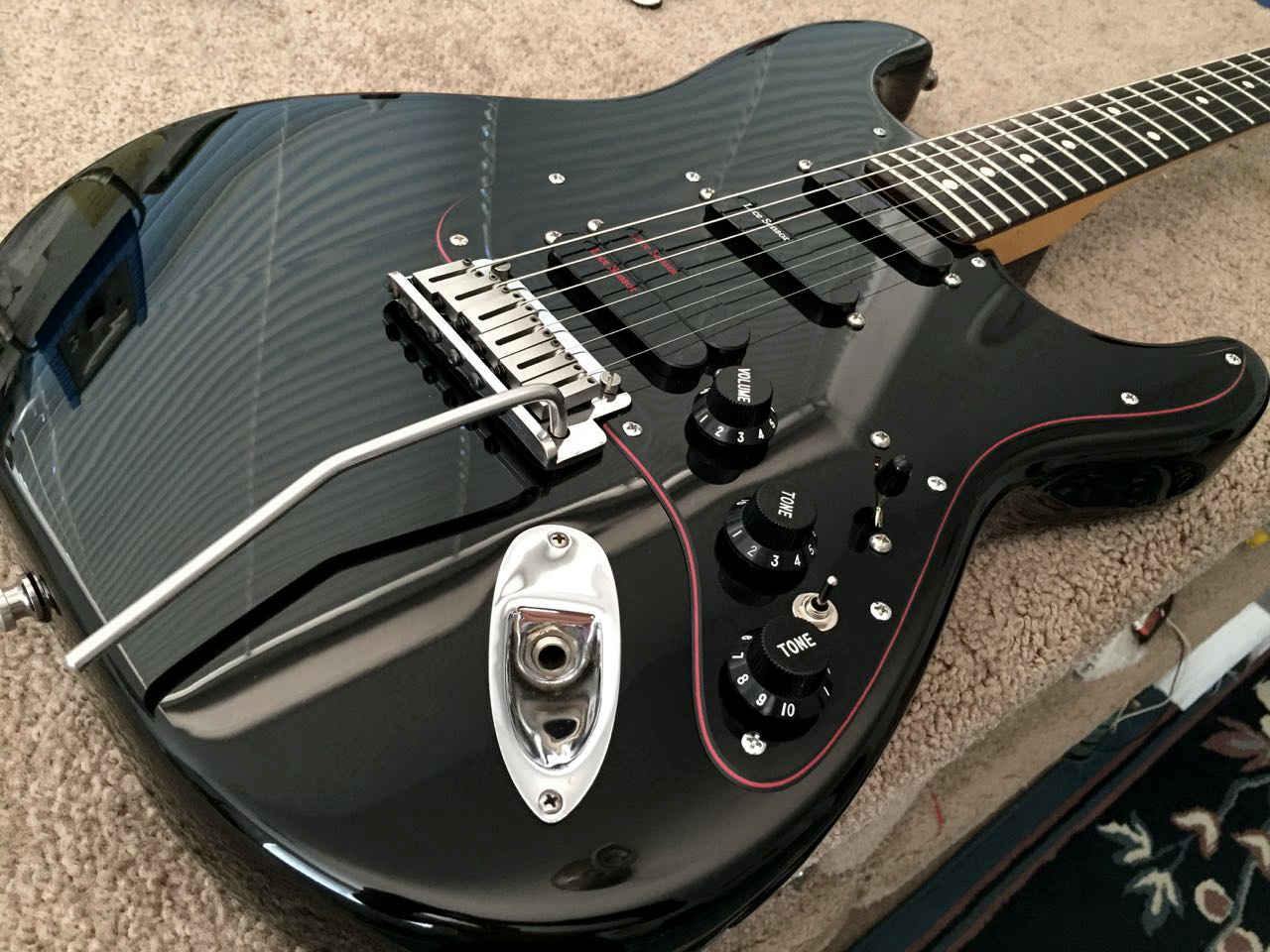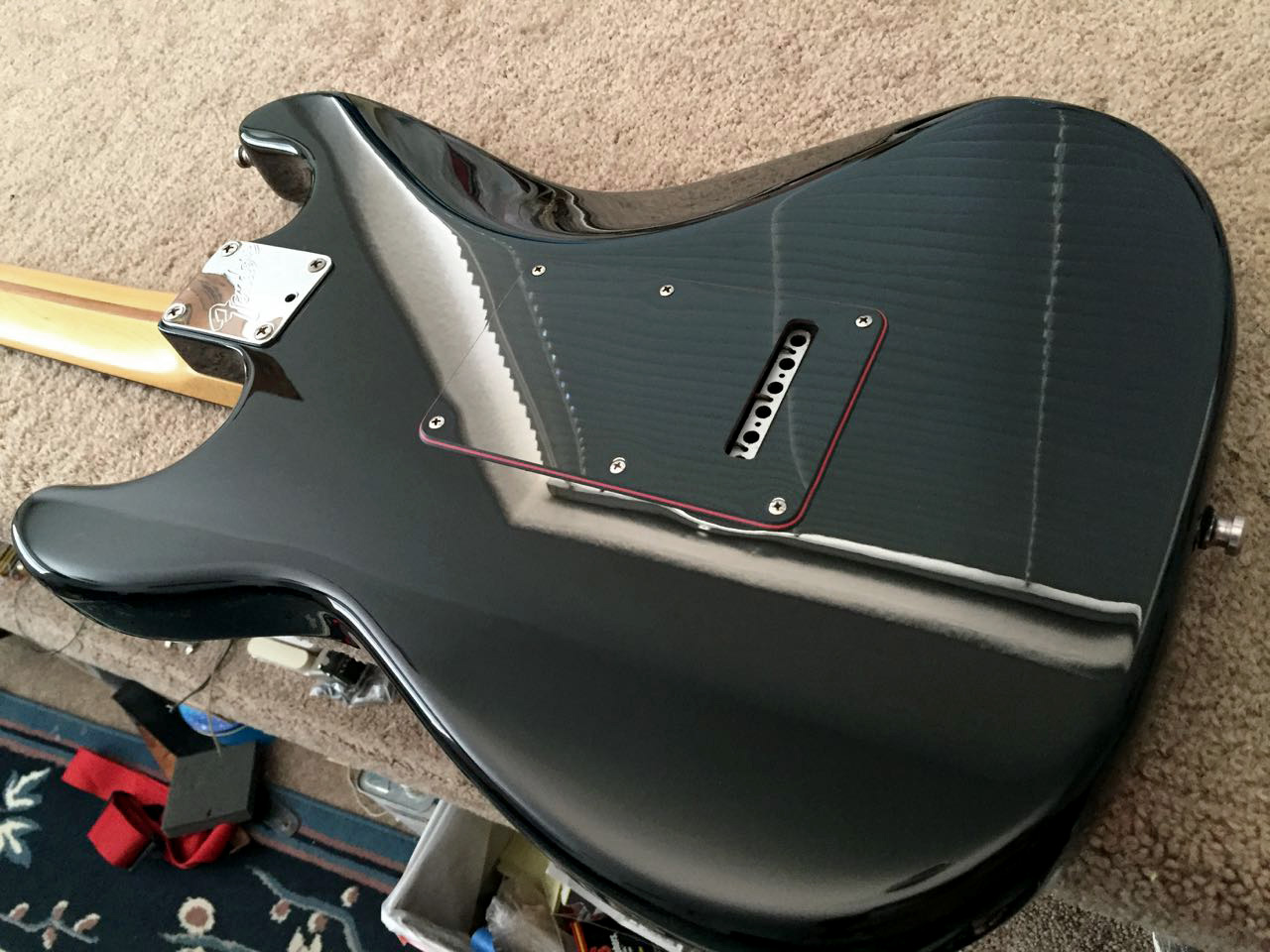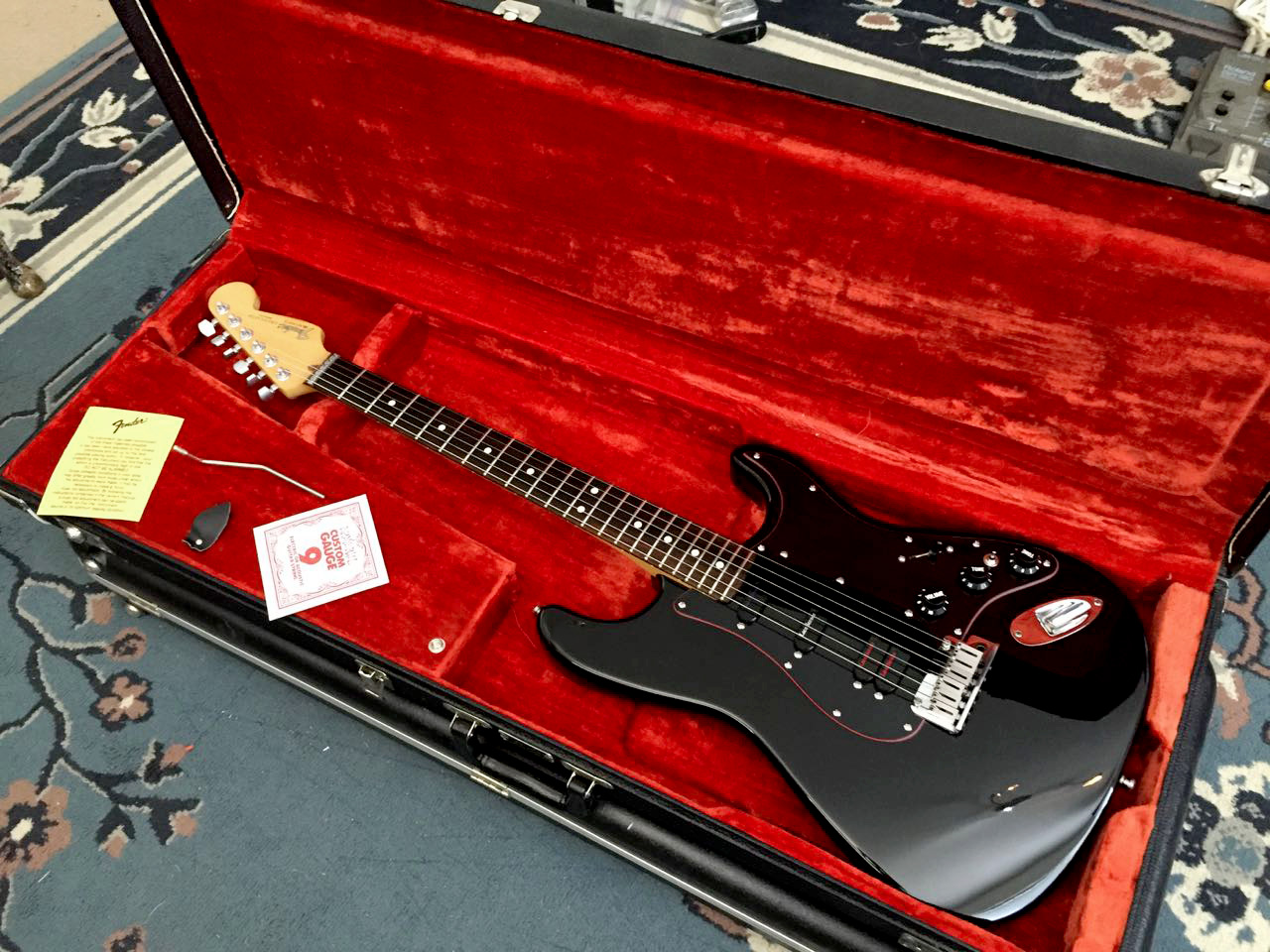 1993 FENDER BLACK STRATOCASTER ULTRA CUSTOM: Condition: MINT- . This is another one of my Ultra Custom builds. It started out as mint- 1993 Black Plus Deluxe, modified with a new Ultra Black/Red/Black pickguard (with matching Trem cover), using all new electronic components. All you see is reflections on this high-gloss body. The Rosewood on the neck's fretboard is perfect, no dings on the back of the neck, and the frets are like new. This has a Purple Lace Sensor in the neck which is one of my favorites. Not as fat as a Blue used on the Ultras, but not as thin as a Gold. A perfect neck pickup. I used a Silver Lace Sensor in the middle, with a Red Lace Dually in the bridge, like found on Fender's Ultra models. With the 3-way mini-switch you can get Tele, humbucker, and vintage Strat tones from the bridge. Using the 5-way super switch in position 3 you have neck + bridge configuration, like a Tele or other 2 pickup guitars. These are the most verital Strats out there. The first tone control that is connected to the neck pickup is a no-load, 250k pot. Turn it to 10 and you by-pass the tone control completely. For the middle and bridge pickups I used a standard TBX tone control. Comes a very nice Fender Deluxe 70's style Tolox hard-shell case. PRICE: $1650 (SOLD)
__________________________________________________________________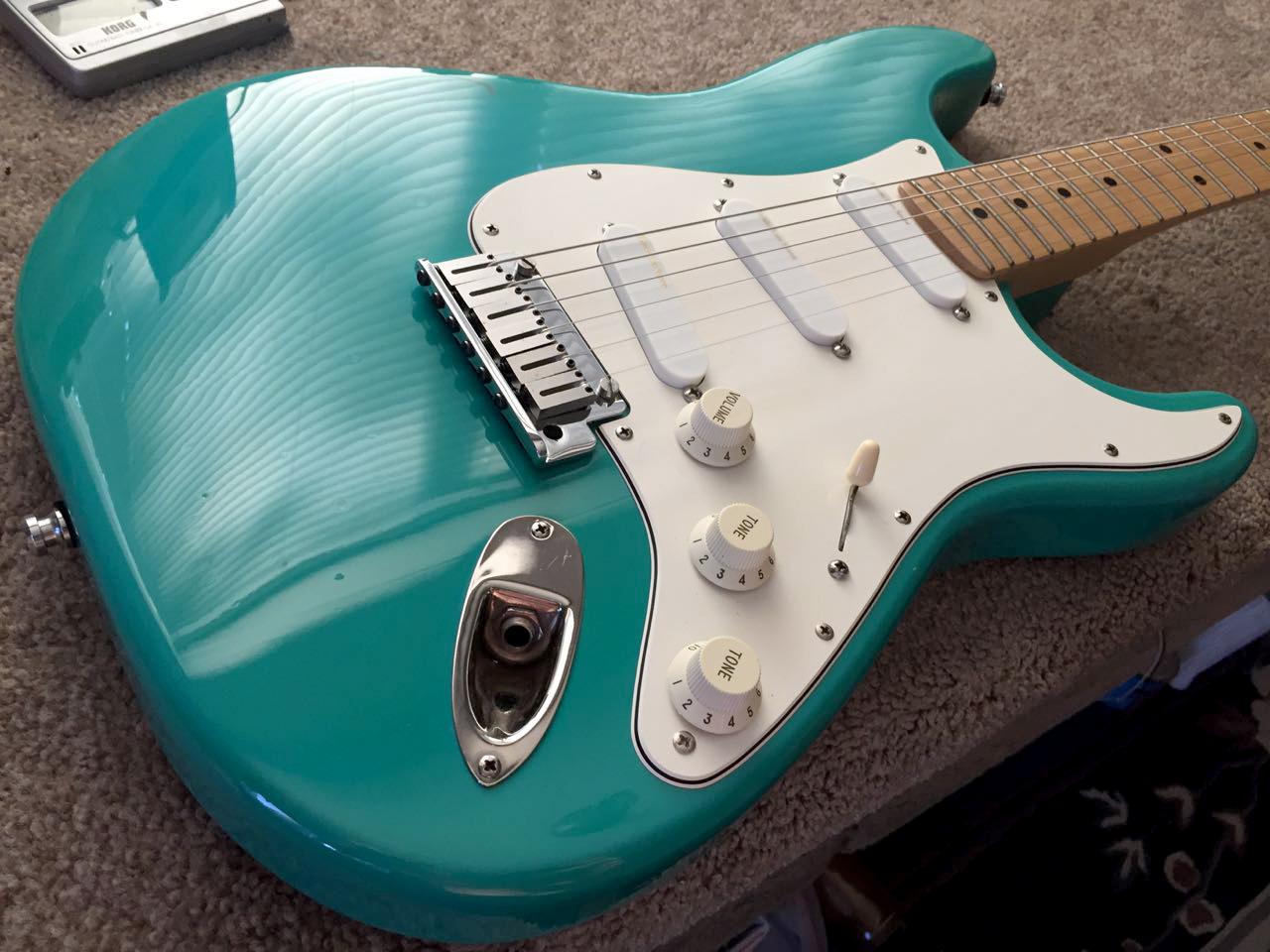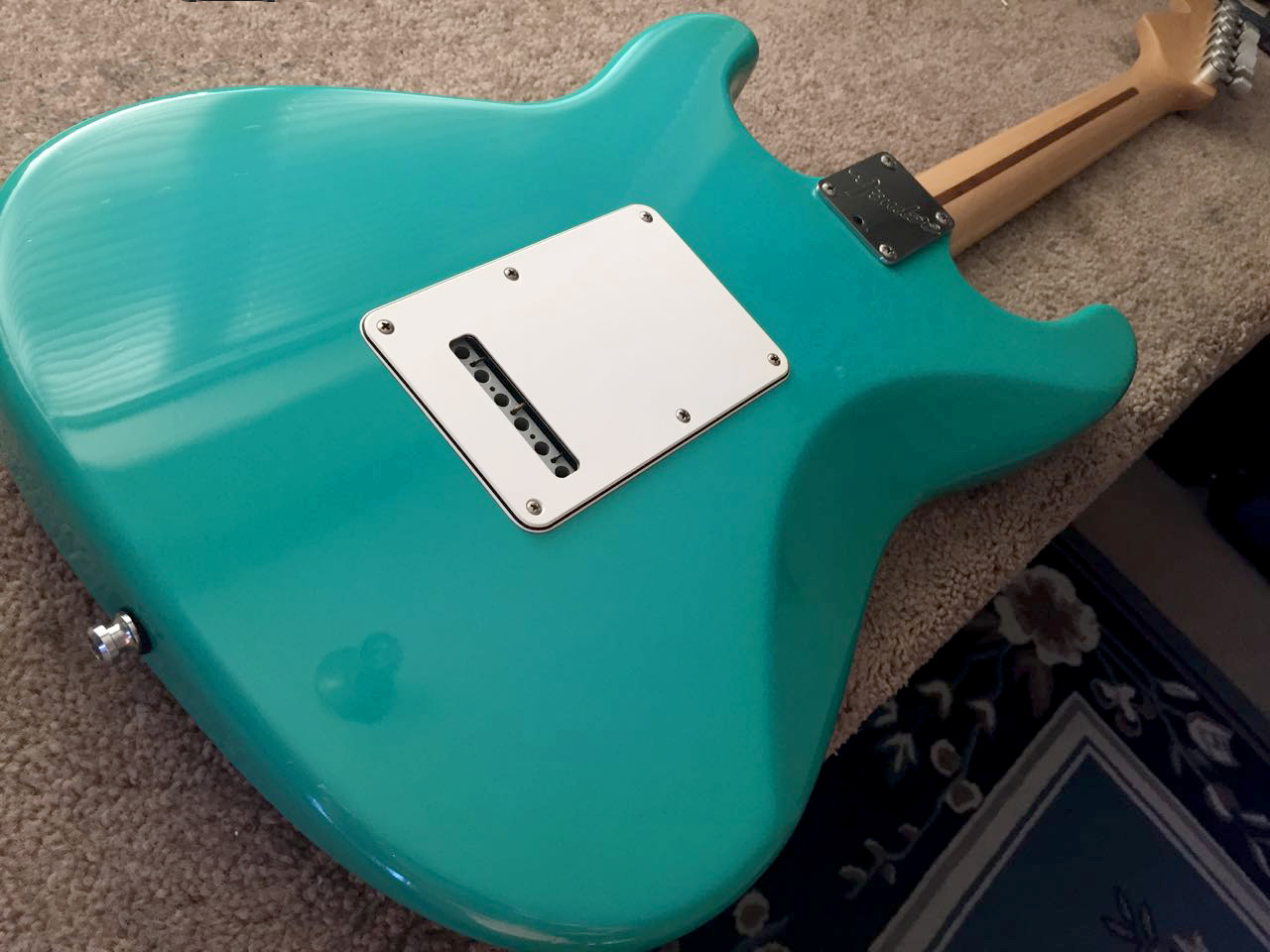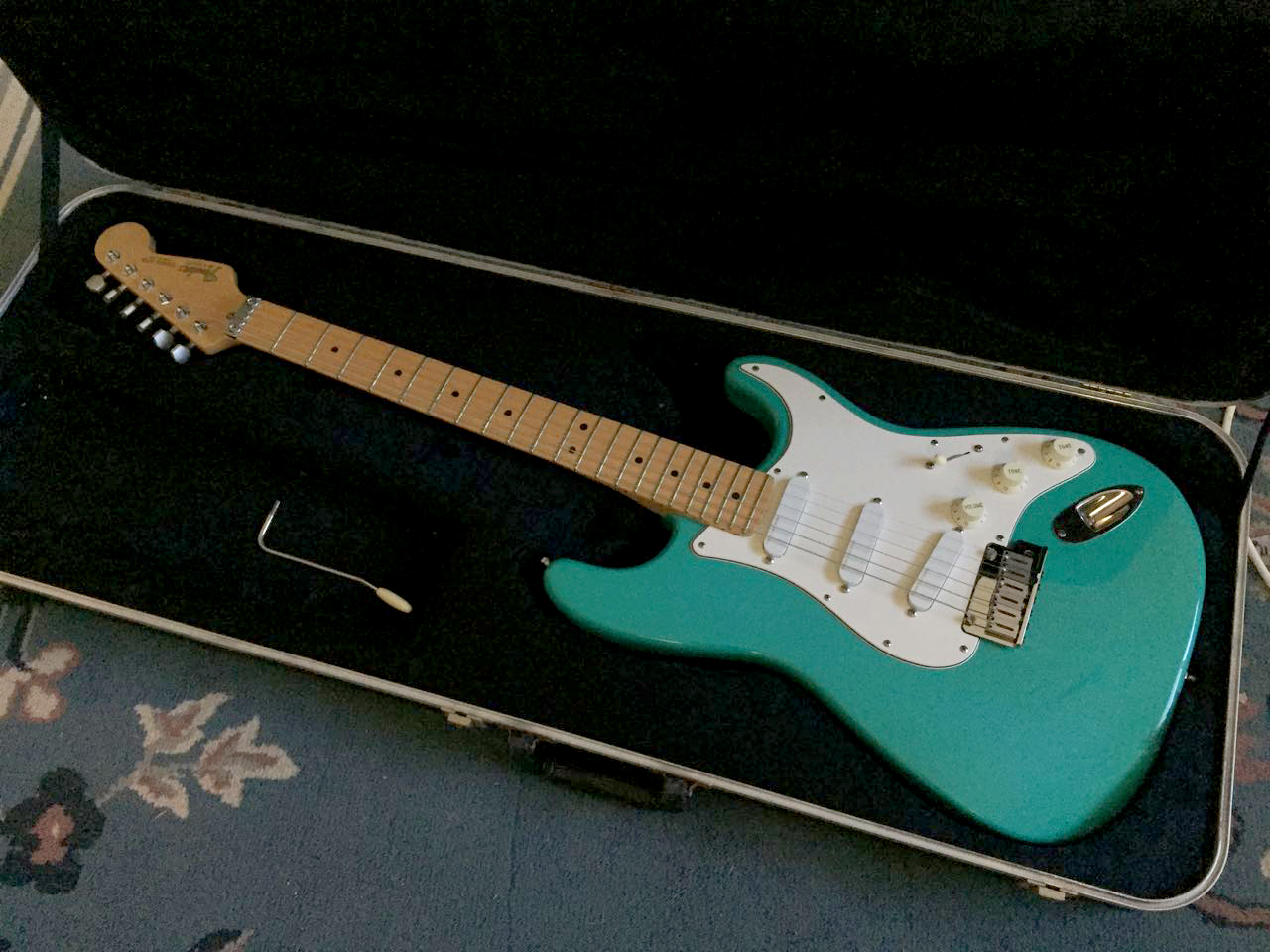 1989 FENDER TAOS TURQUOISE STRATOCASTER PLUS: Condition: EXCELLENT +. Very rare color that was never listed as avaialable in a Strat Plus. A small number of these were produced from late 1987 through 1989. The Maple fretboard is very nice as are the frets. Comes with all the standard Strat Plus appointments. The lettering on the pickups is in excellent condition. This guitar would have sold for $2000 - $2200 if in mint or near mint condition. This one has a number of small bumps in the finish so the reason for thre Excellent + rating. Also comes with the original Fender rectangular case that is in excellent condition. PRICE: $1750 (SOLD)
__________________________________________________________________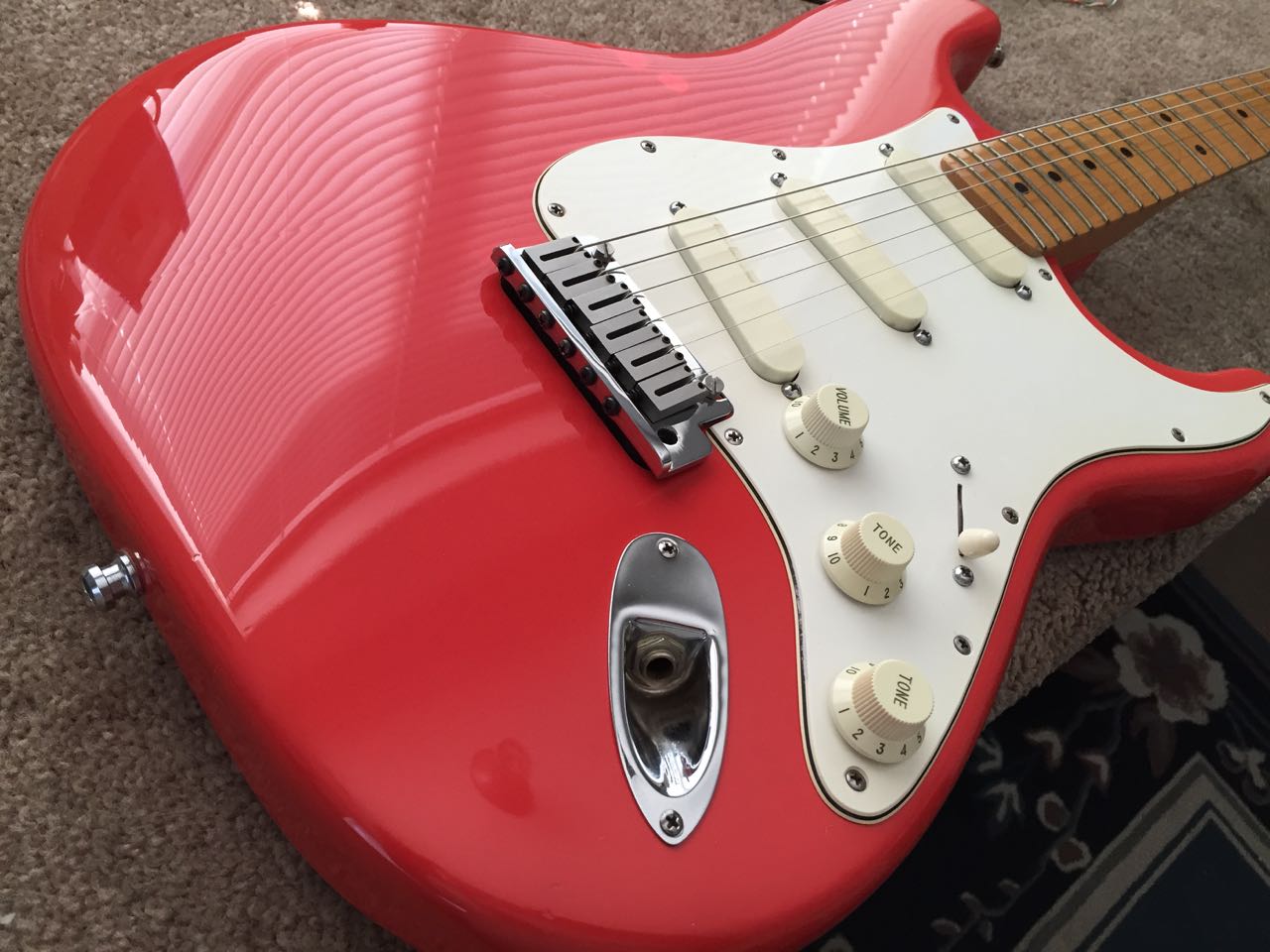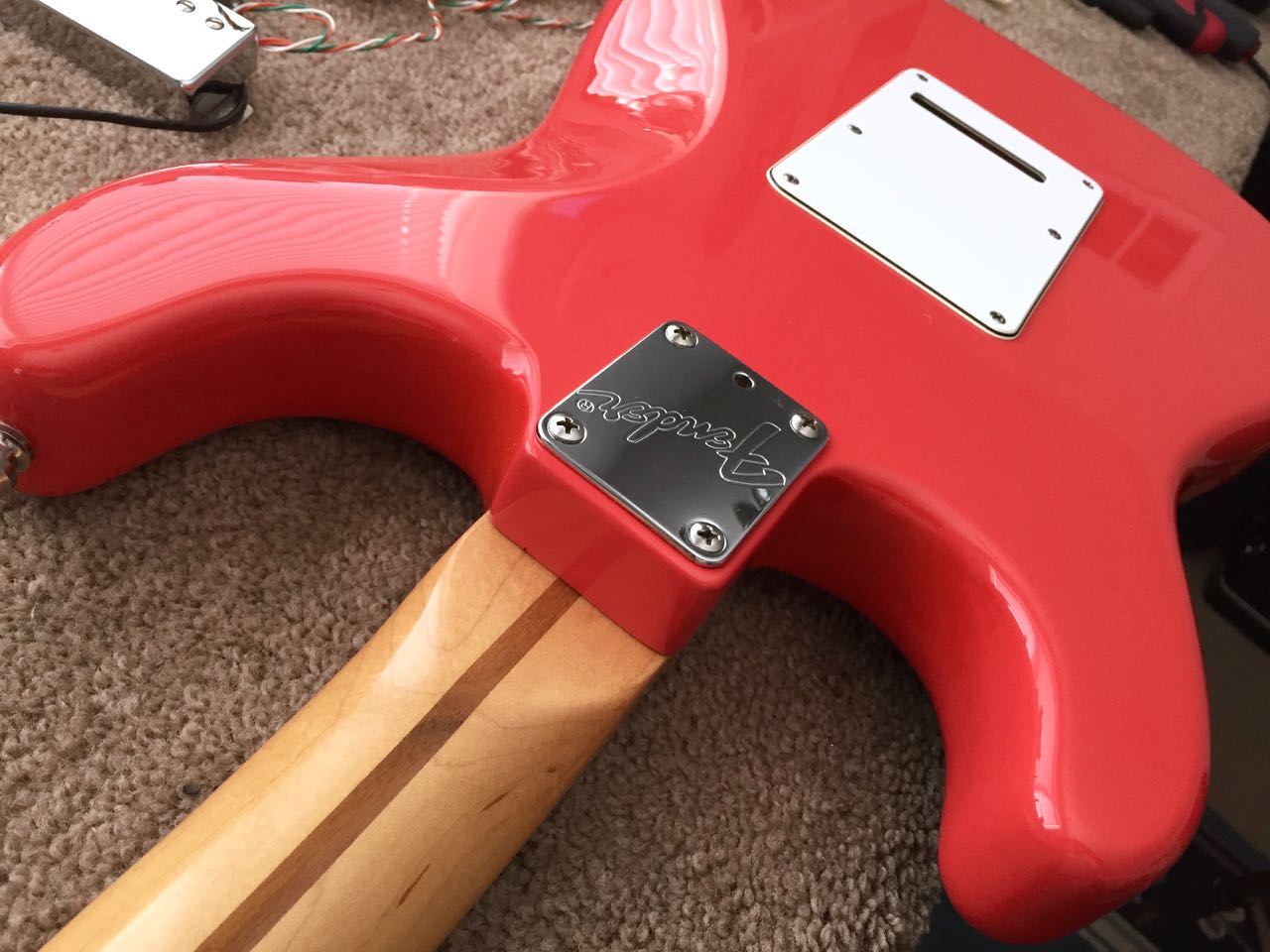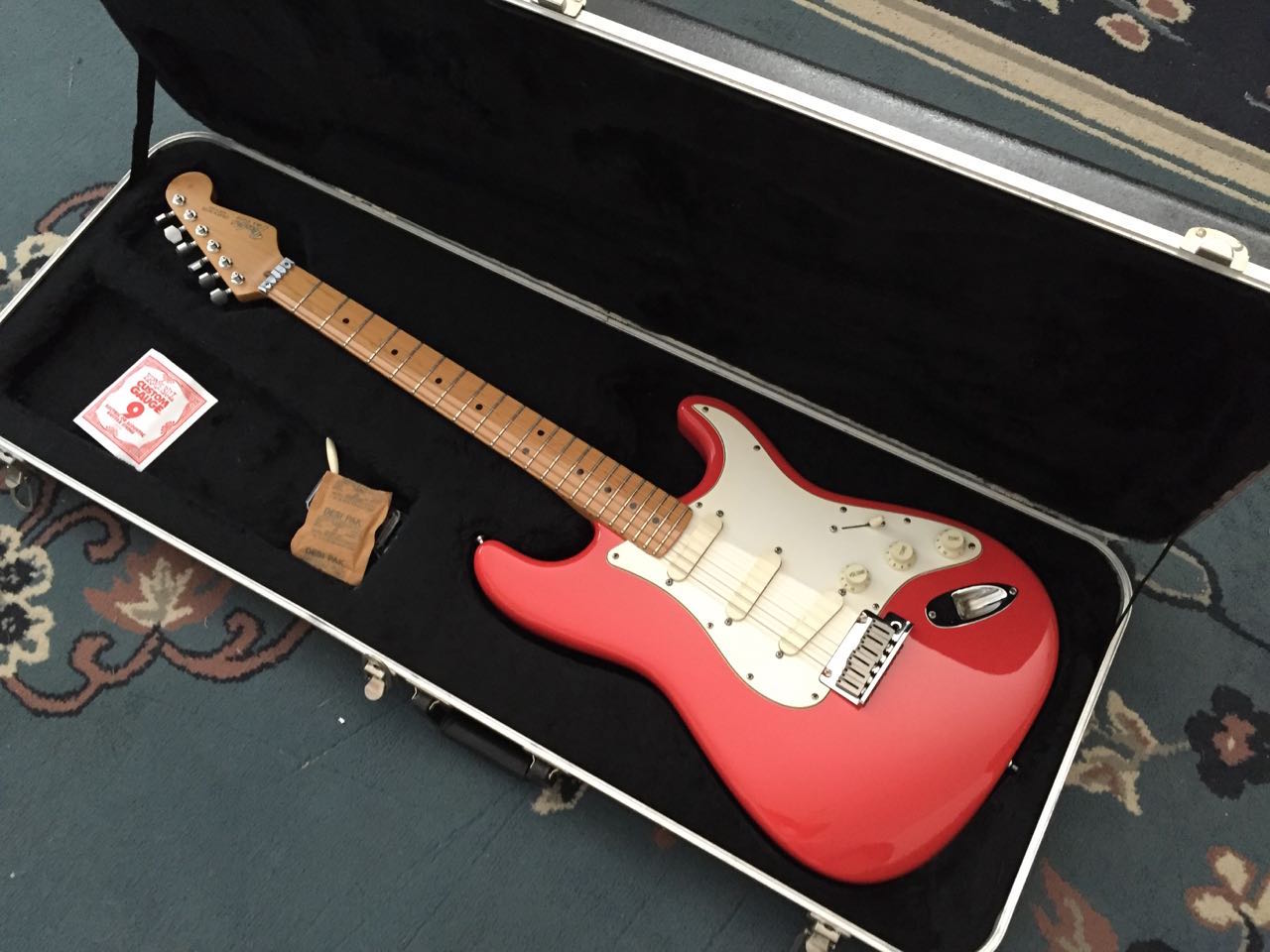 1988 FENDER FIESTA REDSTRATOCASTER PLUS: Condition: EXCELLENT + . Another very rare color that is one of my favorites. The pictures do not do justice for this color - as it is a kind of reddish - orangish - pinkish color! A small number of these were produced from late 1987 through early 1989. The Maple fretboard is excellent as are the frets and has the Split Wilkinson Roller nut! . Comes with all the standard Strat Plus appointments. The lettering on the pickups is in excellent condition. This guitar would have sold for $2000 - $2200 if in mint or near mint condition. This one has a couple of small bumps in the finish so the reason for thre Excellent + rating. Also comes with the original Fender rectangular case that is in excellent condition. PRICE: $1875 (SOLD)
__________________________________________________________________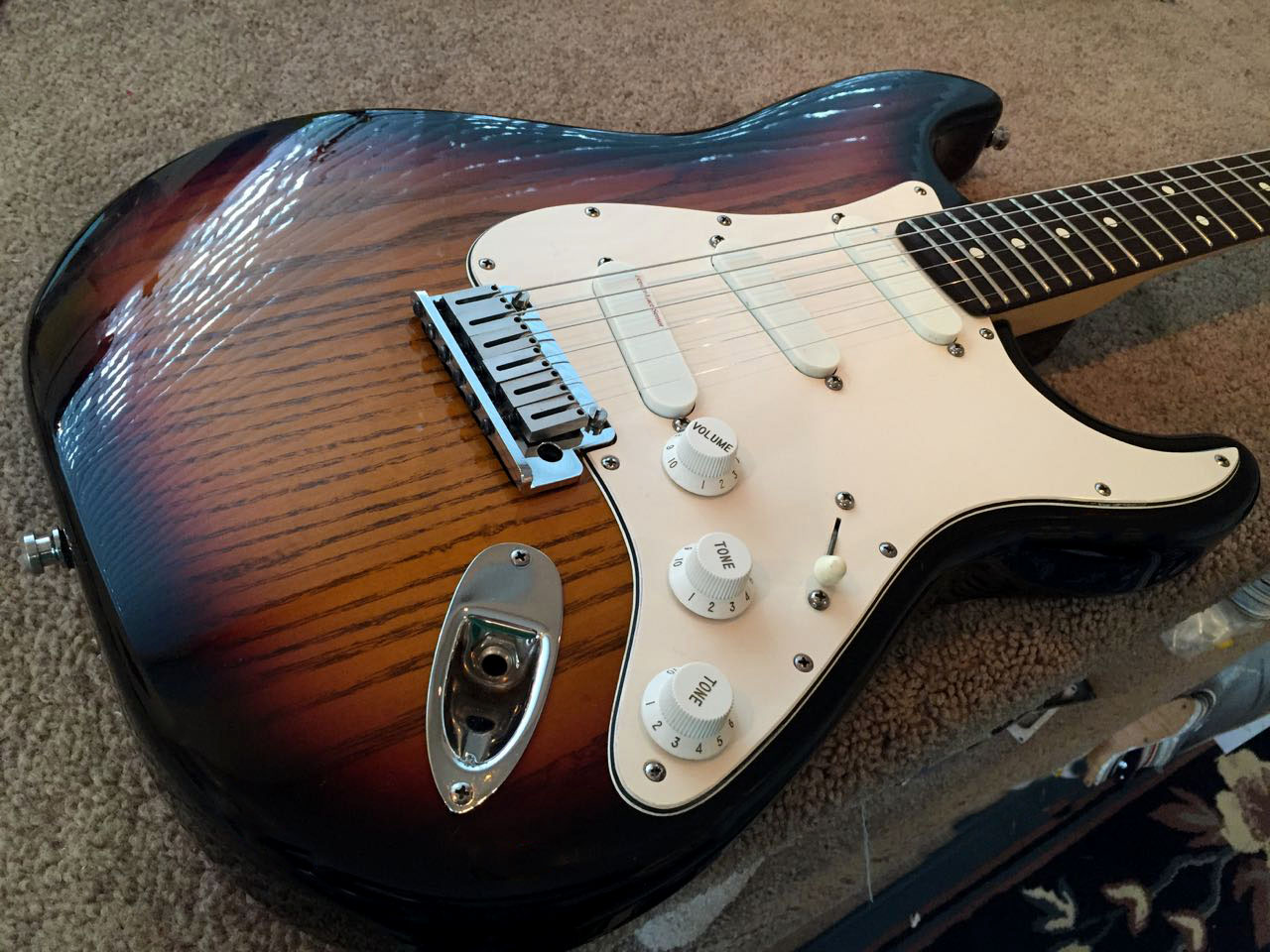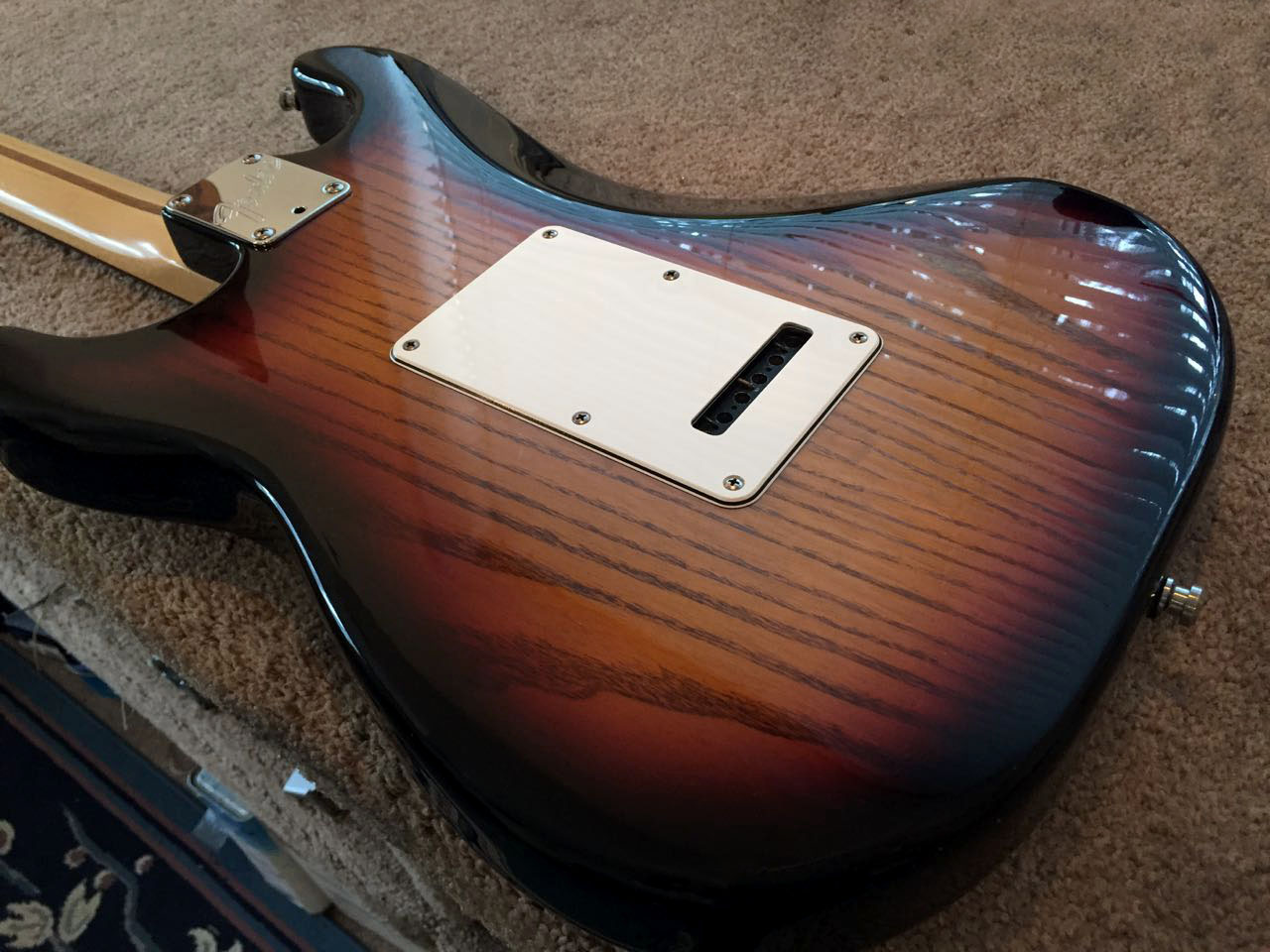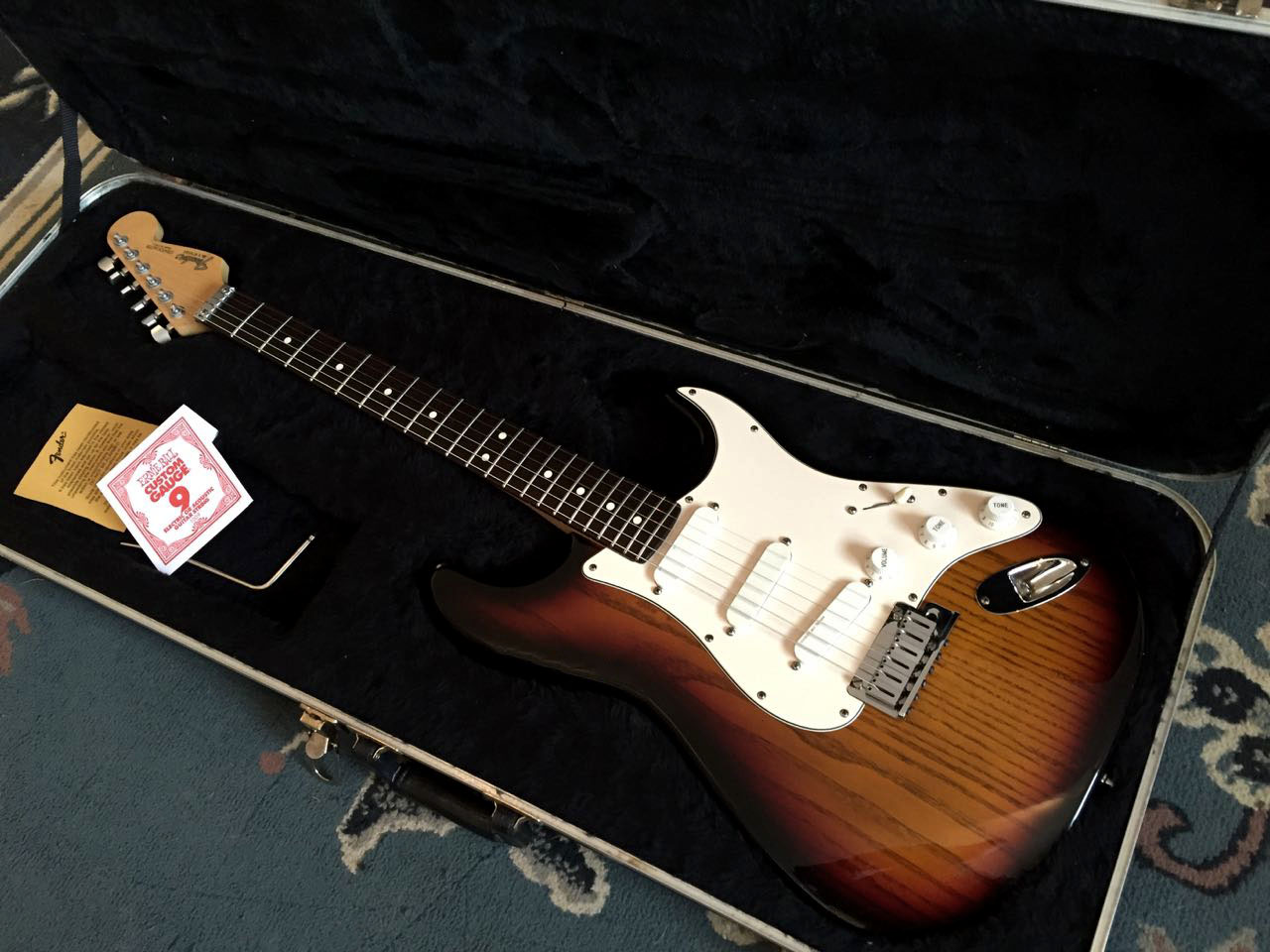 1990 FENDER TIGER STRIPED STRATOCASTER PLUS DELUXE: This is a early issue Version II Strat Plus Deluxe with an ASH body. Some of the early DX's came with solid Ash bodies instead of the Ash veneer on Alder, but this one has a SOLID ASH body! I have only seen 2 Plus guitars with this wild Ash grain stained in this way. Very hard to find. This comes with the E9 serial number indicating it is an 1989 but this is a 1990 according to the neck pocket date. Rosewood fret board is dark, which sets of the grain on the body nicely, and is perfect. The frets are like new! And how does it play? SWEET! :-) Totally stock. Comes with all the DX appointments, such as pop in chrome tremolo bar and the Blue, Silver, Red Lace Sensor pickups. Also comes with the original Fender rectangular case that is in excellent condition. PRICE: $1350 (SOLD)
__________________________________________________________________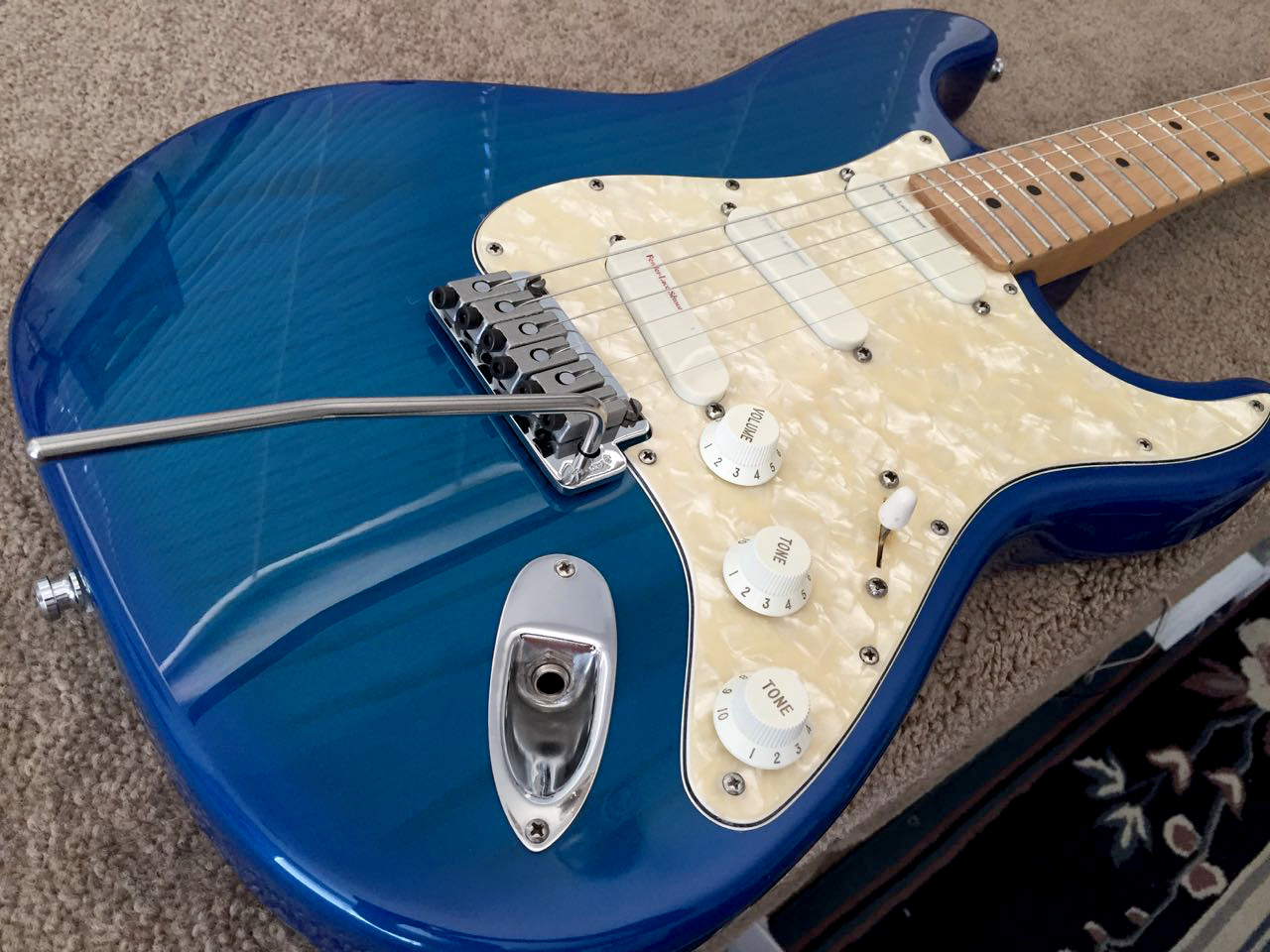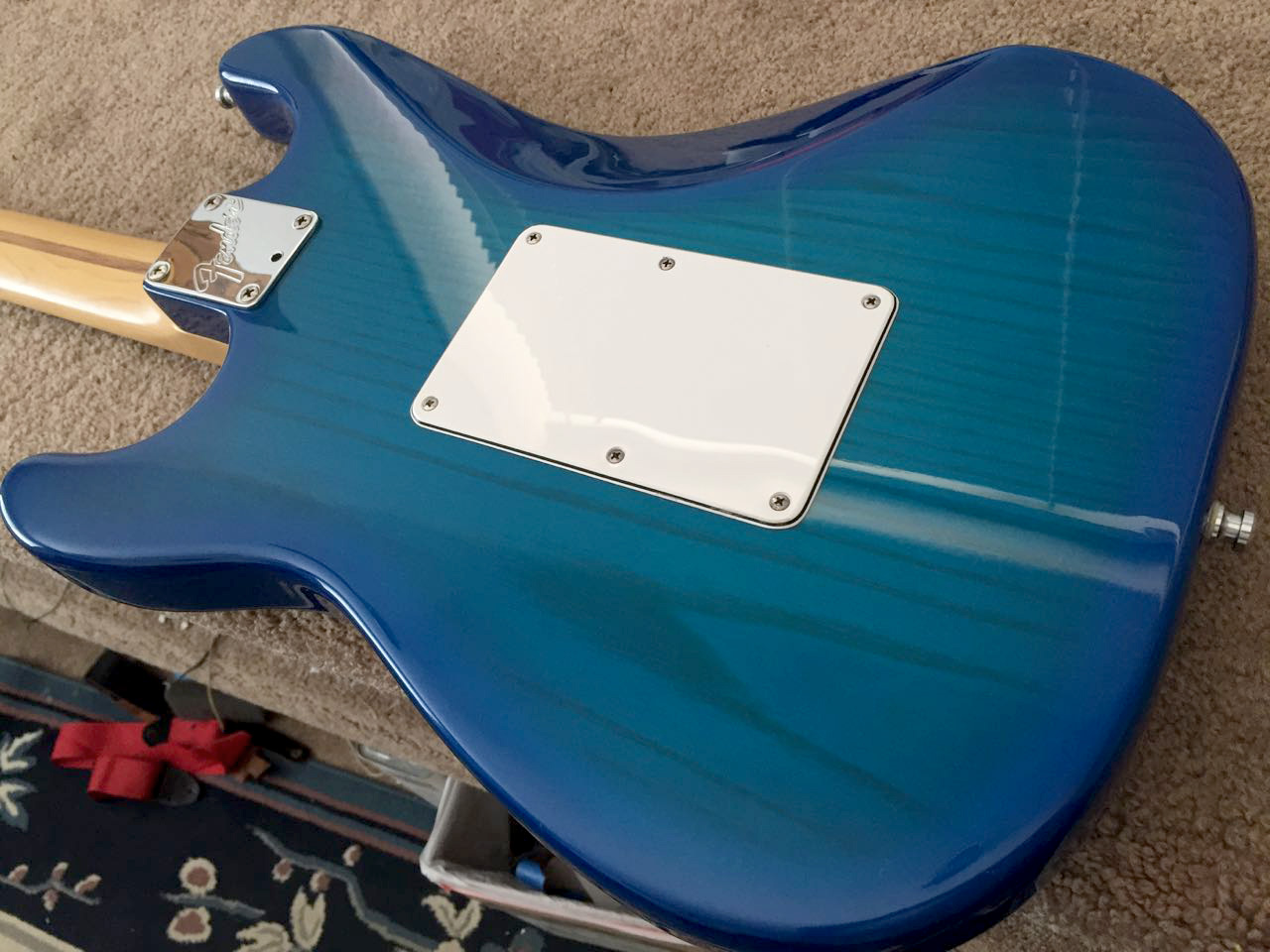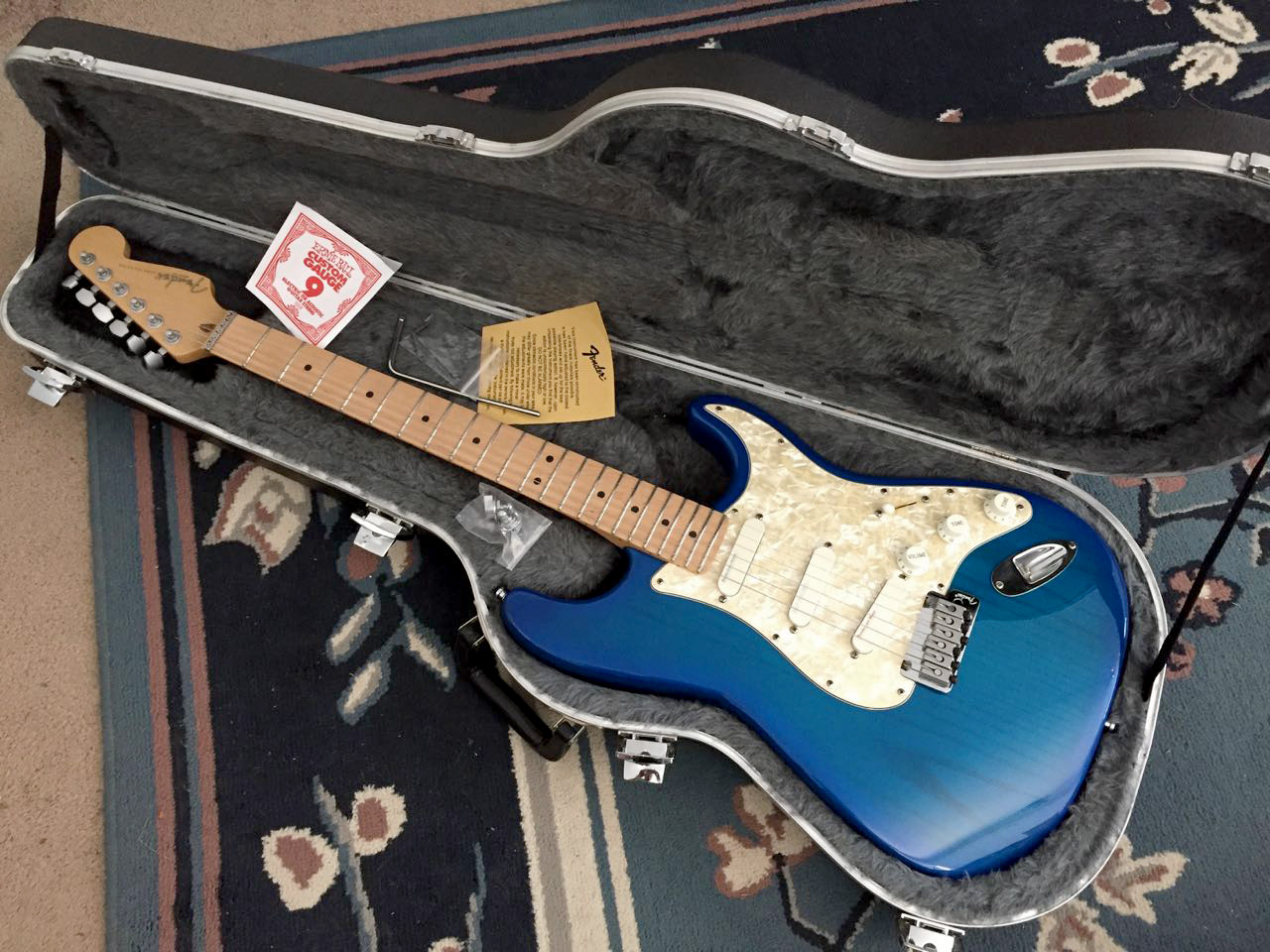 1995 FENDER BLUE BURST STRATOCASTER PLUS DELUXE: Condition: MINT- . This is a 1995 Deluxe Plus with all all the bells and whistles! The Blue Burst shows tha nice ASH grain through the transparent blue top and back. This has Ash caps on Alder. Comes with the Fender Floyd Rose bridge that is in excellent condition. Cut off the end of the string - insert it in the bridge, and tighten down the allen screw. LSR roller nut gives you smooth dives that stay in tune. Being a DX model, it has the Blue, Silver, and Red Lace Sensor pickups. Beefy, Blues tones, yet Tele bite to crunch in the bridge and all those nice Strat sounds inbetween! The one-piece solid Maple fretboard is near perfect, no dings on the back of the neck, and the frets are like new. I marked this MINT- because it has two micro chips right on the tip of the headstock. Even the lettering on the pickups is good. Also comes a very nice Fender Deluxe Strat Plus Hard Shell case. PRICE: $1450 (SOLD)
________________________________________________________________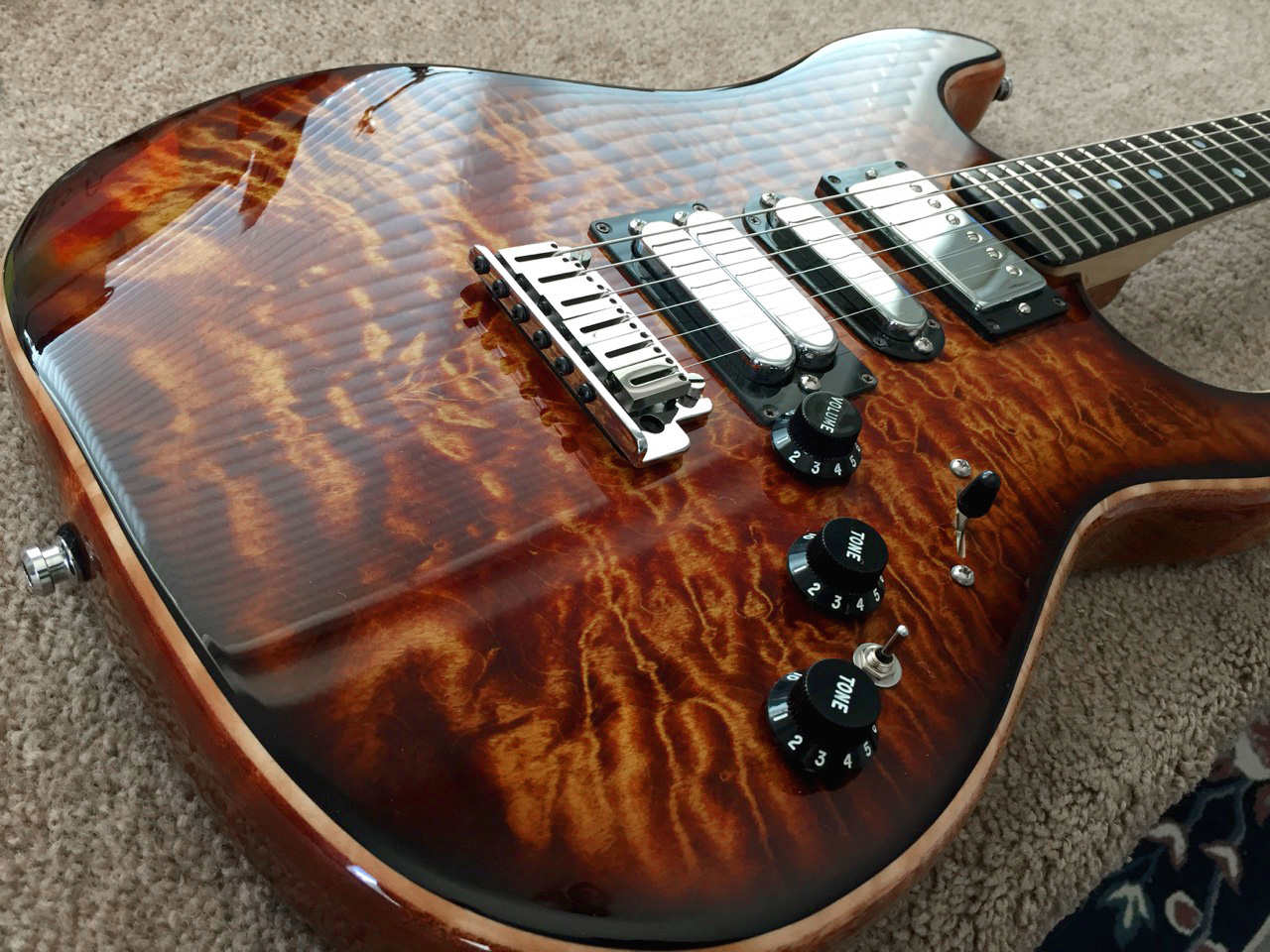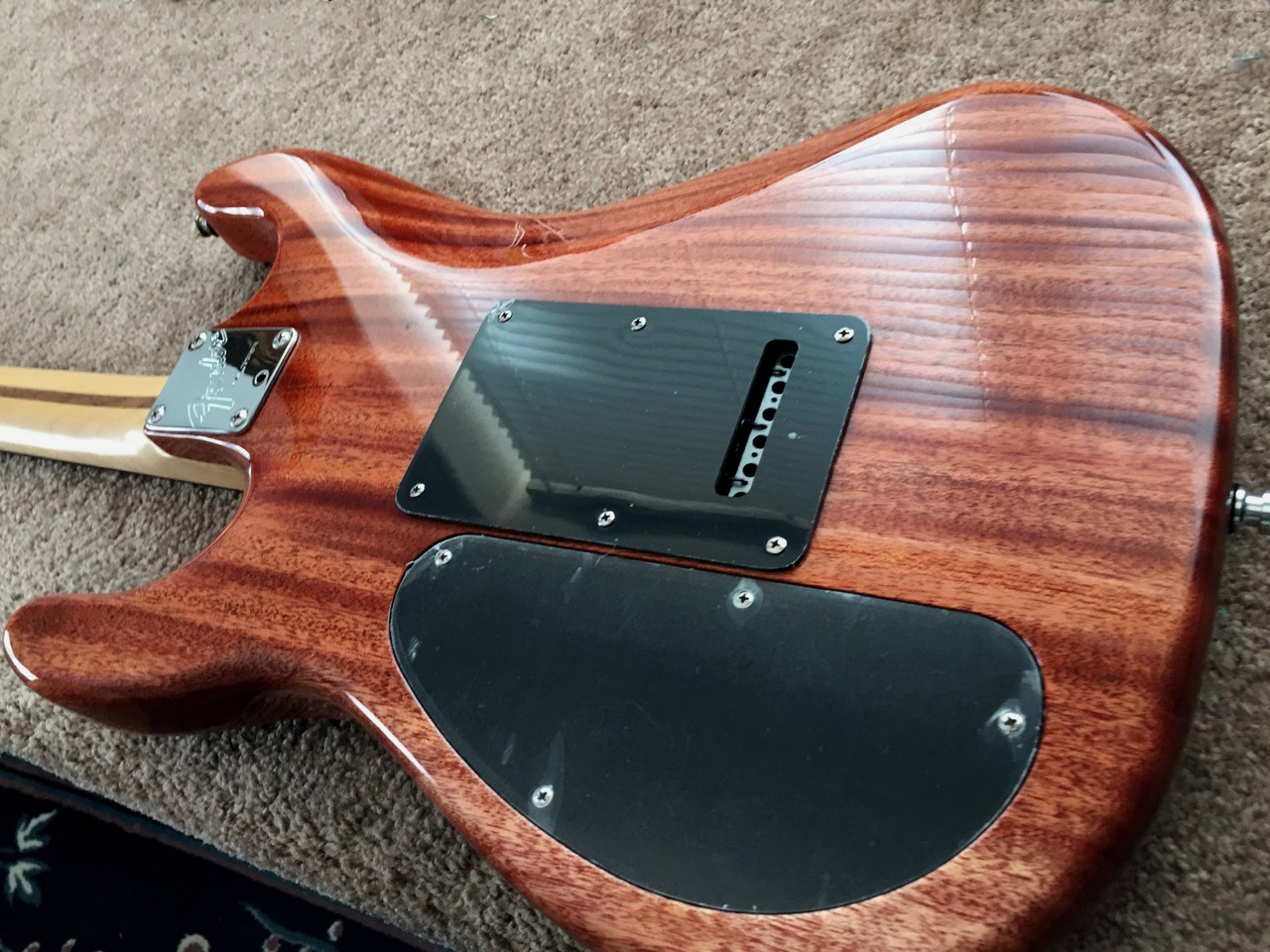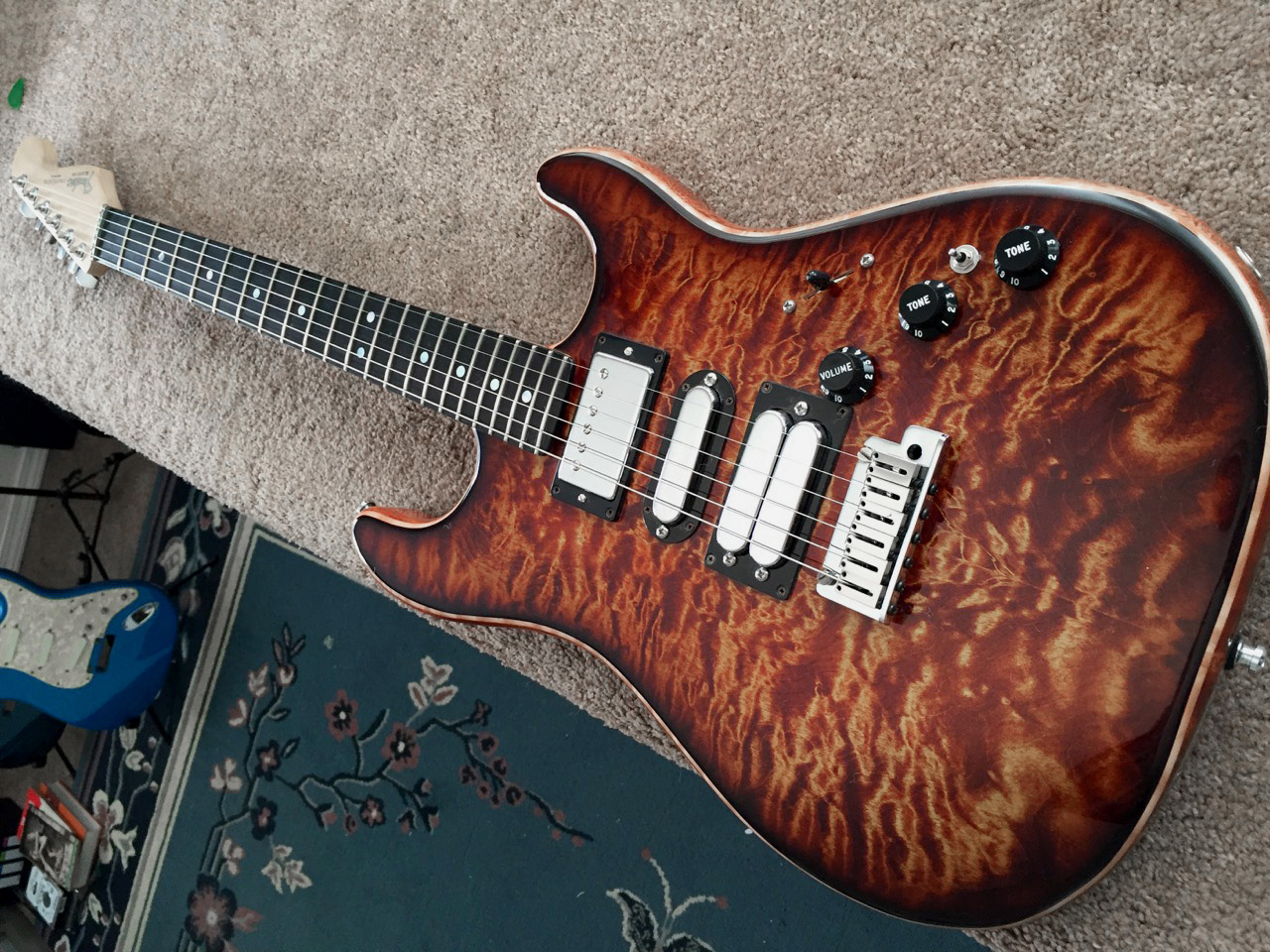 1993 - 2016 FENDER ULTRA CUSTOM STRATOCASTER PLUS: Condition: Brand New. Sold before even listed. Another one of my (Xhefriís) custom builds. You can read about my custom builds HERE.This is a Warmoth Mahogany chamber body mated to a new old stock 1993 Ebony Fender Ultra Neck. It has a a highly flamed maple top with masking around the edges. Crazy - cool mahogany back! The body has a custom contoured heel to make getting up around the 12 registry easier. The neck pickup is a Seymour Duncan Jazz Humbucker HS-2. These are incredible pickups and a great match for the Dually and single coils. One of my favorites. Great harmonics and can be smooth as silk. Add some overdrive and you have some nice blue tone. The first tone control is a push/pull pot to split the Jazz pickup into a single coil. This way you have the fat humbucker sound, or a slightly thinner tone similar to a single coil neck pickup. The bottom tone control is Fenderís TBX system that cuts high and low frequencies giving the bridge and middle pickups more tonal range. The 3-way mini-switch runs the bridge Dually in series (fat sound) or either front of back Chrome Dome. Back is more biting like a Tele bridge pickup and front is more mellow with a stratty tone. The 5-way switch is a Fender Super Switch which in position #3 has the neck + bridge instead of just running the middle pickup. This is more like a Telecaster or any 2 pickup guitar. You can mix tones from the neck and bridge pickups. Comes with a brand new Fender flight case. PRICE: $2550 (SOLD)
_________________________________________________________________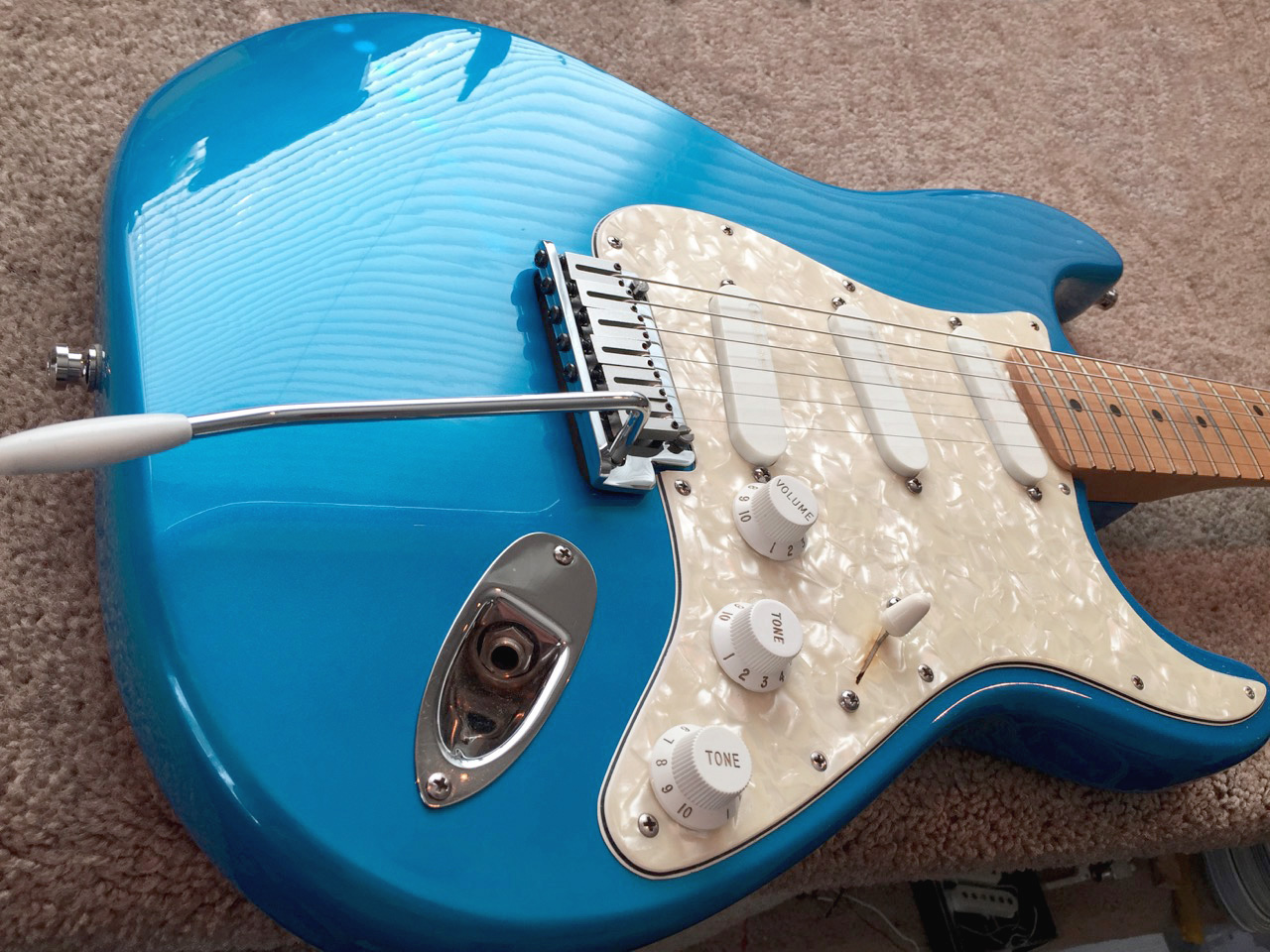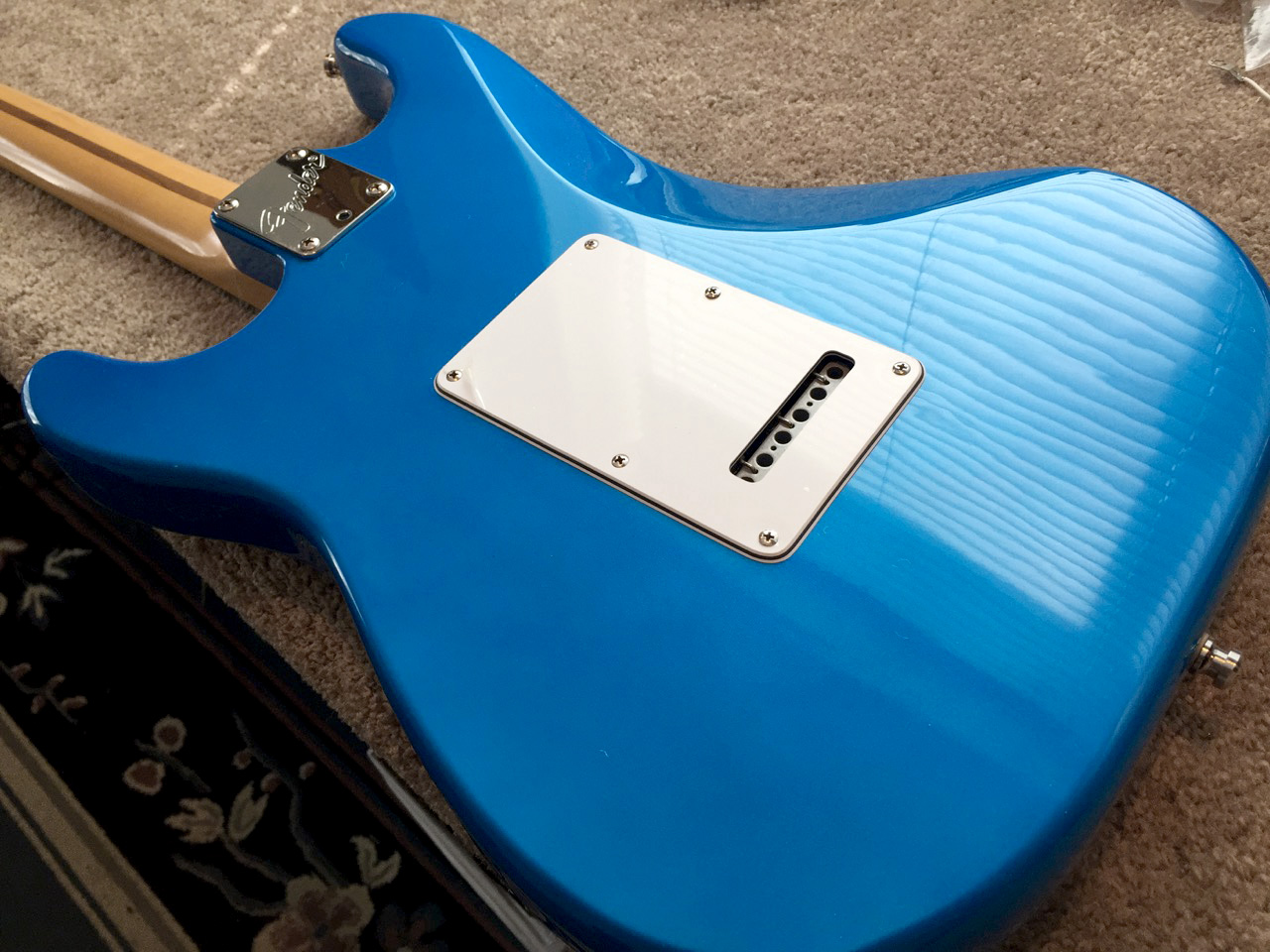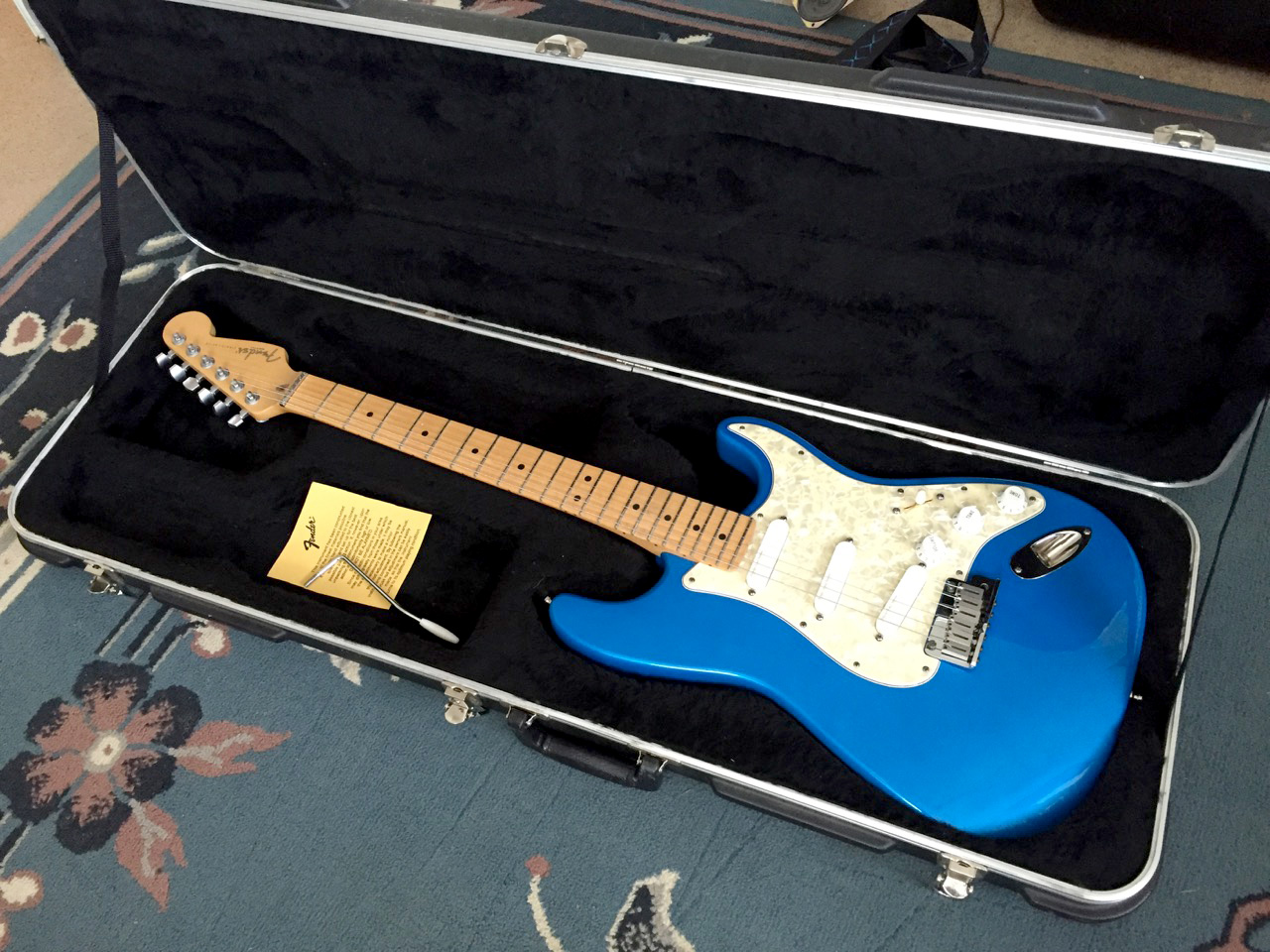 1995 FENDER ELECTRIC BLUE STRATOCASTER PLUS: Condition: NEAR MINT. Here is another hard to come by Strat Plus in ELECTRIC BLUE! This comes with all the typical Strat Plus appointments, such as Gold Lace Sensors, Shaller Locking tuners, and a LSR Roller nut. The lettering on the pickups is prefect. This color was introduced in late 1995 and was gone the middle of 1996 so they are pretty hard to find. It is like a darker yet very bright Lake Placid Blue—well, it's very electrifying! In reality it is a bright candy blue having a fine silver undercoat with a sparkly transparent blue coat. These are quite collectable. The condition of this guitar is really amazing and it plays great. Plastic is still on the back them cover. Lot's of mojo. Maple neck is in great condition as are the frets. Comes with the SKB hardshell rectangular case that is in excellent condition. PRICE: $1650 (SOLD)
_________________________________________________________________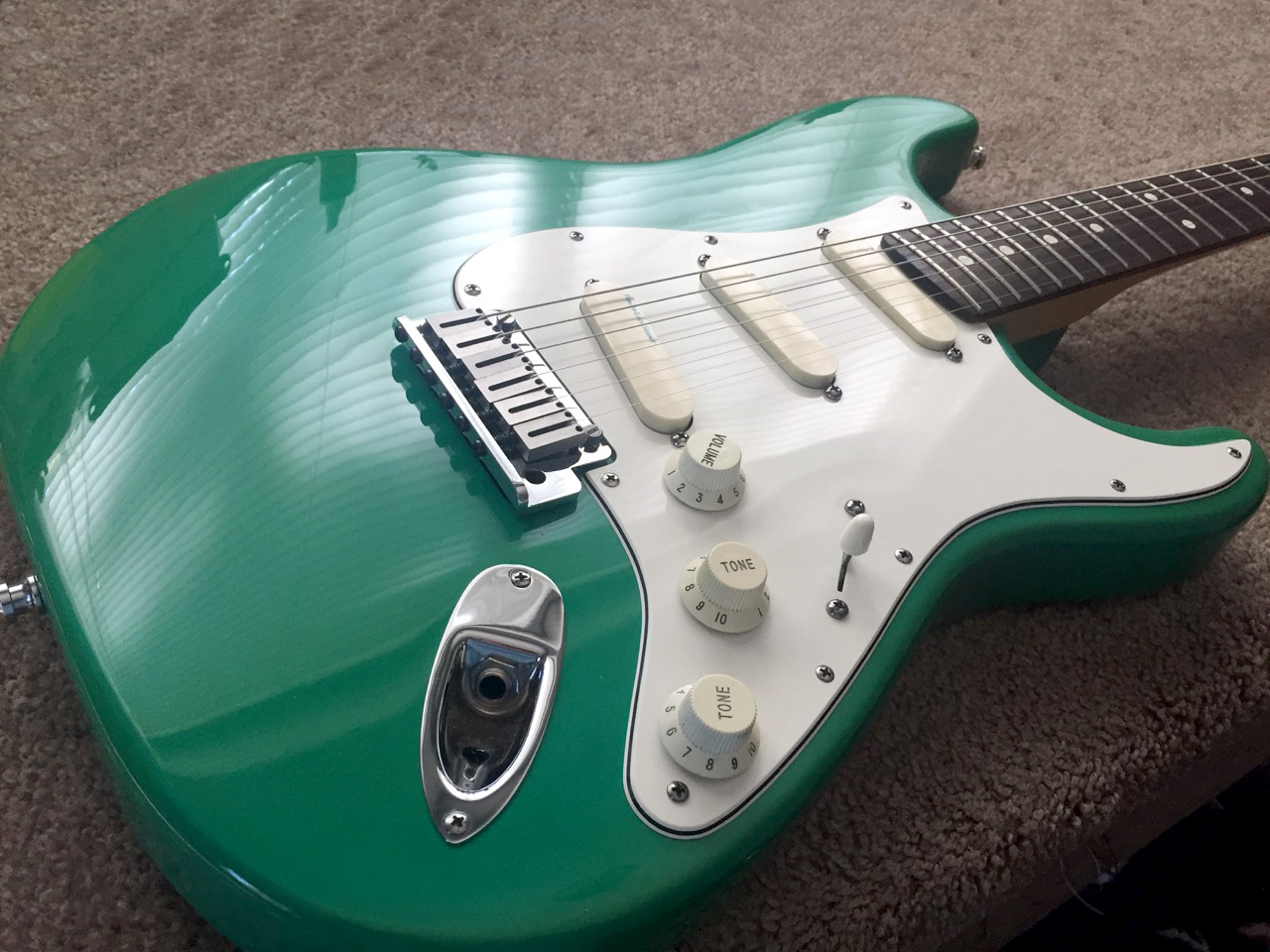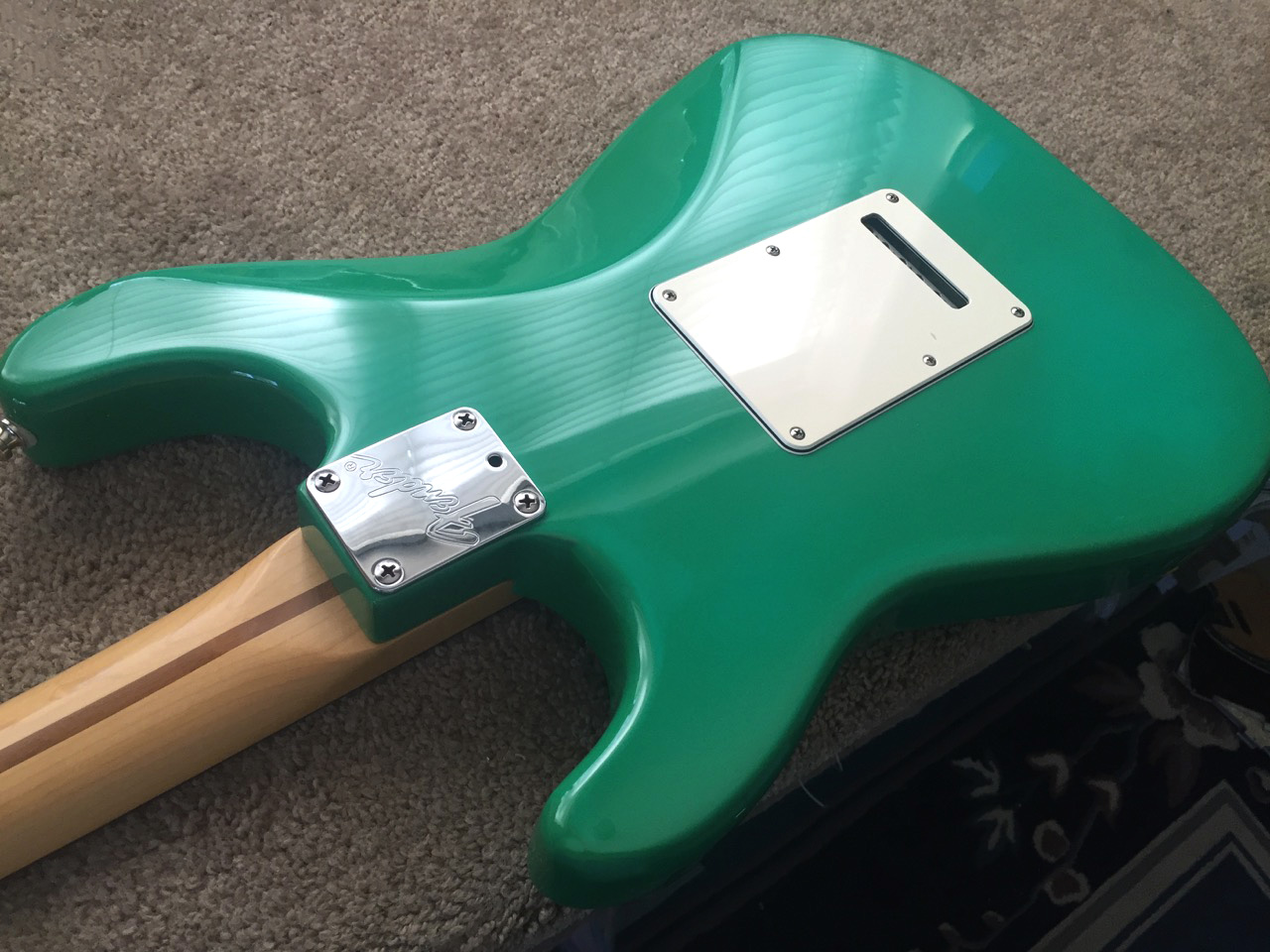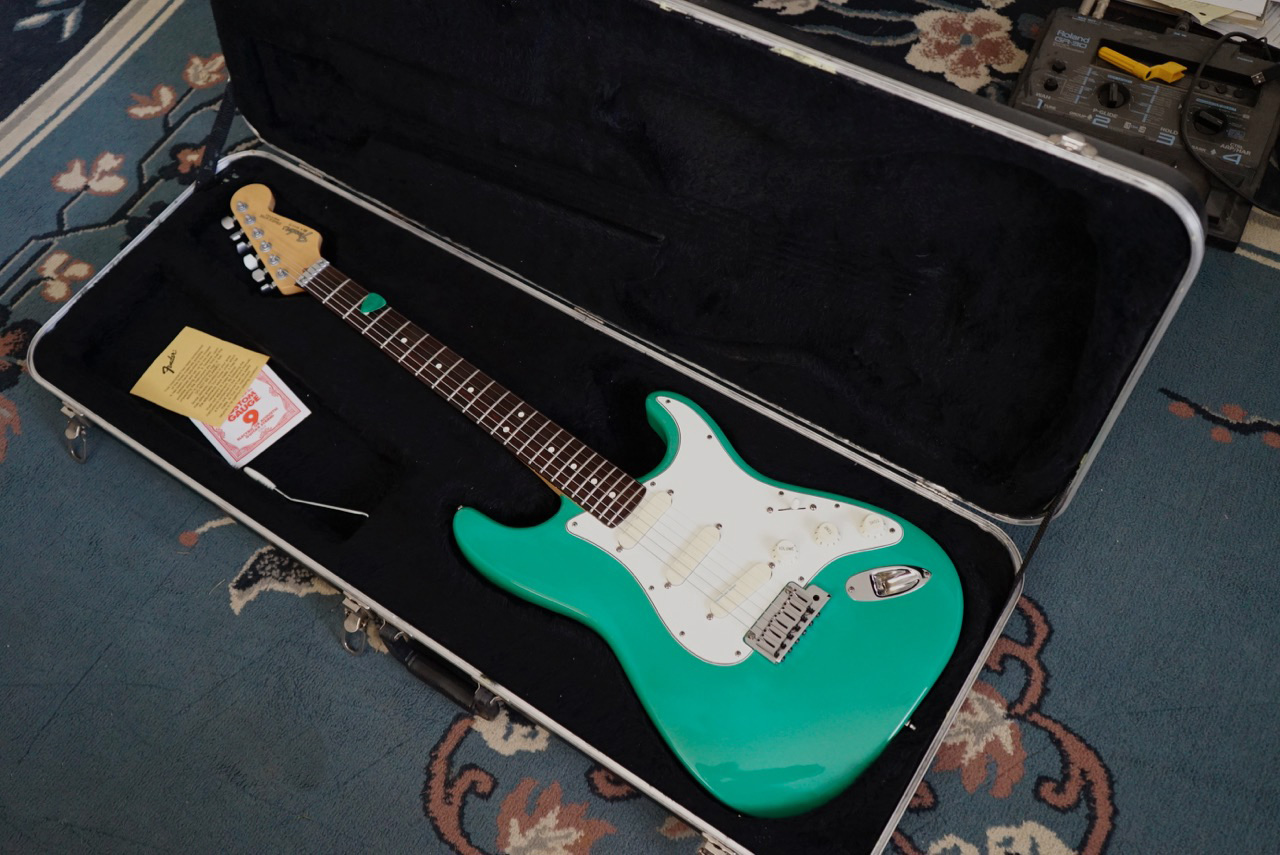 1989 FENDER SURF GREEN VERSION I STRATOCASTER PLUS DELUXE: Condition: NEAR MINT+. Rare and unique! This is a Version I Strat Plus Deluxe. These were introduced in late 1989 and ended in early 1990. The Version I came with Silver/Silver/Blue Lace Sensor pickups. In 1990 Fender then changed the Deluxe to the Blue/Silver/Red Lace Sensor pickups. These are quite collectable especially when you find them in a rare color like Surf Green. This one is also unique as the color has yellowed significantly, to the point it almost looks like a light, bright, Bahama Green. The Rosewood fretboard is very nice as are the frets. Also comes with the original Fender rectangular case that is in excellent condition. PRICE: $1850 (SOLD)
__________________________________________________________________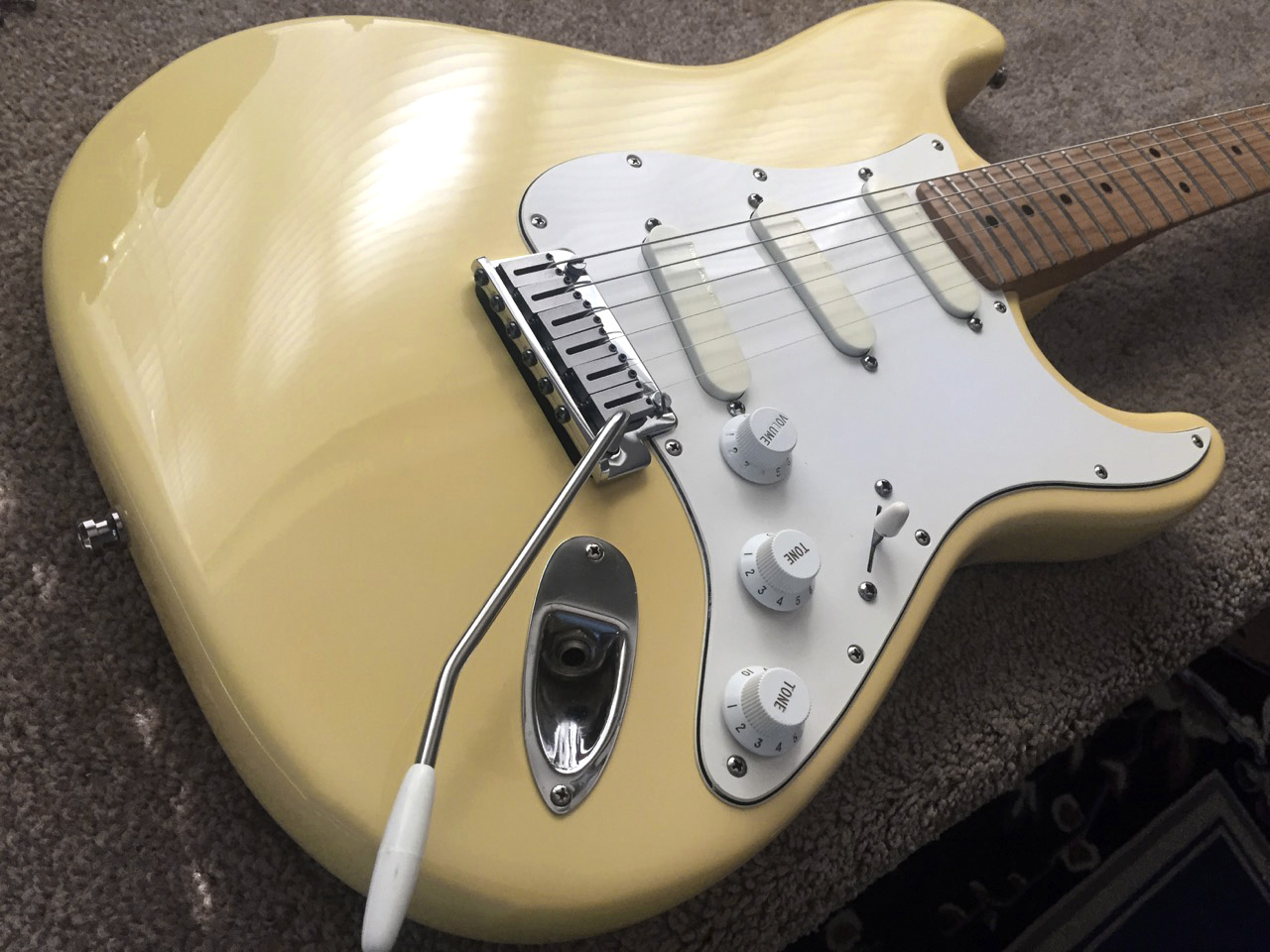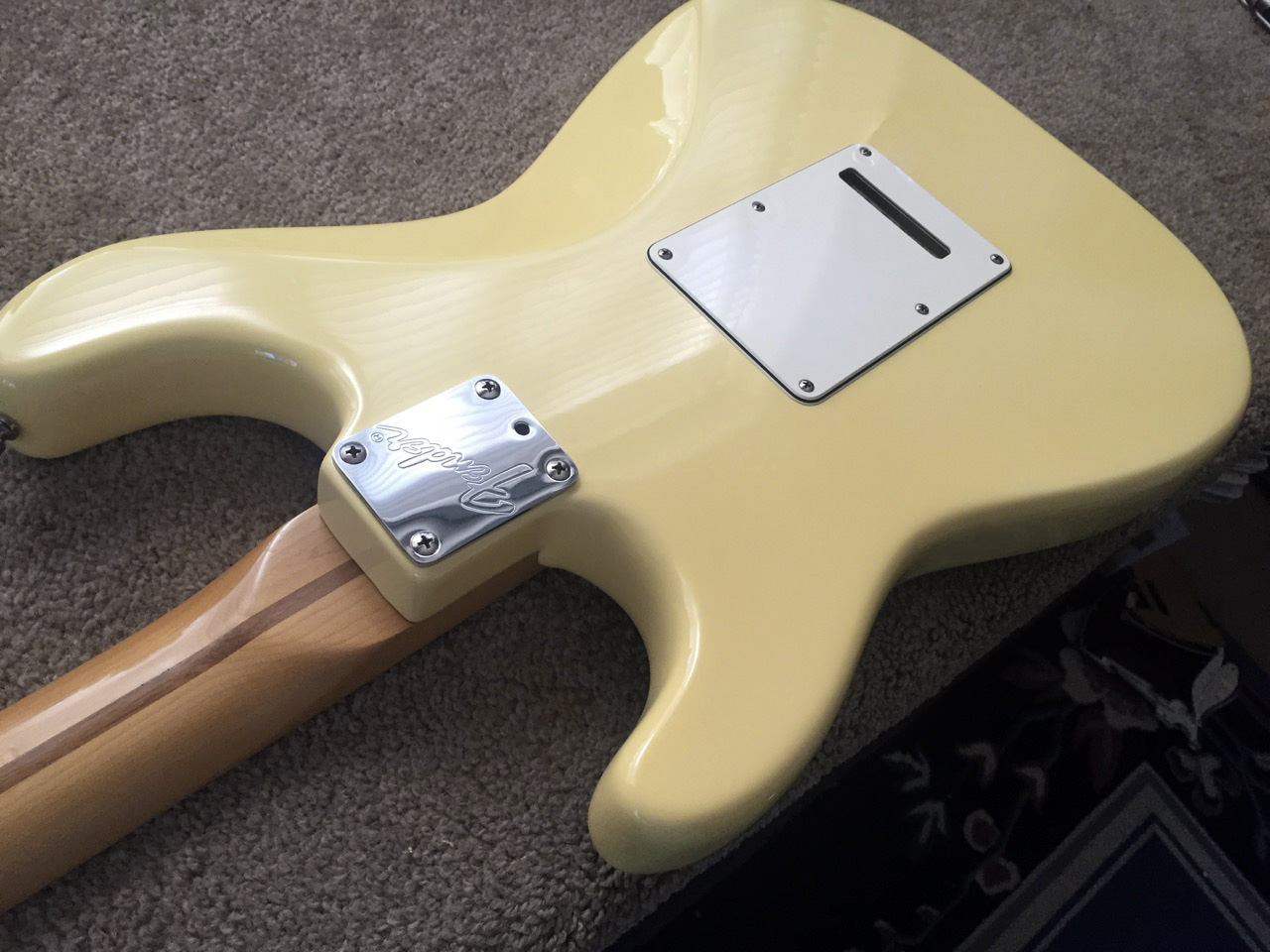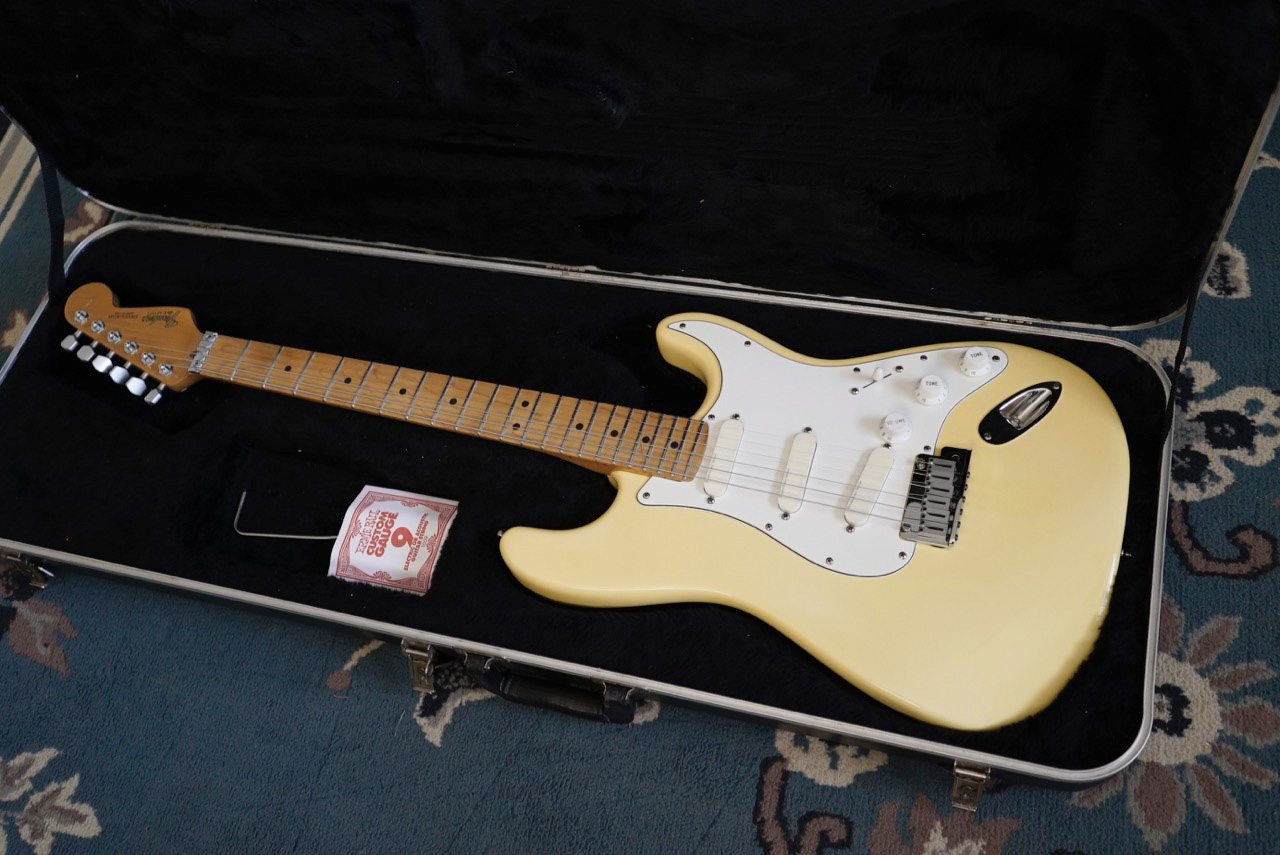 1987 FENDER VINTAGE WHITE STRATOCASTER PLUS: Condition: NEAR MINT. This is a excellent example of early issue Strat Plus and is very collectable. Sometimes these 87-88 Vintage White Plus' turn a creamy yellow color, as this one has, so people think that they are Monaco Yellow! (I have seen them mistakenly advertised like that!) The pencil date on the butt end of the neck is 10/29/87 and was made by the famous Herbie Gastelum, who later shaped necks for Fender's Custom Shop. The body stamp date is Nov 22, 1987. Comes with all the 87 Plus appointments such as an E4 serial number, split Wilkinson nut, square bottomed Lace Sensors pickups, and Sperzel tuners. The Gold Lace Sensor logos on the pickups are near new condition and the body is mint. Also comes with the original Fender rectangular heavy duty flight case that is in excellent condition. PRICE: $1800 (SOLD)
__________________________________________________________________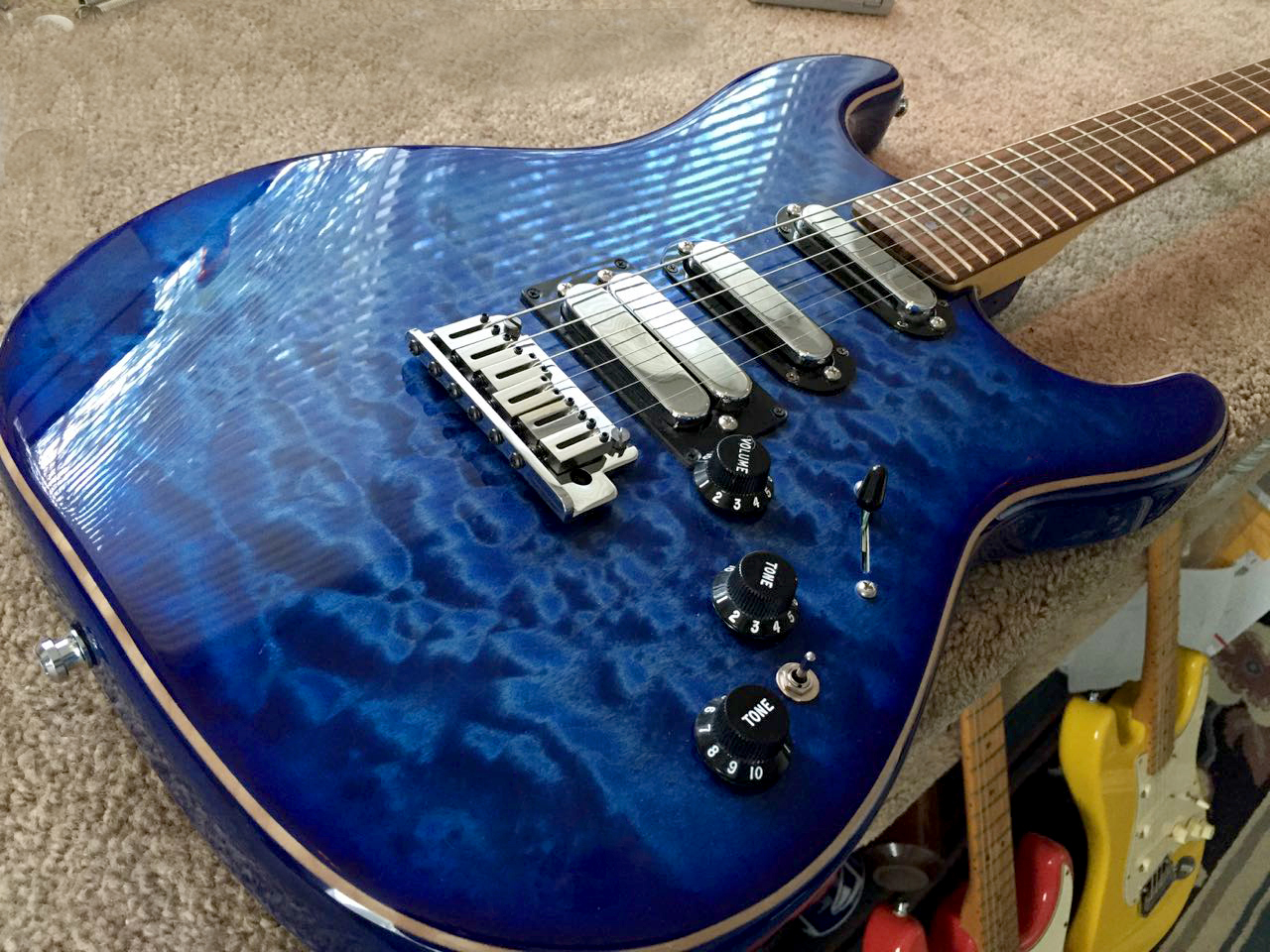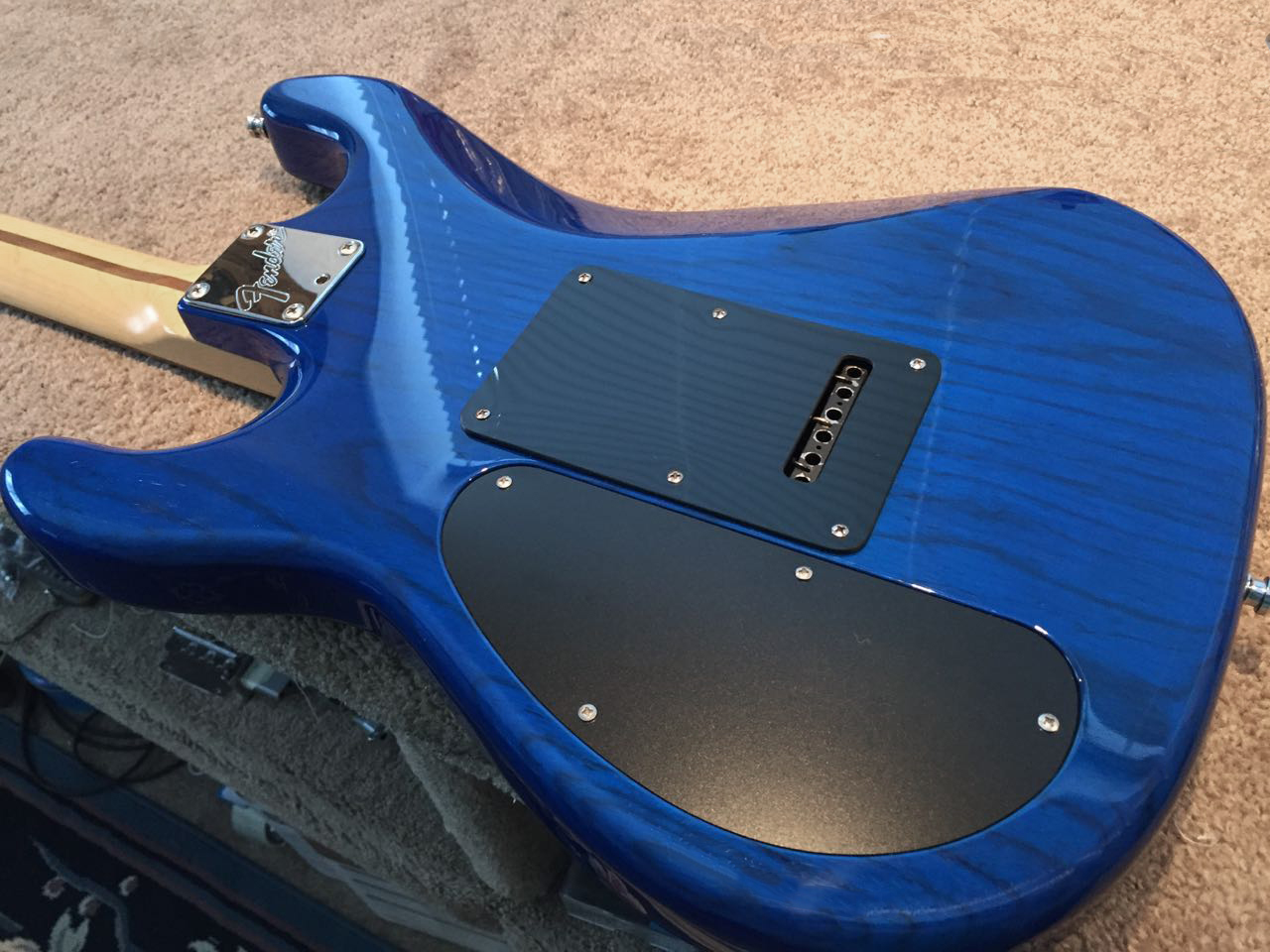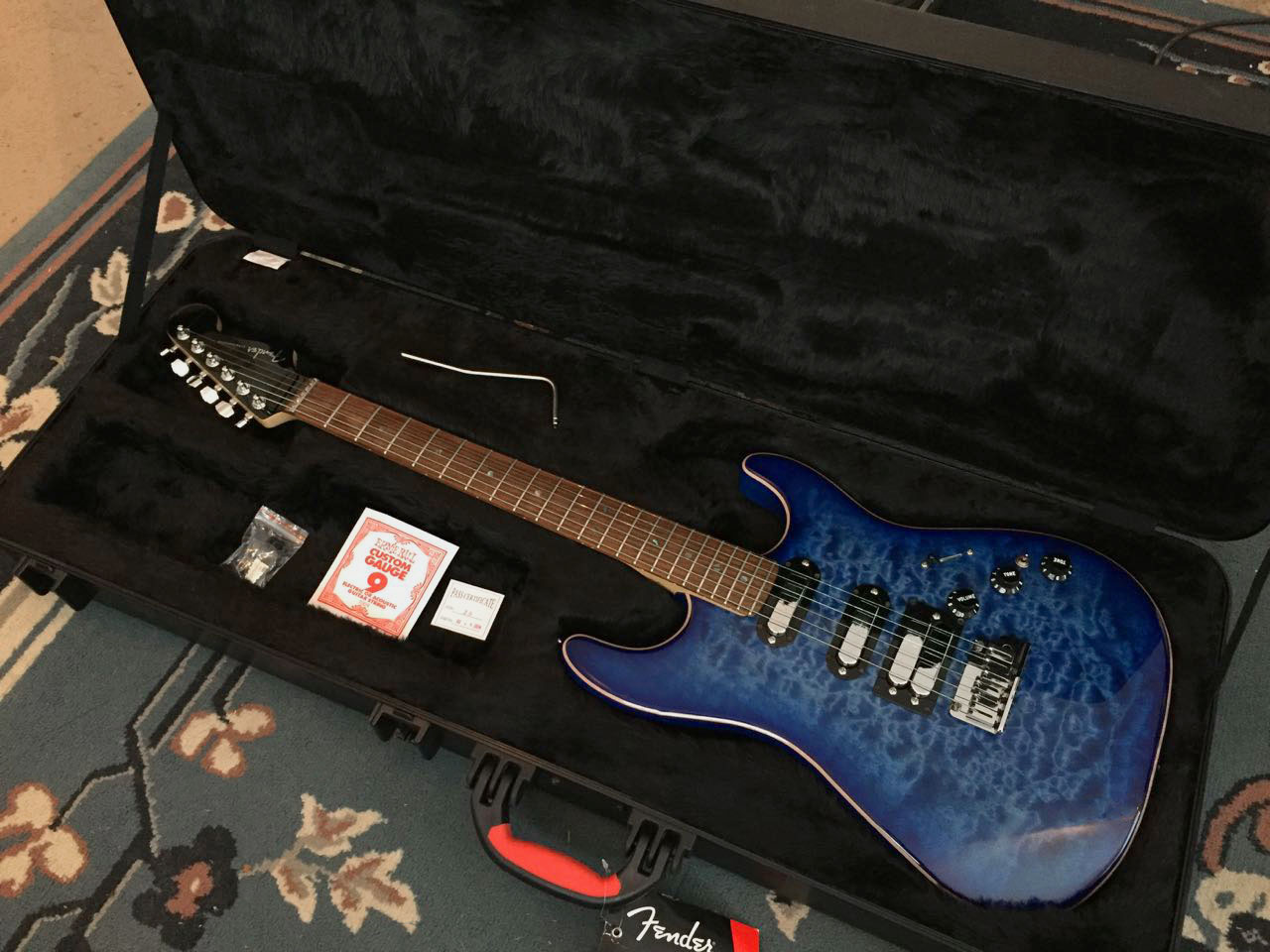 2005 FENDER DELUXE ULTRA CUSTOM STRATOCASTER: Condition: MINT - brand new! Custom Shop quality without the Custom Shop price. This is a brand new chambered swamp ash body with burly maple top joined to a like brand new Fender Deluxe 2005 Strat compound radius neck with rosewood fretboard, black painted headstock, abalone dot inlays, LSR Roller Nut and Deluxe locking tuners. The back of the body is graced with a contoured heel to make playing above the 12th registry easier. The deluxe bridge with chrome saddles and chrome pop-in tremolo bar. This blue beauty is wired like an Fender Ultra with a Hot Chrome Dome in neck and a Hot Chrome Dome Dually in the bridge with a standard Chrome Dome in the middle. The 5-way Super switching gives the guitar these selections: neck, neck + middle, neck + bridge, middle + bridge, and bridge pickup configurations. Lower tone control is a TBX connected to the bridge and middle pickups. The middle knob turns a no-load tone control for the neck pickup. Turn it to 10 and it is completely by-passed in the circuit. The mini-switch is an on/on/on for the bridge pickups. upper, both in series, or lower Laces. Plays sweet! Comes with a brand new FENDER hardshell flight case with allen wrenches, polishing cloth, keys, and DX pop-in tremolo bar. PRICE: $2500 (SOLD)
___________________________________________________________________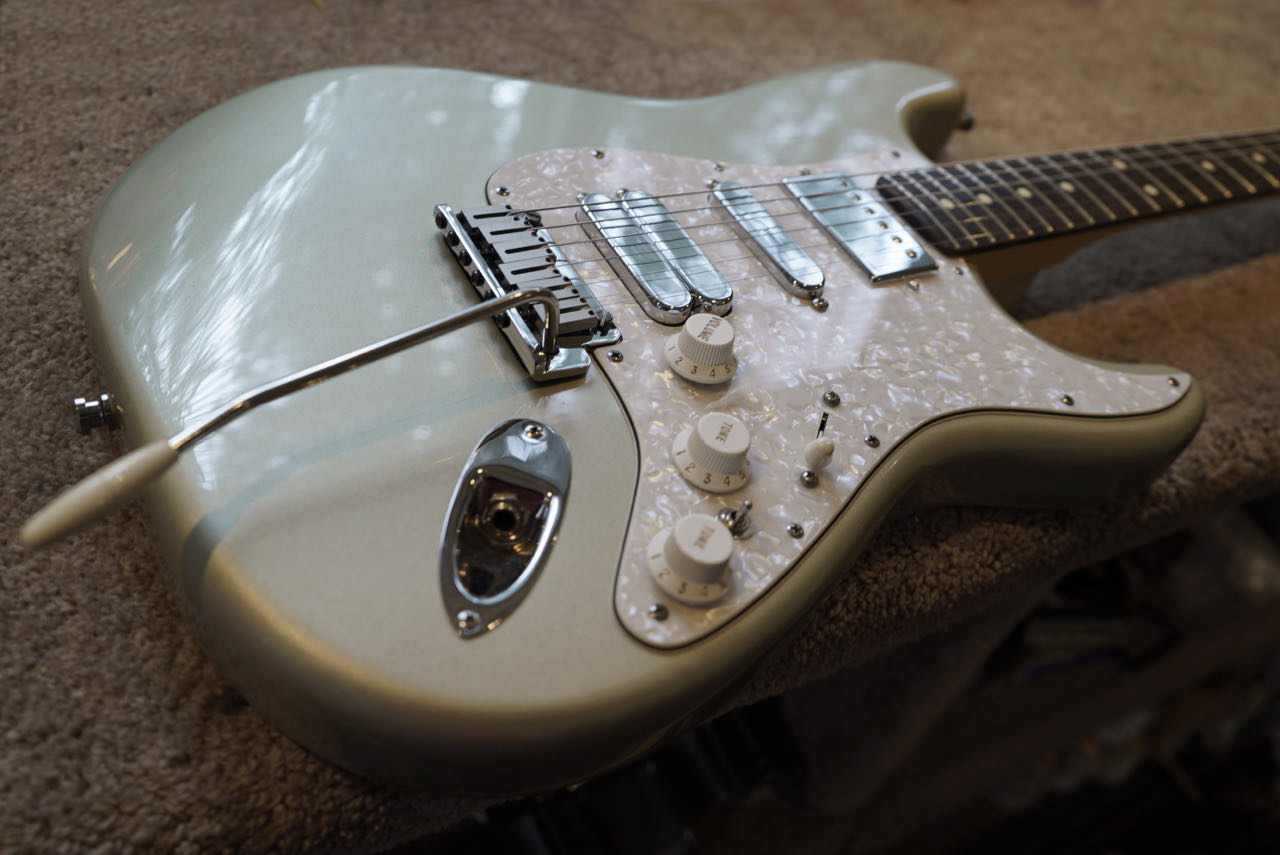 1997 INCA SILVER FENDER STRATOCASTER PLUS ULTRA CUSTOM: Condition: MINT-. This is a very nice, minty, Inca Silver Strat Plus that that I customized using all BRAND NEW pickups and parts (small fortune!) on one of my custom cut Humbucker/Ultra Aged Pear pickguards. The only reason it is not mint is due to some light impressions on the back of the neck. This configuration is very popular as I have sold a number wired like this. The neck pickup is (dare I say?) a Gibson Burstbucker (type 1) taken out of a brand new Les Paul. The Gibson Burstbuckers have garnered quite a bit of attention as being a "truer" PAF type pickup compared to what Gibson had been offering over the past several years. This pickup is sweet and does not overpower the Chrome Domes. It is wired with a 500k no-load pot with a .033 oil cap, which means when you use the tone control the pickup does not get super dark and muddy sounding. Also turn it to 10 and you by-pass the tone control complete (thus no-load)! The bridge is an Ultra-styled Dually in Lace Sensor Hot Chrome Domes. With the mini-3 way switch get tele to humbucker bridge tones. The middle pickup is a a standard Chrome Dome and when mixed with the bridge or neck (positions #2 & #4) you get this entice quacks, even with the Burstbucker. Frets are like new. Comes with a brand new Guardian tolex case with tremolo bar: PRICE: $1675 (SOLD)
_______________________________________________________________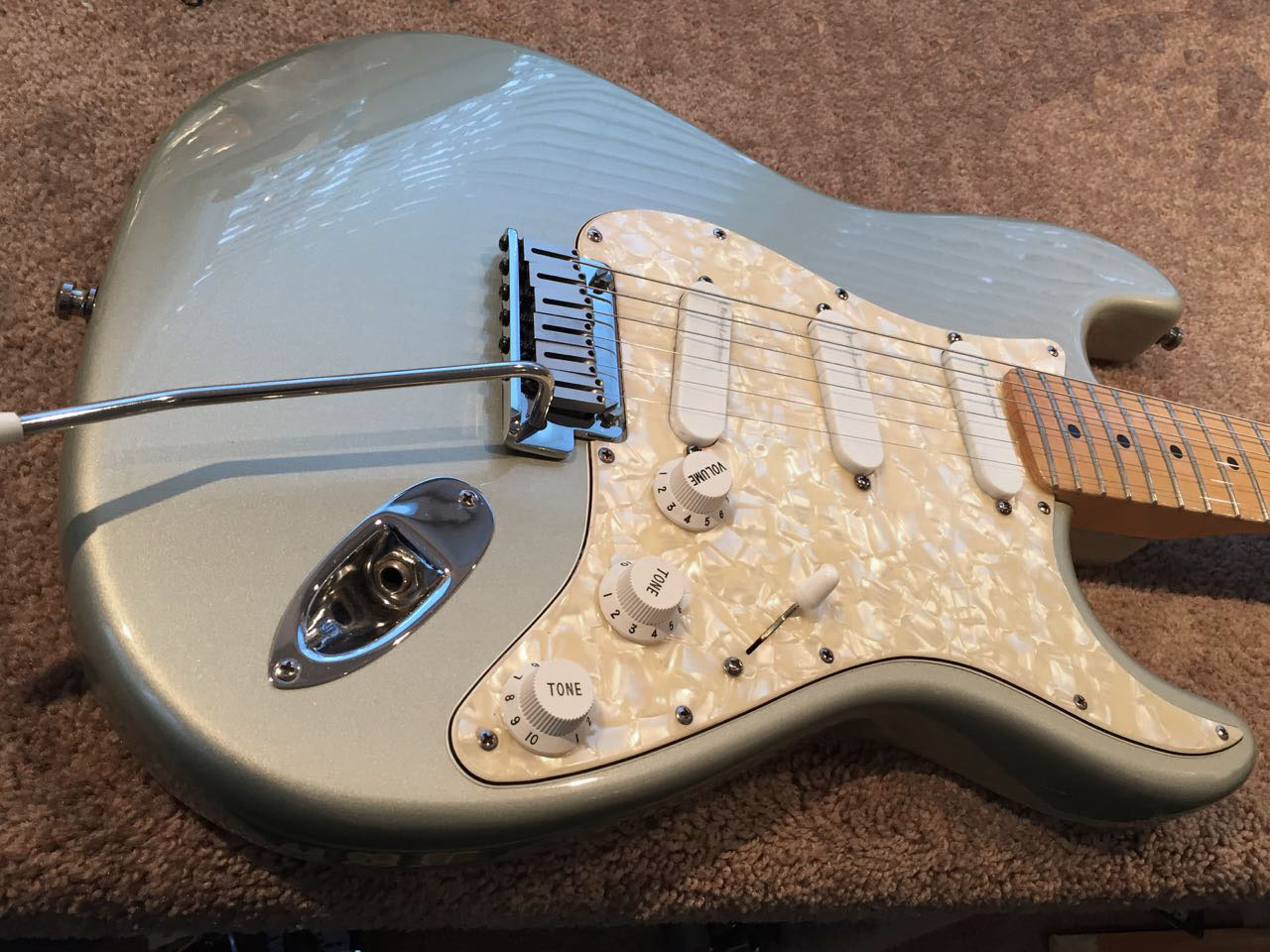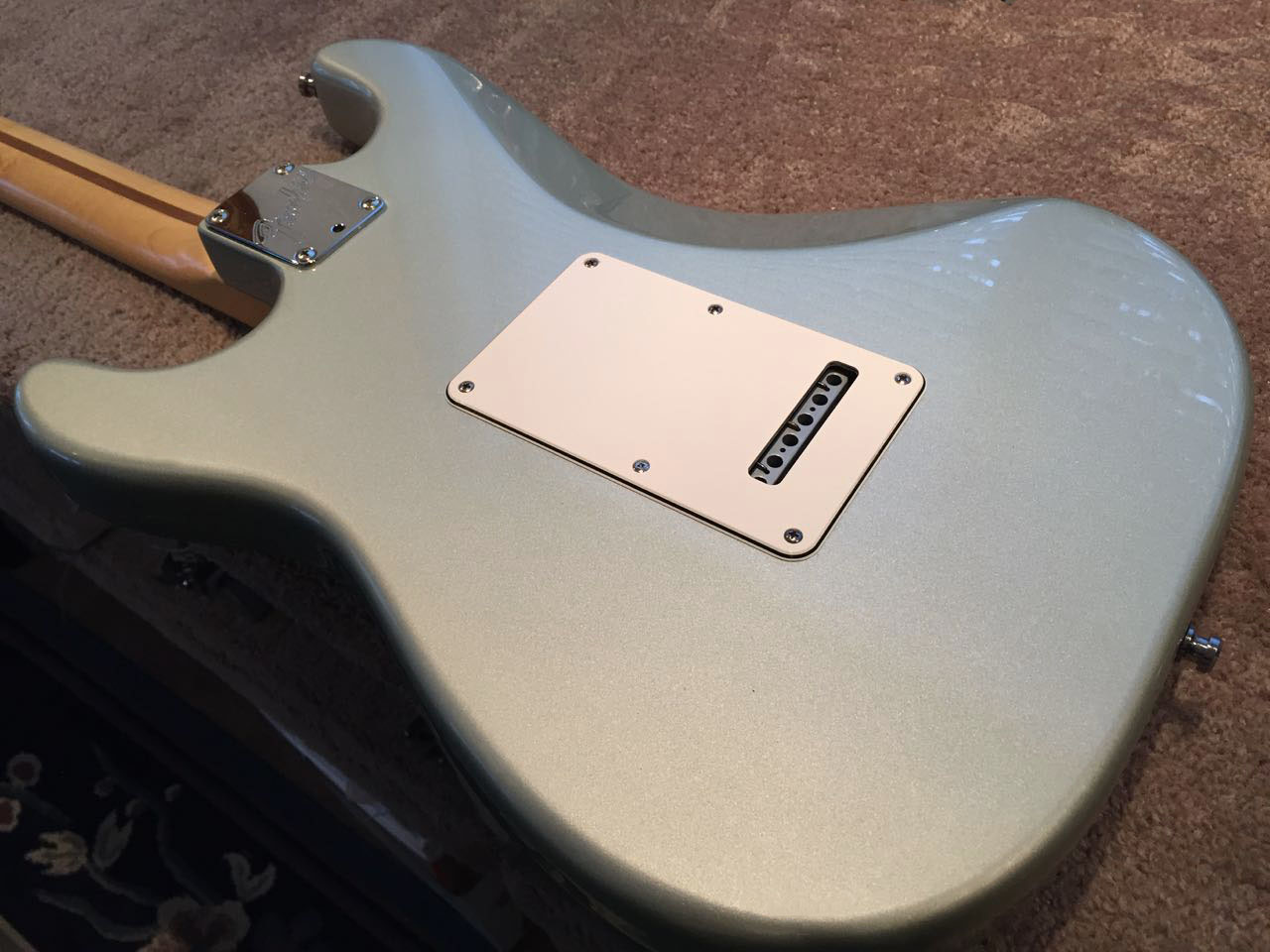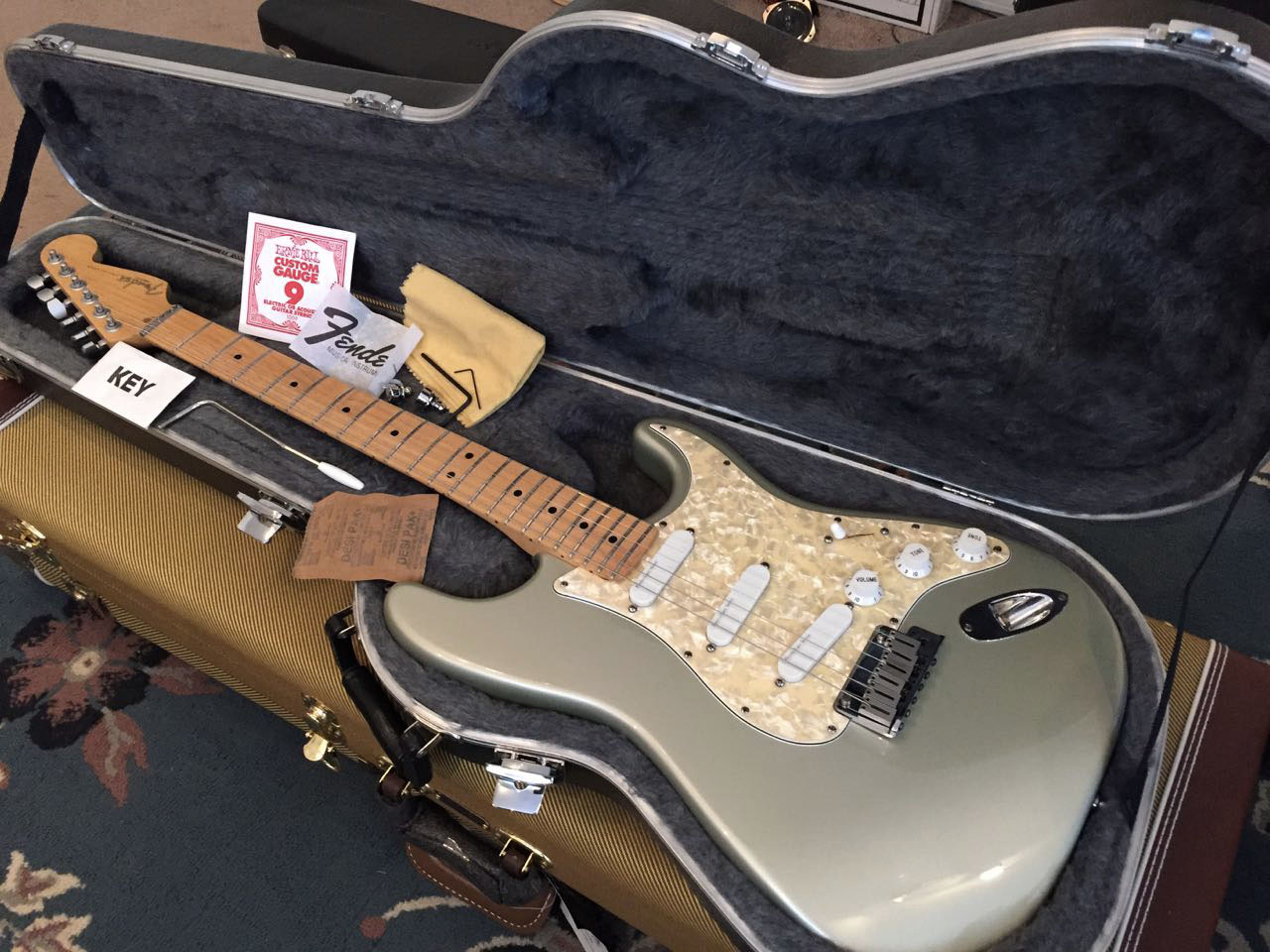 1997 INCA SILVER FENDER STRATOCASTER PLUS: Condition: MINT-. This is a very nice, minty, Inca Silver Strat Plus that comes with all the Plus appointments. Gold Lace Sensors give a crisp 1950s tone. Even the lettering on the pickups is near prefect. Frets are like new. Body is dead mint - no cracks or scratches anywhere. Comes with a "like-new" Deluxe Fender Strat Plus Case with allen wrenches, tremolo bar, strap locks and polishing cloth. PRICE: $1400 (SOLD)
___________________________________________________________________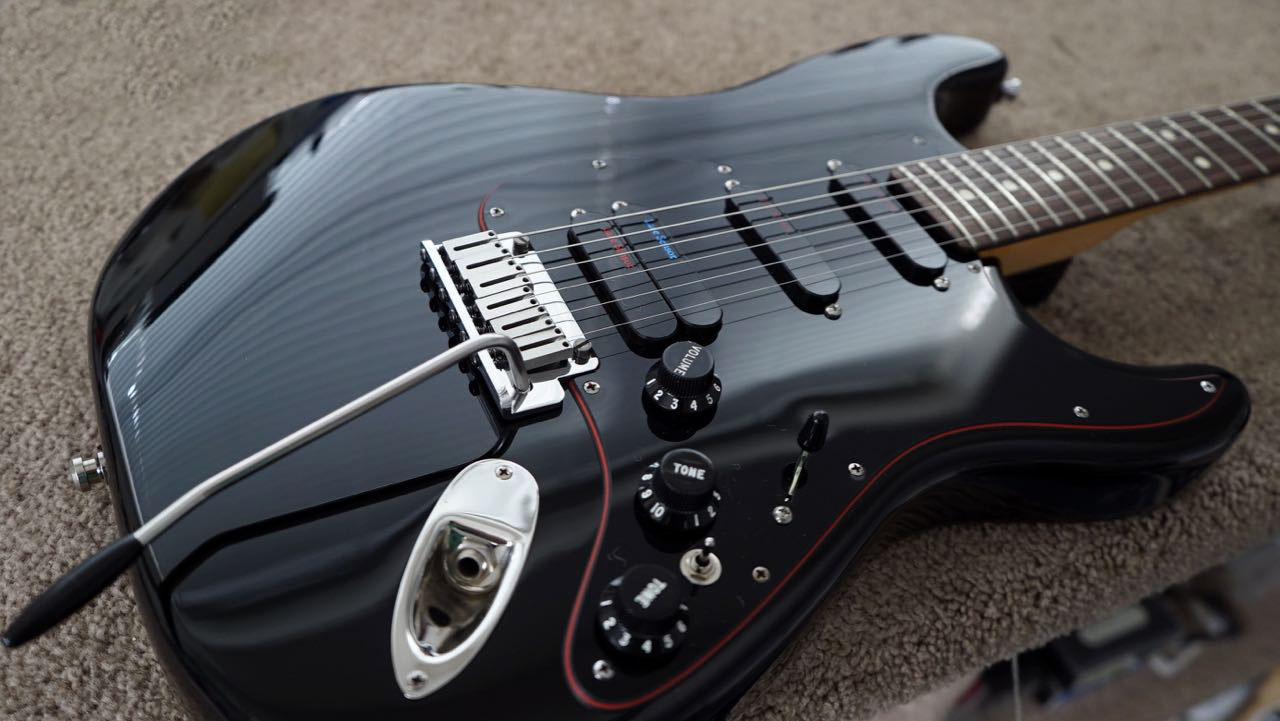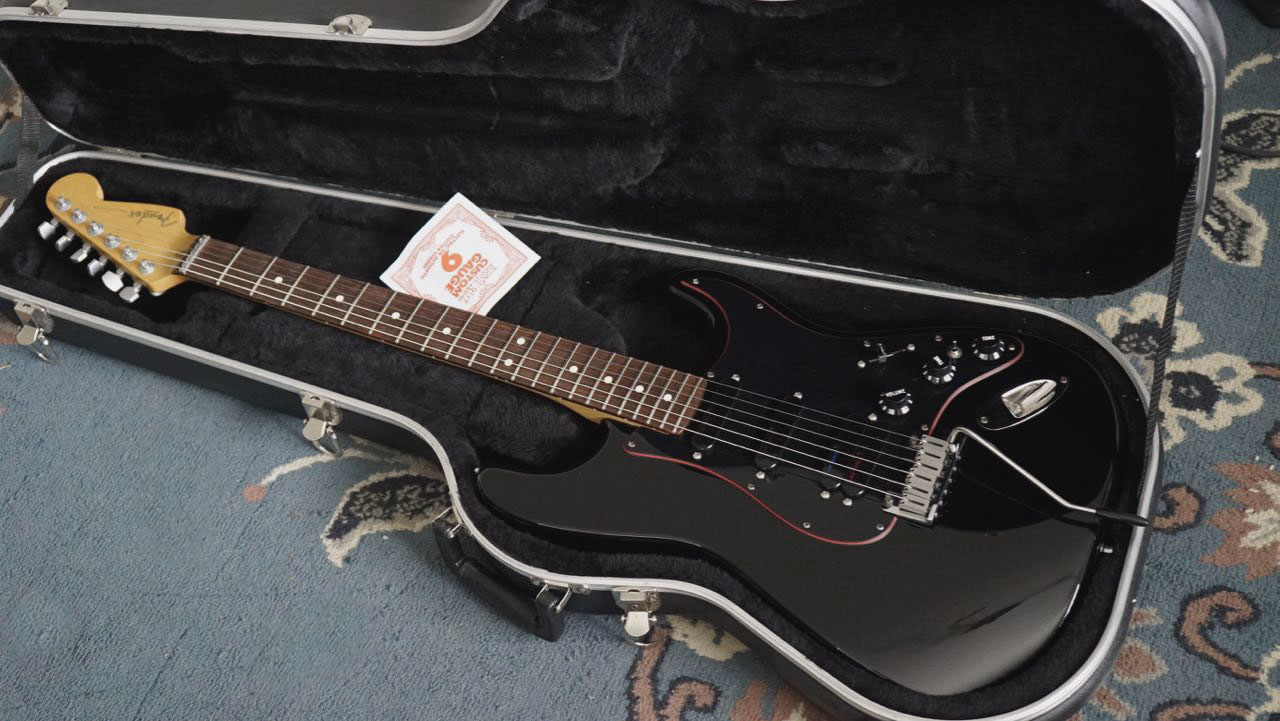 1997 FENDER BLACK STRATOCASTER PLUS DELUXE ULTRA CUSTOM: Condition: MINT. This is another one of my customized Strat Plus' and I call it The Stealth! I have sold, over the years, a number of these black beauties. This guitar started out as a mint Strat Plus Deluxe in black. I replaced all the electronics with BRAND NEW pots, switches, pickups and Ultra pickguard. The neck and middle pickups are Burgundy Lace Sensor, which are voiced like P-90 Gibson pickups. Not as bright or harsh as vintage pickups, great for an assortment of styles of music. The bridge is a Blue/Red Dually Lace Sensor. Humbucker to tele tones. Really nice Rosewood neck with a satin finish. The Black/Red/Black pickguard really looks nice! This also has that cool switching using a 5-way super switch that mixed the neck + bridge on position #3 and the 3-way mini-switch that can give you a lot of variations on the bridge Dually. Read about this switching in details on my Ultra page! Comes with tremolo bar and a brand new Fender form fitting case. PRICE: $1675 (SOLD)
___________________________________________________________________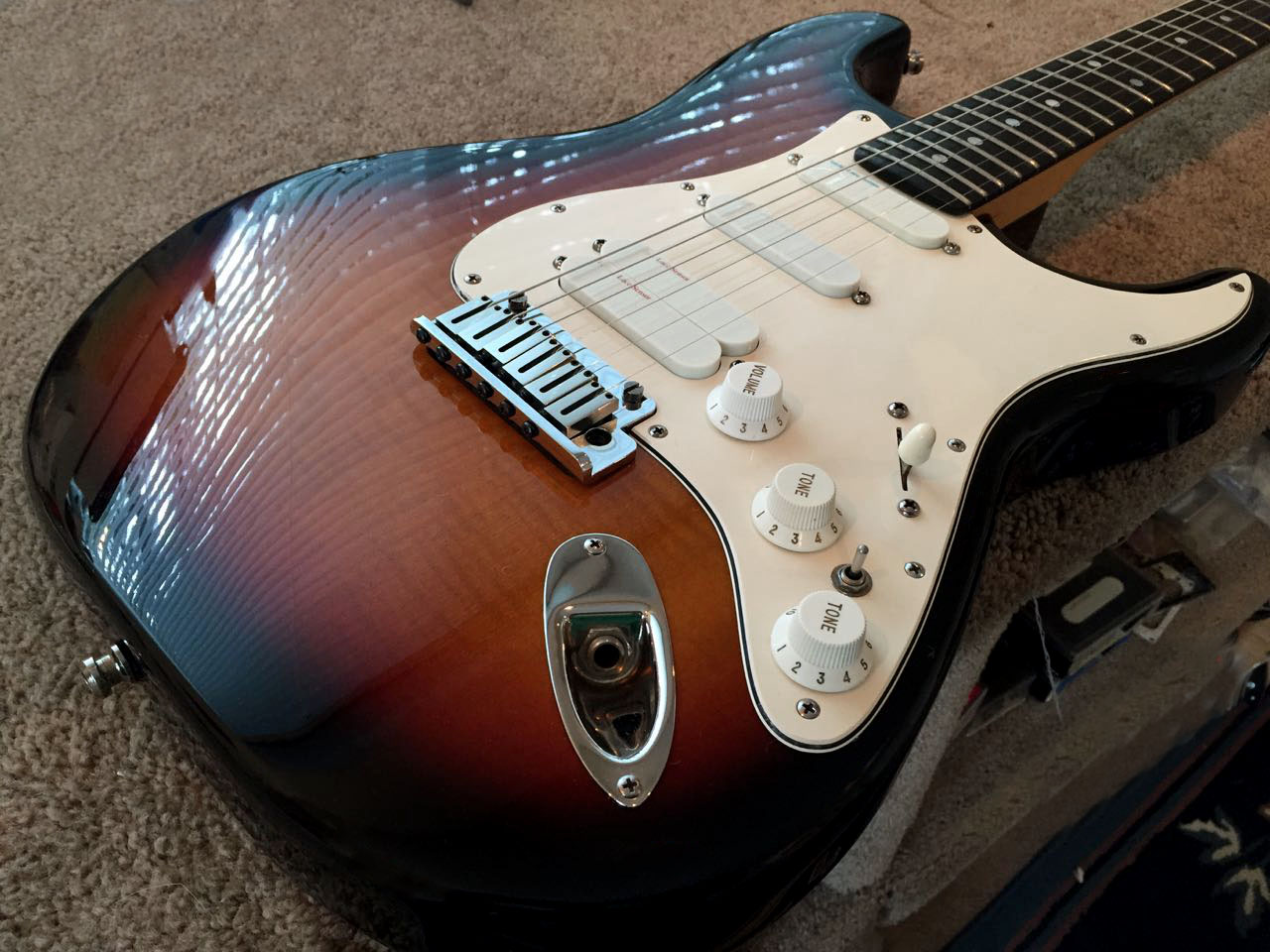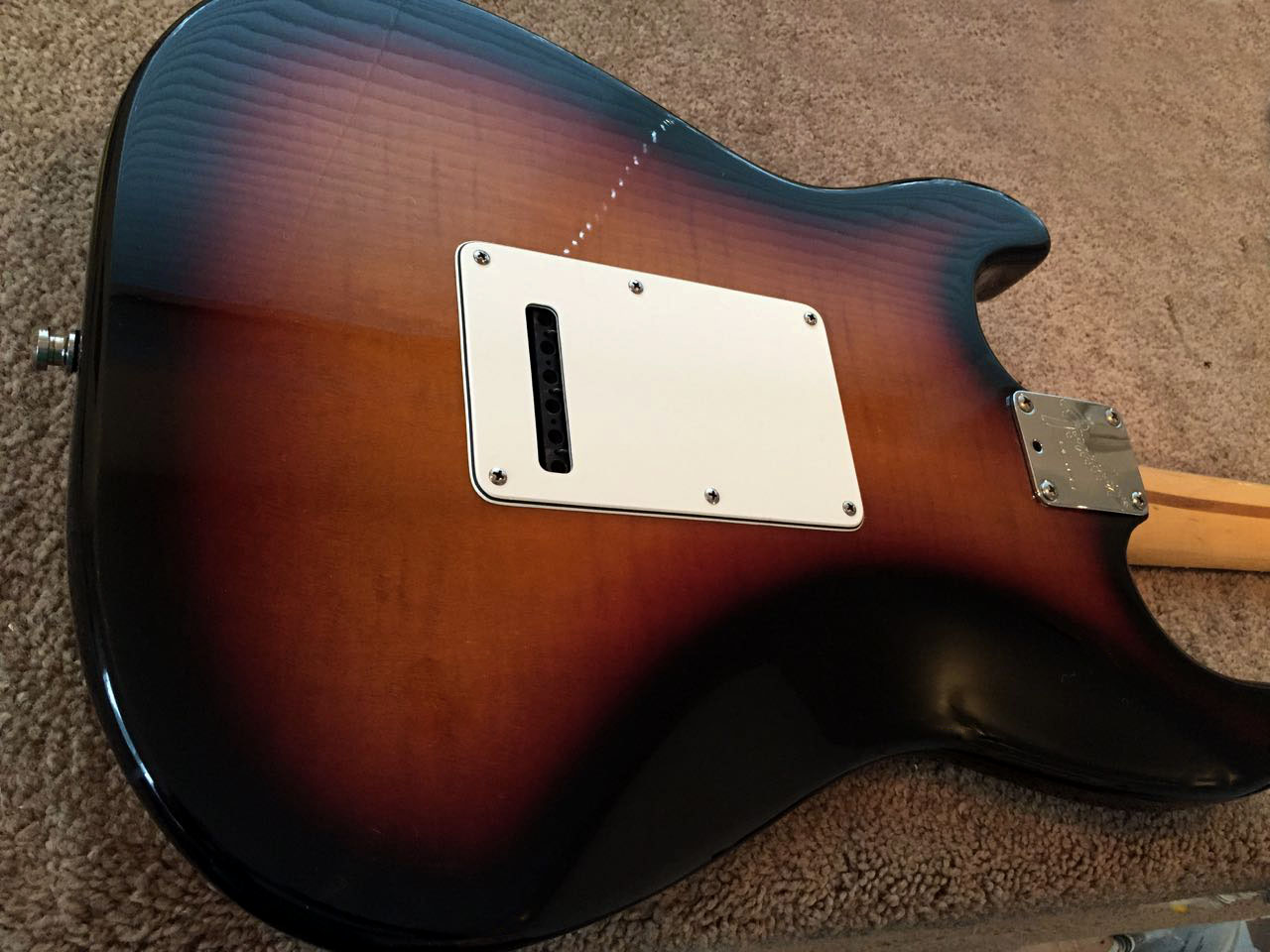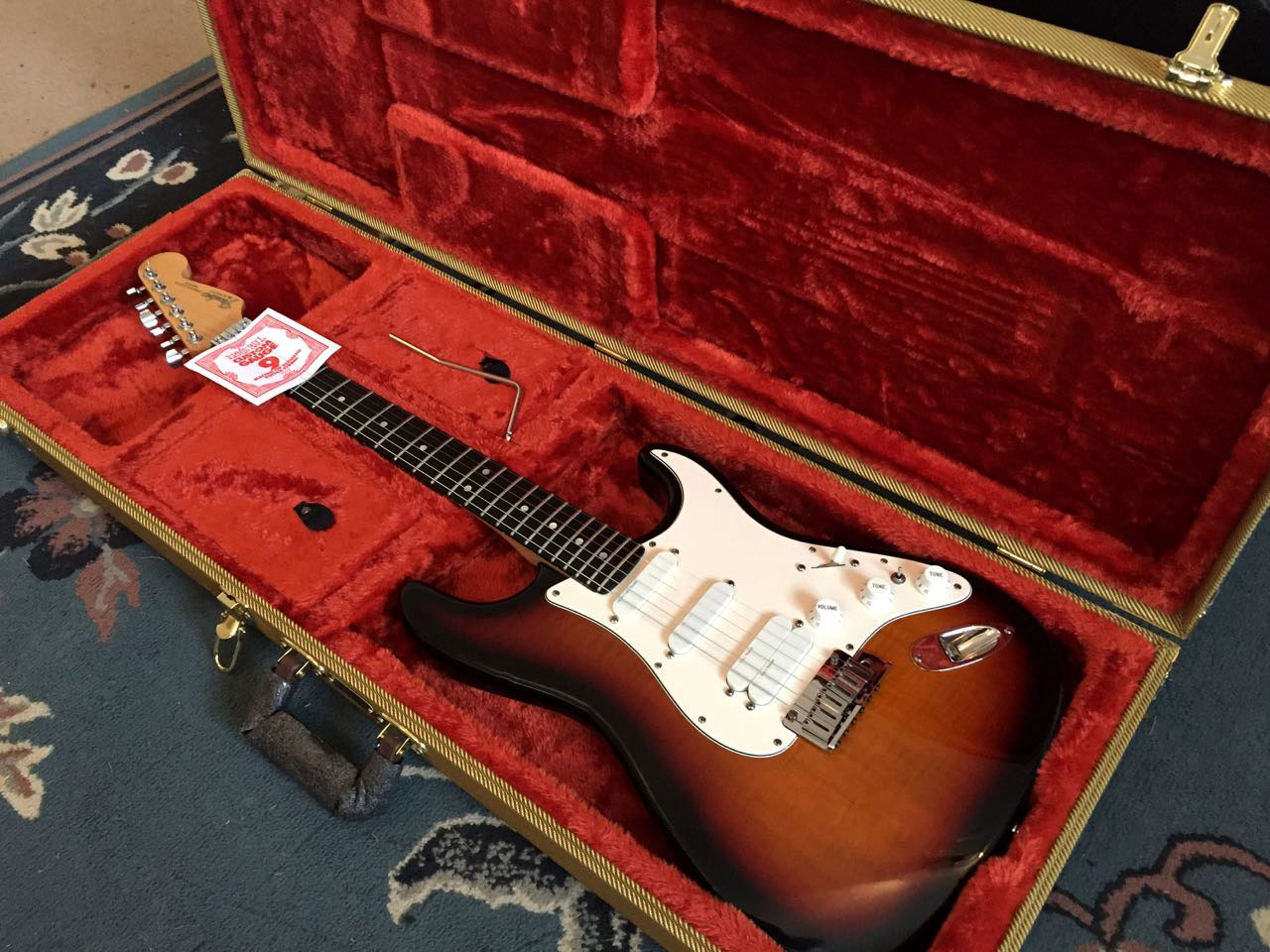 1990 FENDER ANTIQUE BURST STRATOCASTER ULTRA: Condition: MINT-. This is a very early first issue Fender Ultra that is almost like brand new. It has a crazy serial number of N000241. It is totally stock. These early issue Ultra are becoming more collectable and harder to find. This one has a one-piece maple top and back as many of the early Ultra's did. Comes with all the Ultra appointments, such as all chrome parts and a dark ebony fretboard with real Abalone inlays. These also have that cool Ultra switching using a 5-way super switch that mixed the neck + bridge on position #3 and the 3-way mini-switch that can give you a lot of variations on the bridge Dually. Read about this switching in details on my Ultra page! Also comes with BRAND NEW Deluxe Fender Tweed Case. PRICE: $1875 (SOLD)
__________________________________________________________________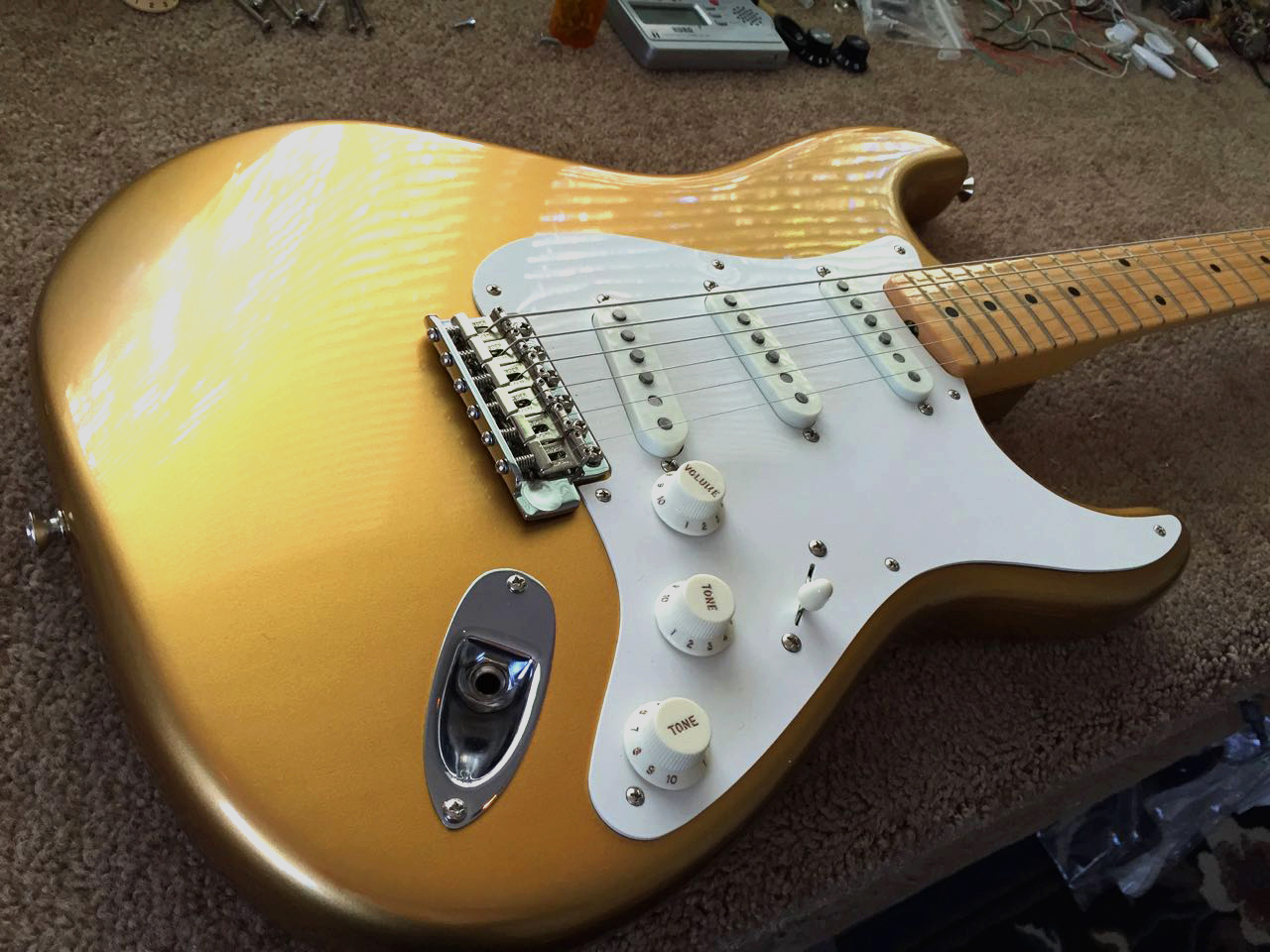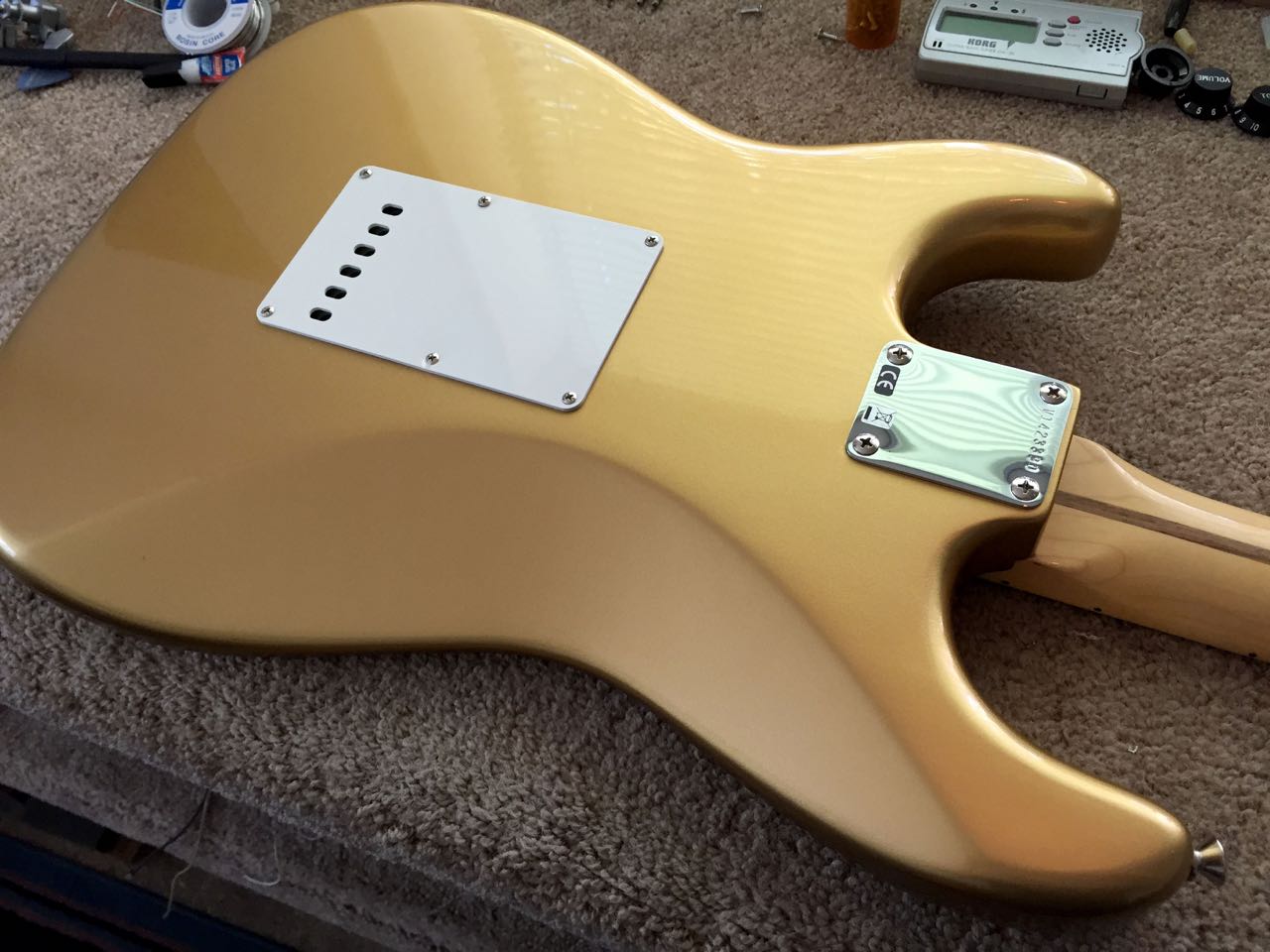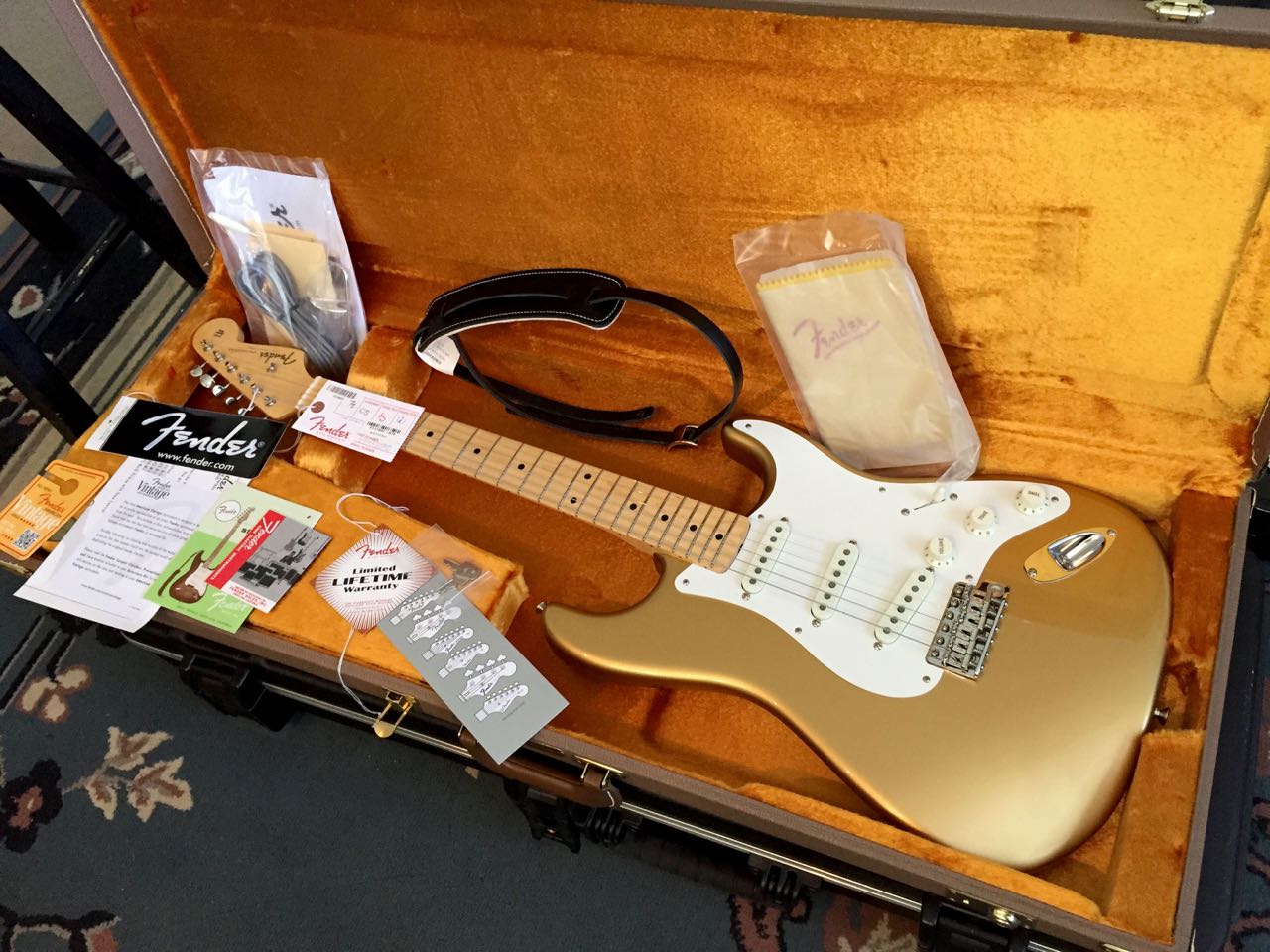 2014 "LIMITED EDITION" 1959 AMERICAN VINTAGE REISSUE IN AZTEC GOLD: Condition: BRAND NEW - MINT. This guitar was bought brand new by a collector and put away as an investment. He saw a guitar I had so I took it in on trade. BRAND NEW - with all the paperwork and unopened case candy. Fender did not cut any corners on these guitars. Shot in lacquer, original D shaped neck with 21 vintage style frets, and a bone nut. Three specially-voiced American Vintage '59 Strat single-coil pickups are wound to match the sound and specs of original '50s pickups. Aged plastic knobs and switch caps complete the vintage look. Comes with Vintage '59 Strat strap, cable, cloth, vintage 3-position switch, '50s Strat information kit, bridge cover, owners manual, and saddle height wrench. Asking price through dealers is $2300 - $2000. I love the guitar but I am a Strat Plus/Ultra guy! Has vintage style tan tolex case with all the vintage goodies: Tremolo cover (ash try), vintage paperwork and polishing cloth (all unopened), strap, etc. THESE RETAIL FOR $2200 - SPECIAL SALE PRICE: $1500 (SOLD)
___________________________________________________________________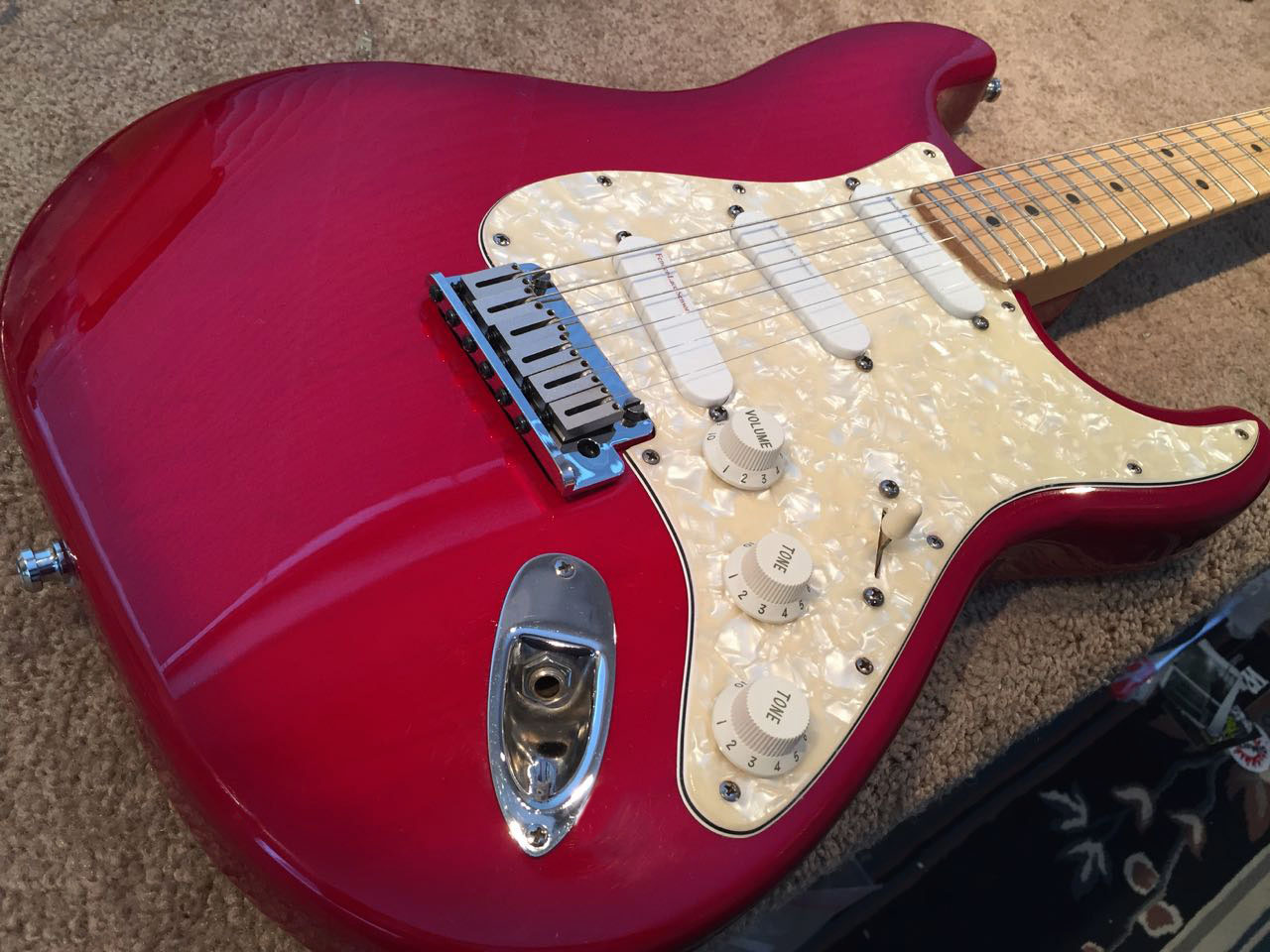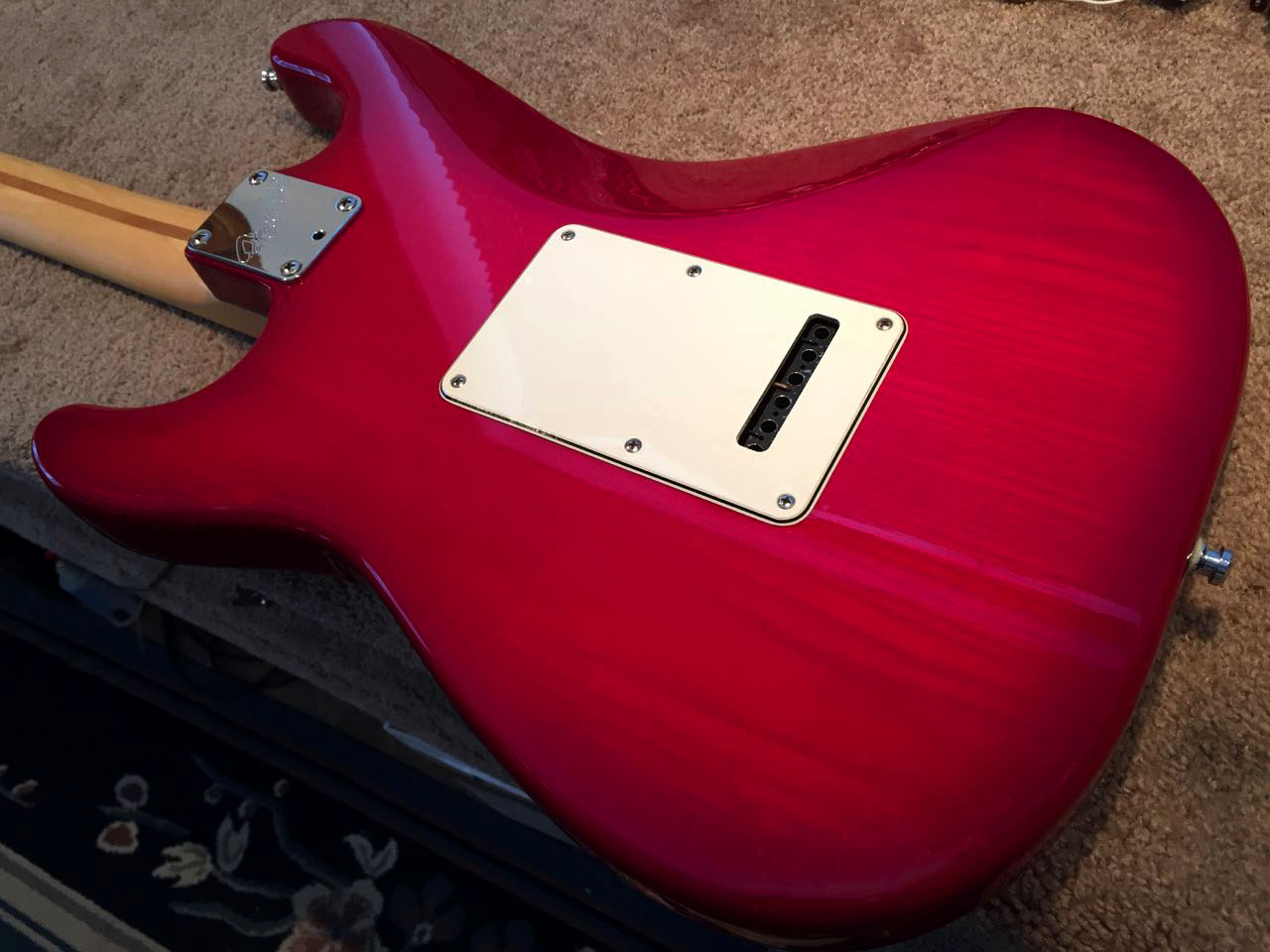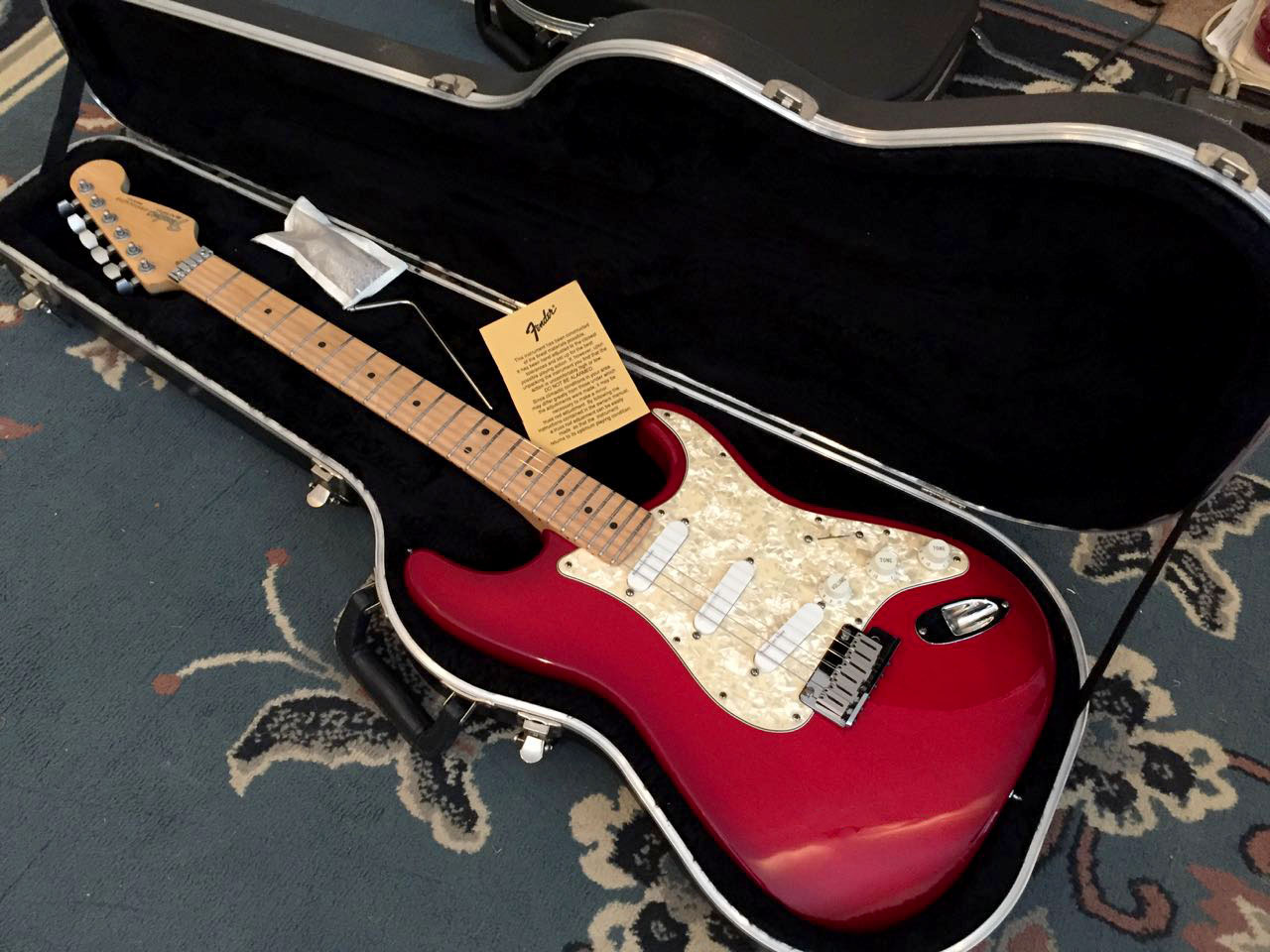 1993 FENDER CRIMSON BURST ON ASH STRATOCASTER PLUS DELUXE: Condition: NEAR MINT+. This is a VERSION 1 Crimson Burst. When this color was first introduced, was made from a solid red color (non-metallic) like you see on this one. It had a dark red around the edges and a transparent red over Ash in the middle of the body. Around 1994 Crimson Burst took on a whole new look being a red metallic around the edges, with a transparent red, usually over Ash, in the middle of the body. This hard to find color that was only offered about 1.5 years. High gloss with no scratches or belt rash. If you look closely, you will see the beautiful ASH grain showing through the transparent red finish. Frets are in excellent condition. Pickups lettering is near perfect and no scratches on the pickguard. This is a fine example of a completely stock early 1993 Plus Deluxe which comes equipped with a Wilkinson roller nut, Schaller locking tuners, and Blue/Silver/ Red Lace Sensor pickups. Also since it is a Deluxe it comes with the pop-in Tremolo bar and has a nice original form fitting Red Label Fender hardshell case. PRICE: $1400 (SOLD)
___________________________________________________________________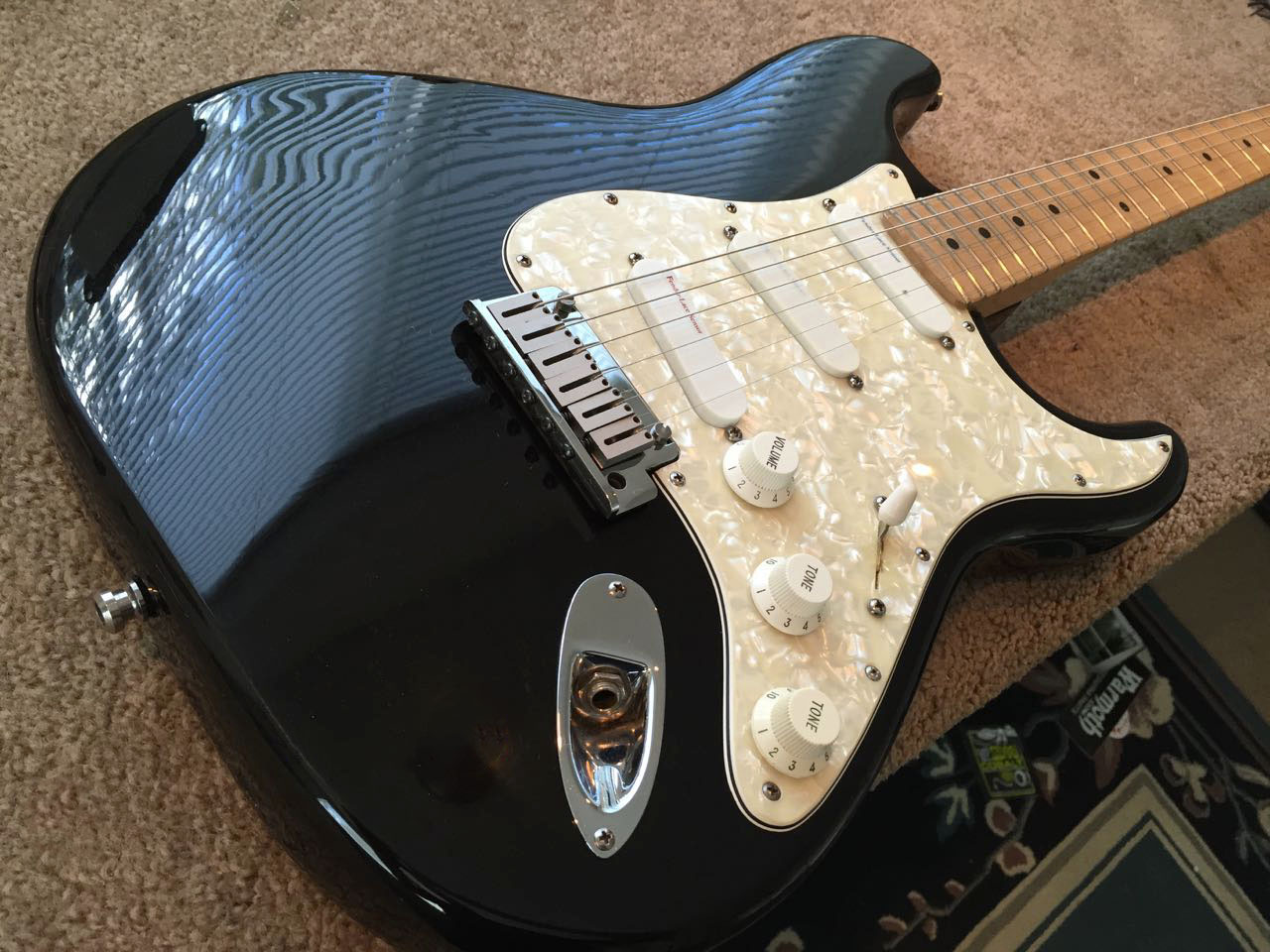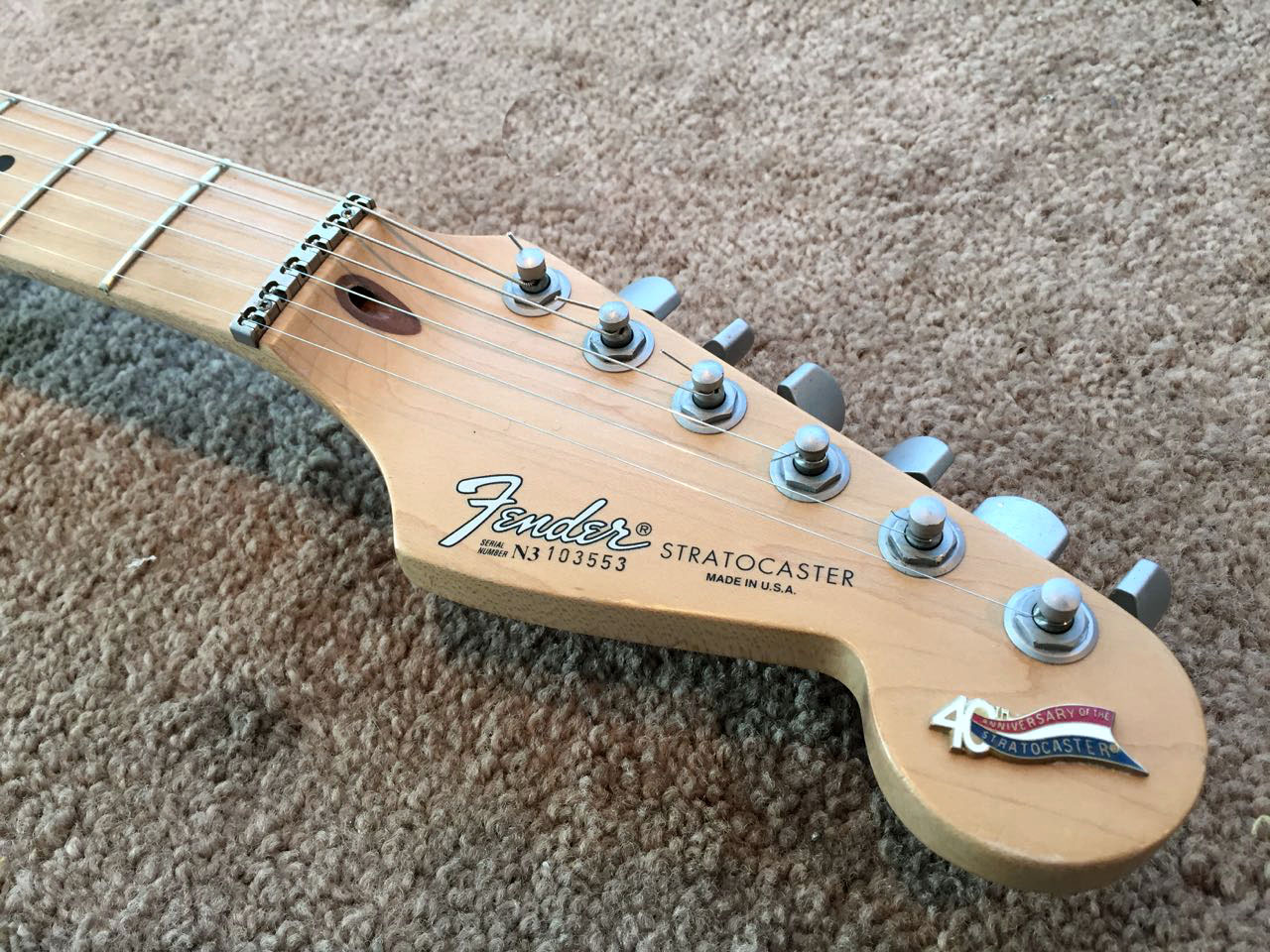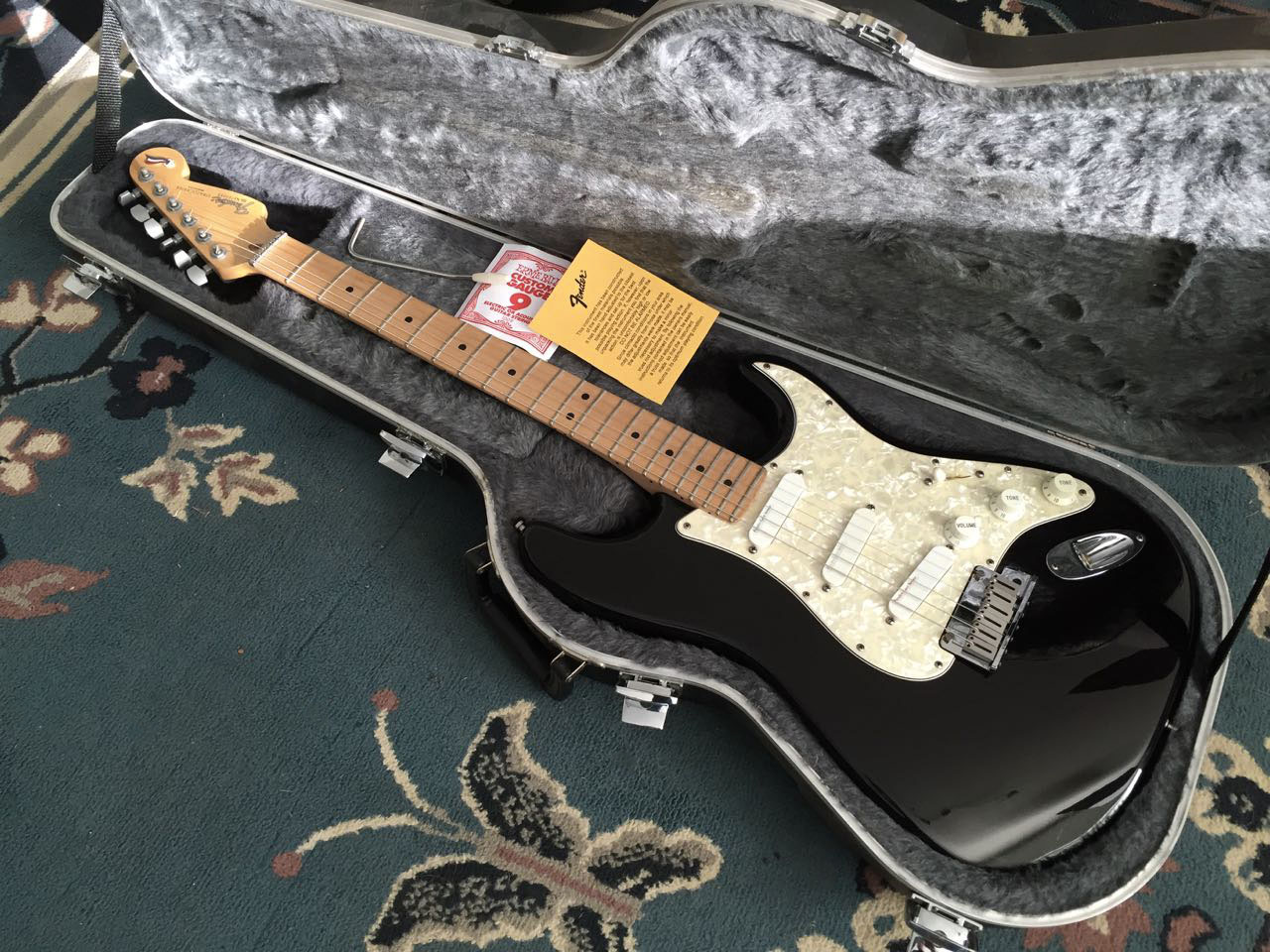 1994 MYSTIC BLACK FENDER STRATOCASTER PLUS DELUXE, 40TH ANNIVERSARY MODEL: Condition: NEAR MINT+. A very hard to find Strat Plus in the 40th Anniversary edition with special American Flag Logo on the headstock and custom neck plate. I talk quite a bit about this unique finish RIGHT HERE (and scroll down) on my website, as it has a green/blue flake/pearl in the clear coat. Comes alive in direct light and is very Mystic for sure! The serial number indicates it is a 1993 but neck plate is stamped 1994 date with Fender Stratocaster 40 years and still rockin'. This is a 1994 - 40th anniversary guitar and the serial number is a typical Fender anomoly. Body is flawless. Since this is a Deluxe it has the Blue, Silver, Red Lace Sensor pickups. Hard color to capture on camera. Mystic Black is a hard enough to find color, but then having it be on a 1994 Anniversary model makes it more collectable. Comes with a "like-new" Deluxe Fender Strat Plus Case. PRICE: $1600 (SOLD)
__________________________________________________________________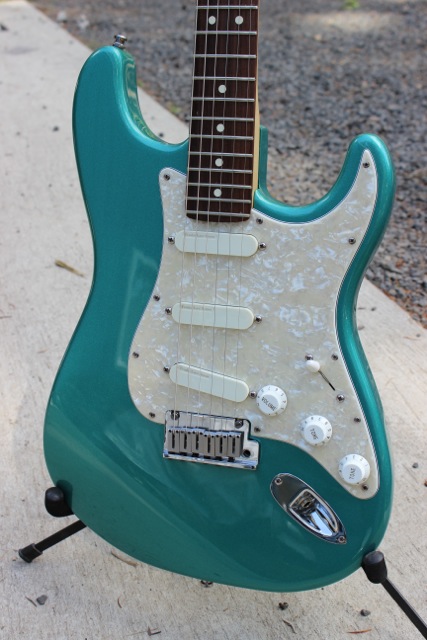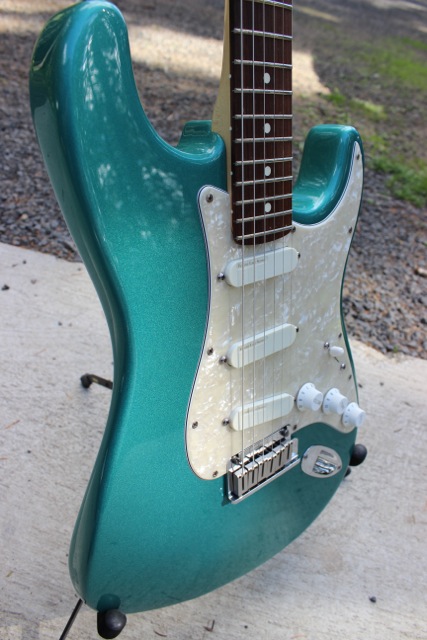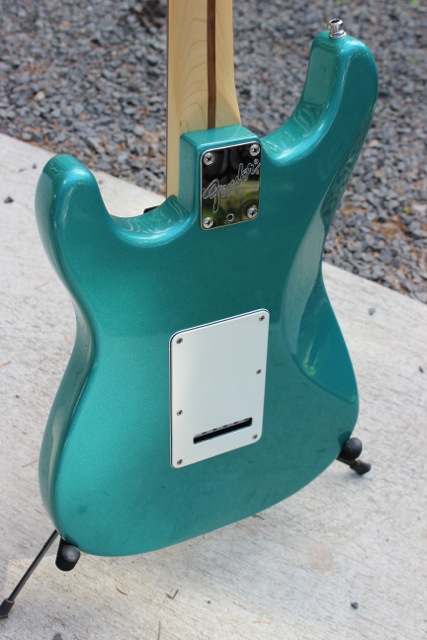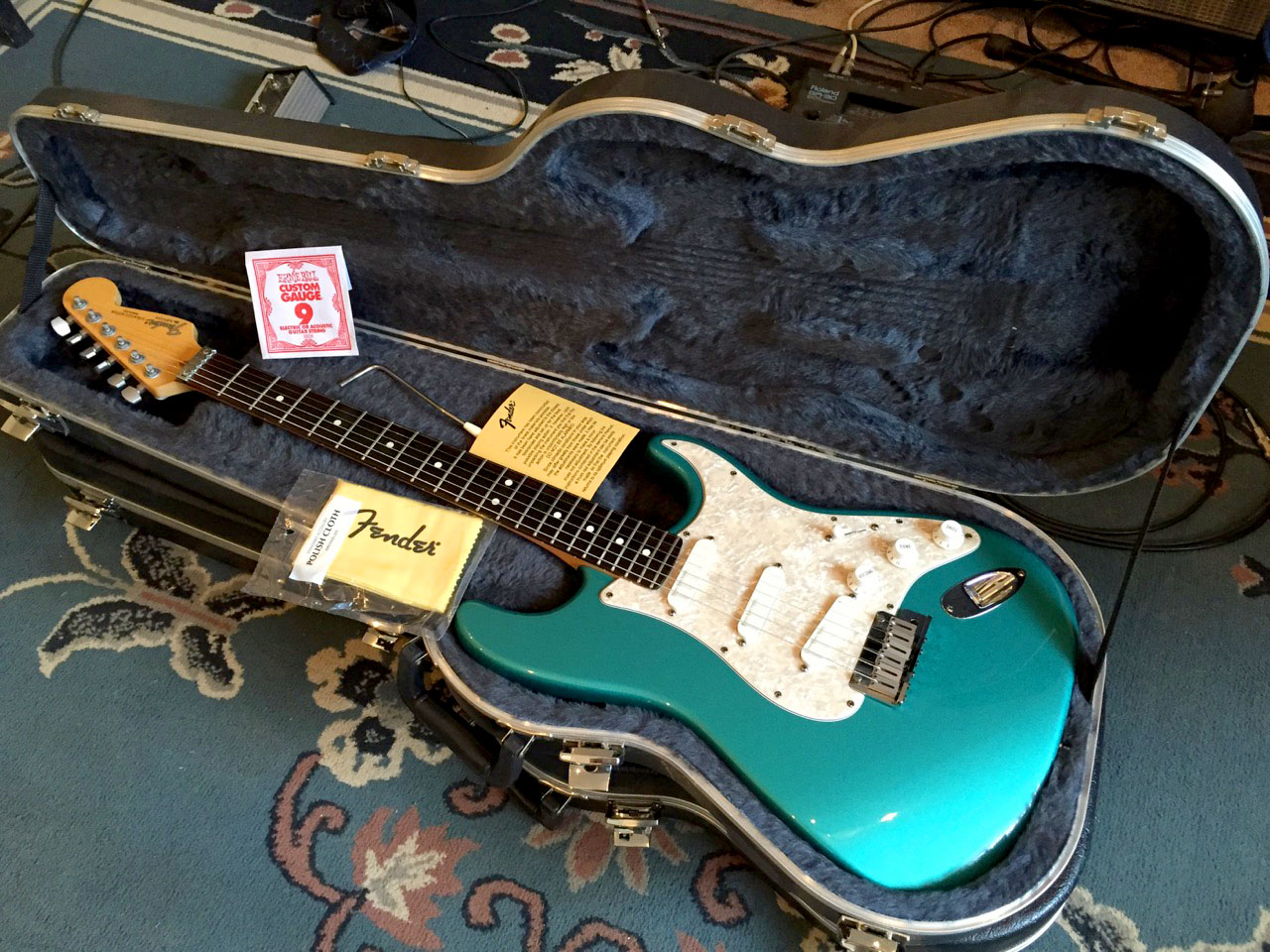 1993 CARIBBEAN MIST STRATOCASTER PLUS: Condition: Near Mint. Body is spotless. Frets are like new and Rosewood is excellent. Fender only made Caribbean Mist in 1993 and early 1994. This one is an ealry 1993 with the Wilkerson nut. It sports a pearoid pickguard with Gold lace pickups. Has the orginal Deluxe Strat Plus case which is in excellent condition. Hard to find color in great condition with a nice Strat Plus case in great condition. PRICE: $1300 (SOLD)
___________________________________________________________________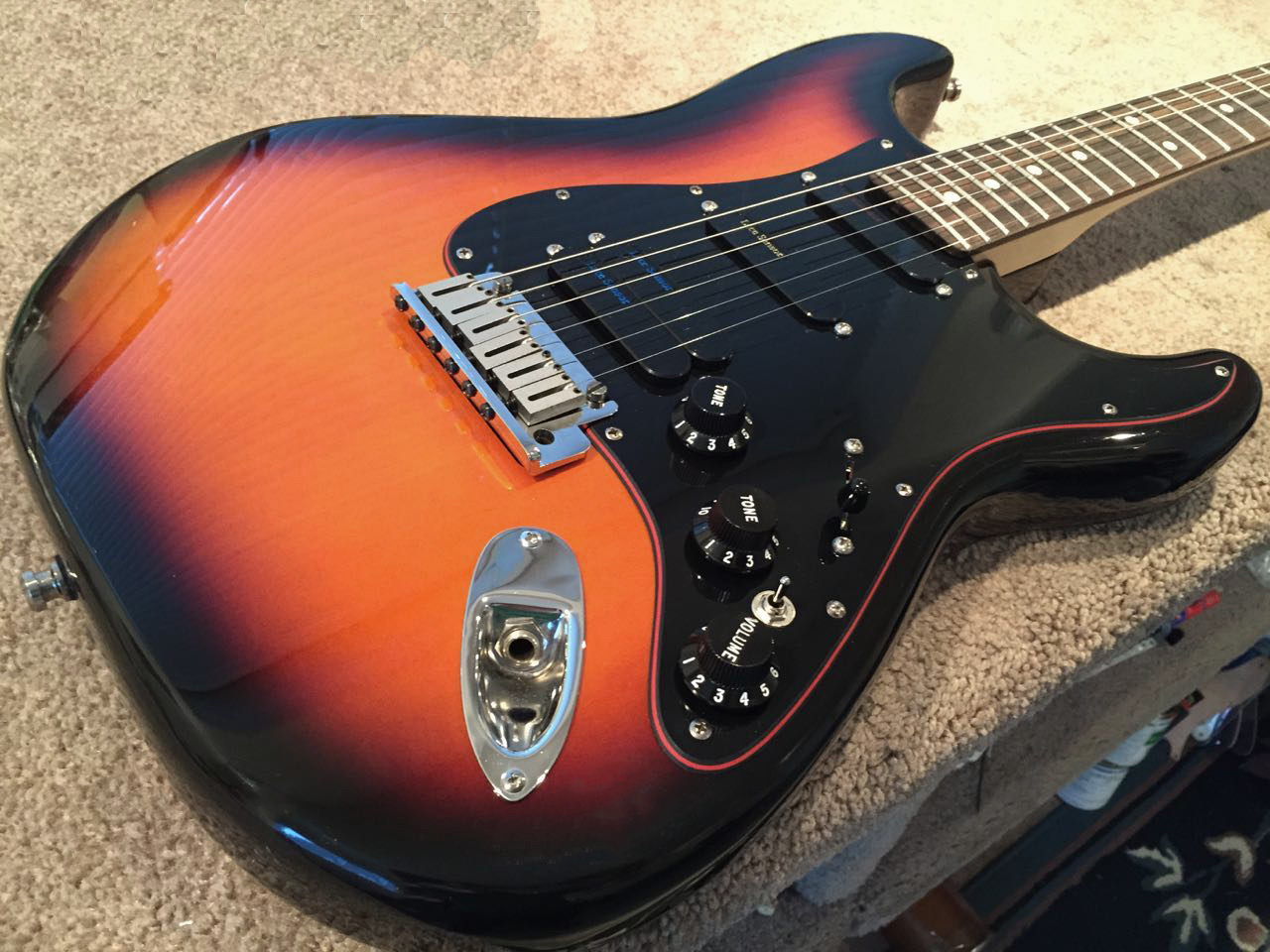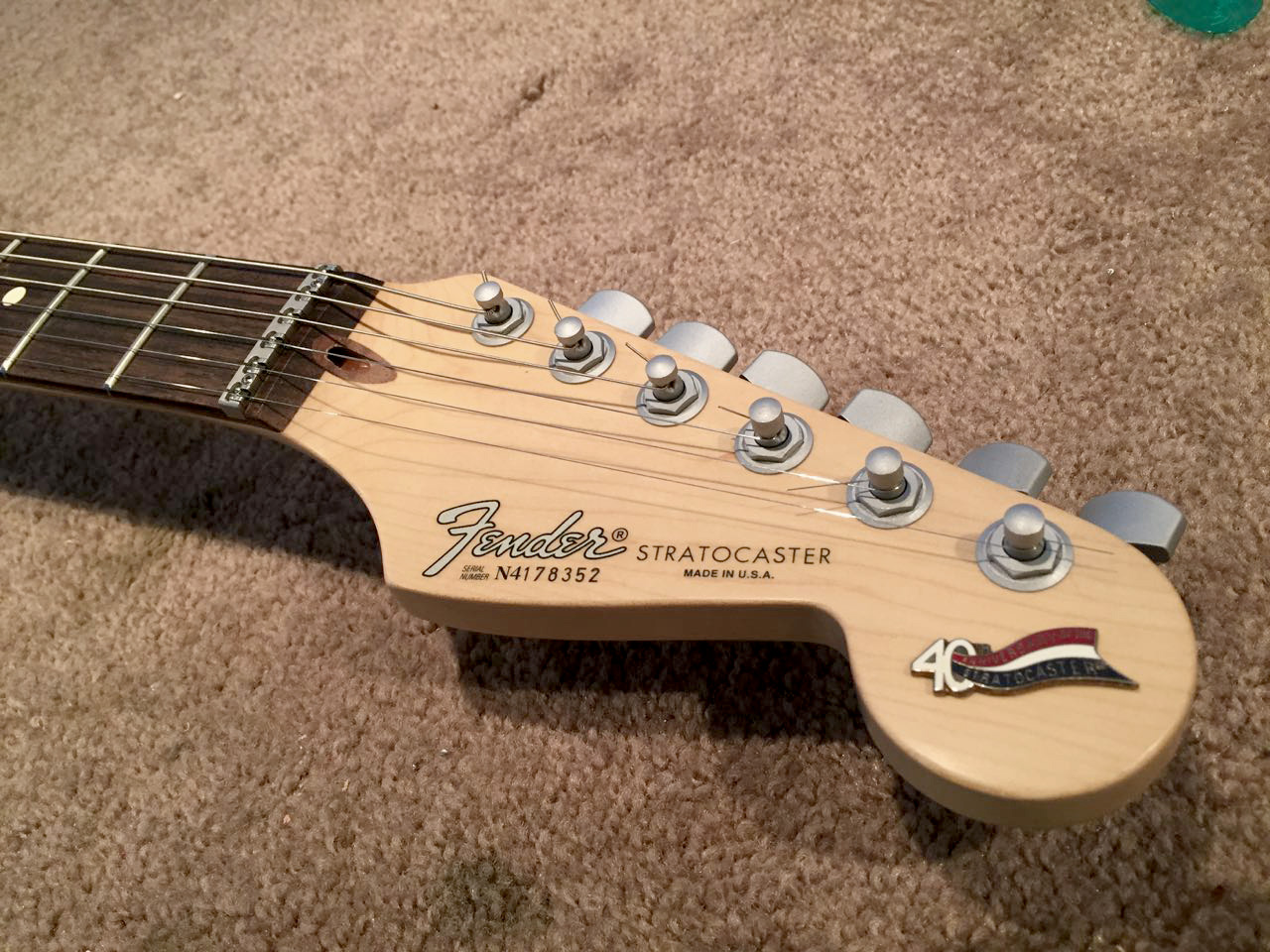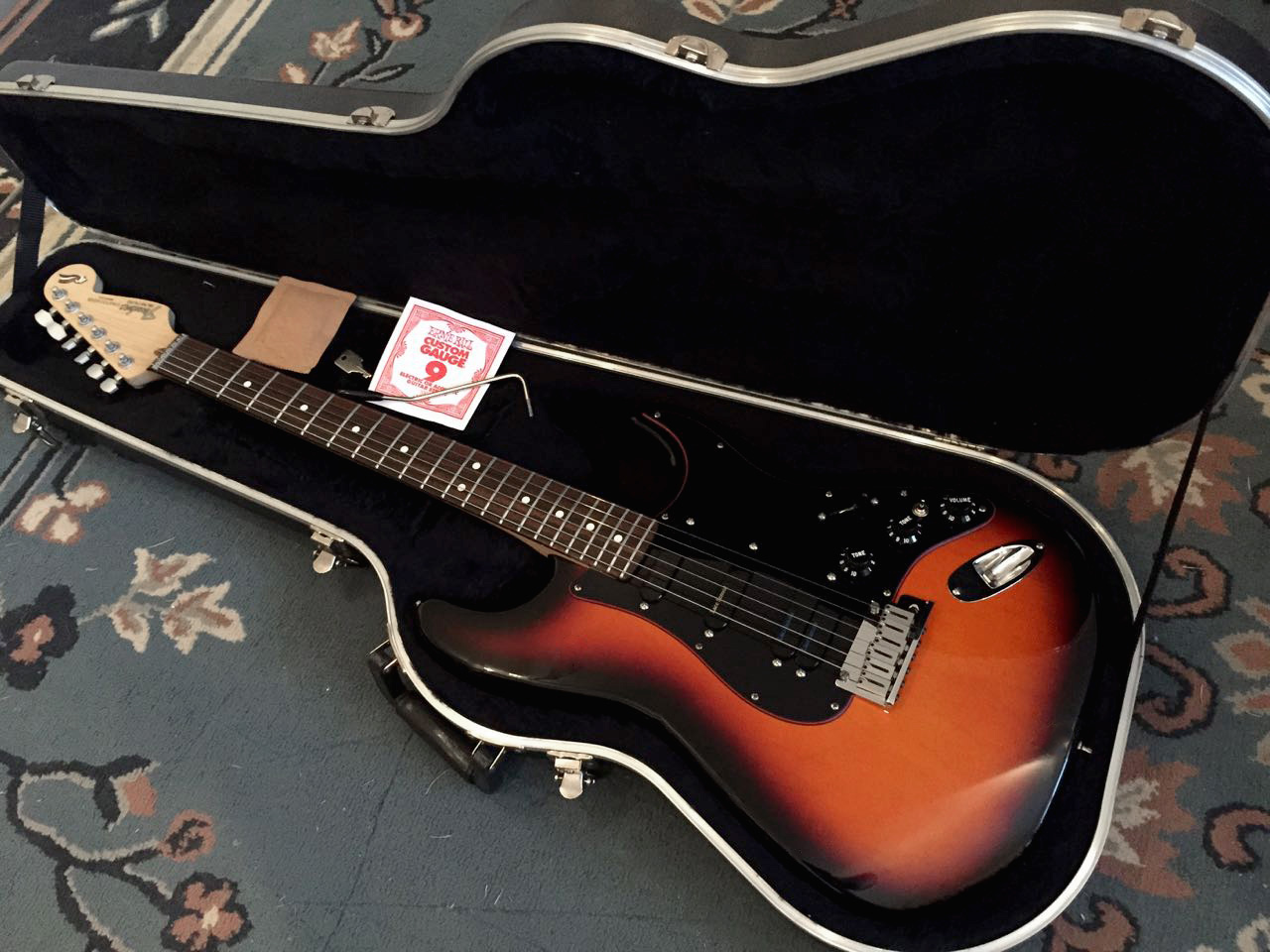 1994 ANTIQUE BURST FENDER STRATOCASTER PLUS DELUXE ULTRA CUSTOM, 40TH ANNIVERSARY MODEL: (Ya that's a mouth full!) Condition: NEAR MINT+. \ This guitar was a Strat Plus Deluxe that I upgraded with a custom wired Ultra style pickguard in Black/Red/Black. It has the custom Anniversary medalion on the headstick and the neck plate says "1994 Fender Stratocater 40 Years And Still Rock'in." This is loaded with Burgundy Sensor in the neck, a Gold Lace Sensor in the middle, and a Blue Dually in the bridge. This has Fender's 5-way Super Switching and the Ultra 3-way mini-switch, which gives you a ton of options with the tone - mixing and matching pickups. (Read about this switching on my STRAT ULTRA PAGE.). This guitar can go from Stratocaster to Telecaster voices at a flip of a switch. The TBX has a .033 Vitamin-Q Oil type Cap which allows the bass-end of the freq not too get so dark. The Neck pickup is usuing a Orange-Drop cap. All the wiring, pots, switches, pickguard, and pickups are brand new. Comes with a like new form fitting Fender Red Lable case that is like new! PRICE: $1625 (SOLD)
___________________________________________________________________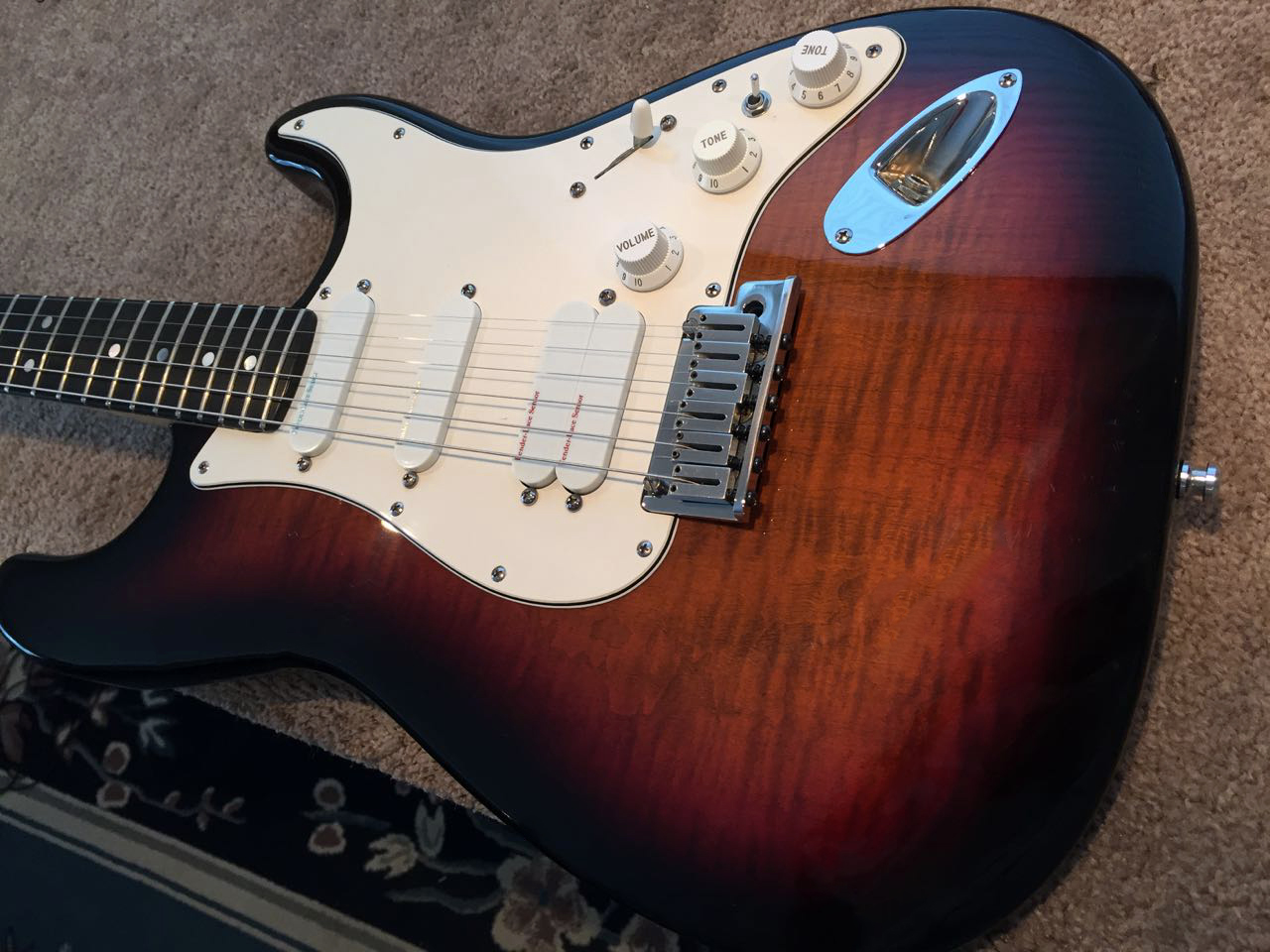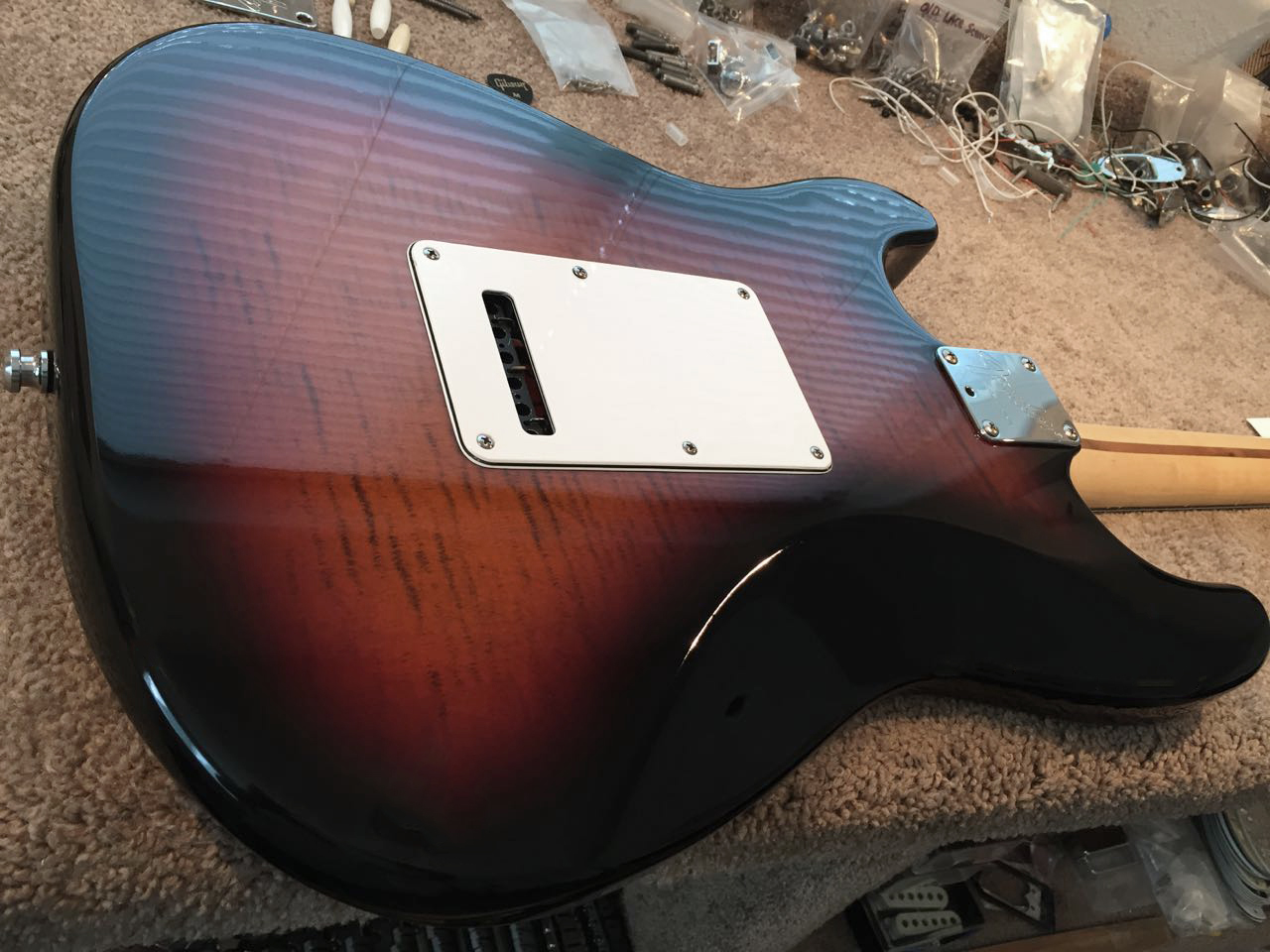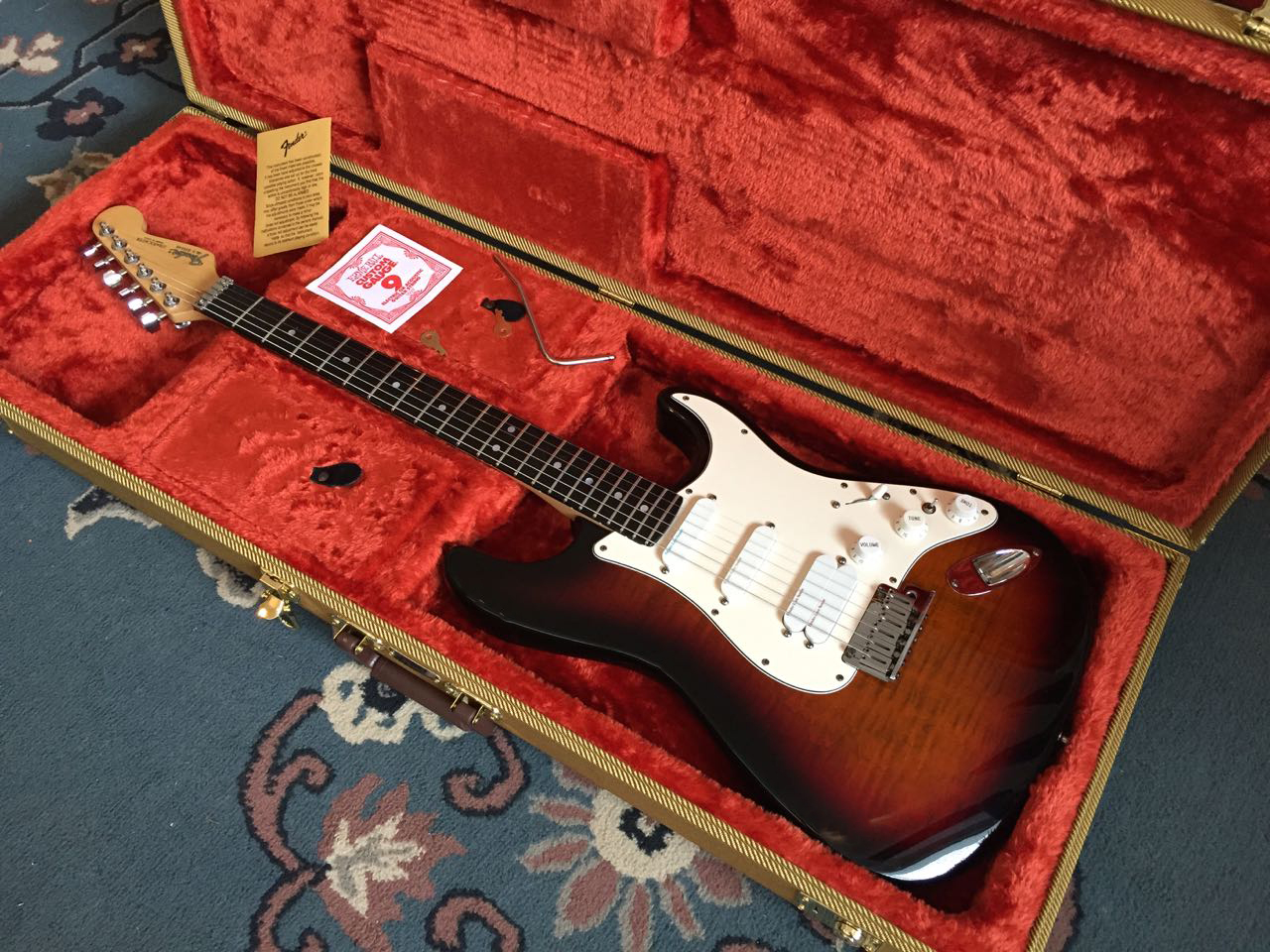 1990 FENDER STRATOCASTER ULTRA: Condition: MINT-. This is a first issue Fender Ultra that is almost like new. It is totally stock. These early issue Ultra are becoming more collectable and harder to find. This one is a "one-off," having the most interesting grain on the one-piece maple top and back. Comes with all the Ultra appointments, such as all chrome parts and an ebony fretboard with Abalone inlays. Also comes with BRAND NEW Deluxe Fender Tweed Case. PRICE: $1875 (SOLD)
__________________________________________________________________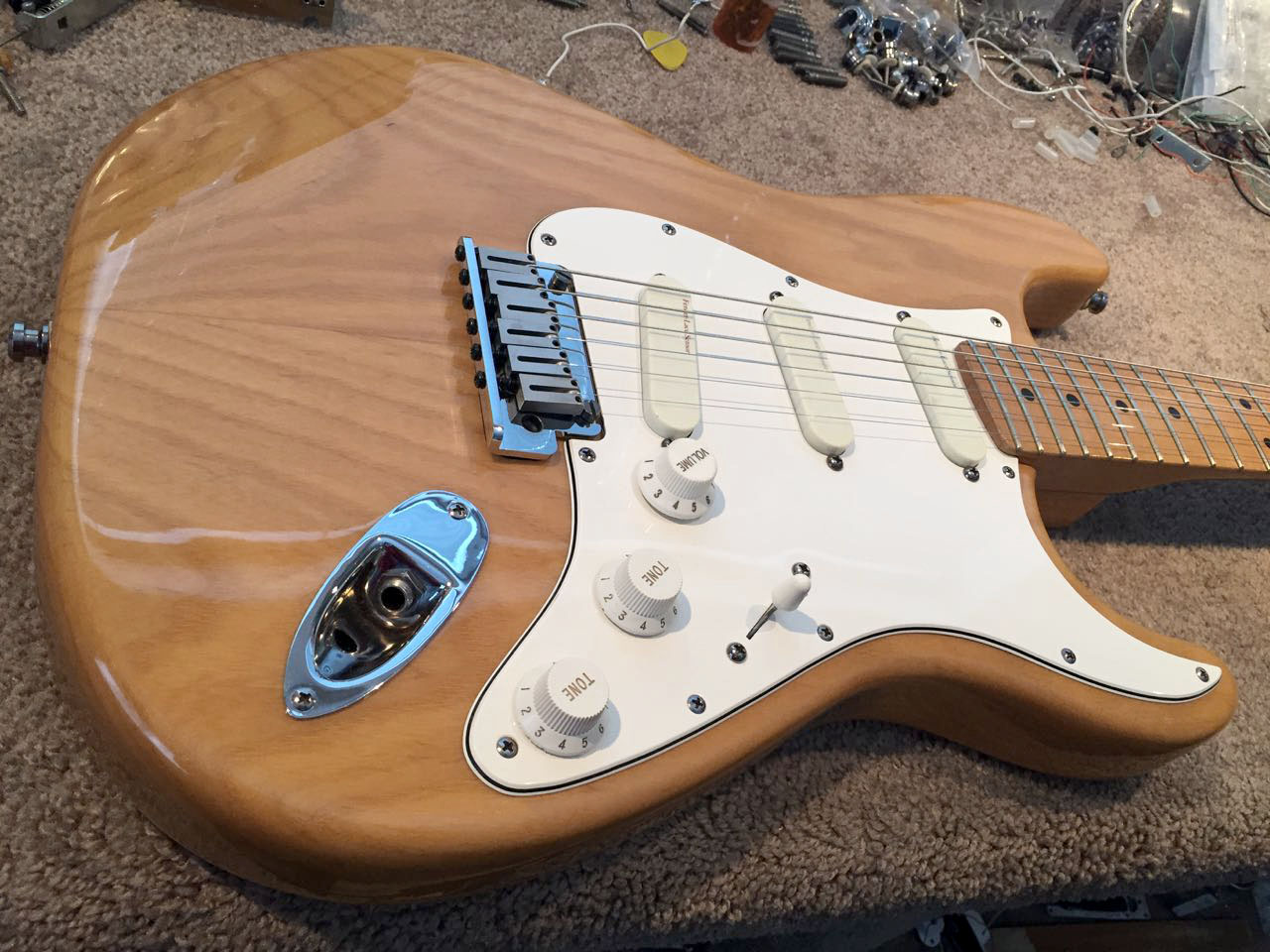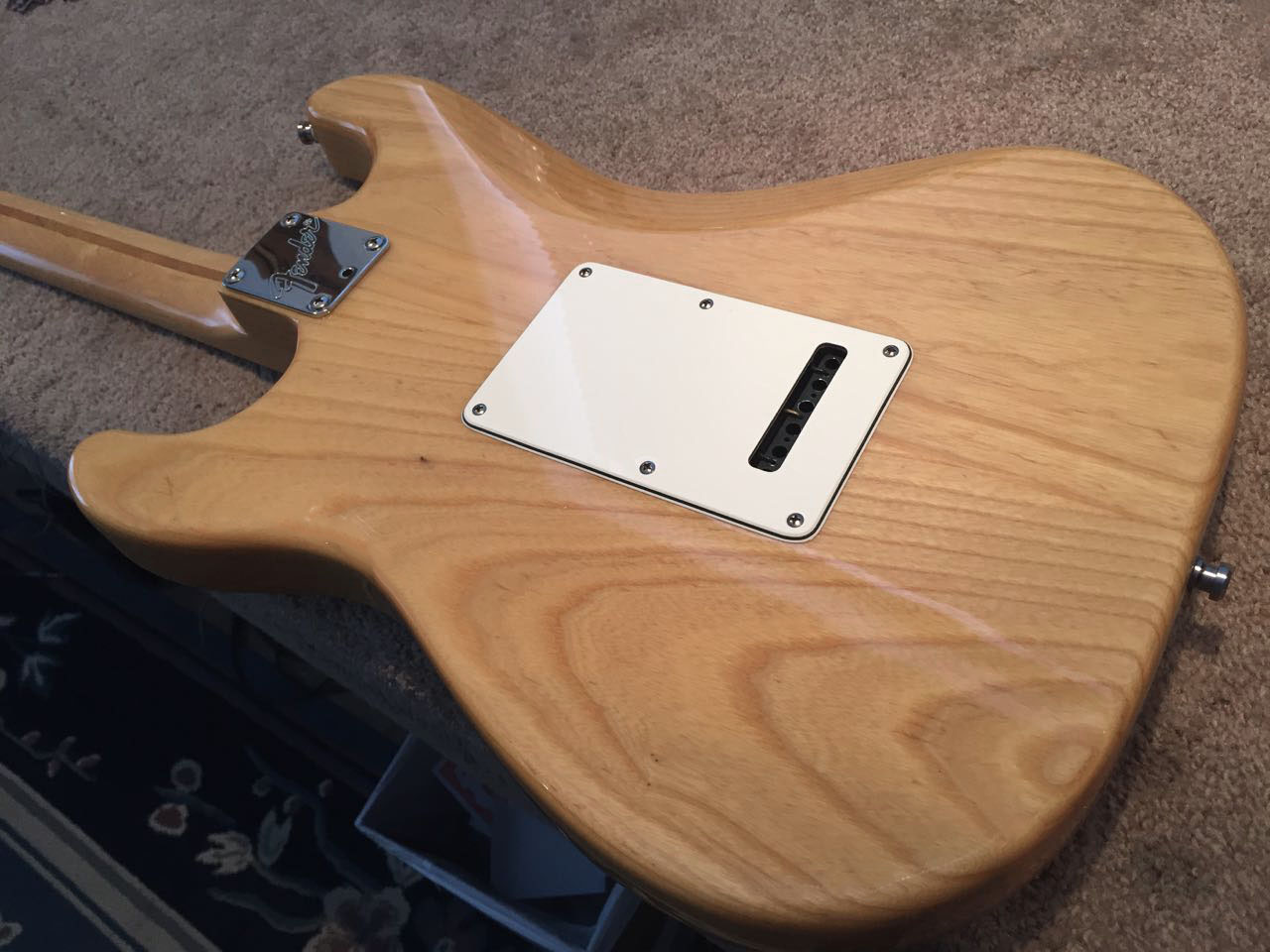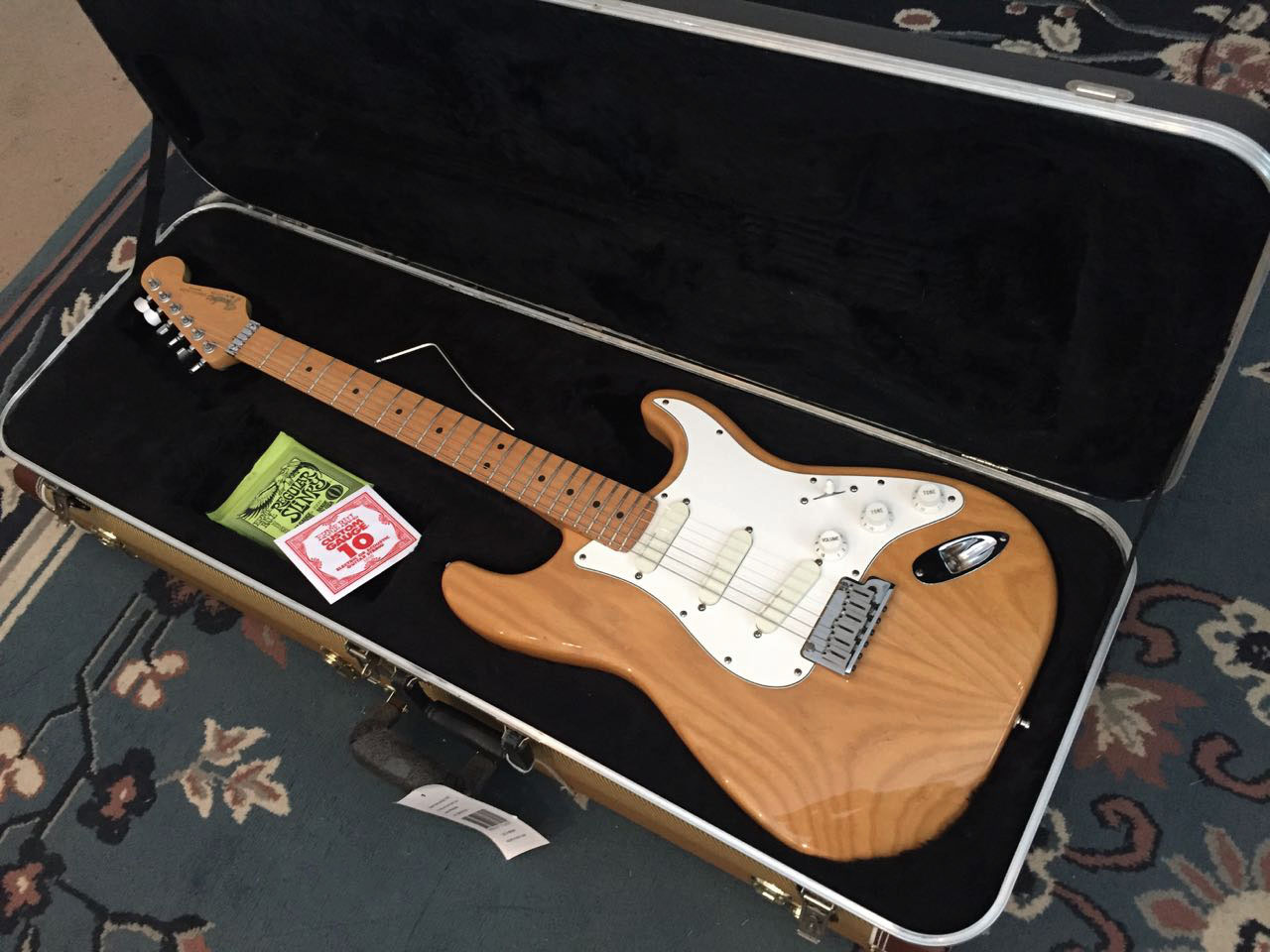 1991 FENDER NATURAL ASH STRATOCASTER PLUS DELUXE: Condition: NEAR MINT. Frets like new. No cracks or issues. This is an early Strat Plus Deluxe that is in absolutely gorgeous condition. It comes with Blue, Silver, Red Lace Sensor pickups and all the other Strat Plus appointments. It is totally stock. Has a nice Maple fretboard. Also comes with a nice Deluxe Fender Flight Case. PRICE: $1350 (SOLD)
__________________________________________________________________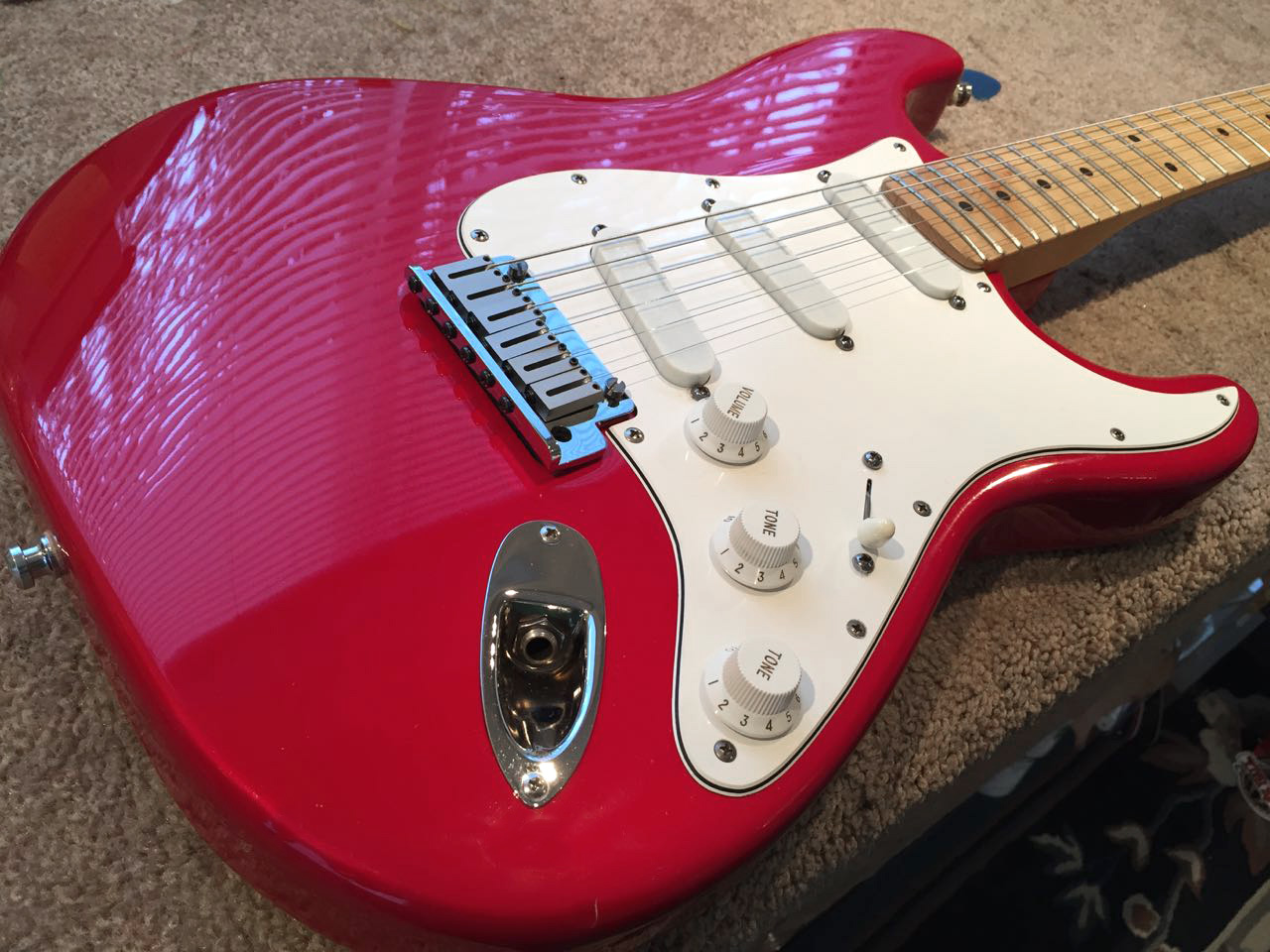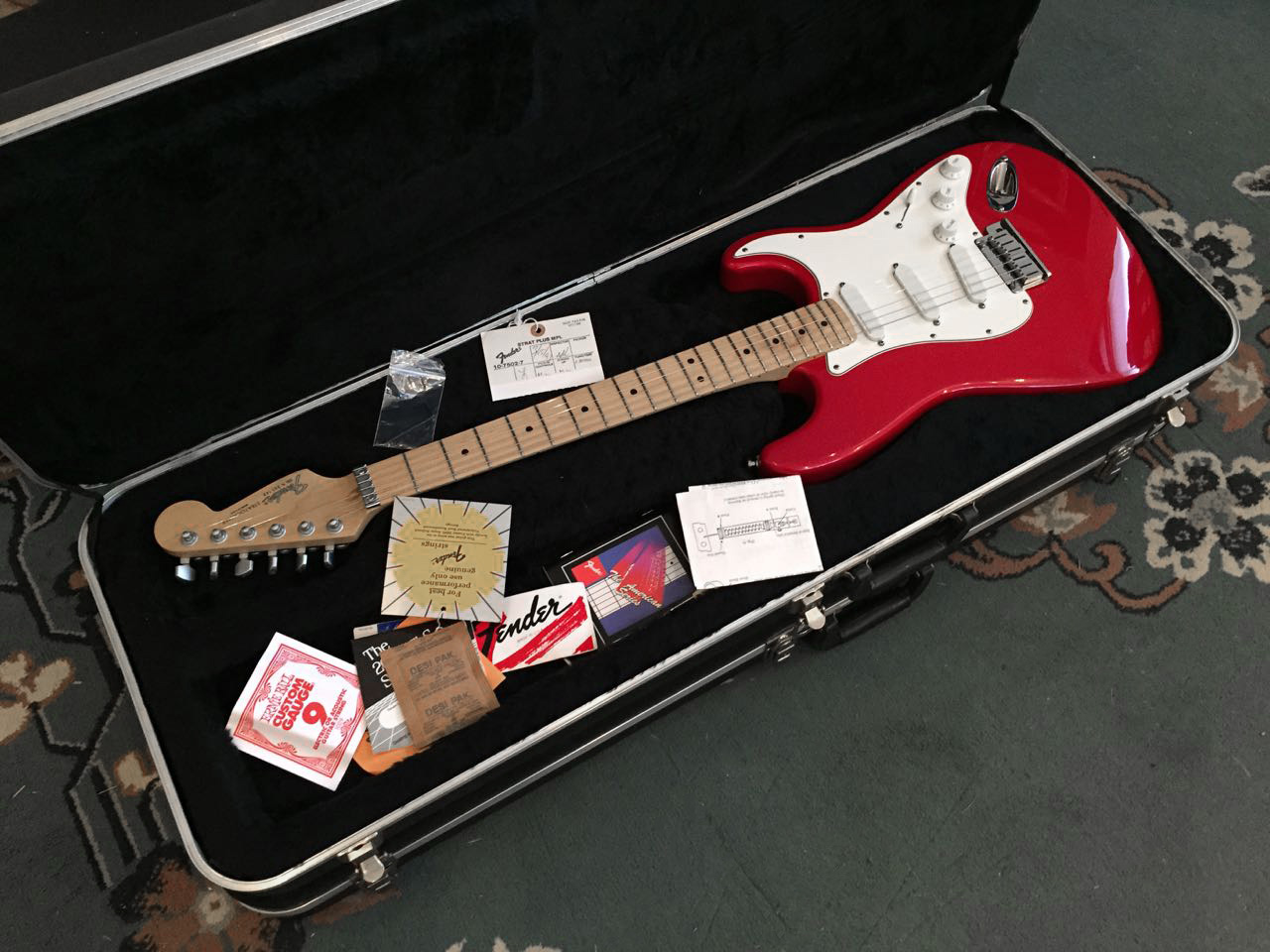 1990 FENDER FROST RED STRATOCATER PLUS: Condition: EXCELLENT+. Here is another very hard to find color, Frost Red, made available only for two short years — 1989 & 1990. This candy color is a super bright Candy Apple Red. The spotless white pickgaurd white stands against this pearl looking red in a very nice way. The lettering on the pickups is close to being like new. I talk about this color on my Strat Plus page of my website. This is a stunning guitar is in near mint condition. It comes with all the standard Strat Plus appointments, such as Gold Lace Sensors, Wilkerson roller nut and Schaller locking tuners. Comes with the original Fender retangular case that is in excellent condition and orignal hang tag and a lot of the case candy. PRICE: $1375 (SOLD)
_________________________________________________________________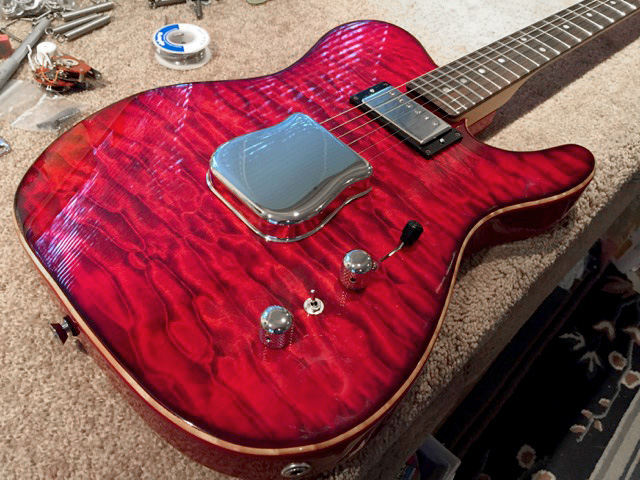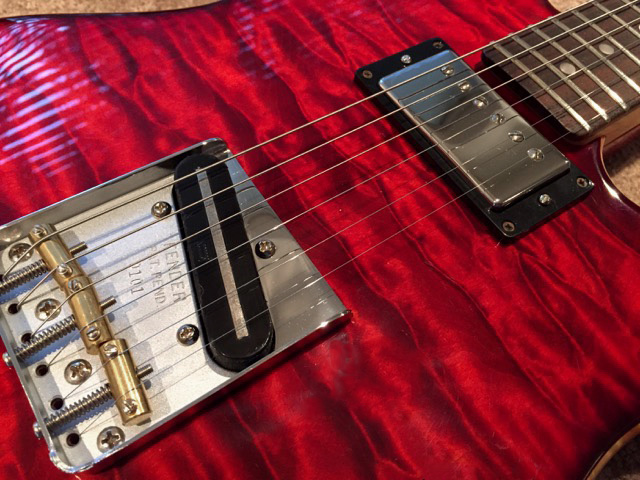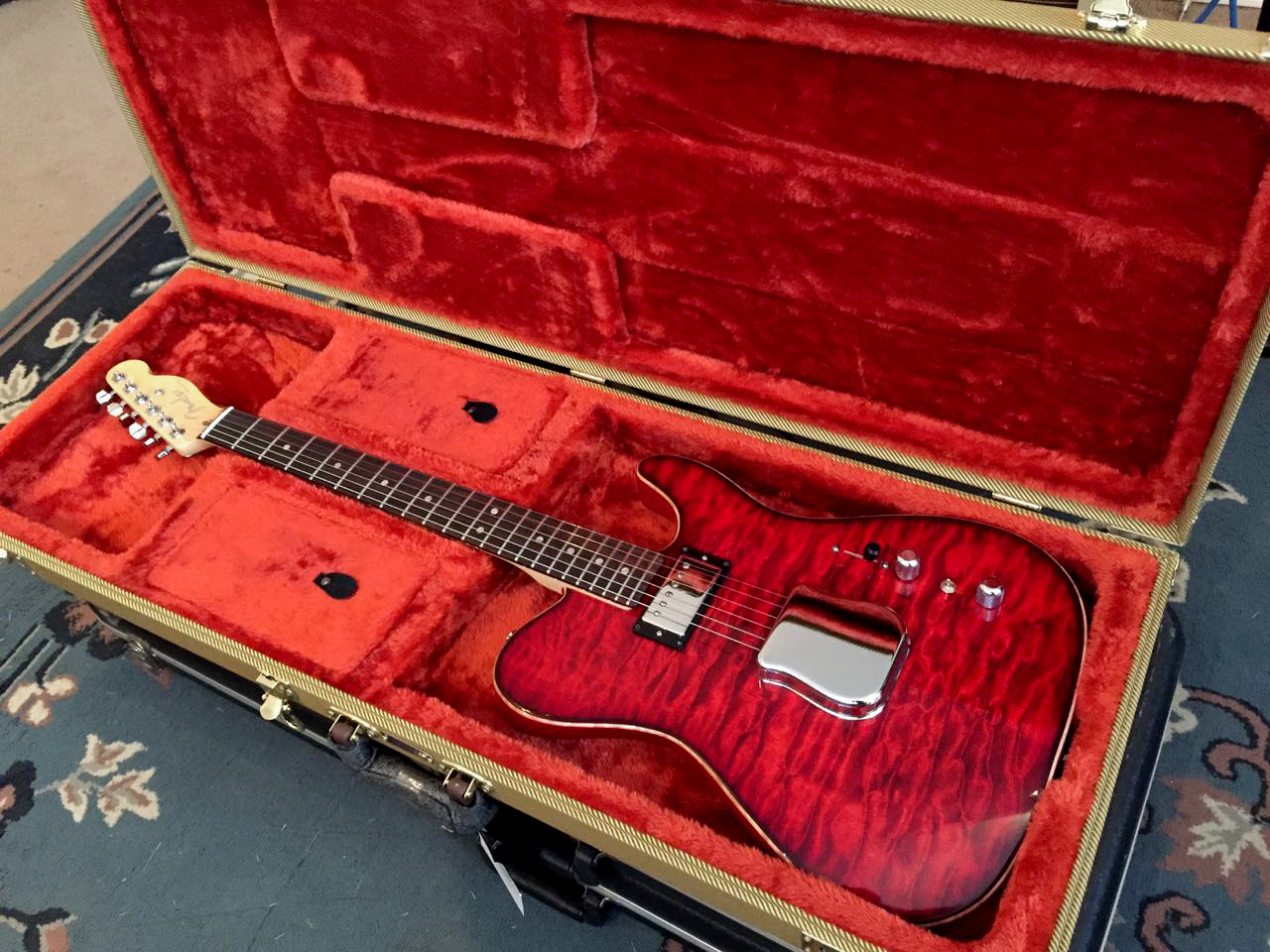 2015 FENDER DELUXE CUSTOM ONE-OFF TELECASTER: Condition: MINT - BRAND NEW! This is one of my newest Telecaster custom builds. Everything on this guitar is BRAND NEW. Like a hot-rodded 56 Chevy, this Telecaster has the features of a vintage 1962 model, but totally upgraded and customized. I used a vintage bridge plate with compensated brass saddles. A Deluxe Fender neck with with a compound radius Rosewood fretboard. Comes with Fender locking tuners as well. The Wamoth body is chambered Swamp Ash with a AAA curly Maple top. The top is astonishing and comes to life in direct light. (See if Fender's Custom Shop can come close to this!) The body has both a tummy cut and am arm cut for comforyable playing. Also a contoured heel to make it easir when soloing above the 12th fret! (ask for picts!) A chrome DiMarzio Air Norton humbucker was used in the neck position, with a Seymour Duncan STK-T2b Hot Stack Telecaster Ceramic Humbucker in the bridge. The 5-way Super Switch gives both tradition Tele tones plus more. The little mini-switch splits the coils on the bridge pickup to have a more vintage tone when using the bridge pickup. Here is how the switching works: In position #1 you have the bridge pickup acting as a humbucker or single coil using the mini-switch. Position #2 is the bridge + neck with only 1/2 of the neck coils. Position #3 has the humbucker as a full humbucker and the Duncan Bridge pickup together. Position #4 has the Humbucker split, as a single coil, sound more like a traditions Tele. Position #5 is the full himbucker sounding like Les Paul. I used a .33 capacitor and a 500k no-load tone control. The guitar came together amazing well and plays incredible. Comes with a Brand New Deluxe Fender Tweed hard shell case with, allen wrench, polishing cloth, & keys. PRICE: $2600 (SOLD)
___________________________________________________________________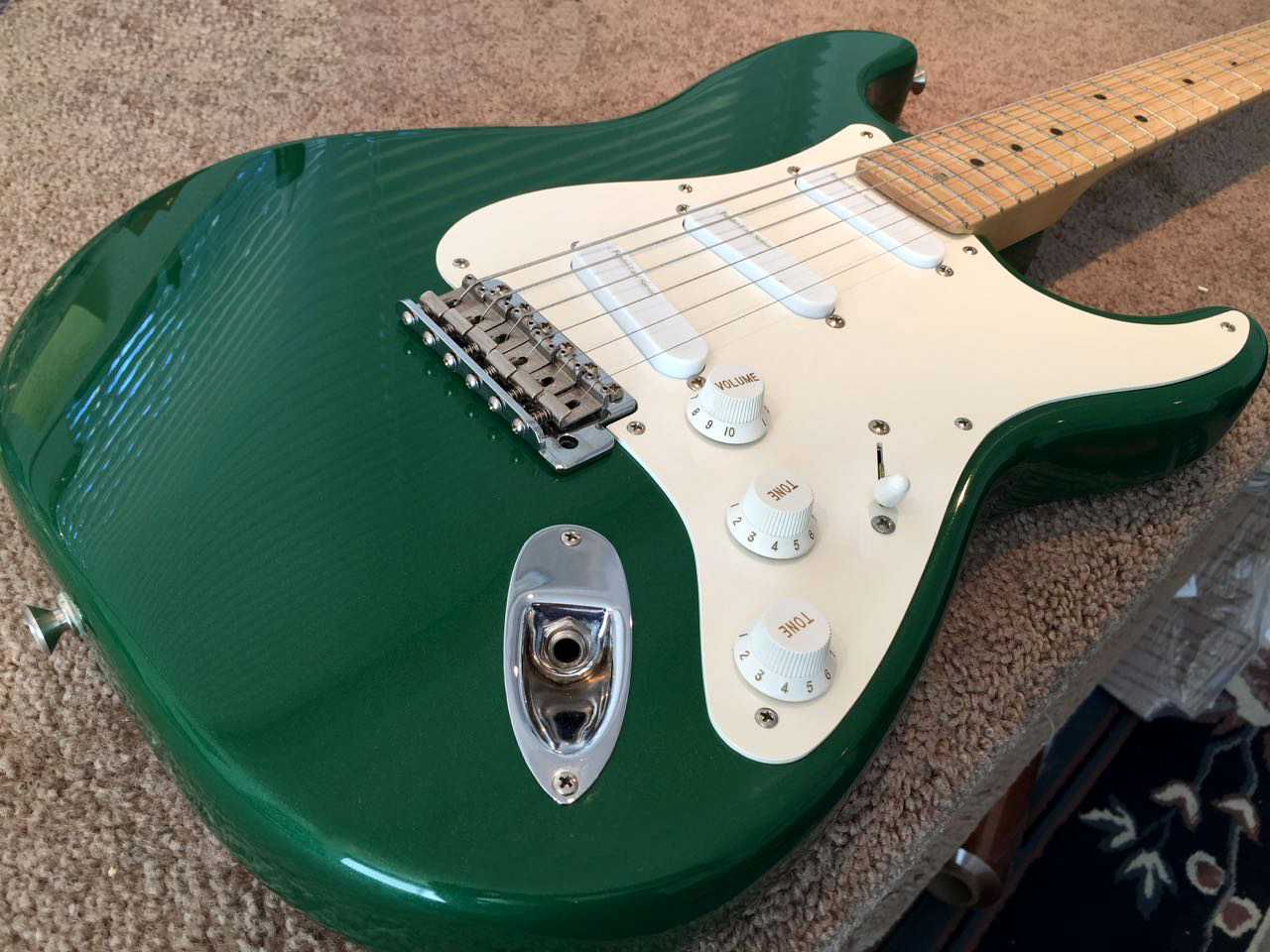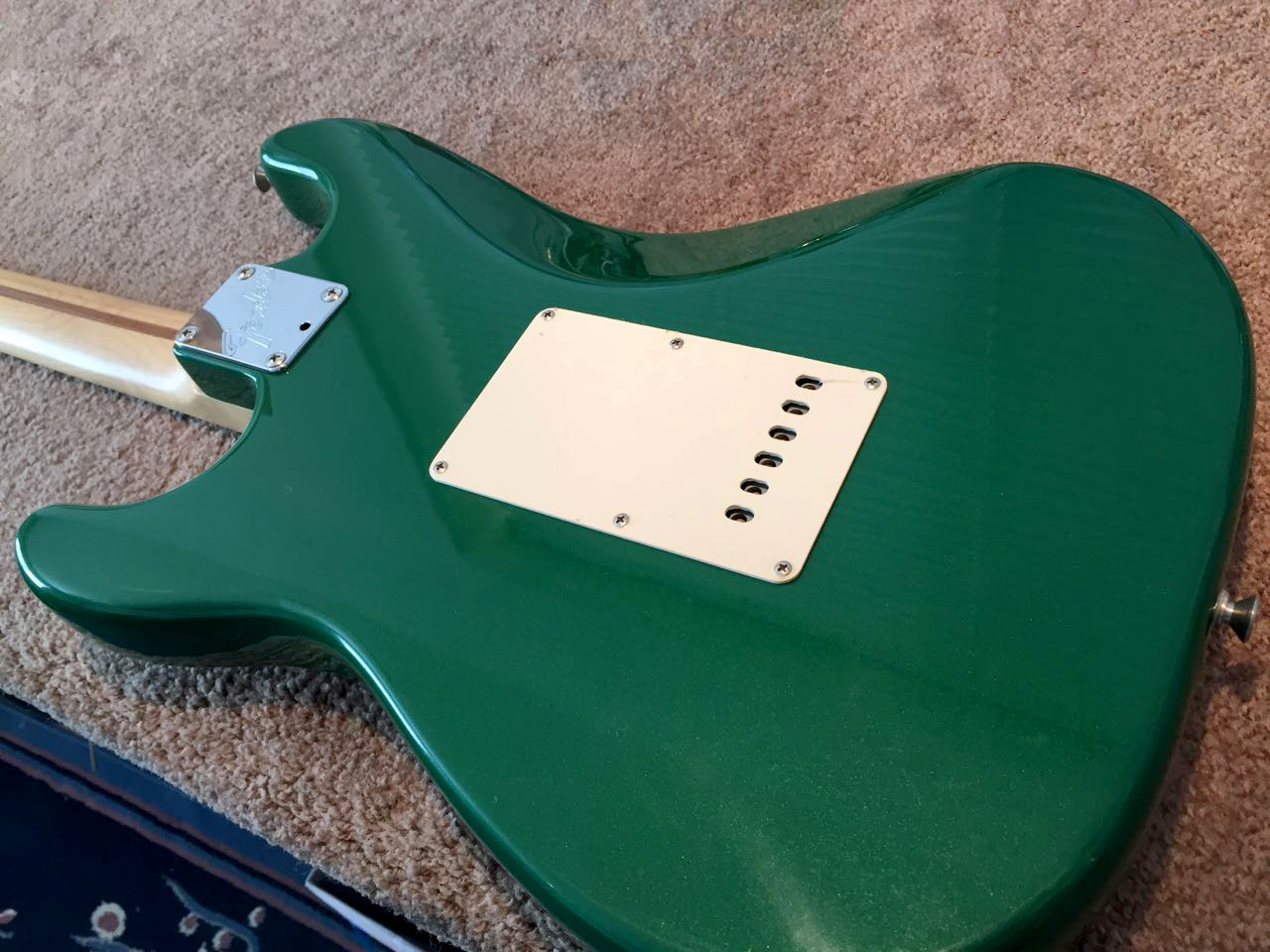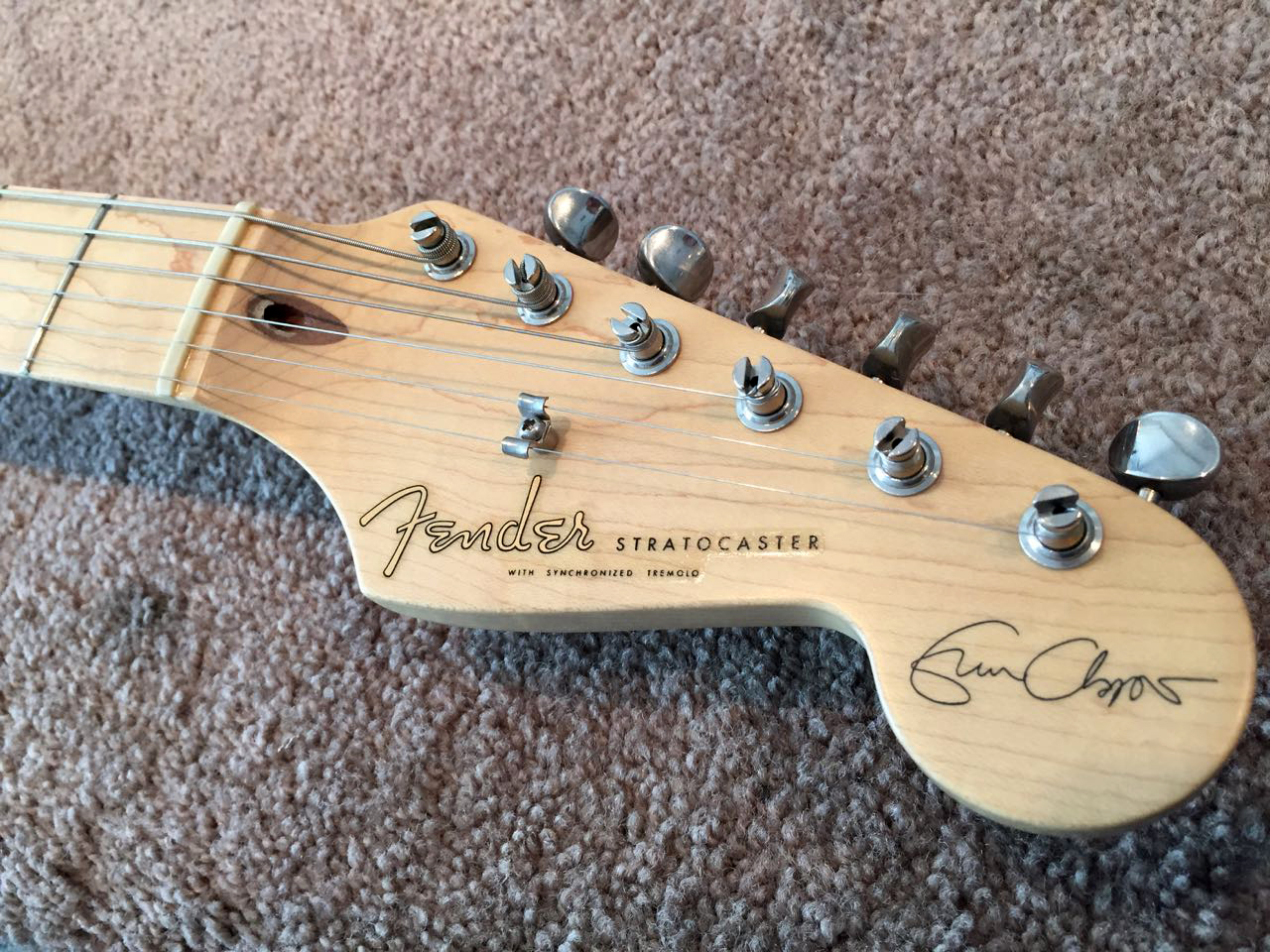 1997 ERIC CLAPTON 7-UP GREEN SIGNATURE STRATOCASTER: Condition. MINT. This guitar is basically like New Old Stock. This has all the features found on early Eric Clapton Strats, complete with the Gold Lace Sensors. (FYI, the newer one now use the Fender Noiseless pickups, which I personally do not care for!) This is about as close as one can get to buying brand new. I own several of the EC Strats and they are one of the best feeling and versatile guitars made. The 25db boost it allows to go from a vintage 50 Strat tone to a fat "woman" tone. As stated, the 50's V shaped neck has a wonderful feel to it. The body is spotless, as is the neck. It was bought but never played. It still has the factory stickers on the back of the trem plate and the neck plate, and there are no pick scratches on the pickguard. Comes with original deluxe tweed Fender hardshell case that is in great condition and all the case candy and hang tag. PRICE $1900 (SOLD)
___________________________________________________________________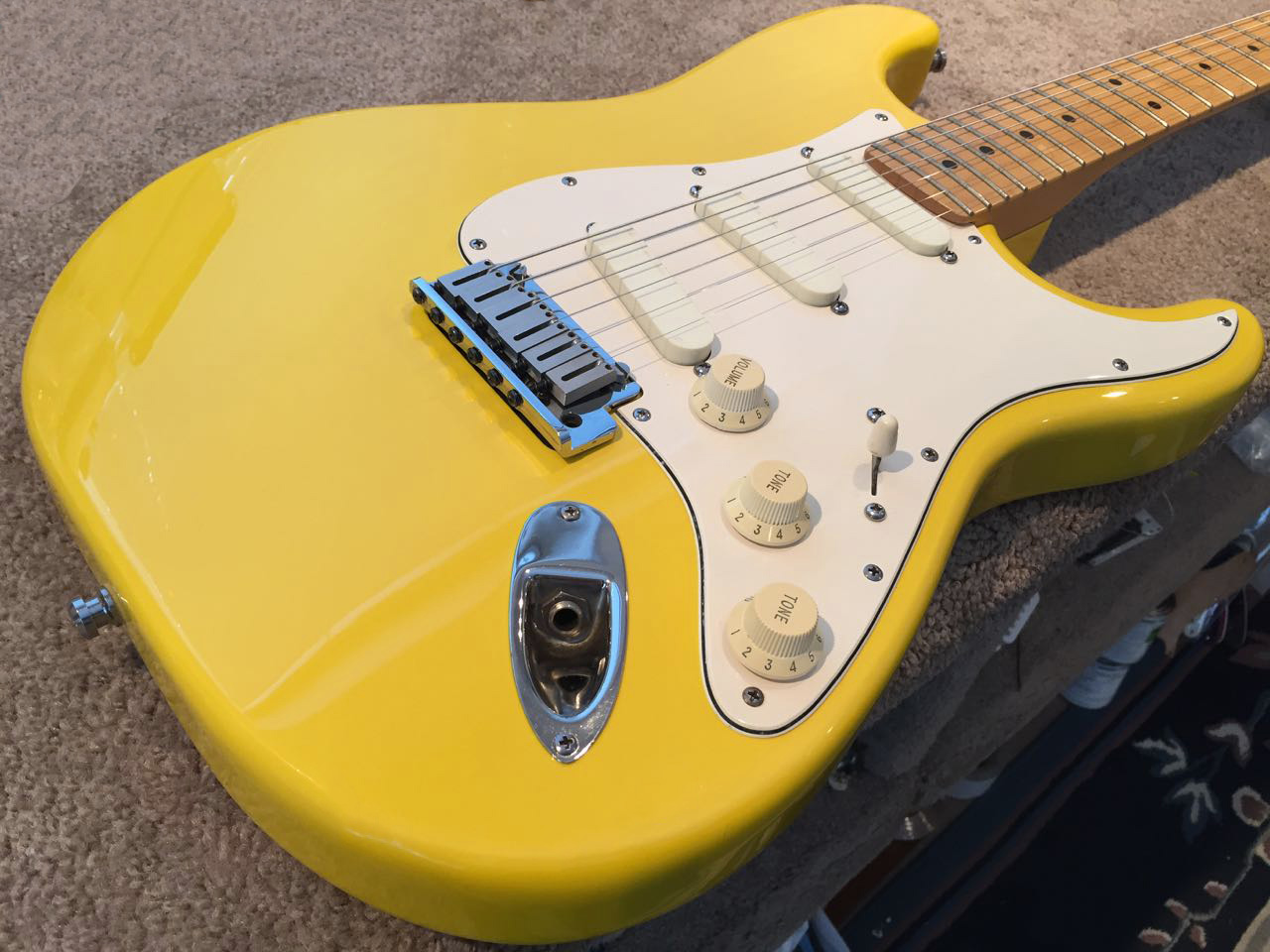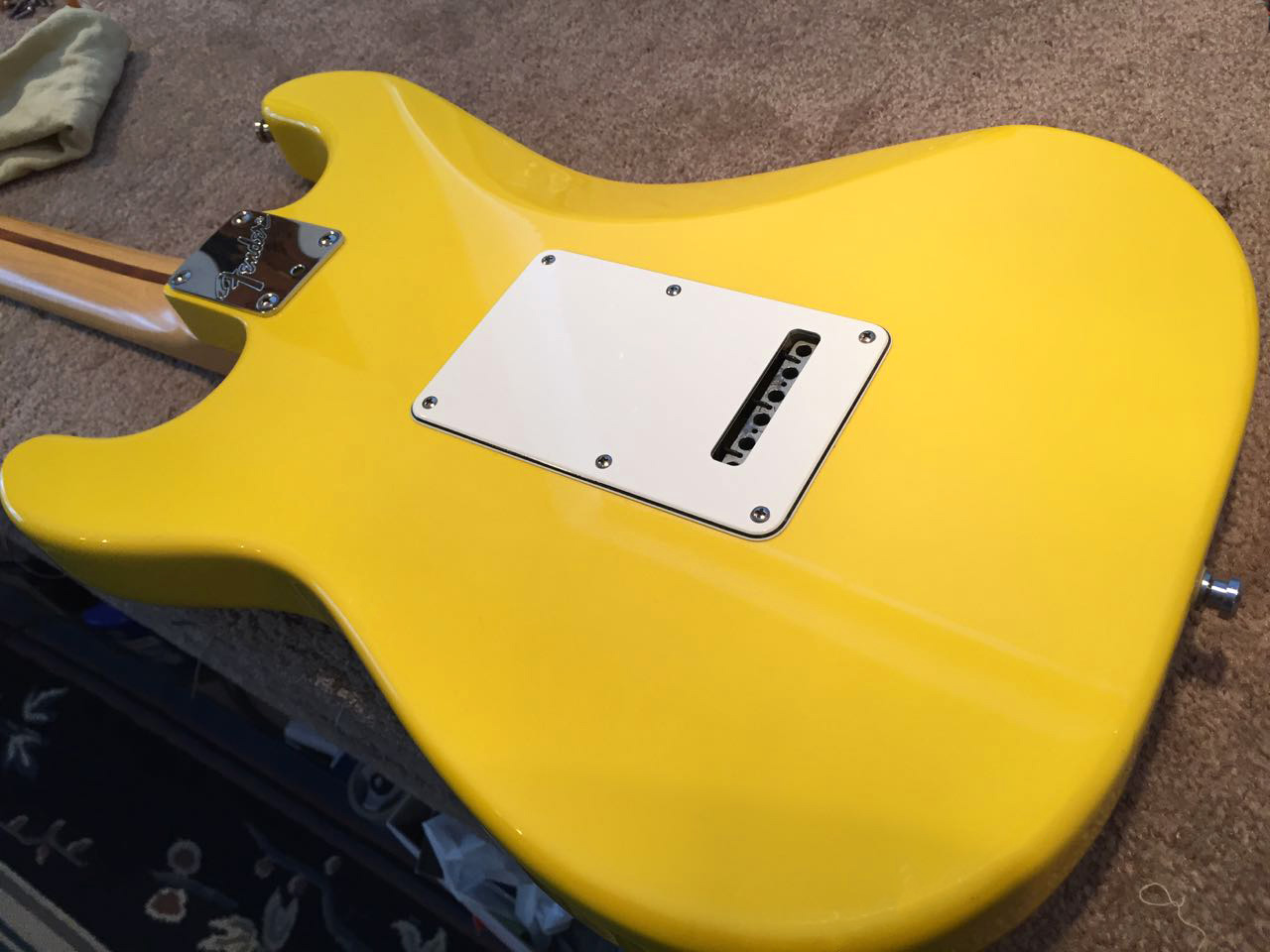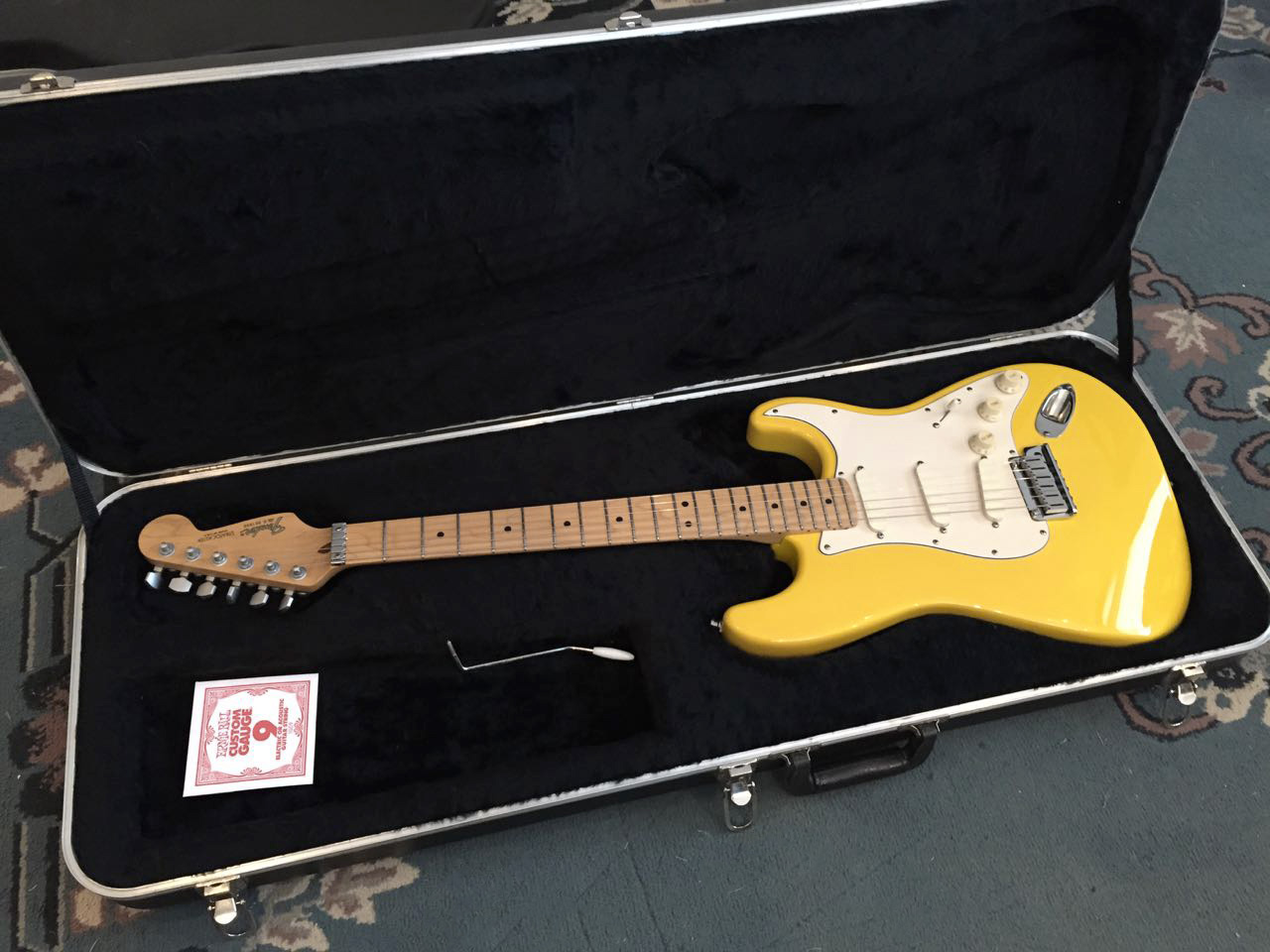 1989 GRAFFITI YELLOW FENDER STRATOCASTER PLUS. Condition: NEAR MINT. Frets are like new with Maple fretboard. This is about as nice as they get. The lettering on the Gold Lace pickups is perfect. These are getting harder to find. Comes with the original rectangular Fender case that is in excellent condition. PRICE: $2000 (SOLD)
_________________________________________________________________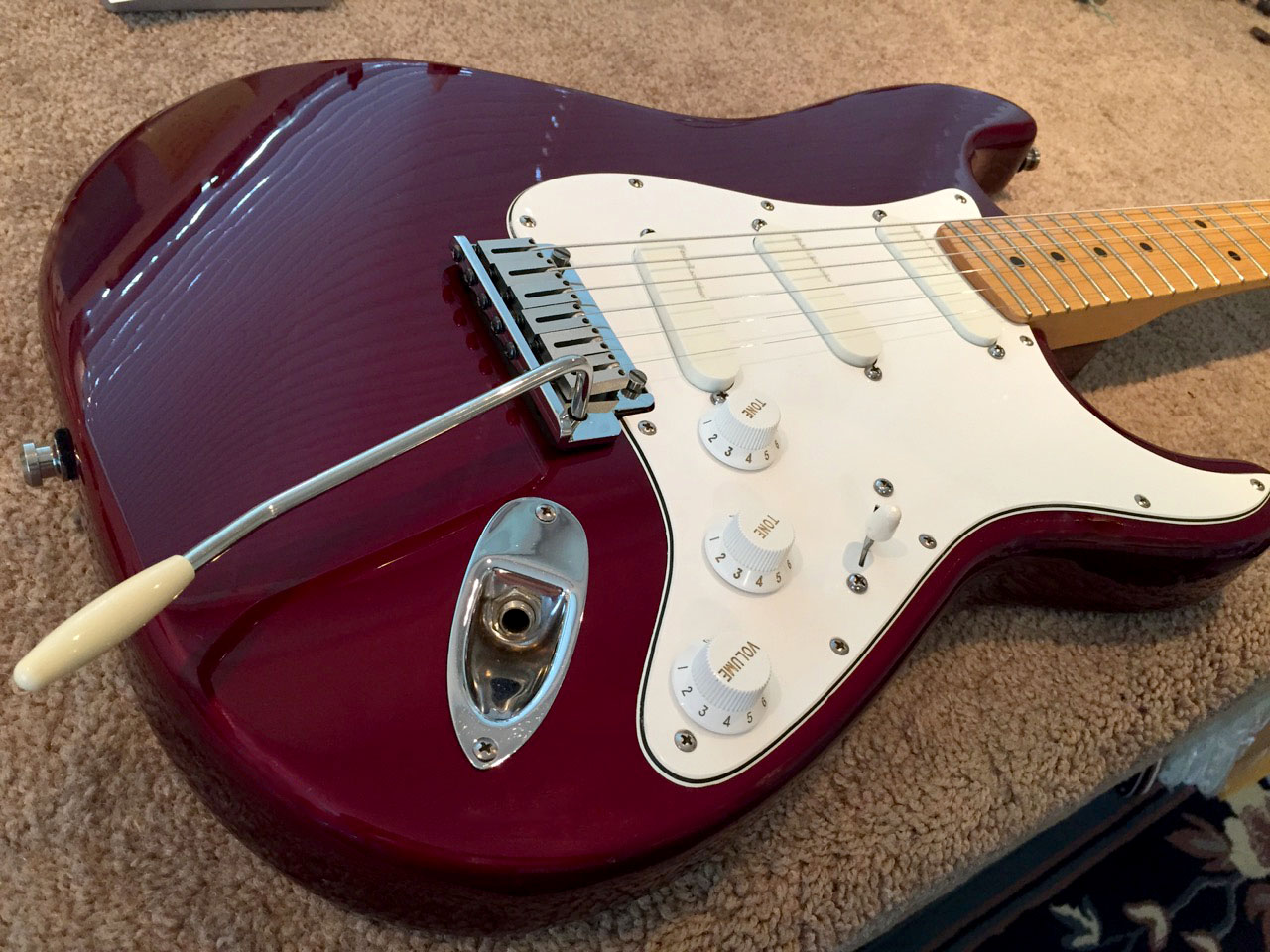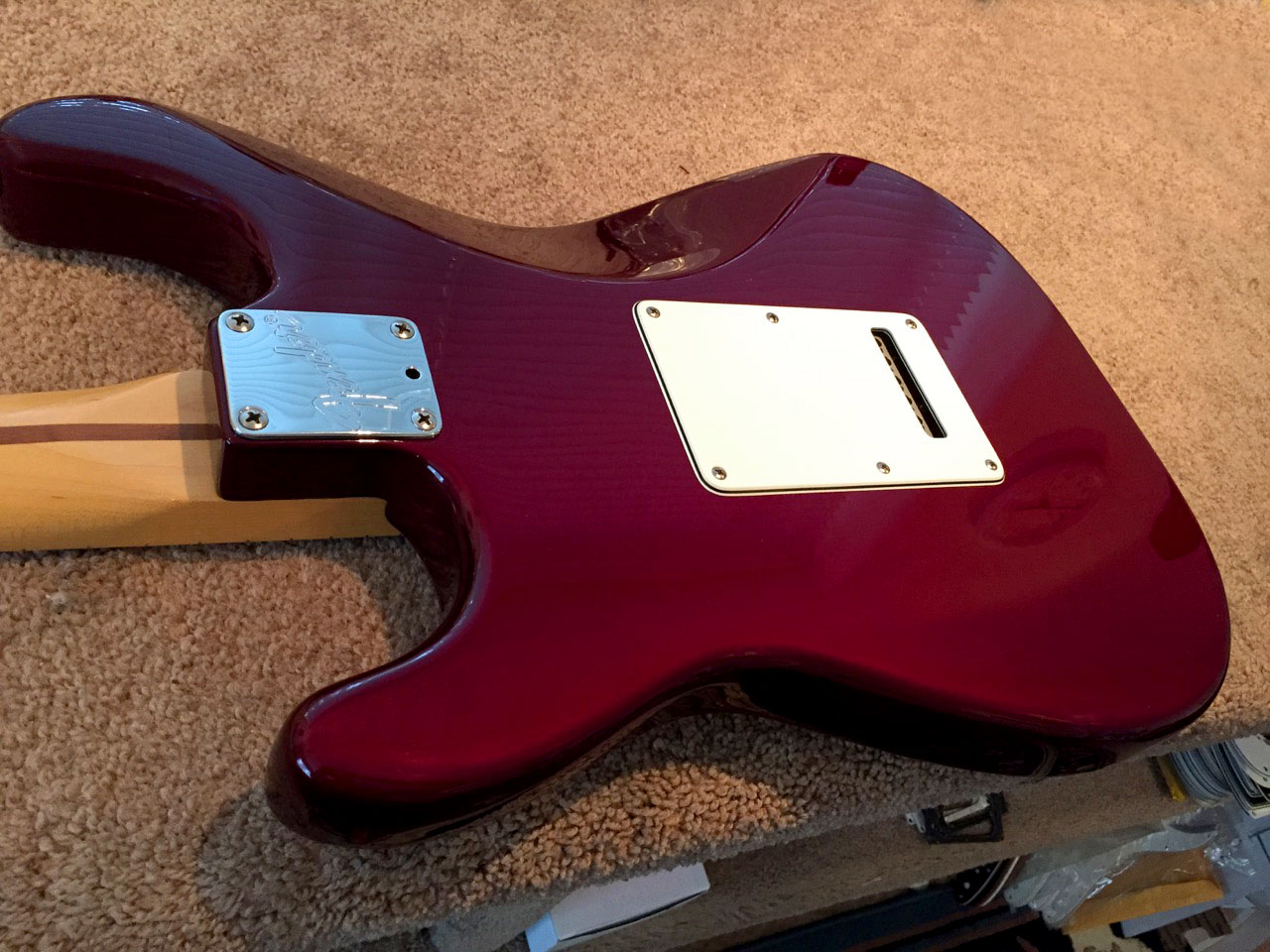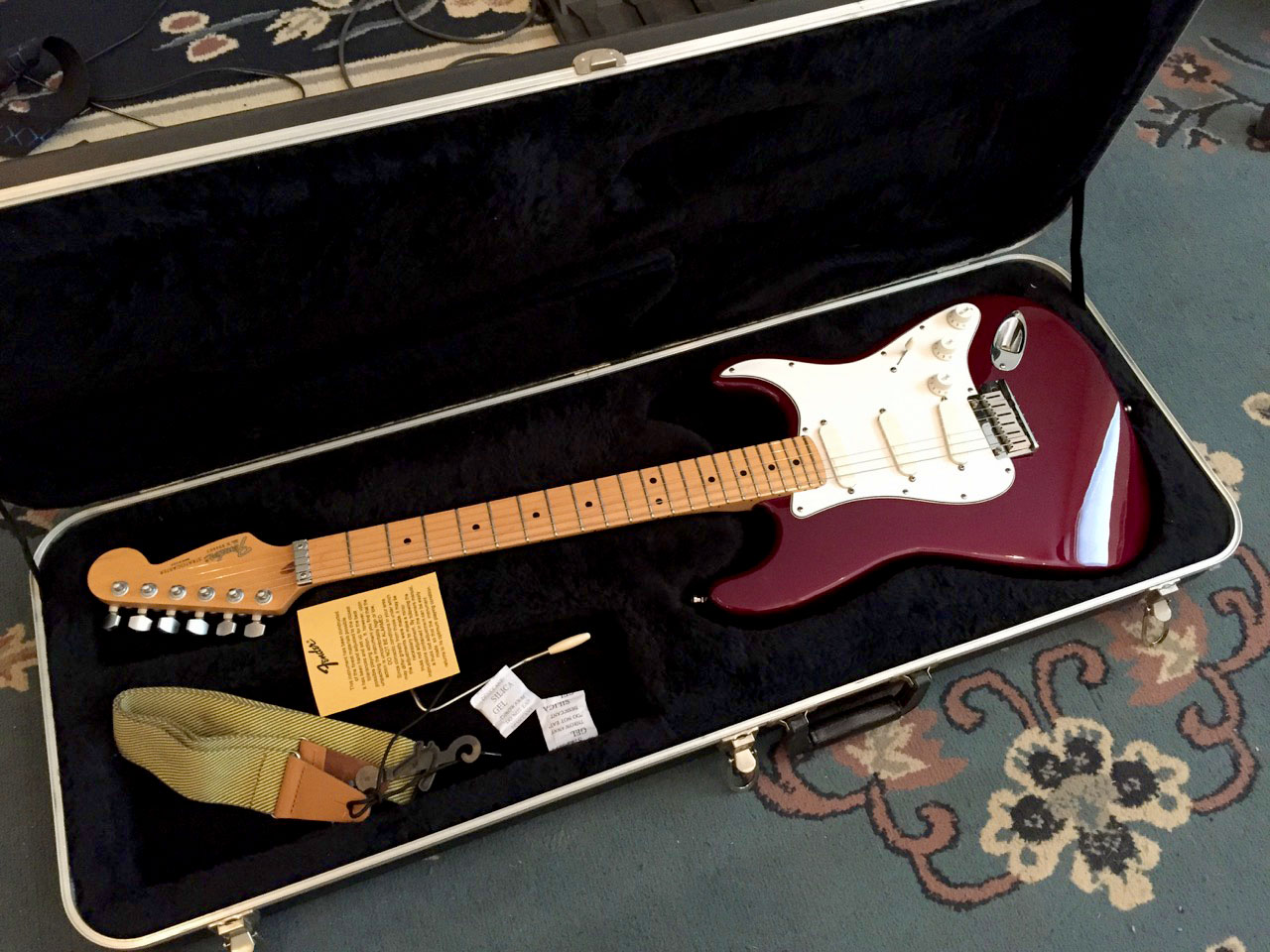 1990 MIDNIGHT WINE FENDER STRATOCASTER PLUS: Condition: NEAR MINT. This is an early Strat Plus that is in absolutely gorgeous condition. It comes with Gold Lace Sensor pickups and all the other Strat Plus appointments. The high gloss Midnight Wine color looks great with the one-piece maple neck. Frets are like new. Lettering on the pickups is almost like new. This color is a candy finish, like a deep, dark Candy Apple Red. Not super rare, but getting harder to find, especially in this near pristine condition, so I am not too excited to sell it! Comes with the original rectangular Fender case that is in excellent condition. with tremolo bar and a vintage strap. PRICE: $1425 (SOLD)
_________________________________________________________________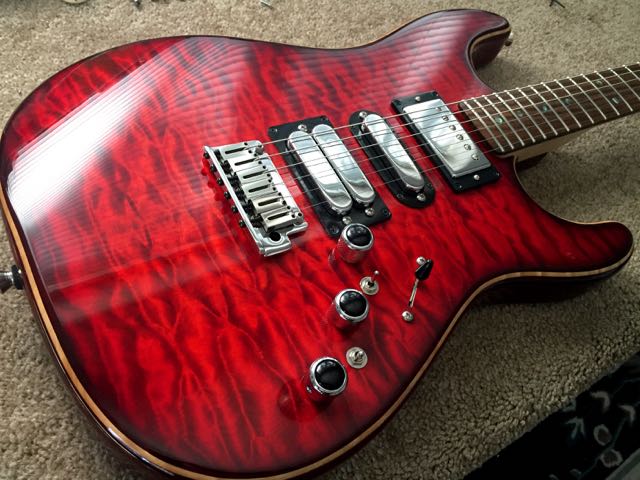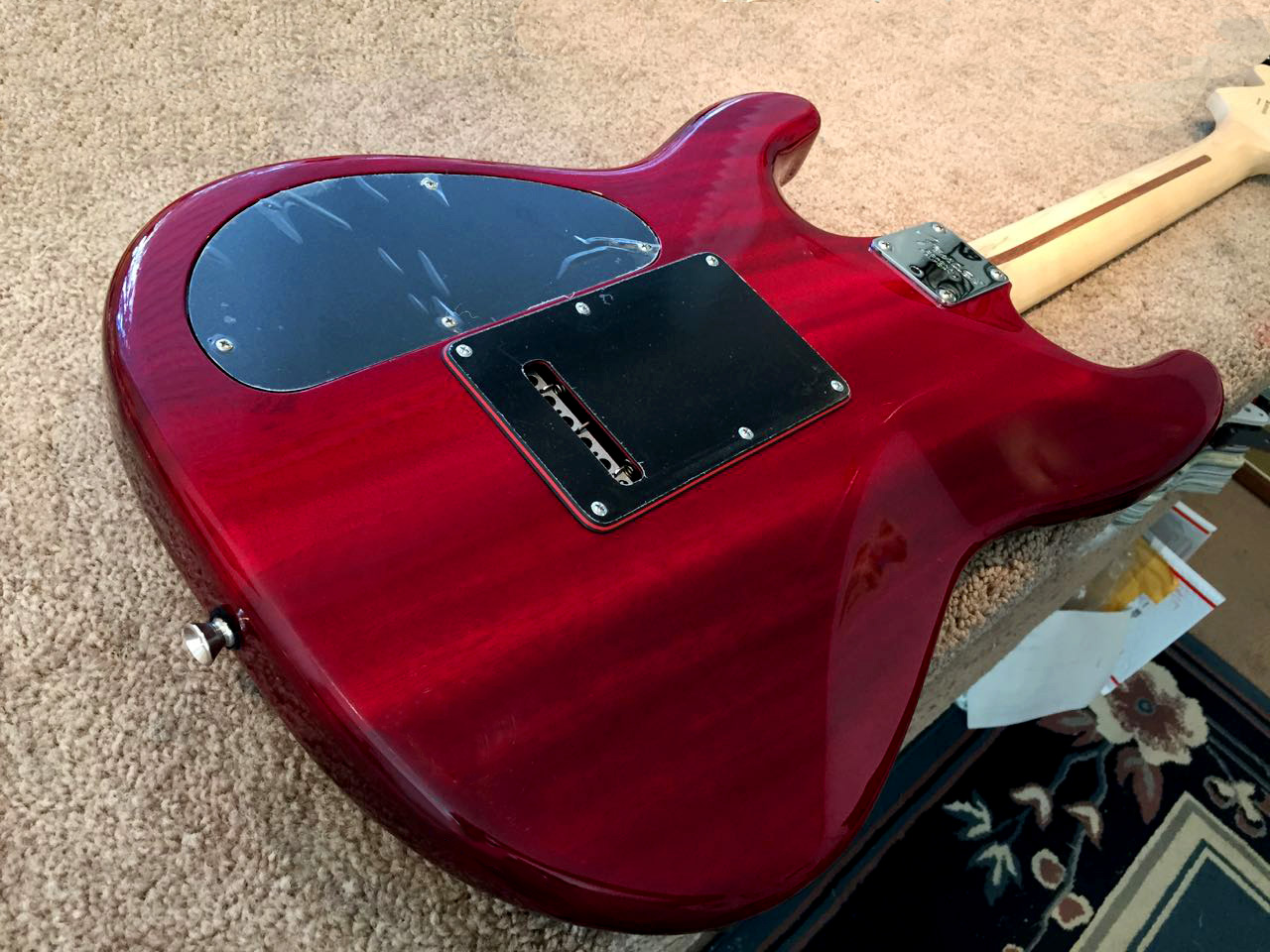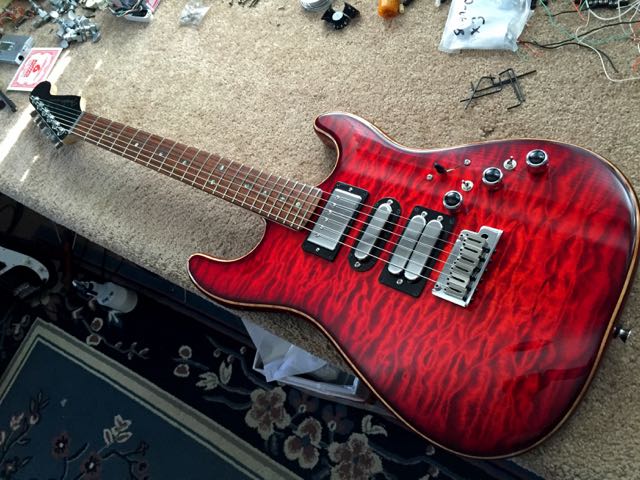 2007 FENDER DELUXE ULTRA CUSTOM STRATOCASTER: Condition: MINT! Custom Shop quality without the Custom Shop price. I love these guitars as they do everything from a Les Paul to a Telecaster. Oh, and Strat too! I started out with a mint Strat 2007 Fender Deluxe Rosewood neck with a Black painted headstock on a flamed Warmoth body made of Mahogany with flamed Maple top. Seymour Duncan Jazz (SH-2N) humbucker in the neck and a Chrome Dome Hot Dually in the bridge with a regular Chrome Dome sandwiched in-between. This has a 500k no-load tone pot for the humbucker with a big .033Vitamin-Q Oil type Cap. The Jazz pickup is super smooth and is great for blues and does wonderful with distortion. The Middle and rear pickups are connected to a TBX with a Sprague .022 Orange Cap on it.Comes with a like new brown Gator-Skin custom hard shell case with, allen wrench, polishing cloth, keys, new tremolo bar. (I will toss in a new strap as well) PRICE: $2500 (SOLD)
___________________________________________________________________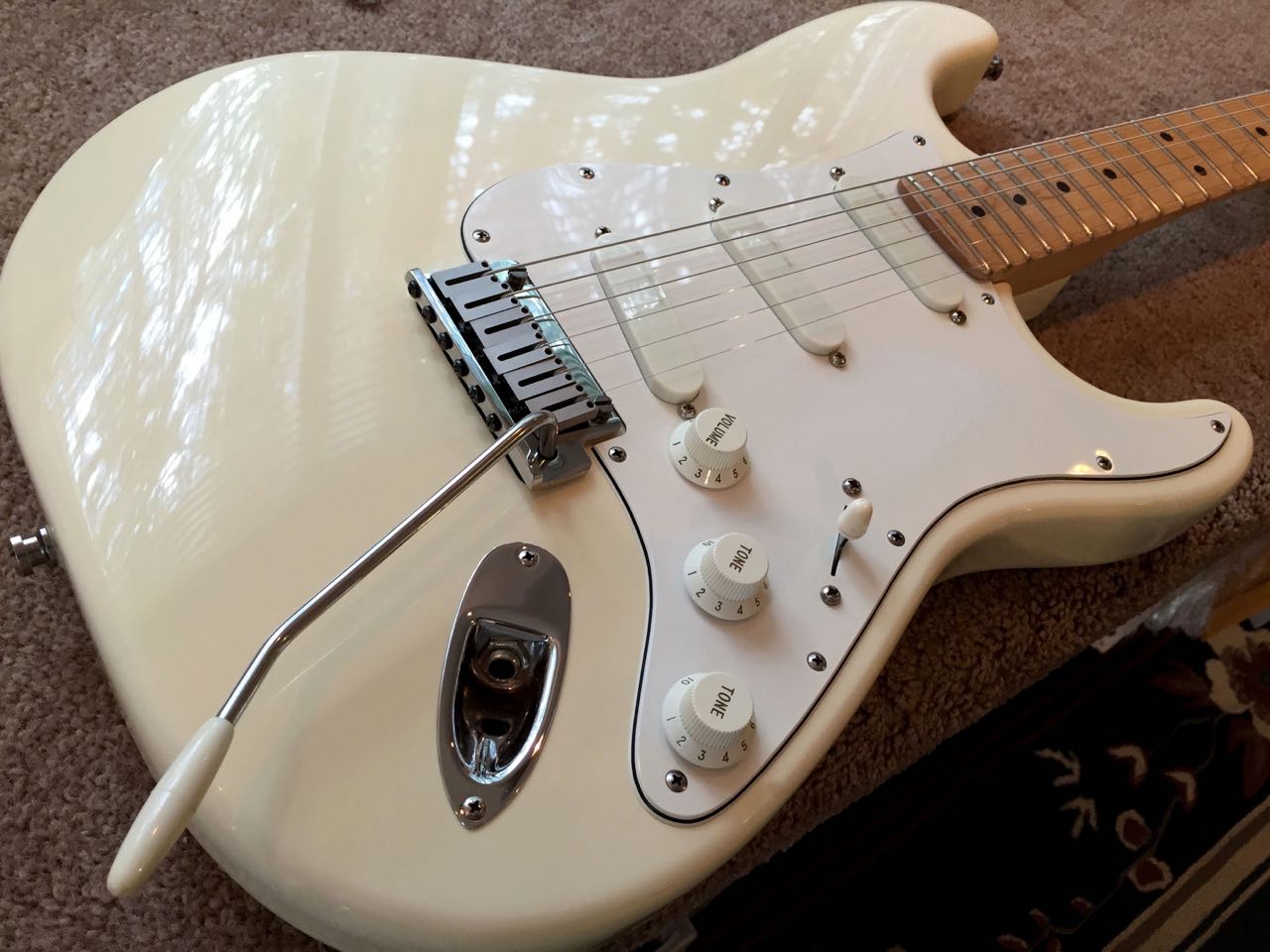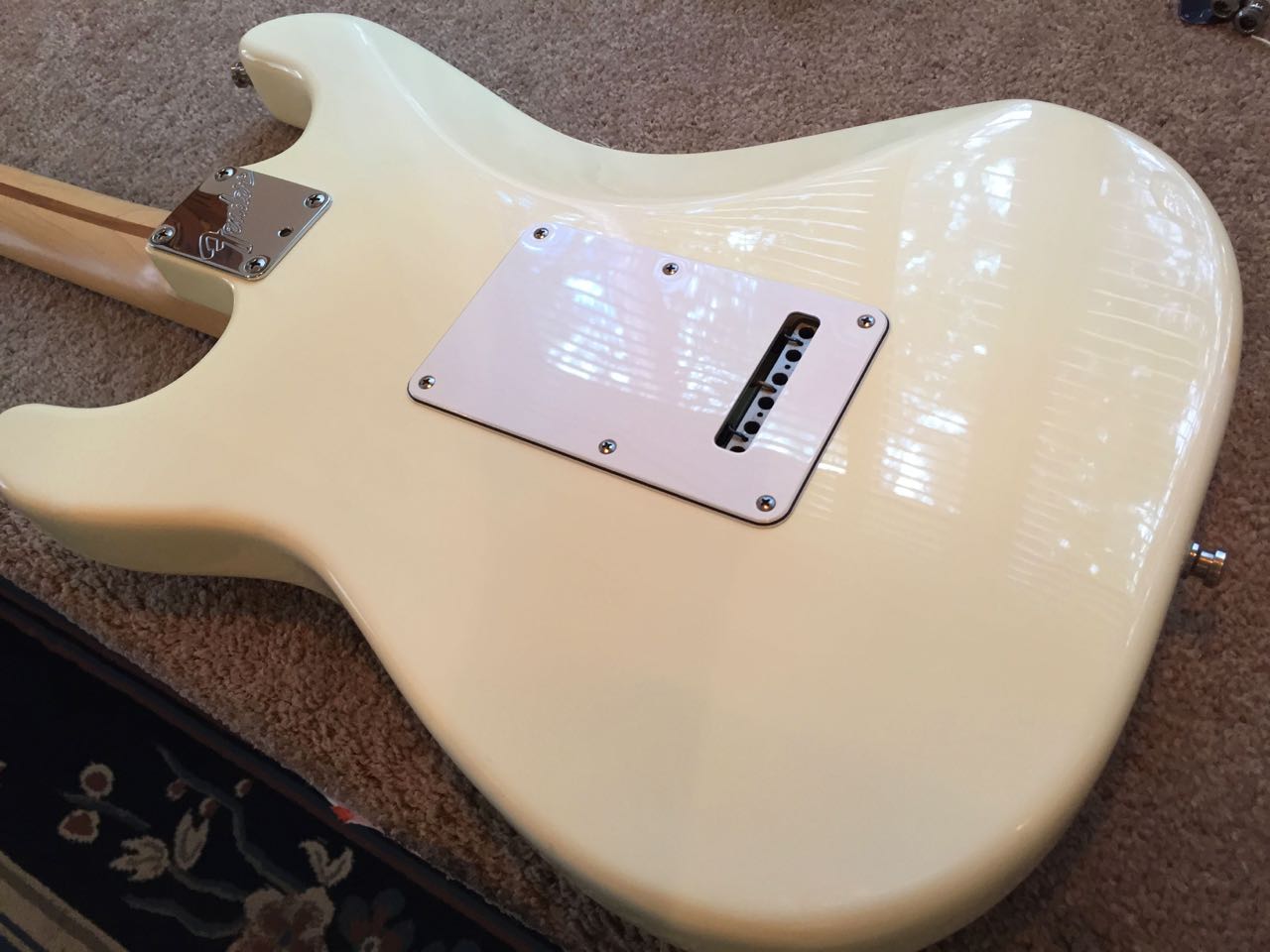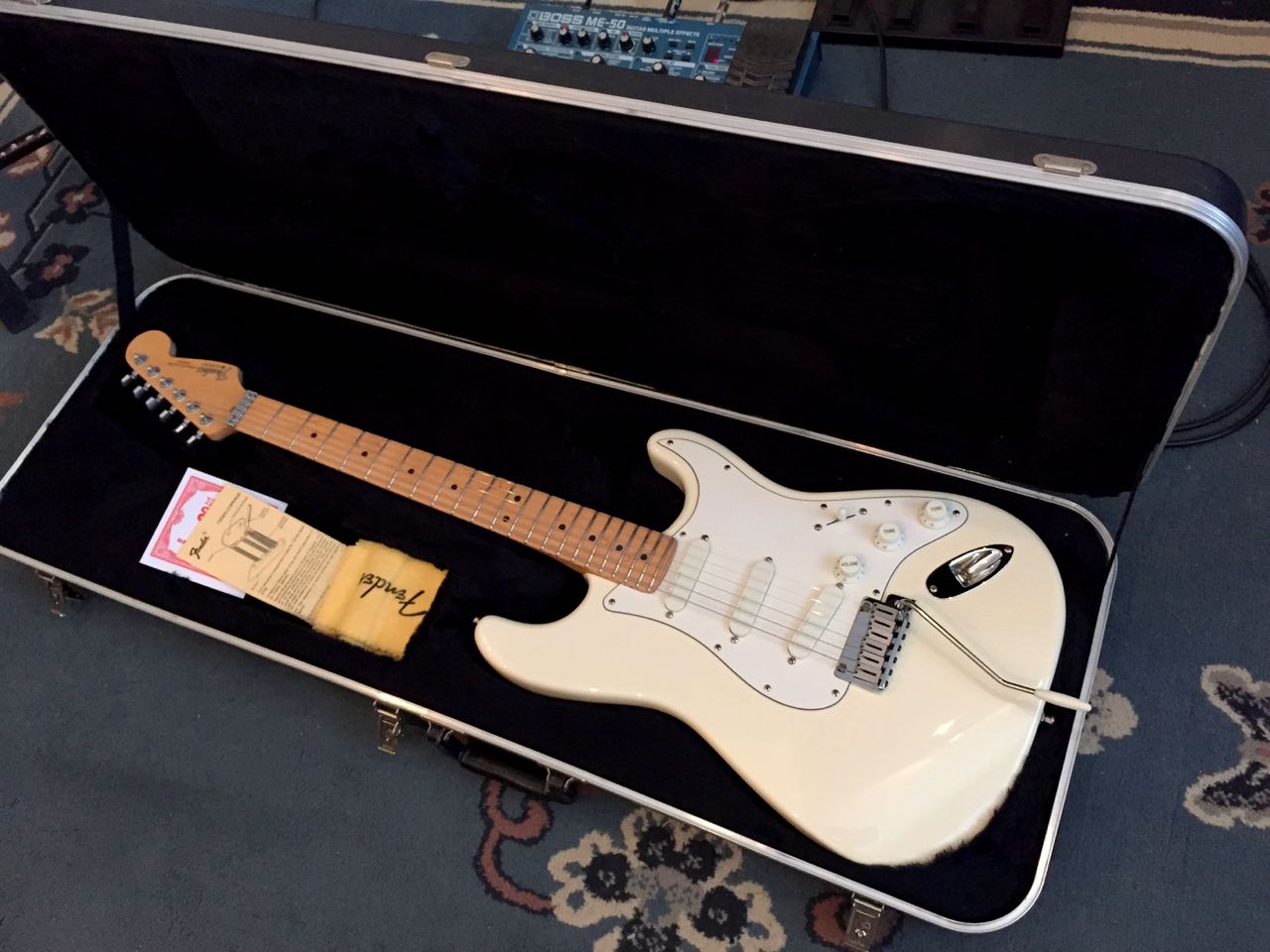 1991 ARCTIC WHITE FENDER STRATOCASTER PLUS: Condition: NEAR MINT.This is an early Strat Plus with Gold Lace Sensor pickups and all the other Strat Plus appointments. High gloss Arctic White has aged to a nice creamy color and is one of my favorite. Frets are like new and the Maple on the fret board contrasts nice against the creamy finish. Lettering on the pickups are nice. Super Clean. Comes with the original rectangular Deluxe Fender flight case that is in excellent condition. These are a slightly heavier duty cases and can take a small paddle lock. PRICE: $1375 (SOLD)
_________________________________________________________________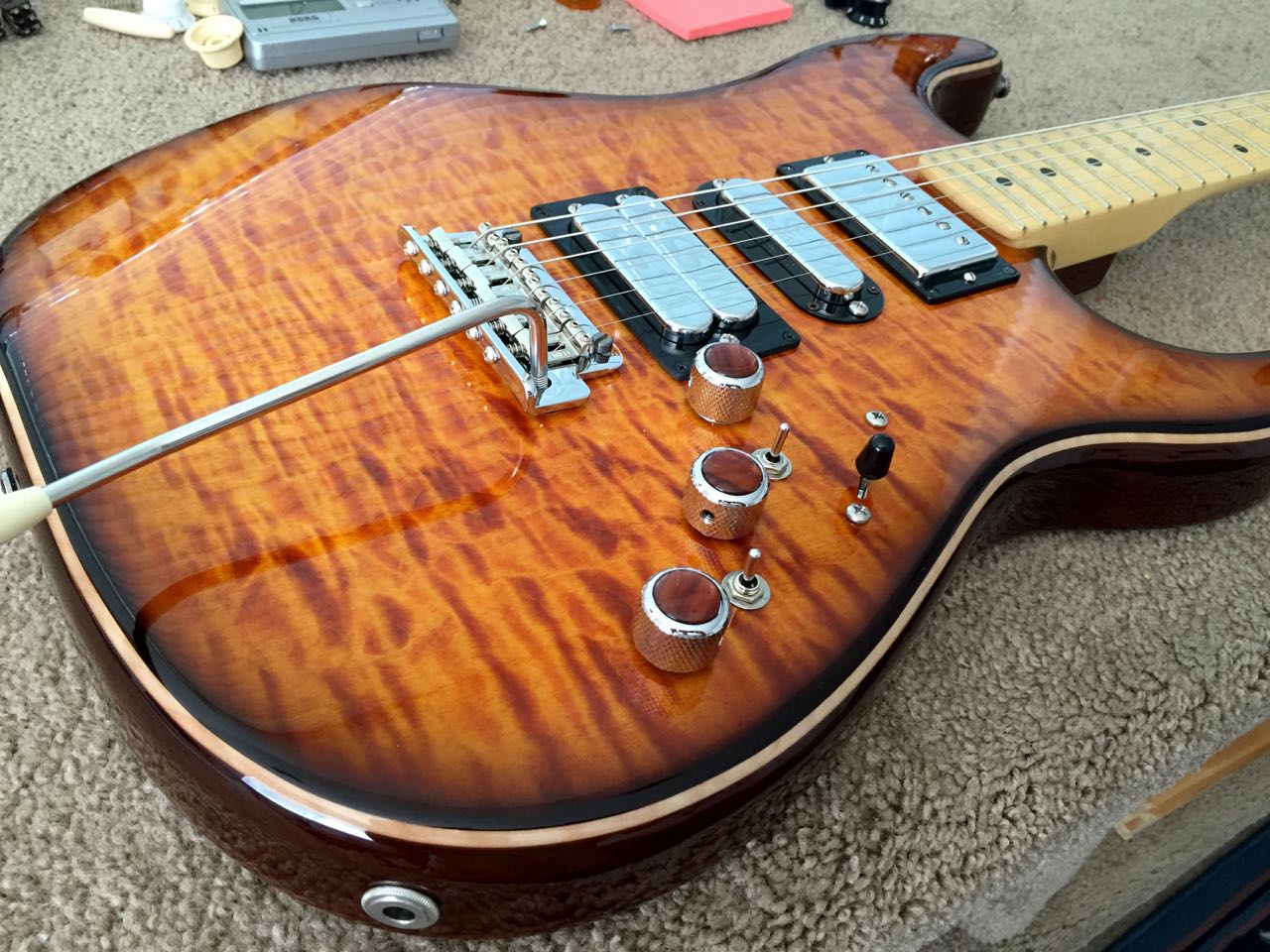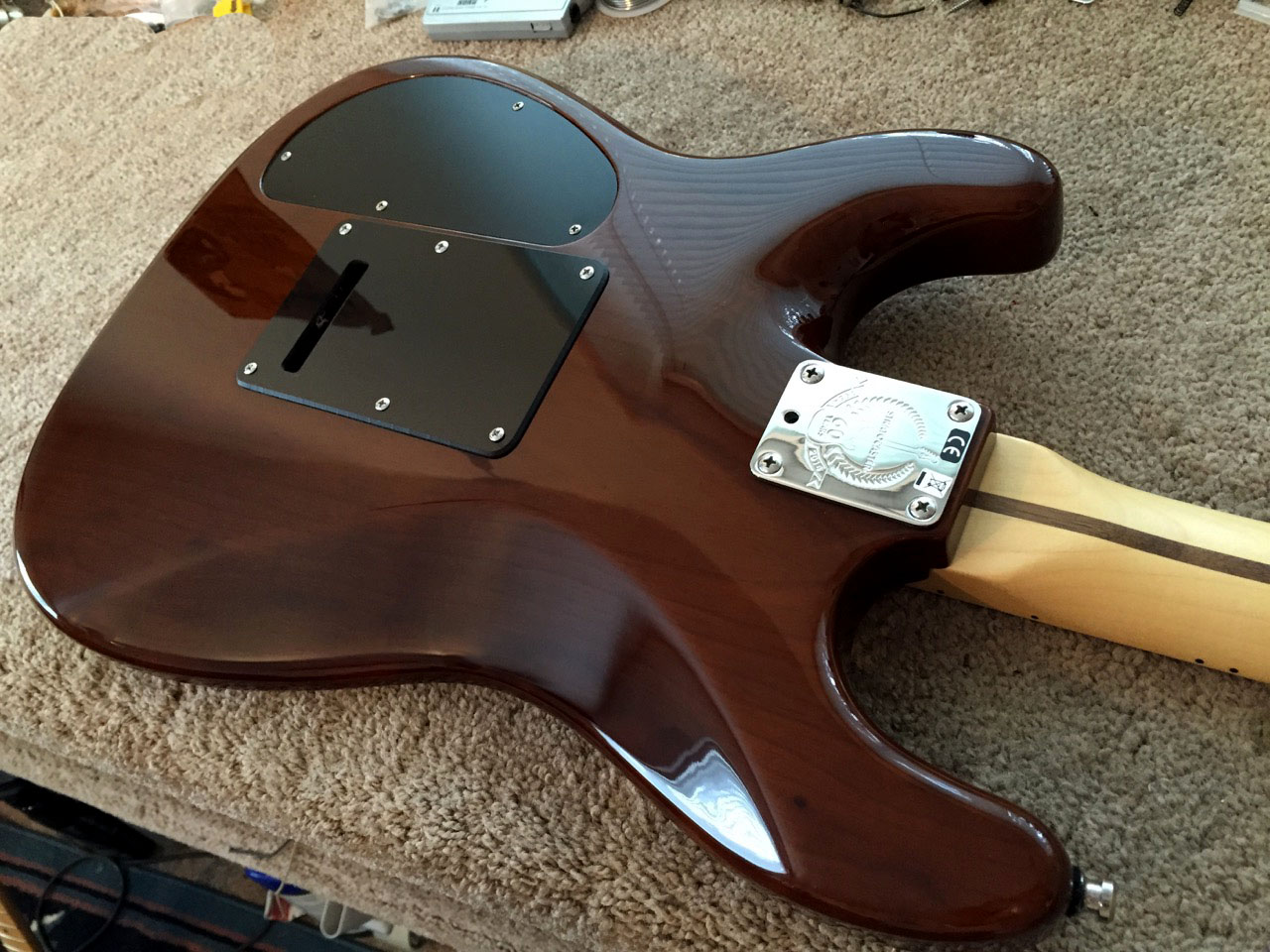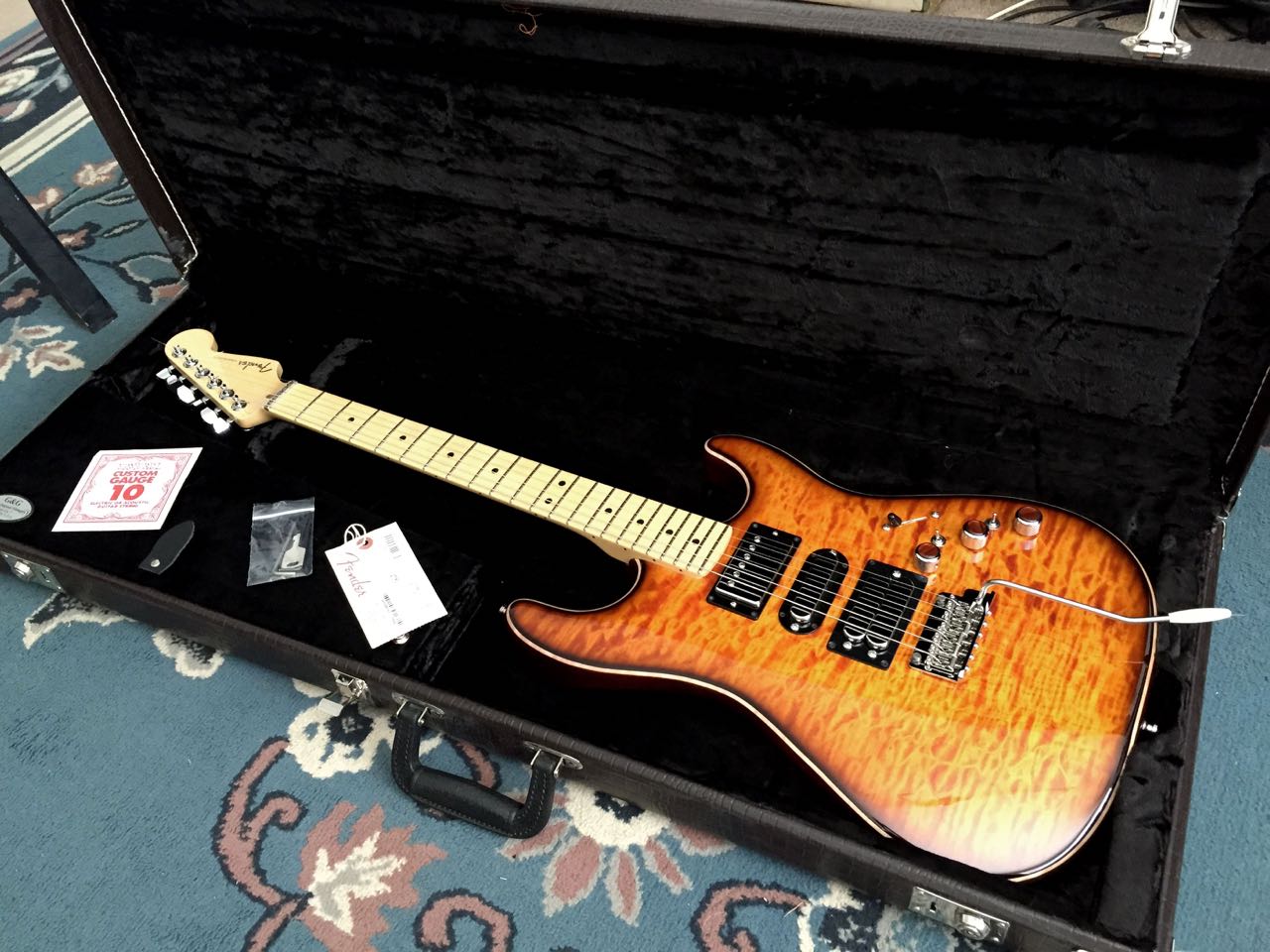 2014 FENDER DELUXE ULTRA CUSTOM STRATOCASTER: Condition: MINT - BRAND NEW! This is one of my newest custom builds. . Everything on this guitar is BRAND NEW. Custom Shop quality without the Custom Shop price. I love these guitars as it does everything from a Les Paul to a Telecaster. Oh, and Strat too! Chambered Swamp Ash Warmoth body with highly flamed Quilt Maple top - Contoured Heel / Tummy Cut / Forearm Contour. Note the natural binding on the edge of the body. These are spendy bodies BTW. The neck is off a brand new 2014 Fender American Deluxe 60th Anniversary Stratocaster (Neck plate on guitar matches neck with a special logo. Even has hang tag!) Locking tuners and LSR roller nut. Neck pickup: Seymour Duncan Alnico II Pro (APH-1N) humbucker with a on/off mini-switch that splits the coils. Middle pickup is Chrome Dome Lace Sensor and the bridge pickup is a Hot Chrome Dome Lace Sensor Dually. Comes with a like new brown Gator-Skin custom hard shell case with, allen wrench, polishing cloth, keys, new tremolo bar. (I will toss in a new strap as well) PRICE: $2500 (SOLD)
___________________________________________________________________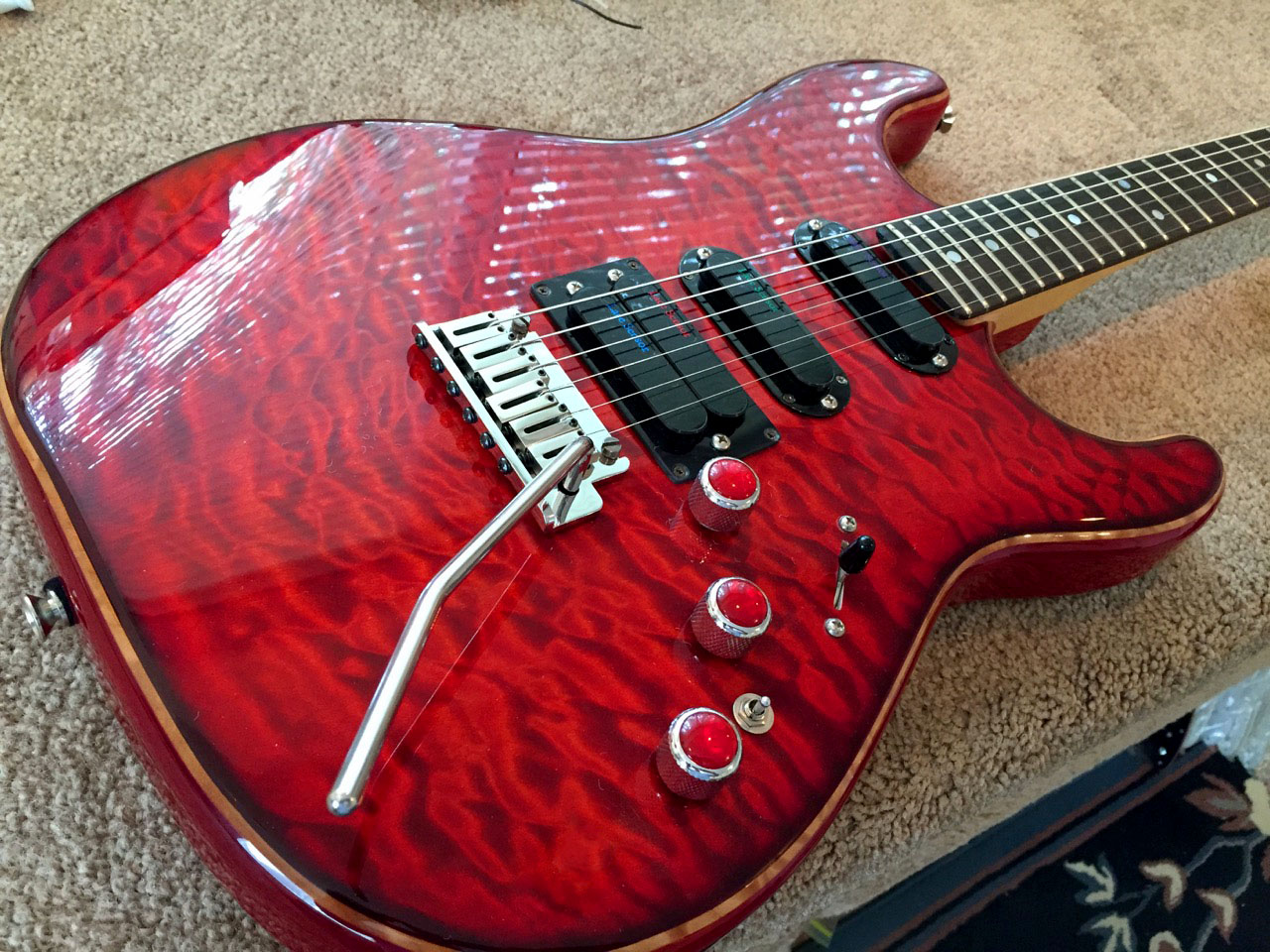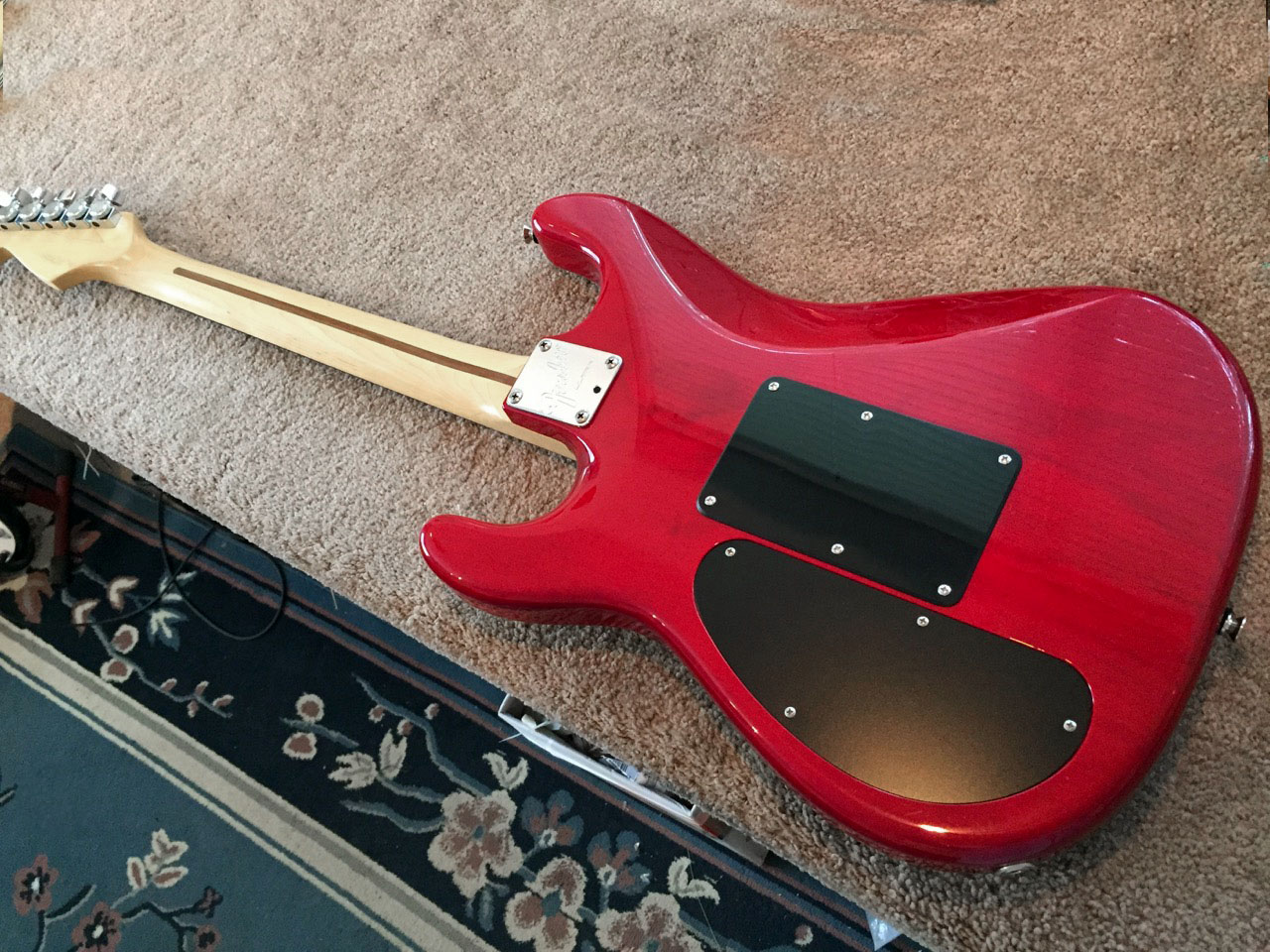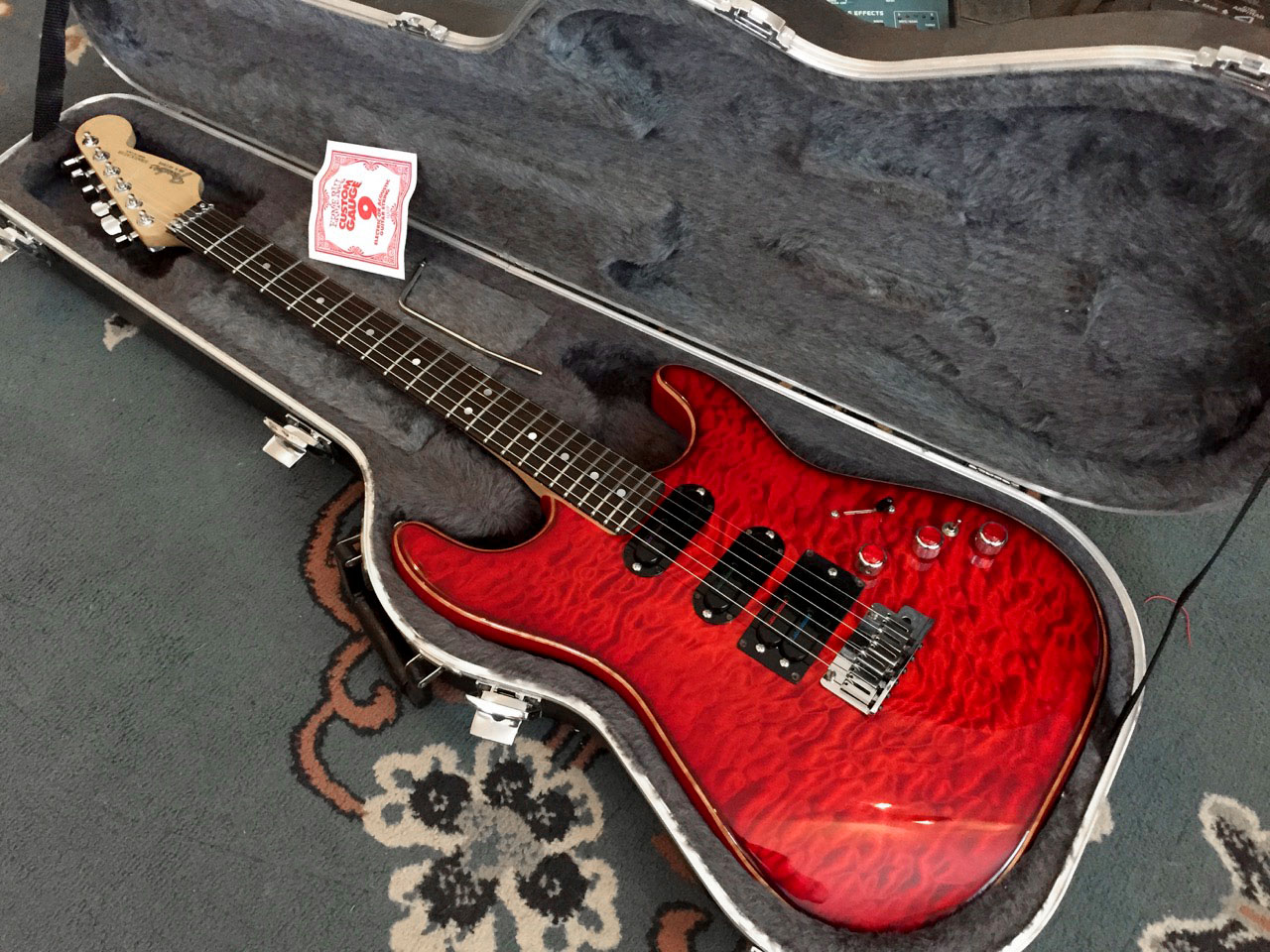 1989 FENDER STRATOCATER ULTRA CUSTOM: Condition: MINT!!!. This is a New Old Stock 1989 Ultra neck and neck plate married to a brand new highly flamed Warmoth body. Comes with all new wiring, pots and pickups. Has Purple/Emerald/Red/Blue Dually Lace Sensors wired as a Fender Ultra. This comes with all the Ultra appointments such as chrome plated Wilkerson roller nut with an Ebony fretboard, chrome plated Schaller tuners and bridge. The body has a beautiful red dye, highly quilted Maple top on Alder body with a rear rout. It has a contoured heel for easier playing above the 12th registry. This body features a natural masked binding that really sets off the maple top. As I mentioned, this has a new old stock 1989 Ultra neck. I bought the neck from an estate sale which was owed by a ABC television producer in LA.Comes with a deluxe Strat Plus case in excellent condition! Has the big chrome buckle latches that work fine. PRICE: $2200 (SOLD)
___________________________________________________________________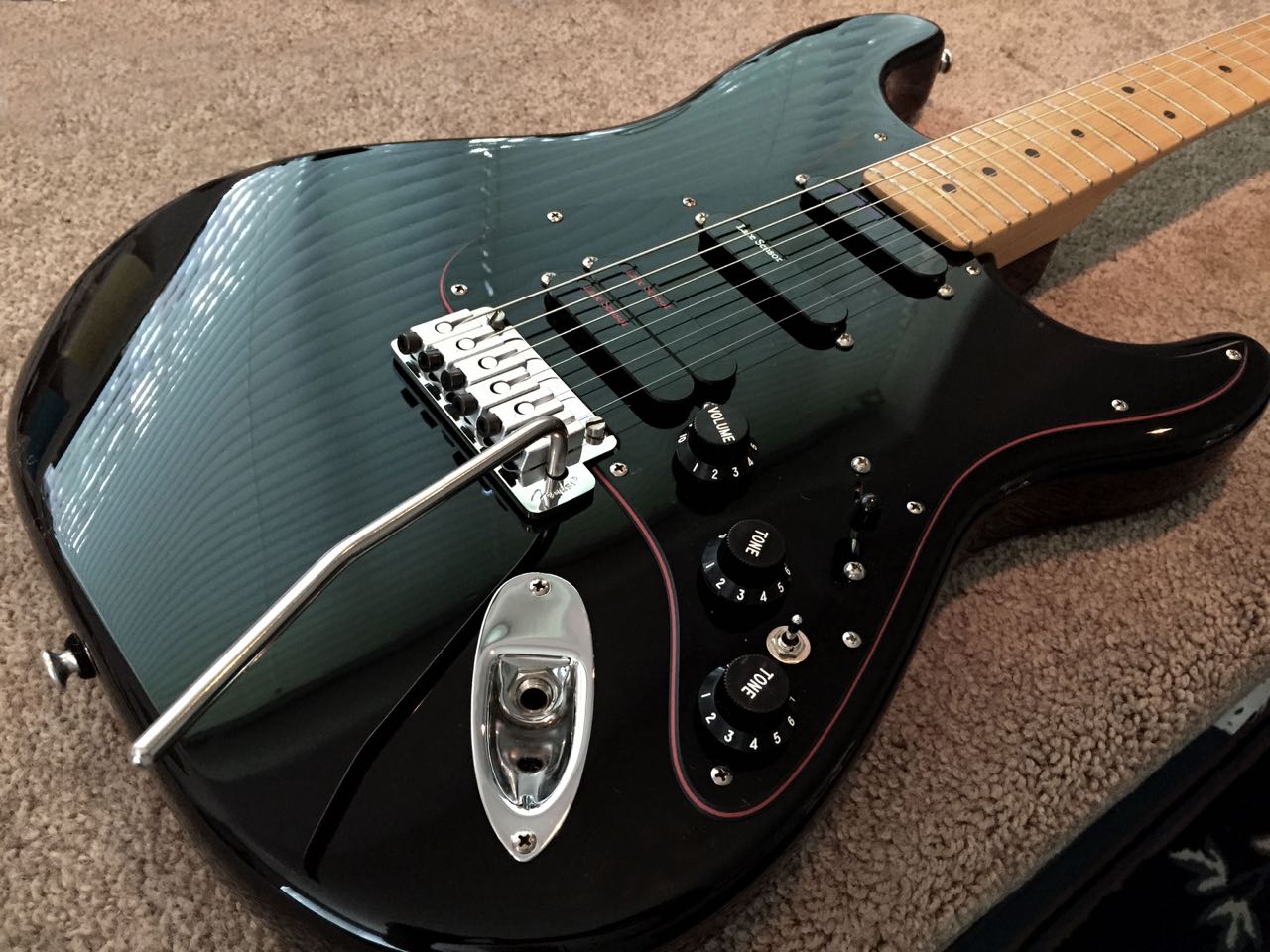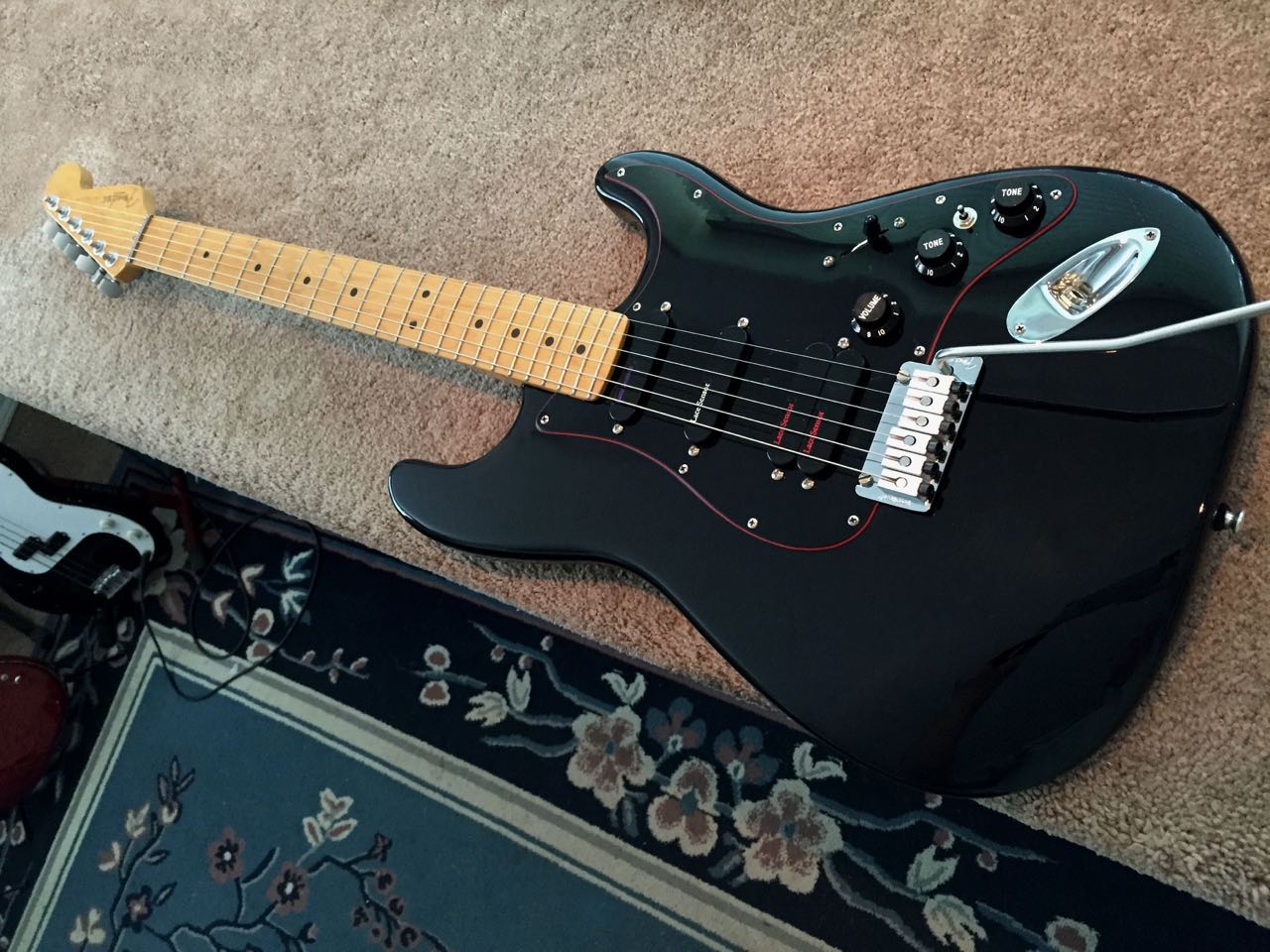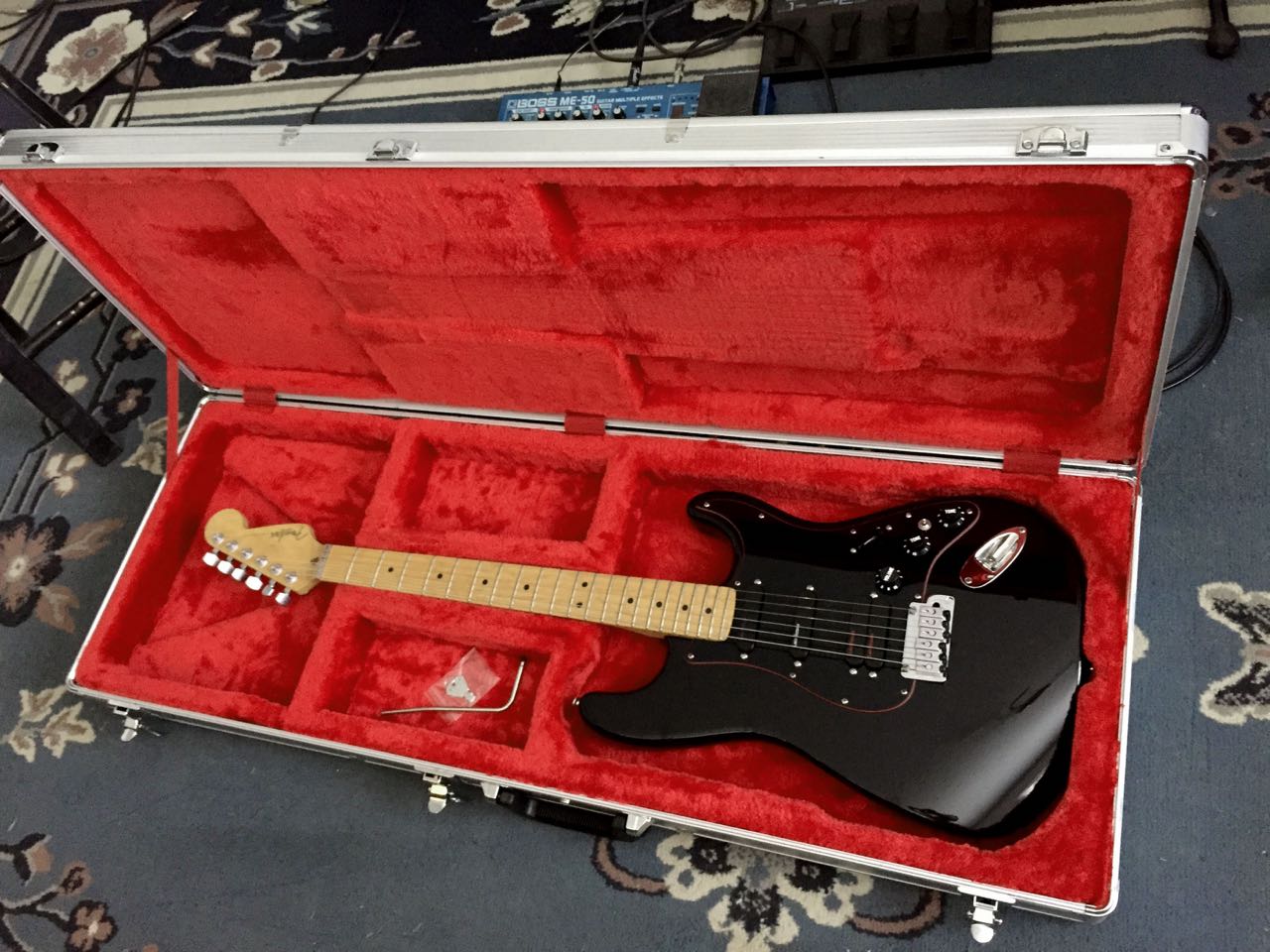 1997 FENDER BLACK STRATOCASTER PLUS DELUXE ULTRA CUSTOM: Condition: NEAR MINT. This is another one of my customized Strat Plus'. The guitar started out as a very nice Strat Plus Deluxe in black. I replaced all the electronics with BRAND NEW pots, switches, pickups and Ultra pickguard. The neck pickup is a Purple Lace Sensor, the middle pickup is a Silver Lace Sensor and the bridge is a Red Dually Lace Sensor. The neck is near perfect and the frets are like new. Has the rare Floyd Rose II bridge! The maple neck is in excellent condition. Comes with a heavy duty Deluxe aluminum sheathed travel case. Super nice!and trem bar plus new Fender wipedown cloth. PRICE: $1650 (SOLD)
___________________________________________________________________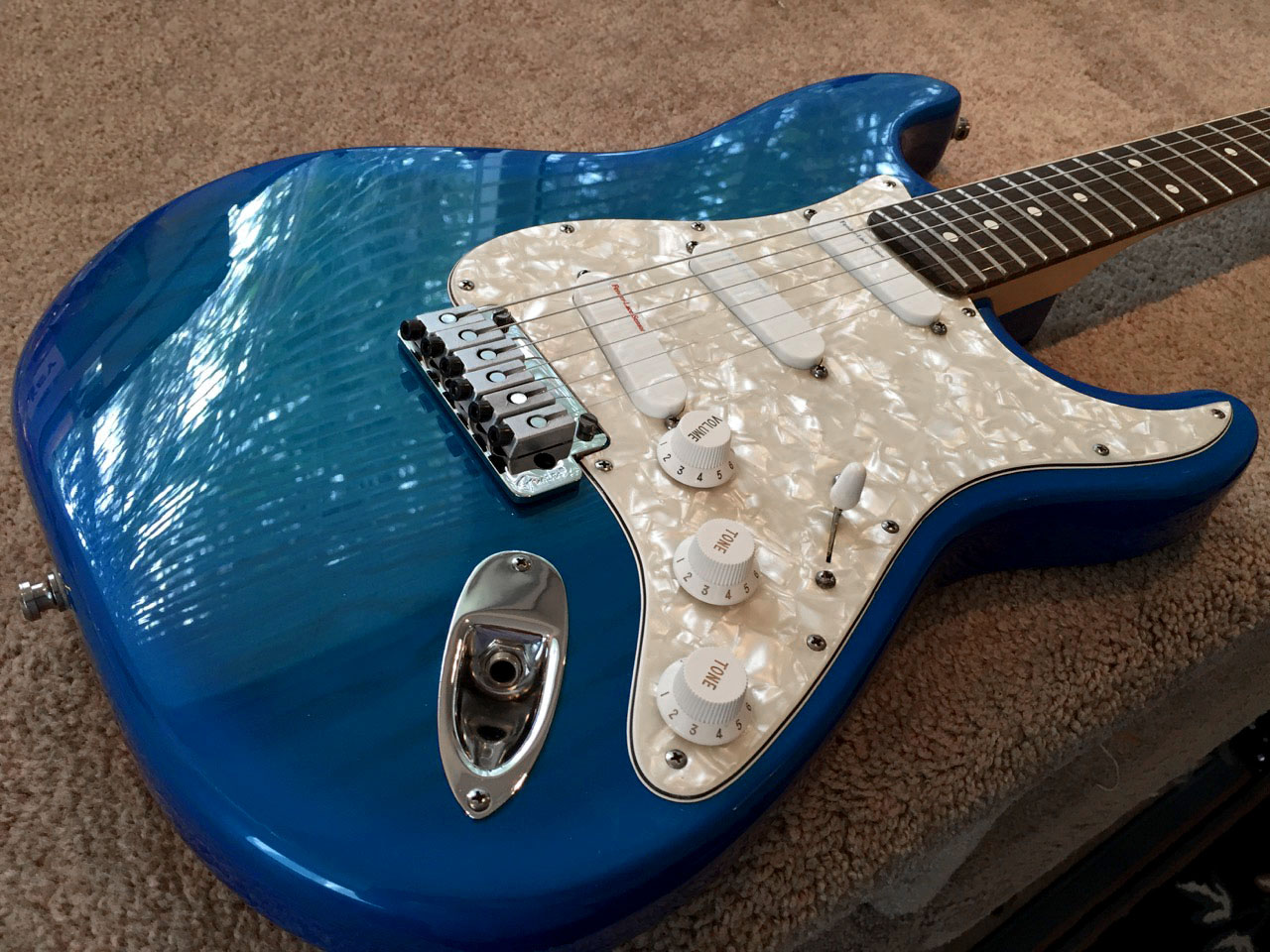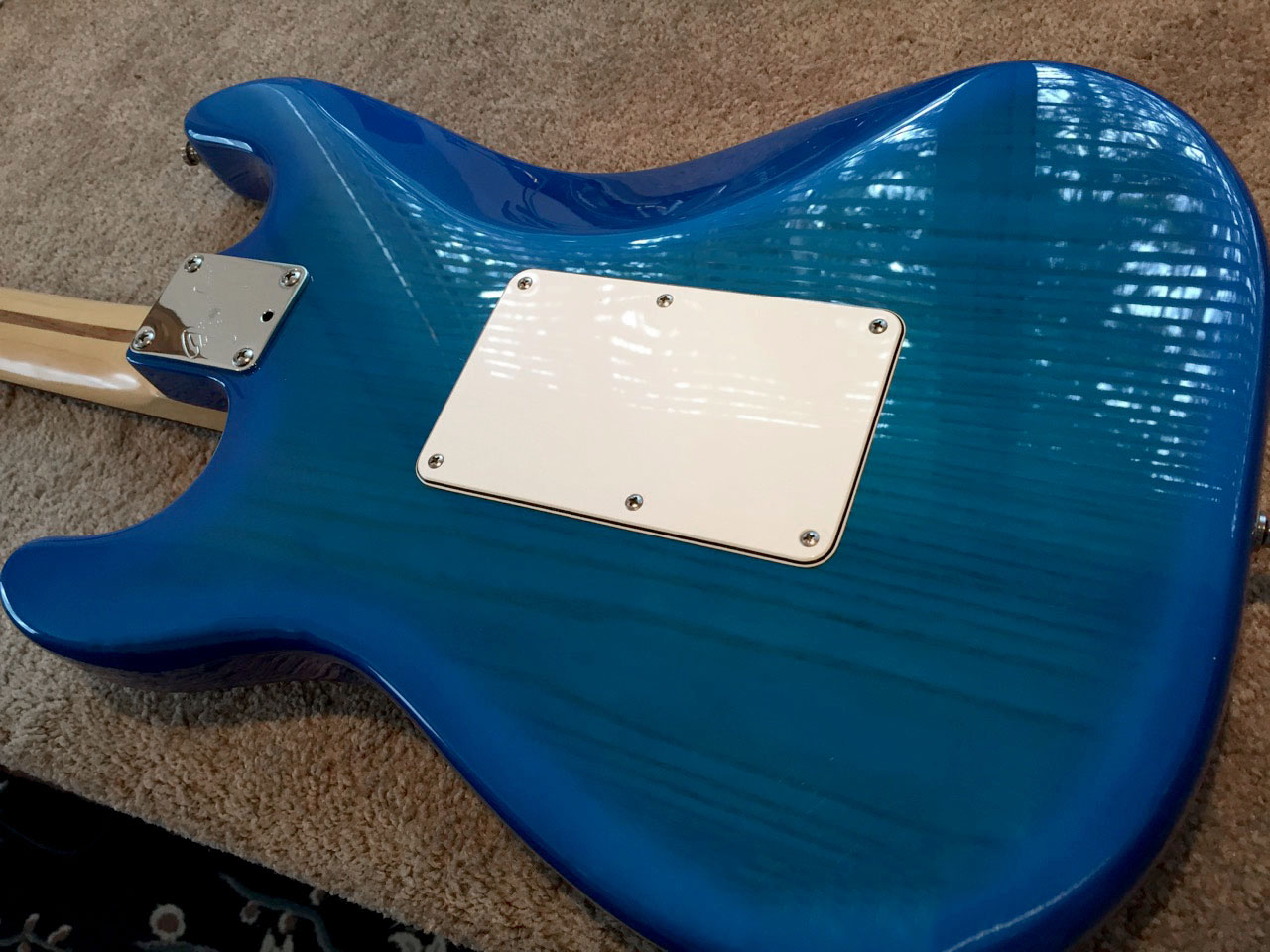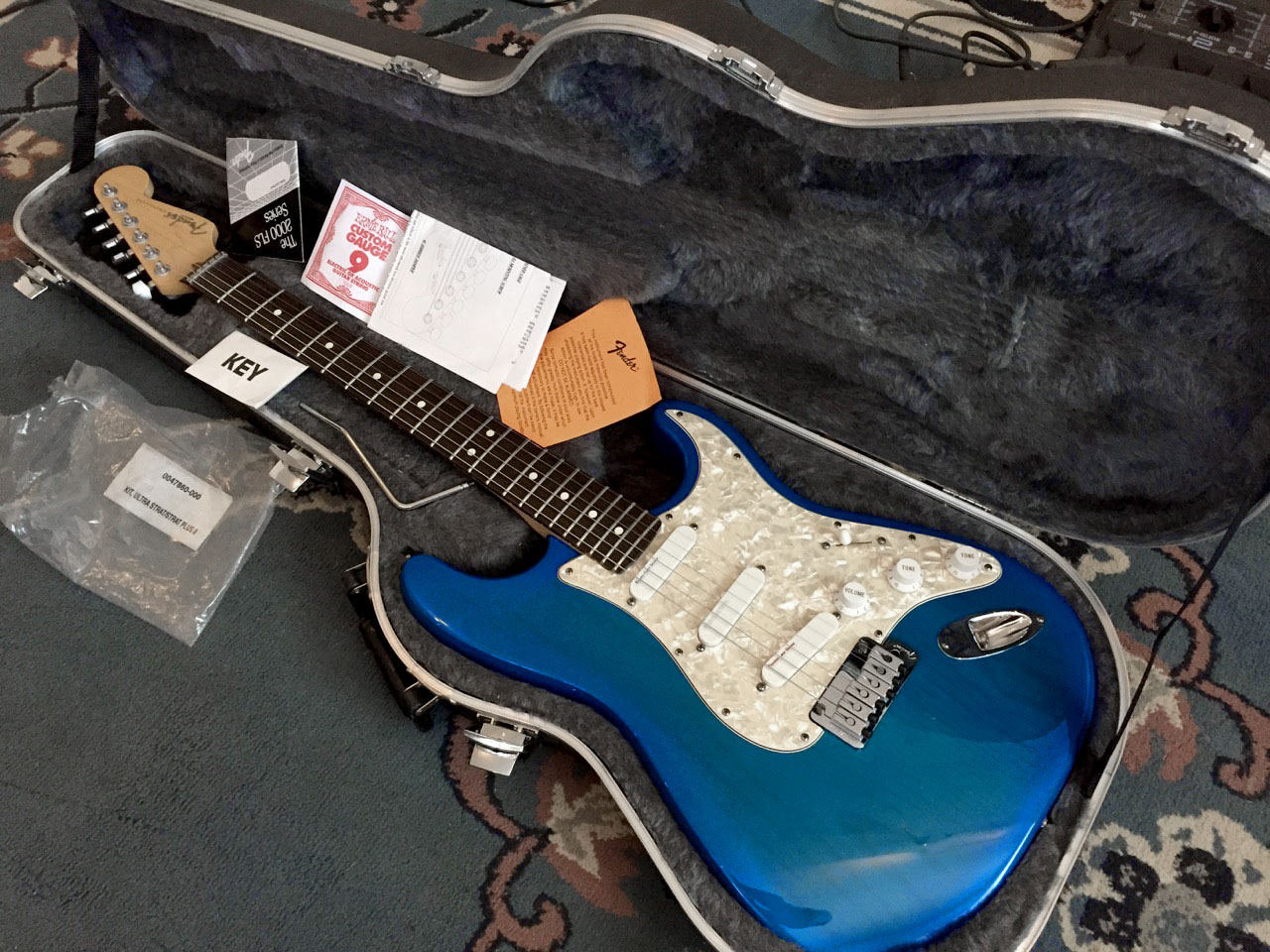 1996 FENDER BLUE BURST STRATOCATER PLUS DELUXE: Condition: NEAR MINT+.This Strat Plus Deluxe, which an anniversary model (has sticker on the back of the head stock) comes with all the finest features of the DX Plus models, such as a transparent Blue Burst on Ash with a Floyd Rose II bridge. Has the Blue, Silver, red Lace Sensor pickups with a dark Rosewood fretboard. The body is a beautiful transparent Blue Burst with nice Ash grain showing through top and bottom. It is is mint. I can't find a mark or ding anywhere. Comes with a deluxe Strat Plus Case case that looks like new. All the big chrome latches working perfectly. A lot of the original case candy, case keys, and them bar. PRICE: $1300 (SOLD)
_________________________________________________________________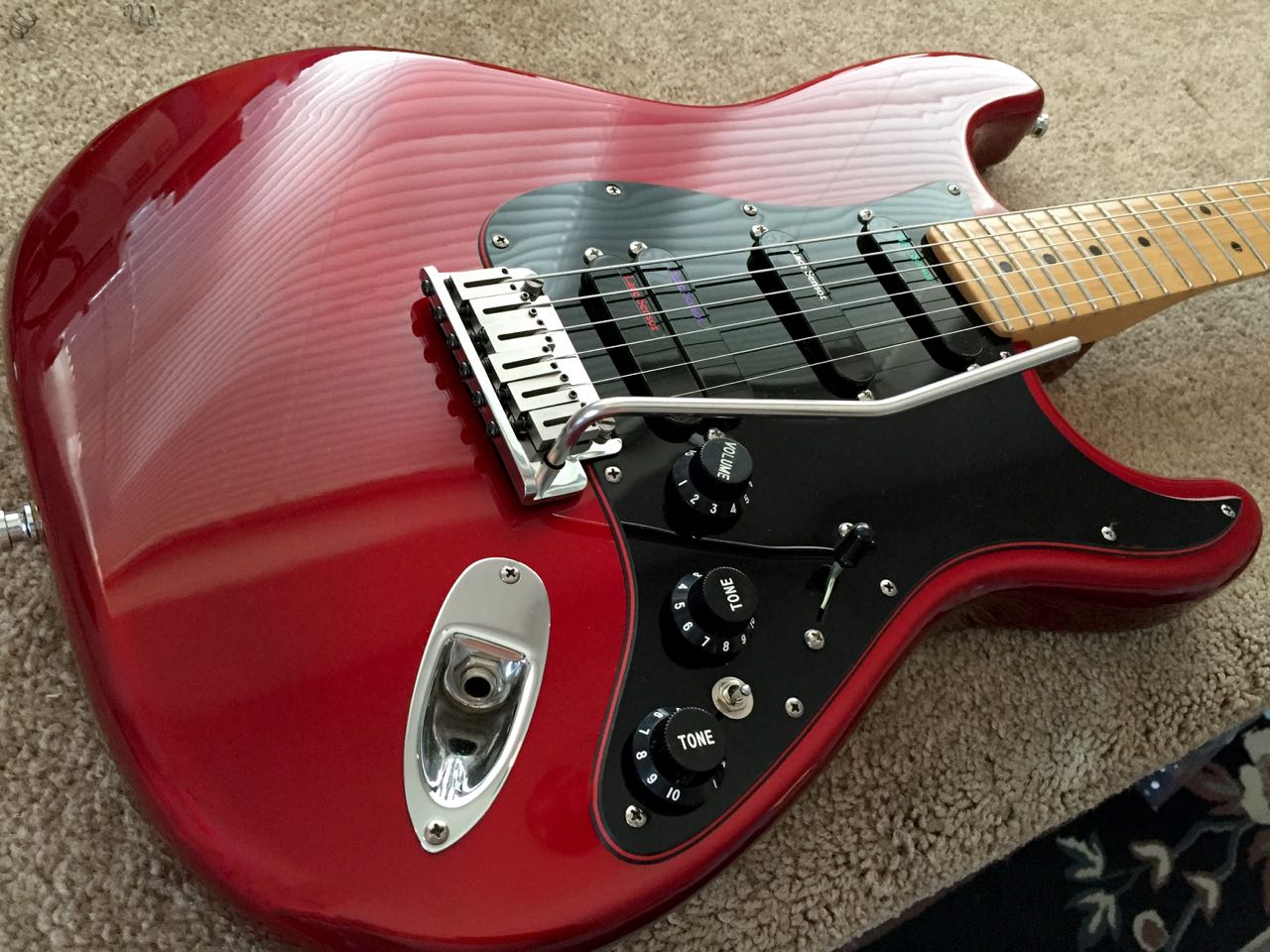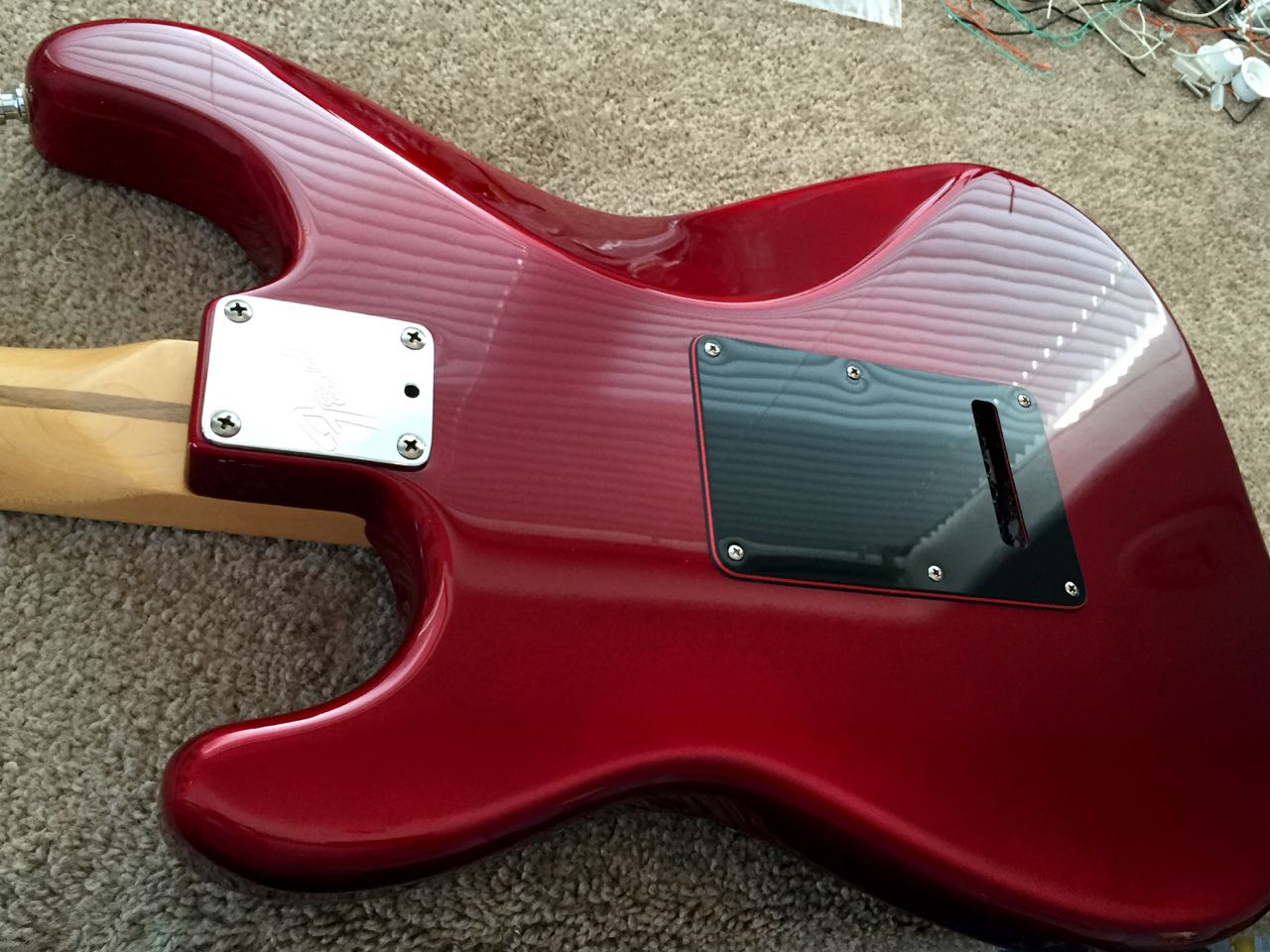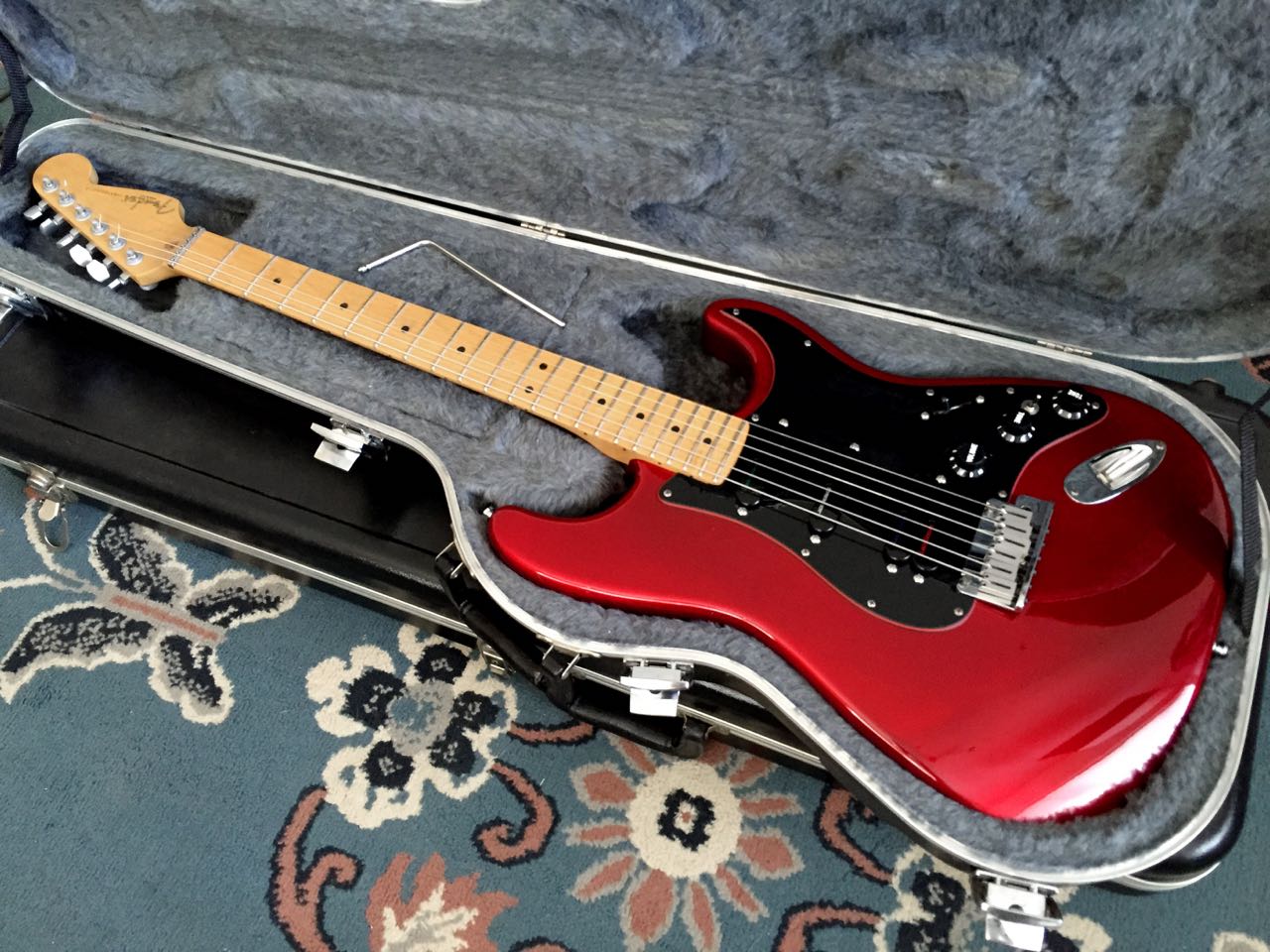 1997 CANDY APPLE RED STRATOCASTER PLUS DELUXE ULTRA CUSTOM: Condition: EXCELLENT. This guitar was a Strat Plus Deluxe that I upgraded with a custom wired Ultra style pickguard in Black/Red/Black. The Candy Apple Red finish is a bit different than other ones I have owned as the red is a tad darker and shows a lot of cool looking candy shadows that shift color as the light hits it. This is loaded with Emerald Sensor in the neck, Silver LaceSensor in the middle, and a Purple/Red Dually in the bridge. All my Ultra Customs have a Fender 5-way Super switch which in position #3 gives you neck + bridge pickups in stead of just the middle pickup. Comes with a nice Fender Strat Plus Deluxe hard-shell case that is in good condition. PRICE: $1600 (SOLD)
___________________________________________________________________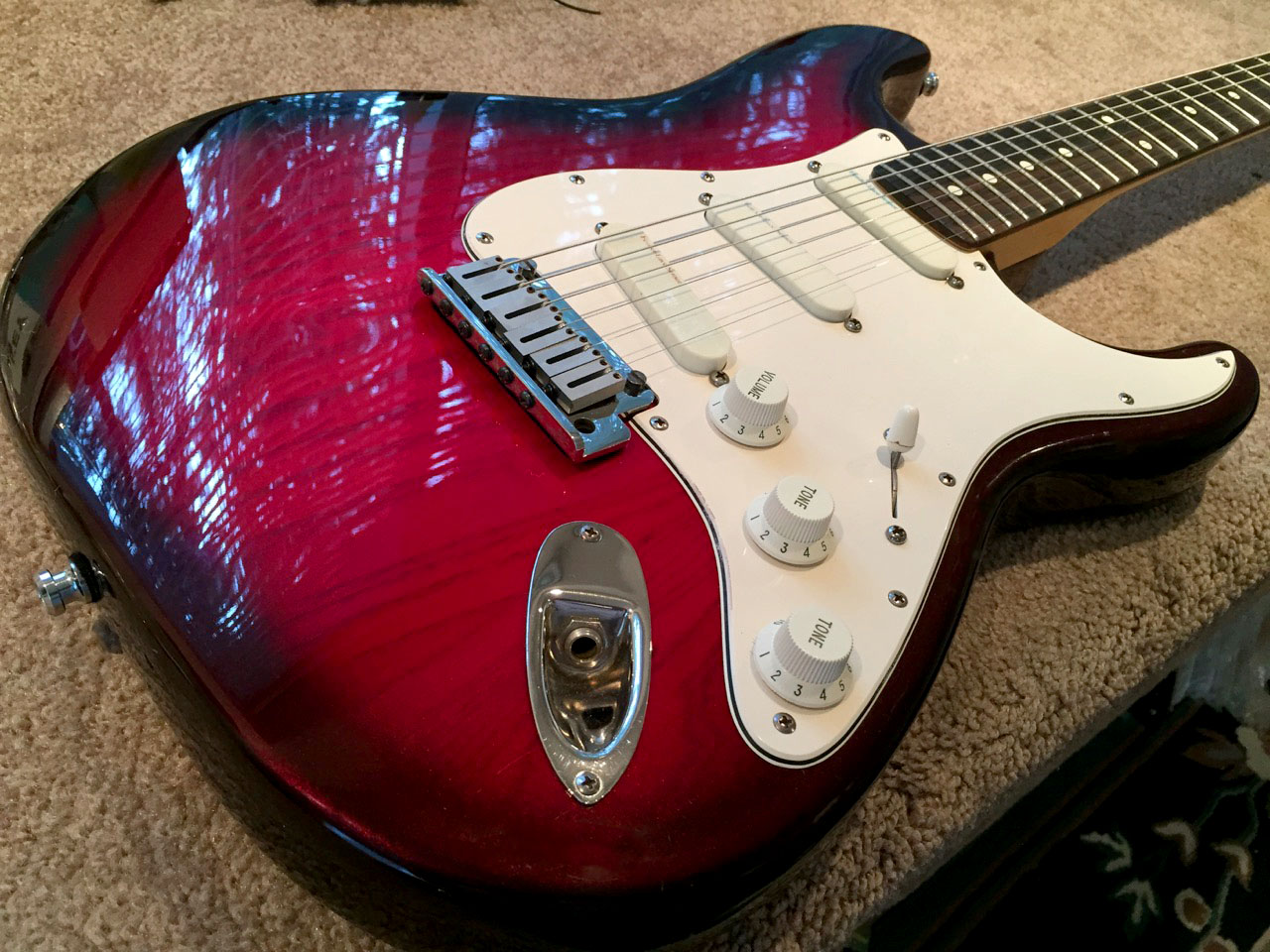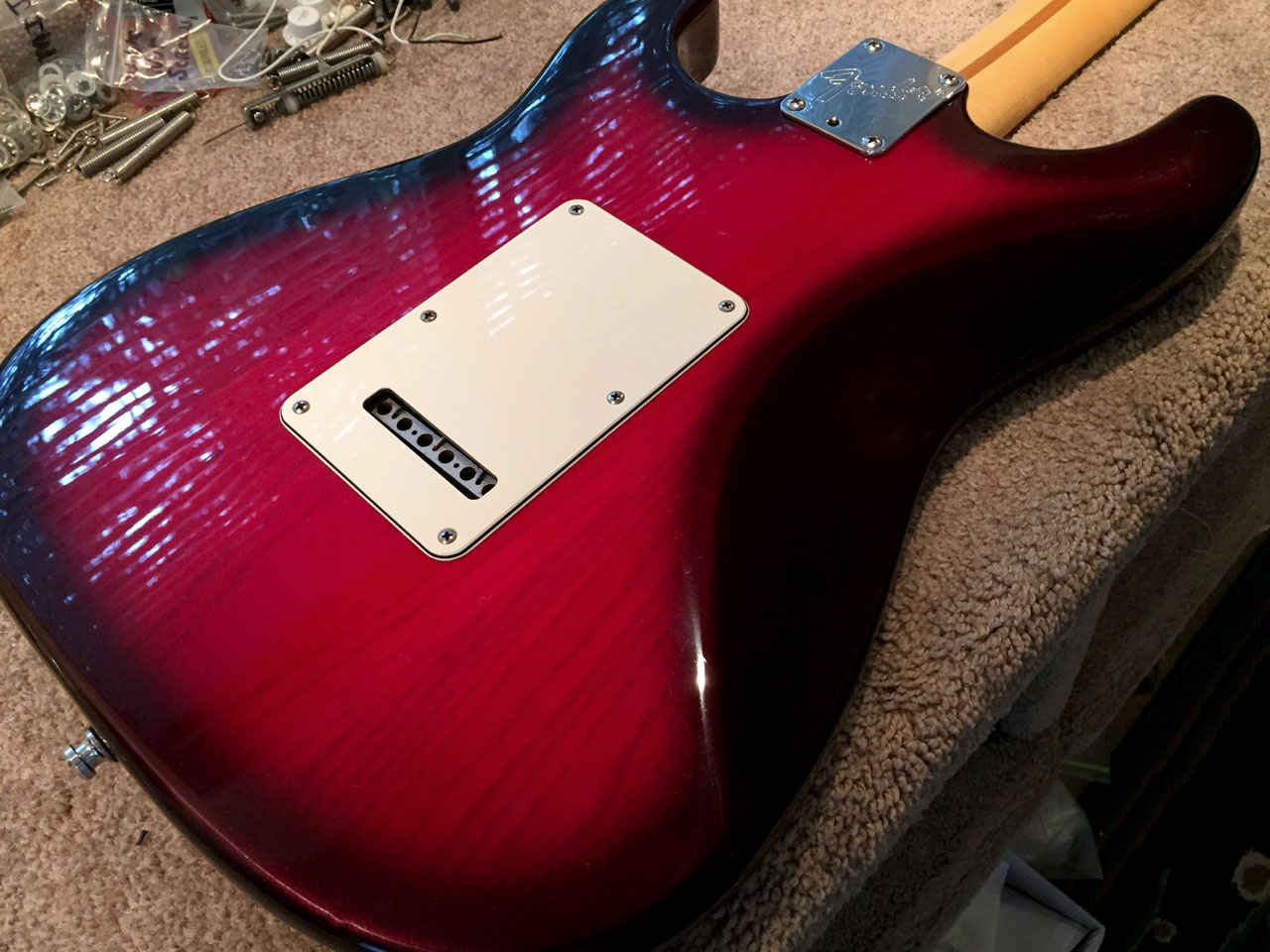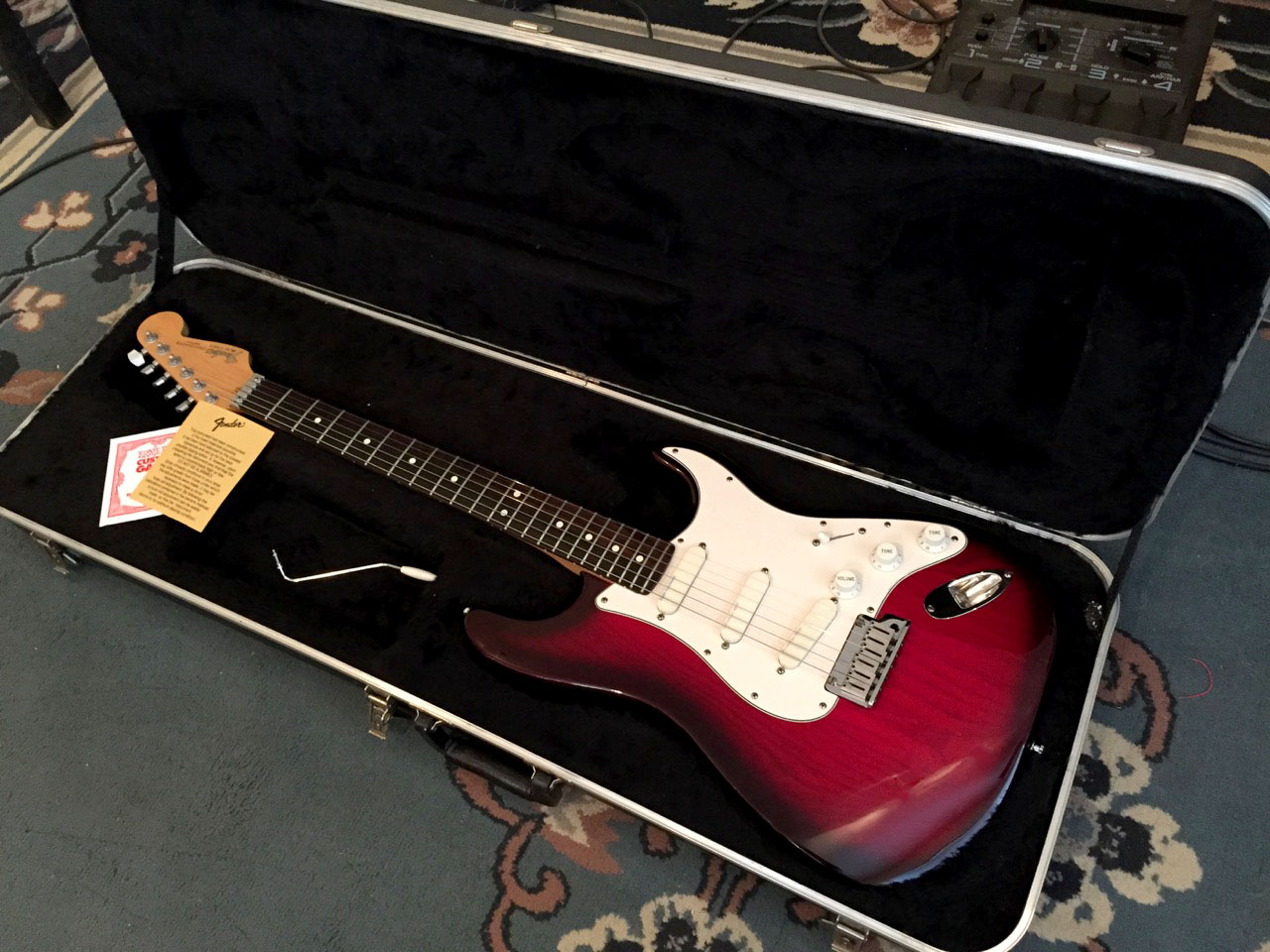 1991 FENDER CRIMSON FROST STRATOCATER PLUS DELUXE: Condition: NEAR MINT. Here is a very hard to find color, made available only from 1990 - early 1992. The edges are a dark Crimson metallic which is covered by a transparent light Crimson finish over Ash. Gorgeous guitar in near mint condition. It is a very early Version II Deluxe with has the Blue, Silver, and Red Laces Sensors. Comes with a original rectangular deluxe Strat case in good condition. Also comes with the trem bar. PRICE: $1475 (SOLD)
___________________________________________________________________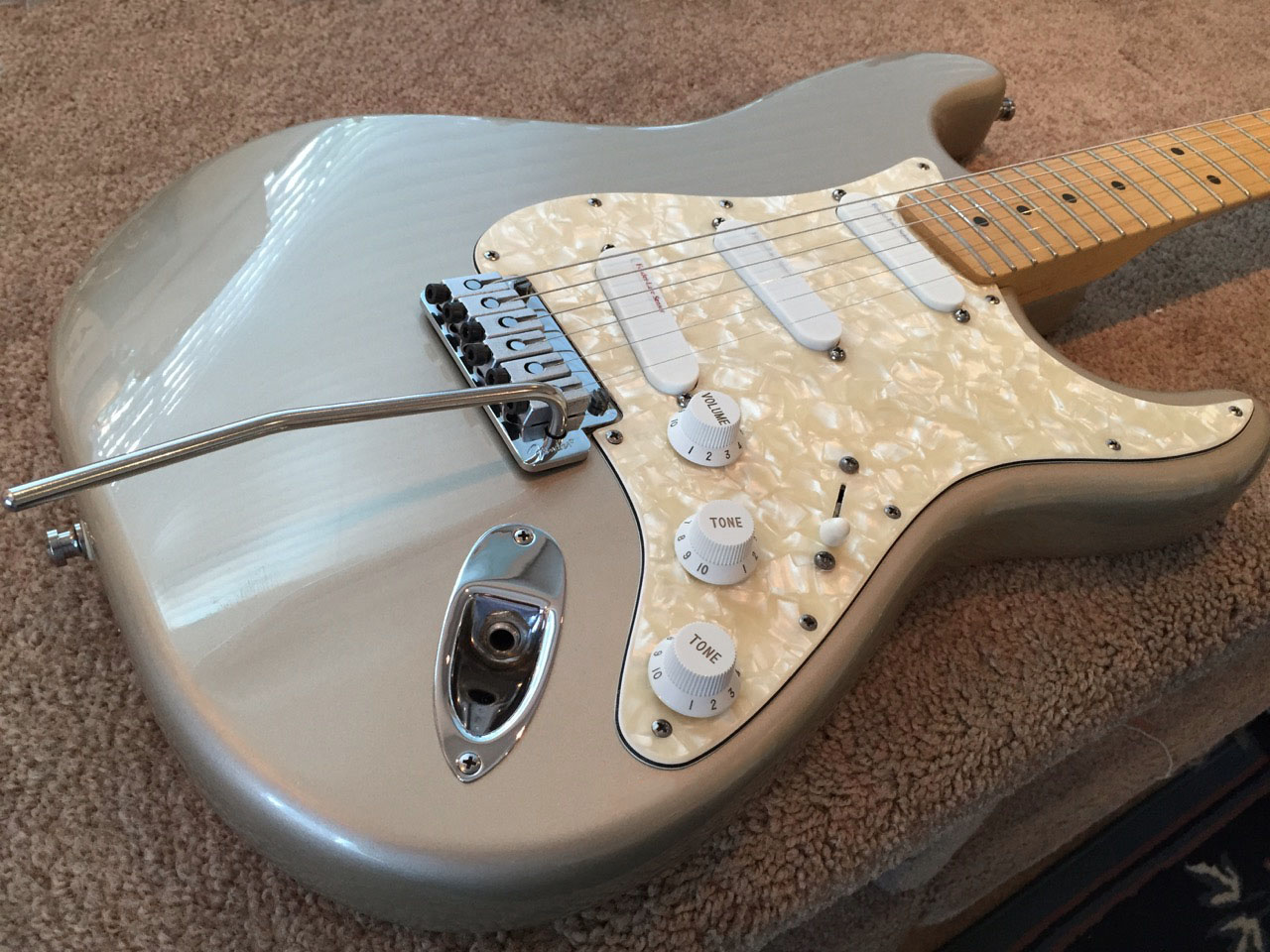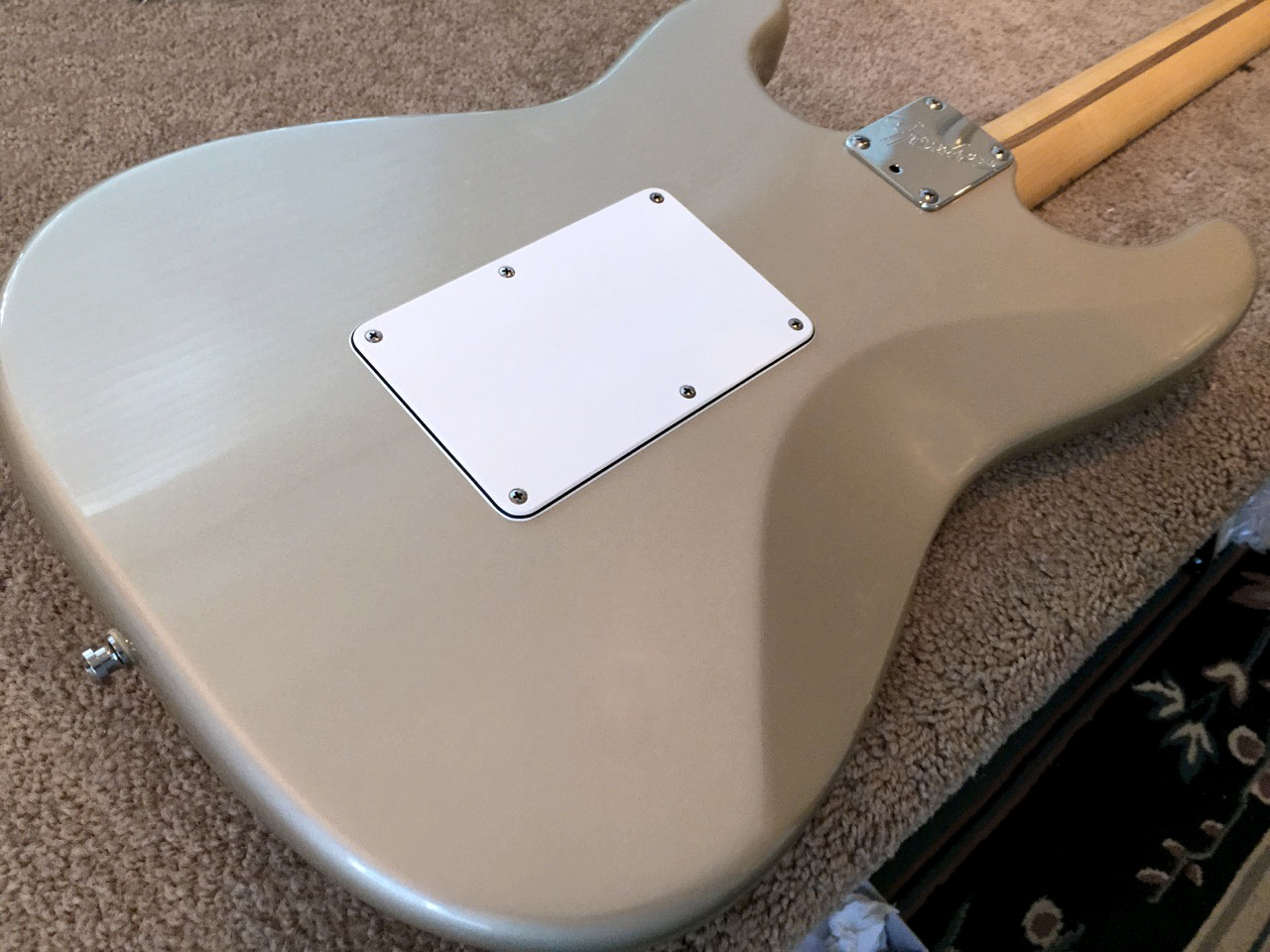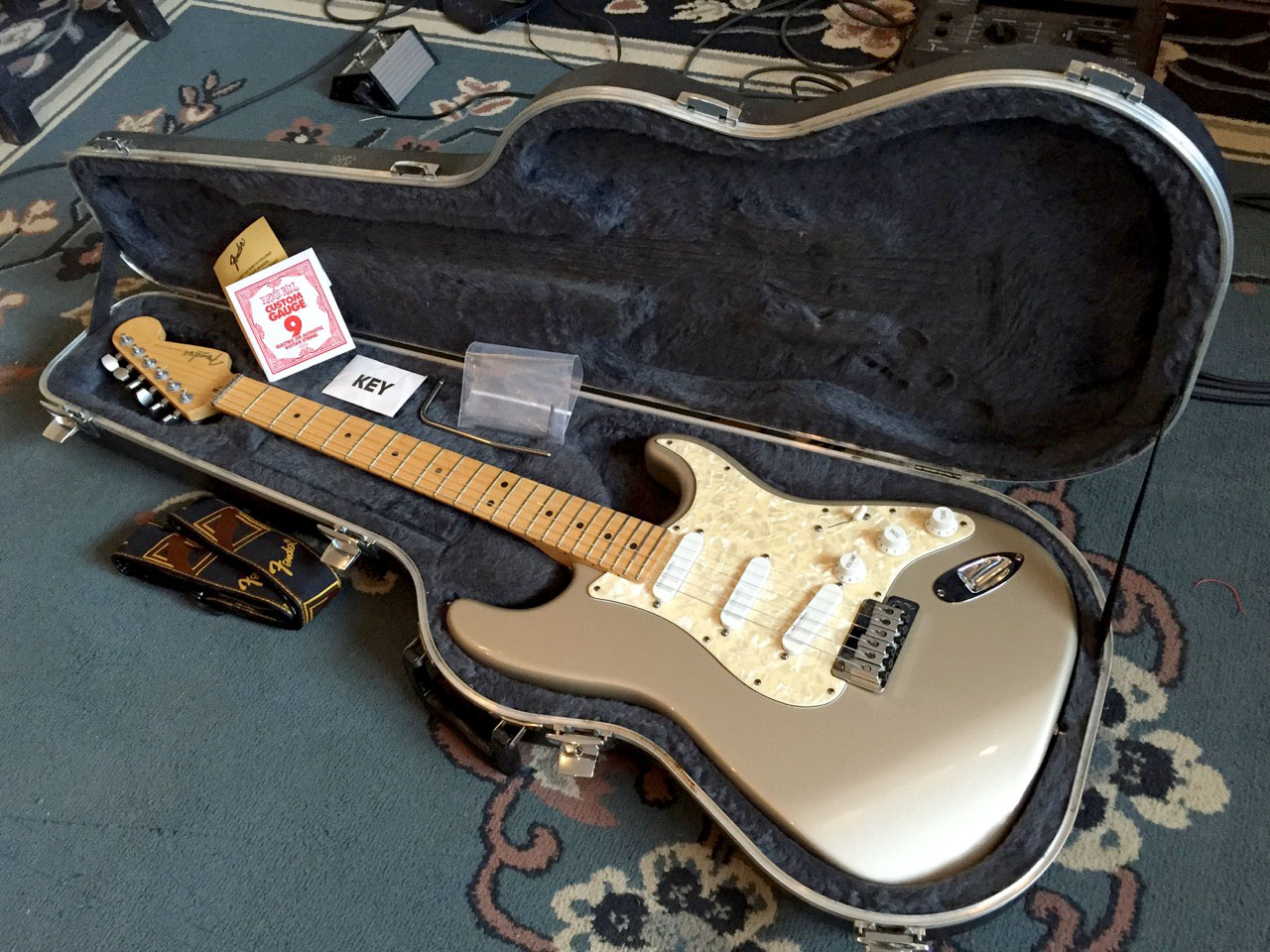 1997 FENDER SHORELINE GOLD STRATOCATER DELUXE: Condition: MINT. This is a stunning guitar in mint condition. It comes with all the standard Strat Plus Deluxe appointments, such as Blue/Silver/Red Lace Sensors and a Floyd Rose II locking bridge. I verified the color with Fender, as Shoreline Gold was only made for one year - 1997 - from what I understand, and finding one it really tough. Some people get an Inca Silver that has a aged (yellowed) clear coat and mistake it for this color. This guitar has mojo. Comes with a Deluxe Fender Strat Plus form fitting case that is like new. Has case key, Trem Bar and original Fender strap. PRICE: $1375 (SOLD)
_________________________________________________________________
1989 ICE BLUE STRAT PLUS. Condition: NEAR MINT. Maple fretboard. This guitar is in near mint condition and it is totally stock with Gold Lace Sensor pickups. No cracks, scratches, dings on the body. This color is very rare, right up there with Dusty Rose, Graffiti Yellow, Bahama Green, Electric Blue, etc. and will continue to go up in value. I have only had 2 of these since I have been collecting. The color was made only in 1988 into early 1990. Comes with an original 1989 Fender Rectangular DX flight case. PRICE: $1600 (SOLD)
___________________________________________________________________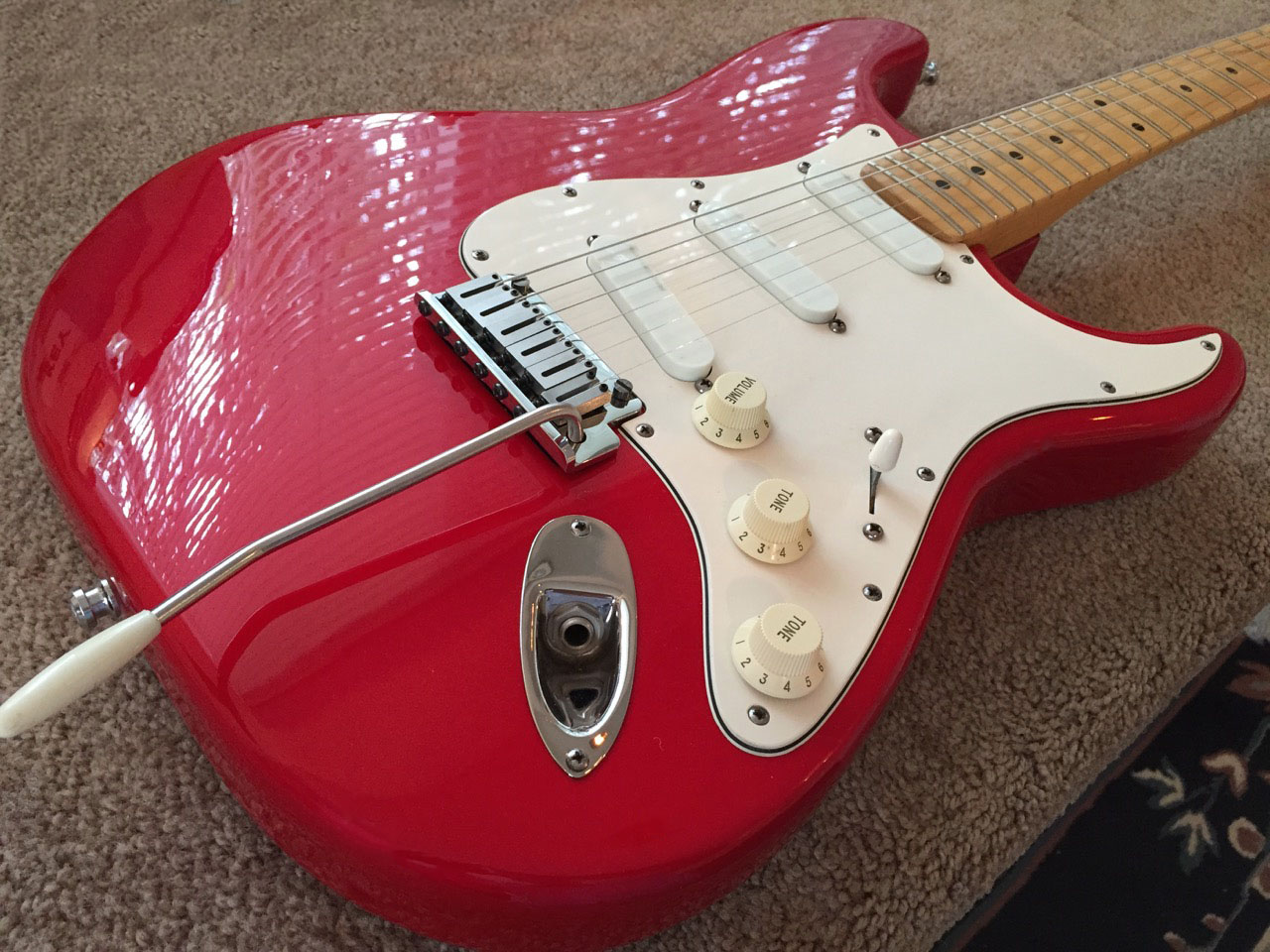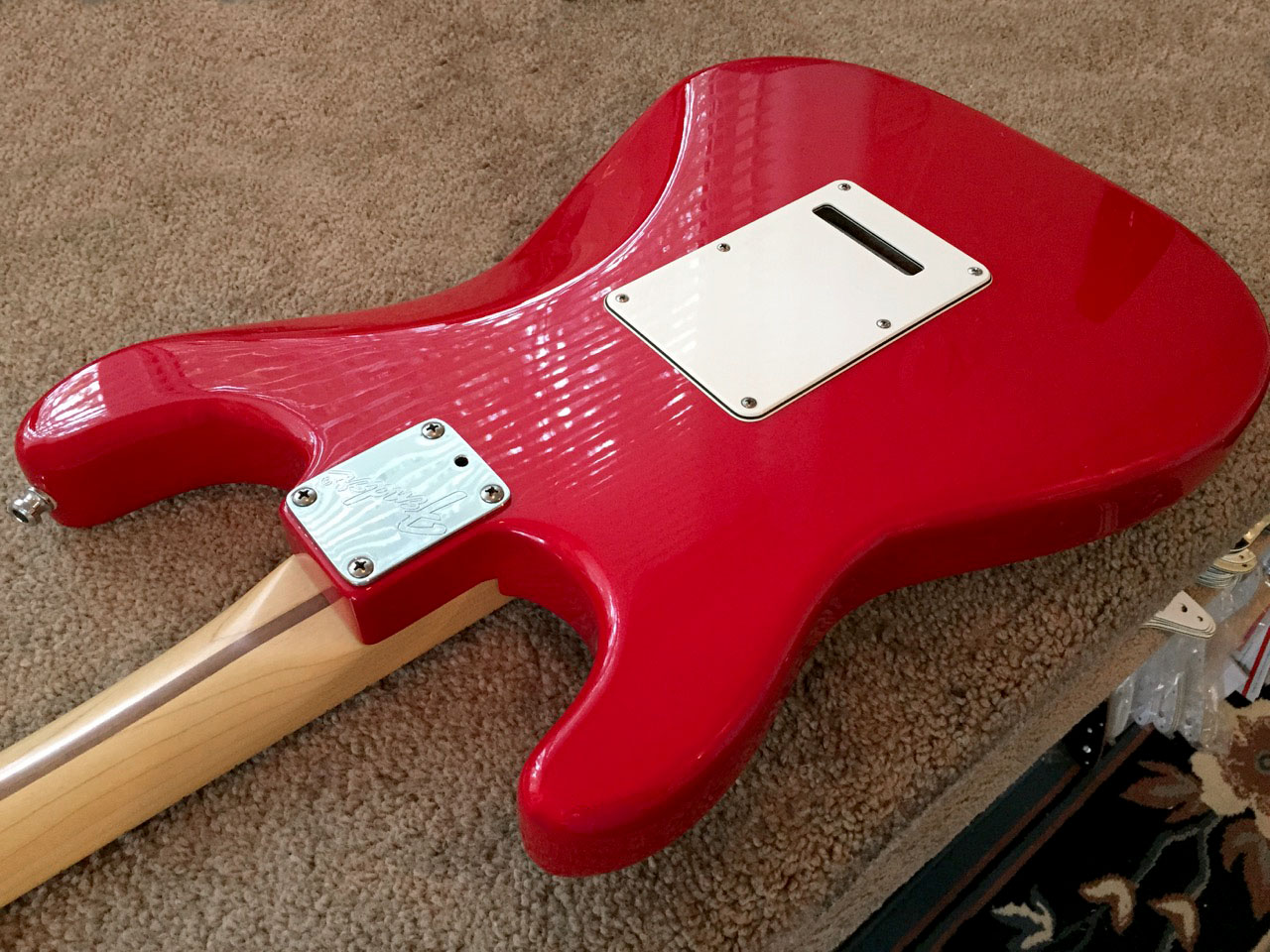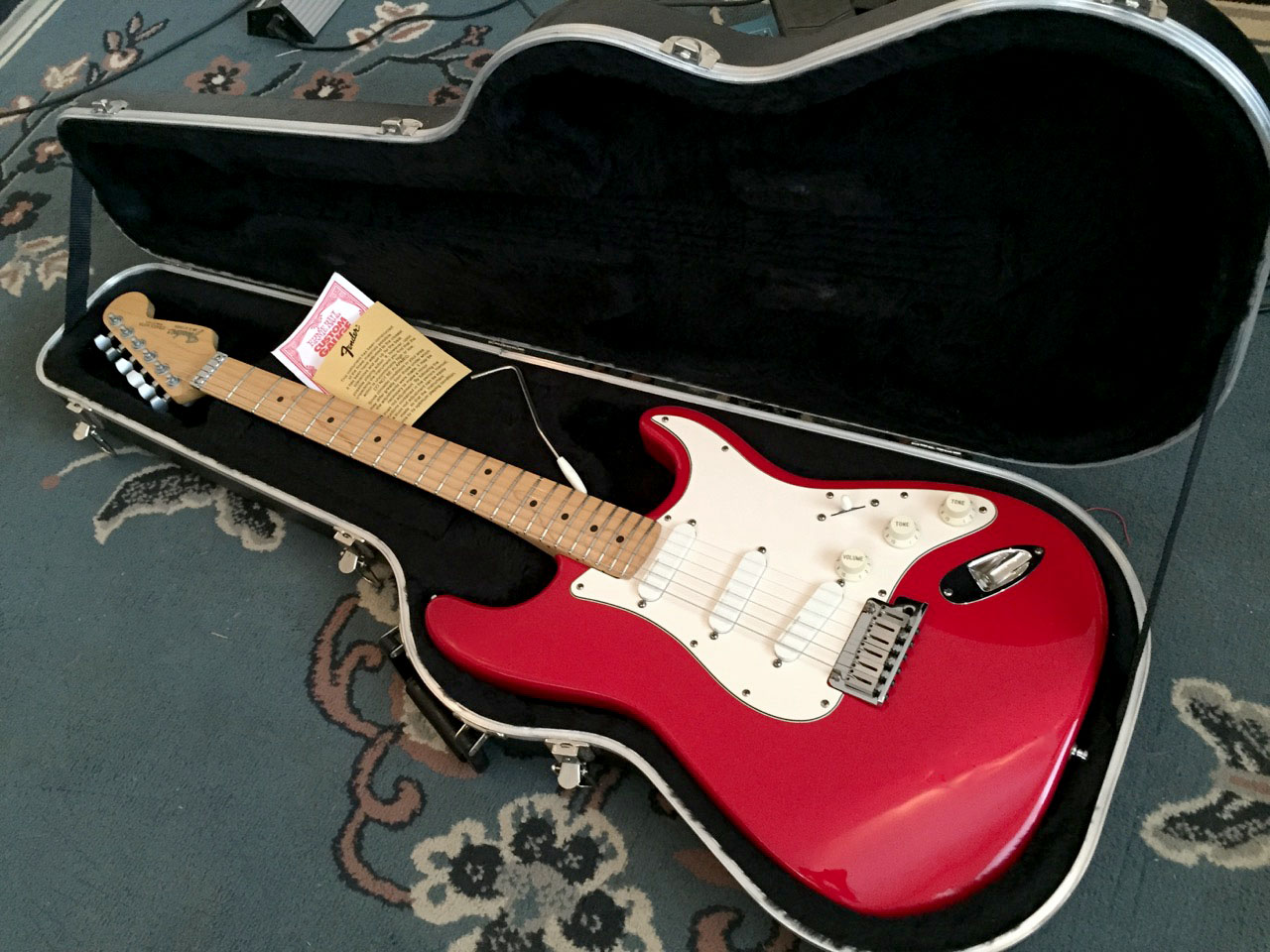 1989 FENDER FROST RED STRATOCATER PLUS: Condition: NEAR MINT+. Here is another very hard to find color, Frost Red, made available only for two short years — 1989 & 1990. This candy color is a super bright Candy Apple Red. The spotless pickgaurd has aged to a nice creamy white which stands against this pearl looking red a very nice way. I talk about this color on my Strat Plus page of my website. This is a stunning guitar is in near mint condition, with even the gold lettering on the pickups being in good condition. It comes with all the standard Strat Plus appointments, such as Gold Lace Sensors, Wilkerson roller nut and Schaller locking tuners. Comes with a Fender Red Label form fitting case that is like new. PRICE: $1500 (SOLD)
___________________________________________________________________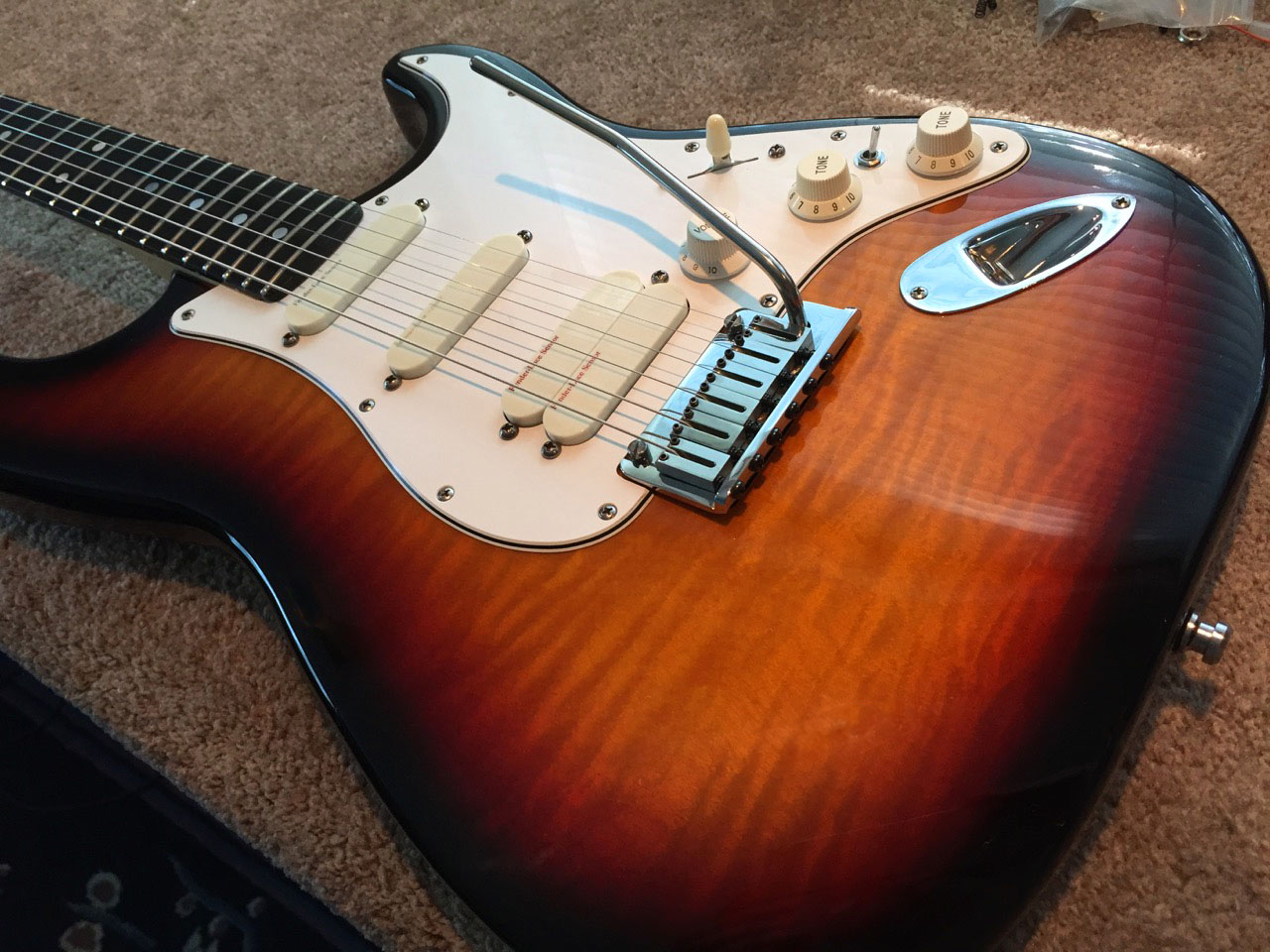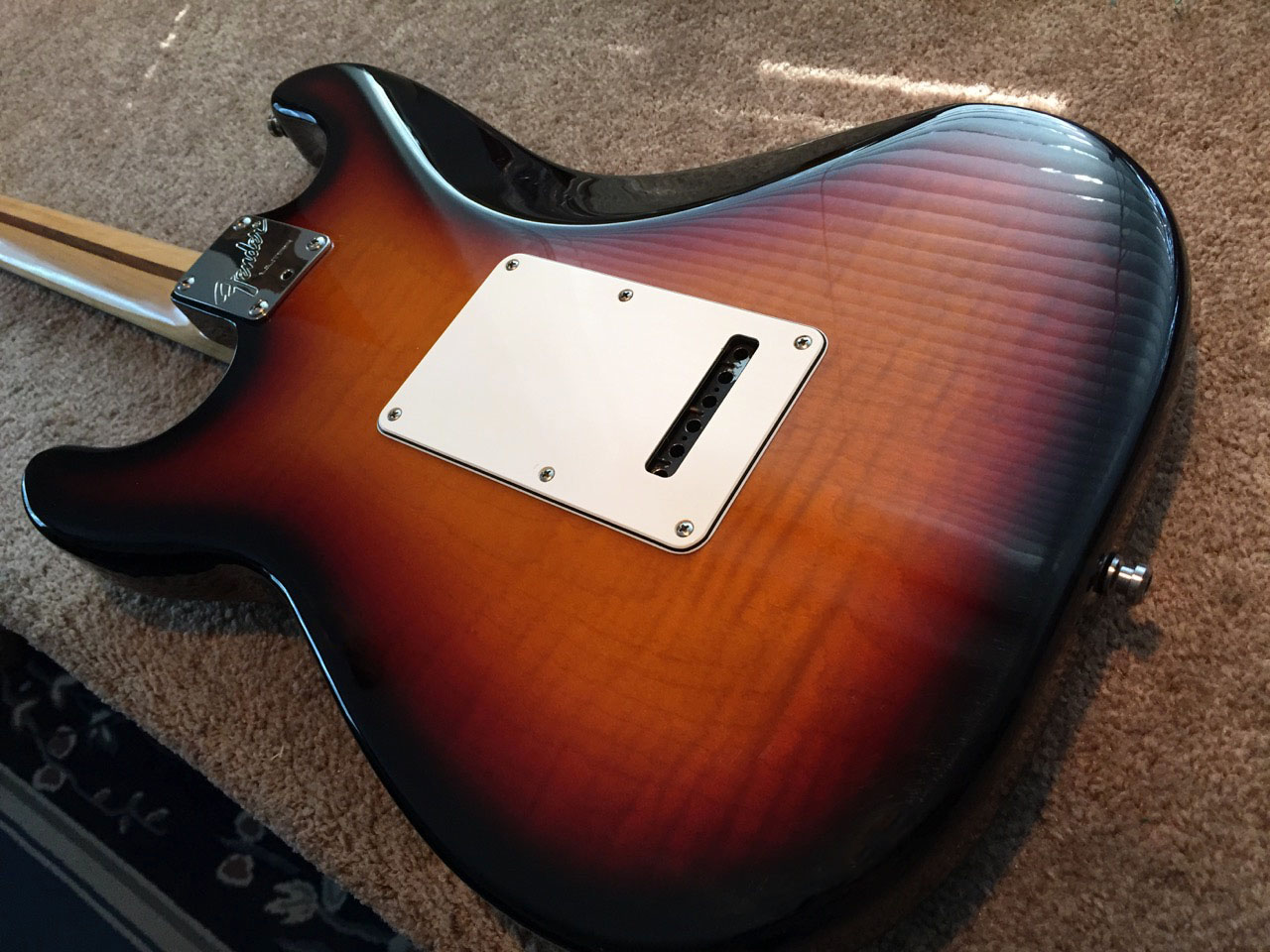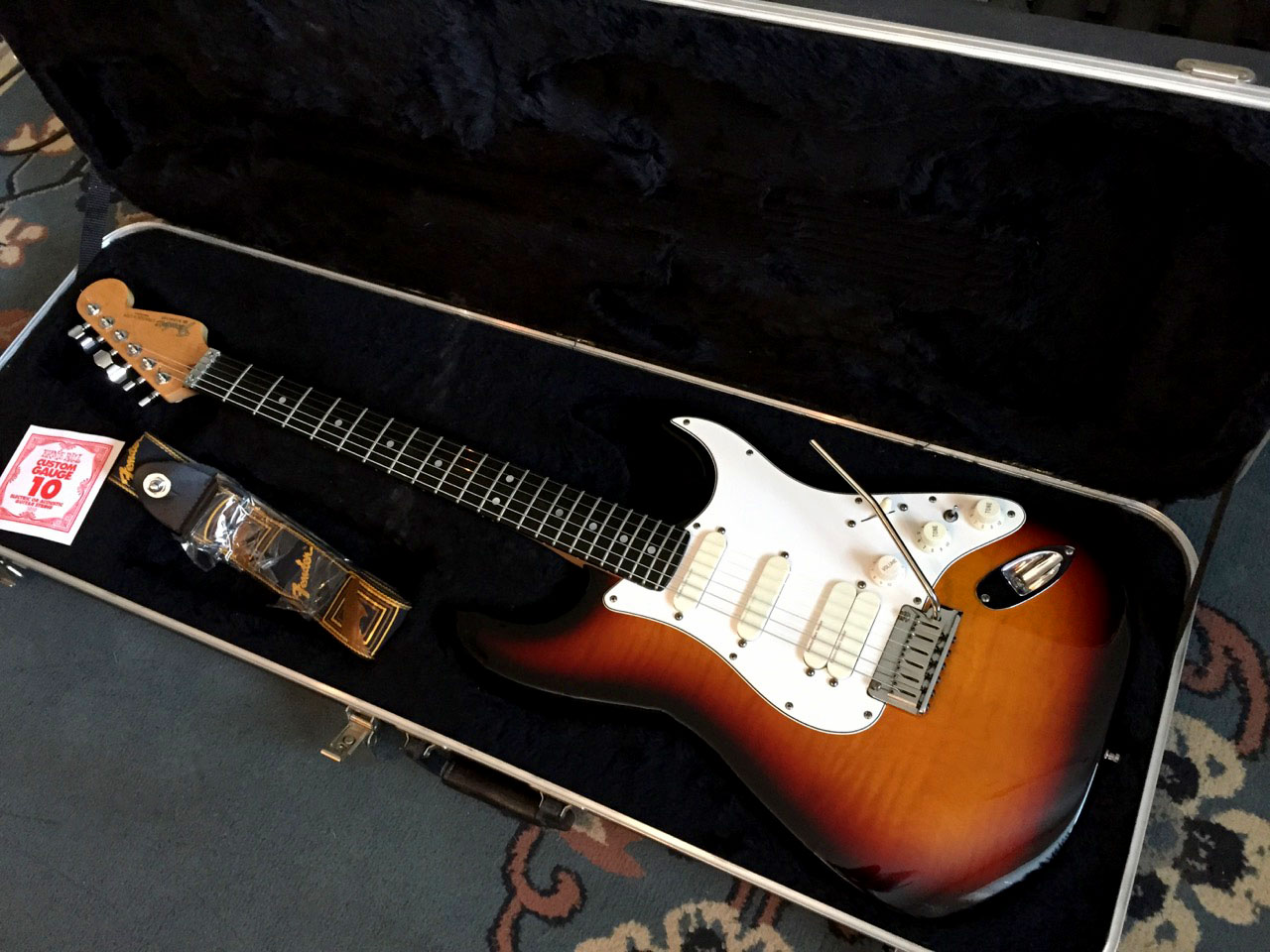 1991 ANTIQUE BURST ULTRA. Condition: NEAR MINT. Ebony fretboard with real Abalone inlays. Of course this has all the Ultra appointments, like Chrome everything! Near dead mint, very early Ultra. Since it is an early Ultra (which by the way are getting super hard to find) it has a Gold Lace sensor in the middle position and the hard to find chrome plated Sperzil locking tuners. Check out the wild grain showing on the head-stock and neck. Comes with the original Fender rectangular DX (flight) case with trem bar, strap locks and original strap.PRICE: $1820 (SOLD)
___________________________________________________________________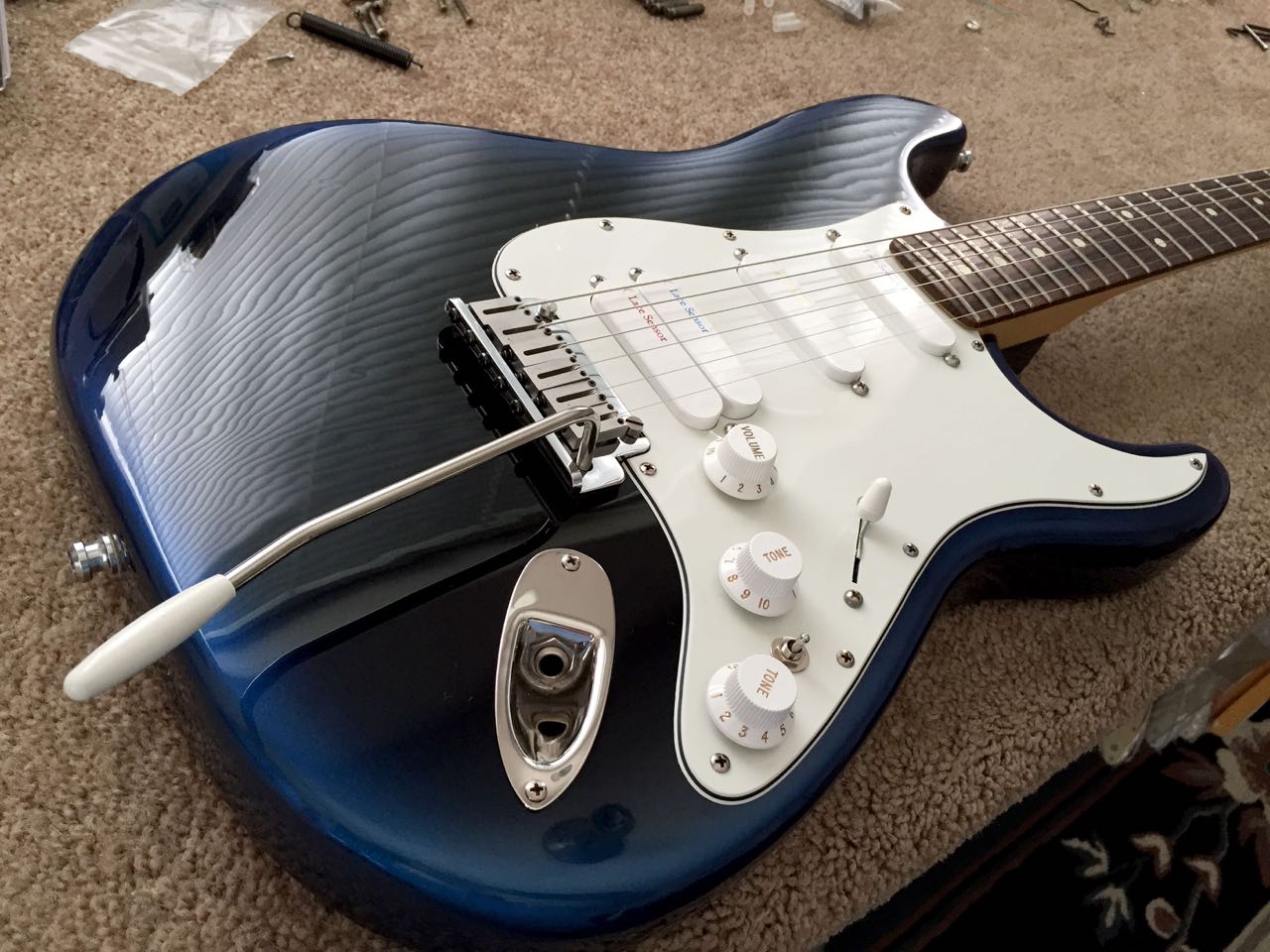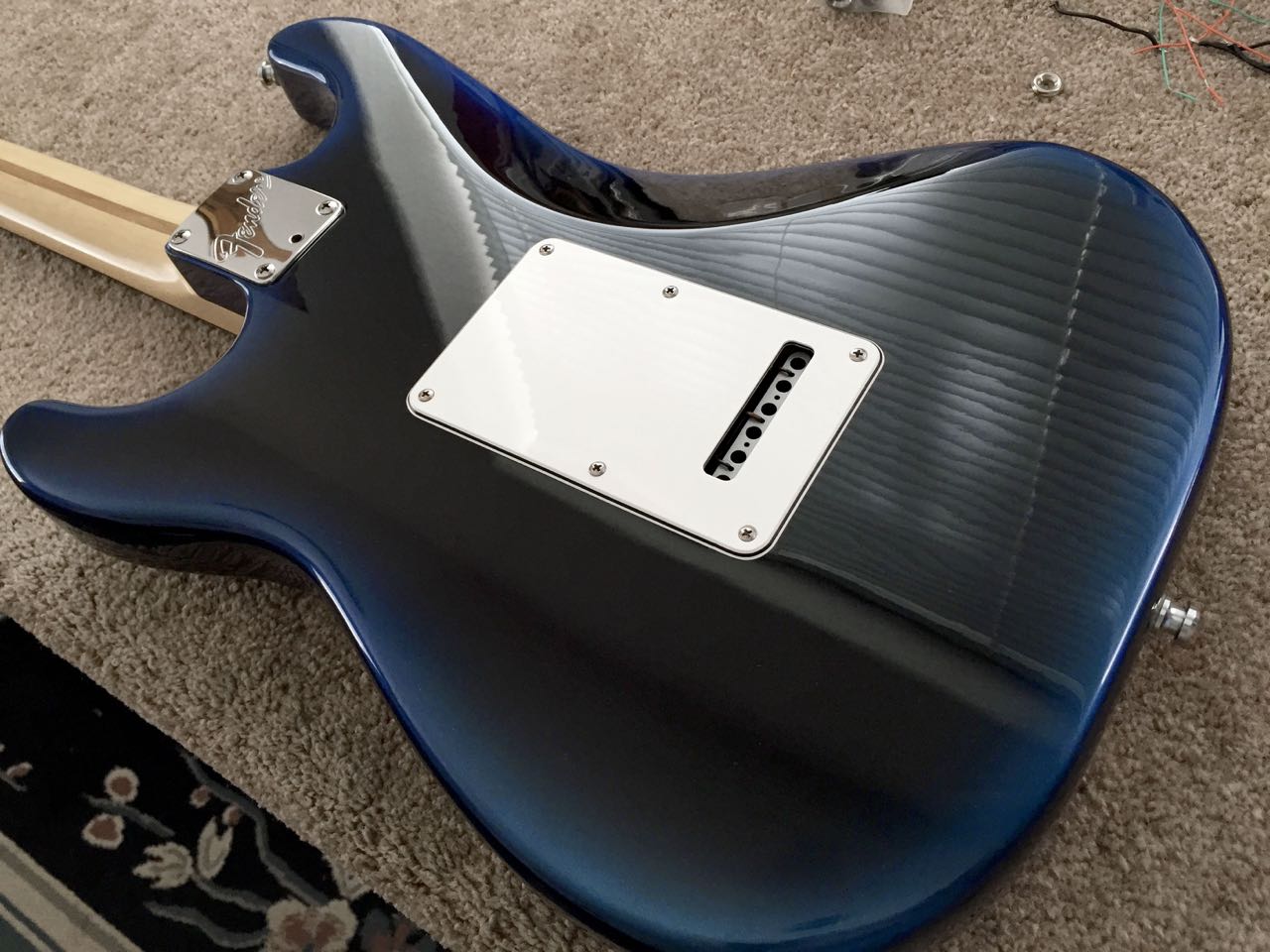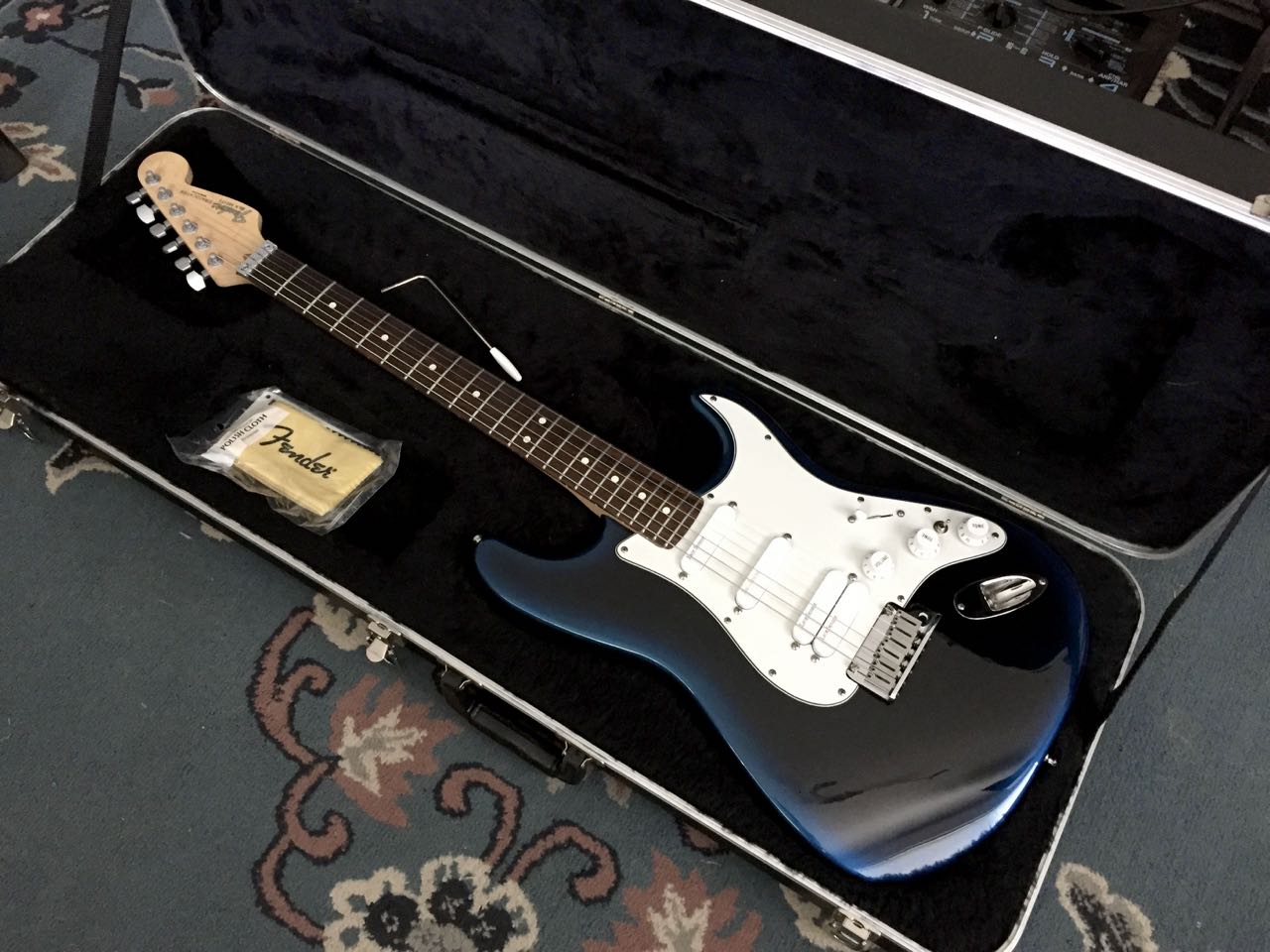 1990 FENDER BLUE PEARL DUST STRATOCASTER PLUS ULTRA CUSTOM: Condition: EXCELLENT+. This is another one of my customized Strat Plus'. The guitar started out as a Strat Plus in Blue Pearl Dust. I replaced all the electronics with BRAND NEW pots, switches, pickups and Ultra pickguard. The neck pickup is a Purple Lace Sensor. The middle pickup is a Gold Lace Sensor. The bridge is a Blue and Red Dually Lace Sensor. The 3-way mini-switch lets you select either or both tother in a series making a fatter, hot humbucker tone. Very versatile guitar. The neck is near perfect and the frets are like new. The dark rosewood looks subtle on this Blue Pearl body. Comes with the era correct Fender type Deluxe case that is in excellent condition and trem bar plus new Fender wipedown cloth. PRICE: $1475 (SOLD)
___________________________________________________________________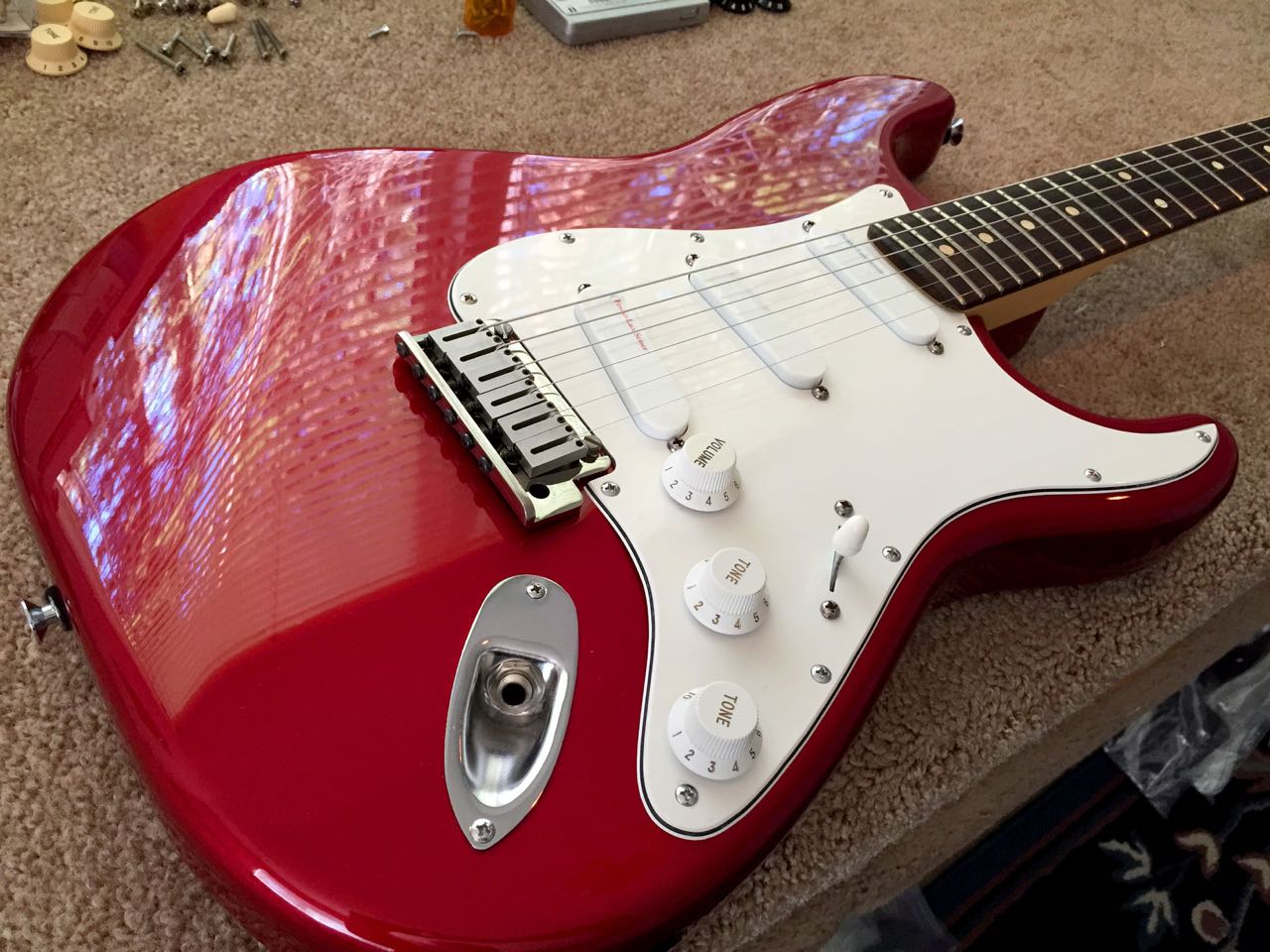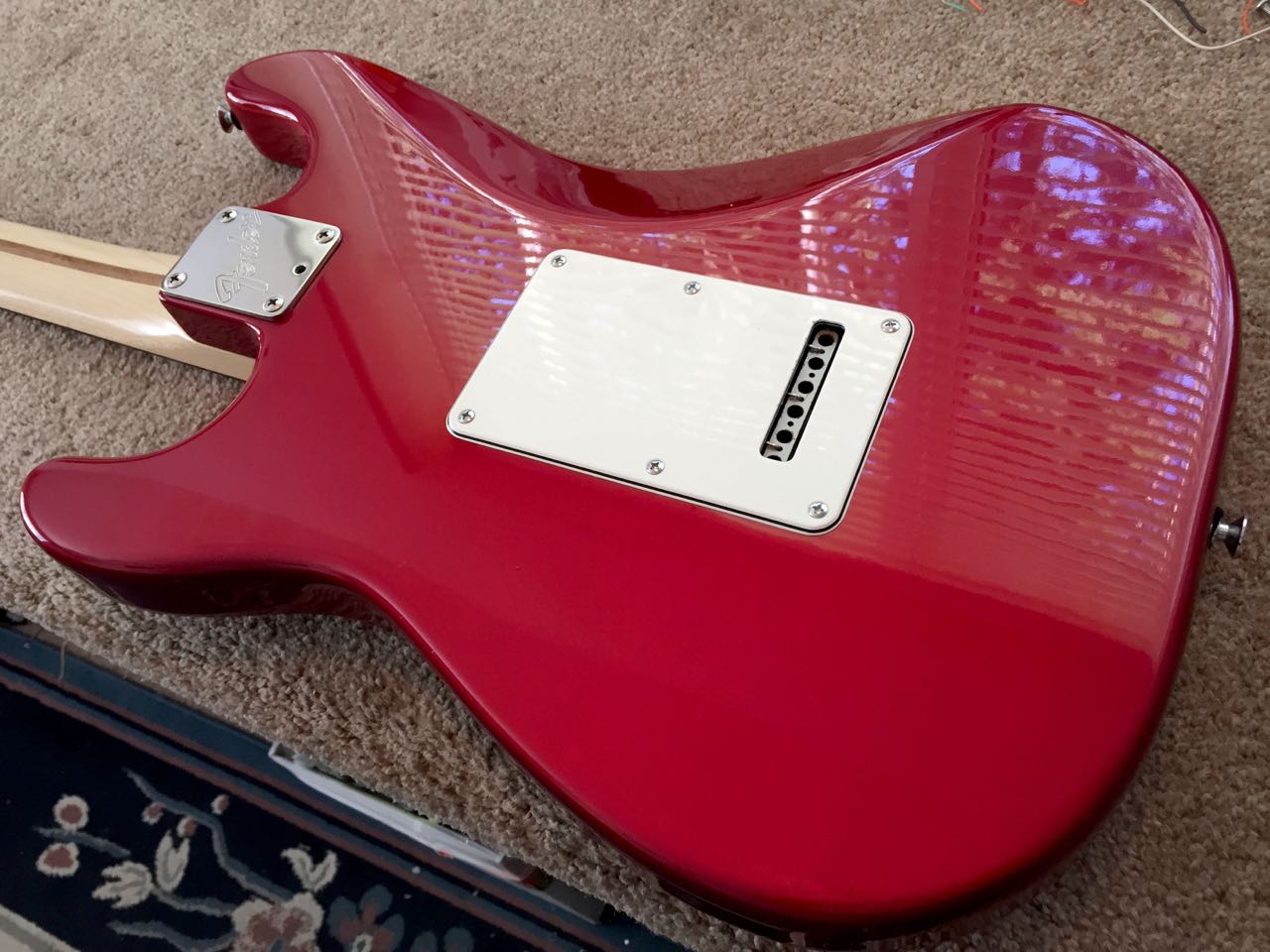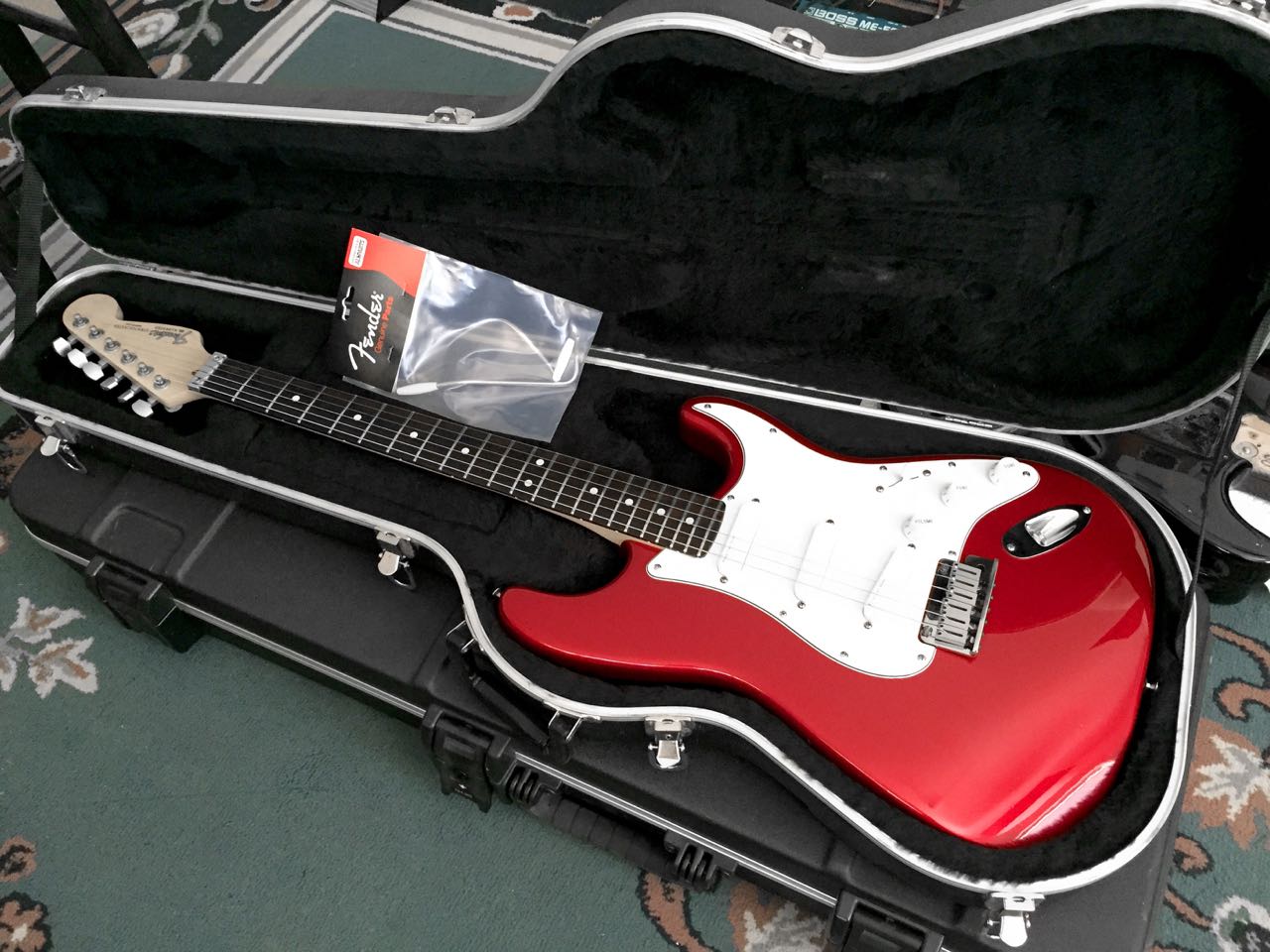 1991 CANDY APPLE RED FENDER STRATOCASTER PLUS DELUXE: Condition: VERY GOOD. Email me for details & more picts! (or right click on the image and select "veiw image" to see the full sized picture!)This is an early version II Strat Plus DX with the Blue, Silver, Red Lace Sensor pickups. This would be near mint but the guitar has three small but noticeable blemishes - email me for details. High gloss CAR finish is one of my favorites. Frets are like new and the rosewood on the fret board is dark colored which contrasts nice against the red finish. Lettering on the pickups is near perfect. Comes with a Fender "Red Label" form-fitting hard shell case with new tremolo bar. PRICE: $1250 (SOLD)
___________________________________________________________________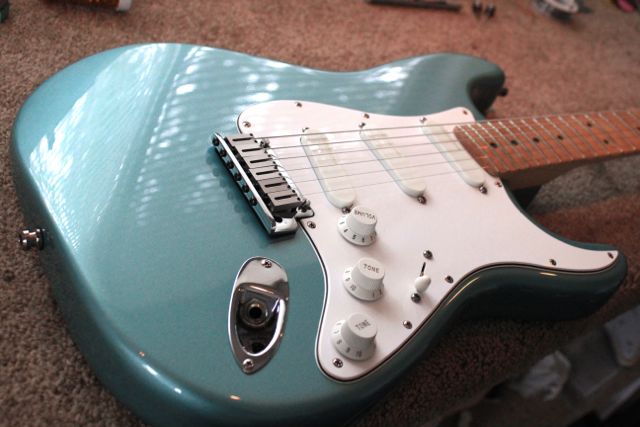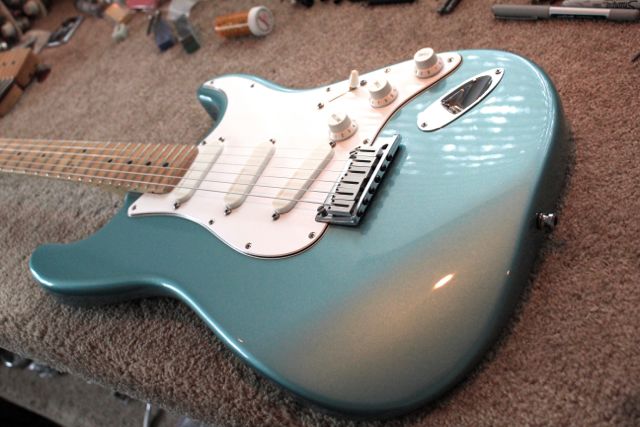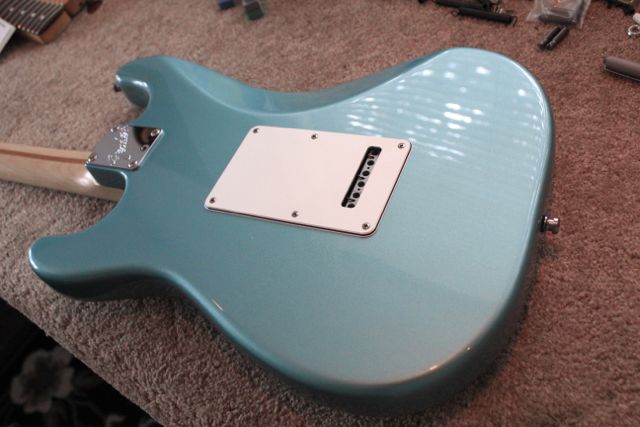 1990 ICE BLUE STRAT PLUS. Condition: EXCELLENT. Maple fretboard (Like a pale Lake Placid Blue), This guitar is in near mint condition and it is totally stock with Gold Lace Sensor pickups. Very sweet guitar and looks like it belongs in the back seat of a 1955 Chevy Belair! This color is very rare and will continue to go up in value. PRICE: $1600 (SOLD)
___________________________________________________________________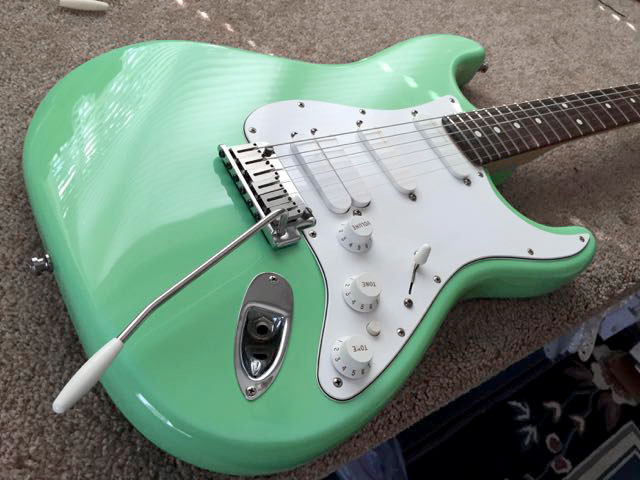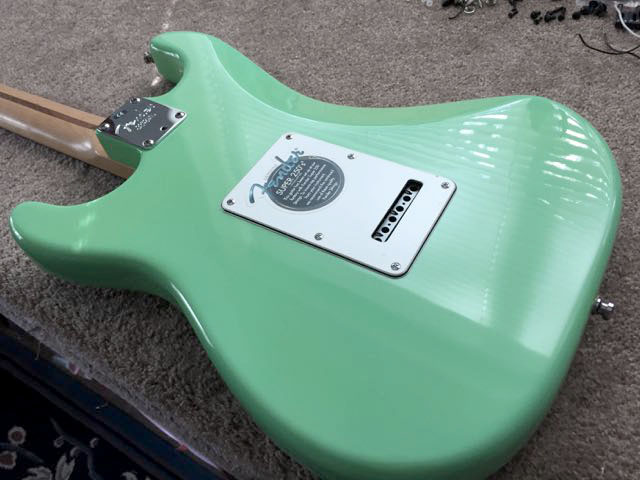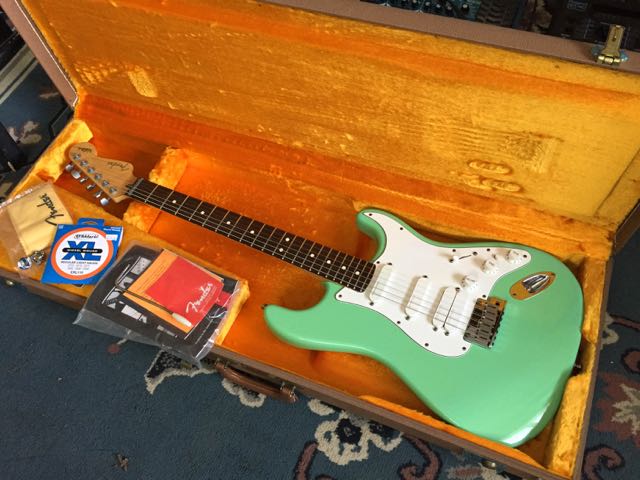 2000 JEFF BECK (Version 1) STRATOCASTER IN SURF GREEN: Condition: MINT. Version 1 with Laces Sensors and FAT neck. Like New Old Stock. I bought this guitar from a doctor who told me his uncle bought it for him as a graduation gift from medical school. Problem was, he never learned how to play! So the guitar was taken from one place to another till he finally settled down with his medical practice. SHas all the case candy, Fender polishing cloth, strap-locks, etc. in the original plastic bag. Look around and you will find these Version 1 Jeff Beck Strats are getting harder to find. Comes with the original Fender Deluxe brown tolex type (vintage type) case that is in very good condition. PRICE: $1800 (SOLD)
___________________________________________________________________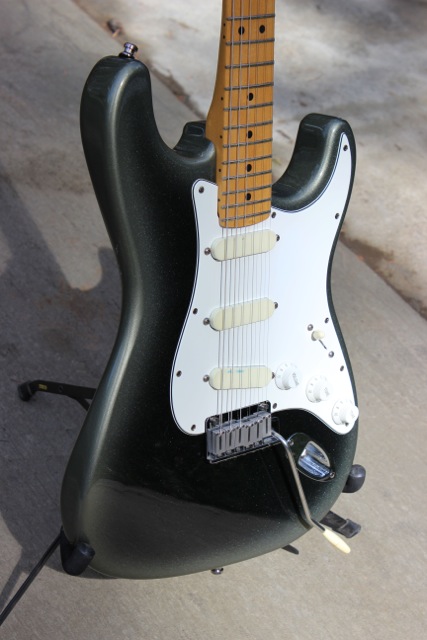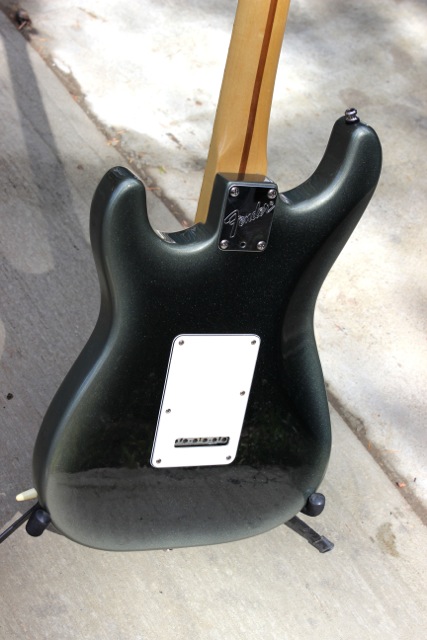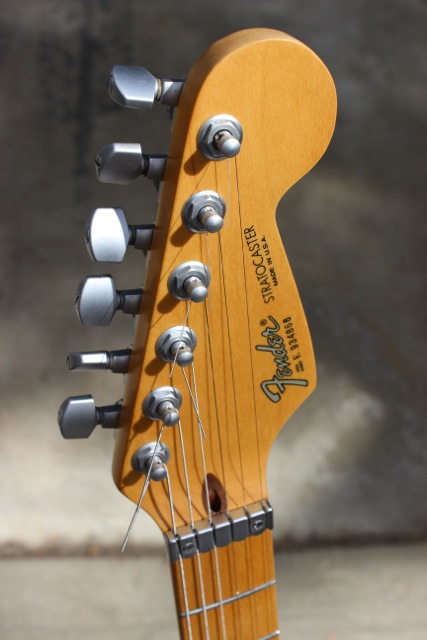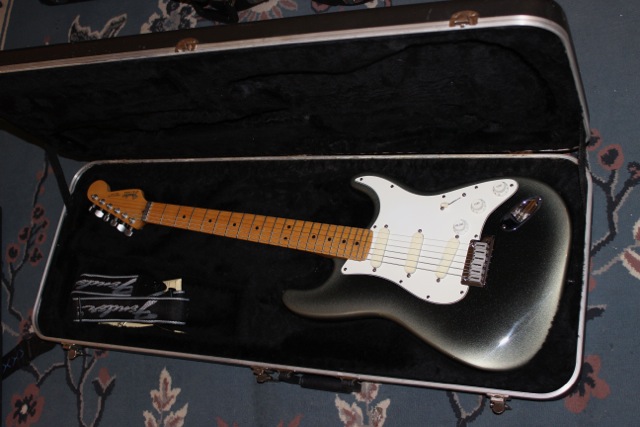 1989 BLACK PEARL DUST STRATOCASTER PLUS: Condition: NEAR MINT. This is a fine example of a 89 Plus which is completely stock and comes equipped with all the standard Plus appointments such as Wilkinson roller nut, Schaller locking tuners, and Gold Lace Sensor pickups. The color is very unique, with a silverish colored flake around the edges of the black body. (See close up pict.) The neck has a cool vintage tint to it, with no neck peeling on the edge of the fret board, as is common on so many older Maple necks. Frets are in excellent condition. Has original case and a black Fender strap. PRICE: $1350 (SOLD)
___________________________________________________________________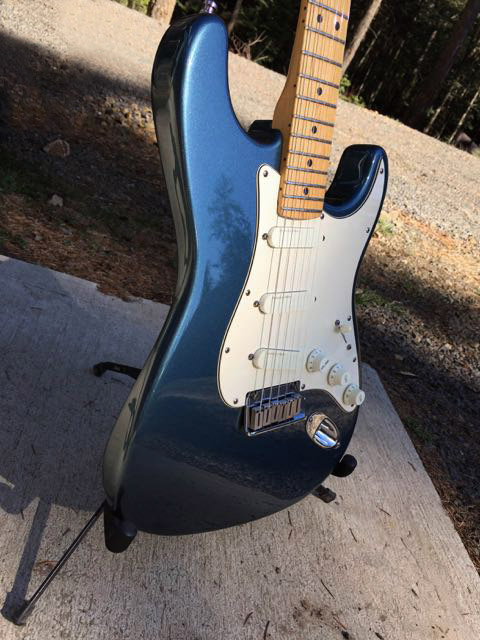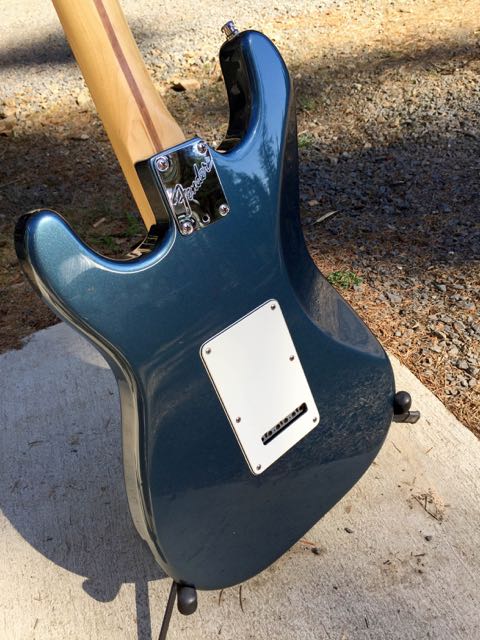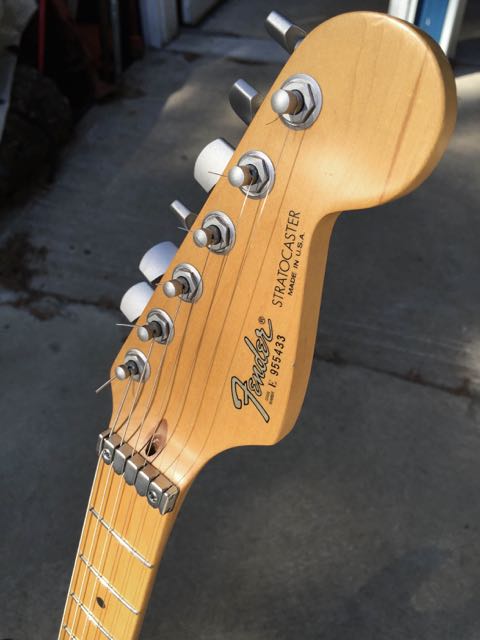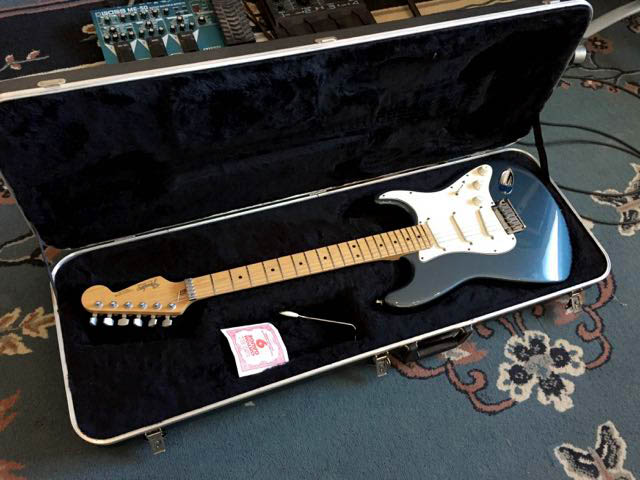 1989 GUNMETAL BLUE STRATOCASTER PLUS: Condition: MINT- . Body is flawless and is high gloss with no cracks, belt rash or scratches. No peeling on the fret board and frets are like new. This 1989 Gunmetal Blue Plus is completely original and comes with all the Strat Plus appointments. Come with the original Deluxe Fender retangular hardshell flight-case that is in excellent condition. PRICE: $1450 (SOLD)
___________________________________________________________________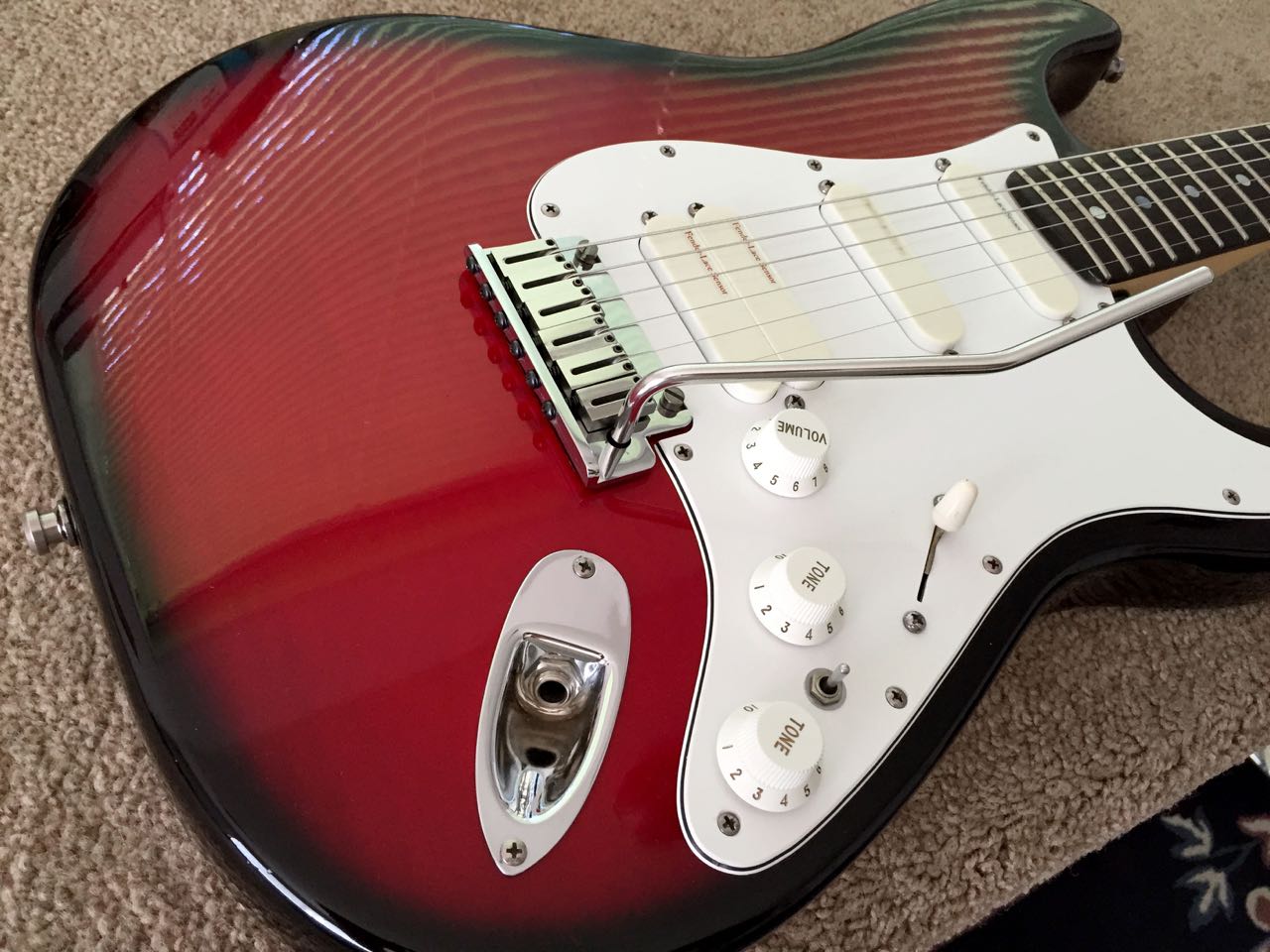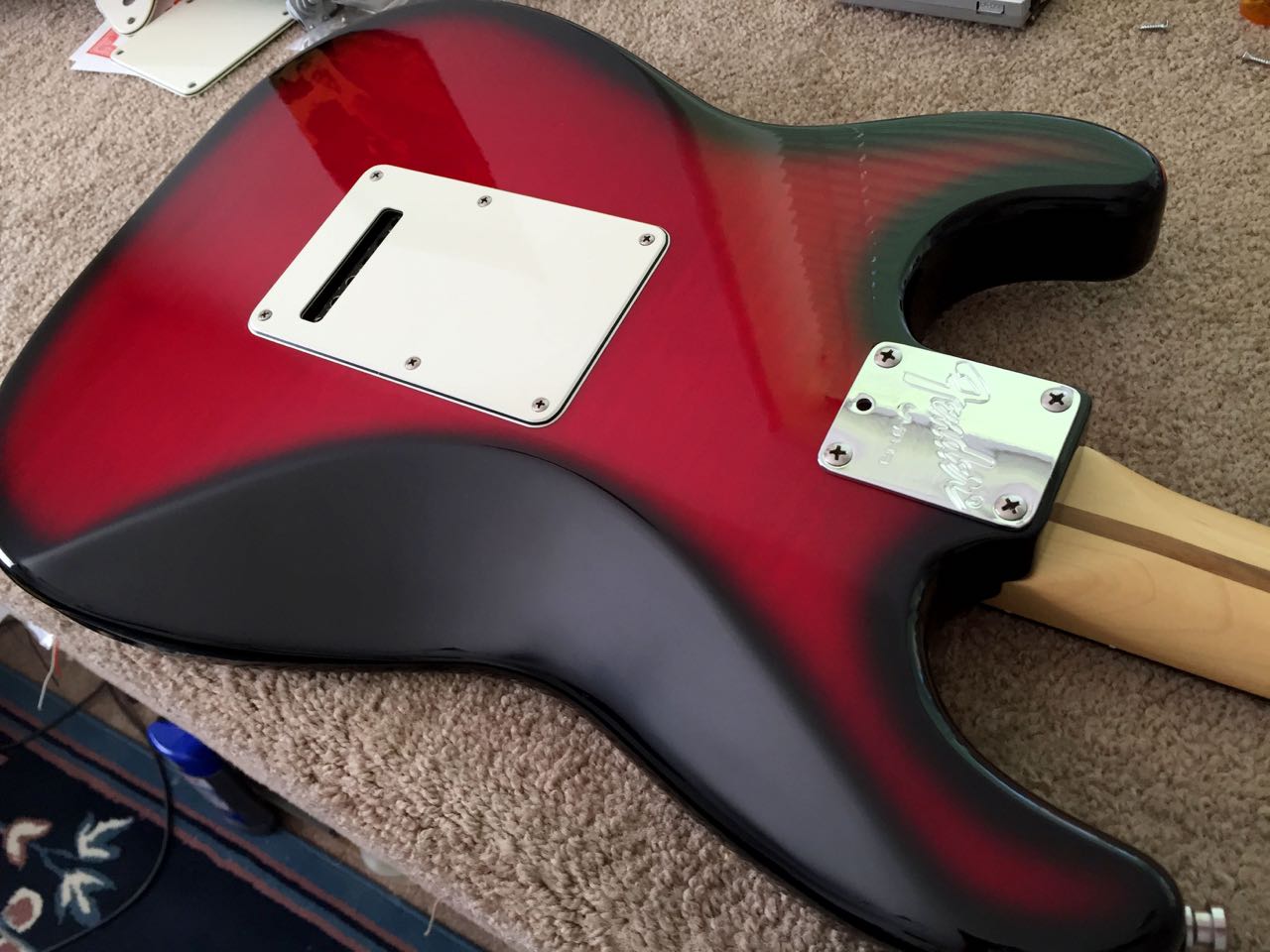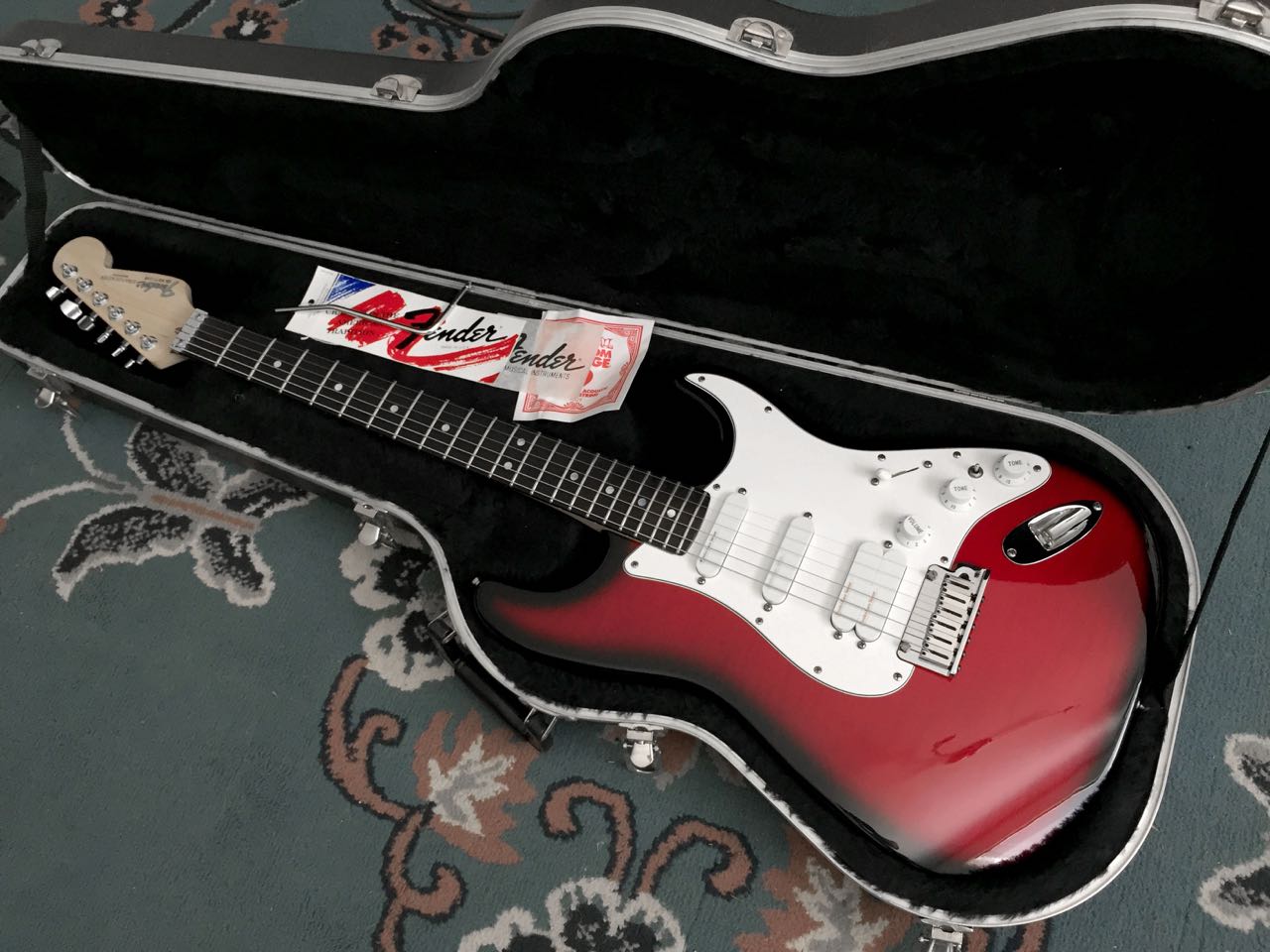 1992 FENDER CRIMSON FROST ULTRA: Condition: MINT-. This guitar is a Fender ULTRA in a rare Crimson Frost color, which is a VERY RARE COLOR (it was made for only 2.5 years ,1990 - early 1992 and not to be confused with Crimson Burst which was produced later.) Not a scratch on the body. No chips, dents, rash, or cracks,—ZERO! Completely original, untouched or modified. Comes with the a Fender "Red Label" hard shell case. PRICE: $1875 (SOLD)
___________________________________________________________________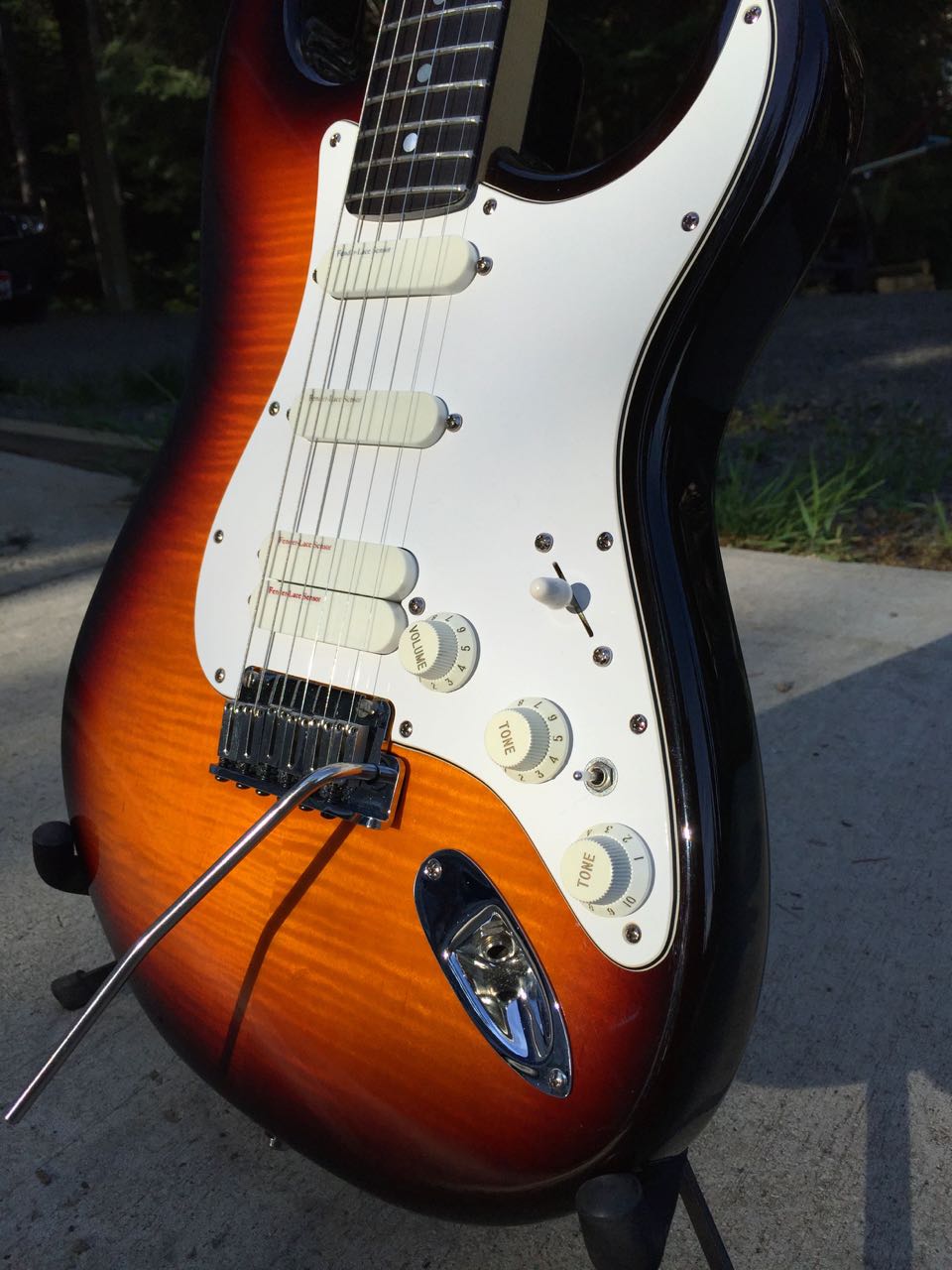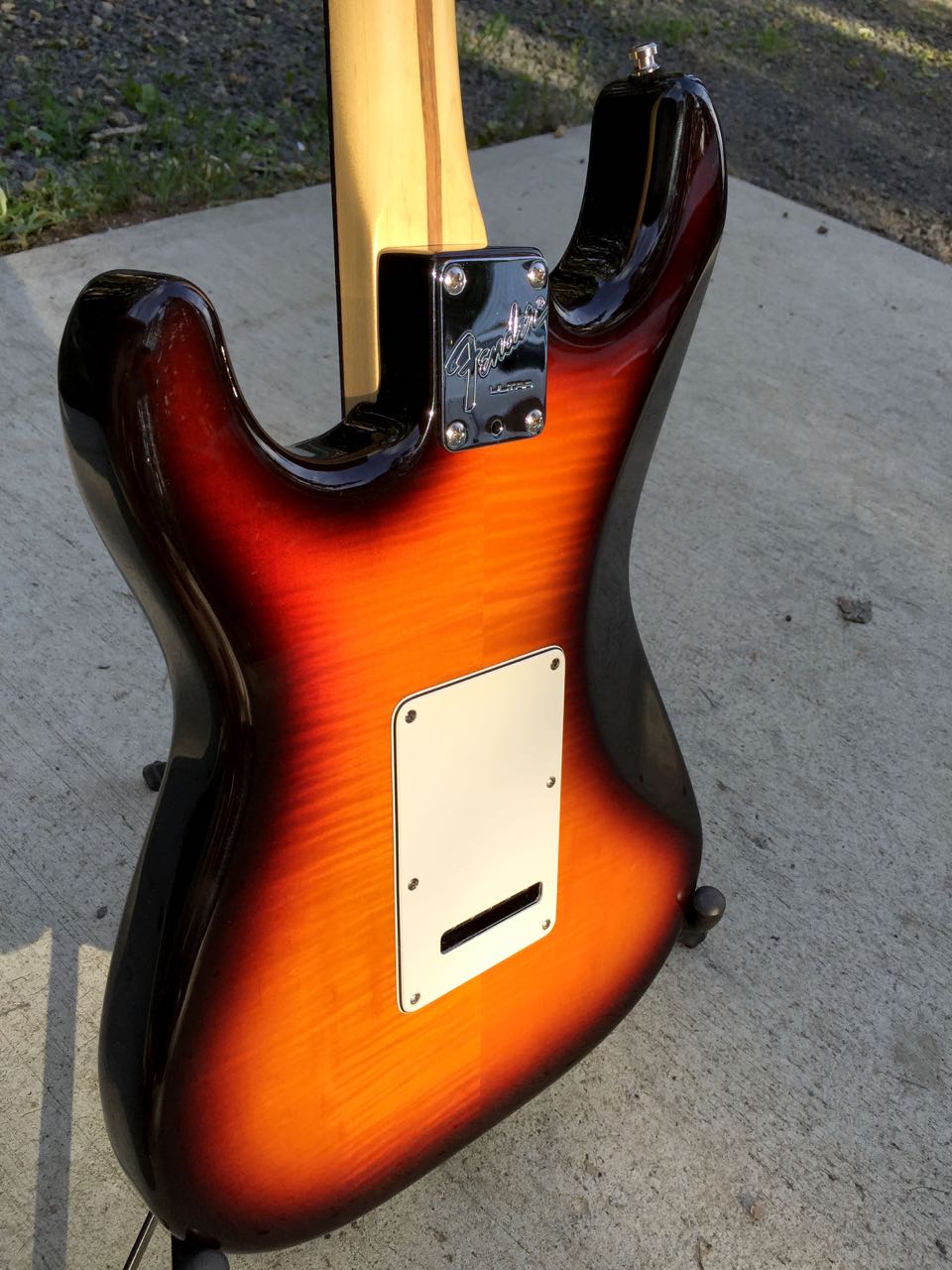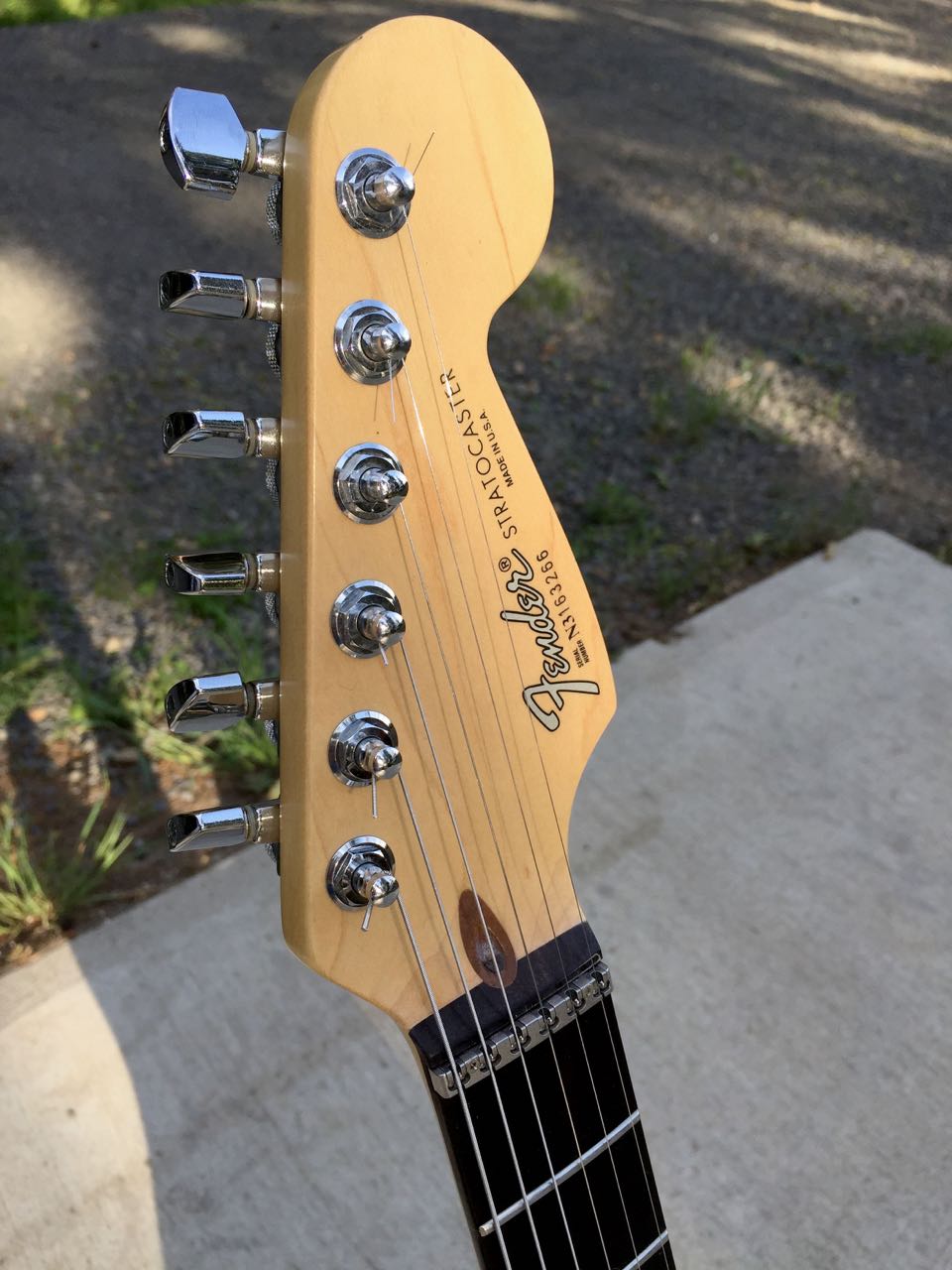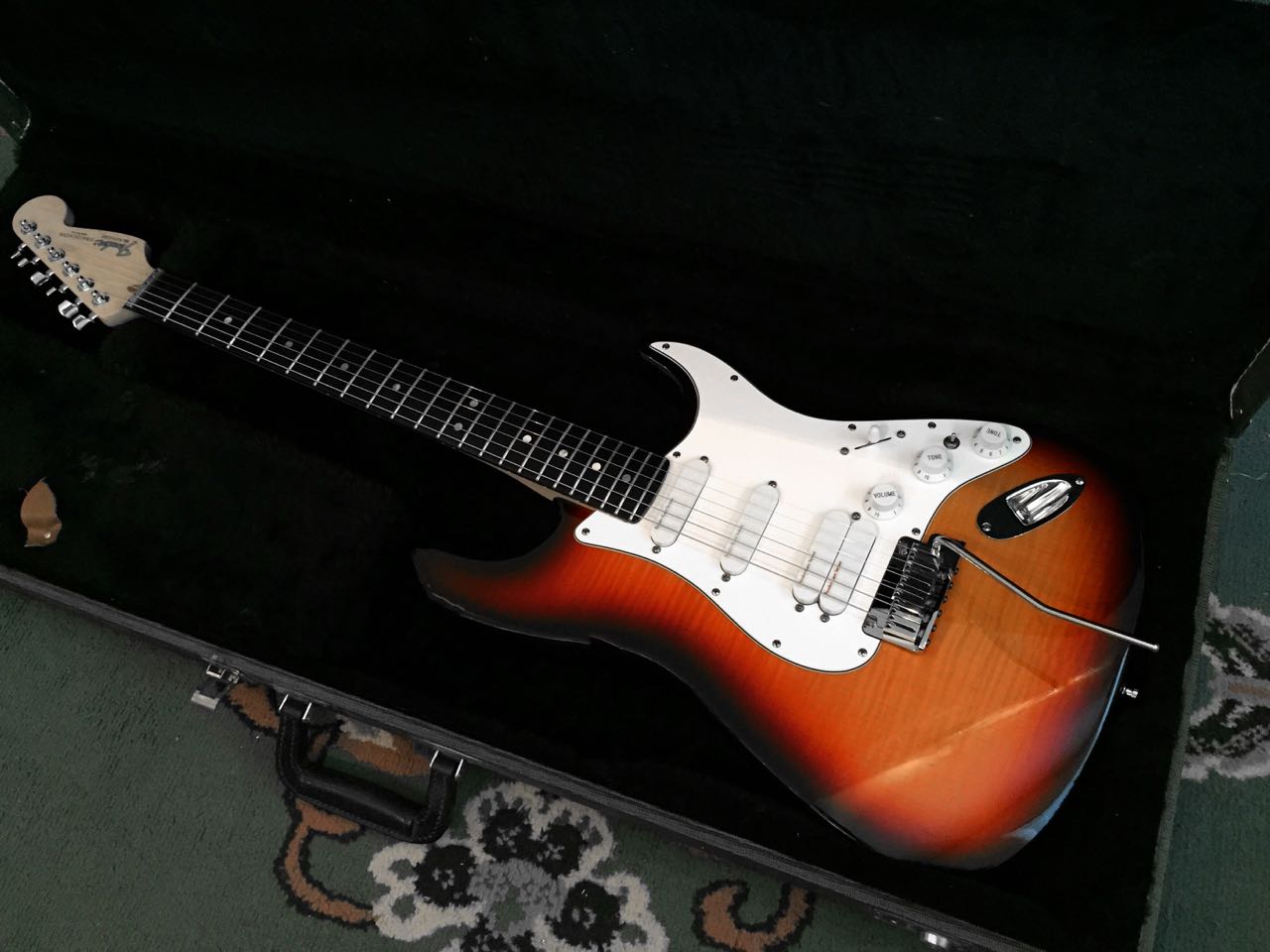 1993 FENDER SUNBURST ULTRA: Condition: NEAR MINT+. This guitar is a Fender ULTRA in a nice Sunburst finish. Gorgeous highly flamed Maple top and back on an Alder body. The body is perfect. Not a scratch, no chips, dents, rash, cracks, ZERO! Ultras came stock with all CHROME bridge saddles and Schaller tuners. This has the LSR roller nut. EBONY fretboard with real abalone inlays. Equipped with a Blue, Gold and Red Dually Lace Sensor pickups with Fender's 5-way super switch. Just set up and plays wonderful, just like an Ultra should. Completely original, untouched or modified. Comes with the original Fender grey tolex hard shell case that has some scuffs from being in storage over the years. PRICE: $1850 (SOLD)
___________________________________________________________________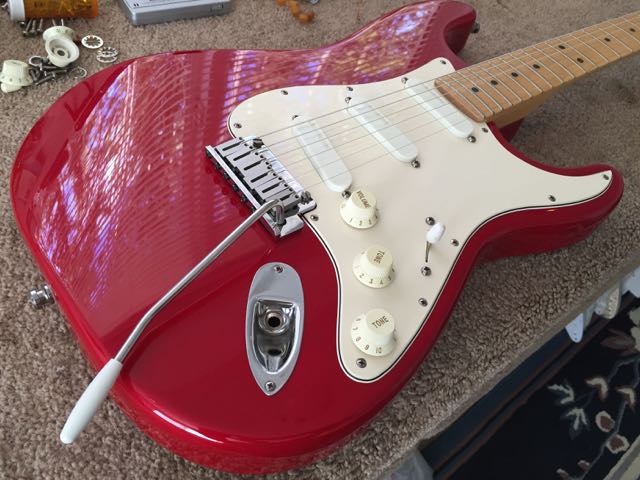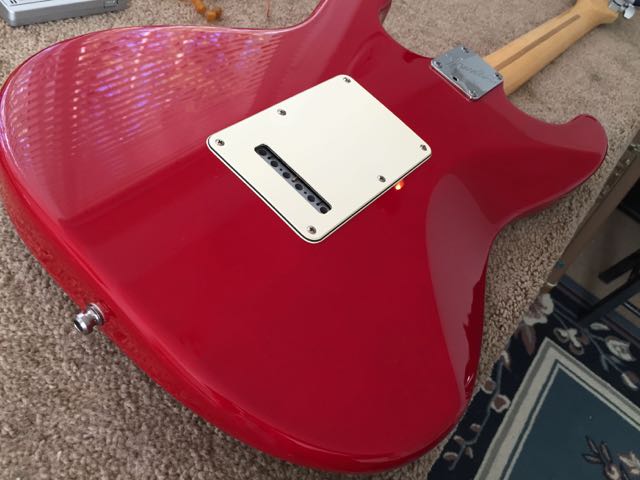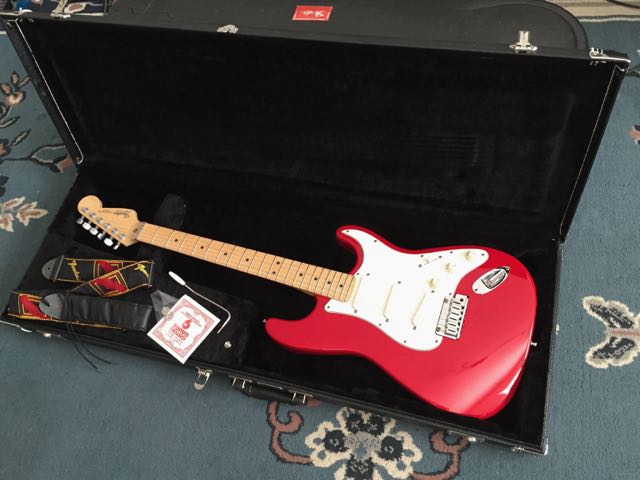 1993 LIPSTICK RED STRATOCASTER PLUS: Condition: MINT. Unplayed condition. Lipstick Red is not to be confused with Torino Red or Fiesta Red. Lipstick Red is a candy color which produces a stellar deep red that looks wet. Fender starts off with shooting the body in Arctic White and then follows with several color coats of transparent red. It is like a Candy Apple Red without the silver or gold metallic base coat. Harder to find color, especially in this condition. Frets are basically untouched. Pickups lettering is perfect and not even any scratches on the pickguard. Comes with 1970's style black Fender Tolex case which is in great shape. A Fender strap and tremolo bar are in the case. PRICE: $1800 (SOLD)
___________________________________________________________________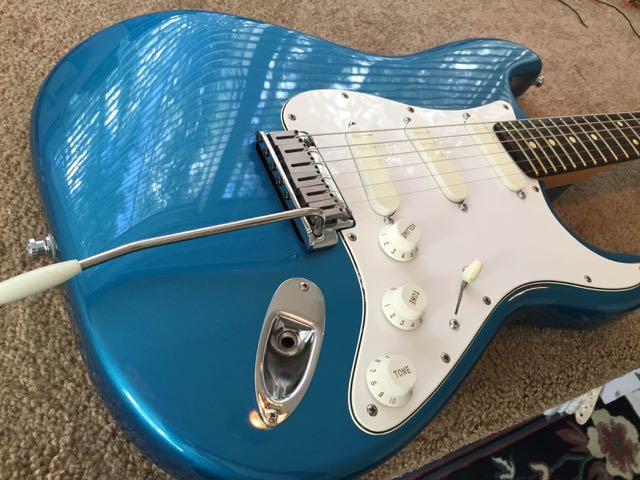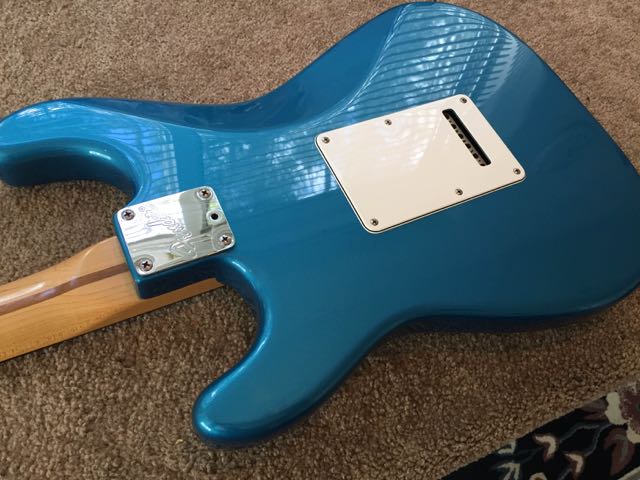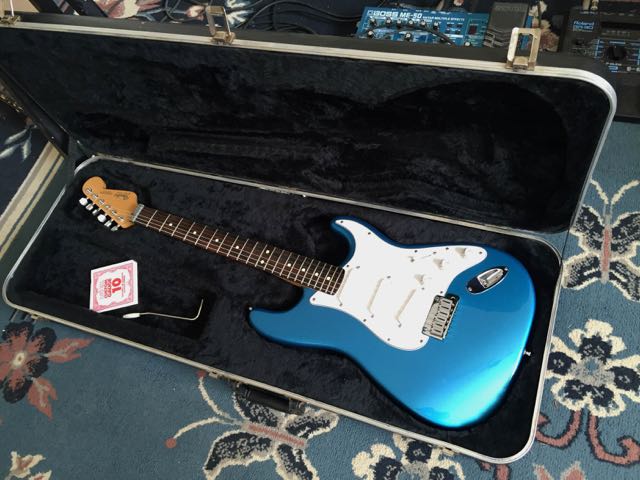 1987 LAKE PLACID BLUE STRATOCATER PLUS: Condition: MINT- . High gloss with no scratches or belt rash. Neck date that is penciled in is 12/ 21/87. All original pots and parts. (Picts available). E44 serial number. The body is near flawless, with no hairline cracks in the neck sockets, no belt rash or pick scratches. This is one of those early Plus necks that is a bit thinner than the newer ones. Has a SPLIT WILKINSON NUT and some nice grain in the wood. Rosewood is excellent as are the frets. Back of the neck is clean with no dings, nor on the tip of the head stock. Comes with the original rectangular Fender hardshell case that is in excellent condition. PRICE: $1875 (SOLD)
___________________________________________________________________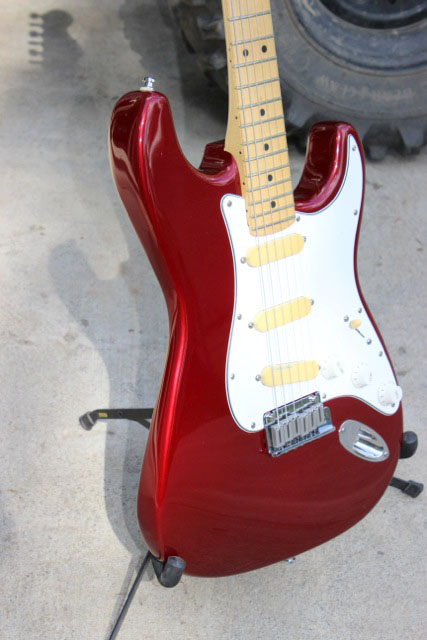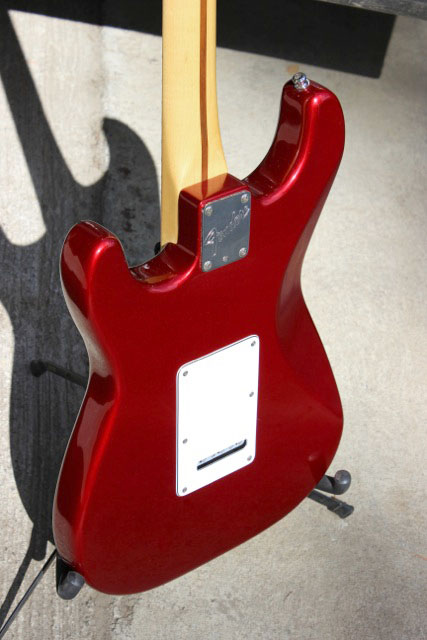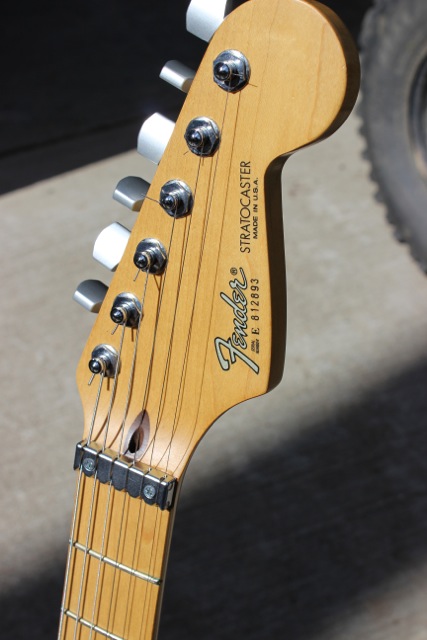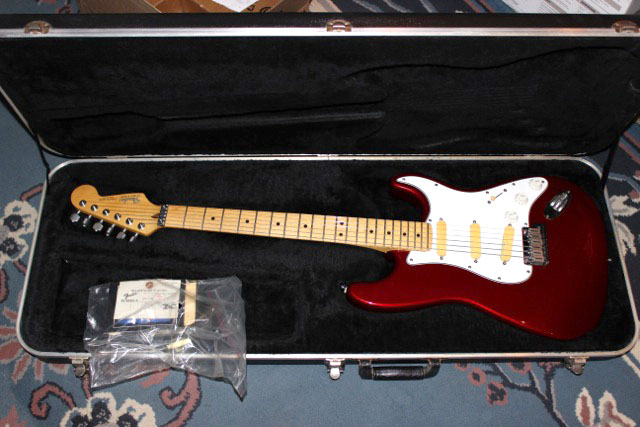 1989 CANDY APPLE RED STRATOCASTER PLUS DELUXE: Condition: EXCELLENT +. High gloss. No rash or scratches. Body is prefect except for a 5 mm faint hair-line finish crack on the top neck socket. Frets like new. This a Version 1 Strat Plus Deluxe which came with the Silver/Silver/Blue Lace Sensor pickups. These were made for a very short from mid-1989 through early 1990. Fender then switched over to the Blue/Silver/Red Lace Sensors on the DX models. A collectable guitar. Comes with all the original case candy, hang tags, Italian Fender dealership owner's card, and case. PRICE: $1425 (SOLD)
___________________________________________________________________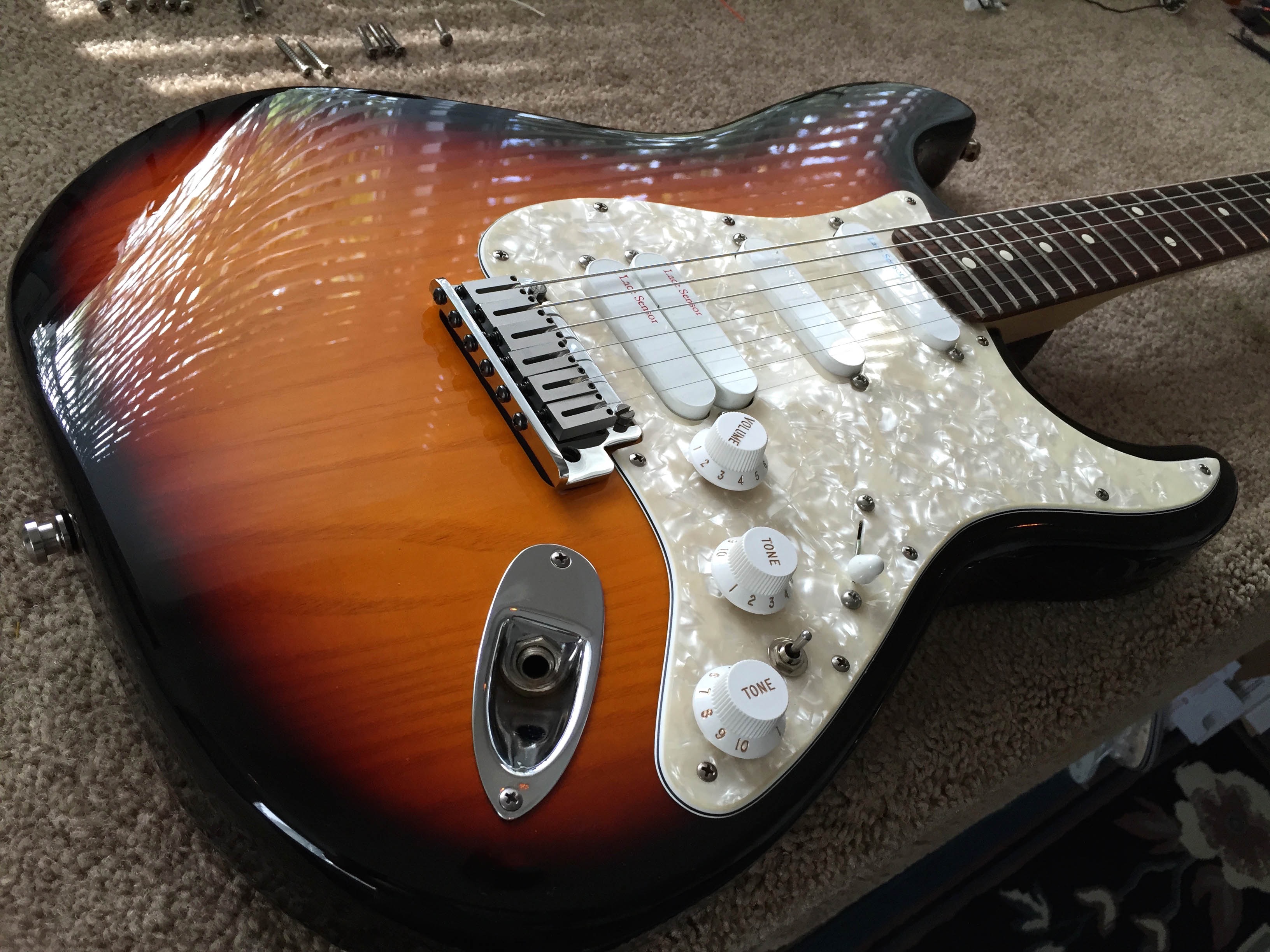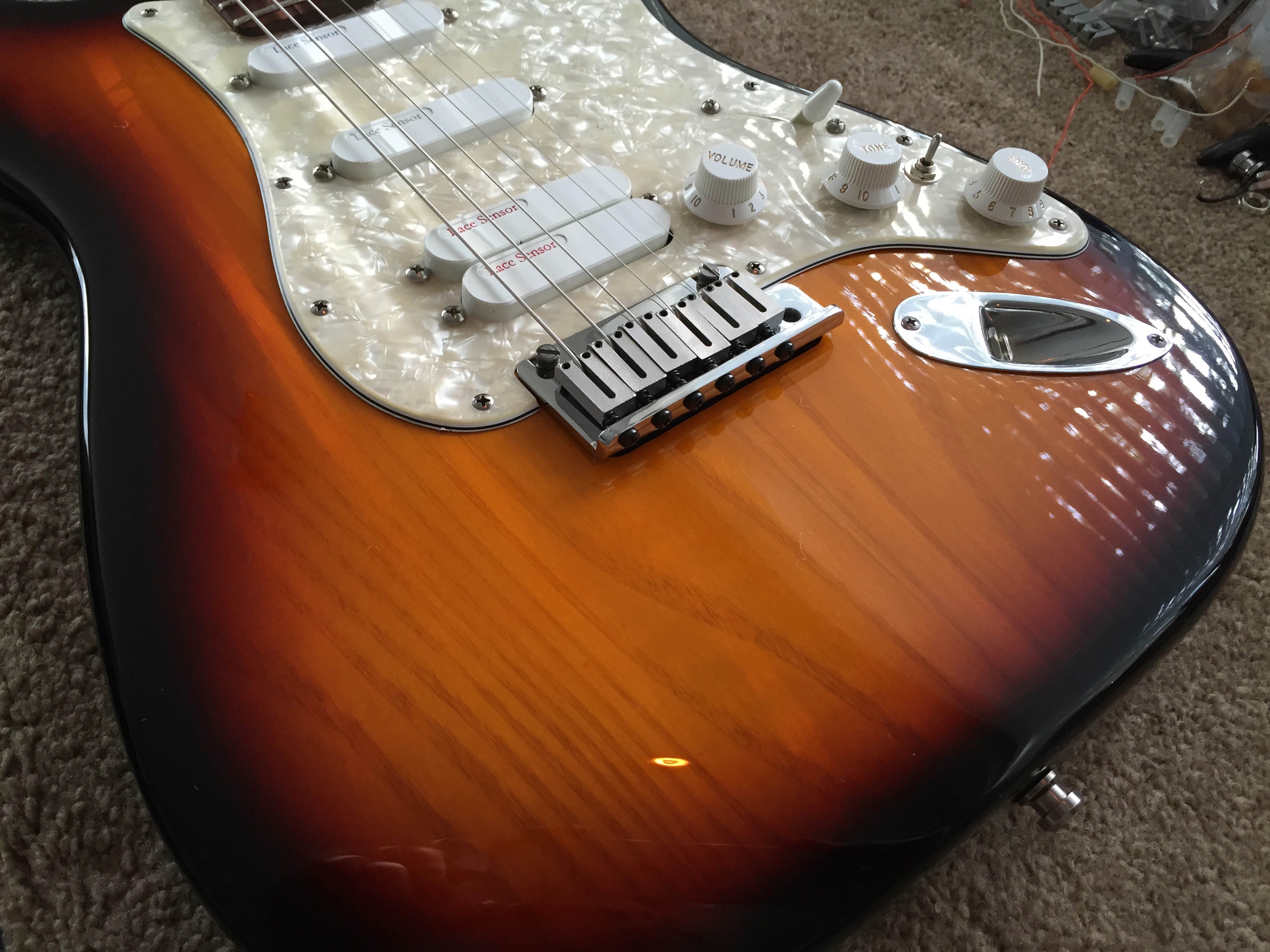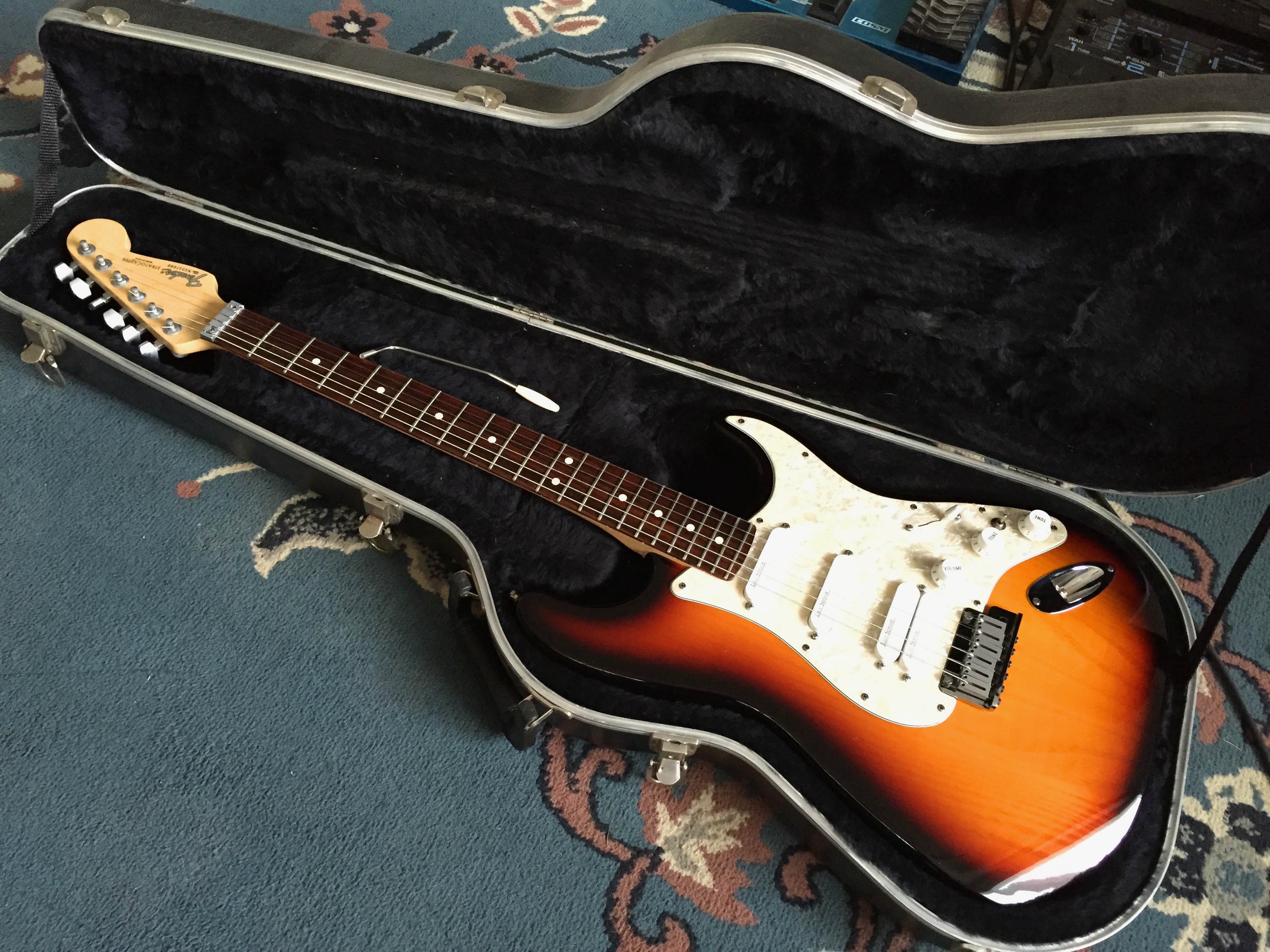 1991 SUNBURST STRATOCASTER PLUS ULTRA CUSTOM. Condition: Near MINT. Frets have just been polished and the Rosewood is excellent. This guitar started out as a 1991 Strat Plus. I upgraded it with a brand new custom wired Ultra pickguard in Aged Pearl. This one has some very nice tonal flavors just like a Fender Strat Ultra! The action is really low. The body has nice ASH grain showing through the finish and I believe this guitar has a solid Ash body. It is loaded with Blue Sensor in the neck (which gives a really nice fatter/smooth jazzy/blues tone), an Silver Sensor in the middle, which is often referred to as the 1970s voiced Lace pickup and a Red Dually in the bridge. With this combo you can get gibsonish, stratty, tele tones using the fender 5-way super switch and the 3-way mini-switch connected to the Dually. All the wiring, pots, switches, pickups and pickguard are brand new. This comes with a Fender molded Red Label case that is in good condition. PRICE: $1600 (SOLD)
___________________________________________________________________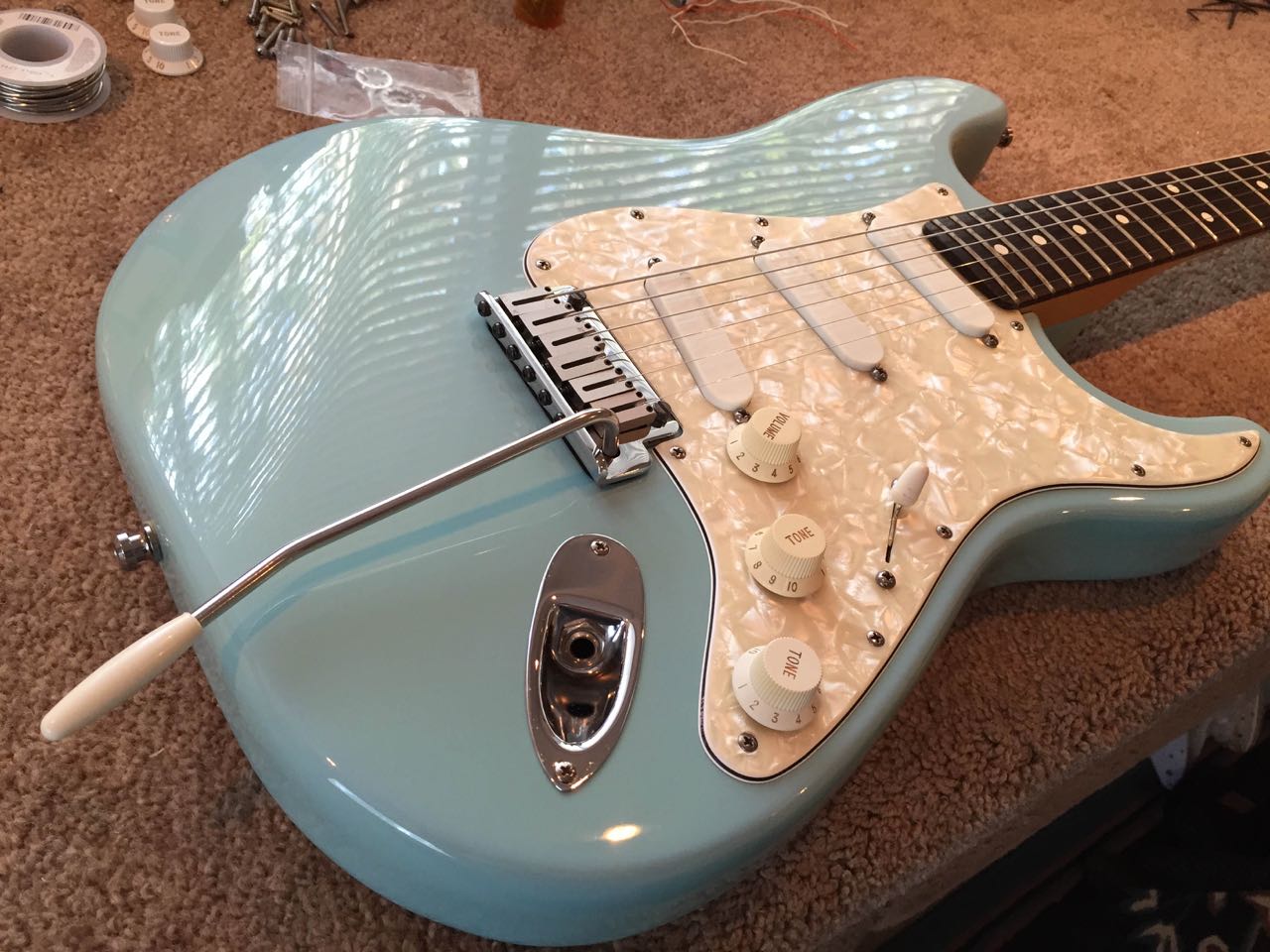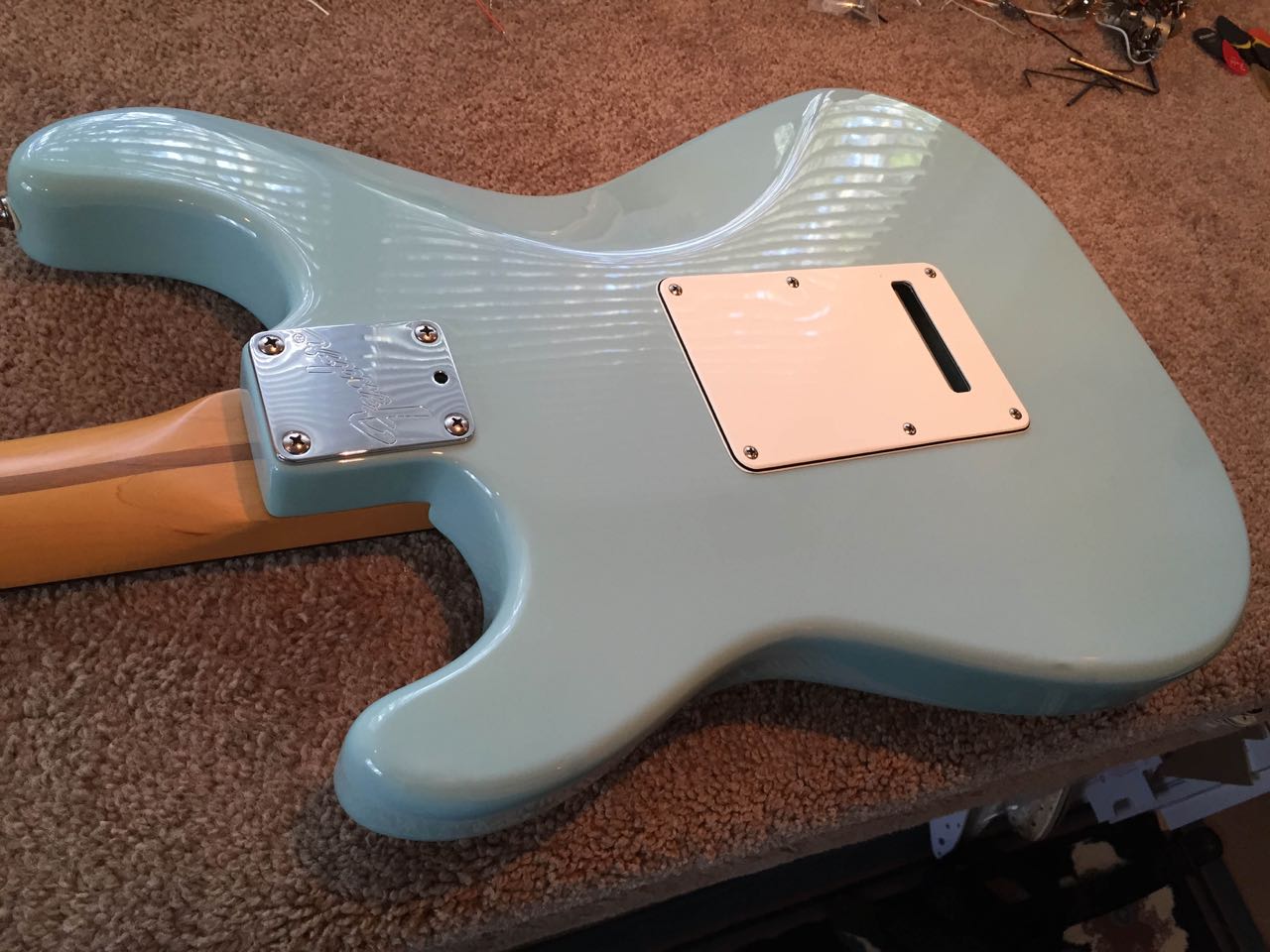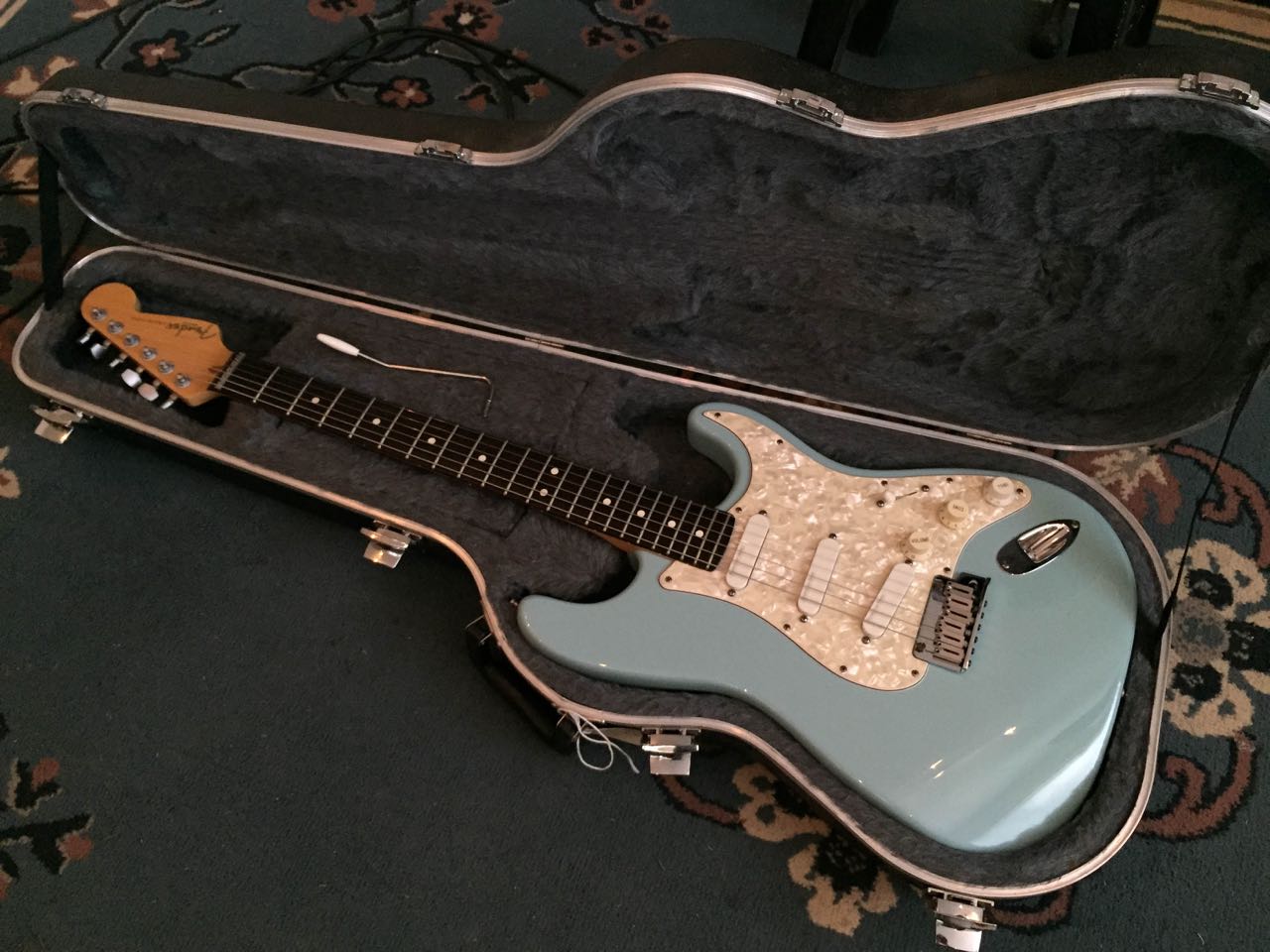 1996 SONIC BLUE STRATOCASTER PLUS. Condition: MINT- . Dark Rosewood fretboard, This guitar is in mint- condition (read my rating method above) and it is totally stock with all the standard Plus appointments such as Gold Lace Sensor pickups, etc. The dark Rosewood stands nice against the powder blue color of this Sonic guitar! I have only had 2 of these since I have been collecting. This is a 1996 Anniversary model with the sticker on the back of the headstock. A gorgeous guitar. Comes with an original Fender DX Strat Plus case. PRICE: $1500 (SOLD)
___________________________________________________________________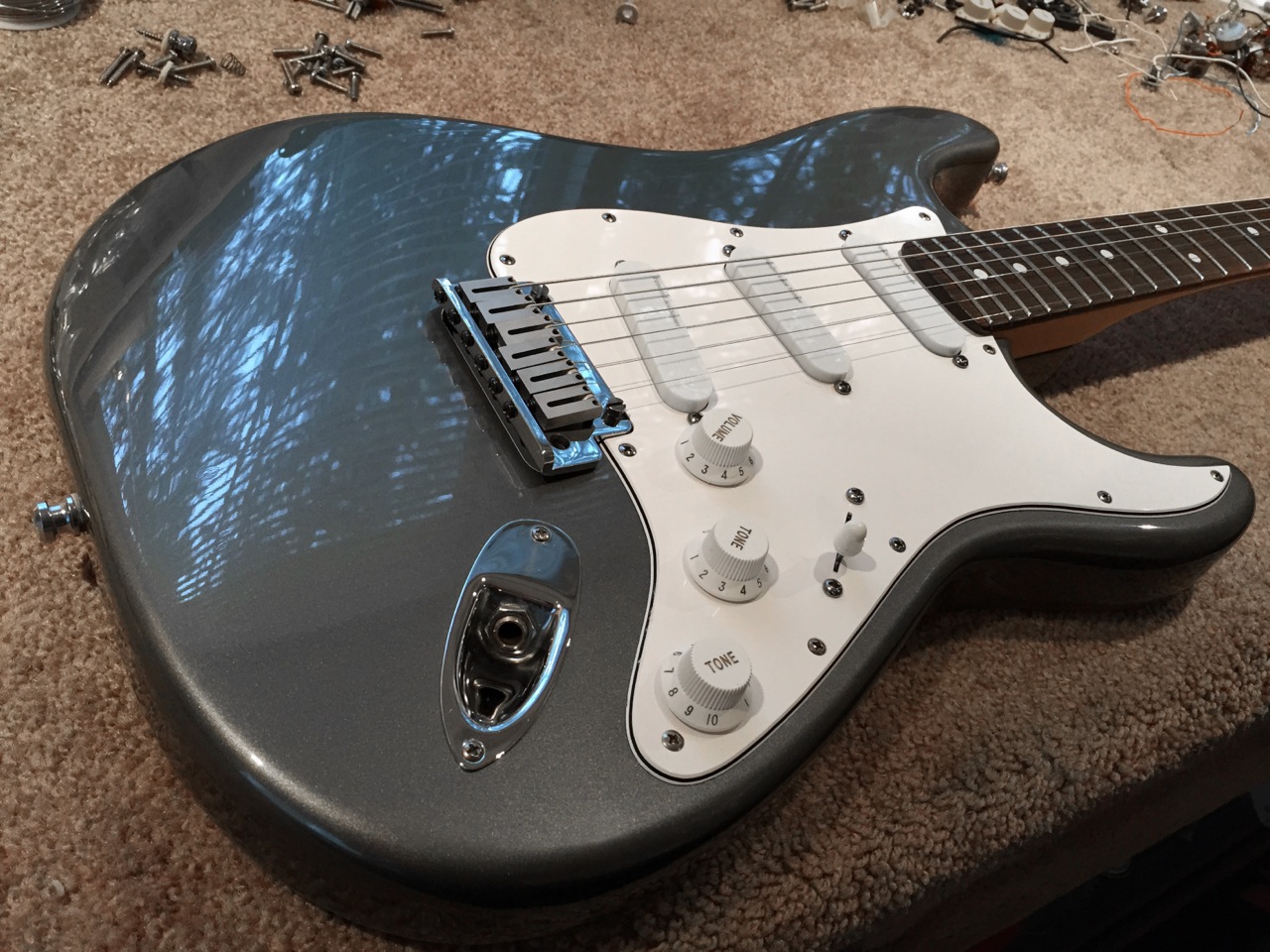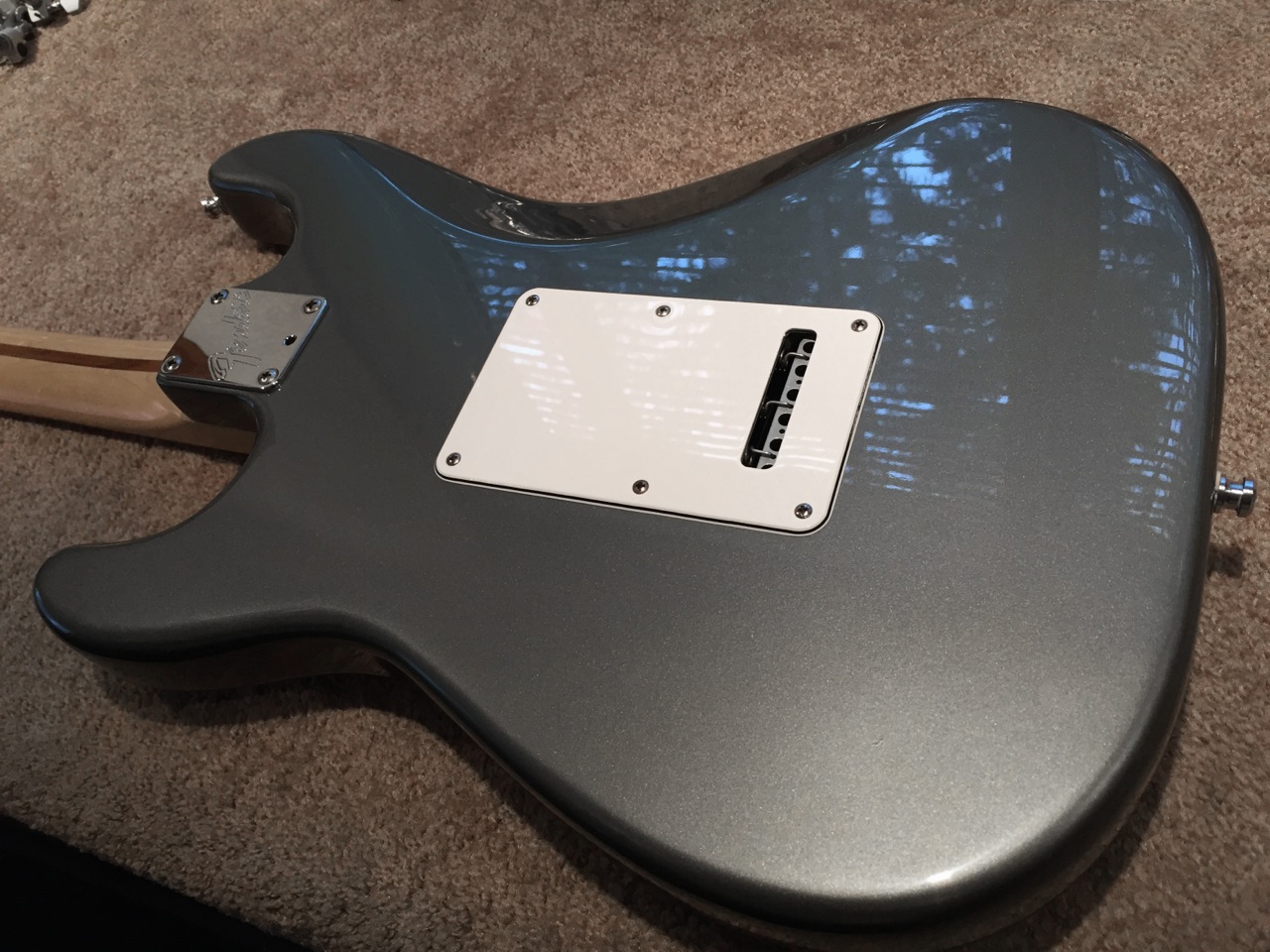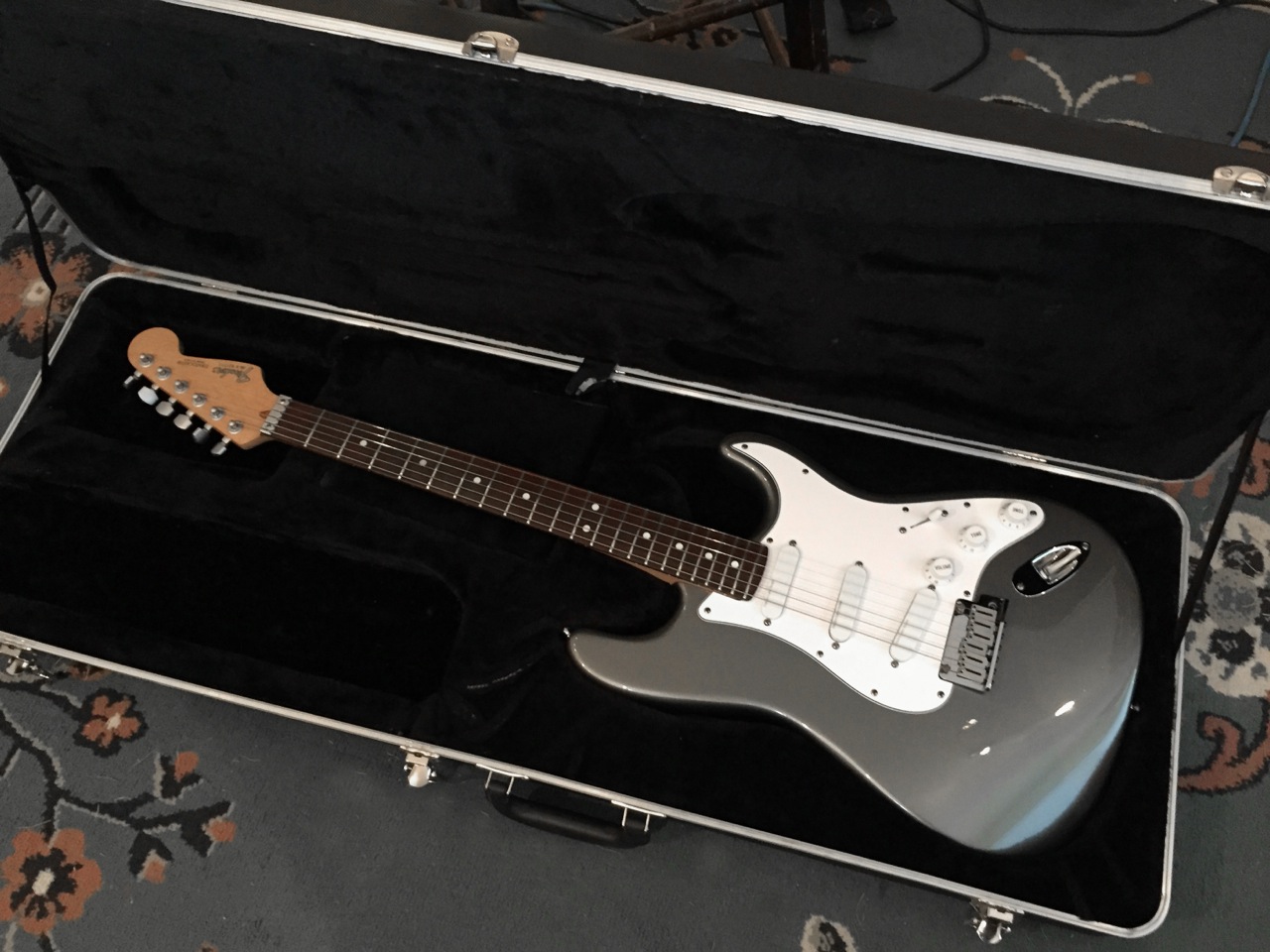 1989 PEWTER STRATOCASTER PLUS: Condition: EXCELLENT. High gloss with no scratches or belt rash. Frets are in excellent condition. Pickups lettering is near perfect and no scratches on the pickguard. This is a fine example of a completely stock 89 Plus which comes equipped with all the standard Plus appointments such as Wilkinson roller nut, Schaller locking tuners, and Gold Lace Sensor pickups. Comes with Tremolo bar and a newer SKB harshell case. PRICE: $1300 (SOLD)
___________________________________________________________________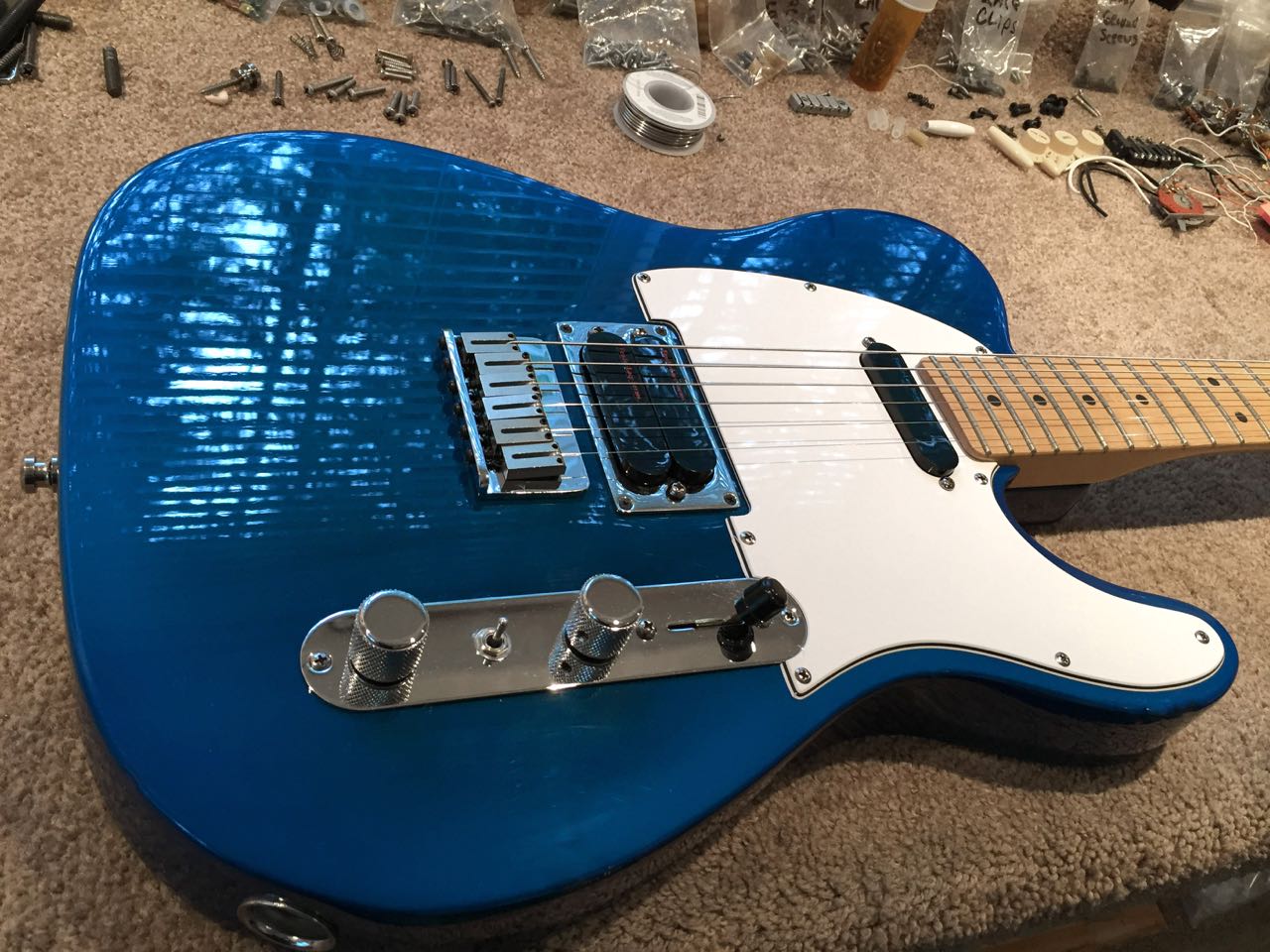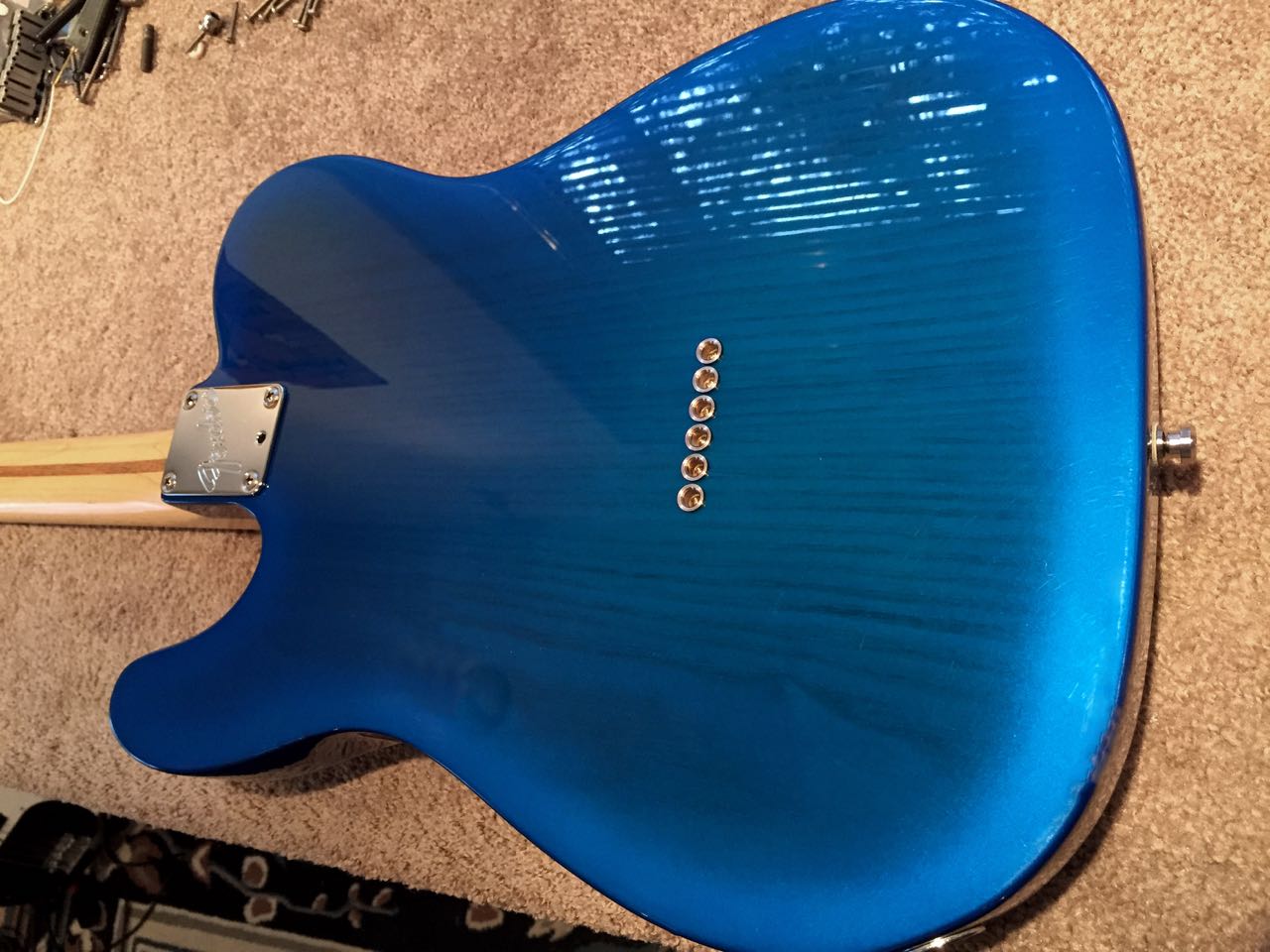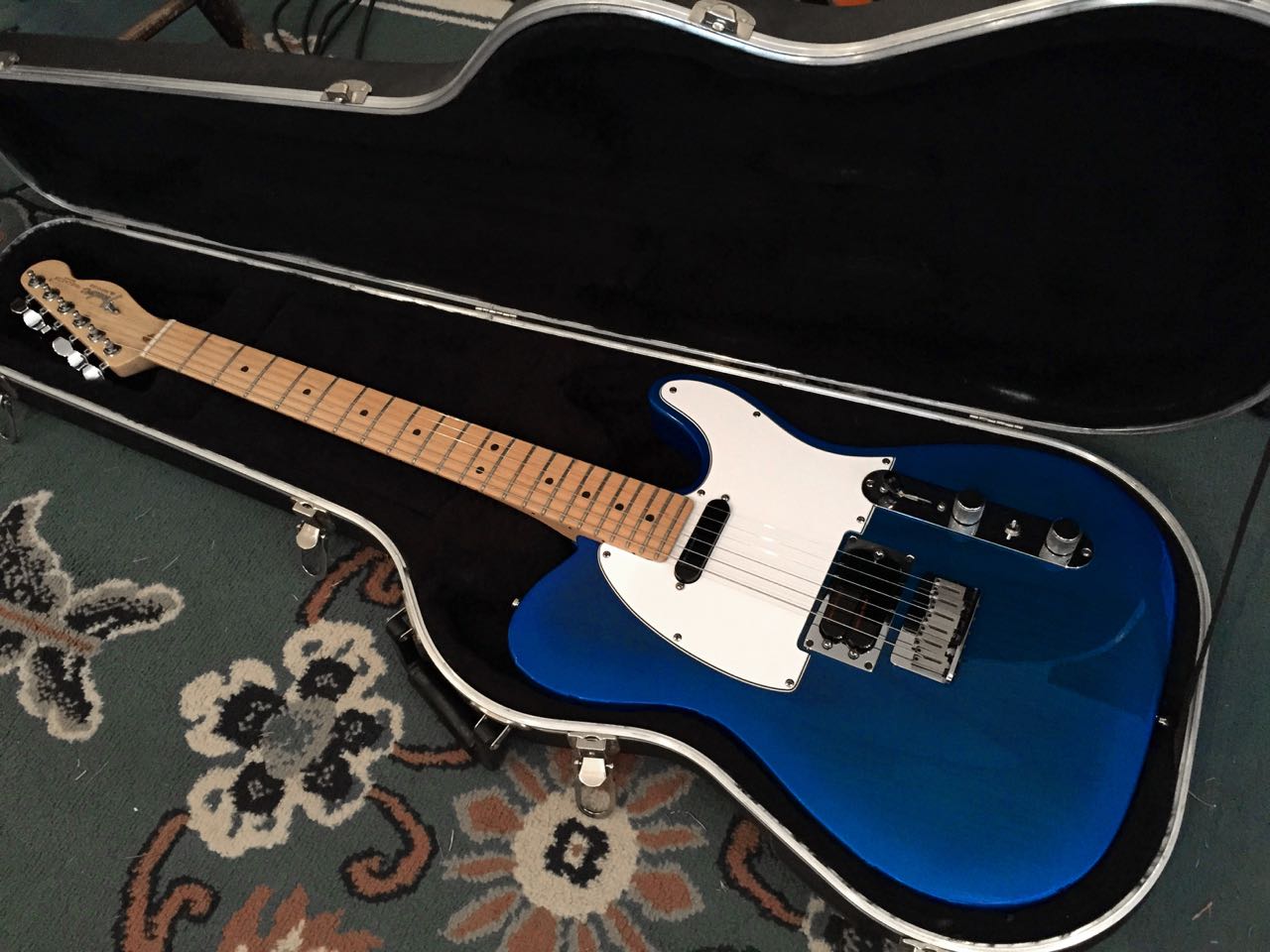 1994 BLUE BURST VERSION I TELECASTER PLUS: Condition: EXCELLENT+. This is an excellent example of the Version I Telecaster Plus in a gorgeous Blue Burst on ash. It is hard to beleive that this guitar is 21 years old! High gloss - with no scratches or belt rash. Frets are in excellent condition, as is the maple fretboard. Pickups lettering is near perfect and no pick scratches on the pickguard. Amazing tone and looks. Has an excellent heavy-duty Fender form fitting hardshell case. - PRICE: $1850 (SOLD)
___________________________________________________________________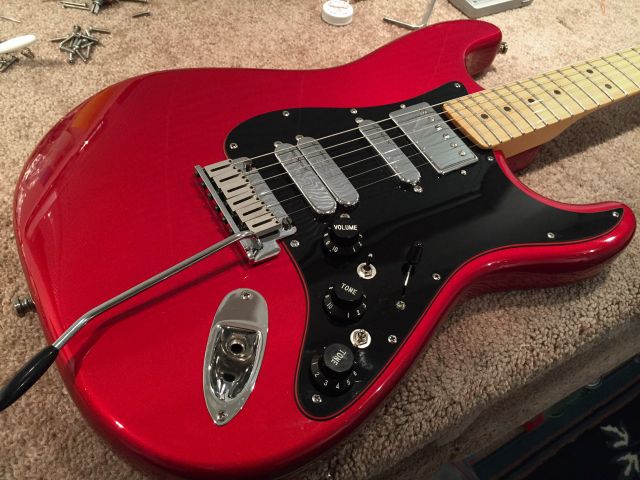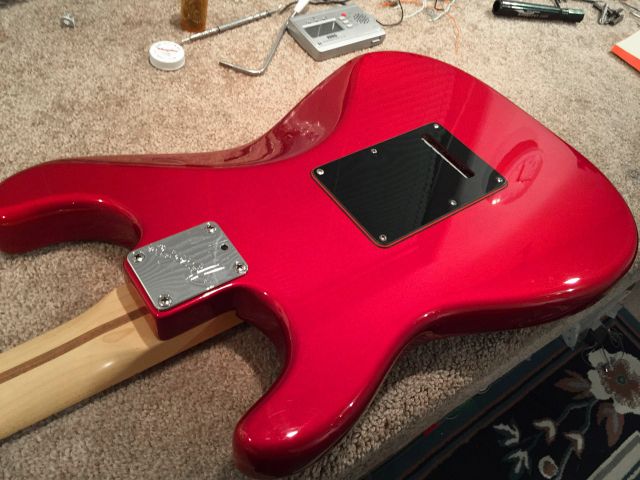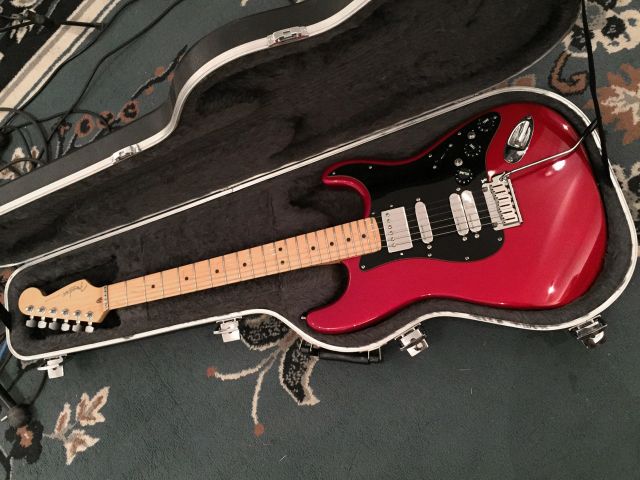 1997 CANDY APPLE RED STRATOCASTER PLUS DELUXE ULTRA CUSTOM: Condition: MINT. Frets are like new. This is another one of my customized Strat Plus Deluxe's that is upgraded with a custom wired Ultra style pickguard in Black/Red/Black. Show-stopper look and a pickup/wiring configuaration that buyers from me rave about! Maybe you have heard of Fender's BIG APPLE Strats which come with 2 humbuckers? Well, I call this one the BAD APPLE. Stock Fender guitars do not even come close to this kind of diversified setup. ok, enough hype, buy I personally love this setup. It is loaded with Seymour Duncan Jazz Humbucker (SH-2n) in the neck.T In the middle position I installed a Chrome Dome for those cool Strat tones in positions #2 & #4 on the 5-way. Then I added a HOT Chrome Dome Dually in the bridge. The maple neck is super nice and the frets are like new. Comes with a nice Fender Strat Plus hard shell case. PRICE: $1700 (SOLD)
___________________________________________________________________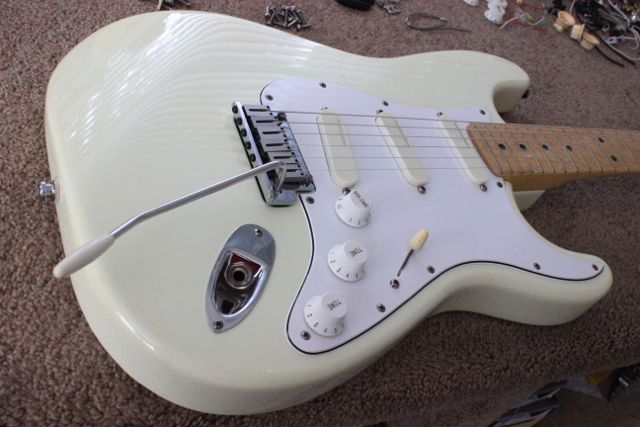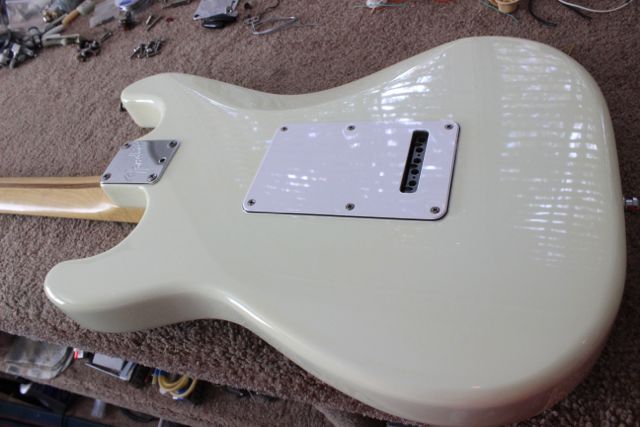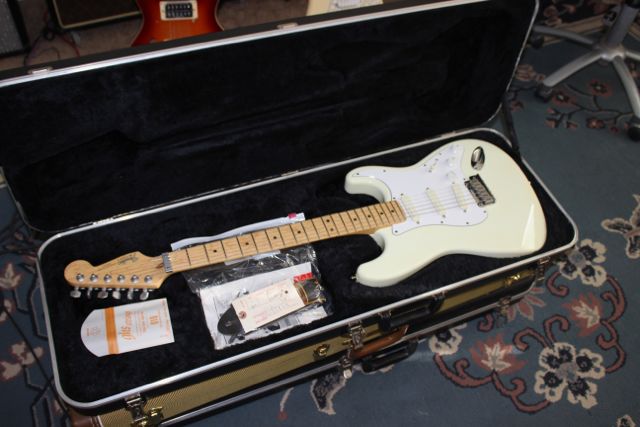 1991 ARCTIC WHITE STRATOCASTER PLUS: Condition: NEAR MINT. Email me for details & more picts! I love these White Strat Plus' with maple fretboards. This one is like new. Frets are excellent with NO wear. Maple board only shows a small amount of wear. This guitar was not played much over the years. Body is super with no cracks and the finish has aged to a nice creamy color. A lot of people mistake this for Vintage White but it is a bit lighter. There is some wild grain and flame in the maple on the neck, both front and back. Has hang tags and all the paperwork and even the original Fender Strap that came with it. Hard to find this color in this kind of condition! Comes with a very nice orginal Fender hard-shell flight case. PRICE: $1450 (SOLD)
__________________________________________________________________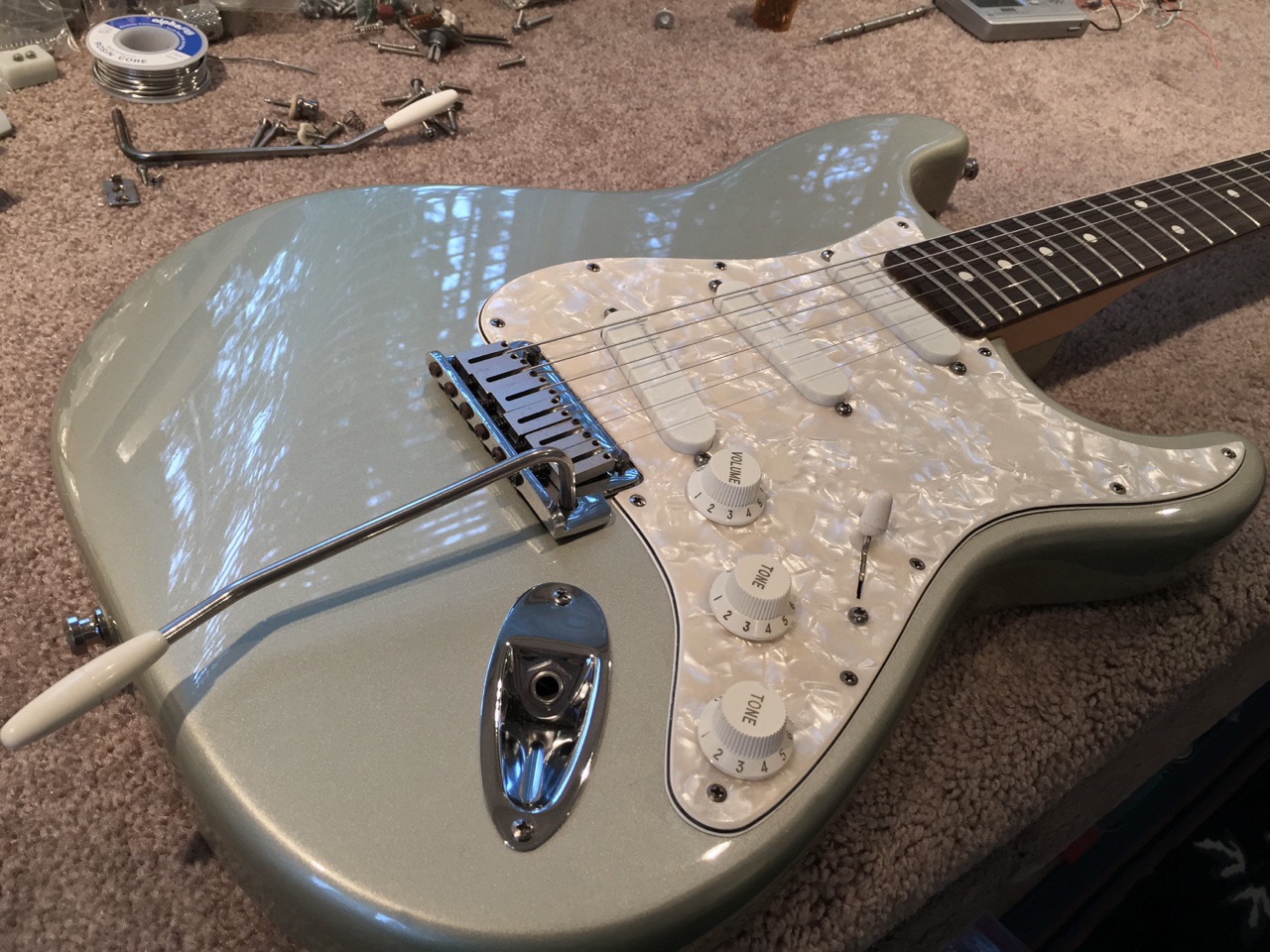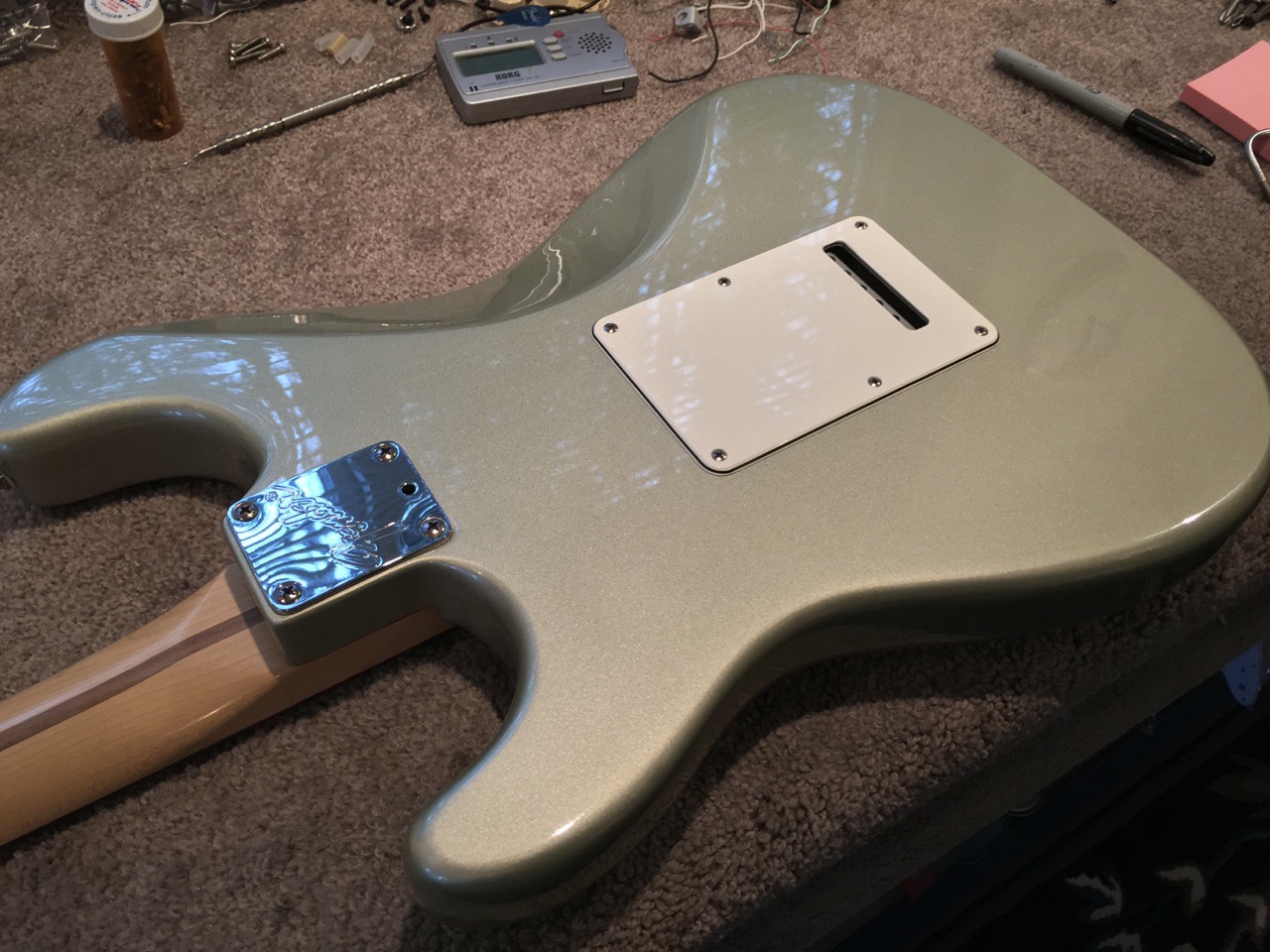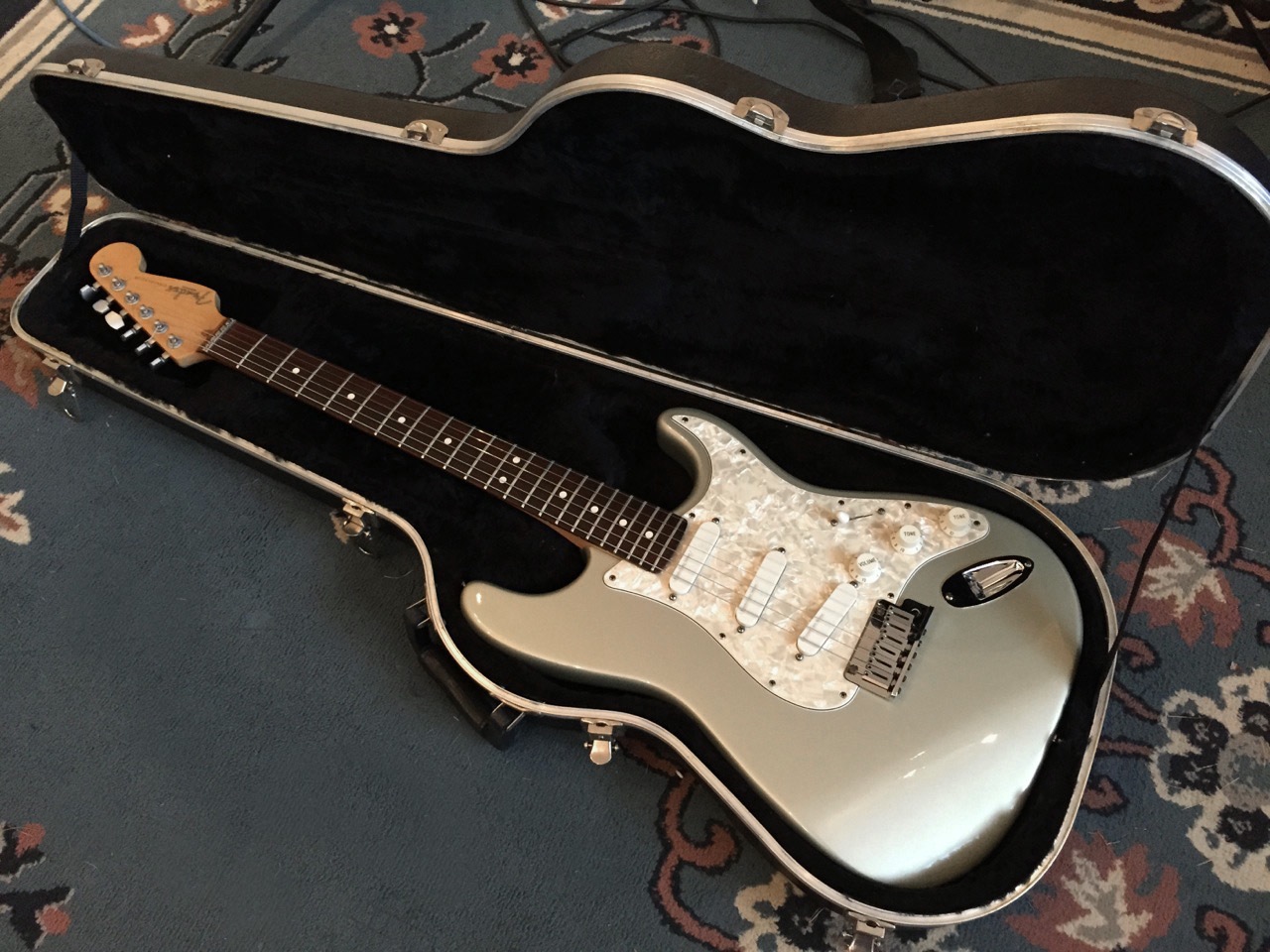 1997 INCA SILVER STRATOCASTER PLUS: Condition: NEAR MINT. Body is near perfect and has a high gloss with no cracks, belt rash, or scratches. Fret board and frets are like new. This is a fine example of a 97 Plus which is completely stock and comes equipped with all the standard Plus appointments such as LSR roller nut, Schaller locking tuners, and Gold Lace Sensor pickups. This is a fairly hard to find color. The guitar is nearly like brand new. Comes with a form-fitting Fender Red Lable hardshell case that is in great condition. PRICE: $1300 (SOLD)
___________________________________________________________________
1988 TORINO RED STRATOCASTER PLUS: Condition: VERY GOOD-. No button. No cracks. Frets are like new and Rosewood is excellent. Super high gloss body does have a few finger "ring dings" on the top above the pickguard and a few dings on the back by the tremolo plate. Email me for details. Torino Red is one of the rarer Strat Plus colors as it was only available late 1987 to 1990. A nice bright, soild, bright red— think 1968 Ford Torino GT! It has dark a Rosewood fret board and the frets are in excellent shape. Complete original, not modified or altered in any way. Has the Sperzel locking tuners. Has the strap and orginal rectangular Fender case which is in good condition. PRICE: $1000 (SOLD)
___________________________________________________________________
1996 BLACK STRATOCASTER PLUS DELUXE ULTRA CUSTOM: Condition: NEAR MINT. This guitar still had the plastic on the pickguard when I picked it up. This guitar started out as a 1996 50th Anniversary Strat Plus Deluxe upgraded with a custom wired Ultra pickguard in Black/Red/Black. Again, this setup has some sonic tonal flavors! The action is really low. The body has nice Alder with a Black finish. The picture do not do justice to this guitar. It is loaded with Purple Sensor in the neck (over-wpund P-90 tone which lends itself for Blue, Jazz, and other mucis styles), an Emerald Sensor in the middle, which is often refered to as the Stevie Ray Lace pickup. It really compliments the other pickups on this guitar with 1950s honky/quacky tones in positions #2 & #4, and a Red Dually in the bridge (Tele & Humbucker tones).Comes with a nice Fender Strat Plus hard-shell case. PRICE: $1600 (SOLD)
__________________________________________________________________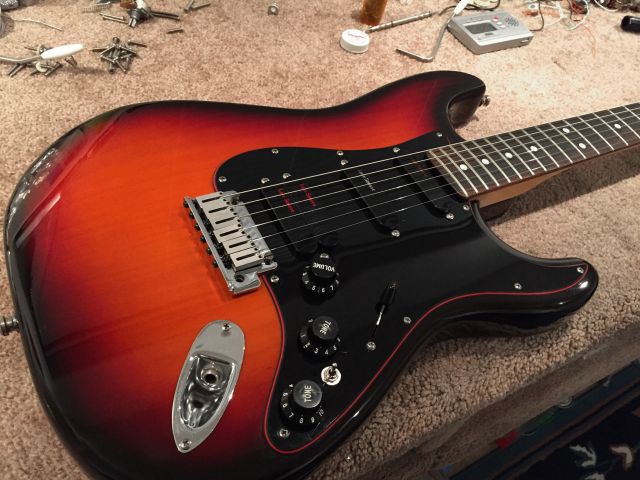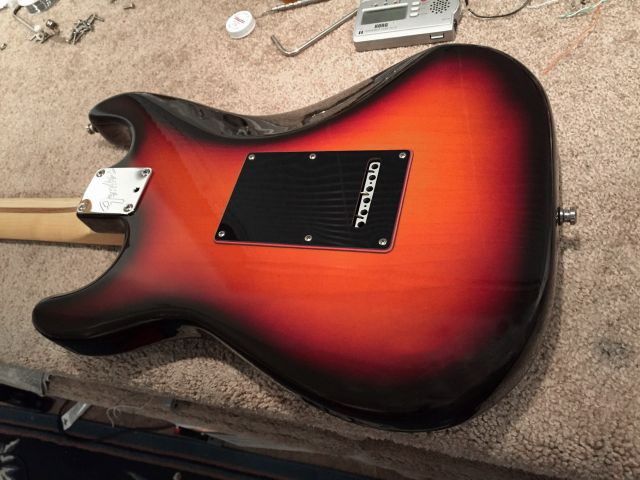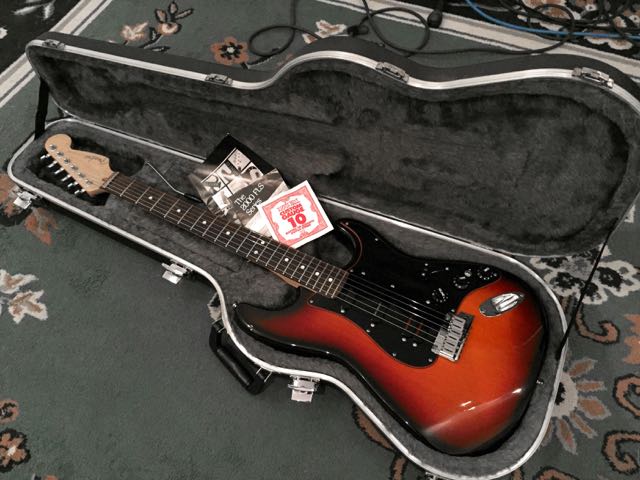 1997 ANTIQUE BURST STRATOCASTER PLUS DELUXE ULTRA CUSTOM: Condition: EXCELLENT+. This guitar was a Strat Plus Deluxe that I upgraded with a custom wired Ultra style pickguard in Black/Red/Black. This is loaded with Burgundy Sensor in the neck (which gives a fatter single coli sound, like a cross between a 1950s- Strat and a P90), a Silver Lace Sensor (70s single coil voice) in the middle for those cool Strat tones in positions #2 & #4, and a Red Dually in the bridge. This guitar can go from Stratocaster to Telecaster voices at a flip of a switch. All the wiring, pots, switches, pickguard, and pickups are brand new. Comes with a like new Deluxe Fender Strat Plus case. PRICE: $1600 (SOLD)
___________________________________________________________________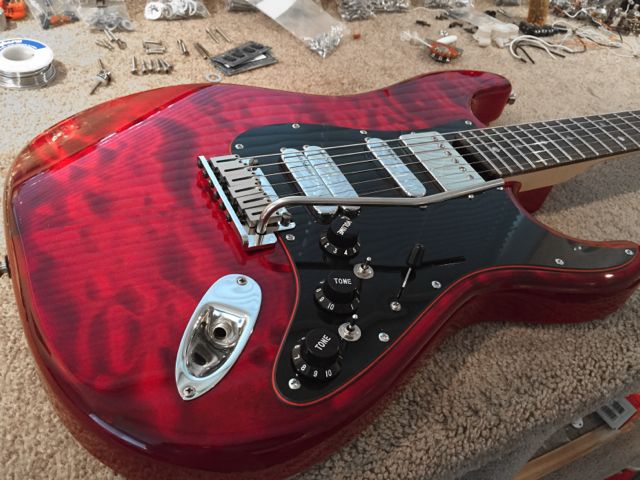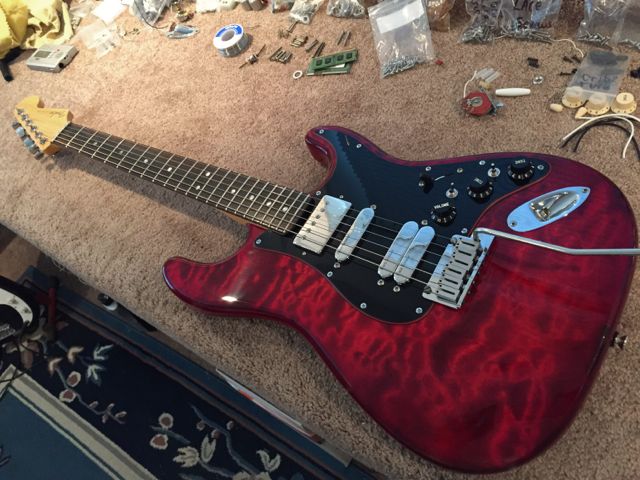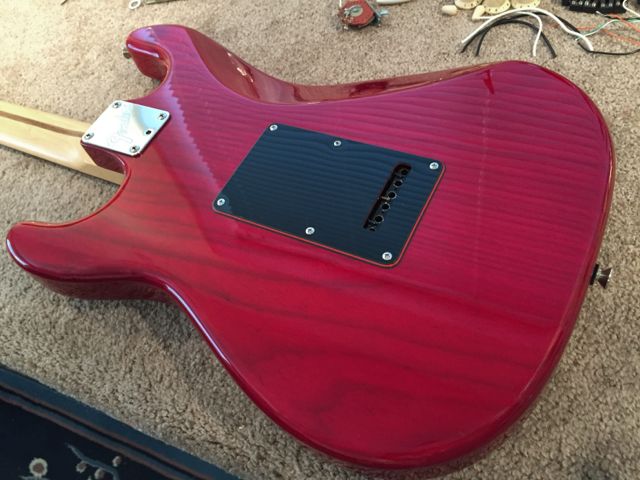 2009 CUSTOM STRATOCASTER DELUXE ULTRA: Condition: MINT. This started off with a Warmoth chambered mahogany body with a curly flamed maple top. I wired Red Delicious up with 2 - 500k no-load pots. This means when they are on 10 the circuit is totally bypassed. On the lower pot that controls the bridge and middle pickups I used a Vitamin-Q .033 capacitor for a new flair. The neck is a Dimarizo Air Classic Neck humbucker (DP190N) which is similar too a 1950s humbuckers, but uses full-strength Alnico 5 magnets. I have it wired with the coil-splitting switch with cuts the output by 1/2 so it also has a more single coil sound. Then in the middle a Chrome Dome standard pickup with is like a hot Gold Lace Sensor. The bridge is a set of hot Chrome Domes with the high output of a Red Lace Sensor in the Dually configuration, using the mini-switch. The combo? You can get whatever tone you are looking for!. Comes with a nice Fender Strat Plus hard shell case. PRICE: $2000 (SOLD)
___________________________________________________________________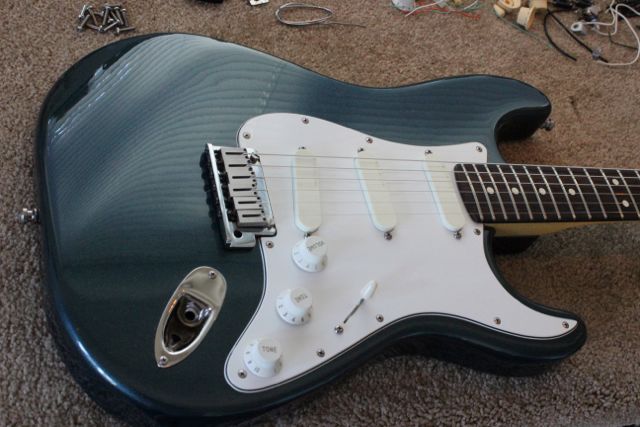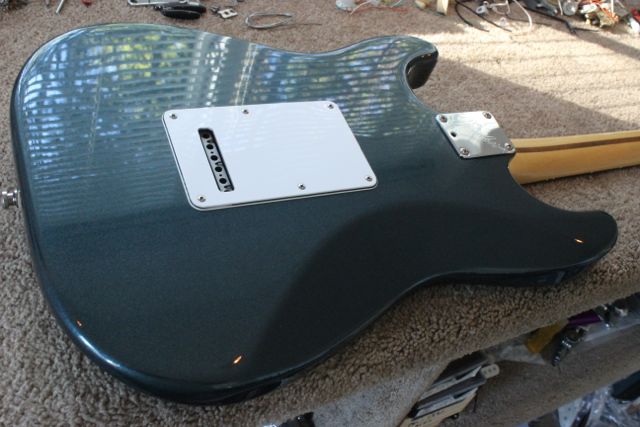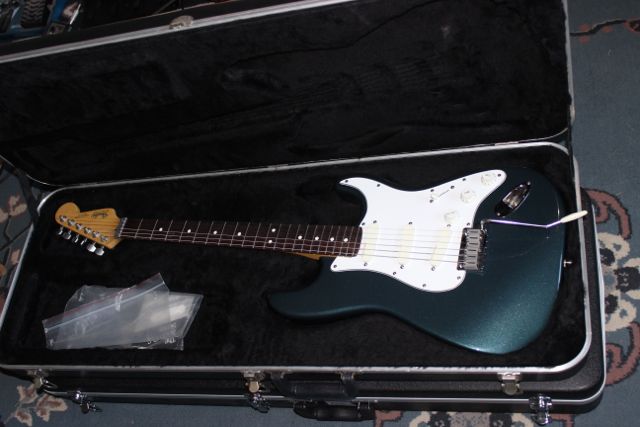 1988 GUNMETAL BLUE STRATOCASTER PLUS: Condition: EXCELLENT. Body is near perfect and is high gloss with no cracks, belt rash, or scratches. Fret board and frets are like new. This 1988 Gunmetal Blue Plus is completely original. This is a cool color that looks some what darker in low light but is really a green/blue color that has a fine metal flake in it. One lower shot was done with a flash so you can get a better idea of the color with the sparkels in it. This color is getting harder to come by. Come with the original Fender retangular hardshell case that is in great condition. PRICE: $1450 (SOLD)
___________________________________________________________________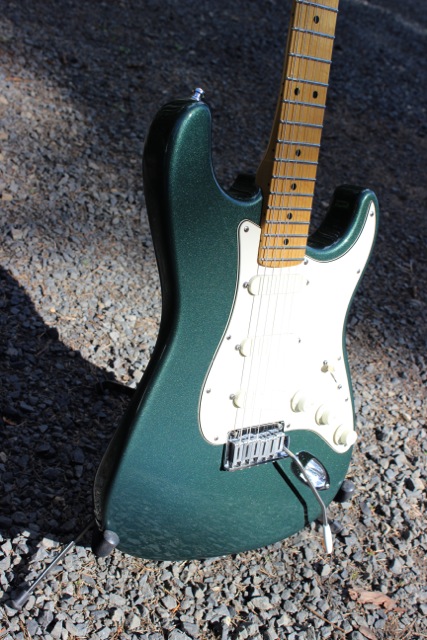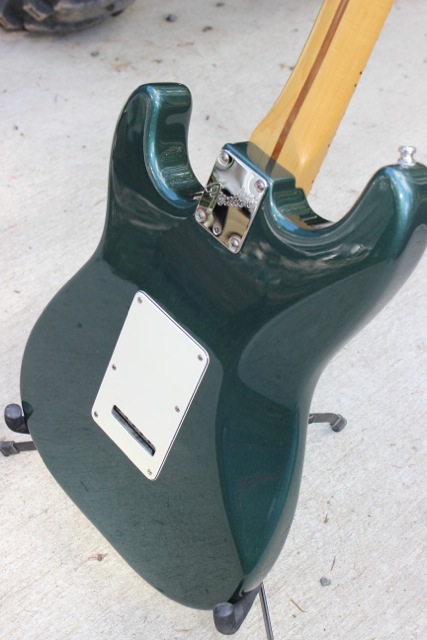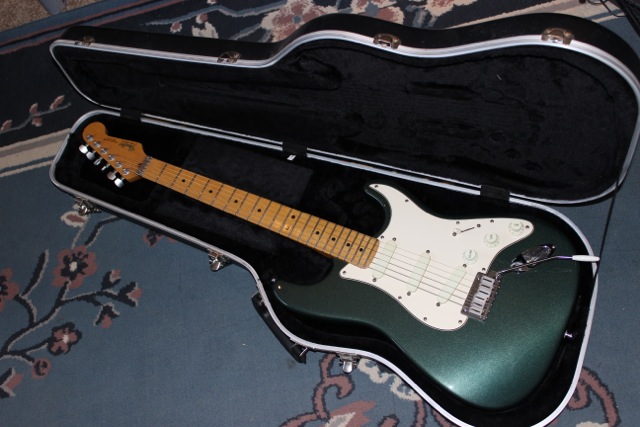 1989 GUNMETAL BLUE STRATOCASTER PLUS: Condition: NEAR MINT. Body is perfect. Not a scratch, crack, or ding on it. Great color! Neck is near perfect. Fret board is excellent and frets are like new. This 1989 Gunmetal Blue Plus is completely original. This color is hard to catpure on a camera so I took some picts in direct sunlight so you could see the flake in the finish better. Cool color that looks some what darker in low light but is really a green/blue color that has a fine metal flake in it. Very cool color! The maple neck has a darker vintage tint than some of the Plus'. I see where Fender did this from time to time on some necks and it could have yellowed with age a little too. Has a newer Fender form fitting hardshell case that is in excellent condition. PRICE: $1450 (SOLD)
___________________________________________________________________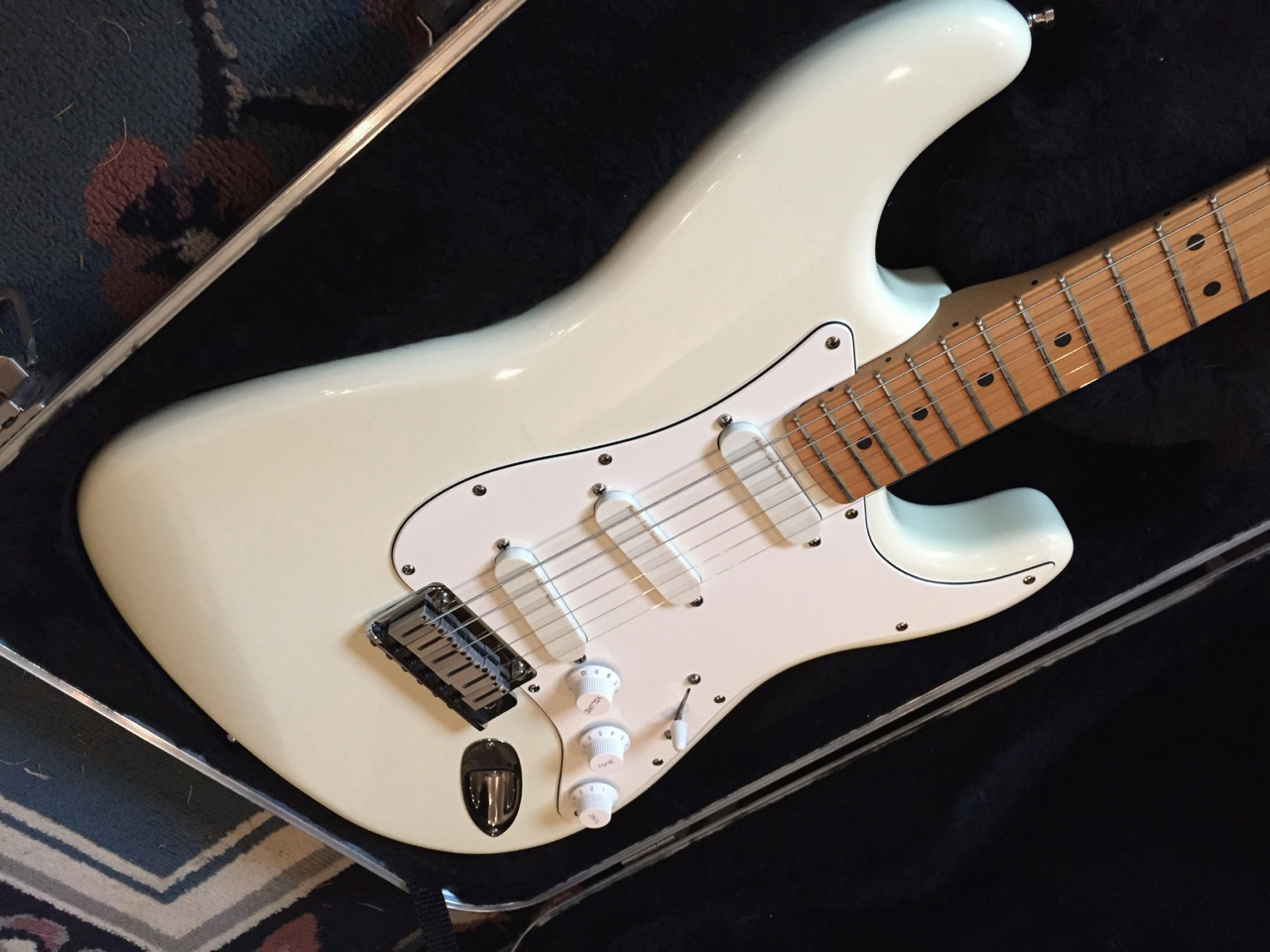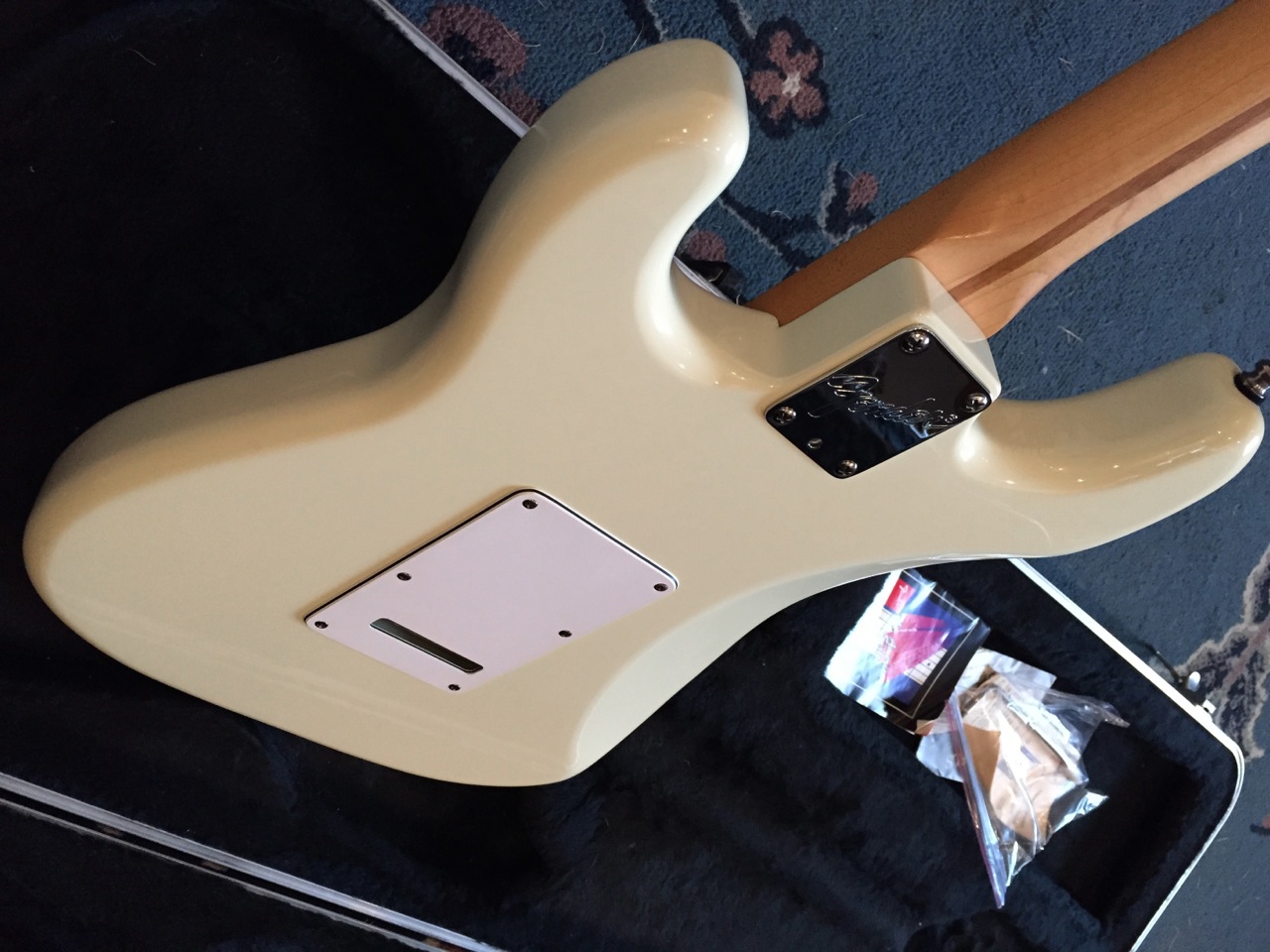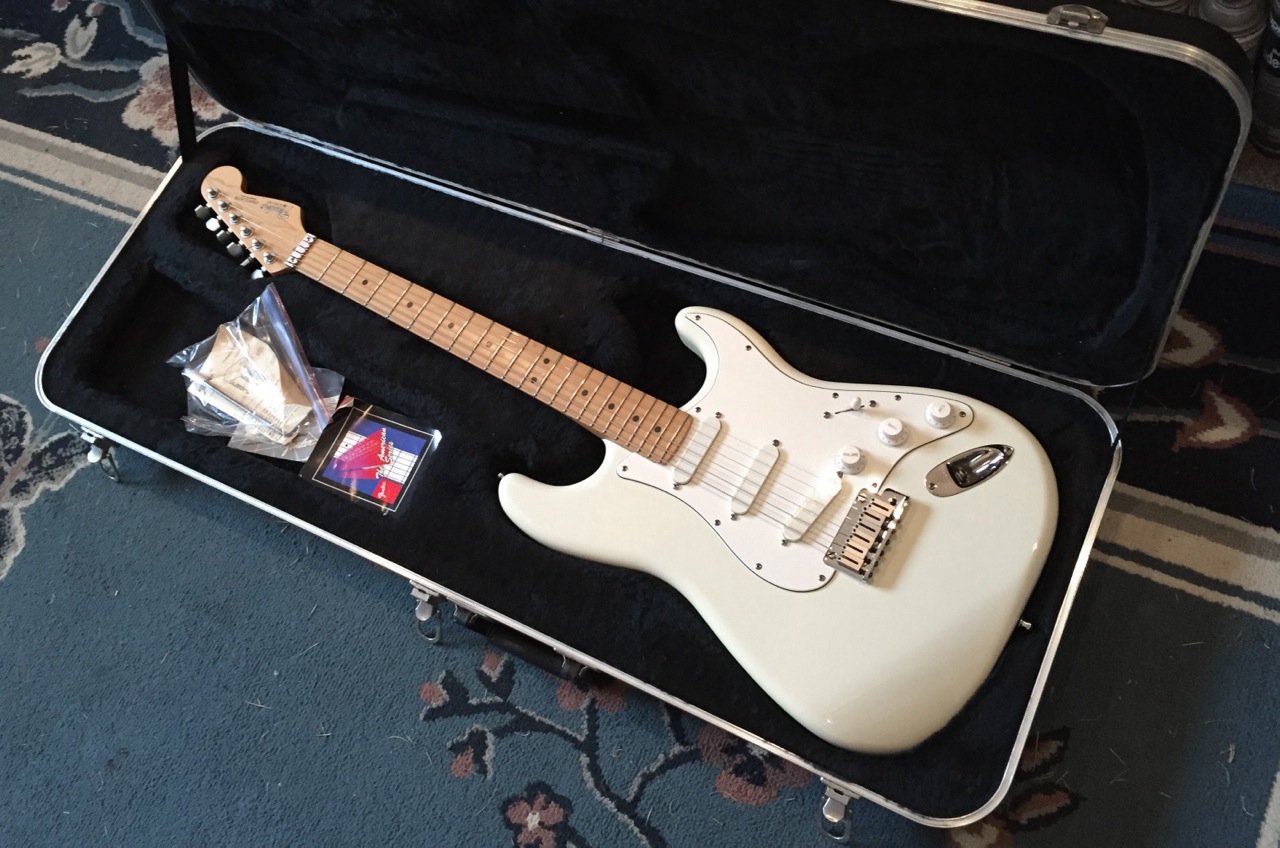 1989 ARCTIC WHITE STRATOCASTER PLUS DELUXE Verison 1: Condition: NEAR MINT. No rash or scratches. Frets like new. This a Version 1 Strat Plus Deluxe which came with the Silver/Silver/Blue Lace Sensor pickups. These were made for a very short from mid-1989 through early 1990. Fender then switched over to the Blue/Silver/Red Lace Sensors on the DX models. Comes with original retanglar Fender hard-shell case and some of the paperwork. PRICE: $1325 (SOLD)
___________________________________________________________________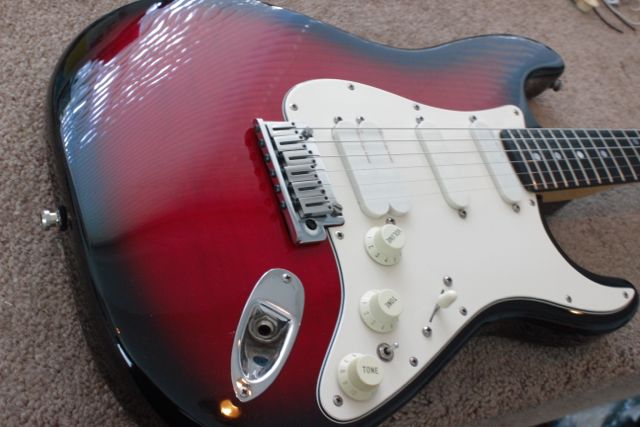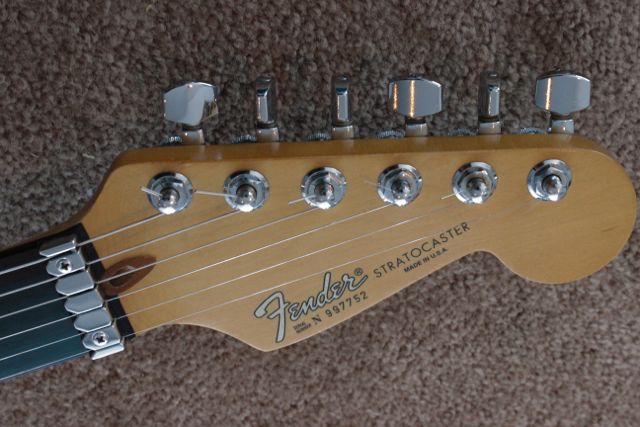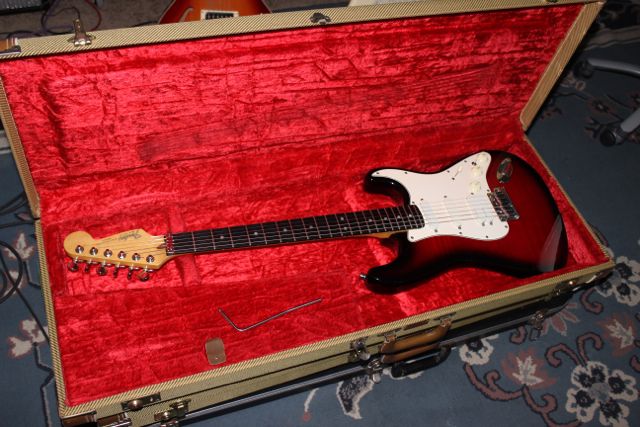 1990 CRIMSON FROST STRATOCASTER ULTRA: Condition: VERY GOOD. This guitar is a Fender ULTRA and is very clean, as you can tell from the picts, especially for a 24-year old guitar. The frets are in great shape. This is a VERY RARE COLOR (Not Crimson Burst but Crimson Frost). Email me for all the details & more picts. This pickguard has aged to a nice creamy off-white. Ultras are getting harder to find. They came stock with all CHROME parts: Wilkinson nut, bridge saddles, and Schaller tuners. Ultras were one of the few guitars that Fender equiped with an EBONY fretboard with real abalone inlay. They also sported flamed Maple on tops and backs. Comes with a Fender Tweed Fender hard shell case that has a few scuff on it. PRICE: $1700 (SOLD)
___________________________________________________________________
1997 ARCTIC WHITE STRATOCASTER PLUS DELUXE ULTRA CUSTOM: Condition: NEAR MINT. This guitar started out as a 1997 Strat Plus which was upgraded with a custom wired Ultra pickguard in White/Black/White. Nice light Rosewood board stands out against the aged white body.THINK JEFF BECK but BETTER, in that a Beck comes with 4 Gold Lace, this guitar has a Purple Sensor in the neck (over-wound P-90 tone which lends itself for Blue, Jazz, and other music styles), and Gold Sensor in the middle, which has 50s classic tones—it really gives this Strat those nice out-of-phase tones in positions #2, & #4, plus a Blue/Red Dually in the bridge (Tele & Humbucker tones). All the wiring, pots, switches, pickups and pickguard are brand new. Comes with a new Gator Strat hard-shell case. PRICE: $1675 (SOLD)
___________________________________________________________________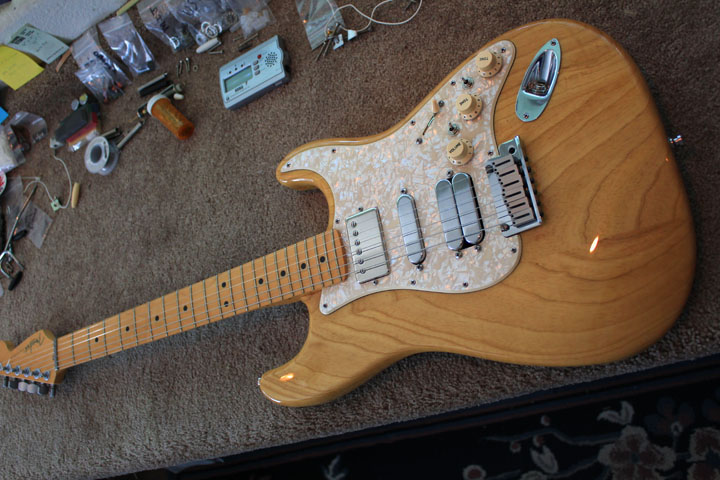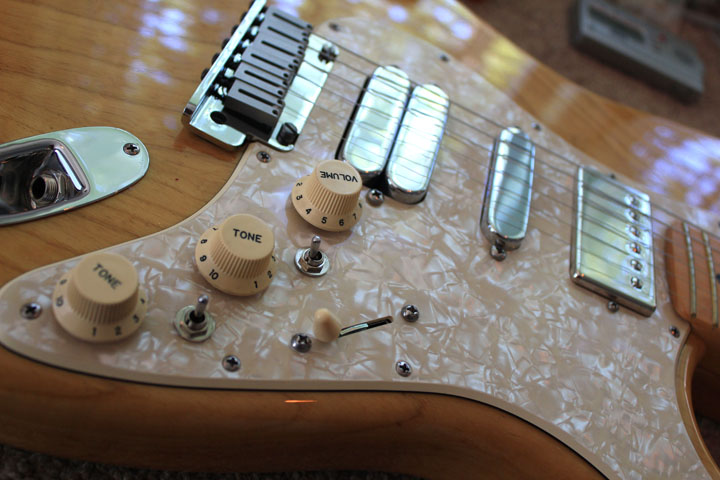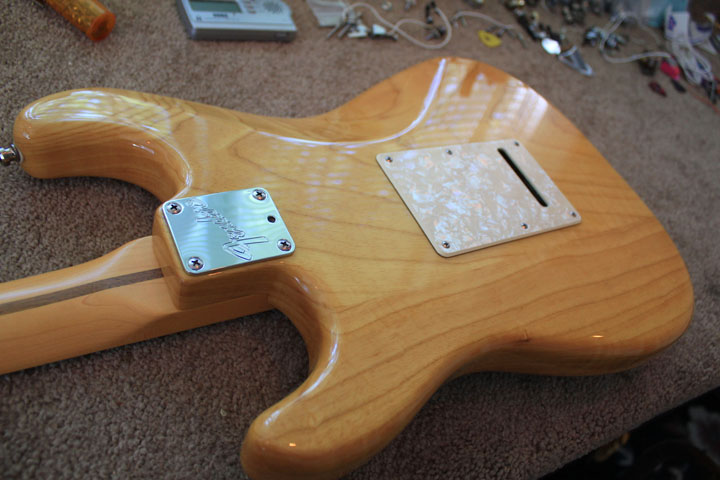 1997 SOLID ASH STRATOCASTER PLUS DELUXE ULTRA CUSTOM: Condition: NEAR MINT. This guitar is nearly unplayed and has one of my coolest modifications! This has been customized like an Ultra with a Humbucker in the neck position. The NECK pickup is a SEYMOUR DUNCAN (APH-1n) Alnico II Pro humbucker with Chrome Domes wired like an Strat Ultra. This has a mini-switch that splits the humbucker, so you can get more vintage tones, like a Teleicaster or a Stratocaster, in the neck, and it also nice for mixing with the other pickups. This guitar can do it all; it can sound like a Les Paul in the neck position, a vintage Strat in all the other postitions, and even a Telecaster, espcially in the bridge position. Very cool Ash body which has some wild grain. The bridge Dually are the Red Chrome Domes pickups. Comes with a Fender vintage Tweed Hardshell case with some of the case candy. PRICE: $1750 (SOLD)
___________________________________________________________________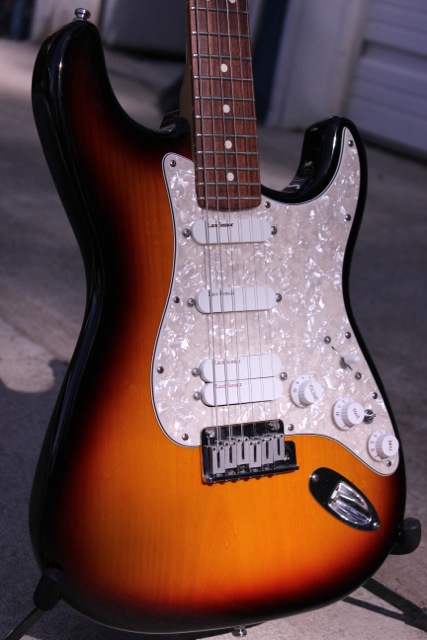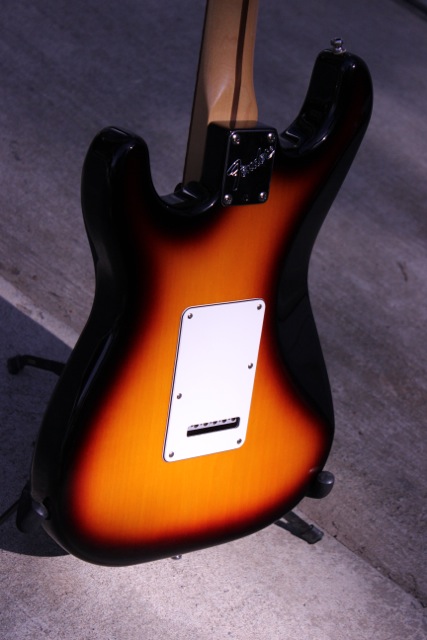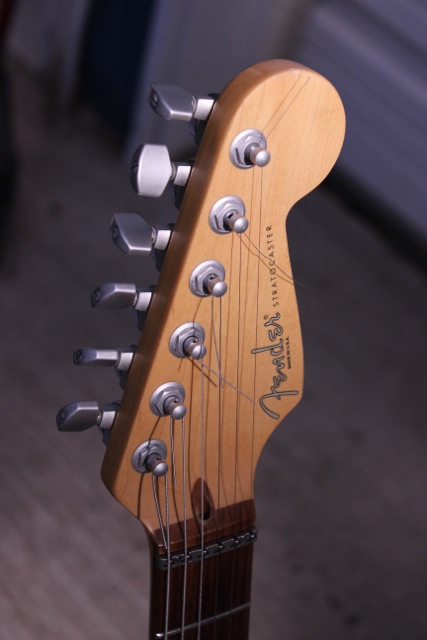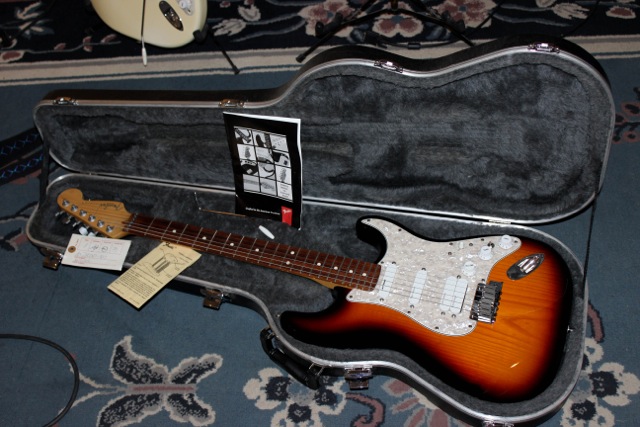 1996 SUNBURST STRATOCASTER PLUS DELUXE ULTRA CUSTOM: Condition: Near MINT. Frets like new and Rosewood is excellent. This guitar started out as a 1996 50th Anniversary Strat Plus Deluxe. I upgraded it with a custom wired Ultra pickguard in Aged Pearl. This one has some very nice tonal flavors! The action is really low. The body has nice ASH grain showing through the finish. It is loaded with Burgundy Sensor in the neck (which gives a really nice fatter/smooth jazzy/blues tone), an Emerald Sensor in the middle, which is often refered to as the Stevie Ray Lace pickup and a Red Dually in the bridge. All the wiring, pots, switches, pickups and pickguard are brand new. Comes with a nice Fender Strat Plus hard-shell case and original hang tag with matching serial number. PRICE: $1400 (SOLD)
___________________________________________________________________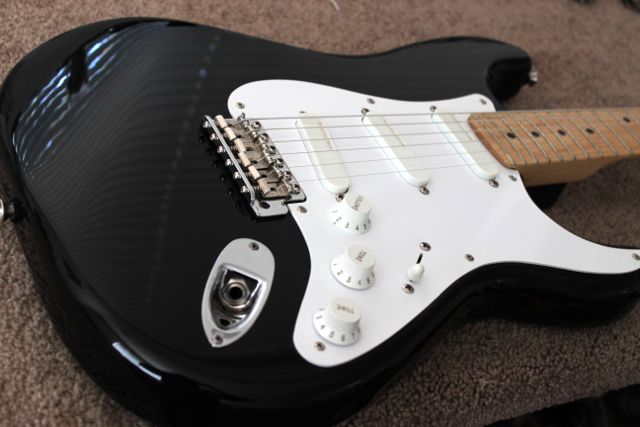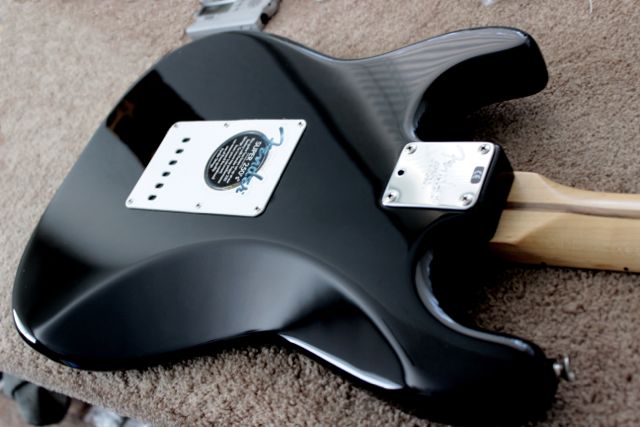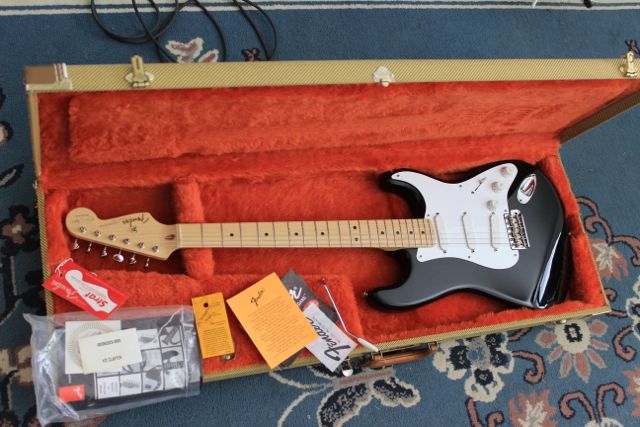 2000 ERIC CLAPTON "BLACKIE" STRATOCASTER: Condition. NEAR MINT. This guitar is basically like New Old Stock. All EC Strat have the Fender decal on top the finish. This has all the featuers found on the early Eric Clapton Strats, complete with the Gold Lace Sensors. (FYI, the newer one now use the Fender Noiseless pickups, which I personally do not care for). This is about as close as one can get to buying brand new.I own several of the EC Strats and they are one of the best feeling and versatile guitars made. The 25db boost it allows to go from a vintage 50 Strat tone to a fat "woman" tone. As stated, the 50's V shaped neck has a wonderful feel to it. The body is spotless, as is the neck. It was bought but never played. It still has the factory stickers on the back of the trem plate and the neck plate, and there are no pick scratches on the pickguard. Comes with original deluxe tweed Fender hardshell case that is in great condition and all the case candy and hang tag. PRICE $1300 (SOLD)
___________________________________________________________________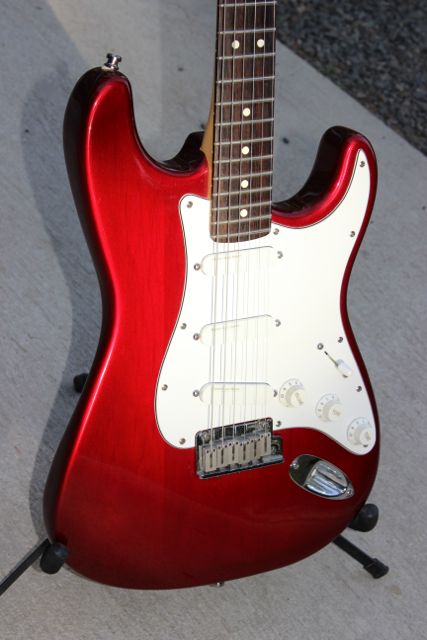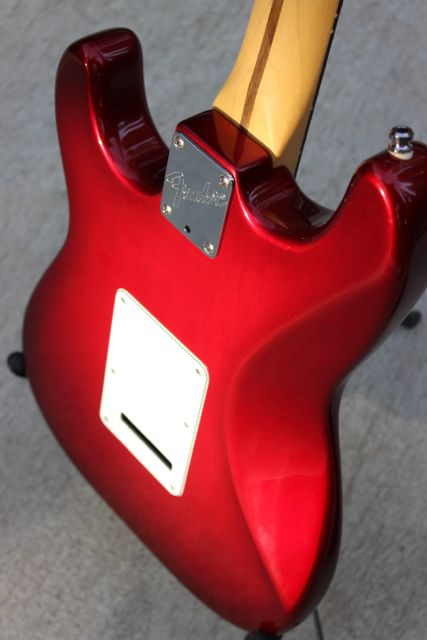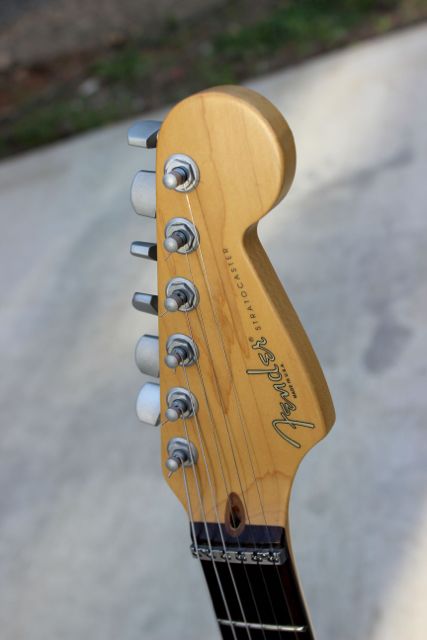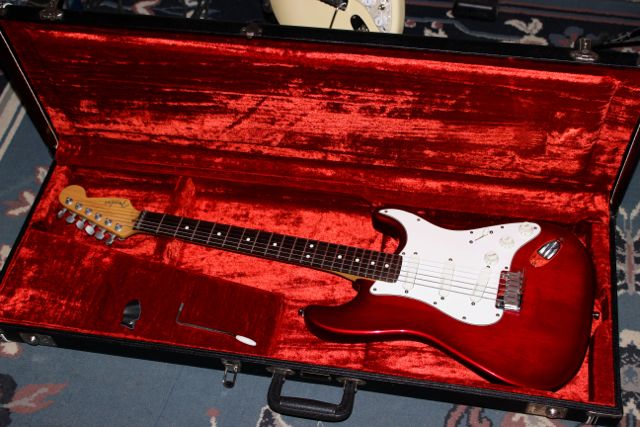 1995 CRIMSON BURST STRAT PLUS Condition: NEAR MINT. Body is excellent. Frets are like new. Rsewood is excellent! When I received this it still had the plastic on the pickguard. This is a very cool color that is like a transparent Candy Apple Red burst with Ash showing though the finish. This is a hard to find color. Has Gold Lace pickups with all the standard Strat Plus apointments. Comes with a rectangular Fender Tolex hard-shell case that is like new. PRICE: $1350 (SOLD)
___________________________________________________________________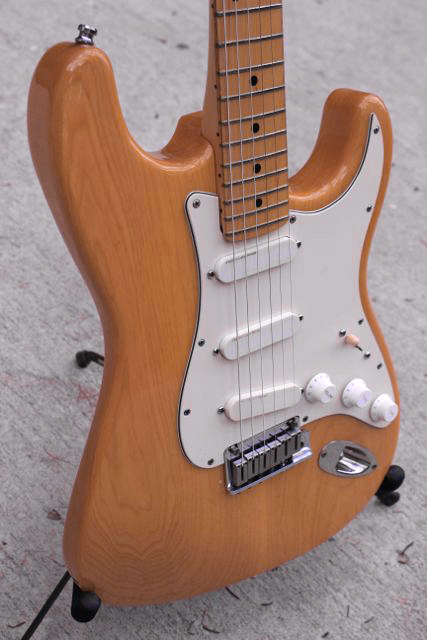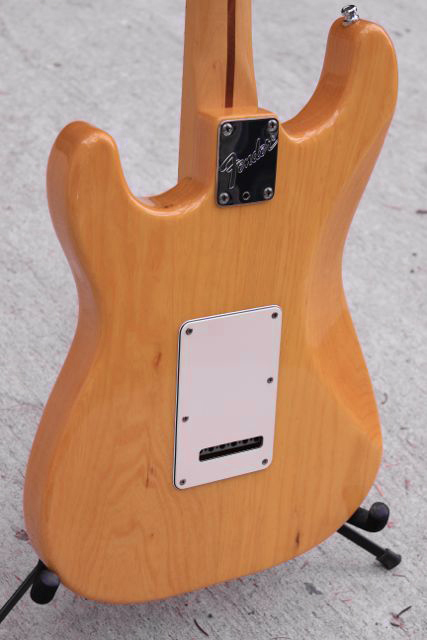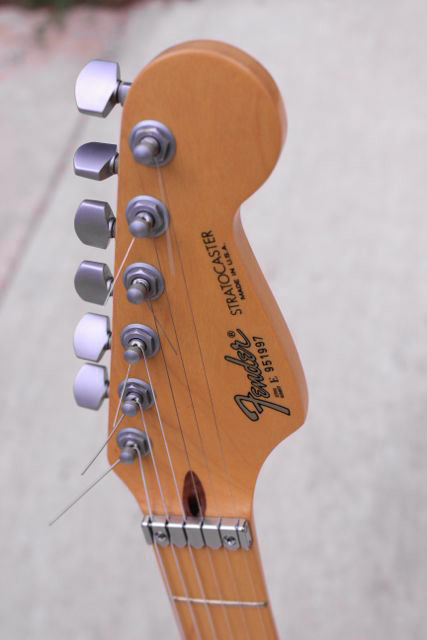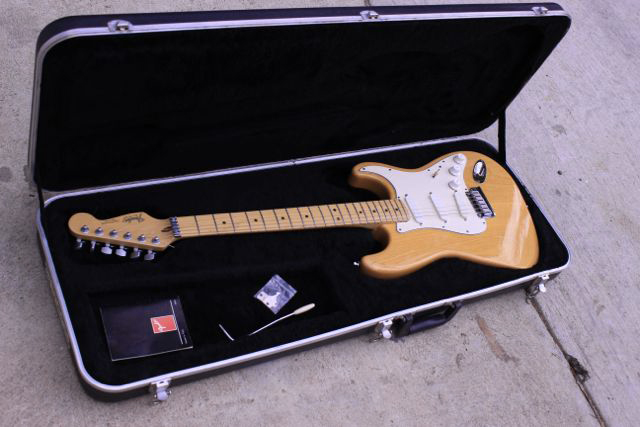 1989 NATURAL ASH STRAT PLUS DX: Condition: NEAR MINT. Frets like new and fretboard excellent. No cracks or issues. Hard to find model. This a Version 1 Strat Plus Deluxe which came with the Silver/Silver/Blue Lace Sensor pickups. These were made for a very short from mid-1989 through early 1990. Fender then switched over to the Blue/Silver/Red Lace Sensors on the DX models. Has a very nice Maple fretboard. This Plus it totally stock. Comes with original hangtags and some of the other case candy. PRICE: $1400 (SOLD)
__________________________________________________________________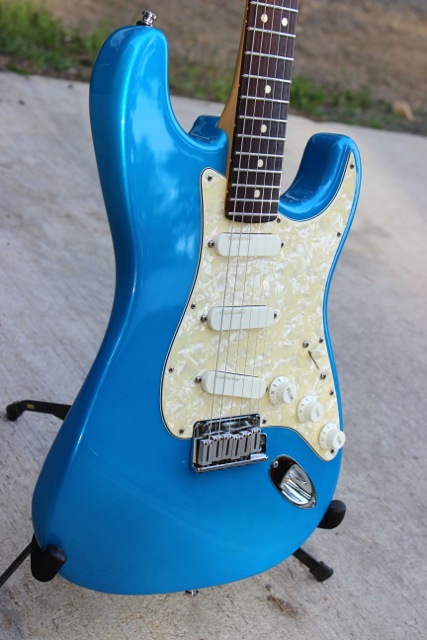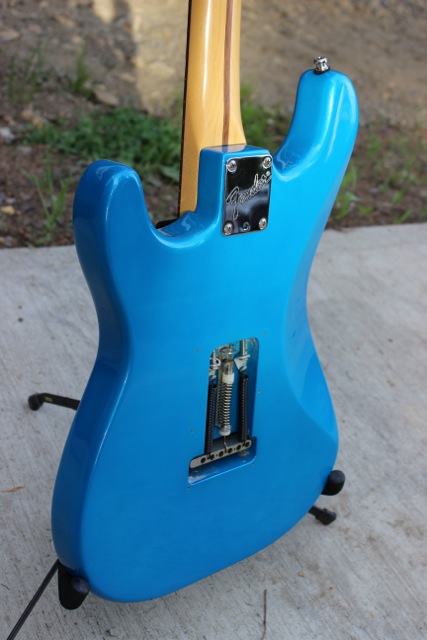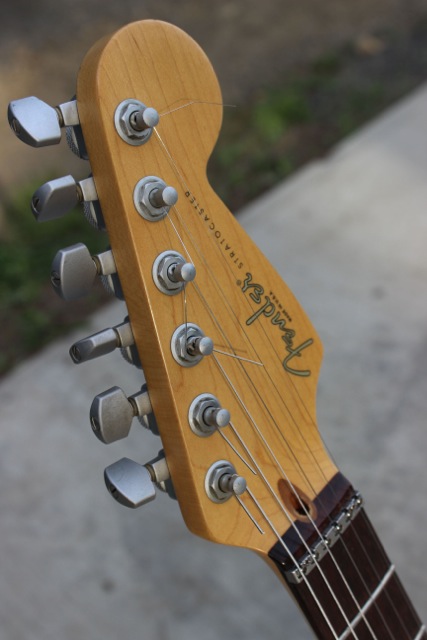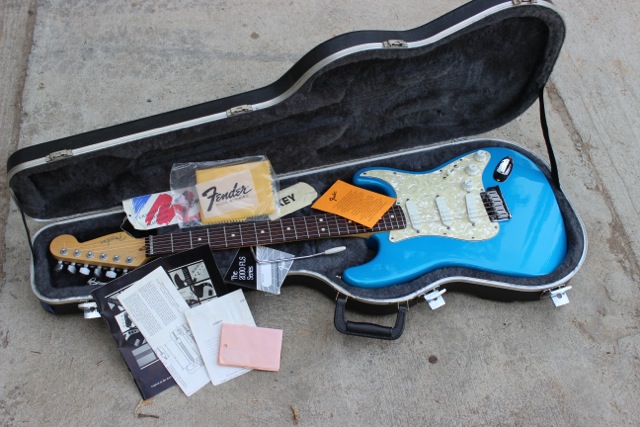 1995 ELECTRIC BLUE STRATOCASTER PLUS: Condition: EXCELLENT+. This blue is one of the hardest to find colors in the Strat plus line, being only available in 1995 and into 1996 on Strat Plus guitars. This color is about as hard-to-find as Dusty Rose, Shell Pink, or Razz Berry. The blue is very bright metallic and not to be confused with Lake Placid Blue. The guitar is very clean. I found a small spot on the back of the neck where the finish is slightly rubbed. Dark rosewood fretboard and frets look like new. More details, email me. Comes with the original Strat Plus case with al latches working perfectly. Has ALL the paperwork which shows it was bought new at Henri's Music in 1995 for $1139.99, hang tags, and other case candy. I was not too excited about selling this. PRICE: $1650 (SOLD)
___________________________________________________________________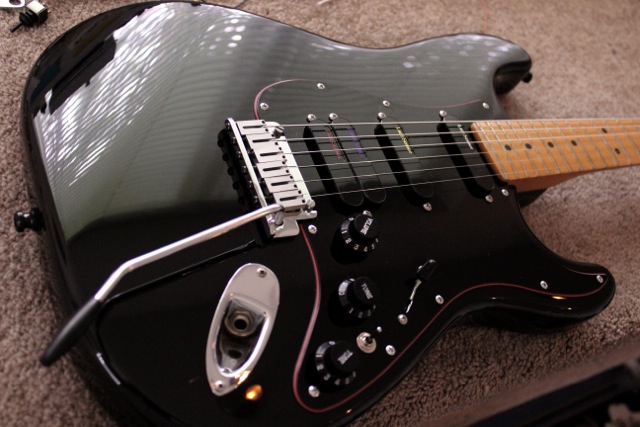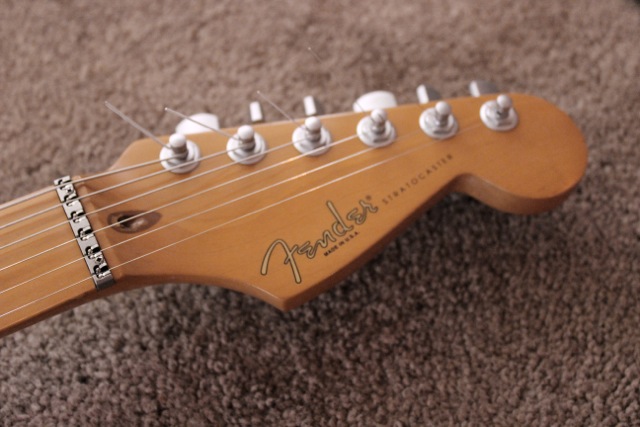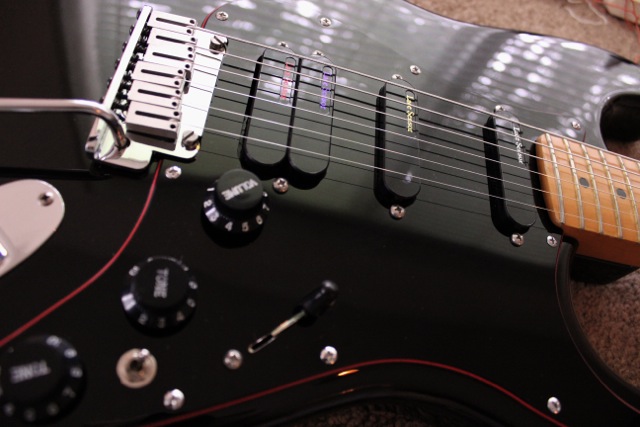 1995 BLACK STRATOCASTER PLUS DELUXE ULTRA CUSTOM: Condition: VERY GOOD. This guitar was a Strat Plus Deluxe that I upgraded with a custom wired Ultra style pickguard in Black/Red/Black. This is loaded with Silver Sensor in the neck (which gives a sweet 1970w single coil tone), Gold Sensor in the middle for those cool Strat tones in positions #2 & #4, and a Purple/Red Dually in the bridge. This guitar is clean, but as not minty like some of the other ones I have put together. There a few very small blemishes, none that can be seen unless you hold the guitar just right. (Email me for details!). This guitar plays super sweet and has killer tone. All the wiring, pots, switches, pickguard, and pickups are brand new. Has some nice vintage Strat tones with tele and other tones at a flip of a switch. Frets are excellent and the maple neck as a darker vintage tint to it. The Mini Switch alone gives several variations, which are really cool. Here's what it does to the Dually Bridge Pickup (and remember too, that these settings can be mixed with the other pickups in Positions #2 & #3). Up) splits off the back pickup, so since the distance is farther away from the bridge, it creates a cool Strat hollow sound, which then can be mixed with the middle pickups with the 5-way switch. Middle) has the bridge pickups in parallel creating a hot humbucker sound. Down) splits off front pickup on the bridge to give a Strat single coil bridge sound. Comes with a nice Fender Red Label hard-shell case. PRICE: $1300 (SOLD)
___________________________________________________________________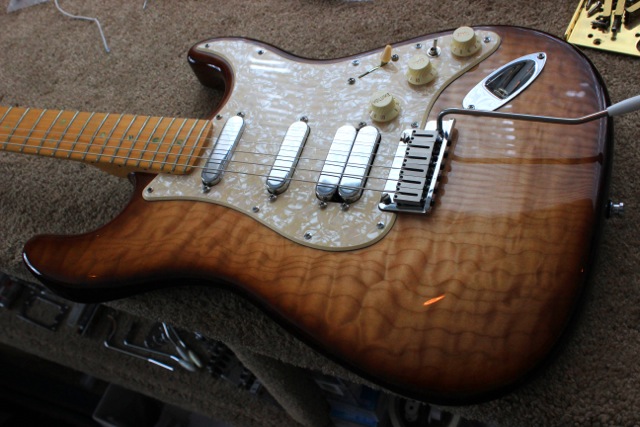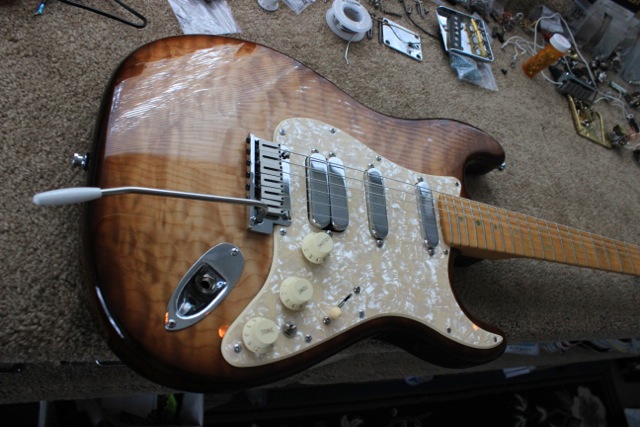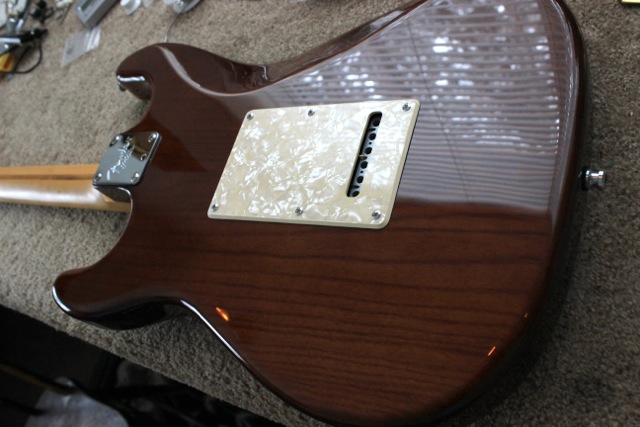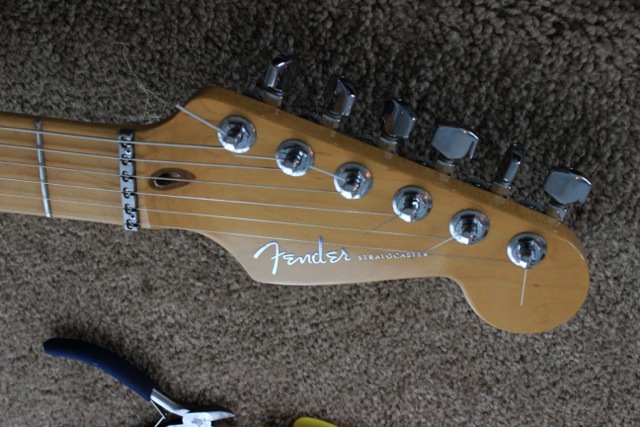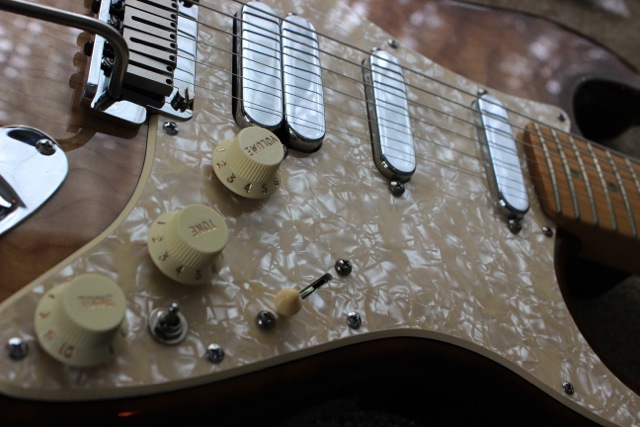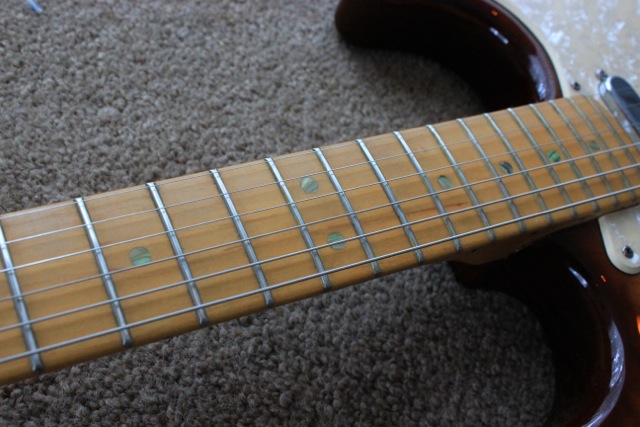 2008 CUSTOM DELUXE ULTRA: Condition: MINT. Fender Deluxe Strat neck on a highly flamed Warmoth body with the appointments similar to a Strat Ultra. The body is chambered Mahogany with a split Curley Maple top. It is custom wired like an Ultra using Chrome Dome Lace Sensors. The neck is a Chrome Dome Blue Lace, the middle is a standard Chrome Dome Gold Lace, and the bridge is a Dually Chrome Dome Red Lace! Super nice playing guitar. PRICE: $2000 (SOLD)
___________________________________________________________________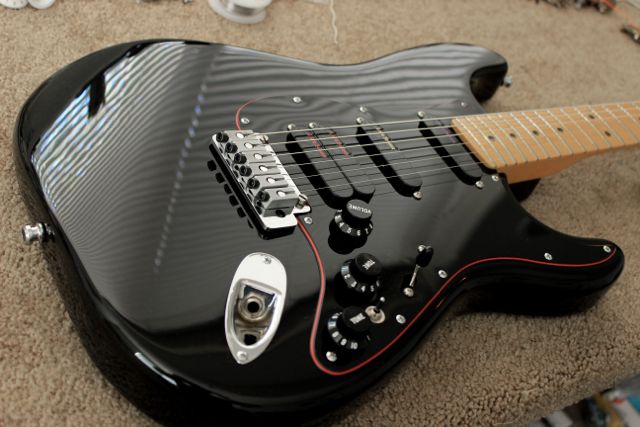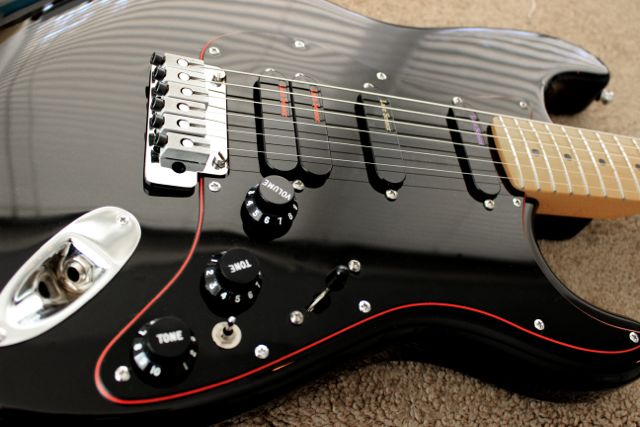 1997 STRATOCASTER PLUS DELUXE ULTRA CUSTOM: Condition: NEAR MINT. This guitar was a Strat Plus Deluxe that I upgraded with a custom wired Ultra style pickguard in Black/Red/Black. This is loaded with Purple Sensor in the Neck (which give a hot overwound P90 single coil tone), Gold Sensor in the middle for those cool Strat tones in positions #2 & #4, and a Red Dually in the bridge. This guitar is very clean as you can tell by the picts. Comes with DX Floyd Rose II bridge and pop-in trem arm, and a nice Strat Plus case.PRICE: $1650 (SOLD)
___________________________________________________________________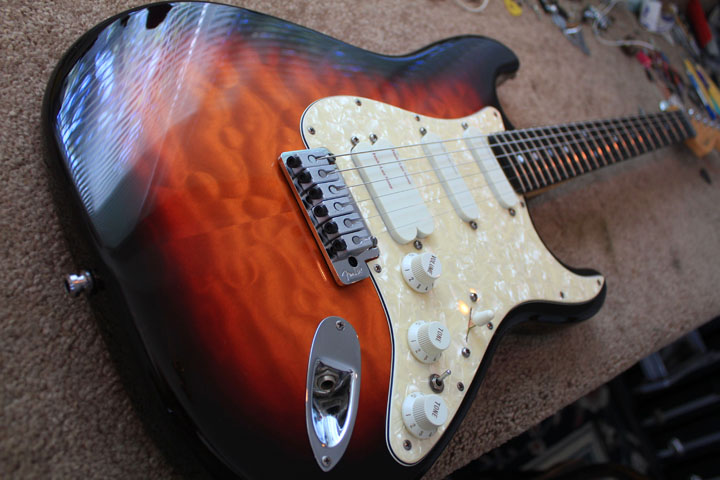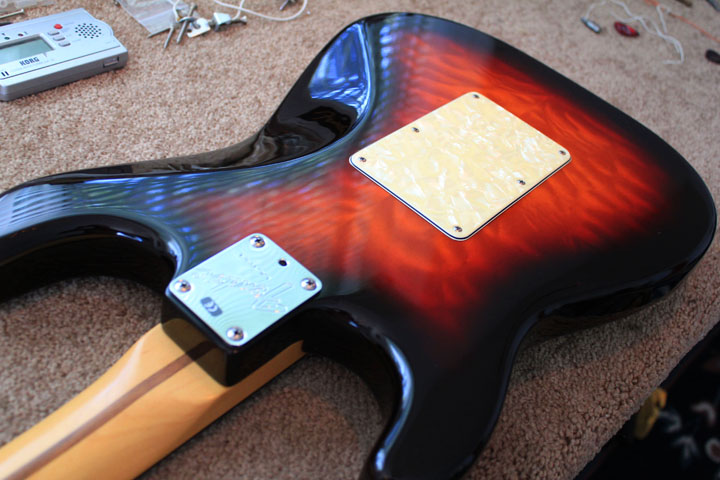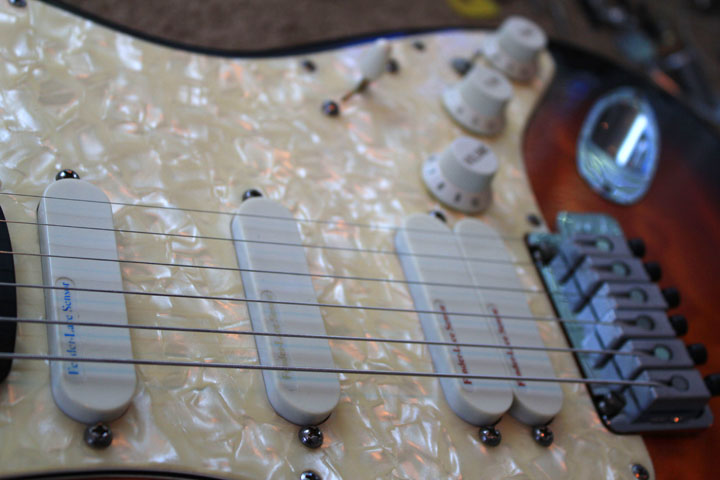 1998 STRAT ULTRA with a Curly Maple burl top and back. Condition: NEAR MINT. The Serial number says 1997 but the neck stamp is march of 1998, so this is one of the very last Ultras Fender cranked out before they discontinued the series. This one is has the rarer Curly Maple burl top. The guitar is like new, being almost unplayed. I bought it from an owner who bought it in 1998 and stuck it under his bed for most of it's life. Has all the Ultra appoinments: Ebony fret board with medium-jumbo frets, all Chrome parts, deluxe Fender Floyd Rose II bridge, and real abalone dot inlays. Lovely guitar!PRICE: $1875 (SOLD)
___________________________________________________________________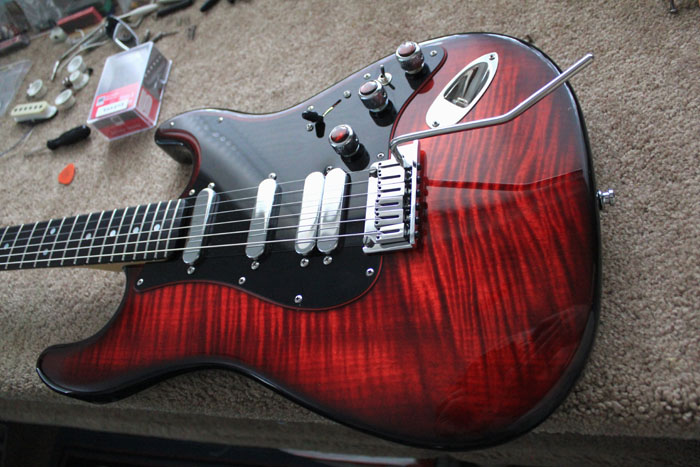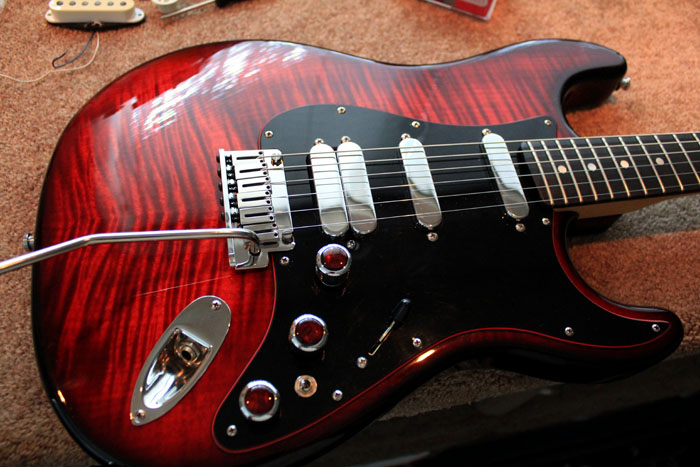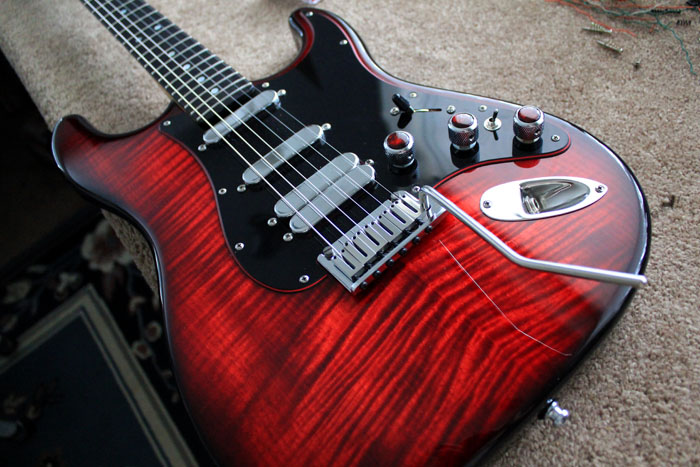 1991 CUSTOM DELUXE ULTRA STYLE STRAT. Condition: MINT. This is a highly flamed matchbook Maple top on a chambered Ash Warmoth body with a 1991 Fender Ultra neck. IThis was loaded with hot Lace Sensor Chrome Dome pickups (neck and middle) and Red Hot Dually Chrome Dome in the bridge and is wired like a Fender Ultra. PRICE: $2000 (SOLD)
___________________________________________________________________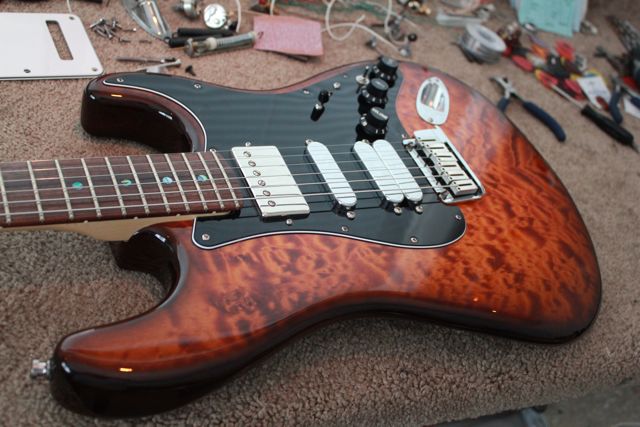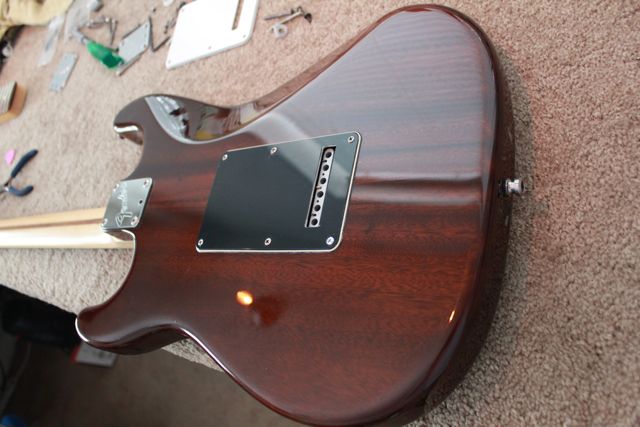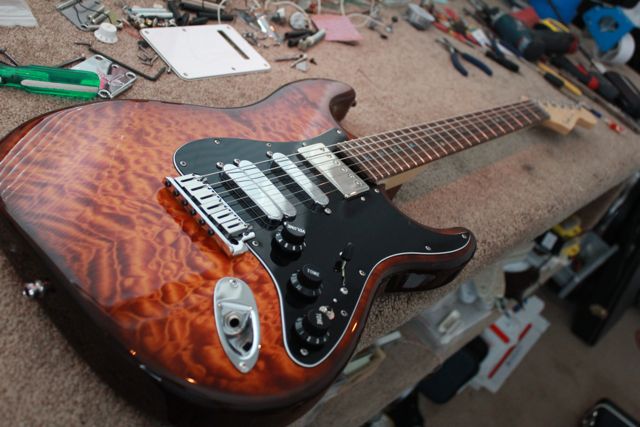 2005 Deluxe Strat neck on a highly flamed Warmoth body with the appointments of a Strat Ultra kinda hybrid Les Paul! Condition: MINT. The body is solid Mahogany with a 1/8 inch Curly Maple matchbook cap. It has Red Hot Chrome Domes in the bridge in conjunction with a 3-way mini-switch (wired like an Ultra). There is a Hot Gold Chrome Dome in the middle and a Seymour Duncan 59 PAF (Nickel plated SH-1N) in the neck. PRICE: $1850(SOLD)
___________________________________________________________________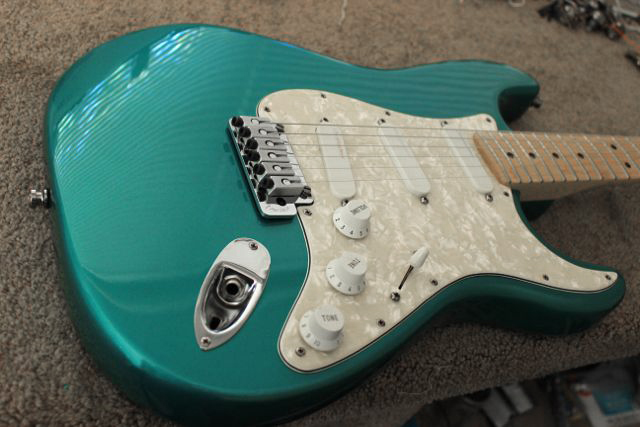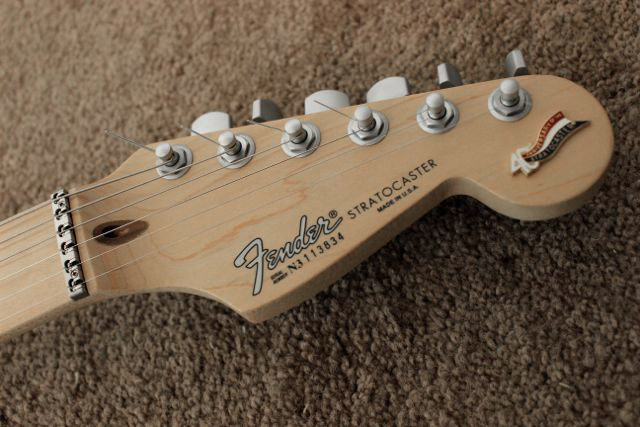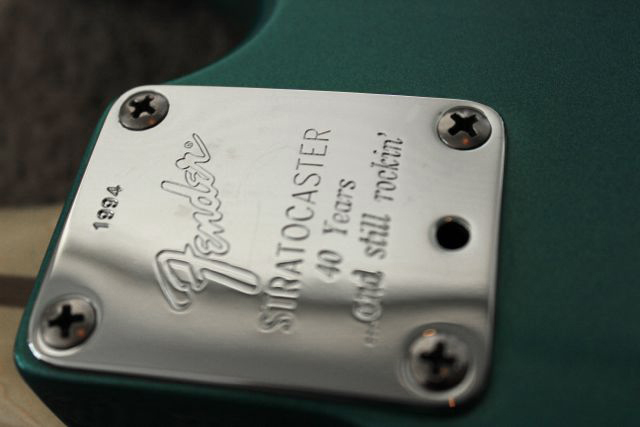 1994 CARIBBEAN MIST STRATOCASTER PLUS DELUXE, 40TH ANNIVERSARY MODEL: Condition: EXCELLENT+. A very hard to find Strat Plus in the 40th Anniversary edition with special American Flag Logo on the headstock and custom neck plate. Guitar is near mint condition (email me for the nitty gritty details!) Has the DX Floyd Rose II Tremolo with pop-in trem bar. The name plates has 1994 date and Fender Stratocaster 40 years and still rockin'. Has the Blue, Silver, Red Lace Sensor pickups. Hard color to capture on camera but the color is close to the picts is is a fine metalic in the finish. PRICE: $1800 (SOLD)
___________________________________________________________________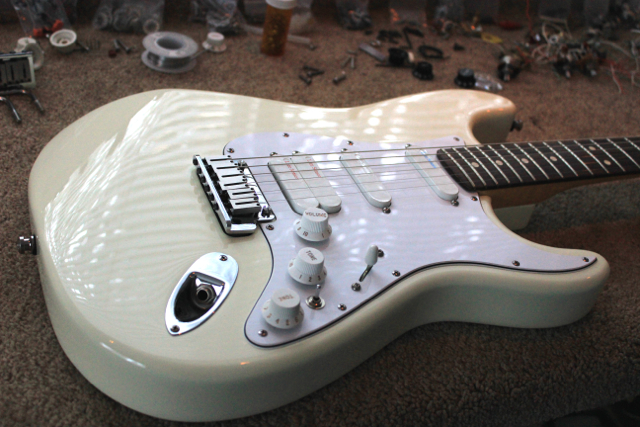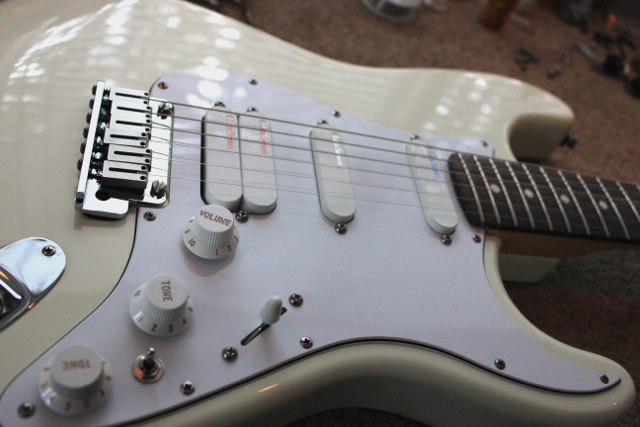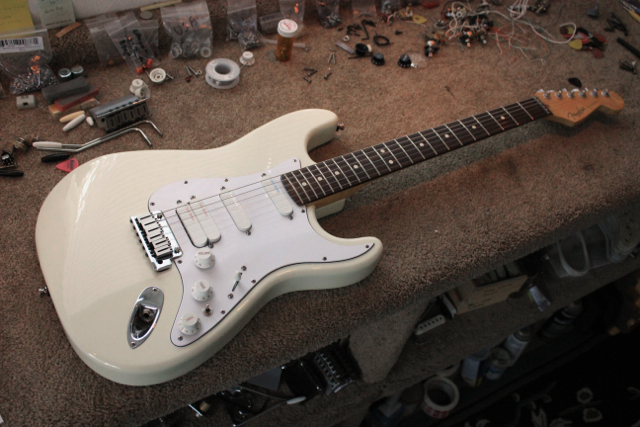 1996 ARCTIC WHITE ANNIVERSARY STRAT PLUS CUSTOM. Condition: EXCELLENT +. This has Ultra wiring, Rosewood Fretboard. Super cool looking guitar. It has a bit of a Jimi vibe too it and looks a lot like the older Jeff Beck Strats—but with better pickup configuration, IMHO! Body is mint. Neck is super clean and has some nice natuarl flame to it. Has hang-tag and some of the case candy. Overall in excellent condition, neary like new. All the pickups and electronics are brand new. Comes with the 1996 Anniversary sticker on the back of the headstock. Has the back trem-cover on now which matches the pickguard. PRICE: PRICE: $1675 (SOLD)
__________________________________________________________________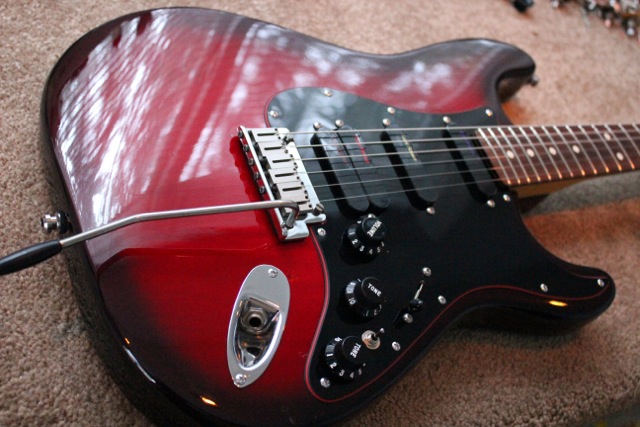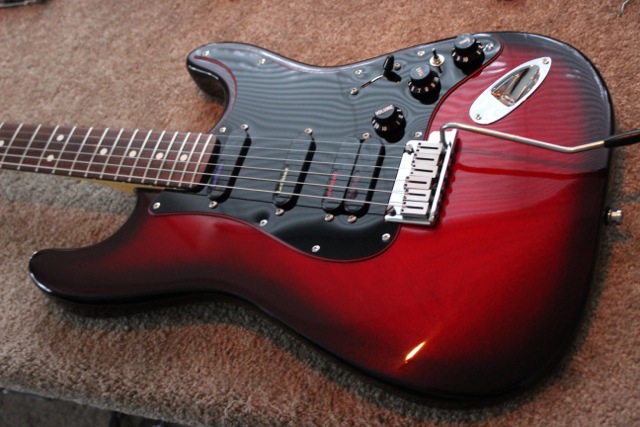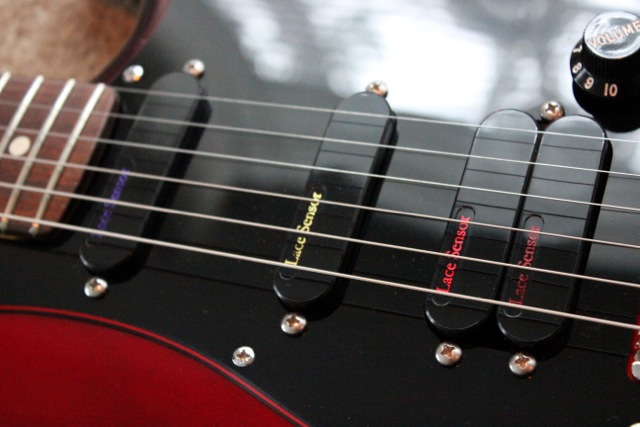 1991 CRIMSON FROST STRAT PLUS DX CUSTOM. Condition: VERY GOOD. Rosewood Fretboard; Alder body with Ash caps. The finish is transparent and shows the nice Ash grain through the red finish. Crimson Frost is a rare color issued on the Strat Plus models only between late 1989 to early 1992. It is not to be mistaken for the Crimson Burst which has a red metallic burst on the edges. This is wired like an Ultra with Purple Lace in the neck (P-90 type tone), Gold in the middle, and Red Dually in the bridge using all new USA made parts (pickups, pots, TBX, etc). This guitar is not mint, but clean and has only a few small nicks. PRICE: $1650 (SOLD)
___________________________________________________________________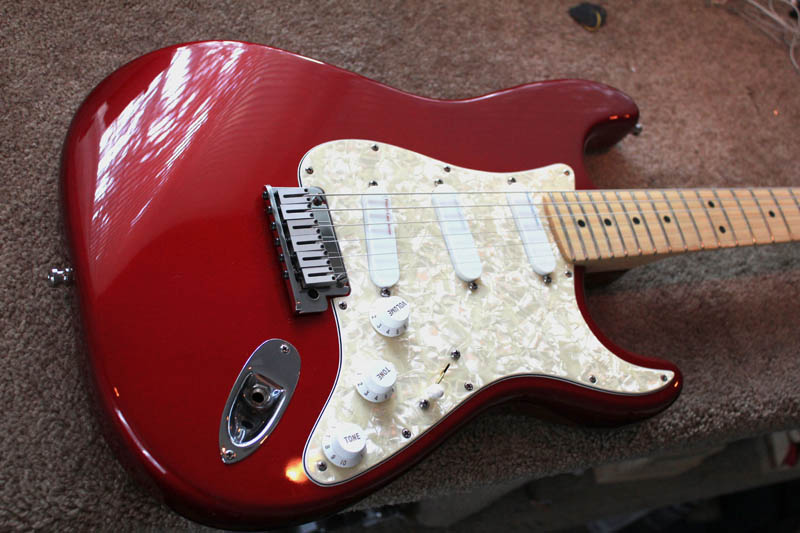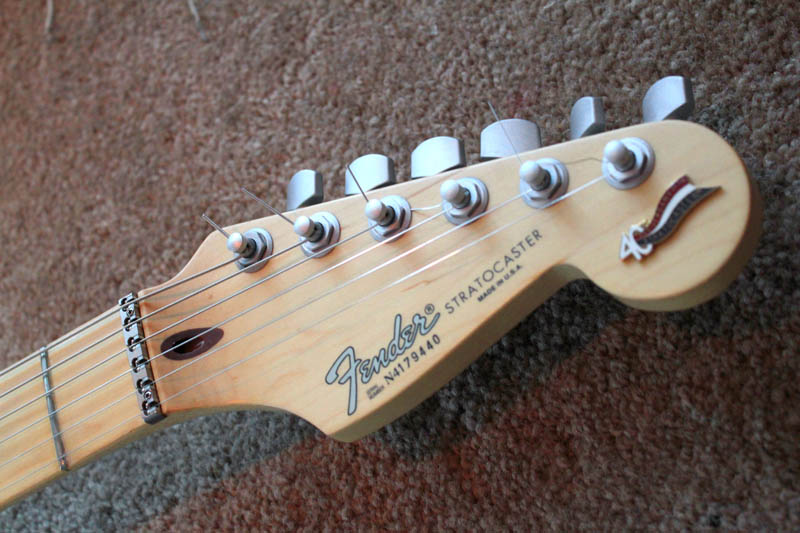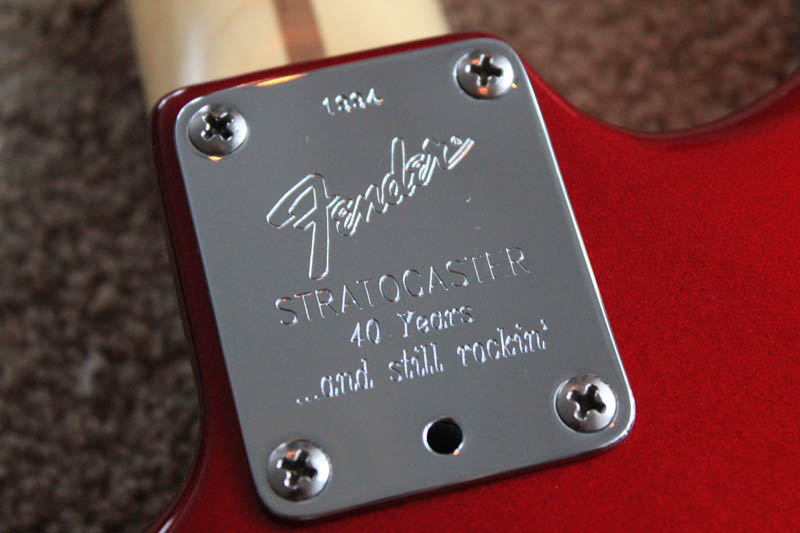 1994 Candy Apple Red 40th ANNIVERSARY STRAT PLUS DELUXE. Condition: NEAR MINT. (with special American Flag Logo on the headstock and custom neck plate), Maple fretboard. Spotless Maple fret board. The name plates has 1994 date and Fender Stratocaster 40 years and still rockin'. Has the Blue, Silver, Red Lace Sensor pickups. Near mint condition. Rare find.PRICE: $1775 (SOLD)
___________________________________________________________________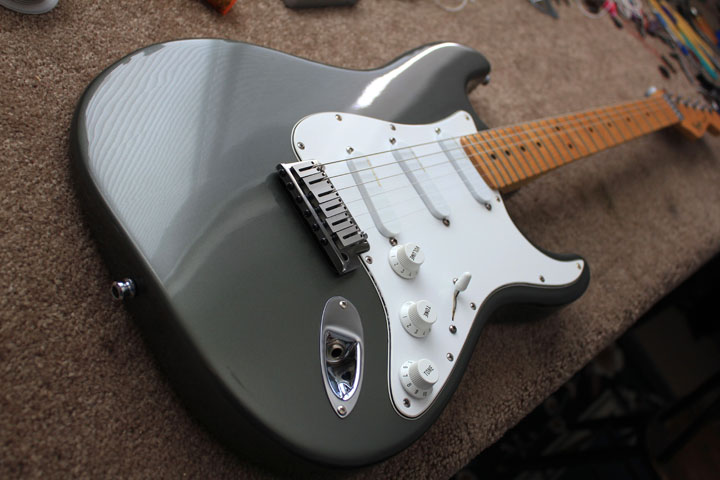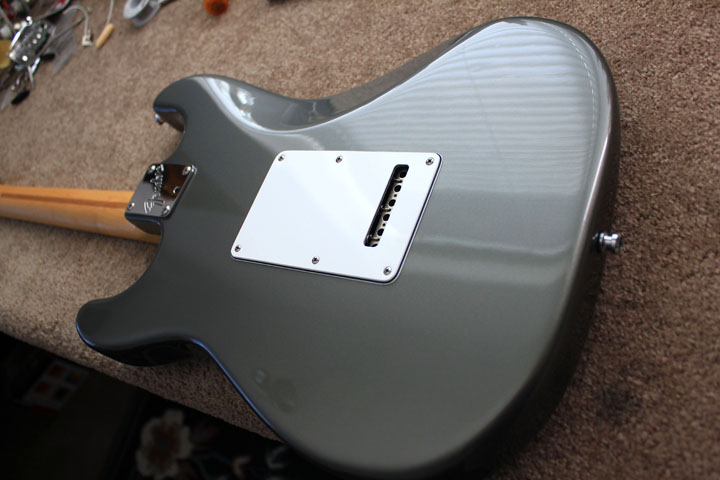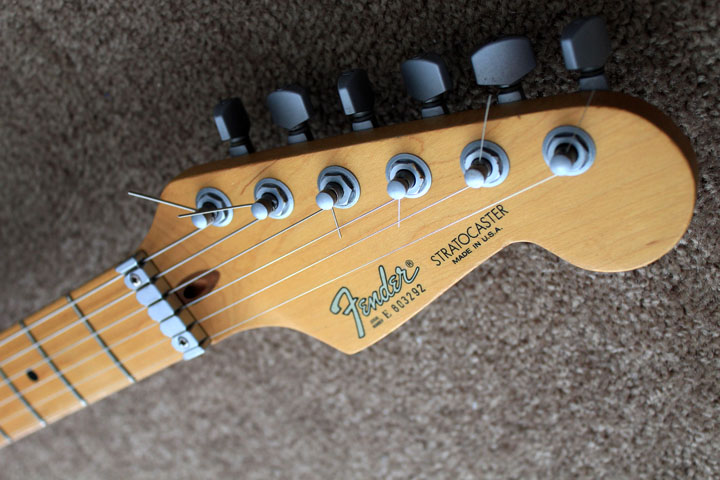 1989 PEWTER STRAT PLUS. Condition: EXCELLENT. Maple fretboard. This Plus it totally stock. Comes with original hangtags and some of the other case candy. The hangtag says it was manufactured in January of 1989, but the serial number indicates it is a 1988, so most people would sell it as an 88. Clapton used this same color on some of his signature Strats. Very clean.PRICE: $1300 (SOLD)
___________________________________________________________________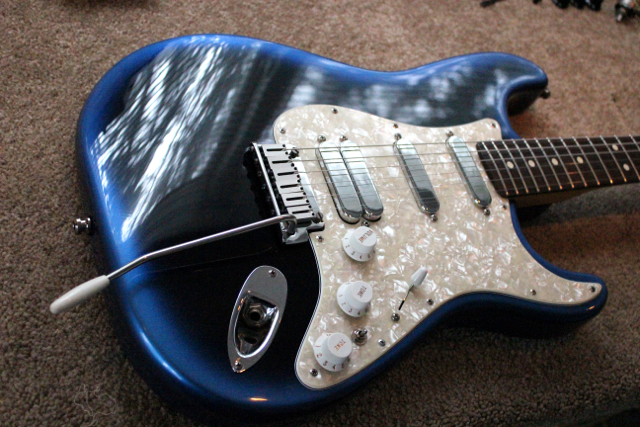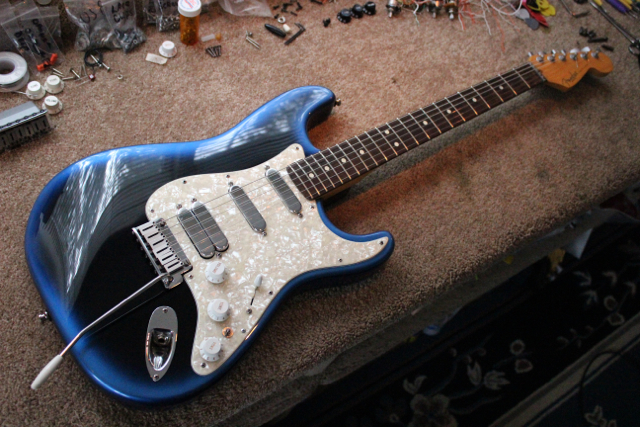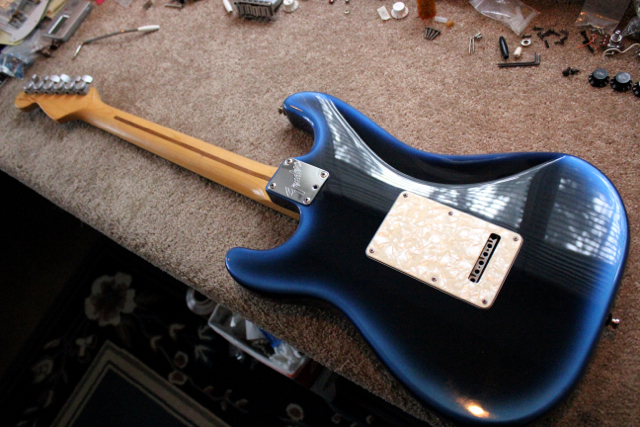 1997 BLUE PEARL DUST STRAT PLUS CUSTOM. Condition: VERY GOOD. Rosewood fretboard. This has a Hot Chrome Dome Lace Sensor Dually (which is like Red Lace Sensors) in the bridge in conjunction with a 3-way mini-switch (wired like an Ultra). Then I used 2 Chrome Dome in the middle and neck positions (which are like a hot Gold Lace). This guitar has a few minor bumps on the lower edge and a few scratches on the back. Very clean. The pickups and the pots are brand new. The pickguard is a genuine Fender Customshop Ultra pickguard. I bought a bunch of these a few years ago from a former Fender employee who told me they were the last Fender had.PRICE: $1350 (SOLD)
___________________________________________________________________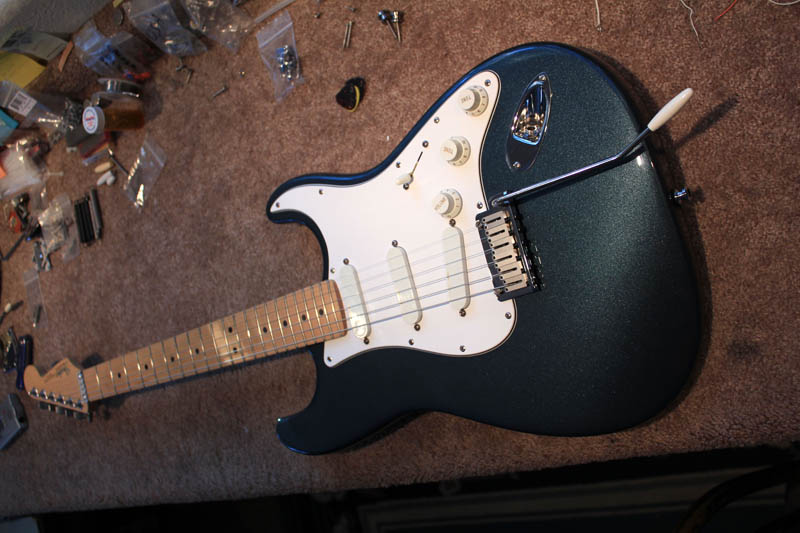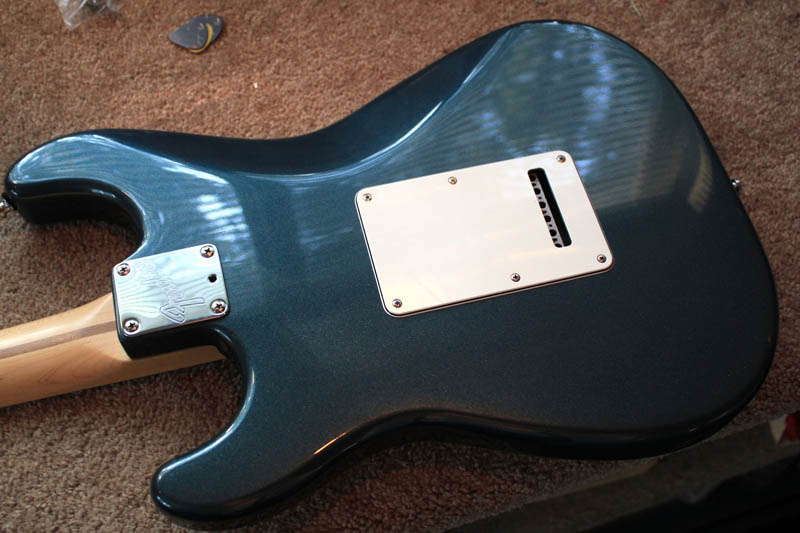 1991 GUNMETAL BLUE STRAT PLUS. Condition: EXCELLENT. Maple fretboard, totally stock with Gold Lace pickups. Cool color that looks blackish in low light but is really a green/blue color that has a fine metal flake in it. I snapped the middle picture with a flash so you can better see the flake. Really clean.PRICE: $1350 (SOLD)
___________________________________________________________________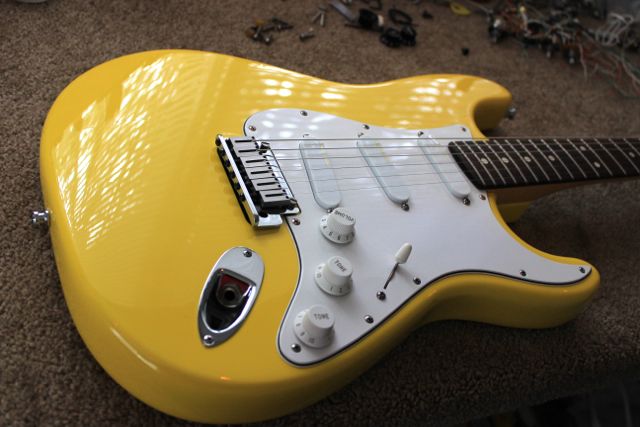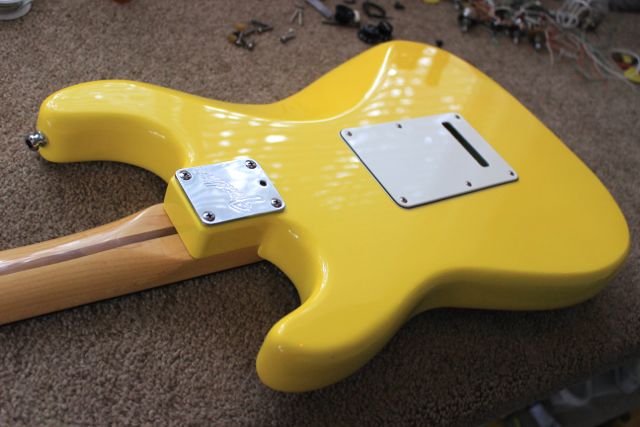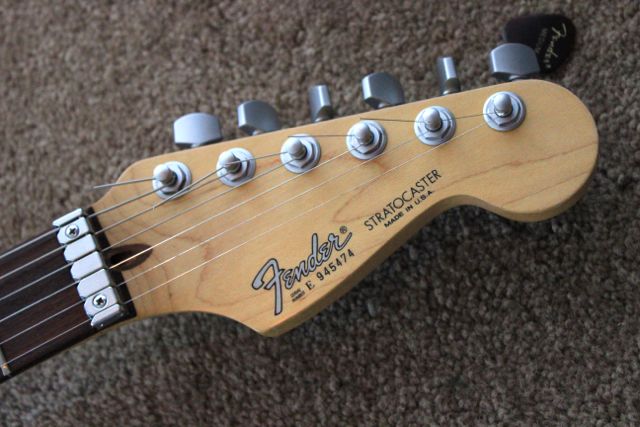 1989 GRAFFITI YELLOW STRAT PLUS. Condition: VERY GOOD. Rosewood fretboard. Very good condition. The lettering on the Gold Lace pickups is perfect. These are getting harder to find and are more common with the Maple fretboard.PRICE: $1750 (SOLD)
___________________________________________________________________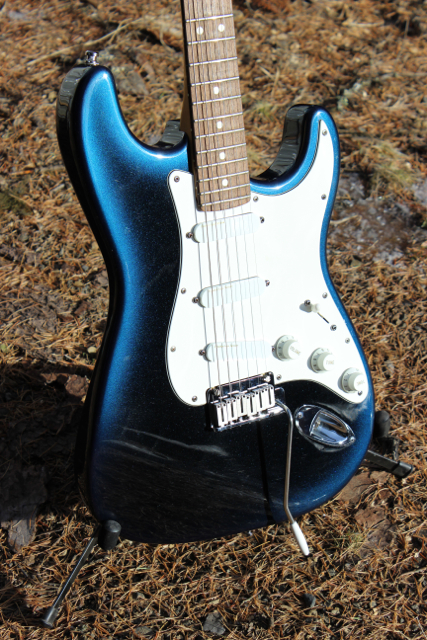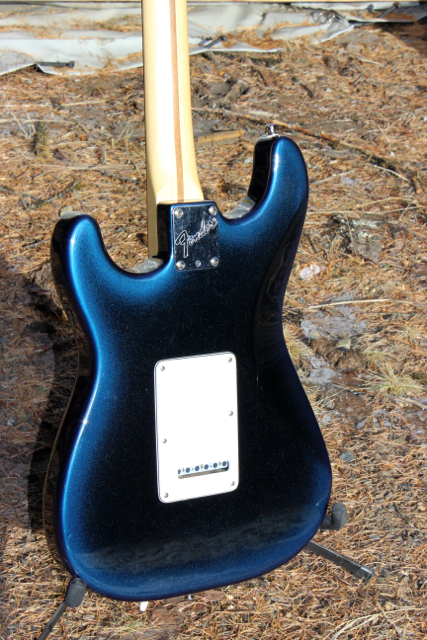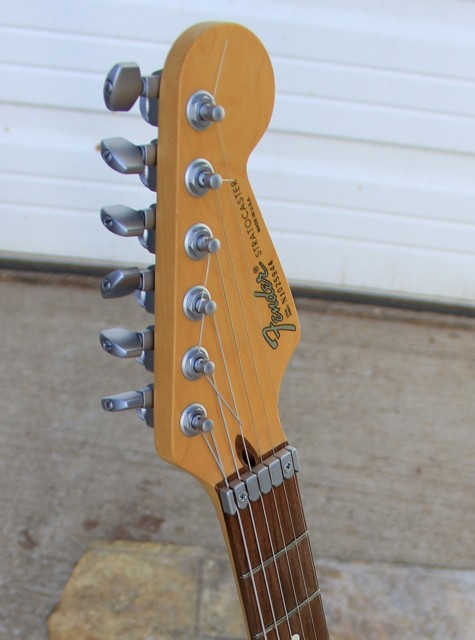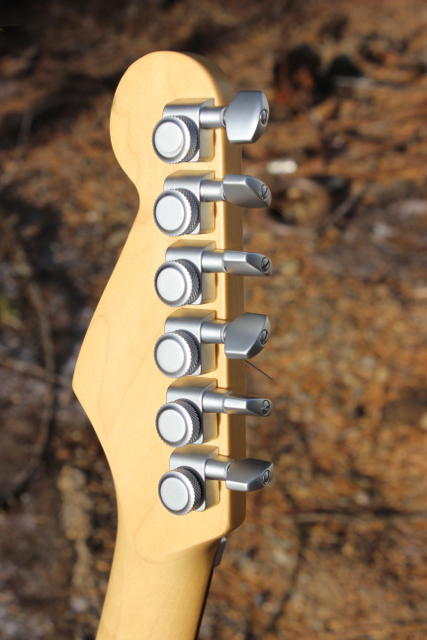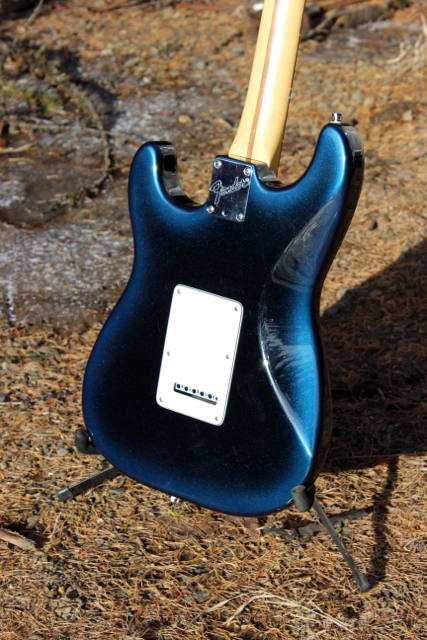 1991 BLUE PEARL DUST STRAT PLUS. Condition: NEAR MINT. Rosewood fretboard. The body is spotless, frets are excellent, and comes with a brand new aftermarket hard shell case.PRICE: $1350 (SOLD)
___________________________________________________________________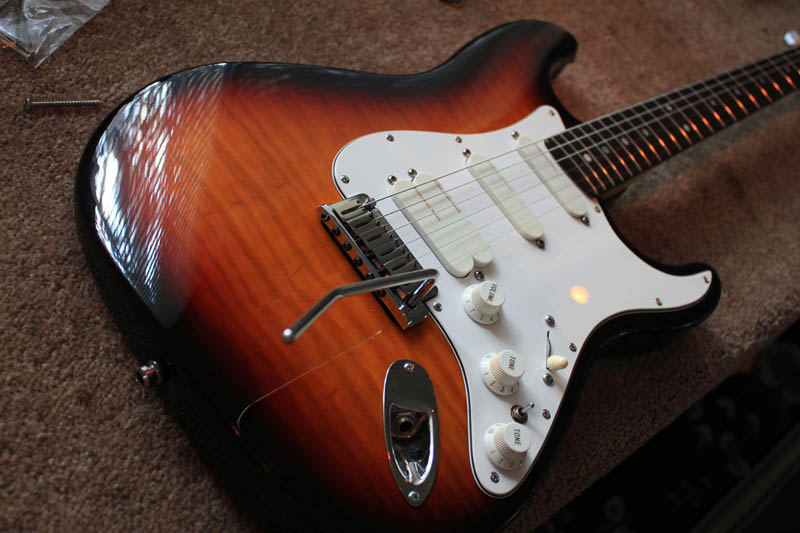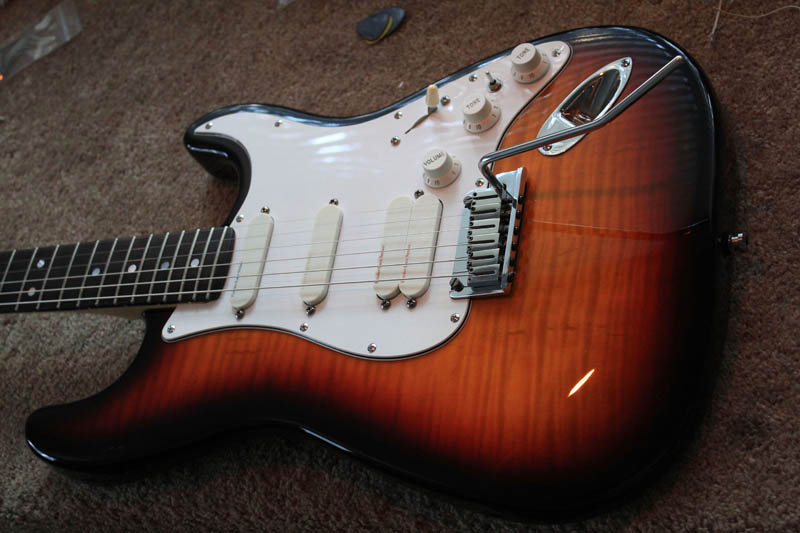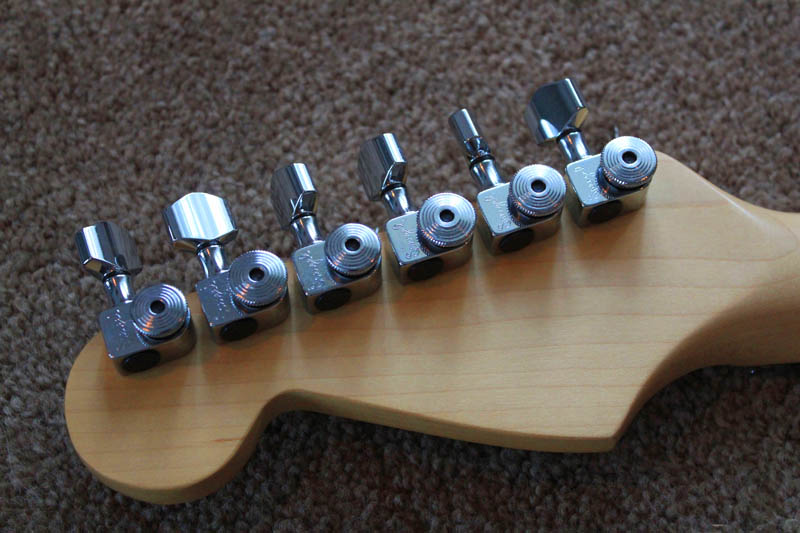 1991 ANTIQUE BURST ULTRA. Condition: NEAR MINT. Ebony fretboard and all the Ultra appointments, Near dead mint very early Ultra. I bought this from a lady who bought it new and really never played it so it is in nearly new condition. Original Fender Flight Case. PRICE: $1850 (SOLD)
___________________________________________________________________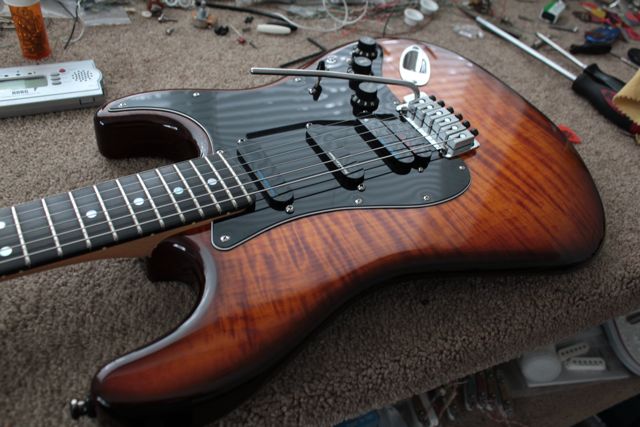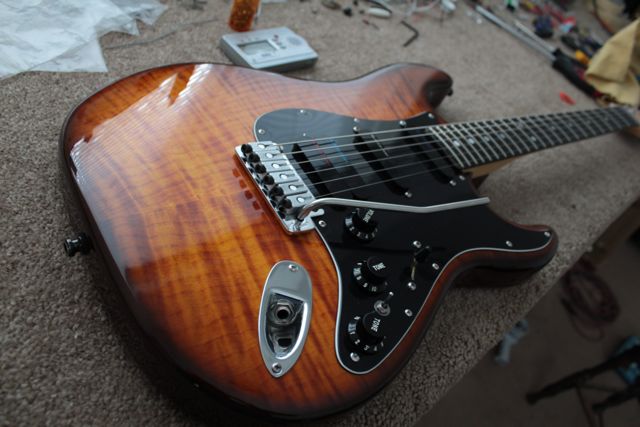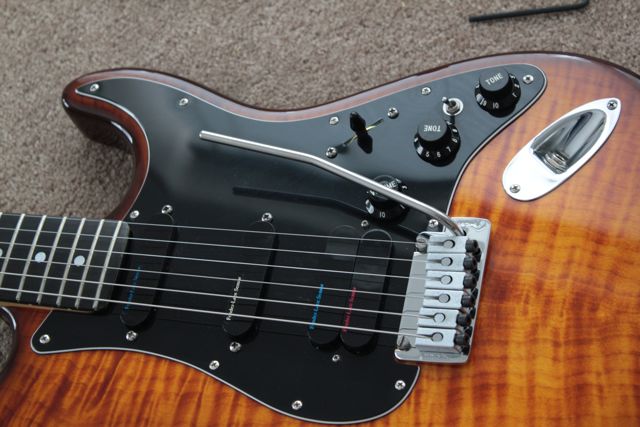 1996 CUSTOM DELUXE ULTRA STYLE STRAT. Condition: MINT. This has a highly flamed matchbook Maple top on a chambered Ash Warmoth body with a 1996 Fender Ultra neck. Very cool Ultra wiring with Black/White/Black pickguard. This is custom wired with a Blue Lace Sensor in the neck, middle pickup is Silver Lace Sensor and a Light Blue/Red Dually in the bridge.PRICE: $1900 (SOLD)
___________________________________________________________________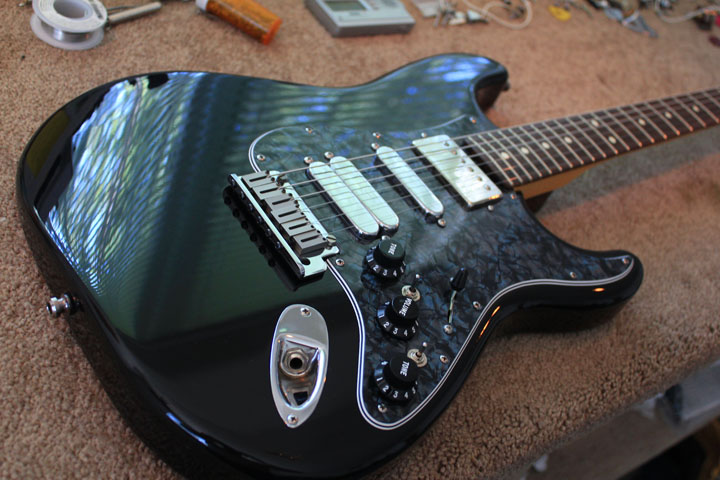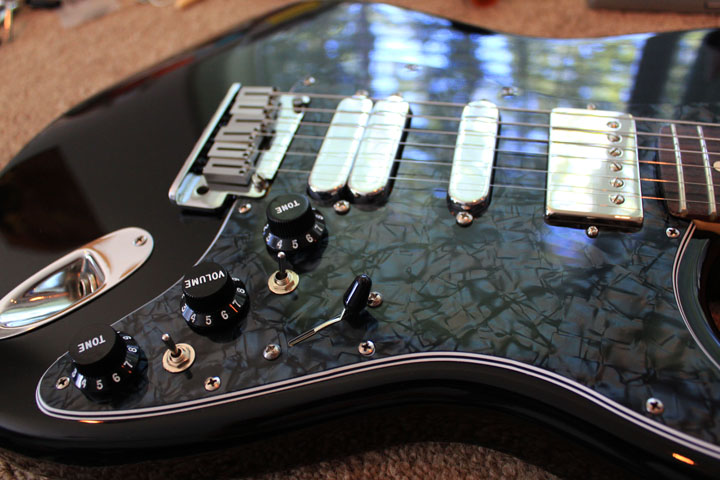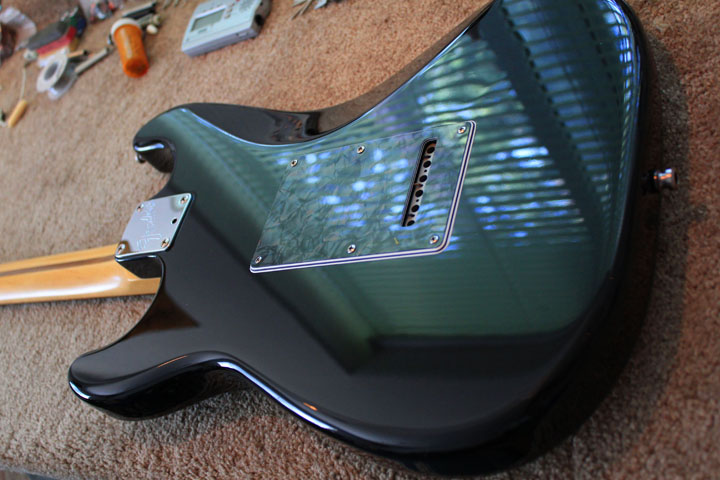 1997 BLACK STRATOCASTER PLUS DELUXE CUSTOM. Condition: NEAR MINT. This has been customized like an Ultra with a DiMarzio Air Classic Humbucker in the neck. The mini-switch is an on/on/on type and gives several variations for the bridge Dually pickup. PRICE: $1650 (SOLD)
__________________________________________________________________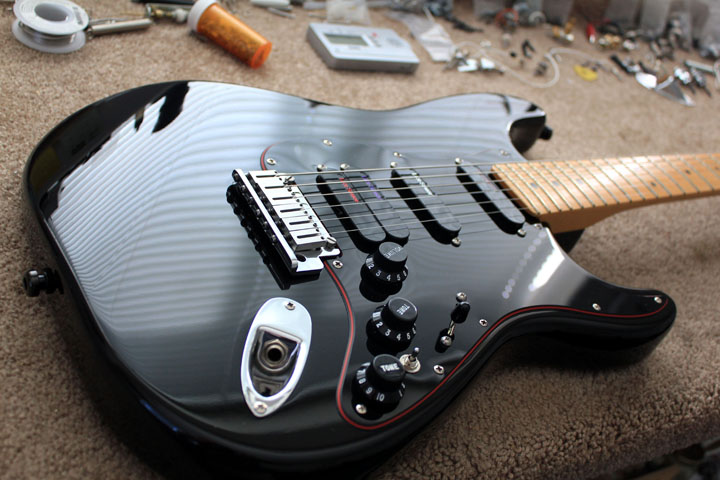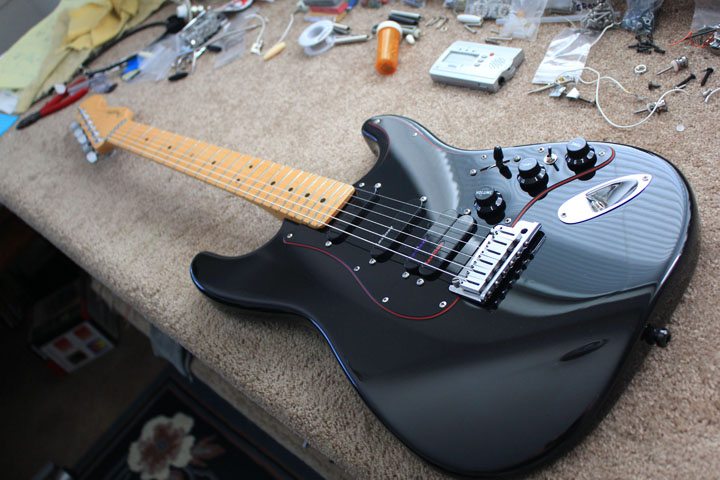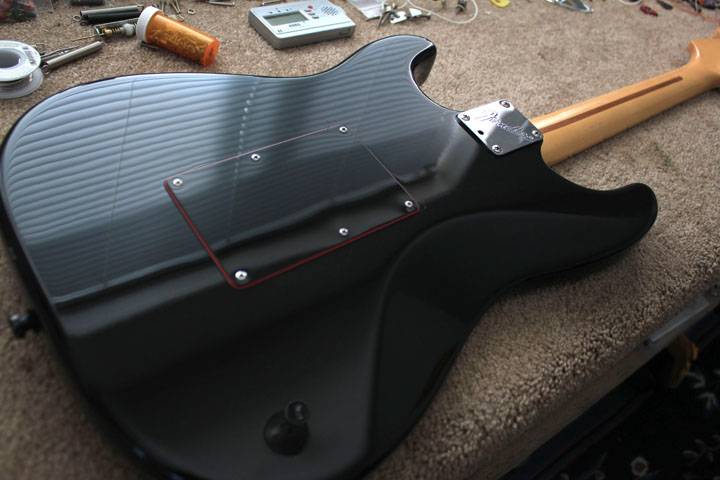 1995 BLACK STRATOCASTER PLUS DELUXE CUSTOM. Condition: NEAR MINT. This has been customized like an Ultra. Very cool Ultra wiring with Black/Red/Black pickguard. This is custom wired with a Burgundy Lace Sensor in the neck, middle pickup is Silver Lace Sensor and a Purple/Red Dually in the bridge. PRICE: $1625 (SOLD)
___________________________________________________________________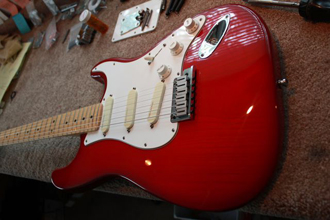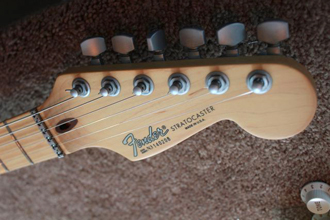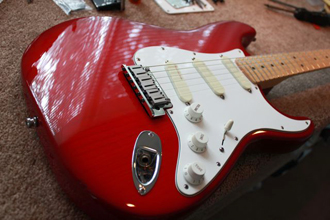 1993 (VERSION I) CRIMSON BURST STRAT PLUS DELUXE. Condition: NEAR MINT. 1993 Strat Plus Deluxe with Blue, Silver, Red Lace Sensor pickups. This is a VERSION 1 Crimson Burst. When this color was first introduced, was made from a solid red color (non-metallic) like you see on this one. It had a dark red around the edges and a transparent red over Ash in the middle of the body. Around 1994 Crimson Burst took on a whole new look being a red metallic around the edges, with a transparent red, usually over Ash, in the middle of the body. This hard to find color that was only offered about 1.5 years. Maple neck. Plus DX hardshell Case. PRICE: $1
70
0
(SOLD)
___________________________________________________________________